Paris is a city most people never forget.
The capital of France is visited by more tourists each year than anywhere else in mainland Europe – and for good reason. Paris is a charming and stunning historical city with a distinctly unique culture. The elegant Haussmannian architecture, priceless classical art collection, and delicious gastronomy are revered around the world!
Many people have advice to share for first-time travelers to Paris, but as someone whose life revolves around the city, I'd like to share my own Paris travel guide with you!
Paris Travel Guide
There are so many things to do in Paris that it's hard to know where to begin. That's why I've decided to write up a practical guide for first-time visitors to the city of light.
I'll share with you the most popular tourist attractions that you must see, but also some lesser-known hotspots that draw a local, creative community.
In total, I've spent over a year living in Paris. I've seen it during all four seasons, in all of its charm and its frustrations! No city is perfect – but Paris sure does come close.
Here is my ultimate Paris travel guide.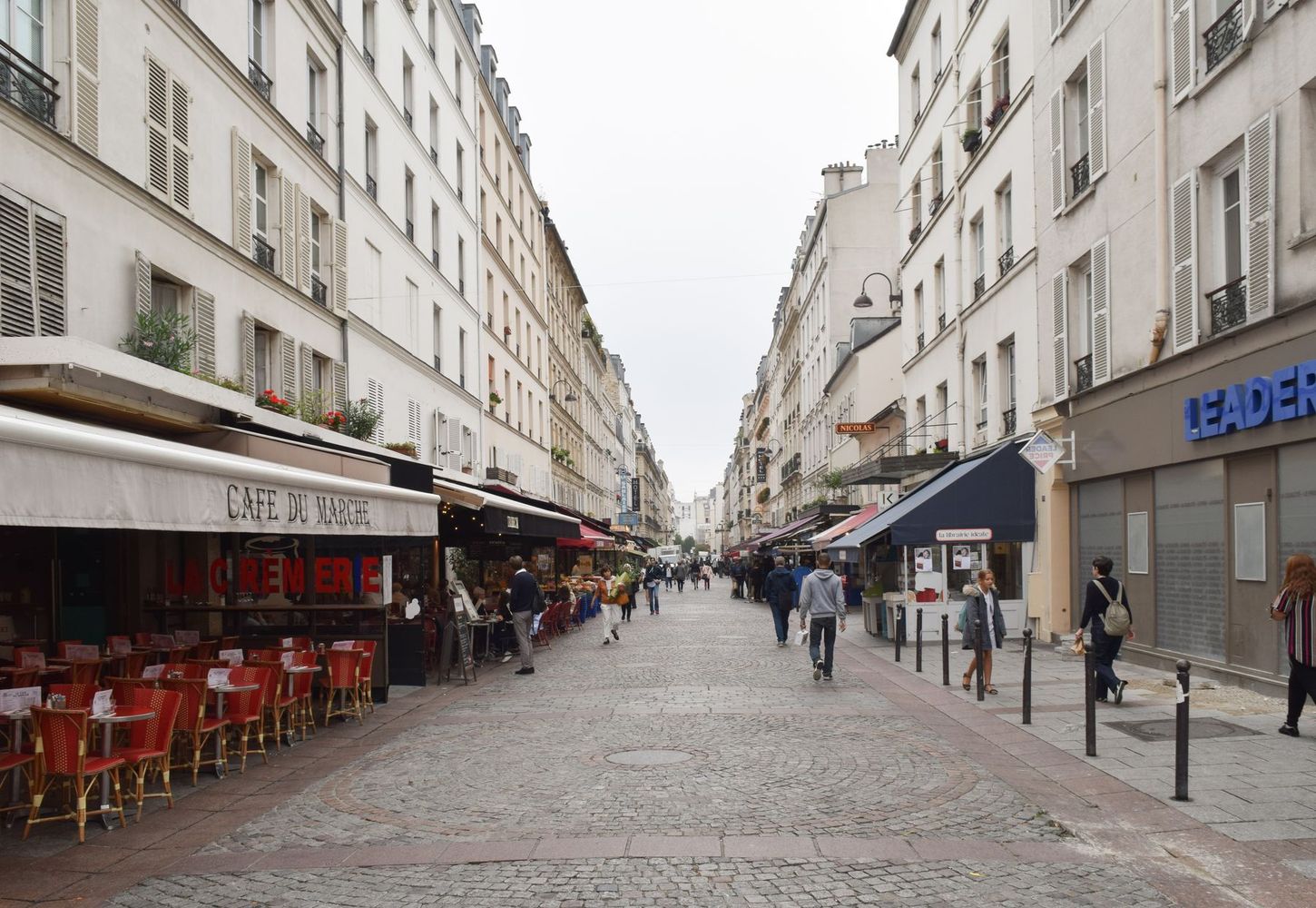 Planning a Trip to Paris
If this is your first trip to Paris, you may need some help with your Paris trip planning! This section will tell you everything you need to know before you go to Paris. Here are some commonly asked questions about visiting Paris for the first time:
When is the Best Time to Visit Paris?
It's always tough to definitively say when the best time to visit Paris is. You can visit Paris any time of year and thoroughly enjoy it, but personally, I'd recommend visiting in the spring or fall for the best experience! Specifically, the months of April, May, and June or during September or October.
How Long Should I Stay in Paris?
You can spend a lifetime in Paris and still not see everything the city has to offer. When deciding how long you want to stay in Paris, it's important to consider everything you want to do beforehand. For a first time visit to Paris, I'd recommend at least 3 days if you're coming from Europe, or 4 days if you're coming from overseas because you will likely be jet-lagged on the first day! A week is a popular amount of time to spend in Paris if your budget and schedule allows it.
Whenever you decide to come, try to avoid being in Paris on a Sunday. Many stores and attractions are closed, so you will be disappointed and limited in what you can do on this day!
Do I Need a Visa to Visit Paris as an American?
As of 2019, if you are American, you do not need to do anything prior to your visit to Paris. You just book your flight and go! A simple stamped visa will be issued to you upon arrival when you go through Border Control. It's a very easy process. Sometimes the agent will ask you the purpose of your visit, and you can just say, "I'm here for tourism!" but it's rare they even ask that.
Now, sometime next year, the process will be changing and you will need to apply for a ETIAS visa waiver before flying to Europe. From what I've read, you'll simply need a passport, a debit or credit card, and an email address. I'll be sure to update this article when I have the details, but for now, the system is just visa upon arrival!
How Much Money Should I Budget for a Trip to Paris?
Paris is an expensive city and I'd recommend budgeting at least 50 euros per day if you plan to eat out for all 3 meals. If you are able to cook at home, or eat out on some days, then you can definitely get by on less than 25 euros per day, excluding any attractions you need to pay to visit. The good thing is that tipping is not necessary in Paris (or France) so the price you see on any restaurant menu is what you will pay!
Once you have a sense of when you'd like to visit Paris and how long you plan to stay, it's time to start looking at how you're going to get there!
Do I Need to Bring Local Currency with me to Paris?
France is part of the European Union and thus uses the Euro as its currency. You do not need to bring euros with you to the country as most immediate needs can be taken care of with a typical credit card. I recommend bringing a Visa or Mastercard debit or credit card with you. American Express is accepted, but less often than the two aforementioned companies.
Once you get to Paris, you can go to any bank's ATM and withdraw local currency. I recommend opening a checking account like the Charles Schwab Investor Checking account which charges no foreign transaction fees and refunds any ATM fees you incur while abroad.
I recommend withdrawing euros from a reputable bank like Société Générale, BNP Paribas, Barclays, CIC, or HSBC while in Paris. It is normal for bank ATMs to be located directly on the street in Paris, so be sure to keep an eye on your surroundings before selecting an ATM, or try to find one located in a foyer.
I also recommend signing up for the Chase Sapphire Reserve credit card, especially if you plan to travel often in the future. This credit card earns you points when you travel, offers a light travel insurance program, and charges no foreign transaction fees.
How Often Will I Need to Pay with Cash in Paris?
You shouldn't need much cash with you for your trip. Most retailers accept credit cards. These are the only scenarios where I've needed cash in Paris:
Boulangeries: For breakfast, I typically get one croissant (about 1 euro) or one almond croissant (2 euros) and pay in cash as most boulangeries have a credit card minimum of 5-10 euros per charge. You can ask them by saying: "C'est quoi le minimum pour les cartes bancaires?"
Cafés/Brasseries: Occasionally you might visit a brasserie that has a credit card minimum of 10–15 euros per charge. If you're with two people and one person is paying, this shouldn't be a problem. But I've been with 1-2 friends, and we all want to pay with credit cards for our portion of the drinks, but we can't since we don't meet the minimum. It's good to ask the waiter ahead of time if you don't have cash on you.
Other than those two situations, I've never had a problem paying with a Visa credit card while in Paris.
What to Pack for a Trip to Paris – Paris Packing List
What you pack for your trip to Paris will largely depend on what season you visit. That being said, no matter what time of year I visit, I typically pack the following:
A thick sweater for easy layering
A warm scarf
A trench coat or rain jacket
An umbrella
Comfortable walking shoes
My Longchamp Pliage tote
The key to packing for Paris is ensuring you have enough layers that can be easily removed or added depending on the weather!
How to Get to Paris
Now that you've got most of the planning down, it's time to figure out how you're going to get to Paris! Like most major cities, you have quite a few options.
Flights to Paris
If you're coming from the USA, you will most likely fly into one of the city's two main airports: Charles de Gaulle (CDG) or Orly (ORY). Although it's considered an official Paris airport, I highly recommend against flying into Beauvais Tillé (BVA), because it's over an hour's drive from Paris!
Ticket prices have been dropping lower and lower over the years. It used to cost a minimum of $800 to fly round-trip to Paris from the US, but these days you can find tickets for as little as $300!
The major airlines that fly most often to Paris are Air France, Delta, JetBlue, and American Airlines.
I recommend flying Air France business class if you can swing it! More affordable all-business-class flights are offered from Newark, NJ by an airline called La Compagnie.
Low-cost airlines you can consider to save money are French Bee and Norwegian Air. Remember to read the reviews and conditions before booking an ultra-low-cost airline.
Once you land at the airport, you'll need to go through border control. If you have an American passport, you can use the new automatic border control machines at CDG.
Then, you have a few options for getting into the city.
My preferred option for getting to central Paris from the airport is through RoissyBus, the city's direct bus transfer line that goes straight to Opéra. While a standard city bus or the RER will make all the local stops and take a really long time, RoissyBus goes directly between the city and the airport. A one-way trip typically costs just 16€ and you take a large bus with plenty of seating and rack space on the bus for your luggage.
Here are your options:
Cheapest: RER Metro or Public Bus
Affordable: RoissyBus
Expensive: Uber or a Parisian Taxi
Trains to Paris
If you're coming from Europe, you could also take one of the many high-speed trains that go to Paris' major train stations. If you're coming from London, the easiest way to get to Paris is on the Eurostar train to Gare du Nord.
Buses to Paris
The most economical option for getting to Paris is usually by bus, but of course, you must be already located in Europe to take advantage of this option! FlixBus is a highly regarded bus company serving many destinations in Europe.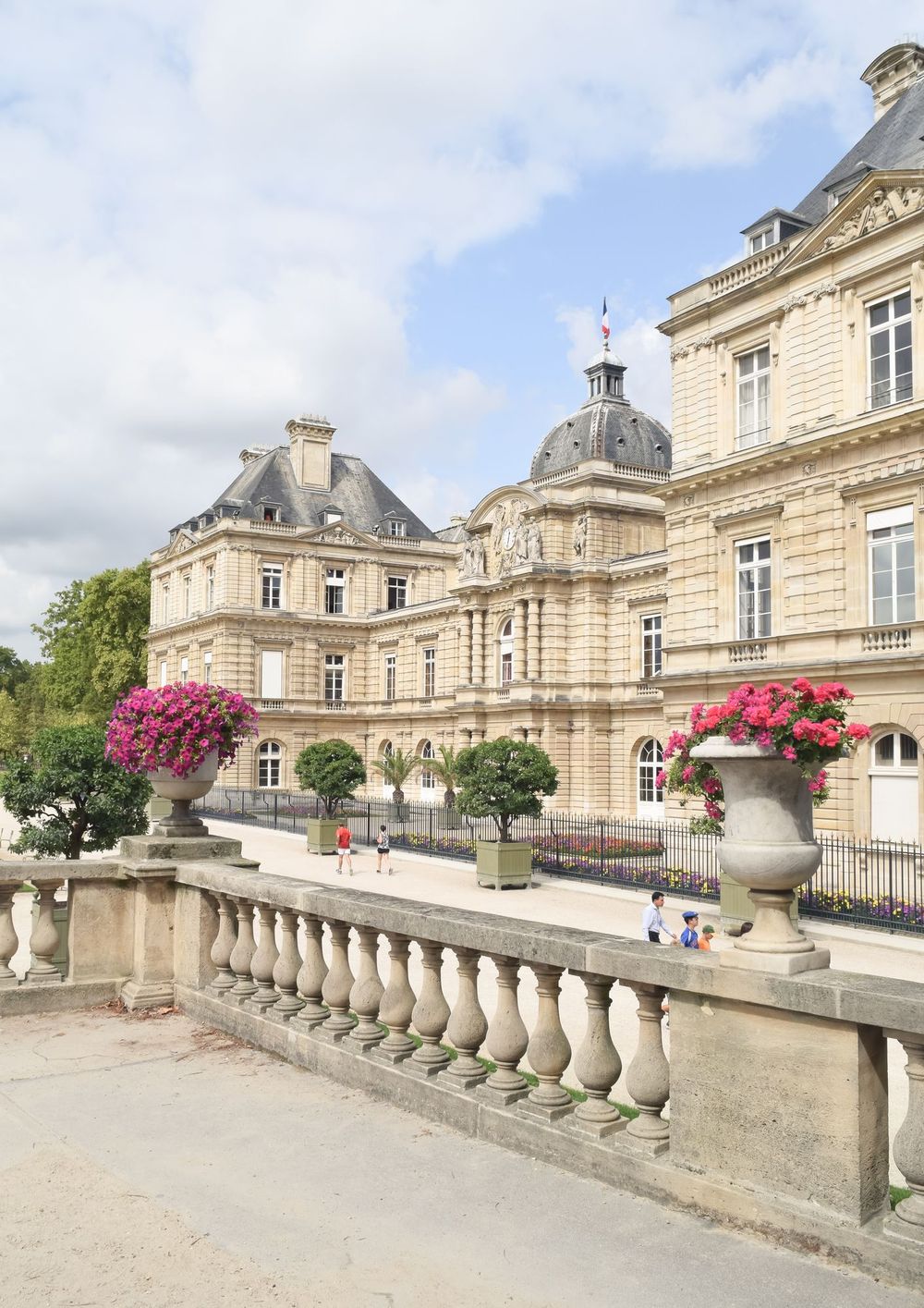 Where to Stay in Paris – Paris s
I have found that the best place to stay in Paris, especially if you're a first-time visitor, is in the 1st arrondissement. Paris is roughly shaped in a circle, with a river dividing it in two. If this is your first time in Paris, then I recommend staying as close to the center, north of the river, as possible. Most of the major monuments are in the very center and slightly west of the center.
Prices for hotels will vary depending on the season you visit. Here are the hotels I recommend based on your budget:
Luxury Hotels in Paris
Luxury hotels in Paris are plenty. Often times they are decorated with original vintage accents, to make you feel like you've stepped back in time. Here are the best luxury hotels in Paris I'd love to stay in:
The Ritz Paris
Saint James
Park Hyatt Paris Vendôme
Mid-Range & Boutique Hotels in Paris
Boutique hotels are popping up all around Paris. The crowd they attract is young and creative. These hotels can offer a nice balance between unique charm and affordable pricing.
Hotel Grand Amour
Hôtel Adèle & Jules
Grand Pigalle Hôtel
Budget Hotels in Paris
Finding a hotel in Paris on a budget is difficult, but these hotels offer the lowest prices without sacrificing quality. Keep in mind they may not be close to major attractions – but the metro is cheap enough to make it worth it!
Villa Eugenie
Hôtel Rendez-Vous Batignolles
Villa Lutéce Port Royal
Hôtel de Suez
District République
If you decide to go with Airbnb for your visit to Paris, it can be more affordable. But, please check to make sure the host has a "Registration Number" listed as it's currently illegal to rent your apartment short-term without registering.
How to Get Around Paris
There are many ways to get around Paris!
Metro & Bus
Paris has an extensive metro system and you can reach anywhere in the city by taking either the underground metro or the bus! The metro lines are color-coded and given numbers. You can determine which direction you need to go in by looking at the last stop. In addition, the stops along the route are generally listed on signs before you get down to the tracks so you can make sure you're heading in the right direction.
RATP is the official website of the Paris public transportation network. RATP has apps available in both the Apple and Google Play stores for directions on the go. However, Google Maps has always been accurate when I look for navigation routes in Paris so that is another option, too.
A one-way Paris metro/bus ticket costs just €1,90. You can use the ticket on either the metro or bus. You can purchase a pack of 10 tickets at a discount, for just €14,90.
If you decide to ride the metro or bus, know that you need to keep your rechargeable card or ticket with you throughout the duration of your trip. While it's rare, RATP employees occasionally walk through and ensure everyone has paid for their trip using a machine and you need to let them scan your ticket to prove that you did, to avoid a fine!
Taxi
Alternatively, Uber is the cheapest and quickest way to get around Paris in a private car. Paris has their own black car service apps, but Uber tends to be cheaper.
You can also hail a cab on the streets of Paris the traditional way, and you can tell if a cab is available by the green light on the top of the vehicle.
Bike
Vélib is the official public bike system of Paris offering bicycles for rent 24/7.
Electric Scooter
For better or for worse, electric scooters have made their way to Paris. Lime seems to be the scooter I see most often. Be careful, you face a hefty fine if you ride these on the sidewalks, so be sure to use them on the streets and in the bike lanes only!
Walking
Paris is a very walkable city, and besides the busy highways along the Seine, you can walk everywhere peacefully!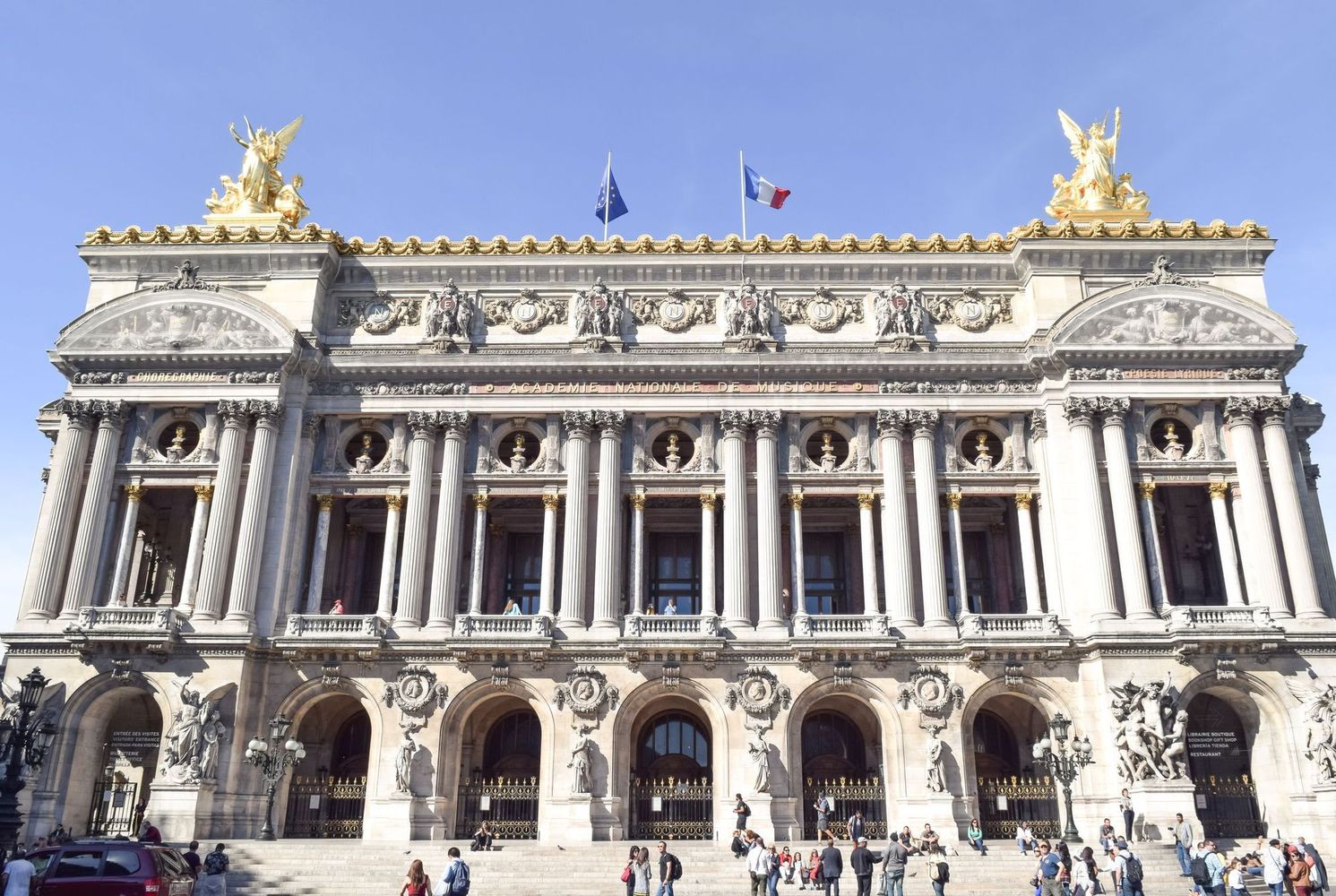 What to Do in Paris – Paris Itinerary Ideas
Paris is a city with no shortage of things to do. Whether you are interested in art, shopping, food, or wine, there is something for everyone in Paris!
Here are my top recommendations for things to do in Paris, based on a 5-day visit. If you have less time, you may need to adjust the stops, but this is a great place to start planning your Paris trip itinerary!
Day 1: Eiffel Tower and L'Arc de Triomphe
On your first day in Paris, you'll probably be dying to see the Eiffel Tower, so why not head there first? Here is a great way to spend your first day in Paris:
Start with breakfast at Chez Francis for stunning Eiffel Tower views. Walk to Place de Trocadéro to see the best view of the Eiffel Tower. Cross the Seine and walk along the Champ de Mars. Head to Rue Cler for lunch.
Cross the most beautiful bridge in the world: Pont Alexandre III. Visit the Petit Palais, the city of Paris' free art museum. Walk north along the Champs Elysées until you reach L'Arc de Triomphe
Day 2: The 1st Arrondissement
You can't visit Paris without exploring the 1st arrondissement in the center of the city! Many famous attractions are here so I've narrowed it down to the essential must-see sites for a first-time visitor.
Start the day with breakfast at Café Marly. Admire the art in the Louvre or l'Orangerie. Lunch along Rue de Rivoli at one of the many sidewalk cafés, such as Angelina's. Take photos of the luxurious Place Vendôme. Walk through Jardin du Palais Royal. Have an afternoon snack at Claus or Le Moulin de la Vierge, Victoires.
Finish up the day by shopping at Les Halles or visiting the contemporary art museum Centre Pompidou.
Day 3: Le Marais
Today you'll start the day off at one of Paris' most famous landmarks, followed by a charming stroll along the cobblestone streets of Paris' Jewish quarter, Le Marais.
Start the day on Ile de la Cité where you can admire the stunning Notre Dame Cathedral. Head north to the Saint-Jacques Tower. Walk along the famous Rue des Rosiers. Lunch at La Droguerie du Marais for budget crêpes or Camille for traditional French food! Head north to do some shopping in Le Marais or visit the Musée National Picasso.
Finish up the day in Paris' oldest park, Place des Vosges. If time allows, head over to see the most colorful street in Paris, Rue Crémieux in the 11th!
Day 4: Saint-Germain-des-Près and the Latin Quarter
The left bank is sometimes overlooked but there are so many charming areas in this part of Paris, and you'd be silly to miss out on it! Spend the day exploring two beautiful neighborhoods in Rive Gauche: Saint Germain and the Latin Quarter.
Start the day with breakfast at Café de Flore or Les Deux Magots. Walk south on Rue Bonaparte. Pick up some macarons from Pierre Hermé. Enjoy them by the foundation of the Place Saint Sulpice.
Continue towards the Jardin du Luxembourg. Head down Rue Soufflot toward the Panthéon, and go up if you like!
After, head back up toward the river and browse the famous bookseller stalls along the Seine River banks, known as Les Bouquinistes. Walk through Place Dauphine and read your antique book. Drink champagne and eat pastries along the Seine while you watch the sunset!
Finish the day with dinner at Le Procope, one of the oldest restaurants in Paris.
Day 5: Montmartre
On the last day of your trip, I recommend heading north to the artist enclave of Montmartre.
Start the day with breakfast at Café des Deux Moulins. Climb the steps in front of Sacré-Cœur. Lunch and browsing at Place du Tertre. Continue walking by Le Consulat and La Maison Rose, two famous buildings in Montmartre.
Walk south along Rue des Martyrs and spend the rest of the day browsing art at the Gustave Moreau Museum, shopping at Galeries Lafayette & Le Printemps, or touring Paris' Opera House: Palais Garnier.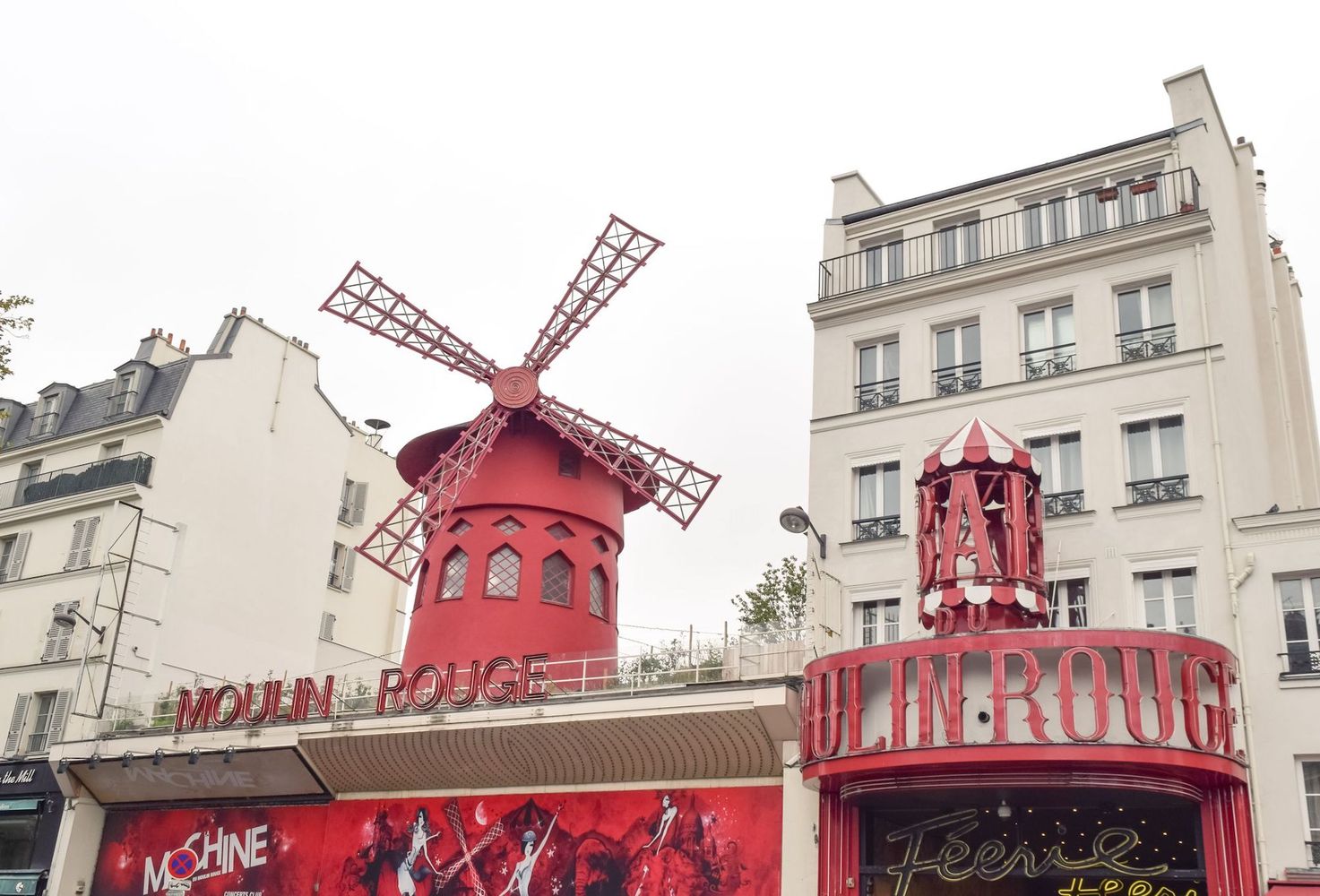 Where to Eat in Paris – Paris Restaurants
Many people want to visit Paris just to try the food. French food is renowned around the world, and most French restaurants outside of France tend to be quite pricey. Of course, in France, French food is simply normal!
That being said, when it comes to eating in France, things work a little differently than they do in the United States. For one thing, it's rare to find a good restaurant open between lunch and dinner in Paris. Be sure to plan to have lunch in Paris between 12 and 14:00 (2 PM). Many restaurants (even casual ones) will shut down entirely in between lunch and dinner so you'll be stuck with fast food if you eat later!
Here is a general idea of the options you have available when deciding where to eat in Paris! I've started with the most affordable options ($) and worked my way up to the pricier options ($$$$).
Grocery Stores in Paris – $
At the most basic level, you can buy inexpensive food at a French grocery store.
Franprix and Carrefour are the most popular grocery stores in Paris that I prefer, but G20 and Monoprix are other options as well.
An important thing to know about grocery stores in Paris is that they do not provide paper or plastic bags for you to use to carry your groceries back home. You can buy a reusable tote bag on the spot in a pinch, but I recommend bringing your own tote bag to save money!
Boulangeries – $
For a more local experience, head to your nearest boulangerie, essentially a French bakery that serves a variety of affordable foods from croissants, to baguettes, to quiches, to sandwiches and salads. Boulangeries are the best option for eating affordably but well in Paris.
Most boulangeries offer what is called a "formule" or a group of items at one single price, often lower than if you had purchased each item individually. A common formule you will see is a sandwich, a dessert, and a beverage for around 7–8€. You'll need to ask which desserts are included, however, as the expensive pastries are usually excluded.
Some smaller boulangeries do not provide a bag for you to carry your purchases, so bring a larger bag to hold them if you purchase multiple things. The larger chain ones do however such as Paul and Maison Kayser.
Cafés & Brasseries – $$
For a quintessential Parisian experience, head to a café or brasserie. Keep in mind that many places called "cafés" serve much more than coffee. Most French cafés and brasseries have a full-service food menu where you can get everything from a Croque Monsieur to a Duck Confit, to a Niçoise salad.
Brasseries tend to be hit or miss in terms of food quality. I also find them a bit overpriced, but you can usually see the menu posted outside before going in.
Many French people go to cafés and brasseries for drinks only as they are happy to serve you wine, beer, and other beverages.
Most of the typically Parisian sidewalk cafés or "terrasses" with round bistro tables and wicker chairs are cafés or brasseries.
Cafés and brasseries are literally found all over Paris and serve more or less the same quality food. Here's a list of some of the best cafés to visit in Paris. They are a reliable option for dining and you should look for the one near your hotel upon arrival! They are also great for a quick breakfast.
Casual Restaurants in Paris – $$
Many French entrepreneurs have gone into the casual dining industry in Paris. These restaurants offer an easygoing dining experience that Parisian locals love! Many times you can order takeout from these places with no problem. Some of my favorite casual restaurants in Paris are:
Blend Burger
Frenchie
East Mamma
Breizh Café
La Droguerie
Modern French Restaurants – $$$
French cuisine served in a modern setting is also becoming a popular endeavor in France. Restaurants are creating updated versions of traditional classics and serving them in modern, updated spaces. For this type of dining experience, check out:
Traditional French Restaurants in Paris – $$$
Traditionally French restaurants can offer an authentic experience of eating French food for the average Parisian of decades past. These restaurants are often sparsely decorated or feature elements of old French restaurants. For a classic French dining experience, try:
Chez L'Ami Jean
Les Philosophes
Allard
Café des Musées
L'Assiette
Benoît
La Bourse et la Vie
Fine Dining Restaurants in Paris – $$$$
Lastly, you have haute French cuisine from restaurants that specialize in serving exquisite French meals. Oftentimes, they are Michelin starred. For the best fine dining restaurants in Paris, try:
Le Train Bleu
Guy Savoy
Le Meurice
L'Ambroisie
Arpège
Where to Get Coffee in Paris – Paris Cafés
Coffee in Paris is a morning ritual for me and many locals. You have two options for getting coffee in Paris, both of which I indulge in regularly!
Sidewalk Cafés
The most Parisian way to start your morning is by sipping coffee on a typical sidewalk café, just like the French. Most will serve you a croissant alongside it or bread with butter and jam.
Here are the most common coffees to order from a Parisian café:
Un café – a simple coffee
Un café au lait – a coffee with milk
Un cappuccino – a coffee with frothed milk
Un café viennois – a coffee with cream on top
Specialty Coffee Shops
Paris has its fair share of specialty coffee shops where you can sip some artisanal third wave coffee, too. These shops serve higher quality drinks like lattes, flat whites, and cortados. The downside is that the majority of specialty coffee shops in Paris do not serve croissants and other traditional French baked goods. Sometimes they will have banana bread or other snacks.
My favorite third wave coffee shops in Paris are: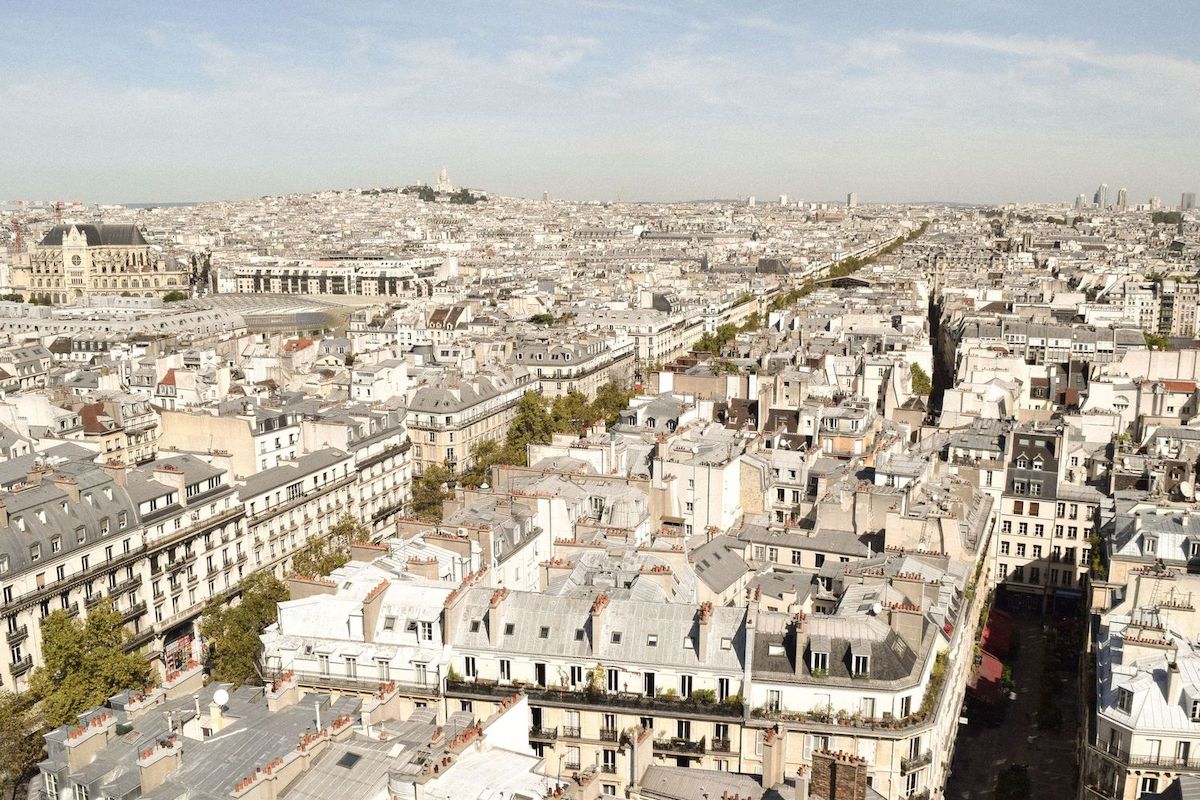 Where to Shop in Paris
There's almost no place better in the world to go shopping than Paris. The city has a long history of setting the trends when it comes to fashion, and the abundance of shops cater to every style or budget. Even if you're not looking to buy new clothes in Paris, there are plenty of stores for you to pick up Parisian souvenirs and gifts for friends back home.
Here are some ideas for shopping in Paris.
Department Stores in Paris
These multi-level stores are found in all corners of Paris. They are a great place to shop a wide variety of fashion, accessories and much more.
Clothing Boutiques in Paris
There are many contemporary French fashion boutiques in Paris, and Le Marais is a great place to explore if you're looking for unique pieces. I love visiting these shops when I feel like shopping in Paris:
Sandro – a trendy boutique for French fashion
Comptoir des Cotonniers – a minimalist French wardrobe maker
Saint James – traditional maker of classic blue and white striped French shirts
Mirae – a contemporary French feminine clothing brand
Sézane – a widely popular French clothing and accessories brand with a Paris boutique
Figaret – a traditional French shirtmaker selling affordable button-up shirts
Handbag Shops in Paris
Paris has seen an influx of contemporary handbag designers, each of which have their own shop in Paris. These shops tend to offer unique handbags that you will be hard-pressed to find in the US!
Léo et Violette
RSVP
Olivia Clergue
Polène
Gift Shops in Paris
For general gifts in Paris that don't come from a Made-in-China tourist trap, check out the following authentic French shops for gifts and unique items to take back home:
Merci – trendy accessories, gifts, home decor, and clothing for men and women
Mariage Frères – French gourmet tea company founded in 1854
Maison Brémond 1830 – cooking supply store
Pierre Hermé – a top French patisserie selling delicious macarons
CityPharma – the city's famous pharmacy for purchasing the best French beauty products at a discount
Where to Go Out and Drink in Paris
While Paris isn't known for its nightlife the way that other European cities are, there is still a strong nightlife and drinking culture you can take advantage of if you want to have a night out on the town.
Casual Drinks in Paris
It's a national pastime in France to have a glass of wine or beer on a sidewalk terrace at a café or brasserie! This is what locals do, and every evening after work you can see groups of Parisians huddled around a small round bistro table. You'll also see these places busy into the night as well! I recommend heading to Rue Montorgueil in the center of Paris for a wide selection of sidewalk cafés to start your night off with a drink!
Best Cocktail Bars in Paris
Paris has its fair share of amazing cocktail bars, too where specialty cocktails can get pricey.
Experimental Cocktail Club – a unique cocktail bar not far from the busy Rue Montorgueil. 37 Rue Saint-Sauveur, 75002
Little Red Door – cocktails at this Haut Marais bar are influenced by modern art. 60 Rue Charlot, 75003
Prescription Cocktail Club – a cool, speakeasy-style cocktail bar in the left bank of Paris. 23 Rue Mazarine, 75006
Candelaria – hidden behind a Mexican food joint, this clandestine cocktail bar serves Central American style cocktails late into the evening. 52 Rue de Saintonge, 75003
Best Rooftop Bars in Paris
Who doesn't love a good rooftop bar? When the weather is nice, a rooftop bar in Paris can be a really magical experience. Because Paris doesn't allow residential buildings taller than 6 stories high, you can see many of the famous monuments from rooftop restaurants and bars around the city. My favorite rooftop bars to visit are:
Le Perchoir – This Le Marais bar offers stunning views of the Eiffel Tower. 33 Rue de la Verrerie
La Terrasse Hotel Bar – Take a peek south at Paris from this Montmartre hotel bar. 12-14 Rue Joseph de Maistre
Perruche – Enjoy lunch or dinner at this beautiful restaurant atop the Le Printemps department store. Printemps de l'Homme, 2 Rue du Havre
Clubbing in Paris
Nightclubs in Paris are on the small side, but nevertheless can be fun. My favorite is La Mano, a casual, hipster nightclub with an open dance floor and oldies music.
If the weather is nice, head to Rosa Bonheur sur Seine, for some late-night dancing on a boat anchored on the Seine River!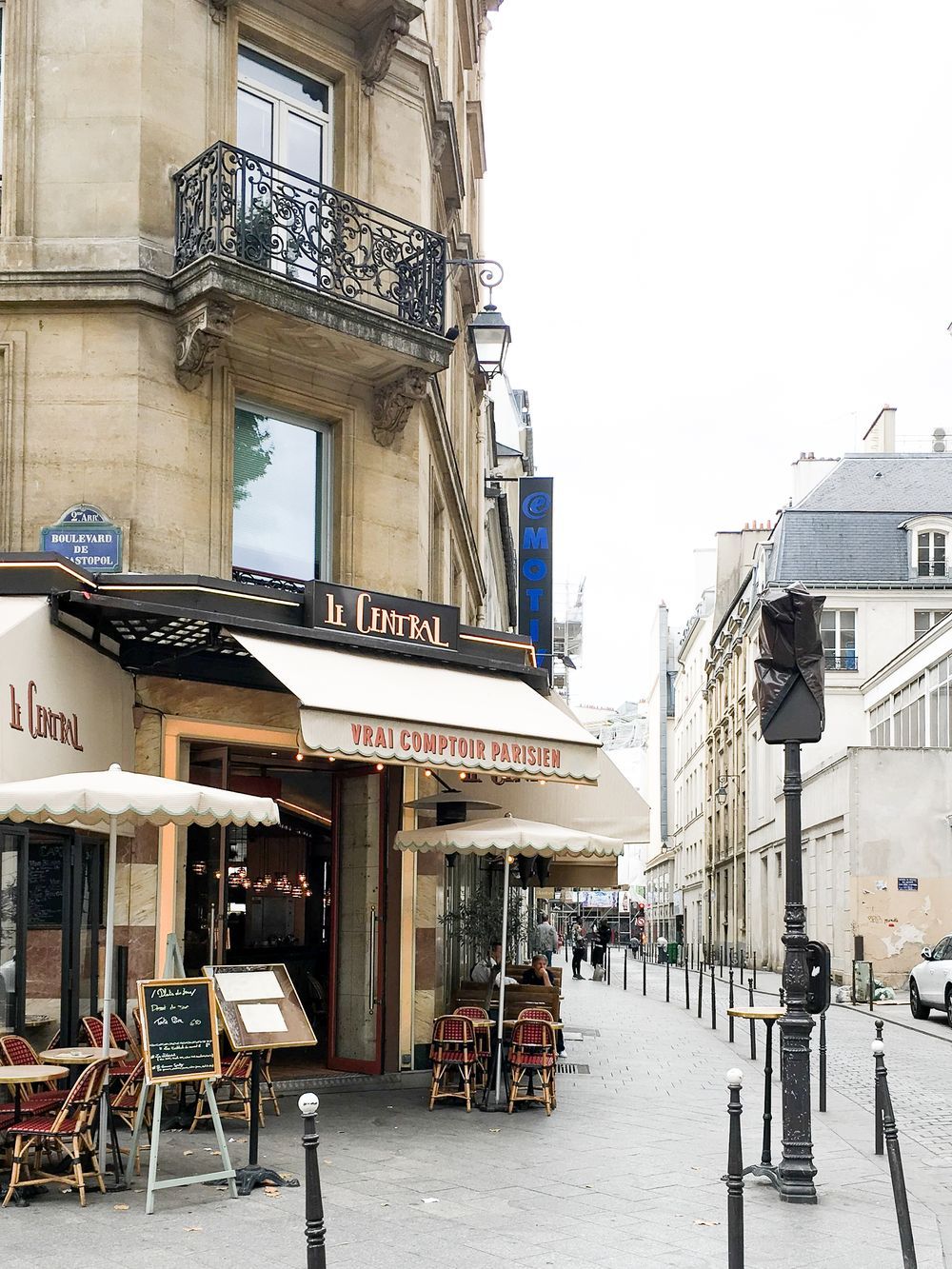 Paris by Neighborhood
Paris is divided into twenty different administrative regions, called arrondissements. Within those arrondissements, you have different neighborhoods, some of which are destinations in and of their own right. I have written up a lengthy guide to Paris' arrondissements and recommended the top 10 neighborhoods to visit in Paris.
If you'd like to learn more about a specific neighborhood, then read my guides to the most popular neighborhoods in Paris here:
If you love trendy, cutting-edge neighborhoods, these hipster areas in Paris are best for you.
Day Trips from Paris
If you're lucky enough to have some extra time during your trip to Paris and want to take a day trip somewhere, then these ideas should spark some wanderlust in you.
Palace of Versailles – One of the most popular day trips from Paris is to see the elaborate chateau and grounds of Versailles, the former royal residence established by King Louis XIV. Marie Antoinette famously lived here until her demise during the French Revolution. If you love architecture, French interior design, and classical art, then a visit to the Palace of Versailles is a must! You can reach Versailles via Parisian public transport, or arrange a tour through a company like Viator.
Loire Valley – There are dozens fo beautiful French chateaux to visit in this historical region of France.
Monet Gardens of Giverny – The Claude Monet Foundation maintains the former house, studio and gardens of impressionist painter Claude Monet which you can visit in Giverny, France.
Fontainebleau – The stunning Château de Fontainebleau was a popular hunting lodge for French royalty during centuries past. Located in the Parisian metropolitan region, it's the perfect place to take a day trip from Paris and explore the sprawling forest of Fontainebleau.
Jardin d'Acclimatation Amusement Park – This outdoor amusement park is located in a wealthy suburb of Paris. If you have kids, this is a great place to take them. If you don't, you can still have lots of fun here, and as a bonus the Louis Vuitton Foundation art museum is located right next door!
Let me know if you have any other questions about traveling to Paris in the comments! I hope this Paris travel guide was useful in helping you plan your trip to Paris!