Are you looking for the best cocktail bars in Paris? If you're traveling with your best friends in the beautiful City of Light, it's only reasonable to look for magnificent bars for a glamorous cocktail party. Even if you're traveling solo, Paris has several unique places that will keep you company for a lively night of drinking.
More importantly, Paris is home to a wide array of cocktail bars offering excellent pour options for Parisians and travelers. Due to the abundance of choices, it's no surprise if you have a hard time picking which cocktail bars you'd like to visit. Pas de souci, this list will help narrow down your choices! Here are some of the best cocktail joints you should check out below…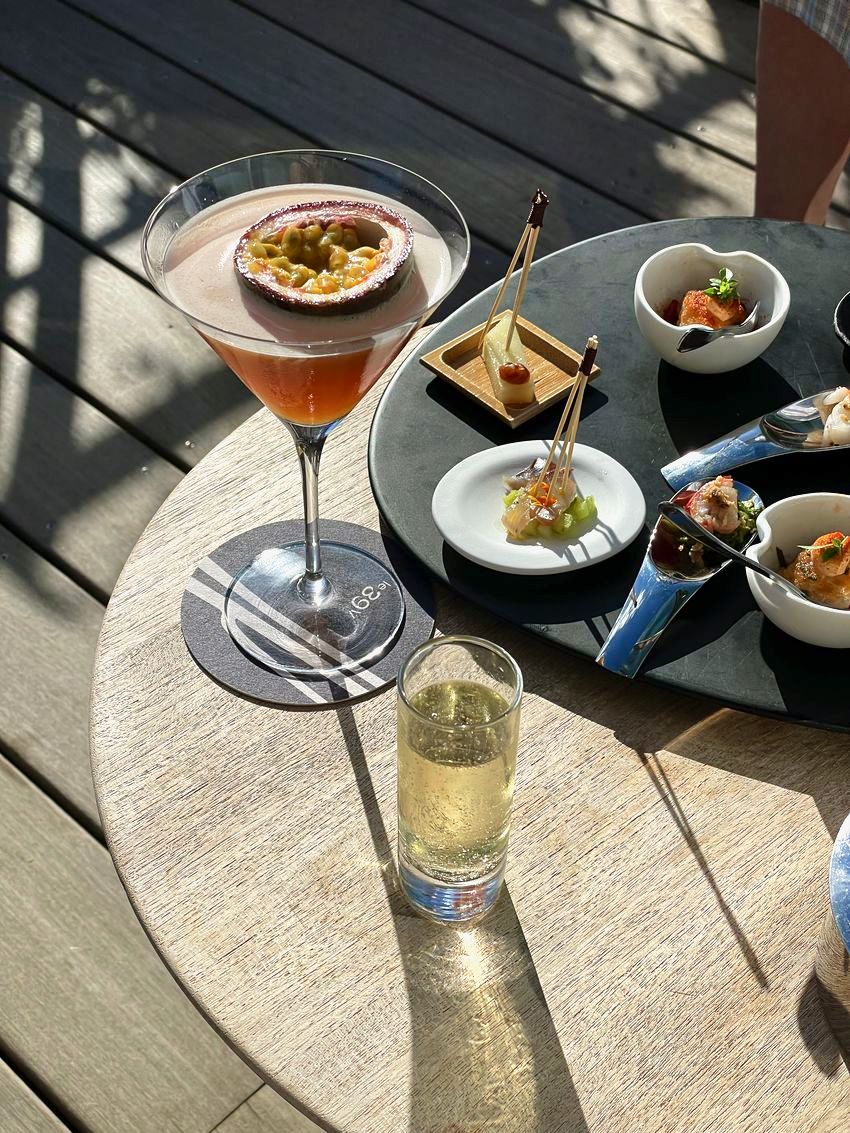 Experimental Cocktail Club
As you've guessed from its name, the Experimental Cocktail Club became famous for introducing experimental crafty cocktails. Standard cocktail spirits are mixed with unusual ingredients like tomato liquor, elderberry vinegar, and even eucalyptus syrup. Some of them are inspired by modern artworks!
As weird as these cocktails sound, the key here is to trust the mixologists. Besides, you'd be pleasantly surprised to see how these drinks taste. Depending on the hour of your visit, this area can either be a chill drinking lounge or a drinking party venue.
37 Rue Saint-Sauveur, 75002 Paris
Little Red Door
There's a reason why Little Red Door is one of the best cocktail bars in Paris. This speakeasy is labeled a must-visit place for cocktail aficionados and boasts plenty of well-thought-out drinks. If you're daring enough, you can go in blind when tasting their genius concoctions.
Besides its incredible selection of drinks, the Little Red Door's atmosphere is perfectly curated. From gorgeous drink illustrations made by Parisian artists to drinking glasses in eccentric designs, the Little Red Door is here to serve you a drinking experience like no other. It's no surprise why this bar has graced The World's Fifty Best Bars list for seven years.
60 Rue Charlot, 75003 Paris
Gravity Bar
The Gravity Bar is easily one of the hippest speakeasies in Paris. Its creative décor is just as imaginative as its unique cocktails. Gravity Bar's cocktails are listed according to their offered sensation, so go ahead and choose a drink you think you can handle! Other than a great selection of cocktails, you can also try out Gravity Bar's top-grade wines and beers.
44 Rue des Vinaigriers, 75010 Paris
Le Mary Celeste
This drinking spot's name is derived from one of the mysteriously abandoned ships containing a stock filled with liquor. Don't let its name origin fool you, as Le Mary Celeste's space is pretty lively, bright, and airy.
This nautical-themed cocktail bar has an imaginative cocktail menu. In addition, Le Mary Celeste is also famous for its Asian cuisine, particularly its oysters. The bar even has a dedicated oyster hour and lists its oyster options based on region.
1 Rue Commines, 75003 Paris
Hôtel des Arts et Métiers
The Hôtel des Arts et Métiers is famous for its mix of French and contemporary craftsmanship. And other than their well-liked Italian cuisine, atop this hotel lies their Herbarium Cocktail Bar. Their cocktail selection includes cocktails with powerful gustatory distinctions that will awaken your taste buds.
Furthermore, the hotel even has a designated rooftop drinking spot, allowing you to enjoy your favorite spirits and cocktails while gazing at Paris' stunning skyline. Sadly, the rooftop terrace is closed during the winter season. It reopens mid-April. Nevertheless, their Herbarium is still a suitable spot for drinking to your heart's content.
243 Rue Saint-Martin, 75003
Le 1905
If you're looking for a traditional French cocktail bar that makes you feel like you've stepped back in time, look no further than the Le 1905. With a 1920s speakeasy ambiance, you'll love the red velvet furniture and classic French cocktails on the menu. It's located one floor up, above a traditional French Pyrénées restaurant in Le Marais.
25 rue beautreillis, 75004
Bisou
Unlike other speakeasies, Bisou doesn't own a standard cocktail menu. Instead, its mixologists will ask you about your preferences. From there, they will concoct a bespoke drink based on their seasonal and local ingredients. The best part? This fantastic cocktail bar is a French zero-waste and plastic-free establishment! Check out all the Parisian hipsters as you sip on your concoction.
15 Boulevard du Temple, 75003
Bar Hemingway
The Bar Hemingway is a famous, glamorous Parisian bar known for its vintage appeal. This drinking joint is adorned with classic pub stools and leather banquettes. Located in the Hotel Ritz, this bar has been frequented by many famous guests such as Theodore Roosevelt, Winston Churchill, Scott Fitzgerald, and Cole Porter, but its most famous guest – Ernest Hemingway – after which it has been renamed, was a regular for more than 30 years!
The area is very cozy, making it ideal for intimate get-togethers. The cocktails here are all notable classics with an added twist by their legendary bartender, Colin Field. To add, cocktails here are served with their designated scented roses, ensuring a romantic 1920s experience for every visitor.
38 Rue Cambon, 75001 Paris, France
Isadora
The Isadora Cocktail Bar is a drinking spot described as being tinged with a touch of madness. Their setting is inspired by the Roaring Twenties, hence their selection of sharp beats to pair with their spirits and cocktails.
Aside from the classic cocktails, Isadora serves specialty drinks that will cater to any customers' preferences. Whether you're looking for bitter and fruity, dry and strong, or fresh and exotic combos, this speakeasy is here to cater to your preferences.
60 Rue Jean-Jacques Rousseau, 75001 Paris, France
Le Gatsby
This cocktail bar is another wonderful find in Paris. Le Gatsby is filled with plenty of elements from the 1920s and 1930s. Stepping here would feel like you've traveled back in time. This area is adorned with vintage club seats, classic art deco lamps, and its very own vaulted brick cellar. Even its cocktail options are named after famous figures from the 1920s like Josephine Baker and Charlie Chaplin.
64 Av. Bosquet, 75007 Paris, France
Le Très Particulier
Situated in the heart of Montmartre, this sophisticated cocktail bar is a favorite among locals. It is a hidden speakeasy located on a private street. Due to that, visiting this establishment entails doing plenty of navigating. But what awaits you in this secret spot will surely make your visit here worth it.
The Le Très Particulier is a garden-themed cocktail bar located inside a trendy hotel. And aside from its beautiful forest-themed atmosphere, the bar's refreshing drinks will also keep you invigorated. For the ultimate experience, you can enjoy your delicious cocktails from the area's designated sunroom.
Hôtel Particulier Montmartre, 23 Av. Junot, 75018 Paris, France
Danico
Do you consider yourself a bold cocktail enjoyer? Danico is here to challenge your boldness for potent cocktails. After all, the twelve artisan concoctions are described as "not for the faint of heart." For instance, their La Myrtille is described as a super-charged cocktail specialty containing hazelnut butter, Pierre Ferrand cognac, and tonka beans.
Danico is a Brooklyn-inspired drinking space. This cocktail bar is decorated with eccentric wallpaper, velvet furniture, and a stunning herringbone marble drinking bar. Danico's hip music comprises lively beats from the 80s.
6 Rue Vivienne, 75002 Paris, France
Dirty Dick
This is another must-visit bar for booze enjoyers. The Dirty Dick is famous for its unique combination of traditional London pub influences and 21st-century elements. Both frequented by tourists and locals, the Dirty Dick in Paris offers a one-of-a-kind experience for its guests.
As expected, this speakeasy offers modern British snacks and drinks for an authentic London experience. Moreover, the Dirty Dick closes at 3 in the morning during the weekends. This makes it an ideal spot to finish your late night out on your own or with friends.
10 Rue Frochot, 75009 Paris
Prescription Cocktail Club
Like its name, ordering a cocktail from this bar feels like receiving a prescription. This quirky drinking spot comes in a 1930s setting and will prescribe you their inventive specialty cocktails. Of course, you can always go for their classics if you aren't bold enough. But then again, their specialties will surely make your trip a lot more memorable.
23 Rue Mazarine, 75006 Paris, France
Candelaria
If you want to escape Paris for a bit, head to Candelaria in the Marais, where you can sip on Mexican cocktails with Central American influences. Dance to the beats of Latin music and hang out with locals in this hidden cocktail bar behind a taco joint.
52 Rue de Saintonge, 75003 Paris
Lavomatic
Have you ever pictured yourself enjoying your booze while chilling in a Laundromat? That's the kind of experience this cocktail bar offers its customers. Lavomatic includes a ground floor filled with ordinary things in laundromats.
But at the back of one of the laundromat's seemingly standard washers (note: it's actually a hidden door!) is a flight of stairs leading to the area's funky cocktail bar. And despite its mysterious hiding spot, the Lavomatic is a cozy cocktail bar filled with soap-themed items, vividly-colored cushions, and fun swing seats.
30 Rue René Boulanger, 75010 Paris, France
---
It's safe to say that Paris does include a wide variety of cocktail bars. So, if you haven't chosen a speakeasy to visit for your upcoming trip to Paris, you can always select from this list of the best cocktail bars in Paris. From vintage-themed bars to nature-like drinking spots, Paris is here to cater to any of your drinking preferences!