Planning your first trip to Paris can be daunting. Whether it's your first time in Europe, your first solo trip, or just your first time in the City of Light, I'm here to help guide you through some commonly asked questions about traveling to Paris as an American.
After reading my tips, you'll have a great idea of how to plan the perfect trip to Paris, France! This post will cover everything you need to know before arriving in Paris.
Timing
When is the Best Time to Visit Paris?
As Audrey Hepburn's character in Sabrina says, "Paris is always a good idea." But is that really true? The best time to visit Paris is an age-old question that depends on your preferences.
Hate waiting in lines? Fall and winter are your best bet. Like to walk everywhere? Spring and fall are great for walking in Paris. Want to visit the south of France after Paris? Then summer is the season for you.
Here's a better idea of what to expect when visiting Paris during each season:
Personally, my favorite times to visit Paris are during spring and fall – when the city isn't too crowded with tourists and the temperatures are comfortable.
How Long Should I Stay in Paris?
You can spend years in Paris and still not see everything this magical city has to offer! When deciding how long you want to stay in Paris, it's important to consider everything you want to do ahead of time. For a first-time visit to Paris, I'd recommend at the very least 3 full days if you're coming from Europe, or 4 days if you're coming from overseas since you'll likely be jet-lagged on the first day! A week is a popular amount of time to spend in Paris, if your budget and schedule allow it.
Whenever you decide to come, try to avoid being in Paris on a Sunday, even though sometimes that's impossible. It's not the end of the world to visit Paris on a Sunday, but know that many stores and attractions will be closed, so you might be disappointed if you don't plan well. Even though you will be limited in what you can do on this day, I'm sure you can still find something!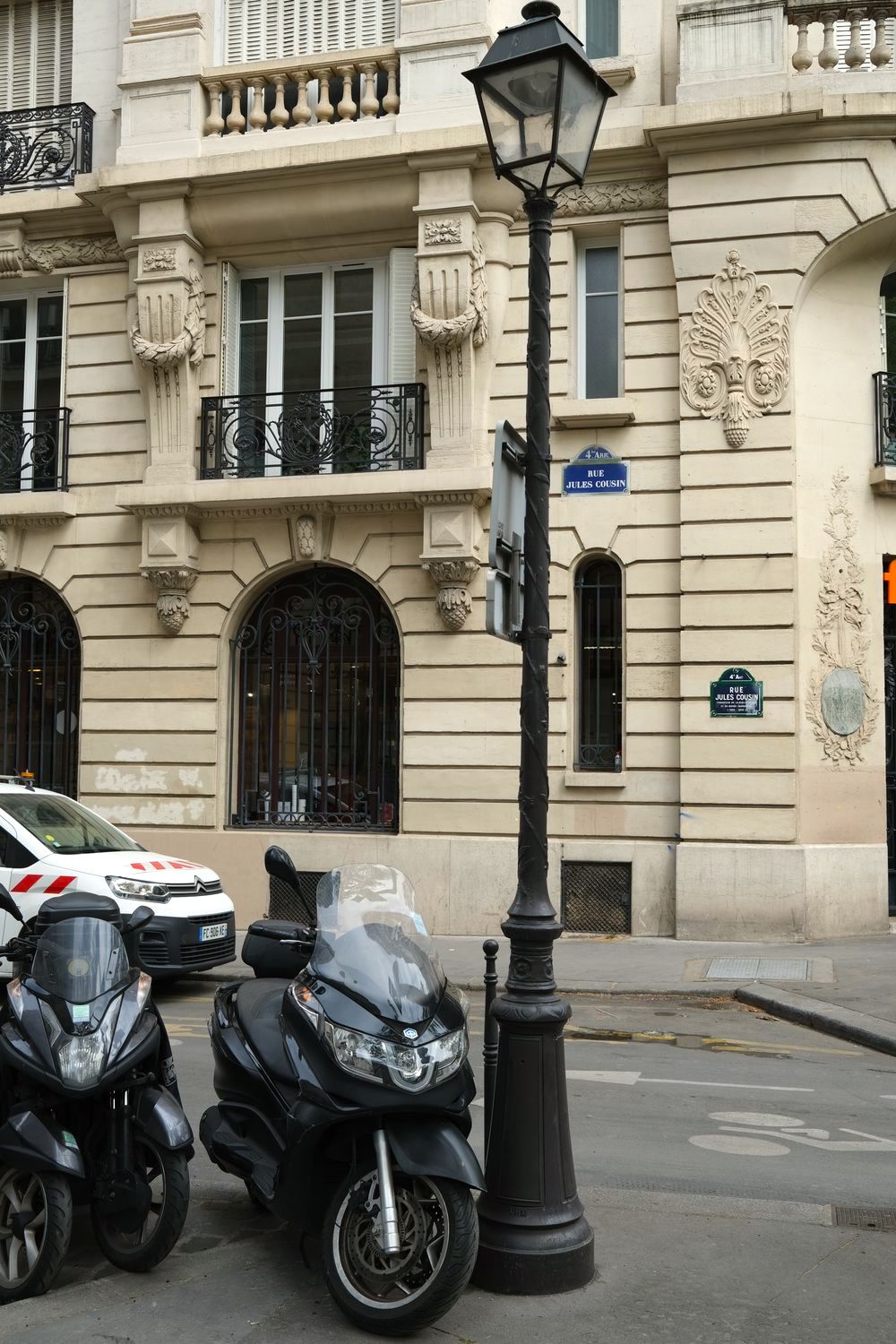 Money & Budgeting
How Much Money Should I Budget for a Trip to Paris?
Paris is a generally expensive city and I'd recommend budgeting at least 50 euros per day if you plan to eat out for all 3 meals. If you are able to cook at home or eat out on some days, then you can definitely get by on less than 25 euros per day, excluding any attractions you need to pay to visit. Obviously, this is excluding lodging, too!
Do I Need to Bring Local Currency with Me to Paris?
France is part of the European Union and therefore uses the Euro as its currency. You do not need to bring euros with you to the country ahead of time as most of your immediate needs can be taken care of with a standard credit or debit card. I recommend bringing a Visa or Mastercard with you. American Express is accepted, but much less often.
Once you arrive in Paris, you can go to any bank's ATM and withdraw local currency if you would like to. I recommend opening a checking account like Charles Schwab Investor Checking account which charges no foreign transaction fees and refunds any ATM fees you incur while abroad.
I recommend withdrawing euros from a reputable bank like Société Générale, BNP Paribas, Barclays, CIC, or HSBC while in Paris. They likely won't charge you a fee to withdraw cash. It is normal for bank ATMs to be located directly on the street in Paris, so be sure to keep an eye on your surroundings before selecting an ATM, or try to find one located in a foyer that you can walk inside during the day.
I also highly recommend the Chase Sapphire Reserve credit card, especially if you plan to travel often in the future. This credit card earns you triple points when you make travel and dining purchases, offers a basic travel insurance program, and charges no foreign transaction fees.
How Often Will I Need to Pay with Cash in Paris?
You shouldn't need much cash with you for your trip to Paris. The majority of retailers accept credit cards. These are the only scenarios where I've needed cash before in Paris:
Other than those two situations, I've never had a problem paying with my credit card while in Paris.
Visas & Insurance
Do I Need a Visa to Visit Paris?
As of 2022, if you are American, you do not need to fill out any visa forms prior to your visit to Paris. You simply book your flight and go! A stamped visa will be issued to you upon arrival when you go through Border Control, although sometimes they just wave you through. It's a very easy process. Sometimes the border agent will ask you the purpose of your visit, and you can just say, "I'm here for tourism!" but it's rare they even ask that.
Sometime around November 2023, the process will change and you will need to apply for an ETIAS visa waiver before flying to Europe. From what I've read, you'll simply need a passport, a debit or credit card, and an email address. I'll be sure to update this article when I have the details, but for now, the system is visa upon arrival!
Do I Need Travel Insurance to Visit Paris?
You do not need any type of travel insurance to visit Paris or France, however, travel insurance is always a good idea, as you never know what could happen during your trip. I once fell ill in Madrid and got stuck with a 300-euro hospital bill! Sign up for travel insurance using a reputable company like World Nomads, Allianz, or Seven Corners and give yourself peace of mind.
Transportation
How to Find Cheap Flights to Paris
Flights to Paris will be the cheapest during the offseason from November through March. You can also snag good deals by looking for flights during the week on Tuesday and Wednesday.
If you're coming from the USA, you will probably fly into one of the city's two main airports: Charles de Gaulle (CDG) or Orly (ORY). Although it's considered an official Paris airport, I definitely do not recommend flying into Beauvais Tillé (BVA), because it's more than one hour's drive from Paris! CDG has installed automated border control machines that Americans can use to get through security faster.
Airline ticket prices to Europe have been dropping lower and lower over the years. It used to cost a minimum of $800 to fly round-trip to Paris from the US, but these days you can find tickets for as little as $300!
The major airlines that fly most often to Paris from the USA are Air France, Delta, JetBlue and American Airlines.
All-business class flights are offered from Newark, NJ by a new airline called La Compagnie.
Low-cost airlines you can consider to save money are French Bee and Norwegian Air. Book at your own risk with a low-cost airline. Read the reviews first!
What is the Best Way to Get to Paris from the Airport?
Once you land at the airport in Paris, you have a few options for getting into the city.
My preferred option for getting to central Paris from the airport is through RoissyBus, the city's direct bus transfer line that goes straight to Opéra. While a standard city bus or the RER will make all the local stops and take a really long time, RoissyBus goes directly between the city and the airport. A one-way trip typically costs just 16€ and you take a large bus with plenty of seating and rack space on the bus for your luggage.
Here are the main options:
If you're traveling with a large group and prefer an English-speaking driver, then I'd recommend booking in advance through Welcome App.
Accommodations
Where to Stay in Paris
Don't make the mistake of staying next to the Eiffel Tower on your first trip to Paris! Many first-time visitors think that the Eiffel Tower is centrally located, but it couldn't be further from the other main sights of Paris!
The Eiffel Tower is located pretty far west in the 7th arrondissement, and many more major attractions in Paris are located in the 1st arrondissement.
For that reason, I recommend staying as close as possible to the true center of Paris. Of course, where to stay in Paris will largely depend on your budget. The closer to the center, the more expensive you will find hotels, although expensive hotels can be found nearly everywhere in Paris!
Don't worry too much about where you are staying as long as it's in your budget. Paris has a vast metro system that is very easy to navigate with the help of Google Maps, so you can definitely make your way to other neighborhoods in the city quickly and efficiently if you prepare your route ahead of time!
I have even written a quick guide to each arrondissement if you would like to compare different areas before deciding where to stay: Paris Arrondissements Guide
There are several different types of accommodations that you can choose from when planning a trip to Paris. Here are the main options:
Hotels
Hotels are aplenty in Paris, but they don't come cheap. A hotel in central Paris can easily run you several hundred dollars a night. It could be worth it though if this is your first trip to Paris, to avoid the hassle of dealing with a host you don't know.
Apartments
Apartments: Regulations in Paris have changed recently and Parisian homeowners can no longer rent their apartments for more than a few months out of the year. The apartment must be registered with the city to be legal as well, so be sure to confirm that number appears on the listing before booking an apartment through any apartment rental service.
The top places to find a short-term Parisian apartment rental are:
Hostels
Hostels: While Paris isn't exactly teeming with hostels, you can find several reputable hostels in the city.
What to Pack for Paris
Packing for Paris will largely depend on your personal preferences and the kind of shoes you're able to walk in. Sneakers are probably the most comfortable, though if they are the athletic kind, you'll definitely stick out like a sore thumb! Opt for minimal Veja or Superga sneakers to blend in a bit more with local Parisians.
Here are some of things I always pack for Paris depending on the season:
Packing for Paris in the Spring/Summer
Packing for Paris in the Fall/Winter
Paris Itinerary Ideas
Once you've got the logistics of your trip to Paris down, it's time to start planning your itinerary. Stay tuned for my guides on what to do during your trip to Paris, and here's a few ideas to get you started in the meantime:
Lastly, enjoy your trip to Paris!