In Paris, France, boulangeries (or bread bakeries) are famous for their expertise in the art of making bread. You can certainly find these establishments in almost every nook and cranny in the streets of Paris. They offer a wide variety of bread selections, not just the worldwide renowned baguette.
The way of making the ever so popular baguettes and even croissants have been honed for several decades and the French have not lost their touch. Throughout the years, they have learned many different recipes for certain types of bread.
Take some time to visit some of these boulangeries in Paris. You'll never know when one might just be your favorite.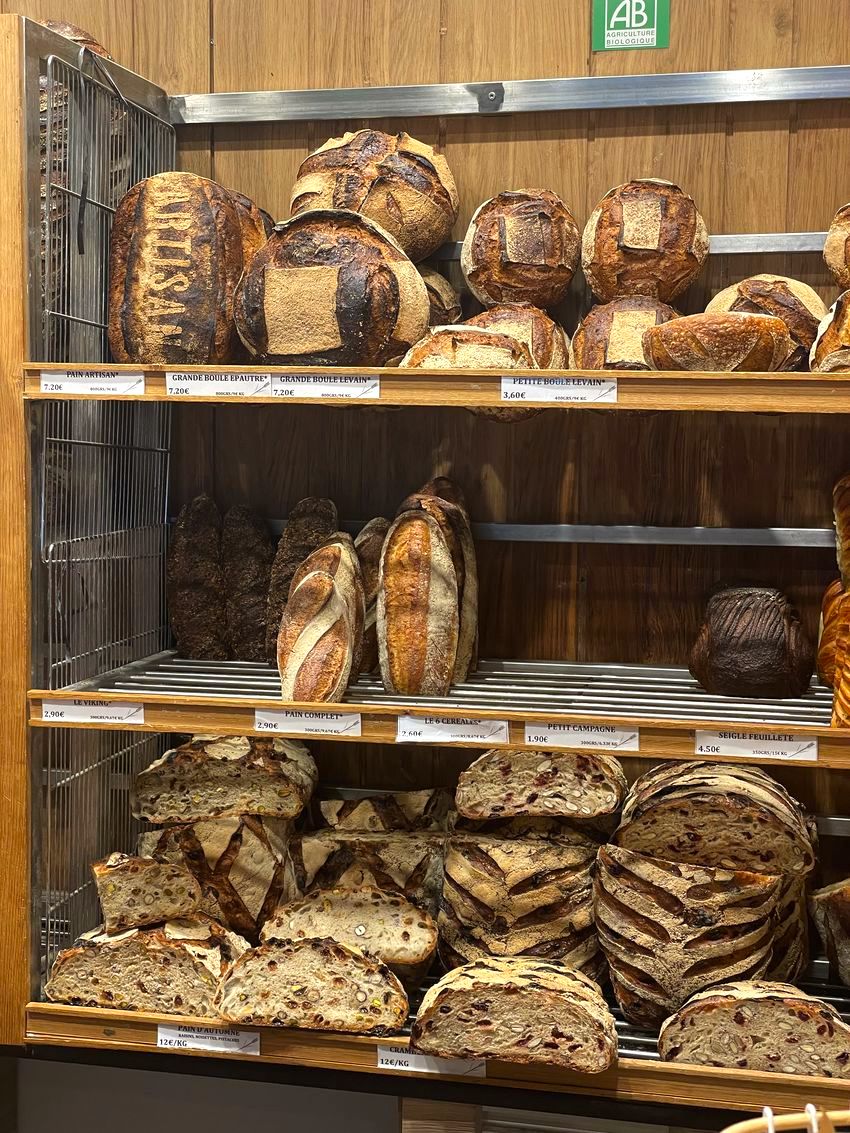 Aki Boulangerie
If you're ever in Paris, be sure to stop by Aki Boulangerie. It's a small, unassuming bakery, but the pastries are some of the best I've ever had. The bread is always fresh and fluffy, and the fillings are always bursting with flavor. I always get the chocolate croissant – it's my favorite – but they also have a great selection of savory options. If you're looking for a quick bite or a place to sit and relax, Aki Boulangerie is definitely worth checking out.
16 Rue Sainte-Anne, 75001 Paris, France
BO&MIE
This bakery-patisserie shop explores its creativity in the spectrum of tradition and originality. They offer viennoiseries, pastries, and bread of different kinds. The interior has a modern and elegant feel to it so the ambiance is very relaxing to dine in. Their creations are offered at a very reasonable price. The waiting time in line is not that long but still, plan ahead.
Boulangerie Bo
This is Chef Olivier Haustraete's only pastry shop, inspired by Japanese flavors due to the time he spent working under Chef Alain Ducasse in Tokyo. Their selection includes choux (cream puffs), tartes, eclairs and many more. He integrates the aforementioned Japanese flavors such as yuzu, bean paste, sansho pepper, and roasted malt into his creations. Amazingly, he creates at least 2 new products and flavors each month so your visits might not be the same as the last.
Du Pain et Des Idées
This is one of the boulangeries in Paris is known for its Instagram-esque interior and exterior. Not only will you have a fun time dining, but the ambiance will also surely take your breath away. There is an abundance of good reviews for this place and for a good reason. The croissants they make are outstanding. However, they are mostly known for their escargot pastry. For this product, they offer 5 different flavors. The red fruits are particularly sweet to the taste.
Take note of their schedule wherein they are unavailable during the weekends and that there are long lines during peak hours. Because of the long lines, know your order ahead of time so as not to hold up the line. Their menu is pretty much affordable so don't be afraid to check this place out!
Stohrer
The only Stohrer shop is said to be the oldest standing patisserie in all of Paris. The shop focuses on creating pastries and sweets. Their selections made to perfection are: lemon tarts, baba au rhum, eclairs, and many others. They also kept their authentic vintage 1860 design, further amplifying the overall historical vibe of the place.
Liberté
Liberté is a new and upcoming boulangerie that offers high-quality pastries and baked goods. It's made "in pleasant, contemporary surroundings, whilst respecting the traditions of this age-old profession. With passion, transparency and a sense of conviviality," owner Mickaël Benichou said in an interview. He stated that you have to try out their lemon tarts, as well as their tarte tatin, which are only available during certain seasons.
28 Beaumarchais
The 28 Beaumarachais boulangerie is situated near Bastille Market and Merci Shop, which can be great tourist places to enjoy while eating their famous baguettes. Their bread is soft and not too crunchy, which is heaven-sent for baguette lovers. Try out their Olive Baguetinne and Cheese Baguettine as they are truly great for your taste buds.
Coquelicot
Coquelicot's pastries and baguettes are pretty great! You can even dine-in for brunch and be seated outside or on the second floor to get a great view of the area. One tip is that you can ask for only one half of a baguette (or a demi-baguette) if you feel having a full-length one is too much for you.
Boulangerie Utopie
Boulangerie Utopie may truly be a "utopia" for bread and pastry lovers. The exterior may look like your next-door bakery but the interior is a sight to behold. Boulangerie Utopie is known for their wonderfully presented products lined up in their display cases. Try out their charcoal baguette as it's worth every coin. Their sandwiches and baguettes are a must as well.
Blé Sucre
The owner of this Parisian boulangerie used to be the head pastry chef of a five-star hotel, which tells you the quality of the products that they have to offer. The Blé Sucre selection is mouth-watering and worth the trip. These include: millefeuilles, iced madeleines, and kouign amann (caramelized pastry). The croissants are also well regarded by many food-world leaders.
Pain Pain
Pain Pain Bakery and pastry shop in Paris was created by Sébastien Mauvieux, and was elected the best baguette in Paris back in 2012. Pain Pain offers a wide selection to satisfy all gourmets. The French bakery has bread, pastries, cakes, sandwiches and many more! These delicacies are made to delight your taste buds all season long.
Le Grenier à Pain Abbesses
"We all share the same passion, the art of bread," is this boulangerie's slogan. True to their word, they offer mouth-watering traditional baked goods such as wholemeal bread, farmer's baguette, sourdough, creampuffs, and many more. Their creations have a touch of modernity that leaves one to crave for more.
Boulangerie Chambelland
This shop has a wide selection of bread and pastries such as cookies, cakes, and sandwiches. They even serve dishes such as soup and salad, which is not that unusual for boulangerie. What's even more interesting is that their creations are all gluten-free! Not to worry though, they taste just as good as your everyday chocolate-chip cookies but with a twist.
Land & Monkeys
An interesting boulangerie with an interesting name, this shop offers plant-based and vegan products. For all you vegan lovers out there, this is your one pit-stop for good bread. They serve black bread, brownies, fruit tarts, quiches, and many more. With the use of organic ingredients, rest assured the quality will satisfy your taste.
Poilâne
Poilâne first opened shop in 1923 and they offer traditional country bread such as pain de campagne. These have been their iconic selection ever since. They have been making it for so long they have become popular enough that their bread is sold in specialty stores, supermarkets, and restaurants. In the shop, they also sell outstanding croissants and breakfast pastries such as Punitions.
What to Buy at a Boulangerie in France
Going to the boulangerie – a French bakery – is one of the most quintessential French things you can do. At the height of my bakery obsession, I was purchasing a baguette every 2 days, and a viennoiserie (baked good like a croissant) 4-5 times a week!
I always get excited when I see a boulangerie outside of France, but each time I am disappointed, because there is truly nothing as good as an authentic boulangerie in France.
Walking into boulangerie can be intimidating the first time you do it, so today I'm going to give you a basic scoop on what you need to try!
Here are five things I recommend you try at one point or another at a French bakery near you:
1. Baguette
Go for a baguette tradition, to get French bread cooked to perfection, the old-school way! Baguettes are the perfect bread to accompany your morning breakfast with jam, or your post-dinner cheese plate.
2. Croissant
French croissants are buttery, flakey, melt in your mouth goodness. Pick up at least one croissant every morning during your time in France!
3. Sandwich Parisien
The sandwich parisien is a classic of everyday French life. In fact, millions of them are sold every day in France! This type of sandwich is made of a sliced baguette, ham slices, and emmental cheese. The baguette is often buttered on the inside as well.
4. Quiche
Quiches are my favorite light lunch or afternoon snack from the boulangerie in Paris. The most classic French quiche is the Quiche Lorraine which is made with egg, ham, and cheese.
5. Pastry
You need to try one of the amazing pastries in Paris for sure! From the gooey chocolate éclairs to the sweet macarons, there's dozens of scrumptious and tasty French pastries you must try at least once.
How to Order at a French Boulangerie
Most boulangerie staff in Paris are used to speaking English so dont worry too much if you don't feel comfortable speaking French.
When you're ready to order, just say "Je voudrais" followed by the items you want. If you order a baguette, be sure to specify which kind of baguette as there might be several different cooking styles and even sizes available for purchase. I always get a baguette tradition which makes things easier.
---
Take a rest from touring and visit these renowned and best tasting and selling boulangeries in Paris. The bakeries mentioned above are not all that Paris has to offer but it's a great start for your day of exploring. Sit in a park or dine in with a great view of the city with a baguette or croissant in hand. You will not regret this experience of a lifetime!