In Paris, France, boulangeries (or bread bakeries) are famous for their expertise in the art of making bread. The French consume bread on a daily basis. You can find a boulangerie on almost every street in Paris and certainly in every neighborhood! Boulangeries produce many kinds of bread, perfect sandwiches, sweet pastries, and quick bites – not just the worldwide renowned baguette.
Wondering what to order at a boulangerie? You can't go wrong, but I recommend getting a baguette tradition, or a simple butter croissant. The savoir-faire of making fresh baguettes and croissants has been honed for several decades and the French have not lost their touch. Throughout the years, they have learned many different recipes for certain types of bread.
Take some time to visit some of these amazing boulangeries in Paris. I'm sure that one will become your new favorite!
La Maison d'Isabelle
La Maison d'Isabelle is a famous bakery not far from the Seine in central Paris. It won the 2018 prize for the best croissant in Paris so it's likely they still have their French touch!
La Maison d'Isabelle
47ter Boulevard Saint-Germain, 75005 Paris, France
Du Pain et Des Idées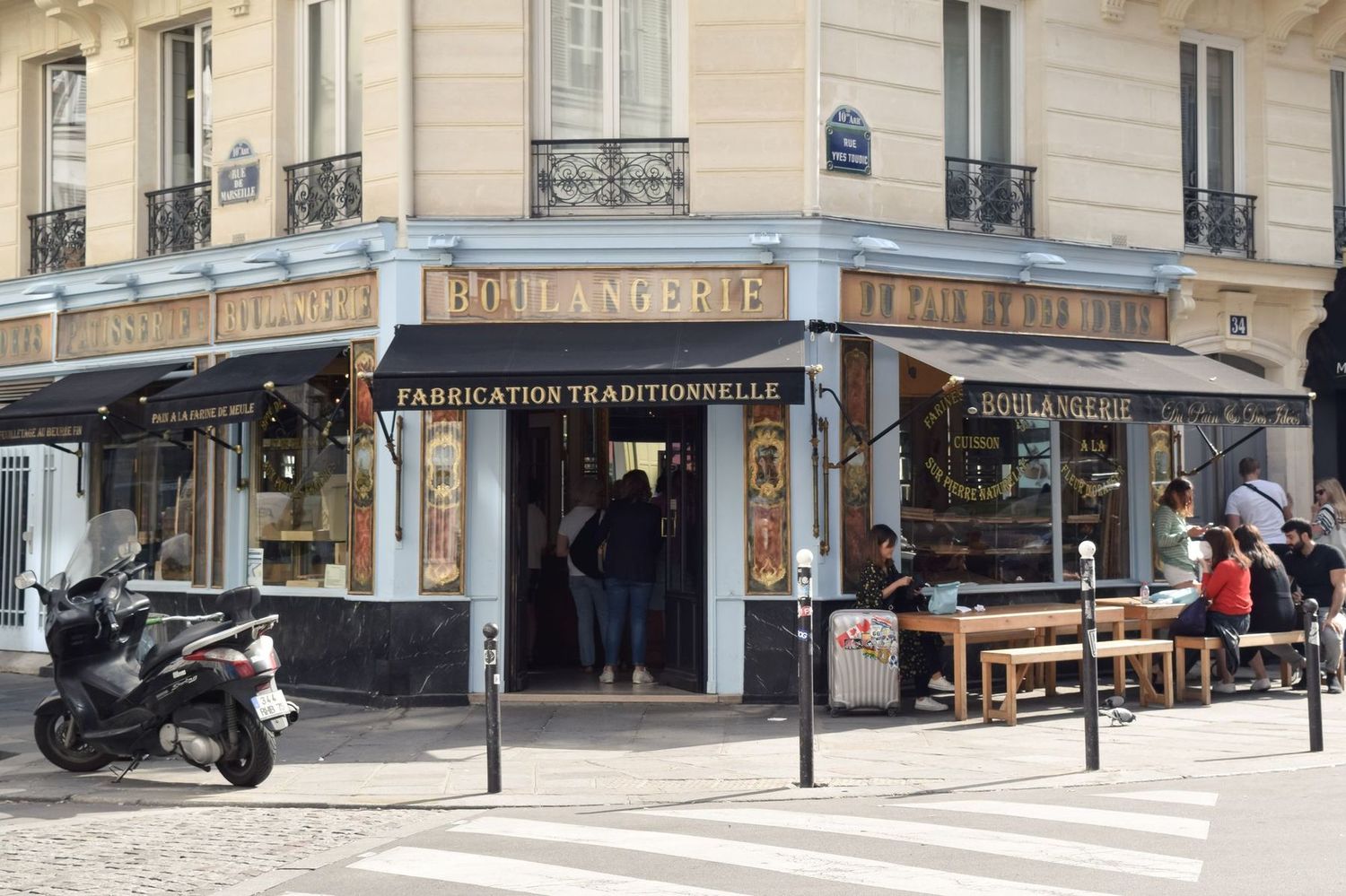 Du Pain et Des Idées is one of the coolest boulangeries in Paris that is known for its classic French exterior and traditional interior design. Not only will you have a fun time munching on your baguette here, but the ambiance will take you back to the old Paris glory days. Du Pain et Des Idées has an abundance of good reviews; the croissants are truly outstanding. Du Pain et Des Idées is well-known for its famous escargot pastry which comes in different flavors.
34 Rue Yves Toudic, 75010 Paris, France
Aki Boulangerie
If you're ever in Paris, be sure to stop by Aki Boulangerie for Japanese treats, melon bread, and matcha tea cookies. If you're looking for a quick bite or a place to sit and relax, Aki Boulangerie is definitely worth checking out. It also might be the most highly rated boulangerie in Paris according to Google Maps reviews!
16 Rue Sainte-Anne, 75001, Paris, France
BO&MIE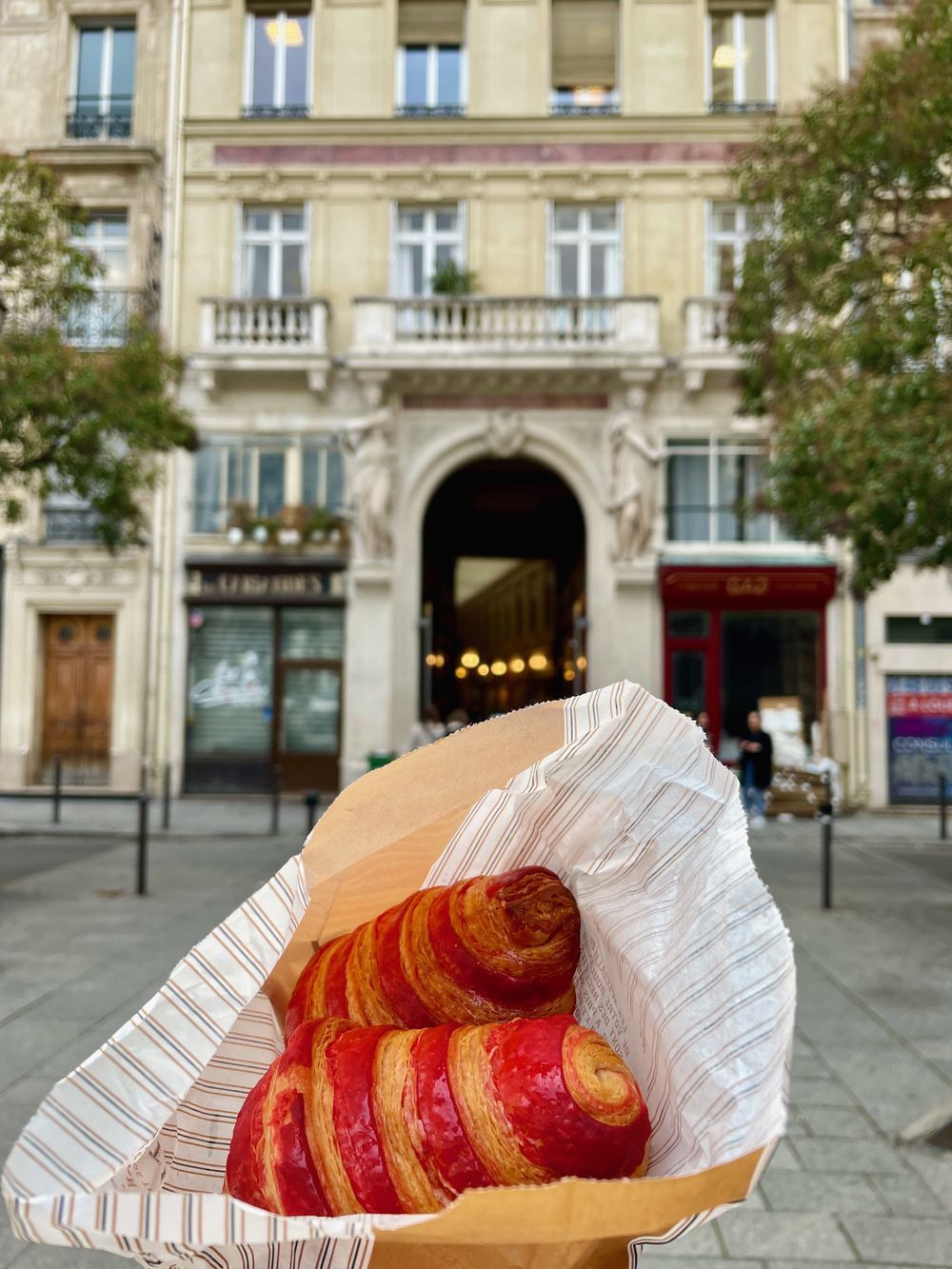 The BO&MIE bakery-patisserie shop explores its creativity in the spectrum of tradition and originality. They offer viennoiseries, pastries, and bread of different kinds. The interior has a modern and elegant feel to it so the ambiance is very relaxing to dine in. Their creations are offered at a very reasonable price. Get there early as morning lines can be long!
359 Rue Saint-Martin, 75003 Paris, France
Boulangerie Utopie
Boulangerie Utopie may truly be a "utopia" for bread and pastry lovers. The exterior may look like your next-door bakery but the interior is a sight to behold. Boulangerie Utopie is known for its wonderful eclairs, pastries, and loaves lined up in display cases. Try out their charcoal baguette as it's worth every coin. Their sandwiches and baguettes are a must as well.
20 Rue Jean-Pierre Timbaud, 75011 Paris, France
Boulangerie Moderne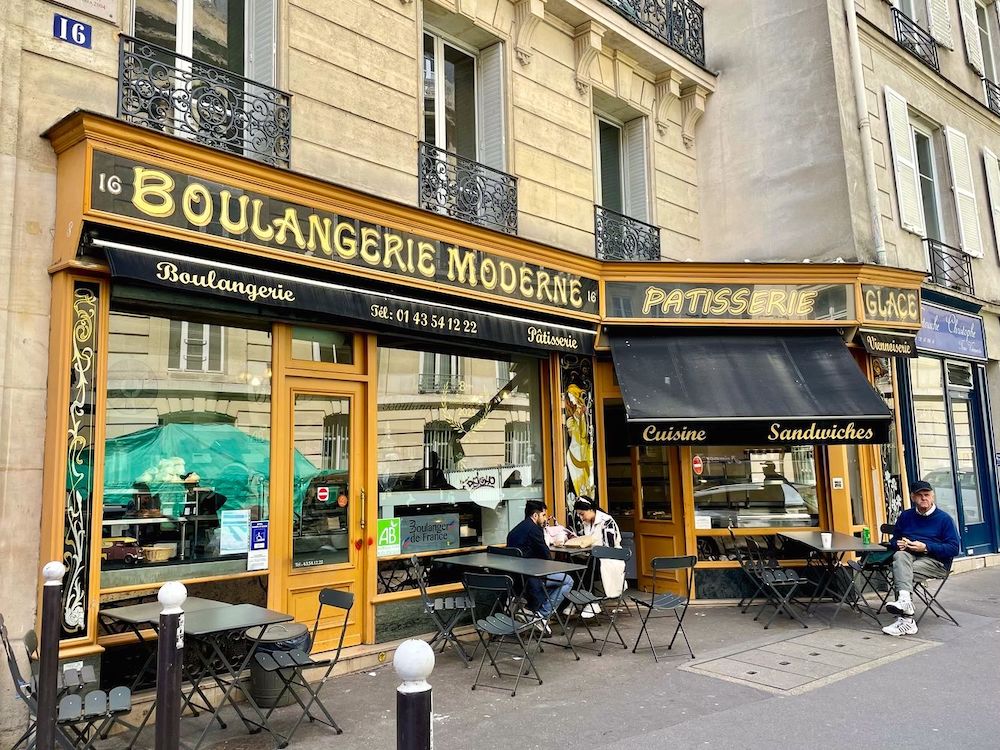 Boulangerie Moderne got a big boost in popularity thanks to its feature on the hit TV show Emily in Paris, where the lead character learns how to properly say "pain au chocolat" when ordering! It's run by chef Thierry Rabineau and earned 2nd place in 2023's "best croissant in Paris" competition!
16 Rue des Fossés Saint-Jacques, 75005 Paris, France
Pain Pain
Pain Pain bakery and pastry shop in Paris was created by Sébastien Mauvieux and was awarded the best baguette in Paris prize in 2012. Pain Pain offers a wide selection to satisfy all gourmets. The French bakery has bread, pastries, cakes, sandwiches, and many more but their filled baguettes are a specialty. These delicacies are made to delight your taste buds all season long.
88 rue des Martyrs 75018 Paris, France
Boris Lumé Boulangerie
Boris Lumé Boulangerie is one of those rare Paris bakery-pastry shops that also serves amazing specialty coffee. It's worth a visit to sit down and enjoy a moment of pleasure! It's not far from the attractions of Montmartre.
48 Rue Caulaincourt, 75018 Paris, France
Stohrer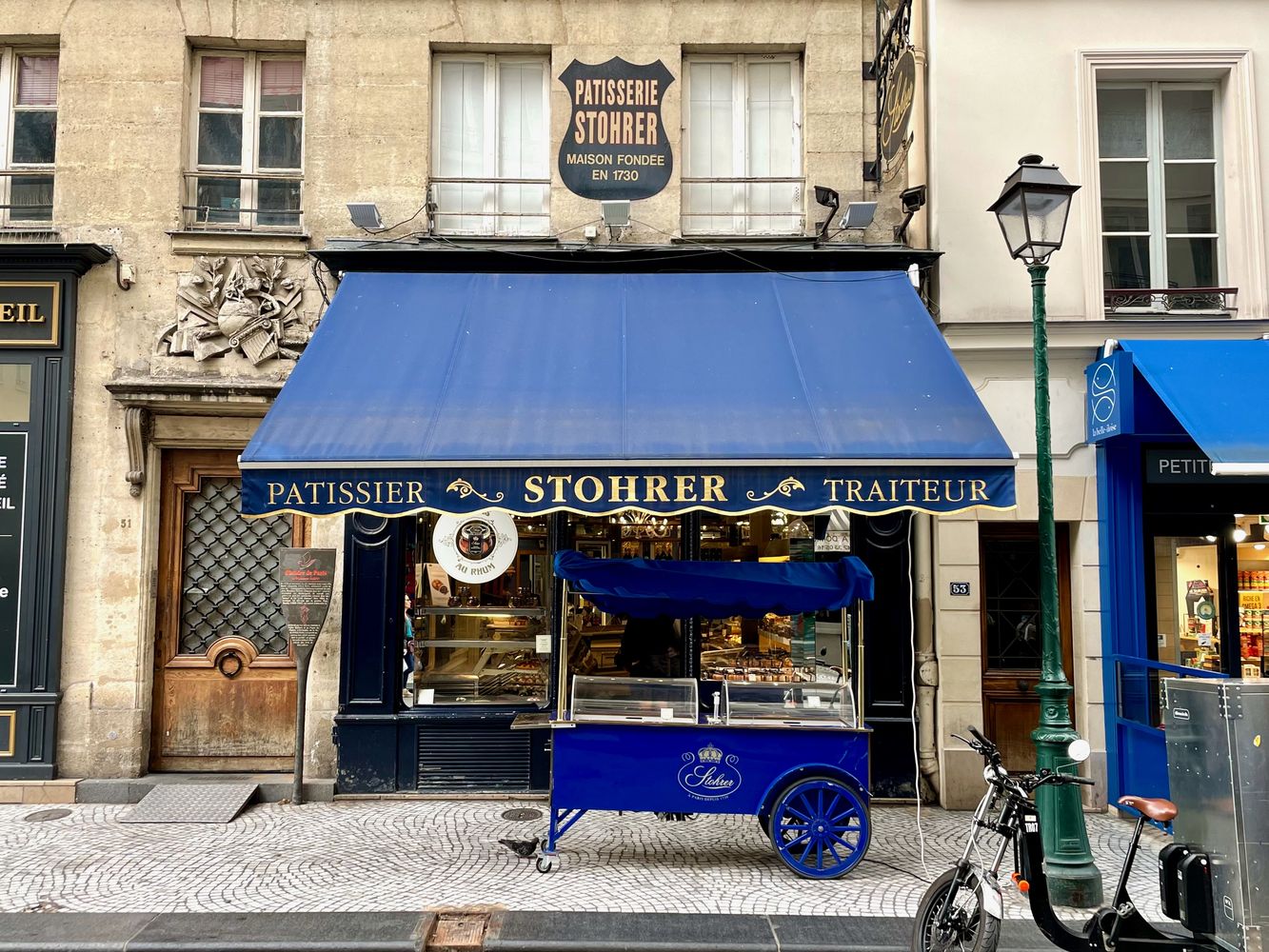 Stohrer is said to be the oldest operating boulangerie in all of Paris. The shop focuses on creating pastries and sweets. Their selections made to perfection are lemon tarts, baba au rhum, eclairs, and many others. They also kept their authentic vintage 1730 design, further amplifying the overall historical vibe of the place.
51 Rue Montorgueil, 75002 Paris, France
Chambelland
Boulangerie Chambelland is famous for its organic, gluten-free rice bread. The purity of their products is guaranteed as the Chambelland company has its own rice mill to supply ingredients. Their shop is in a residential area of the 11th and has plenty of seating to enjoy an affordable meal in Paris.
14 Rue Ternaux, 75011 Paris, France
Chez Meunier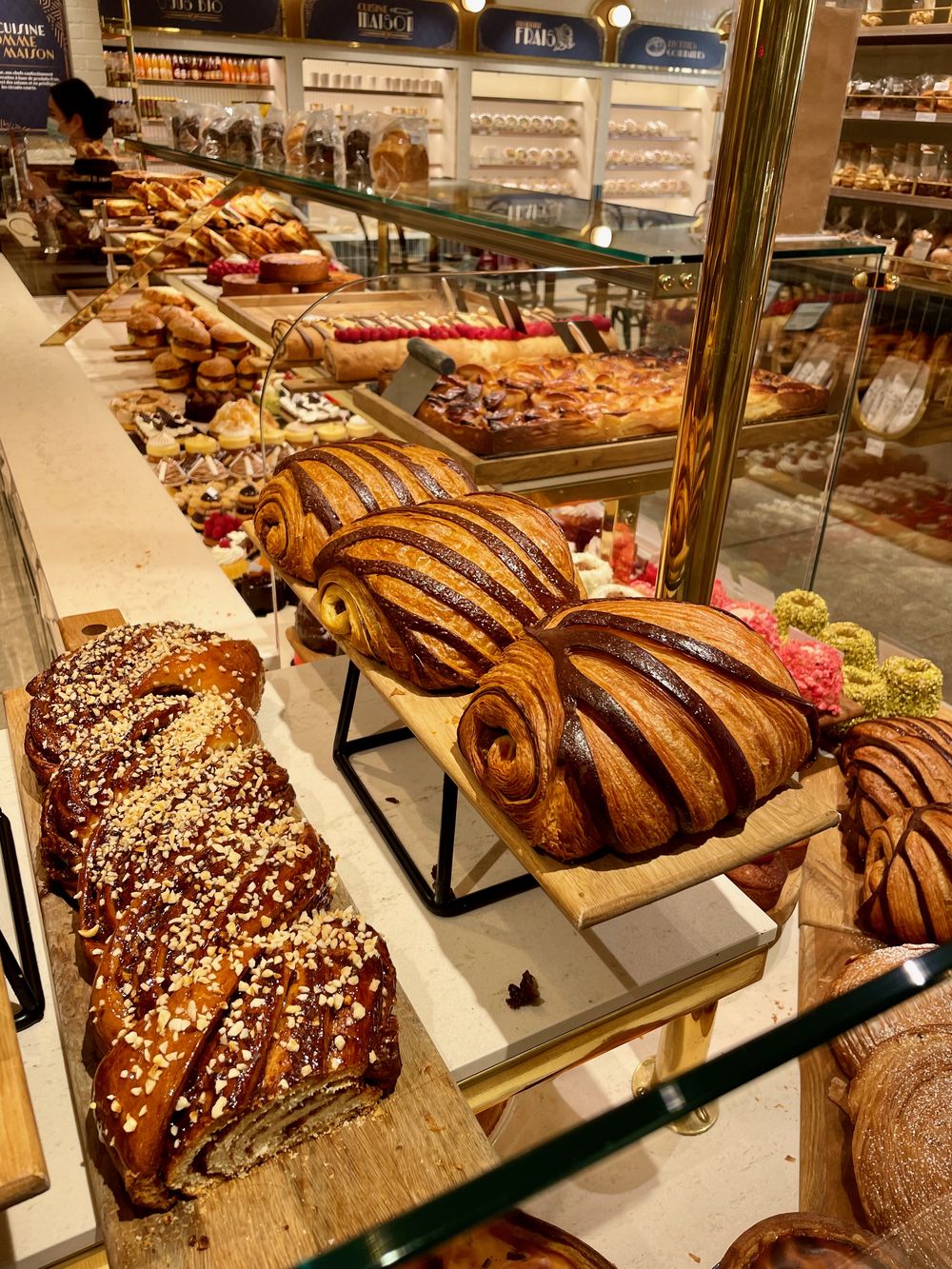 Chez Meunier is a bakery I discovered in Galeries Lafayette Le Gourmet. The Parisian bakery makes unique baked goods and pastries you'll never forget. I loved the Babka brioche in both the chocolate and pistachio flavors. They also make croissants topped with icing in flavors like raspberry, chocolate, and pistachio. They have a phenomenal jelly filling. Chez Meunier also makes giant croissants and enormous pain au chocolats which are great for sharing! It's a must-visit bakery in Paris if you are a true foodie!
185 Rue de Crimée, 75019 Paris, France
Le Grenier à Pain Abbesses
Also in the Montmartre area is Le Grenier à Pain Abbesses. "We all share the same passion, the art of bread," is this boulangerie's slogan. True to their word, they offer mouth-watering traditional baked goods such as wholemeal bread, farmer's baguette, sourdough, creampuffs, and many more. Their creations have a touch of modernity that leaves one to crave for more.
38 Rue des Abbesses, 75018 Paris, France
Boulangerie Guyot
Boulangerie Guyot won the 7th best traditional baguette award in 2022 in Paris. In 2023, it moved up to the 2nd spot.
28 Rue Monge, 75005 Paris, France
The Smiths Bakery
This small hole-in-the-wall bakery in Saint-Germain-des-Prés specializes in baked goods from the south of France like the delicious tarte tropézienne pastry. Fans love that the portions are generous and there's even a small sidewalk seating area outside.
12 Rue de Buci, 75006 Paris, France
Boulangerie Bo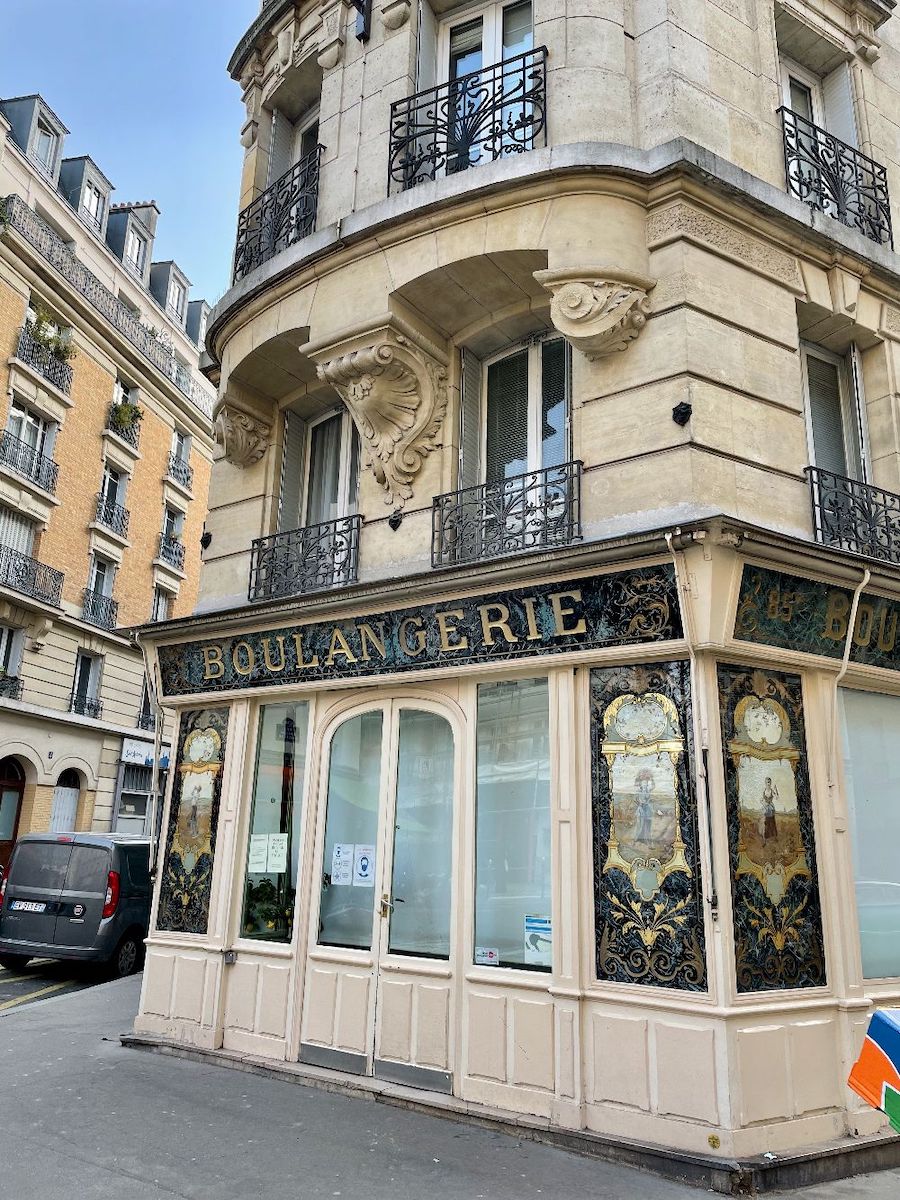 This is Chef Olivier Haustraete's Parisian pastry shop, inspired by Japanese flavors due to the time he spent working under Chef Alain Ducasse in Tokyo. Their selection includes choux (cream puffs), tarts, eclairs, and many more. This French fusion bakery integrates the aforementioned Japanese flavors such as yuzu, bean paste, sansho pepper, and roasted malt into his creations. Amazingly, 2 new products and flavors are created each month by Boulangerie Bo so your visits might not be the same as the last.
85bis Rue de Charenton, 75012 Paris, France
Mamiche
Mamiche is a traditional French bakery specializing in artisanal bread, cookies, and pastries. Everything is 100% fait maison (homemade). Located in the trendy 9th arrondissement not far from Rue des Martyrs, this boulangerie should be on your list if you're staying in nearby Pigalle.
45 Rue Condorcet, 75009
Boulangerie Raphaëlle
Boulangerie Raphaëlle is an unassuming boulangerie in the Montmartre area with a bright red façade. With artisan baguettes and yummy pastries, it'll be your new favorite spot in the 18th.
1 Rue Feutrier, 75018 Paris, France
Blé Sucre
The owner of this Parisian boulangerie used to be the head pastry chef of a five-star hotel, which tells you the quality of the products on offer. The Blé Sucre selection is mouth-watering and worth the trip. These include: millefeuilles, madeleines, and kouign amann (caramelized pastry). The croissants are also well-regarded by many food critics.
7 Rue Antoine Vollon, 75012 Paris, France
Sain Boulangerie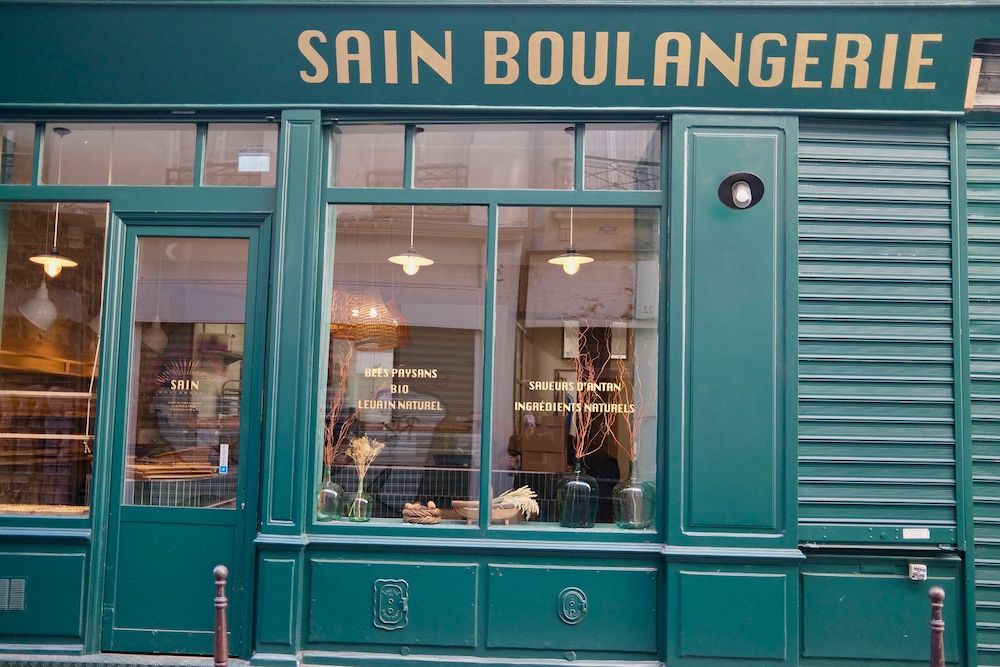 If you want to eat healthy while still enjoying French baked goods, then Sain Boulangerie, located in the trendy Canal Saint-Martin neighborhood is the best boulangerie for you.
13 Rue Alibert, 75010 Paris, France
Au Levain des Pyrénées
Au Levain des Pyrénées is a boulangerie that won the 2023 "Best Traditional Baguette in the City of Paris" award (Grand Prix de la Baguette de Tradition Française de la Ville de Paris). Owned by Tharshan Selvarajah, 37, who arrived from Sri Lanka at the age of 21, the boulangerie has the honor of a contract to supply baguettes to the French President's home for the next year.
44 Rue des Pyrénées, 75020 Paris, France
La Parisienne
La Parisienne's pastries and baguettes are pretty great! You can even dine in for brunch and be seated outside to get a great view of the area. One tip is that you can ask for only one-half of a baguette (or a demi-baguette) if you feel having a full-length one is too much for you.
48 Rue Madame, 75006 Paris, France
85 Rue Saint-Dominique, 75007 Paris, France
Boulangerie L'Essentiel
Run by master boulanger Anthony Bosson, Boulangerie l'Essentiel serves only the essentials you need for a full meal.
73 Bd Auguste Blanqui, 75013 Paris, France
Liberté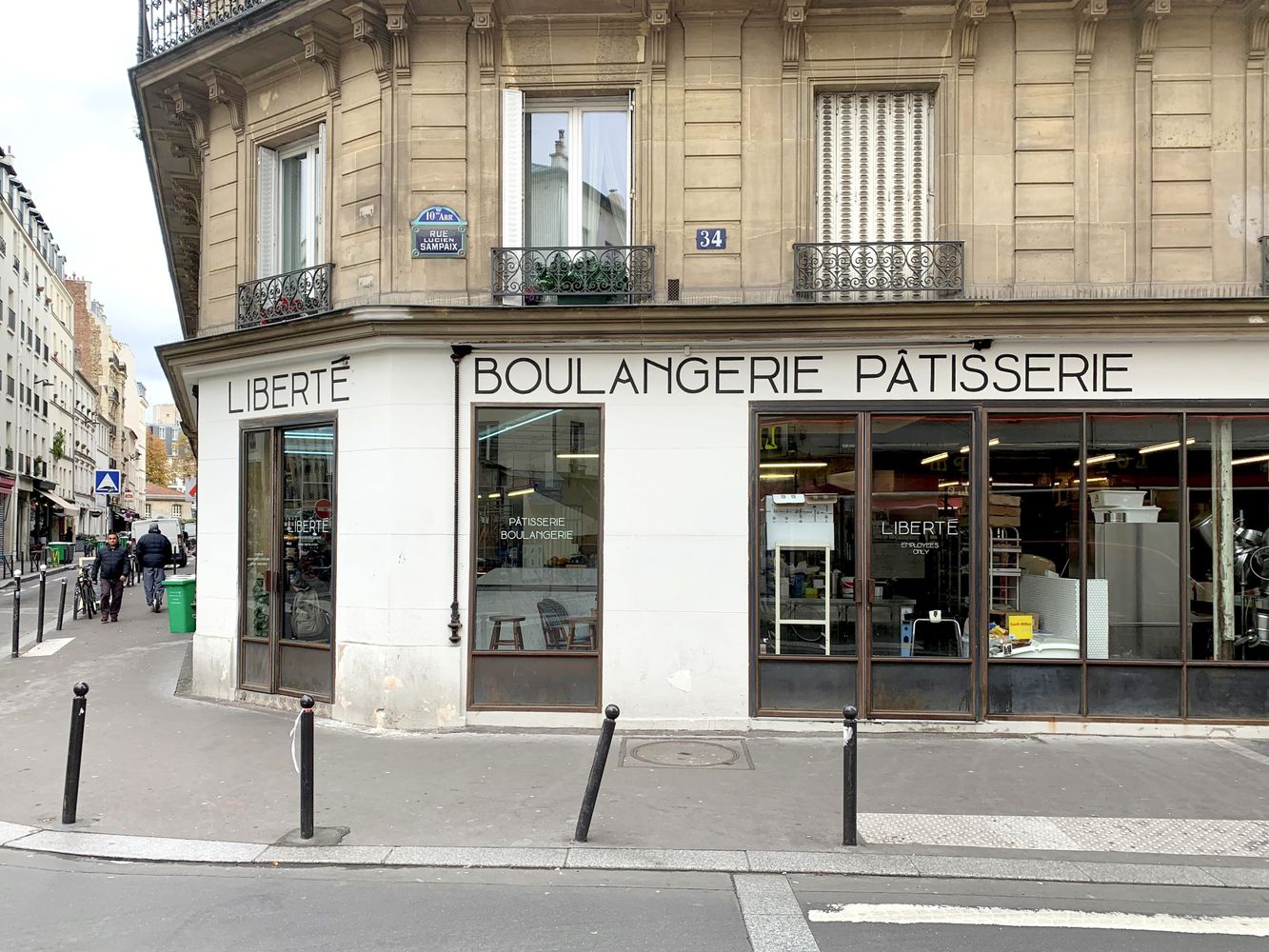 Liberté is a new and upcoming boulangerie that offers high-quality artisanal pastries and baked goods. It's made "in pleasant, contemporary surroundings, whilst respecting the traditions of this age-old profession. With passion, transparency and a sense of conviviality," owner Mickaël Benichou said in an interview. He stated that you have to try out their lemon tarts, as well as their tarte tatin, which are only available during certain seasons.
40 Rue Saint-André des Arts, 75006 Paris, France
58 Rue Saint-Dominique, 75007 Paris, France
Boulangerie Victoires
To feel like you're stepping back in time, head to the traditional French bakery Boulangerie Victoires. It's a small, unassuming bakery on the beautiful Place des Petits Pères and the food is some of the best I've ever had. Tables and chairs are set up outside on the small terrace overlooking the plaza. The bread is always fresh and fluffy, and the fillings are always bursting with flavor. I always get the chocolate croissant but they also have a great selection of savory options.
10 Place des Petits Pères, 75002 Paris, France
Poilâne
Poilâne is one of the oldest boulangeries in Paris. It first opened shop in 1923, specializing in traditional country bread such as pain de campagne. Poilâne breads have been an iconic part of Paris ever since. Poilâne has been making bread for so long that the bread is sold in specialty stores, supermarkets, and restaurants. In the bakery, Poilâne also sells outstanding croissants and breakfast pastries such as Punitions.
8 Rue du Cherche-Midi, 75006 Paris, France
Le Boulanger de la Tour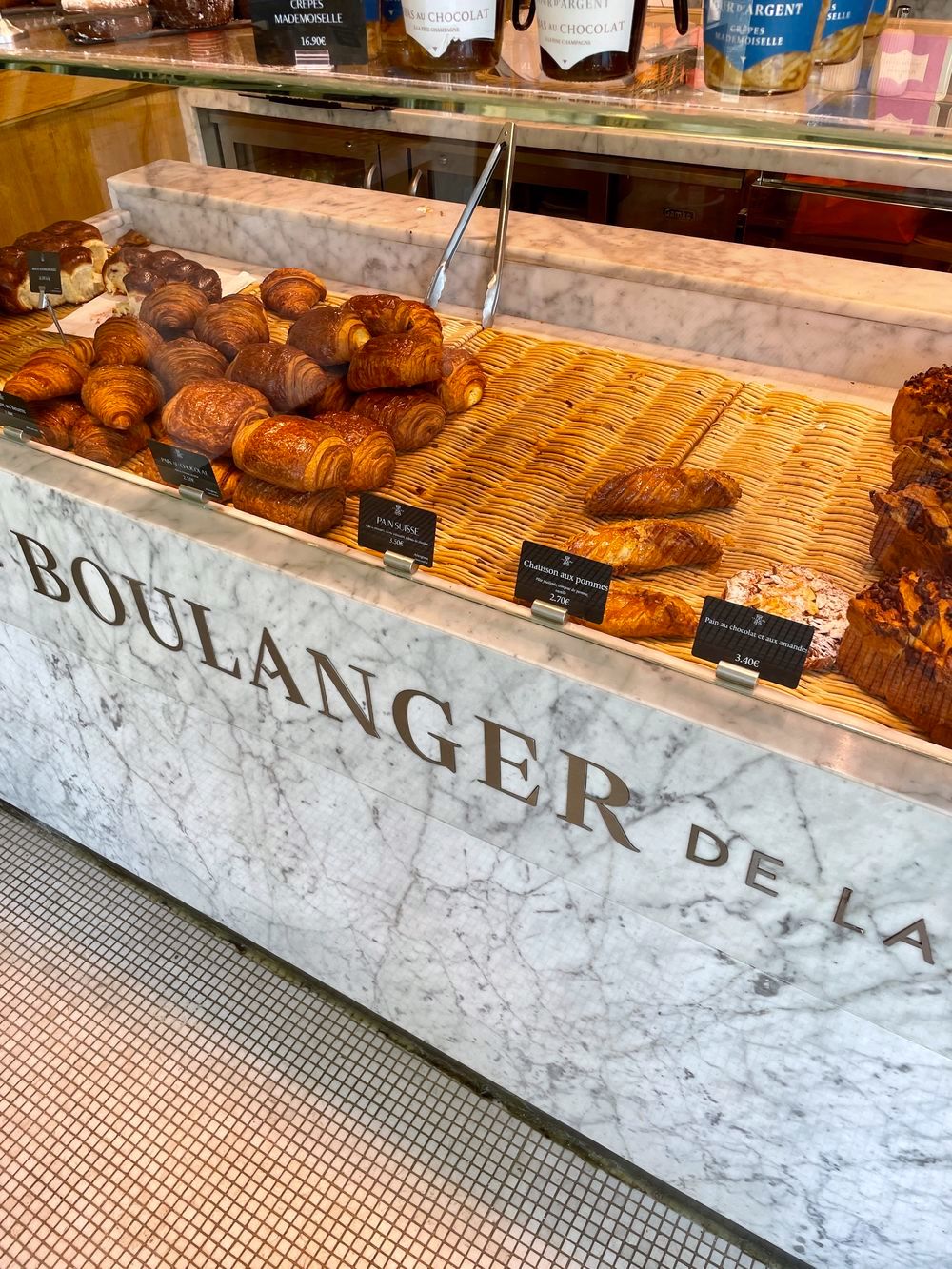 Le Boulanger de la Tour is a high-end French boulangerie associated with a Michelin-starred restaurant nearby called Le Tour d'Argent. You can find the highest quality baked goods here. Get a taste of this upscale boulangerie via take-out or delivery.
2 Rue du Cardinal Lemoine, 75005
Tout Autour du Pain
Honored as one of the top 10 baguettes in Paris, Tout Autour du Pain is one of the busiest boulangeries in the fashionable Haut Marais area of Paris.
134 Rue de Turenne, 75003 Paris, France
Maison Landemaine
Maison Landemaine has a big antique lettering out front with its building number: 28 BOULANGERIE scrolled across the top so you can't miss it. It's situated near Bastille Market and Merci store. Their bread is soft and not too crunchy, which is heaven-sent for baguette lovers. Try out their Olive Baguettine and Cheese Baguettine as they are truly great for your taste buds.
28 Boulevard Beaumarchais, 75011 Paris, France
Land & Monkeys
An interesting boulangerie with an interesting name in the Marais, this Paris bakery offers plant-based and vegan products. For all you vegan lovers out there, this is your one pit stop for good bread made with organic ingredients. They serve black bread, brownies, fruit tarts, quiches, and many more.
2 Rue de Turenne, 75004 Paris, France
---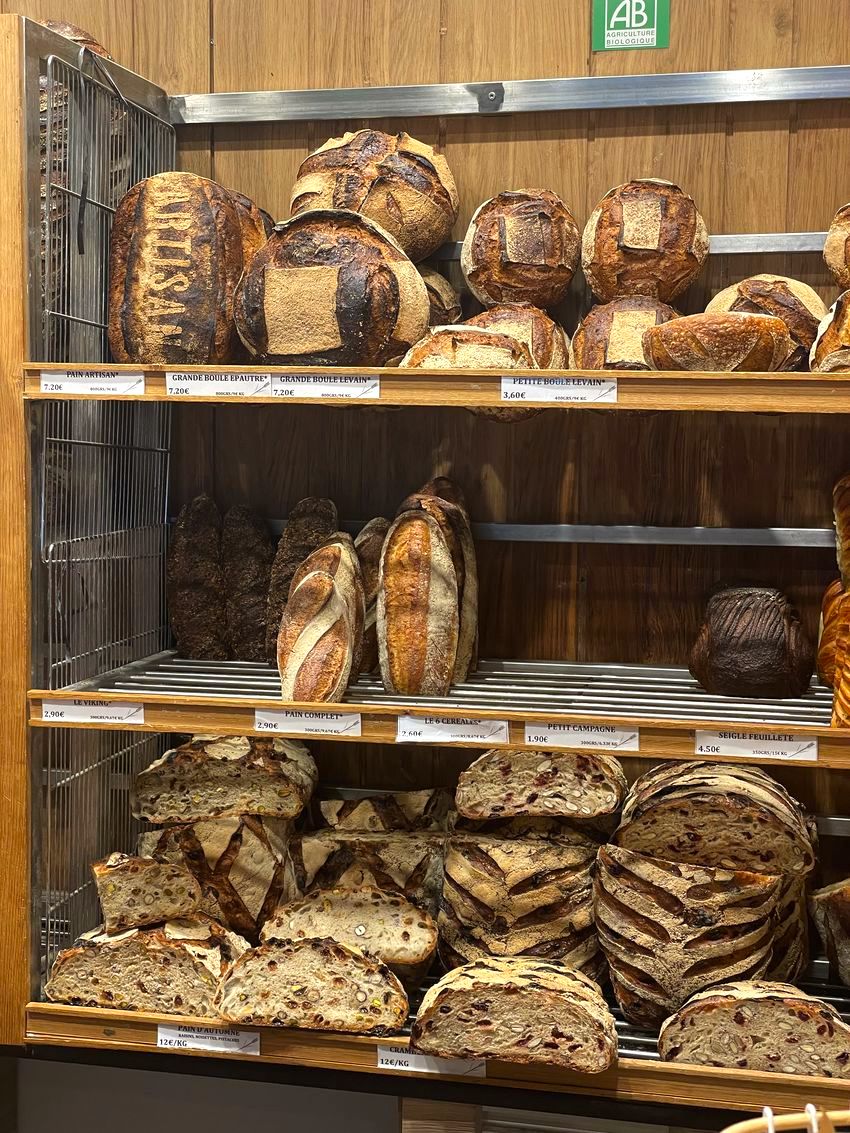 Wondering what you should buy from a French boulangerie? I recommend the following baked goods from bakeries in Paris:
Baguette tradition
Croissant
Pain au chocolat
Quiche
Sandwich Parisien
---
Take a rest from touring and visit these renowned and best-tasting and selling boulangeries in Paris. The bakeries mentioned above are not all that Paris has to offer but it's a great start for your day of exploring. Sit in a park or dine in with a great view of the city with a baguette or croissant in hand. You will not regret this experience of a lifetime!