Paris isn't the most laptop-friendly place in the world. If you're looking for a spot to get some work done in Paris, you can likely sit at a café in your neighborhood, but you need to pick the right one! Here are some tips on what to look for.
Cafés
The laptop-friendly cafés I know of in Paris are: Café Charlot in the Marais and Café des Arts et Métiers in the same district!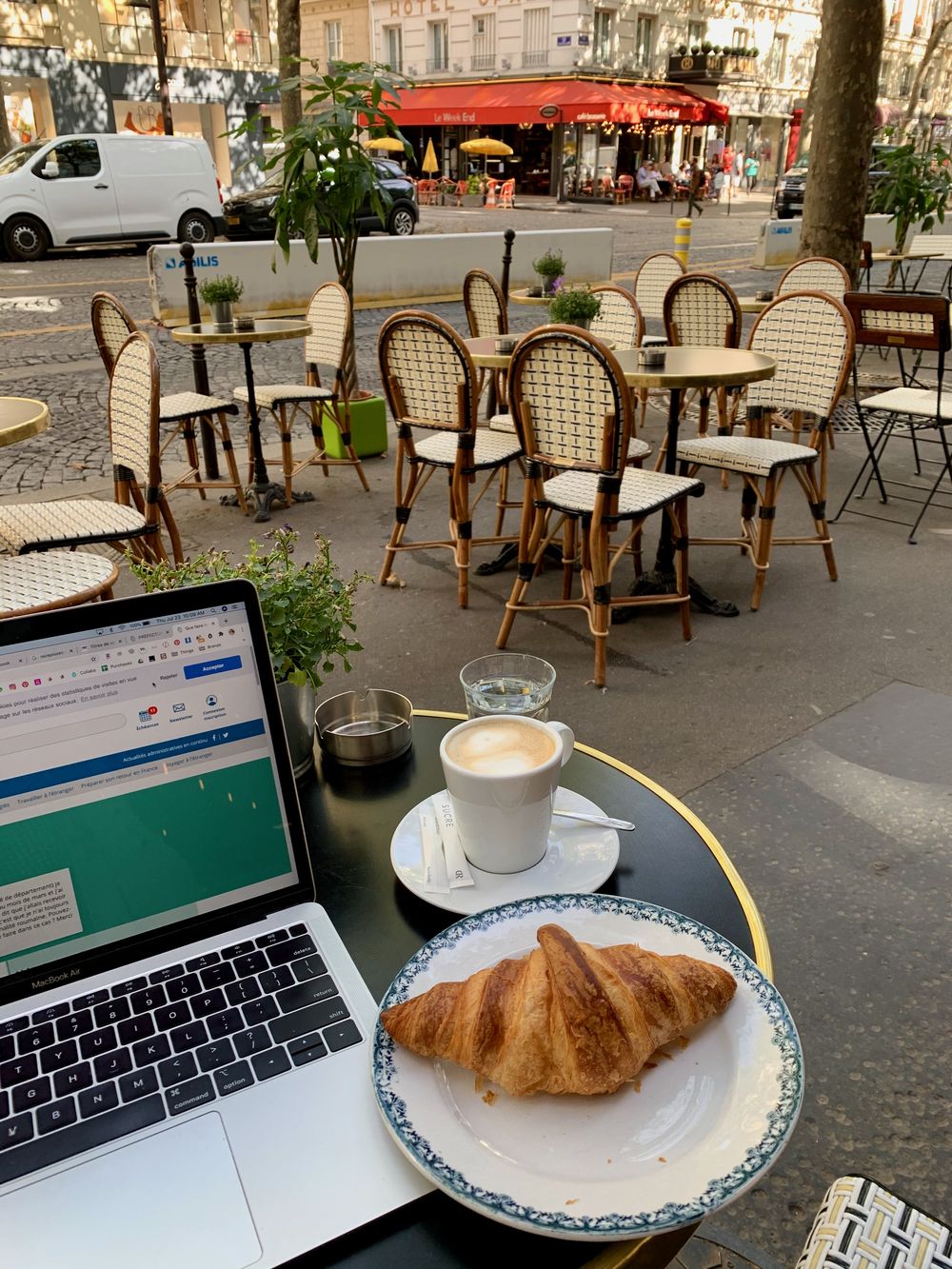 Tips
Here are some tips for finding laptop-friendly cafes in Paris:
Look for cafes with ample seating and table space – Parisian cafes can sometimes have limited room, so check for places with larger tables and seating areas that will accommodate a laptop.
Seek out cafes with reliable WiFi and power outlets – You'll want to find places that make it easy for you to plug in your computer and connect to the internet to work. Look for cafes that advertise their WiFi capabilities.
Look for people using laptops – the easiest way to find a laptop-friendly café in Paris is to walk around and peek inside. See if you notice anyone using their laptop. This way you can feel more comfortable doing so as well!
Check for cafes with a relaxed vibe – The ideal laptop café will have more of a laidback atmosphere rather than being crowded and noisy. This makes it easier to focus on work for longer periods of time.
Consider cafes near coworking spaces or offices – Cafes located near or around coworking spaces, business centers, etc. are likely to be laptop-friendly as they cater to remote workers.
Ask the staff about peak hours – To avoid crowded times when seats may be scarce, ask the staff when are the best times to come in for a seat. Early mornings or mid-afternoons are often less busy.
Look at cafe reviews and photos – Check online reviews and photos to get a sense of the café's laptop-friendliness before visiting. See if people mention good WiFi and seating.
Try cafes in university districts – Cafes situated near university campuses generally expect and accommodate students working on laptops, so these can be a good option.
Avoid using your laptop during meal hours – Most cafés in Paris don't mind if you use your laptop as long as it's not during lunchtime (12 Noon to 2 pm) or dinnertime (7 pm until 10 pm).
The key is finding places with space, minimal noise, and the ability to plug in and connect online so you can comfortably work on your laptop for as long as needed. Checking reviews and asking staff can help narrow down the most laptop-friendly spots.