If you're heading to Le Marais in Paris, then you've made a good choice. Le Marais is one of the coolest neighborhoods in all of Paris, and you can find lots of local gems hidden in this historic quarter.
It isn't hard to find cafés in the Marais that will serve you some of the best specialty coffee in Paris.
Specialty coffee shops in Paris have a totally different vibe than what you would find at a standard Parisian sidewalk café. A Parisian specialty coffee shop is typically decorated in a modern fashion, and you wouldn't necessarily know you were in Paris by stepping inside.
On the other hand, traditional Parisian cafés offer a much more classic Parisian experience. I always recommend visiting both types and alternating every other day during your visit!
That being said, I've divided up this list into those two categories. Here are my favorite places to grab a caffeine fix in the 3rd and 4th arrondissements of Le Marais…
Speciality Coffee Shops in Le Marais
The Marais is a great neighborhood for third wave coffee in Paris. A nice cappuccino will run you about 4-5 euros, while croissants usually go for 1-2 euros. Here are the top places to stop by: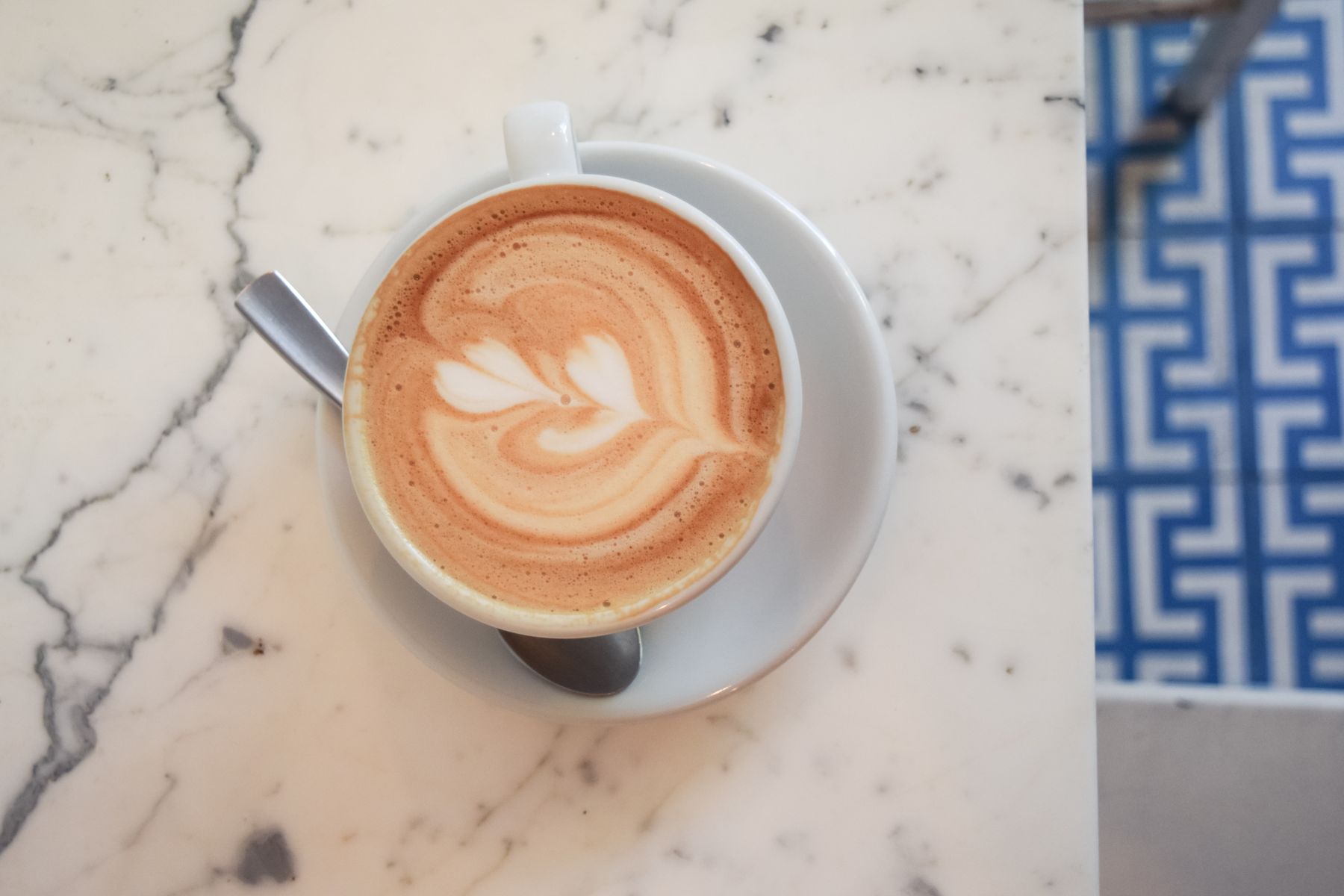 1. Fragments
This neighborhood coffee shop is located on a side street in Paris, yet it's always busy. It's gained somewhat of a cult following and is always there on my Instagram feed.
76 Rue des Tournelles, 75003
2. Neighbors
Neighbors is the east side outpost of the folks who brought us Honor Café (in the western part of Paris).
89 Boulevard Beaumarchais, 75003
3. Boot Café
I love visiting Boot café for a tasty latte, however, I wish they opened before 10 am! Boot café is located inside a former cobbler's shop.
19 Rue du Pont aux Choux, 75003
4. Ob-La-Di
One of my favorite coffee shops is the very instagrammable Ob-La-Di with its tiled turquoise floors and shiny marble countertops.
54 Rue de Saintonge, 75003
5. Umami
Craving a matcha latte? Head over to Umami, near Place de la République.
22 Rue Béranger, 75003
6. I/O Café
I.O Café is an awesome coffee shop for a grab-and-go caffeine fix. It used to be called Fondation Café.
16 Rue Dupetit-Thouars, 75003
7. The Broken Arm
What makes the Broken Arm so cool is that it is part of a concept store where you can check out the latest in minimalist fashion. The wifi is strong and the coffee is excellent.
12 Rue Perrée, 75003
8. République of Coffee
I love the round, pastel blue tables at this coffee shop right off of Place de la République. They usually have lots of tables available. Technically this isn't in the Marais, but it's right outside!
2 Boulevard Saint-Martin, 75010
9. Partisan
One of the larger specialty coffee shops in Paris, Partisan offers a great place to enjoy coffee while reading or co-working in their light-filled corner café.
36 Rue de Turbigo, 75003 Paris, France
10. Fringe
I always see lots of cool creatives working at the Scandinavian-style tables in this chic Le Marais coffee shop.
106 Rue de Turenne, 75003 Paris, France
11. TYPICA
Typica is a hold-in-the-wall Parisian coffee shop with only a few spots to sit. Grab a delicious cappuccino to go from this specialty coffee shop in Le Marais.
8 Rue des Filles du Calvaire, 75003 Paris, France
Traditional Parisian Cafés in Le Marais
These sidewalk cafés in the Marais are best for people watching on a beautiful day in Paris! They're great for getting the full Paris café culture experience. A cappuccino will cost between 5 and 8€ and croissants will be 1.5-3€.
12. Café Charlot
Café Charlot has gained a following of Parisian it-girls, however, it's a typical brasserie so you won't find any specialty coffee here. You will see a lot of really chic black-sunglass-wearing Parisians here. It's also got free wifi!
38 Rue de Bretagne, 75003
13. Camille
Like Café Charlot, this is a Parisian restaurant, so the coffee won't be a specialty, however, it's super Parisian chic and has a beautiful red, outdoor seating area.
24 Rue des Francs Bourgeois, 75003
14. Café de la Poste
This café is a favorite among Parisian it-girls and creative types.
124 Rue de Turenne, 75003 Paris, France
15. Brasserie Paris Beaubourg
Brasserie Paris Beaubourg is the place to go before or after your trip to Paris' coolest modern art museum, Le Pompidou!
21 Rue Saint-Merri, 75004 Paris, France
Hope you enjoyed this list of the best cafés in Le Marais, Paris!