Ah, Paris—the city of love, art, and of course, exquisite Parisian cafés. There's nothing quite like sitting at a quaint little table, sipping on a frothy cappuccino while watching the world go by against a backdrop of historic monuments and chic Parisians. Frequenting one of the best cafés in Paris is a great way to celebrate the French art de vivre.
Whether you're a digital nomad in search of a flat white and Wi-Fi connection, or a café connoisseur yearning for the creamiest café au lait, Parisian cafés are aplenty. I've lived in Paris for 3 years, and today I'll share the crème de la crème of Parisian cafés, each unique in its ambiance and offerings, but all quintessentially Parisian.
Iconic Cafés of Paris
Paris is a city that thrives on its French café culture, offering both historical charm and modern comfort. Here, I'm spotlighting the most iconic Parisian cafés where you can sip your café au lait, indulge in delectable pastries, and immerse yourself in the unique atmosphere of the French capital. From timeless establishments to contemporary hideaways, this list serves as your ultimate guide to the best cafés in Paris.
Café de Flore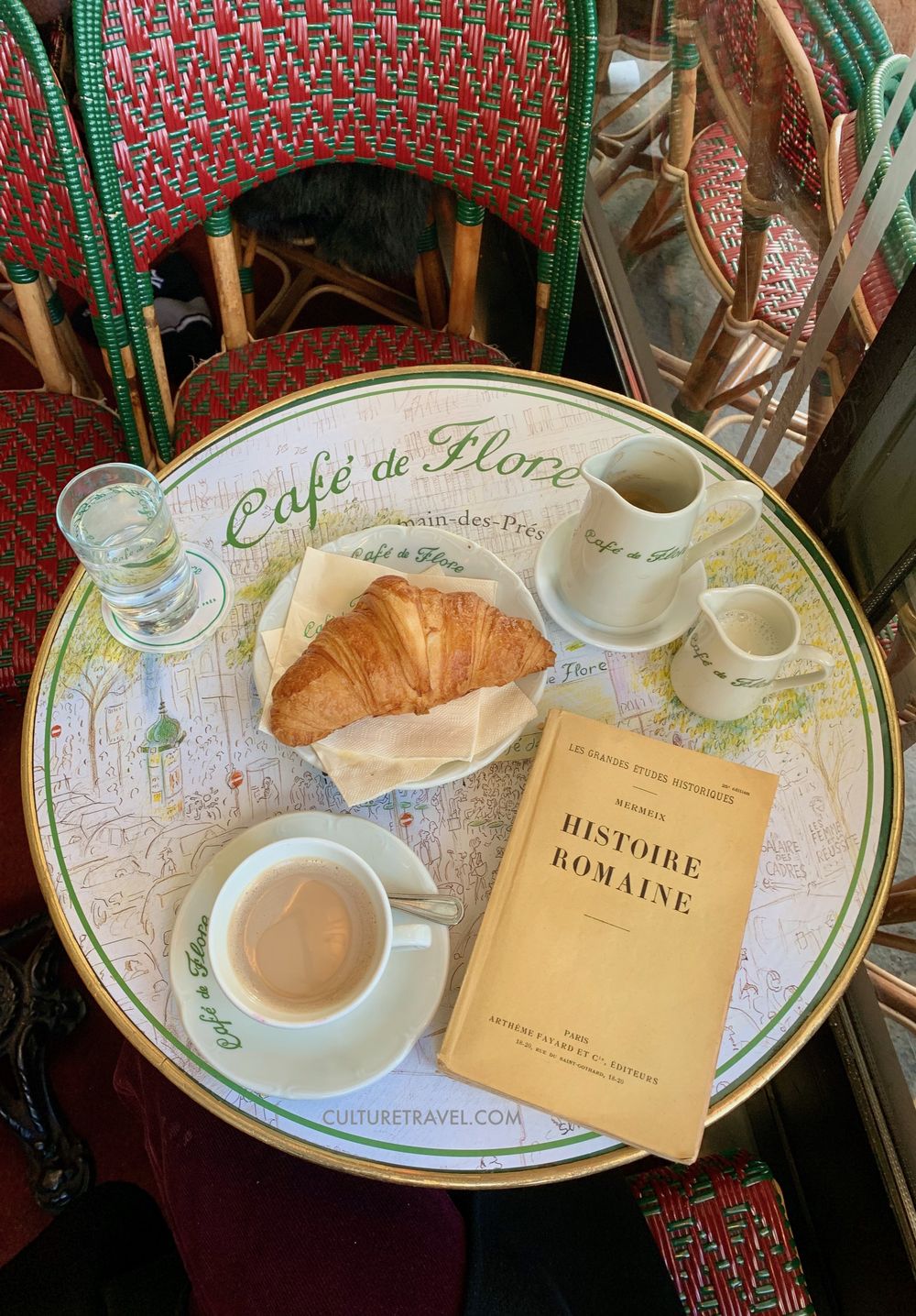 Located in the artistic Saint-Germain-des-Prés neighborhood, Café de Flore is a veritable Parisian institution. Frequented by literary and intellectual figures like Jean-Paul Sartre and Simone de Beauvoir, the café continues to attract an elite clientele of fashion designers and celebrities. The art deco interiors and extensive menu are not to be missed to experience true Parisian café culture. If you ask me, Café de Flore is the most iconic and famous café in Paris you must visit.
172 Boulevard Saint-Germain, 75006 Paris, France
Les Deux Magots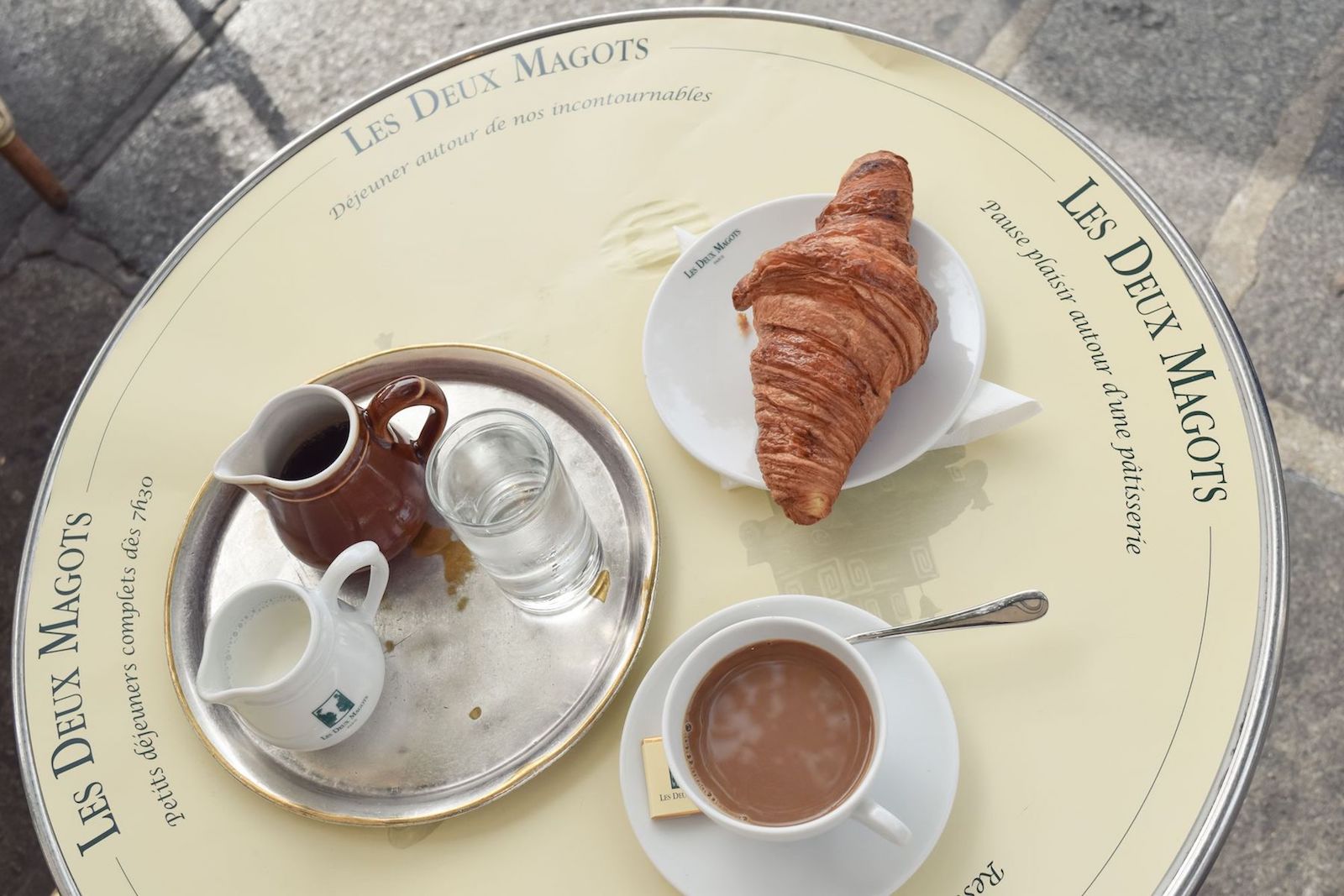 Just a stone's throw away from Café de Flore, Les Deux Magots also boasts a rich literary history. Patrons like Ernest Hemingway and James Joyce once graced its tables. Renowned for its traditional Parisian atmosphere, this café serves delicious coffee and classic French dishes. There's a jazz night on Thursdays during the spring and summer with live music!
6 Place Saint-Germain des Prés, 75006 Paris, France
Café de la Paix
Located on the same plaza as the iconic Opera Garnier, Café de la Paix is a blend of fascinating history and French luxury. Serge Lifar, the former ballet choreographer of the Opéra next door, was known to frequent the café, which opened on May 5, 1862. Napoleon's wife, Eugénie, was present at the inauguration and reportedly said she felt right at home. With magnificent interiors that reflect grandeur and sophistication, this café is a remarkable setting for a refined coffee experience accompanied by gourmet pastries.
5 Place de l'Opéra, 75009 Paris, France
Le Nemours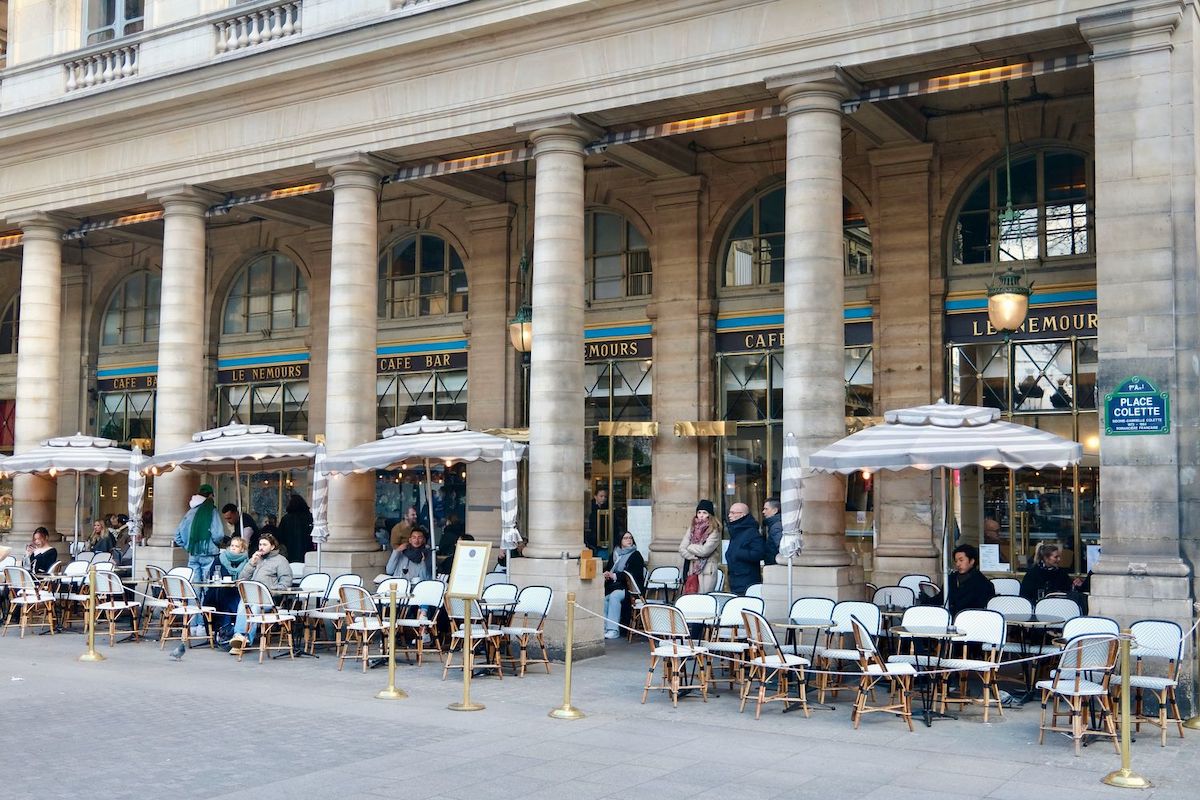 Nestled close to the Palais Royal, Le Nemours is your go-to for a serene Parisian café experience. With its outdoor terrace and classic menu, it's a popular choice for locals keen to take in the surrounding Place Colette plaza and people-watch. While sitting here, I've seen actors in costume heading into the famous Comédie Française theater company next door!
2 Place Colette, 75001 Paris, France
Carette
Situated in a busy 16th arrondissement plaza, Carette is an iconic café with an upscale and stylish atmosphere, dating back to 1927. Famous for its selection of macarons and pastries, it's an excellent place for afternoon tea or morning coffee while enjoying views of the Eiffel Tower.
4 Place du Trocadéro et du 11 Novembre, 75016 Paris, France
Le Vaudeville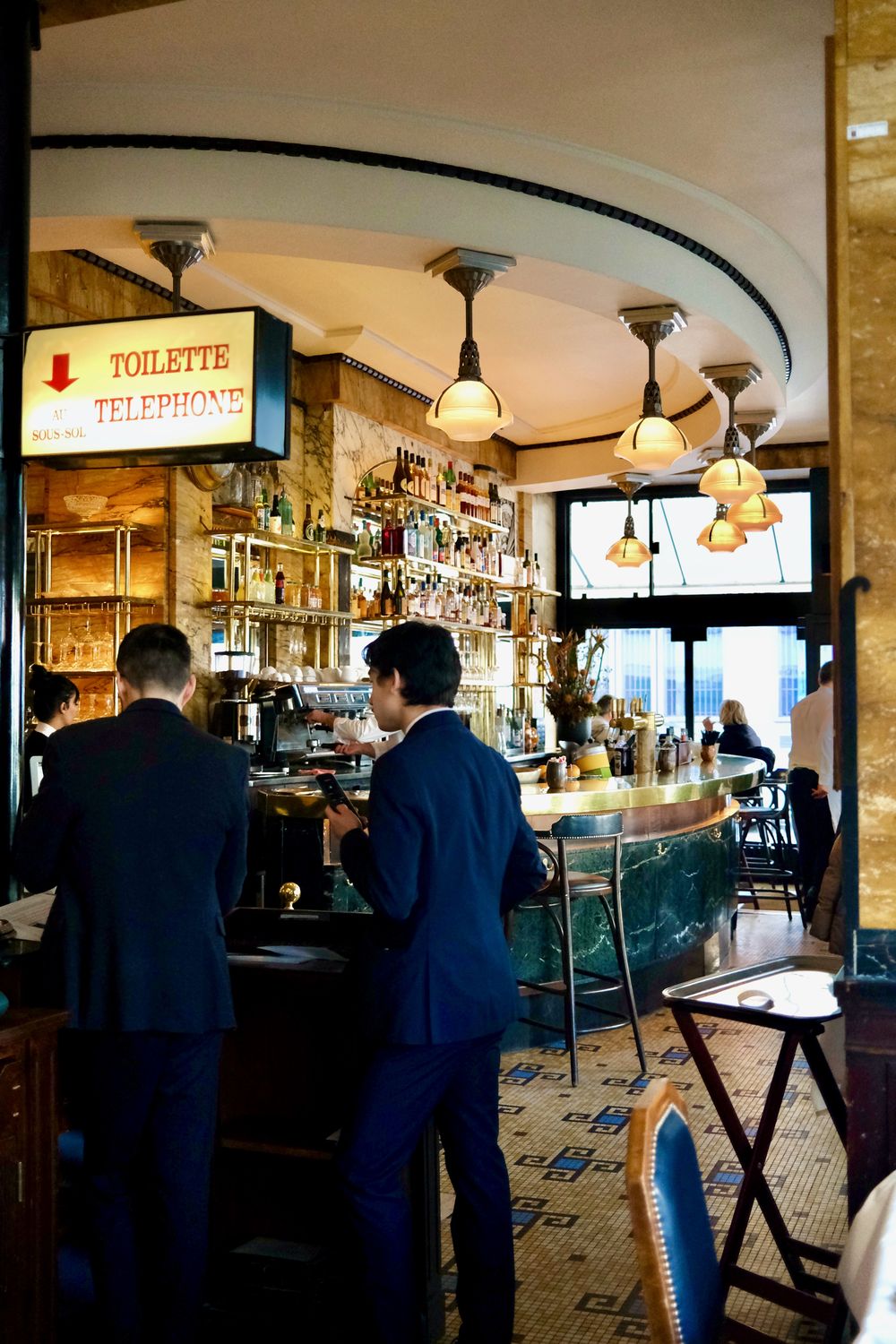 Located near the Bourse, Paris' historic stock exchange, Le Vaudeville offers a unique ambiance characterized by its beautiful art deco glasswork. Ideal for business meetings or leisurely afternoon breaks, the café serves delectable food and beverages.
La Rotonde
Located in the Montparnasse district, Café La Rotonde has been a magnet for artists and intellectuals since the early 20th century. Its art deco architecture and bustling atmosphere make it a lively spot for coffee and intellectual conversations. I overheard a group of film students nearby the last time I was there.
105 Boulevard du Montparnasse, 75006 Paris, France
L'Impérial Rivoli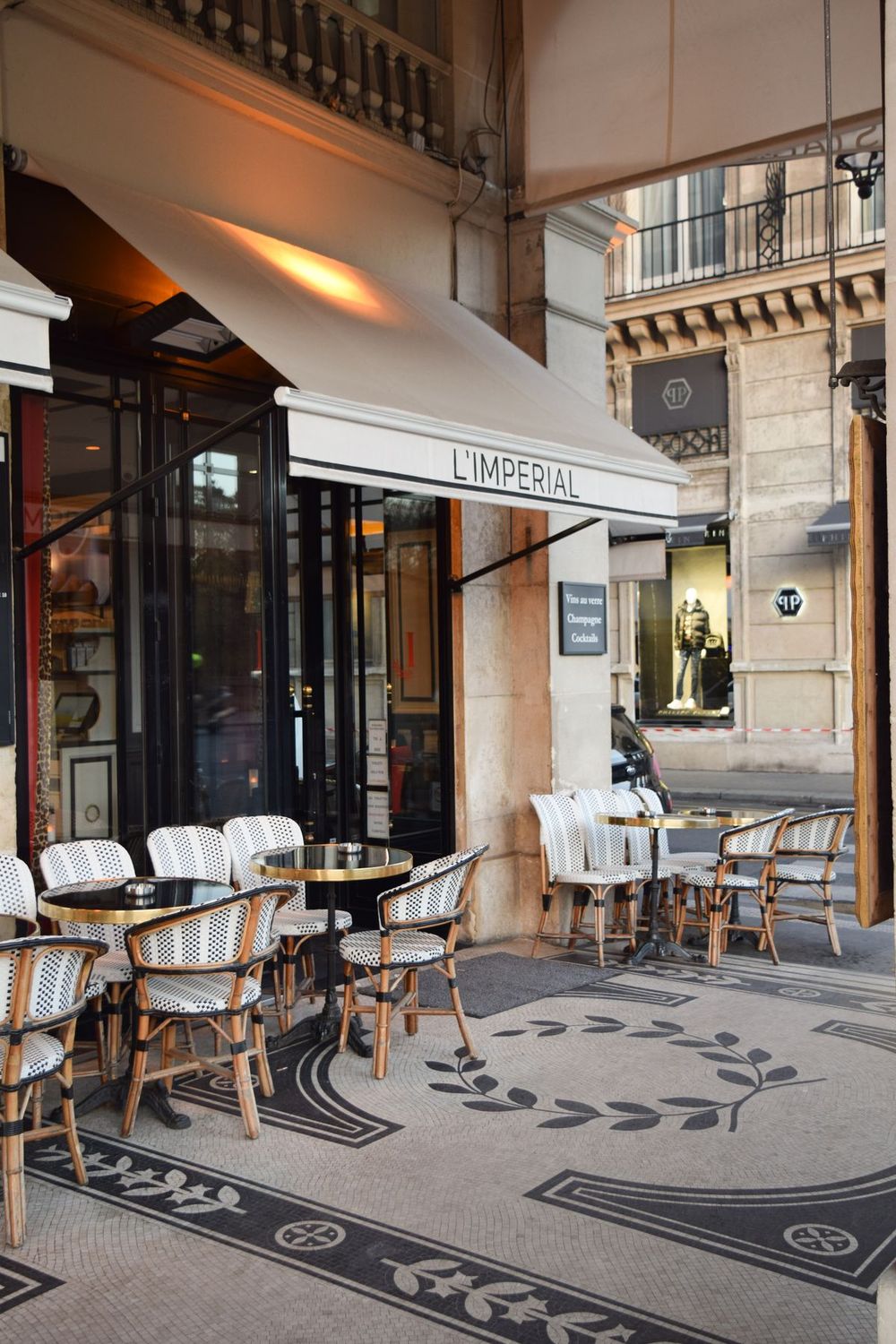 Situated along one of Paris' most famous streets across from the Jardin des Tuileries, L'Impérial Rivoli has a gorgeous black and white tiled terrace and traditional French café food. Its central location makes it an ideal pit stop during a day of sightseeing. One of my photos taken here went viral on Pinterest.
240 Rue de Rivoli, 75001 Paris, France
Café Marly
Overlooking the Louvre courtyard, Café Marly has a splendid view of the pyramid along with top-notch coffee and pastries. Its ornate architecture and elegant ambiance make it an excellent choice for a luxurious café experience. As a plus, it's air-conditioned in summer!
93 Rue de Rivoli, 75001 Paris, France
Le Bonaparte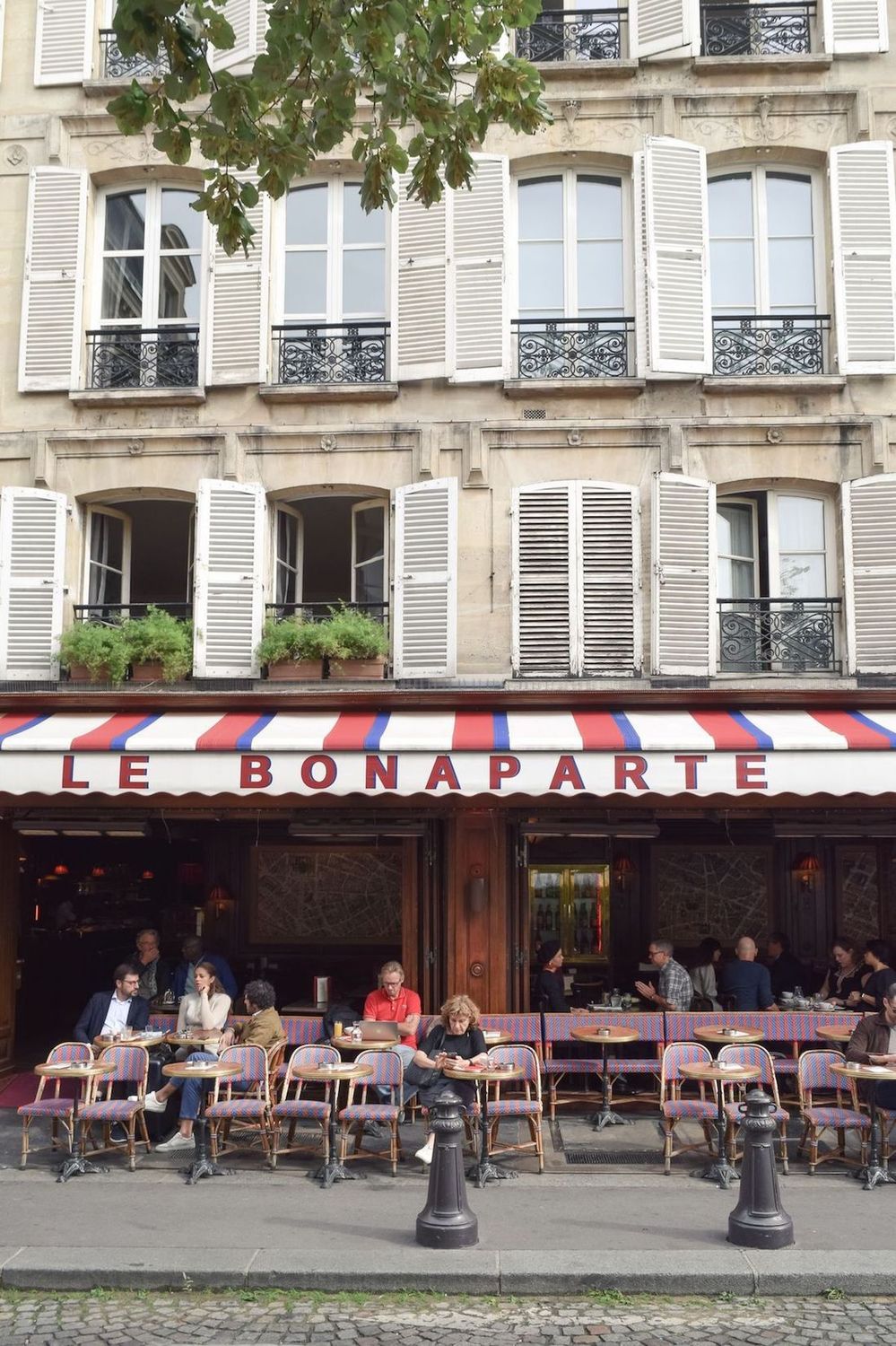 In the heart of Saint-Germain-des-Prés, go to Le Bonaparte for the traditional Parisian café experience. With a cozy interior and excellent menu, it's a charming location to have a leisurely cup of coffee and some freshly baked pastries. It overlooks the sprawling Place Saint-Germain so you can people-watch for hours.
42 Rue Bonaparte, 75006 Paris, France
Café du Trocadéro
With an unparalleled view of the Eiffel Tower, Café du Trocadéro is an experience in itself. Offering both indoor and terrace seating, it's a dreamy place to enjoy a cup of coffee while soaking in an iconic Parisian vista.
8 Place du Trocadéro et du 11 Novembre, 75116 Paris, France
Le Saint Regis
Located on Île Saint-Louis, one of Paris's two natural islands, Le Saint Regis exudes vintage charm. It's a wonderful spot for enjoying a meal or a café crème while taking in the scenic views of the bridge crossing the Seine River.
6 Rue Jean du Bellay, 75004 Paris, France
Les Deux Palais
Located near the Palais de Justice and Notre Dame Cathedral, Les Deux Palais is a lesser-known gem. With its laid-back atmosphere and selection of classic French fare, the café is a genuine local experience. The interior is classic Belle-Epoque and completely stunning. They're also incredibly nice about taking photos of the space!
3 Boulevard du Palais, 75004 Paris, France
Angelina
Renowned for its luxurious hot chocolate and sumptuous pastries, Angelina is a legendary tea room, having opened in 1903. Situated on Rue de Rivoli, it's a great place to take a break from shopping and enjoy a moment of indulgence in a Belle-Epoque setting.
226 Rue de Rivoli, 75001 Paris, France
Café Madeleine
Located behind the famous Madeleine Church and looking out onto the plaza, Café Madeleine has a traditional Parisian atmosphere and attracts a fashionable crowd. While it doesn't have the best food, I can say it's the perfect stop for a quick refreshment and people-watching in the chic 8th arrondissement.
35 Pl. de la Madeleine, 75008 Paris, France
Cute Parisian Cafés
The cutest cafés of Paris are scattered across the city's 20 arrondissements. These charming and cozy cafés captivate your imagination and provide an escape from the hustle and bustle of urban life. These quaint cafés offer not just excellent coffee, but also a special ambiance not found elsewhere. Here is a curated list of the most adorable – and Instagrammable cafés you should visit!
Au Vieux Paris d'Arcole
Tucked away on Île de la Cité, near Notre-Dame Cathedral, Au Vieux Paris d'Arcole is as picturesque as it gets. With its ivy-covered façade and vintage décor, the café proposes a quaint and calm experience. It's a lovely spot for enjoying an espresso while steeped in the rich history of one of Paris's oldest neighborhoods.
24 Rue Chanoinesse, 75004 Paris, France
Café des Deux Moulins
Made famous by the cult French 2001 film "Amélie," Café des Deux Moulins is located in the artistic neighborhood of Montmartre. With its retro ambiance and iconic red bar, it delivers a cinematic experience that pairs perfectly with its delicious coffee and mouthwatering pastries.
15 Rue Lepic, 75018 Paris, France
Le Consulat
Another Montmartre gem, Le Consulat has a history of hosting artists and writers, contributing to its artsy, bohemian atmosphere. Its classic Parisian exterior and cozy interior make it a great place to rest your feet after exploring the steep and winding cobblestone streets of this artistic neighborhood.
18 Rue Norvins, 75018 Paris, France
Au Petit Fer à Cheval
Located in the trendy Marais district, Au Petit Fer à Cheval ("The Small Horseshoe") is famous for its horseshoe-shaped bar. Offering a relaxed and friendly atmosphere, it's an intimate spot for savoring a café crème and watching the world go by.
30 Rue Vieille-du-Temple, 75004 Paris, France
Le Café de l'Epoque
Situated close to the Louvre and Palais Royal, Le Café de l'Epoque is a charming café with a vintage feel. With its checkered floor tiles and old-world charm, it's an enchanting spot to drink coffee and nibble a croissant before or after a museum visit.
2 Rue du Bouloi, 75001 Paris, France
Café des Musées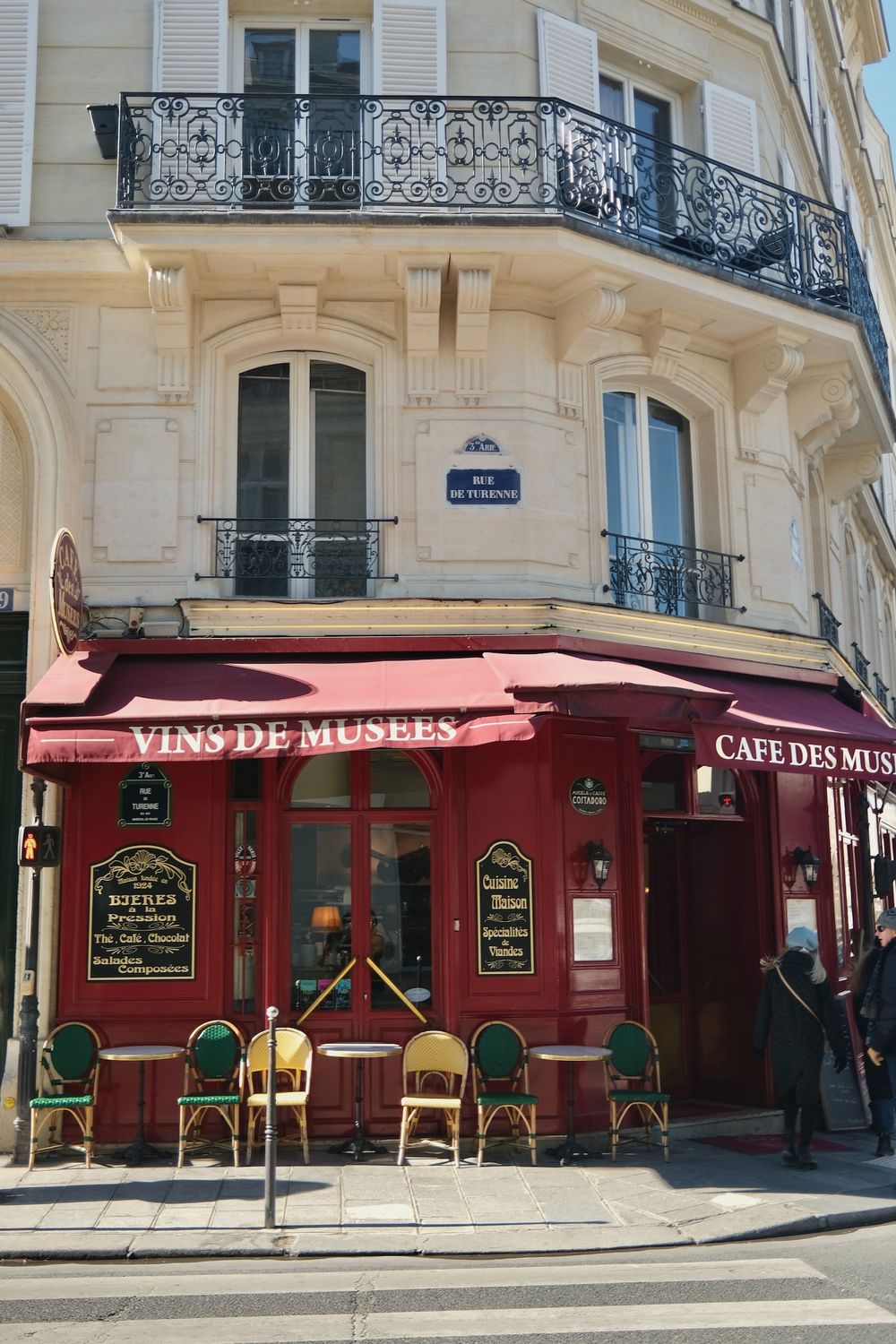 Located in the historic Le Marais area, Café des Musées offers a quaint and relaxed setting. With wooden tables, antique décor, and an extensive menu featuring classic French fare, it's a practical stop for both art lovers and foodies alike.
49 Rue de Turenne, 75003 Paris, France
Le Flore en l'Île
Found on Île Saint-Louis, Le Flore en l'Île has stunning views of the Seine River and Notre-Dame Cathedral. The café is particularly popular for its ice creams and sorbets, making it a must-visit during warmer months. A scene in the first season of Emily in Paris was filmed here, so you know it's cinematic!
42 Quai d'Orléans, 75004 Paris, France
Les Philosophes
Also situated in the Marais district, Les Philosophes is known for its intellectual ambiance. With multiple coffee options and an extensive food menu, it's a popular spot for deep conversations or solitary musings.
28 Rue Vieille-du-Temple, 75004 Paris, France
Whether you're a solo traveler looking for a cozy corner to read a book or a couple seeking a romantic hideaway, Paris has a cute café that fits the bill.
---
Parisian Café Culture
Parisian café culture is an iconic aspect of the French capital's social fabric, steeped in history and tradition. The cafés of Paris serve as much more than just a place to grab a quick coffee; they are social institutions, intellectual hubs, and community spaces. Outdoor café terraces in Paris easily blossomed during the pandemic, while cities like New York struggled to adapt to the newfound importance of dining outdoors.
Dating back to the 17th century, French cafés gained prominence as venues for political discussion, artistic expression, and intellectual debate. They were the haunts of iconic figures like Voltaire, Sartre, and Hemingway, who found inspiration within their smoky interiors. Over the centuries, these establishments have evolved, yet they maintain their integral role as the city's social heartbeat.
Whether it's the classic cafés with Art Nouveau decor and wicker chairs facing the street, or the modern, minimalist coffee shops serving artisanal brews, the café remains a quintessential part of Parisian life.
People from all walks of life gather to discuss politics, catch up with friends, read, or simply people-watch. The café is so deeply rooted in Parisian culture that its character changes through the day—from a bustling breakfast spot to a leisurely lunch venue, an afternoon people-watching perch, to an evening social club.
It's this longstanding relevance to contemporary French society that makes Parisian café culture a cherished phenomenon, serving not just coffee, but a slice of Parisian life. Believe it or not, Parisian cafés are slowly disappearing, with more and more closing up shop each year. That's a good reason to visit them, non?
Oldest Café in Paris
The title of the oldest café in Paris is bestowed upon Le Procope, located in the city's 6th arrondissement. Founded in 1686 by Sicilian chef Francesco Procopio dei Coltelli, Le Procope quickly established itself as an intellectual and cultural hub.
In its early years, the café was frequented by Enlightenment thinkers such as Voltaire, Diderot, and Rousseau. The café even played a role in the political landscape of its time, serving as a meeting place for figures like Benjamin Franklin and Napoleon Bonaparte.
Le Procope retains much of its historic charm, with its chandeliers, mirrors, and portraits of its famous patrons adorning the walls. It's a place where you can not only enjoy traditional French cuisine and coffee but also feel connected to the vibrant history of Paris. It's a must-visit!
What to Order at a Parisian Café
When visiting a Parisian café, the options go beyond standard American coffee eats. What are the best French coffees? For an authentic experience, start your day with a café crème, an espresso with steamed milk, somewhat akin to a cappuccino.
If you prefer your coffee strong and unadulterated, un café will get you a shot of espresso. For something lighter, enjoy a café noisette, an espresso with just a dash of milk.
Don't forget to pair your coffee with a classic French viennoiserie like a croissant or pain au chocolat, which are typically sourced from a nearby boulangerie.
Tea drinkers will find many options like the traditional Earl Grey or exotic Moroccan mint. Parisian cafés also offer chocolat chaud, a luxuriously rich hot chocolate that's popular in the winter months.
For an apéro in the early evening, cafés serve wines and aperitifs like pastis, a popular anise-flavored drink.
If you'd like a meal, cafés in Paris serve light meals such as French onion soup, quiches, croque monsieur (a grilled ham and cheese sandwich), or salads like the chevre chaud our niçoise.
Embrace the local specialties and take your time savoring not just the flavors but also the unique ambiance that makes each café a world unto itself!
French Café Etiquette
Understanding French café etiquette can help you blend in with the locals. First and foremost, always greet the staff with a polite "Bonjour" during the day or "Bonsoir" in the evening as you enter. Say "Au revoir" when you depart, even if no one's looking. It's not just courteous; it's expected.
Seating in French cafés is more flexible than in restaurants. You can usually choose your own table unless a sign or rope barrier indicates otherwise.
If you're only ordering a coffee or a drink, it's acceptable to take a table for a longer period, especially if the café isn't crowded. However, during peak meal times (Noon to 2pm), it's considered polite to give up your table for diners if you're only having a drink.
Close the menu when you're ready to order and a waiter will come by to take your order. In casual cafés, it's common to signal to the waiter you're ready to pay, rather than waiting for the waiter to come by. A simple "s'il vous plaît" should get their attention.
Tipping isn't mandatory in France, as the service charge is included in your bill, but some people round up to the nearest dollar or leave small change (1-2€) if they're a regular.
Parisians like to take their time enjoying their coffee and surroundings, making people-watching almost obligatory! Feel free to linger and soak in the ambiance. The café culture in France is less about quick consumption and more about enjoying the experience.
Following these etiquette tips will ensure your Parisian café experience goes smoothly!
Cafés vs. Restaurants vs. Brasseries
In France, the terms café, restaurant, and brasserie refer to distinct types of dining establishments, each with its own atmosphere and significance.
Cafés are versatile venues primarily focused on coffee and light snacks. They are the epicenters of social interaction, where locals gather for everything from early morning espresso shots to leisurely afternoon catch-ups. Cafés stick to simpler fare like sandwiches, pastries, and salads. The ambiance is relaxed, allowing patrons to linger and people-watch from outdoor tables.
Restaurants in France are more formal and dedicated to full-service dining. They feature a carefully curated menu with appetizers, main courses, and desserts. Restaurants are the go-to places for elaborate meals and special occasions. They usually have specific opening and closing times and close in the afternoon between lunch and dinner service.
Brasseries occupy a middle ground between cafés and restaurants. They have a more extensive drink menu, including beer and wine, compared to typical cafés. Brasseries serve typical French food in a setting that's more relaxed than a restaurant but more formal than a café. They have extended hours and serve meals all day from breakfast to late-night meals.
Understanding these nuances takes time, but after a few weeks in Paris, you'll get it better!