I am just getting around to sharing a few shots from a coffee I had with a friend this past spring. We found a cute little terrace near the beautiful Place Saint-Georges to sit and watch the Parisians pass by. It was one of the best sidewalk cafés in Paris I've been to.
Paris is renowned for its dynamic café culture, a cornerstone of the Parisian lifestyle. In the heart of the city, several sidewalk cafés stand out for their historical significance and atmosphere.
Here are the best sidewalk cafes in Paris to spend hours soaking in the ambiance!
Famous Sidewalk Cafés in Paris
Le Procope, in the 6th arrondissement, holds the distinction of being the oldest café in Paris, a gathering spot for literati and philosophers since the 17th century, however, it's not the best people-watching sidewalk café to hang out in.
Café de la Paix, situated near the Opéra Garnier, is the most luxurious French café experience, where you can enjoy exquisite French cuisine with a view of the bustling Parisian streets and the Palais Garnier.
Further towards the Seine, Le Saint Régis offers a quaint and charming setting on the Ile Saint-Louis, where you can enjoy a peaceful meal with picturesque views.
A notable sidewalk café in Paris is Les Deux Magots, formerly a popular haunt for intellectuals and writers such as Jean-Paul Sartre and Simone de Beauvoir. It offers a classic Parisian café experience with its strategic location in Saint-Germain-des-Prés.
Not far from it, Café de Flore, another historically significant café, offers a similar ambiance and has been serving French patrons since the 1880s.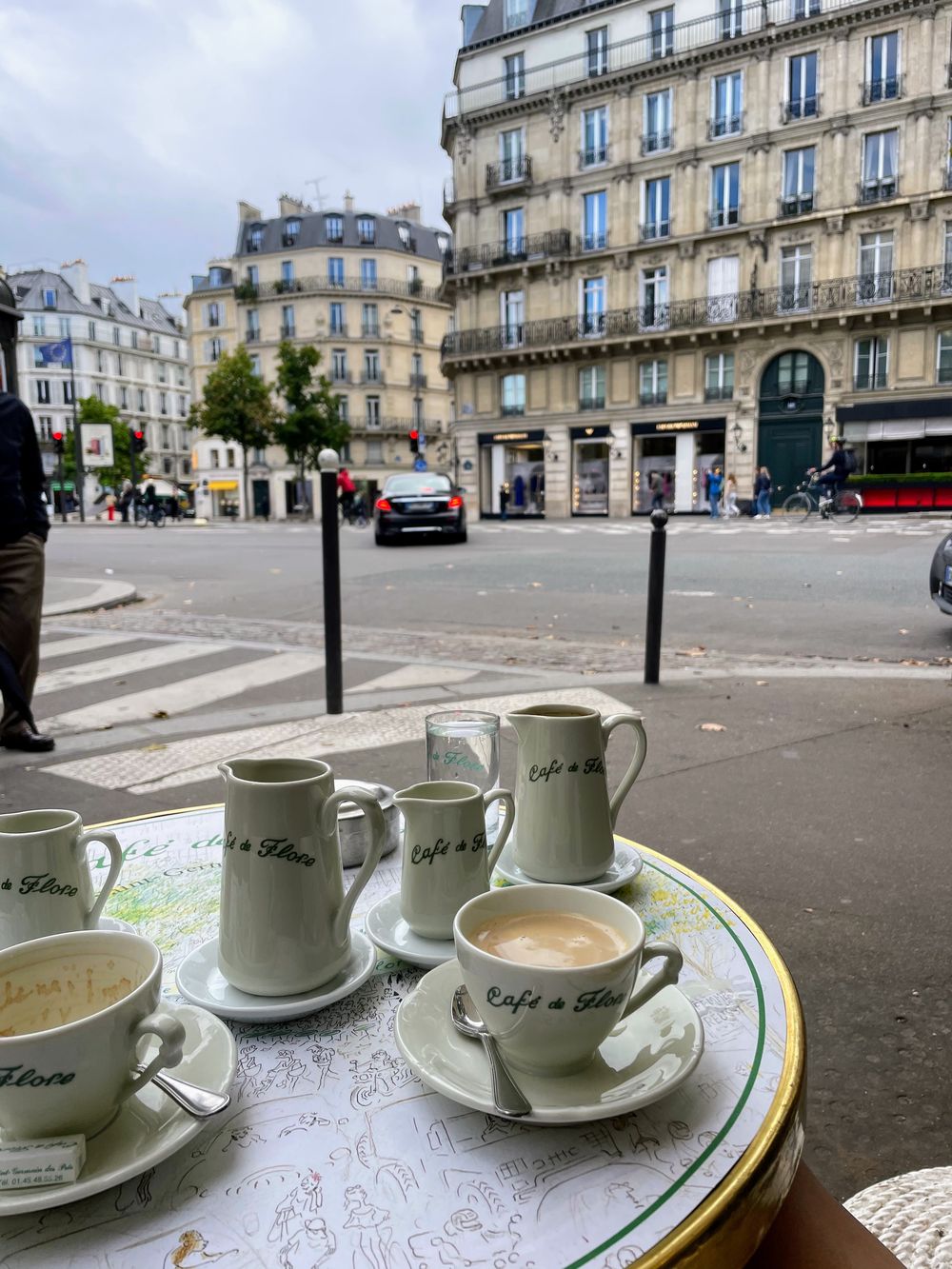 If you are in Montmartre, don't miss Le Consulat, a café at the intersection of cobblestone roads and a favorite of many artists who once resided in this artistic neighborhood.
For a contemporary twist, Le Comptoir Général along the Canal Saint-Martin is a unique experience with its eclectic décor and a menu featuring African influences, representing the modern, cosmopolitan aspect of Paris.
Each of these cafés embodies a unique aspect of Paris' indelible café culture, giving you the chance to soak in the authentic Parisian environment.
F. Scott Fitzgerald's Favorite Sidewalk Café
F. Scott Fitzgerald, the renowned American author, spent a significant portion of his life in Paris, mingling with fellow writers and artists of the "Lost Generation". One of his favorite sidewalk cafés in Paris was Les Deux Magots.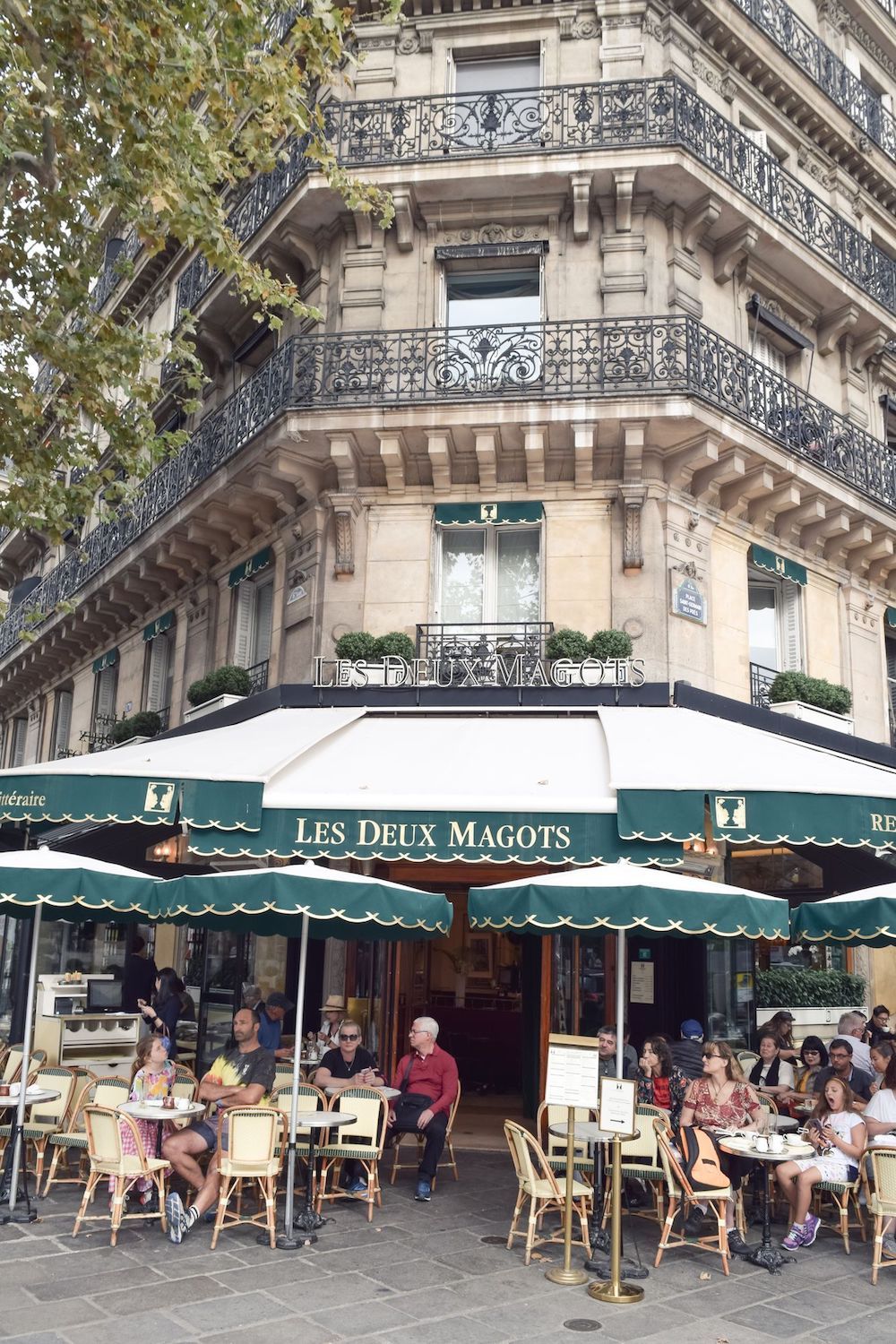 In the center of the artistic Saint-Germain-des-Prés neighborhood, this café was a popular gathering spot for intellectuals and literary figures during the 1920s and 1930s. Fitzgerald, along with other personalities such as Ernest Hemingway and Gertrude Stein, frequented Les Deux Magots, finding inspiration and camaraderie amidst its lively ambiance.
It is documented that Fitzgerald had discussions about literature and life with his peers at this iconic Parisian café, making it a significant locale in the annals of literary history.
Where to Sit at a Sidewalk Café
The best seat at a sidewalk cafe is the one with the view! Do you just sit down at sidewalk cafes in Paris? Generally, at many sidewalk cafés in Paris, you can simply choose an available seat and sit down. It's a part of the casual and leisurely atmosphere these cafés cultivate.
However, during busy hours, it might be courteous to catch the eye of a staff member before seating yourself, just to ensure that the seating isn't reserved or there isn't a waiting list.
The two major exceptions are Café de Flore and Les Deux Magots, which have become so busy and sought-after that they have lines near the entrance where people must wait to be seated.
Once you've settled, a waiter will approach you to take your order.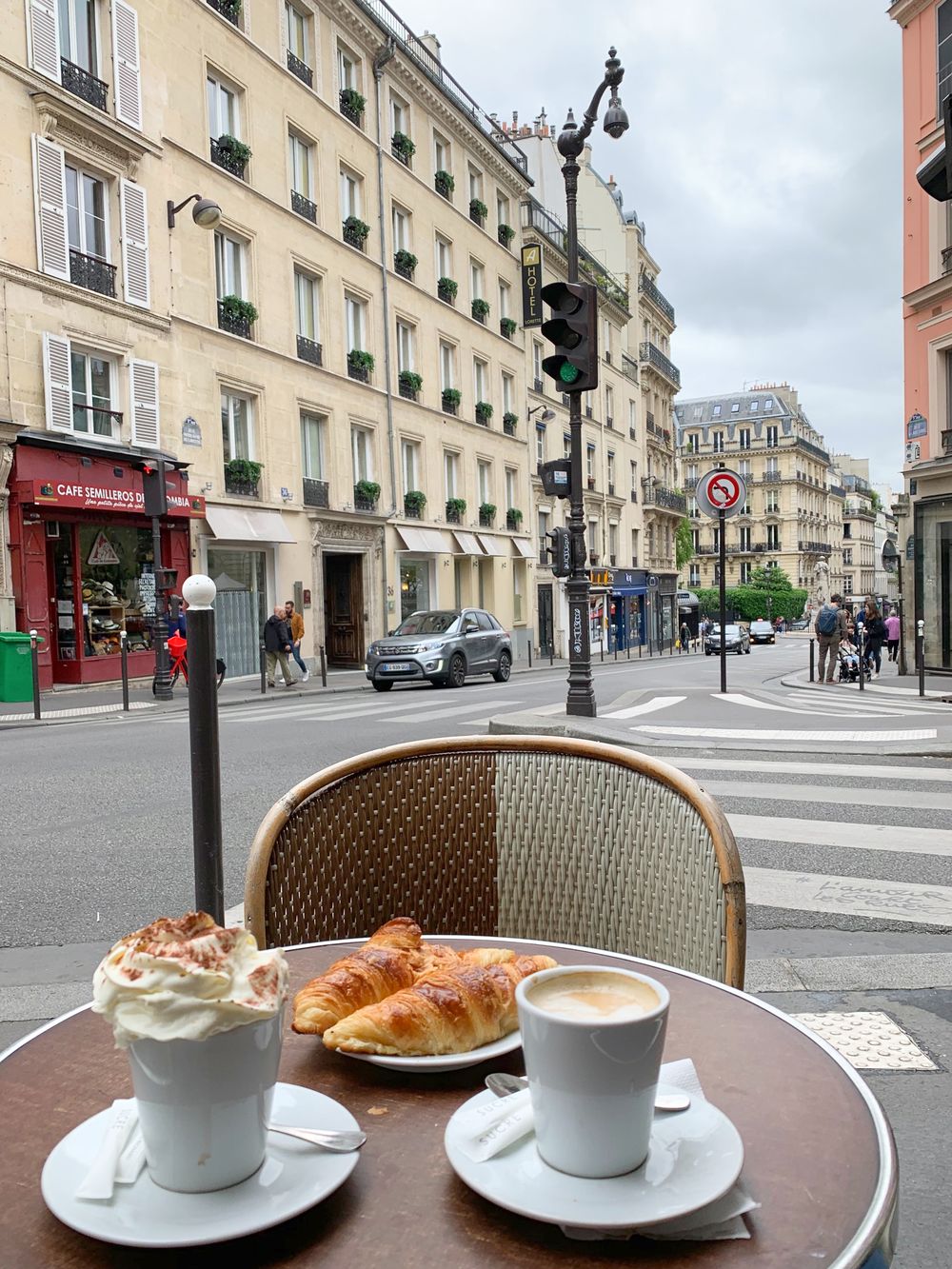 What to Order at a Sidewalk Café
When visiting a sidewalk café in Paris, you have a plethora of classic French meals to choose from, however, cafés are not known for their food. While your meal might hit the spot, it's likely not going to be one for the books. My French friends almost never eat meals at cafés, rather preferring to just order a coffee and chat if it's daytime, or a glass of wine if it's the evening.
Nevertheless, breakfast is the best meal to have at a sidewalk café in Paris. For a quintessential Parisian breakfast, order a "croissant" or a "pain au chocolat," which are flaky and buttery pastries. Pair these with a hot cup of "café crème," a rich coffee with cream.
If you are in the mood for a more substantial meal, a "croque-monsieur," toasted ham and cheese sandwich topped with béchamel sauce, or a "croque-madame," which includes a fried egg on top, are delicious.
In the evening, experience the French apéro culture by ordering a glass of wine or a "kir," a cocktail made with white wine and crème de cassis, accompanied by some French cheese or charcuterie.
Regardless of the time of day, make sure to savor the Parisian café experience which is about enjoying the moment!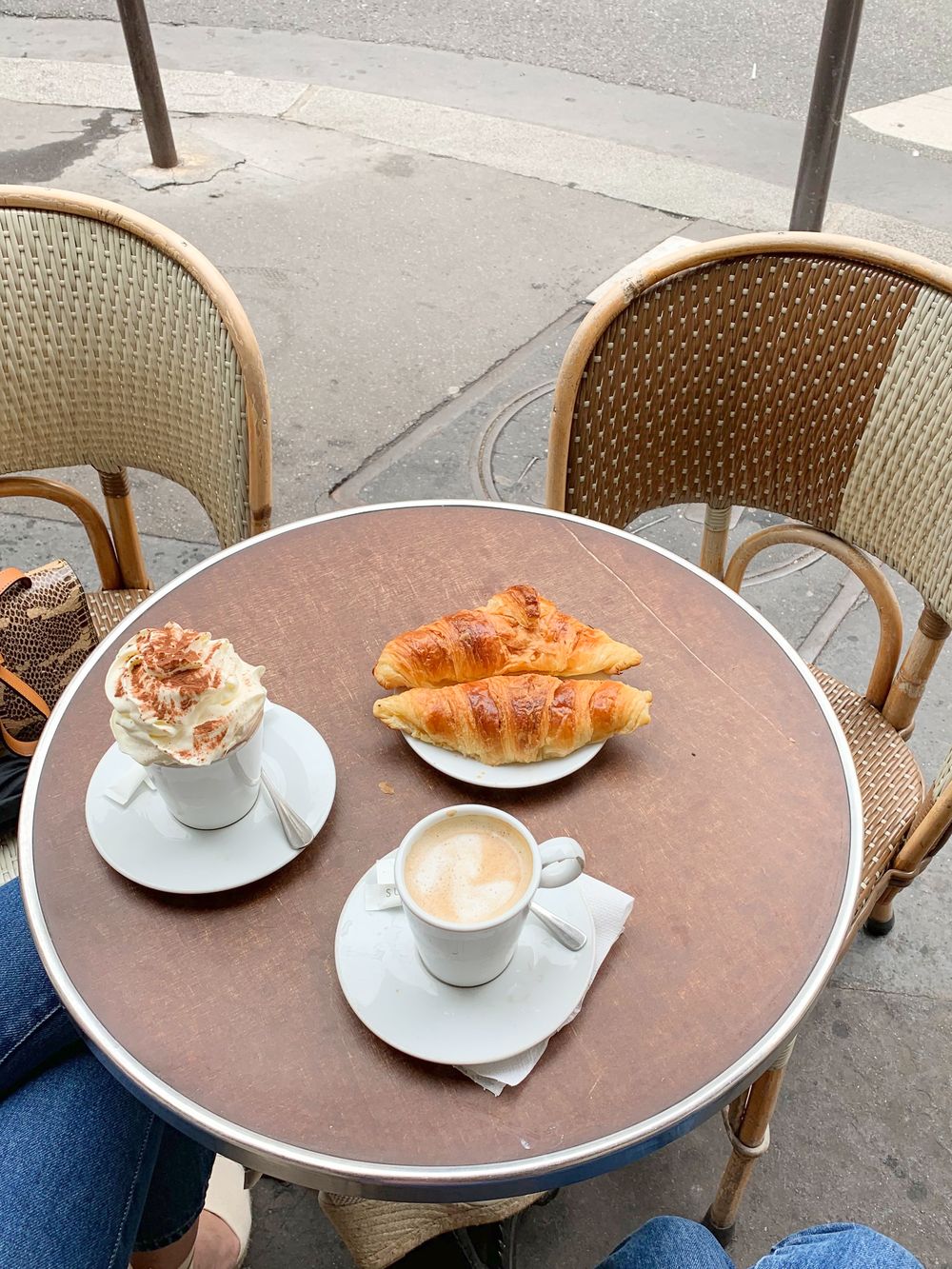 Some Restaurants and Bistros Have Sidewalk Cafés, too!
An interesting thing to note is that not all sidewalk seating si part of a café. Some bistros and restaurants in Paris have seating as well. These types of places will require you to go in and ask for a table in order to be waited on.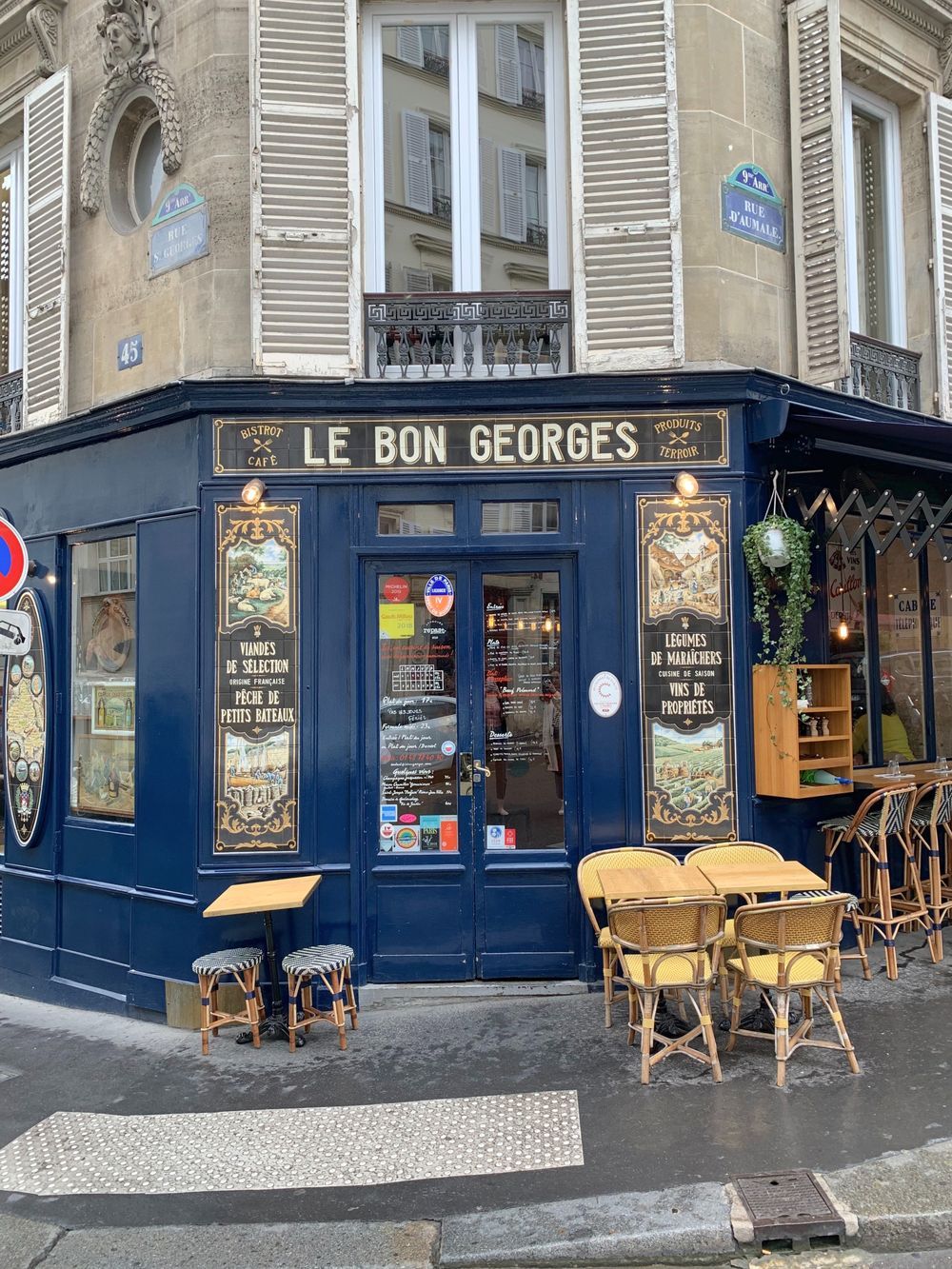 Chez Francis, for example, is a popular French restaurant with sidewalk seating and a stunning view of the Eiffel Tower. Here, you can't just sit anywhere, and if you want a view of the Eiffel Tower, you must order a full meal.
I hope these tips helped you understand sidewalk cafes in Paris a little better! Bon voyage.