Café de Flore is one of the most iconic and historically significant cafés in Paris, France. Located at the corner of Boulevard Saint-Germain and Rue Saint-Benoît, in the Saint-Germain-des-Prés neighborhood of the 6th arrondissement, it is celebrated for its famous clientele, which, over the years, has included many of the world's most renowned artists, writers, and intellectuals.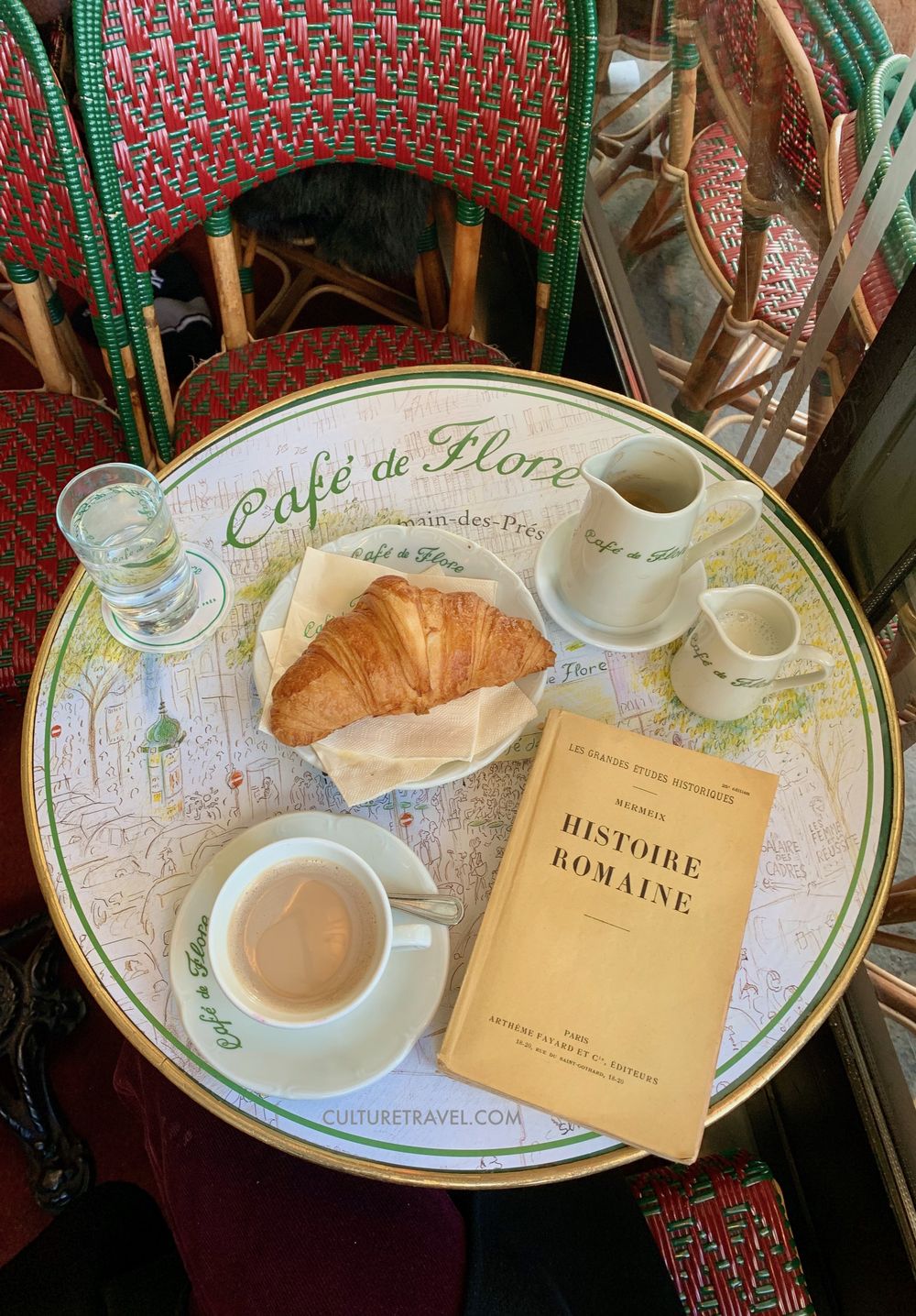 History
The Café de Flore was opened during the Third Republic in 1885. Its name is said to have been inspired by a sculpture of the Roman goddess Flora, which is located on the opposite side of the Boulevard. The café quickly became a favorite haunt of the literary and intellectual élite in Paris. It enjoyed a strong association with the existentialist movement during the post-war period and was frequented by artists such as Pablo Picasso and writers like Ernest Hemingway.
In the 20th century, Café de Flore became a hub for the existentialist movement. The philosopher Jean-Paul Sartre and his partner, writer, and feminist Simone de Beauvoir, were regulars at the café. They would spend their days there, writing, discussing ideas, and meeting with other intellectual luminaries of the era. They had their own designated table, and many other existentialist thinkers and writers, such as Albert Camus and Maurice Merleau-Ponty, also frequented the café during this time.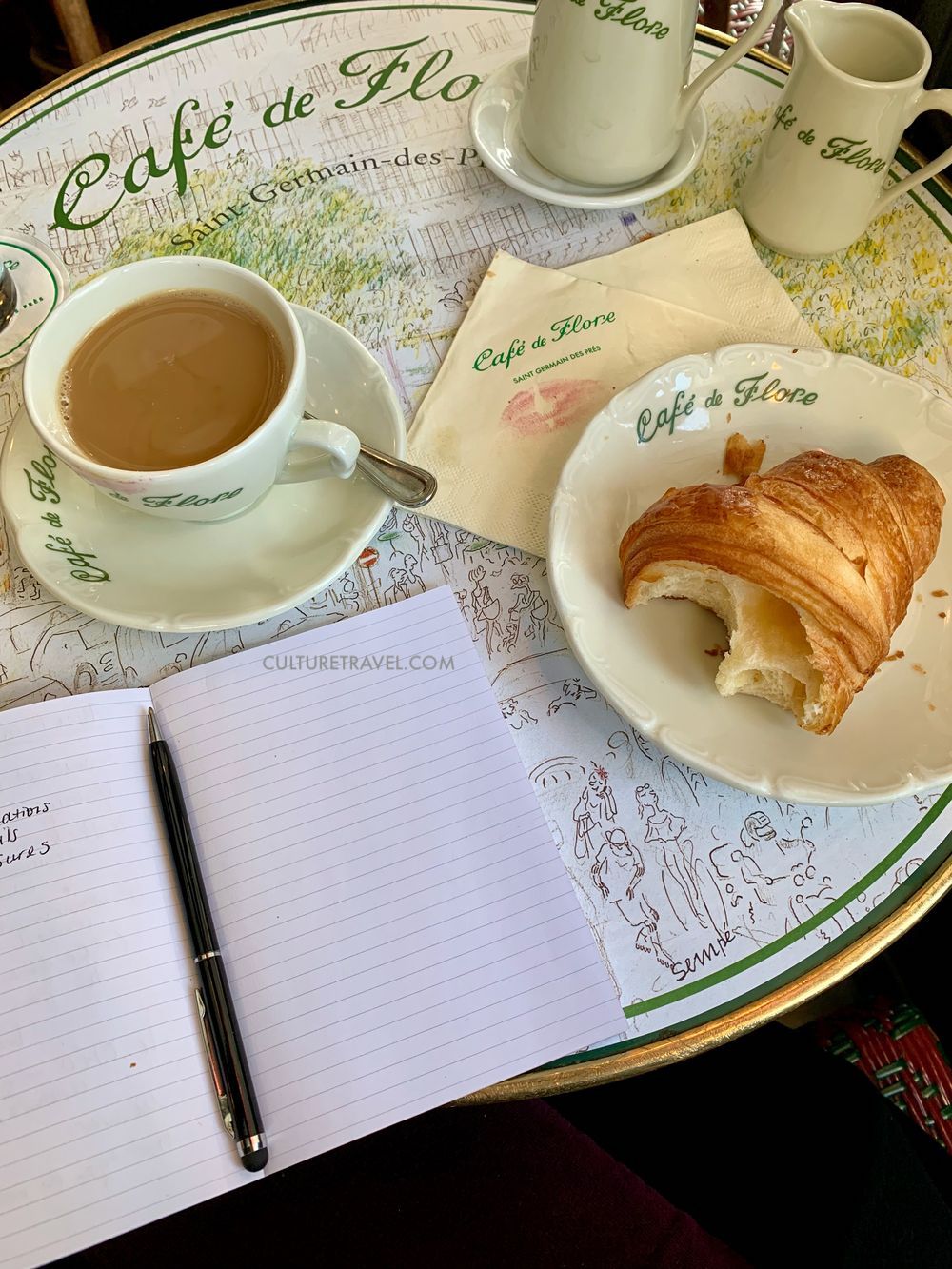 Other notable figures associated with Café de Flore include the poets Guillaume Apollinaire, Paul Éluard, and André Breton; the artist Pablo Picasso; the writers Julio Cortázar, Richard Wright, and Carlos Fuentes.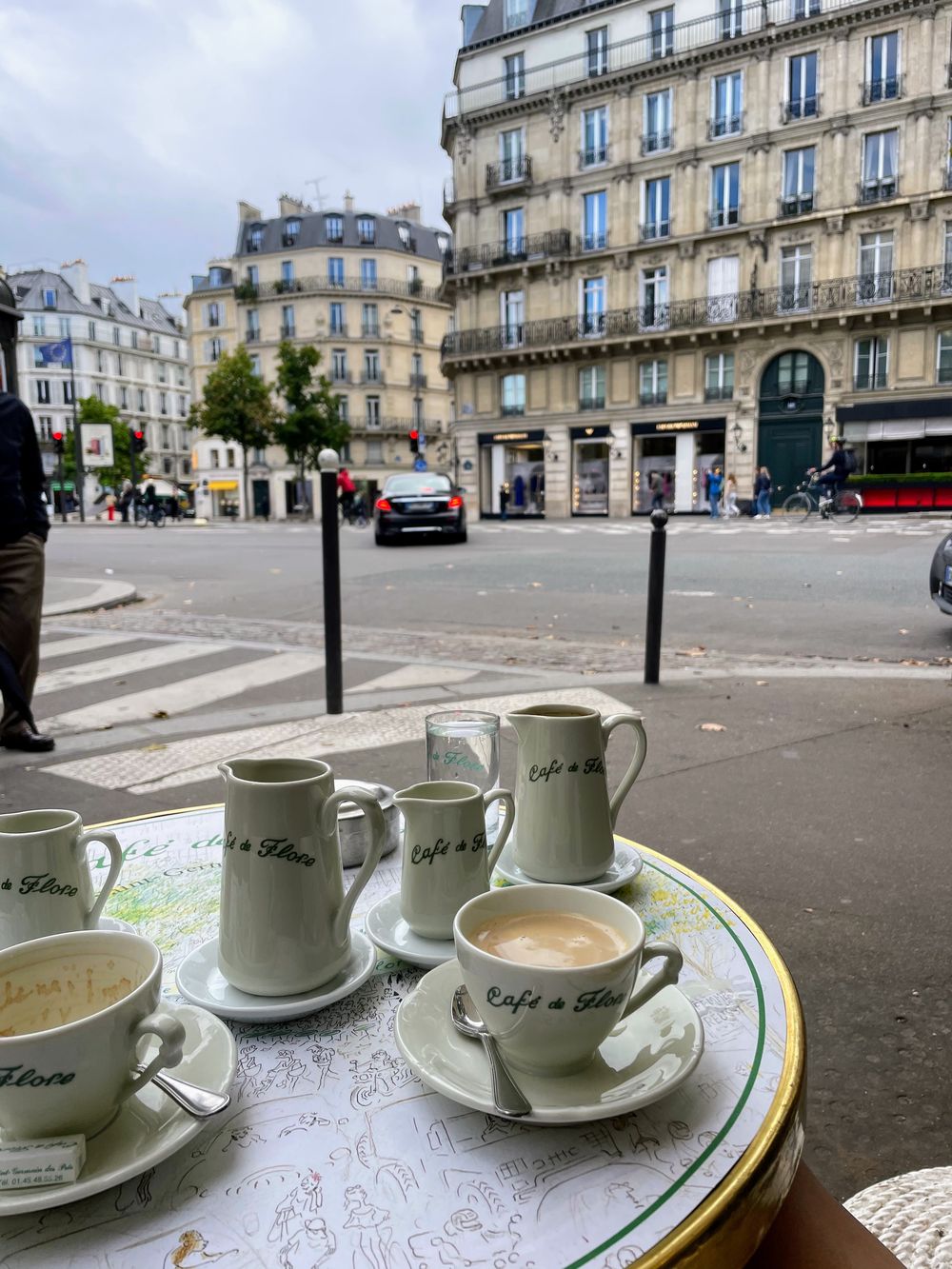 The café is known for its annual literary prize, the Prix de Flore, which it has awarded since 1994. The prize is given to promising new authors, and it includes, in addition to a cash award, a glass of Pouilly-Fumé each day for a year at the café.
Celebrities
What celebrities were in Café de Flore? Café de Flore has been frequently visited by a number of celebrities from the world of film, music, fashion, and literature due to its historic significance and cultural ambiance. These include famous figures like Johnny Depp, Kanye West, Karl Lagerfeld, Kirsten Dunst, and others.
The philosopher Bernard-Henri Lévy and the singer-songwriter Serge Gainsbourg were customers.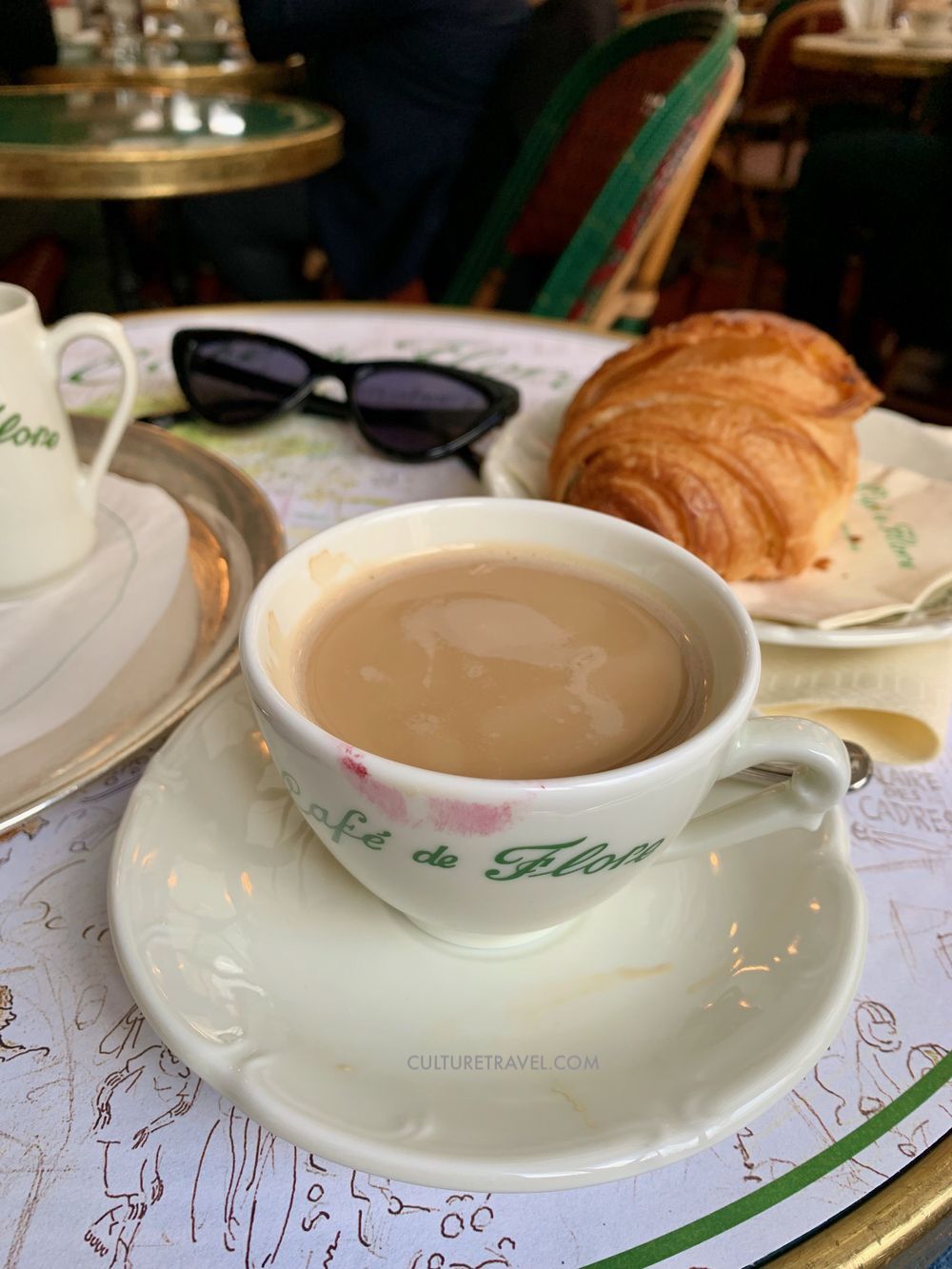 How to Get a Table
Is it hard to get a table at Café de Flore? Given its iconic status and popularity, Café de Flore gets quite busy, especially during peak dining hours or during the tourist season. However, as it operates on a first-come-first-served basis, you don't need to make reservations. There might be a wait for a table during these busy times, but turnover is often quite quick as many people come for a drink or a light meal and then move on.
If you want to avoid a wait, it's a good idea to try and visit outside of peak hours – early in the morning or late in the afternoon, for example. Moreover, if you're aiming to people-watch or want to take in the café's ambiance, the terrace seating might be preferable, but these spots can also fill up quickly when the weather is good.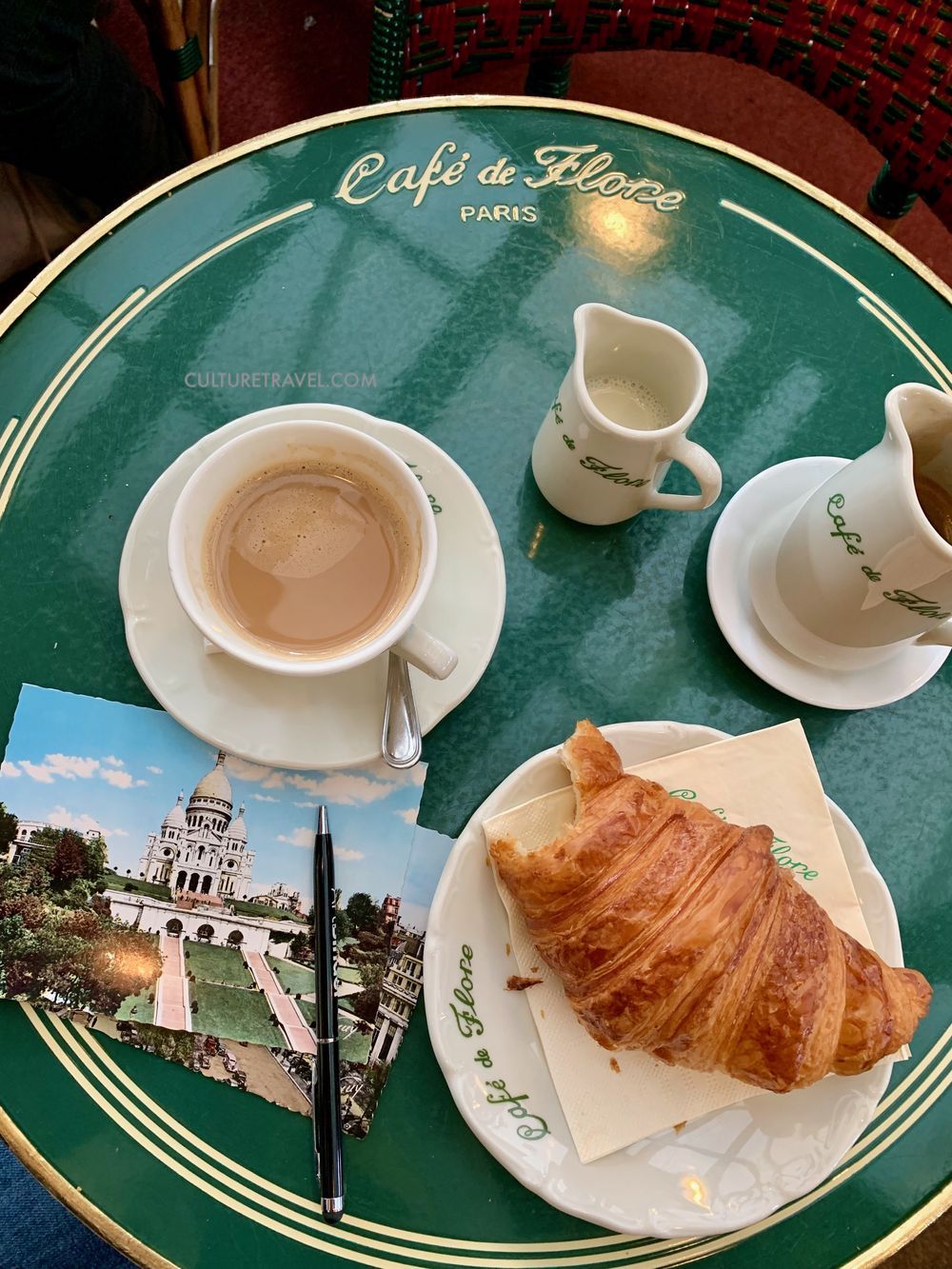 Café de Flore Menu
Café de Flore has a fairly extensive menu, which includes a variety of traditional French dishes along with some café classics. There are many classic dishes and beverages Café de Flore is known for.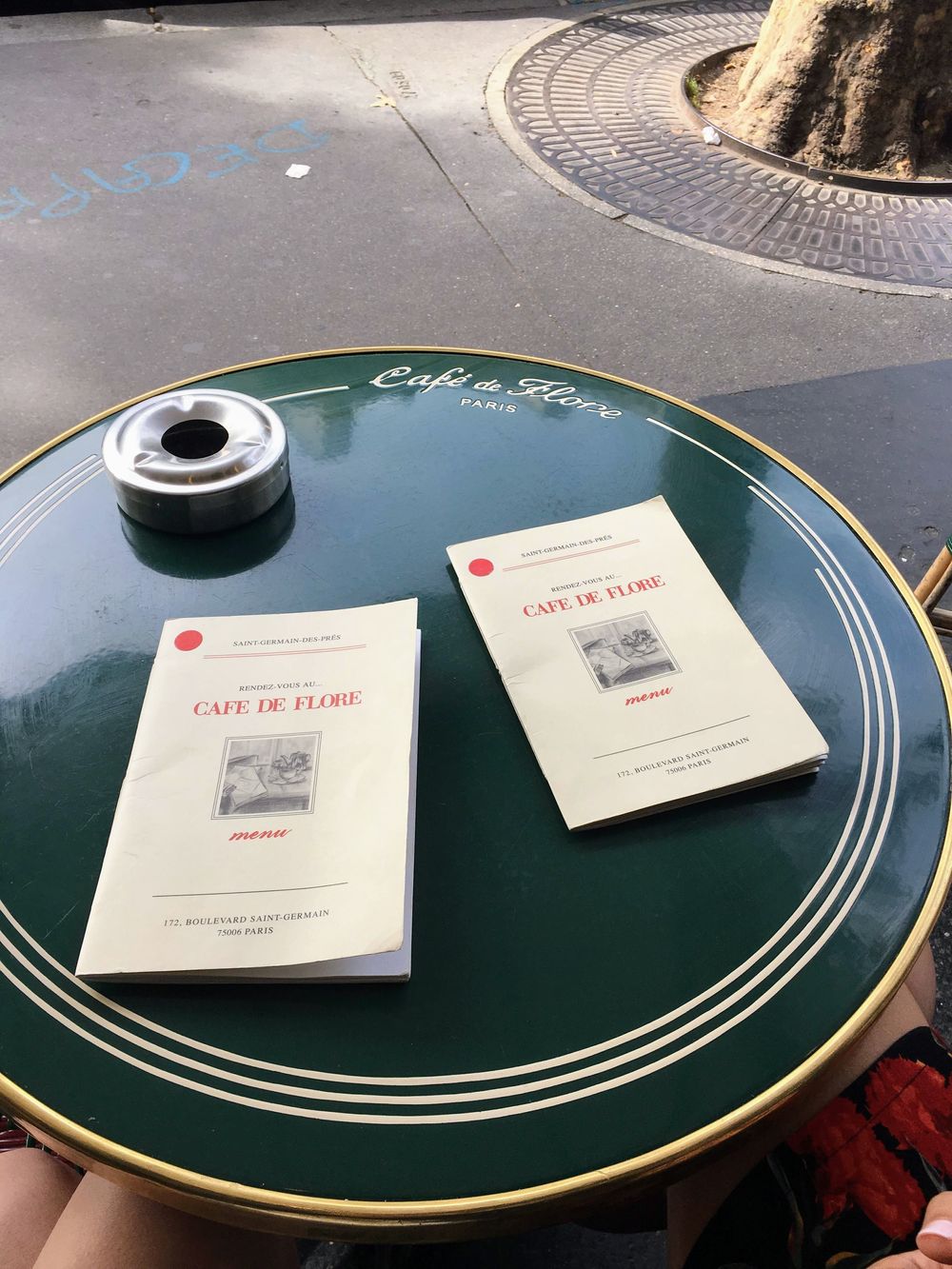 Here are a few standouts:
Croque Monsieur and Croque Madame: These are classic French sandwiches. The Croque Monsieur is made with ham and cheese (usually Gruyère), toasted, and then topped with a bit of béchamel sauce. A Croque Madame is the same, but with a fried or poached egg on top.
Omelettes: The café serves a variety of omelettes throughout the day, a common practice in many French bistros.
Escargot: As a traditional French dish, these snails are served in a garlic and parsley butter.
Foie Gras: A classic French delicacy, this dish is often served as an entrée or appetizer.
Steak Tartare: This is a classic French dish made from finely chopped or minced raw beef, typically served with onions, capers, and seasonings.
Salads: Café de Flore serves a variety of salads, like the Salade de Chèvre Chaud (warm goat cheese salad) and Salade Niçoise.
Pastries and Desserts: As you might expect from a Parisian café, Café de Flore has a selection of delectable pastries and desserts, like crème brûlée, tarte tatin, and a variety of croissants and other pastries.
Café and Other Beverages: Café de Flore, of course, serves a variety of coffees, including classic French café au lait. They also serve a selection of teas, hot chocolate, and a variety of alcoholic beverages including wines, beer, and cocktails.
Food
I personally find the food at Café de Flore very good, but not the best food in Paris by any means! It's best for drinks and snacks, though you can eat there if you like.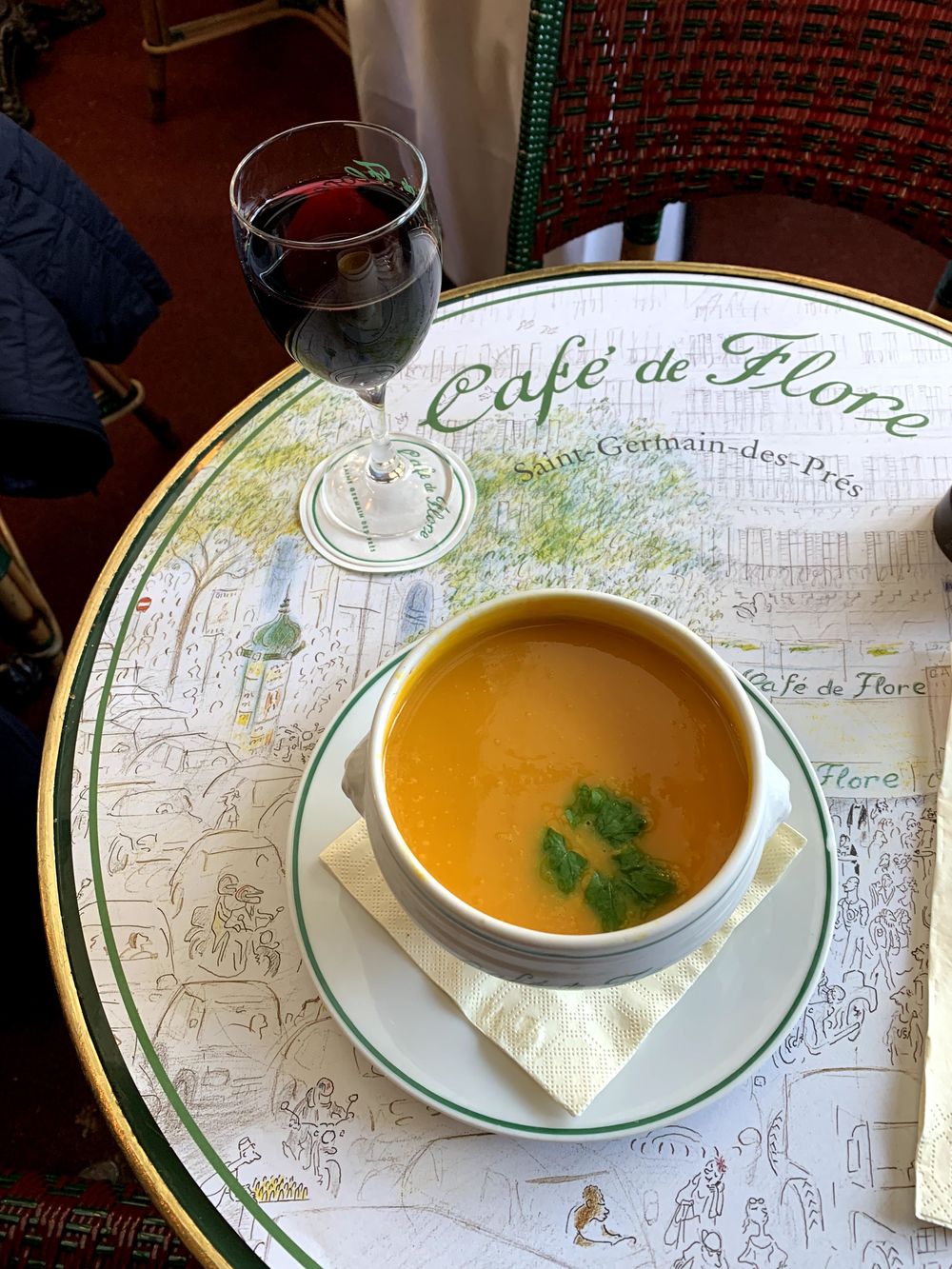 What to Order at Café de Flore
I recommend ordering breakfast at Café de Flore. It's always a delight to munch on a fresh croissant, sip hot coffee, and people-watch on the Boulevard Saint-Germain.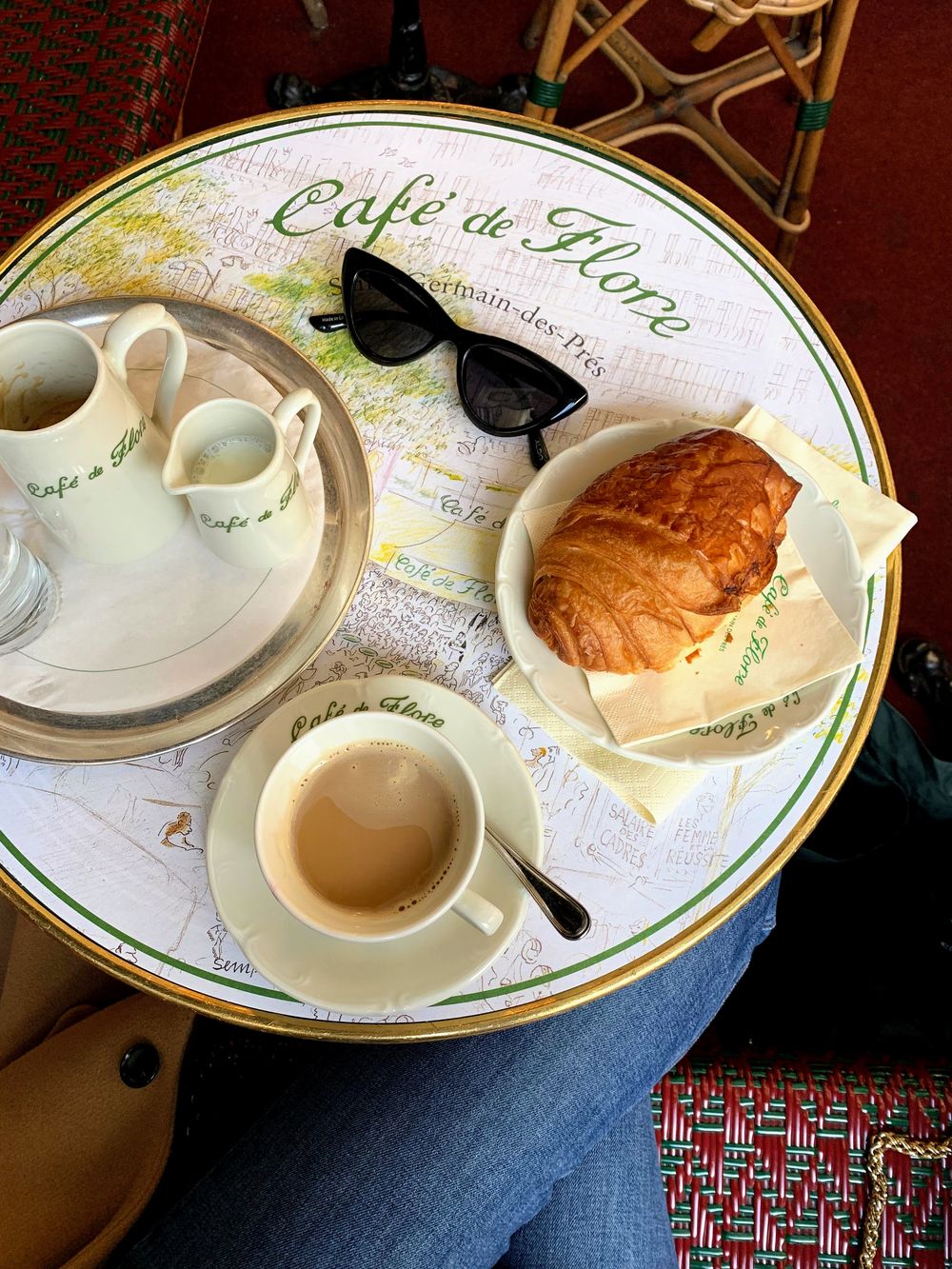 Café de Flore Prices
Café de Flore, like many historic and iconic establishments in large cities, tends to be more expensive than your average café in Paris due to its history, fame, and location in a prime area of the city.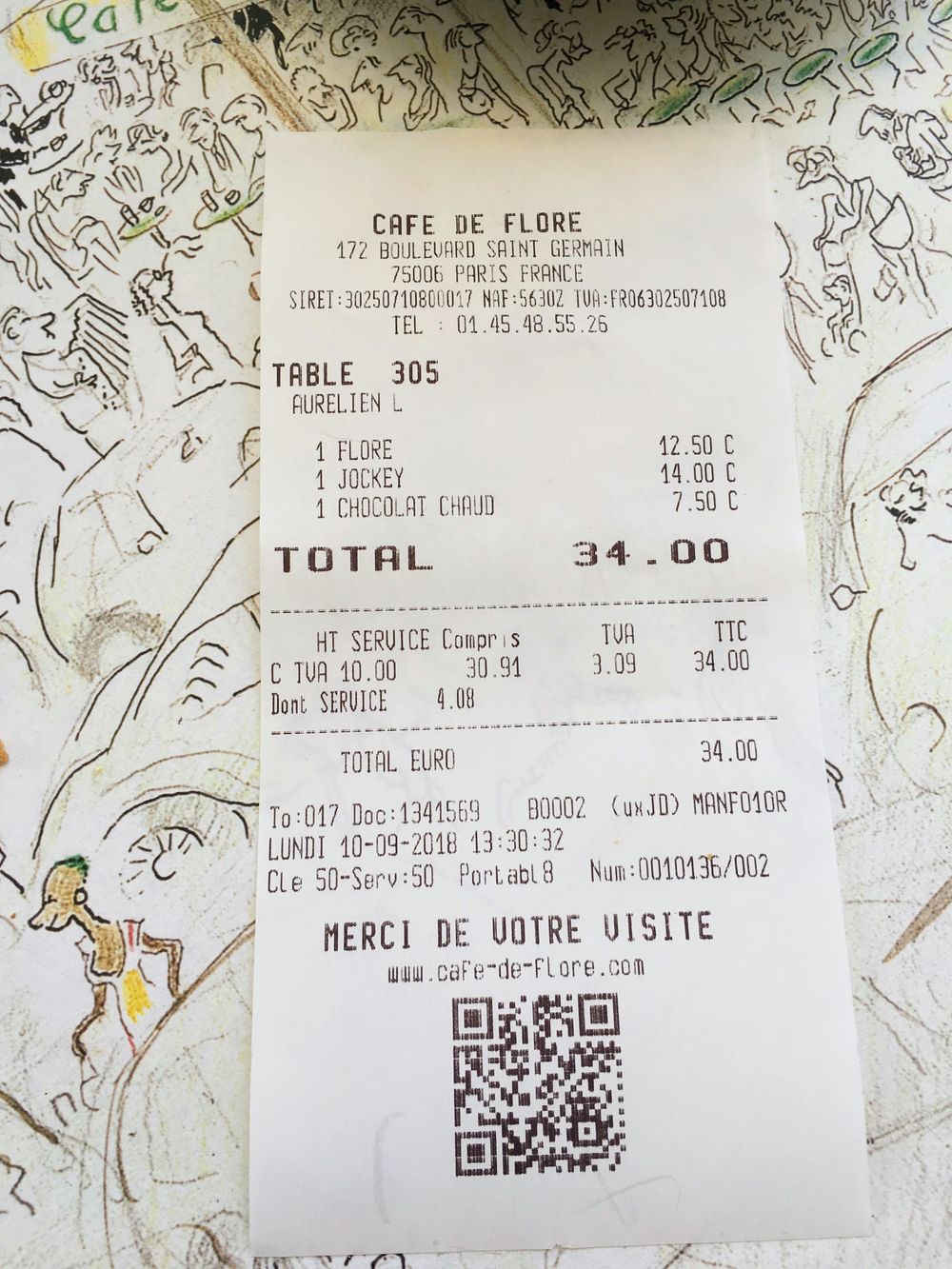 The prices reflect its reputation and the area it's situated in – the upscale Saint-Germain-des-Prés neighborhood. A simple coffee or espresso can cost around 5€, while more complex dishes like a Croque Madame, or Monsieur might be priced in the range of 10 to 20€. A glass of wine could cost anywhere from 8 to 15€, and desserts typically might range from 7 to 10 Euros.
Keep in mind that in France, service charge is often included in the prices listed on the menu!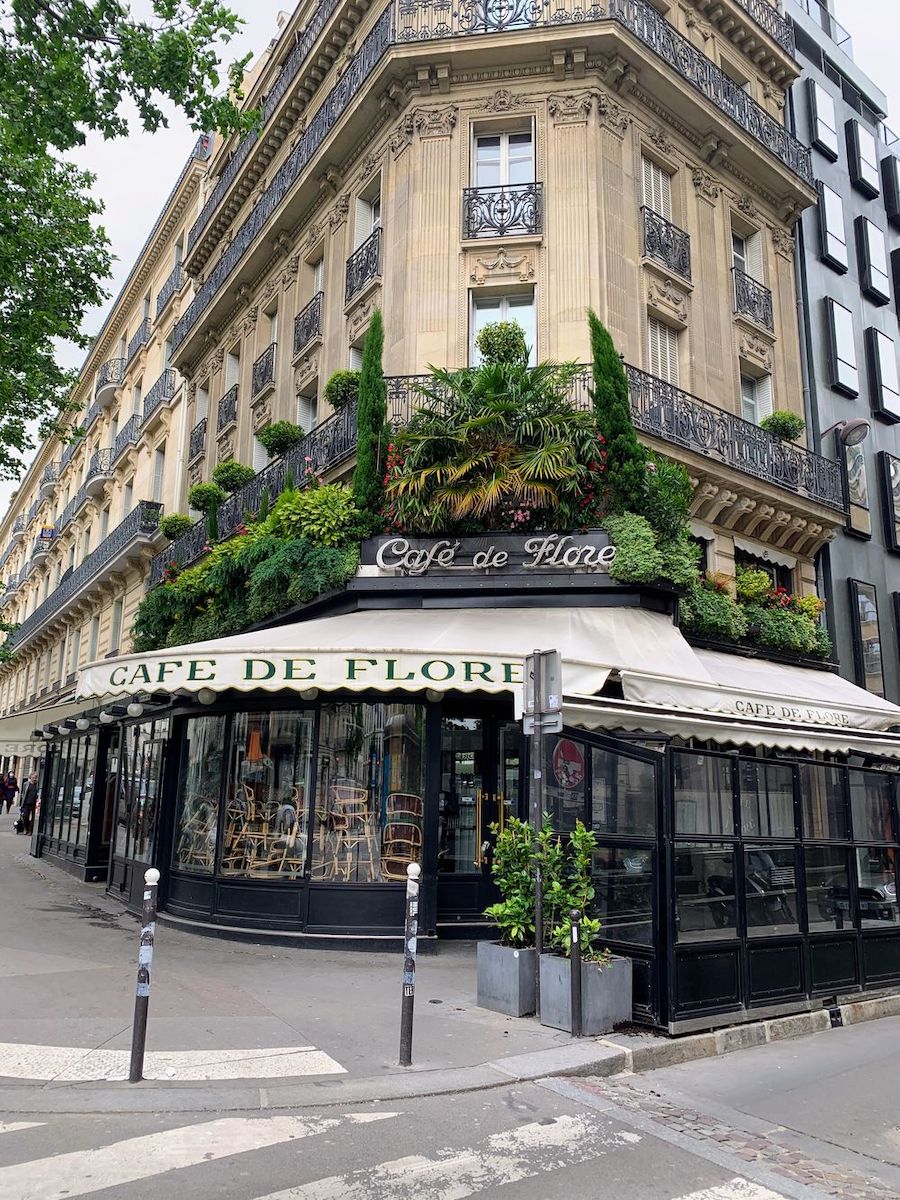 ---
Today, Café de Flore is a destination for travelers seeking to experience a piece of Parisian history. While it's evolved over time, the café still retains its old-world charm and atmosphere and continues to be a meeting point for the city's literary and artistic circles.
172 Boulevard Saint-Germain, 75006 Paris, France