So you're planning a trip to Paris? Lucky you! The first time you visit Paris is a truly magical experience. I still get giddy when I look at the beautiful Haussmannian buildings from my taxi window after flying into Charles de Gaulle Airport.
Paris is a city full of French culture with an illustrious history. There are thousands of ways to experience the city. Even if you lived here for an entire year, you still couldn't do absolutely everything the capital of France has to offer. I moved here 3 years ago and there are still things on my Paris bucket list that I haven't gotten to!
Nevertheless, these are the places where I have the fondest memories in the City of Light and the activities I love doing here.
Whether you're staying for 3 days in Paris or 3 months, these are the magical Paris activities you must try to make time for! These activities will give you a taste of Parisian culture and make you feel like you're a local.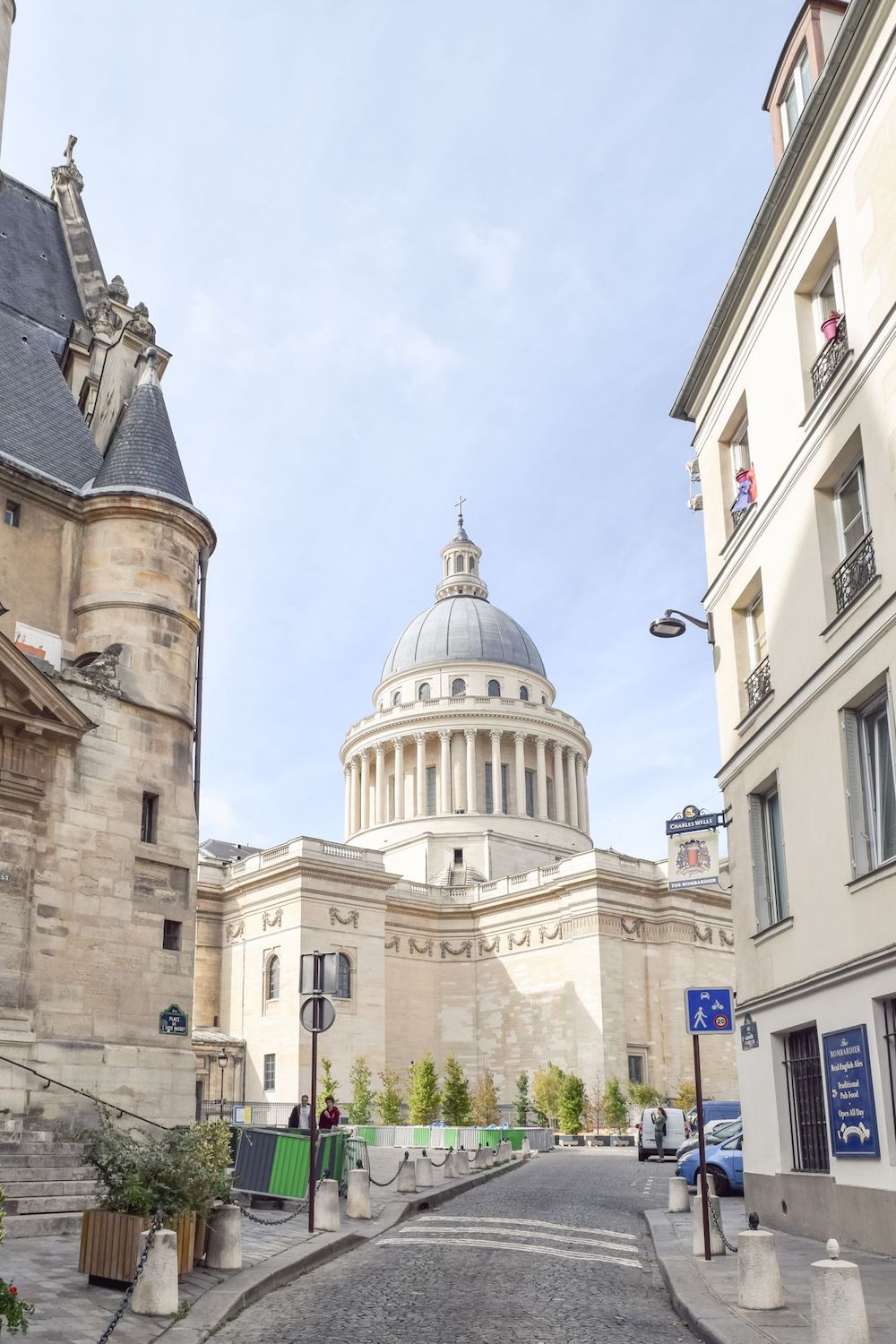 I hope this post helps you plan an amazing first trip to Paris! There are plenty of things to do in Paris no matter what your interests are.
1. Wine and Cheese on the Banks of the Seine
One of my favorite days in Paris was when a friend and I grabbed our favorite French foods, a bottle of champagne, and a blanket, to spend an hour devouring it all while basking in the sun on the banks of the Seine. My favorite place to enjoy Paris' divine river is on the Ile Saint Louis.
2. See the Eiffel Tower
No trip to Paris would be complete without a visit to the Eiffel Tower. But instead of standing beneath it, try to visit the middle or end of the park Champ de Mars which precedes it, or stand at Place du Trocadero for sweeping views of the Iron Lady.
If you love history, it's worth it to go up the Eiffel Tower too, even though the views won't be of the tower itself. You'll learn about the tower's construction and its creator, Gustave Eiffel, who accomplished a huge engineering feat at the time!
3. Sip Coffee in Black Sunglasses at Café de Flore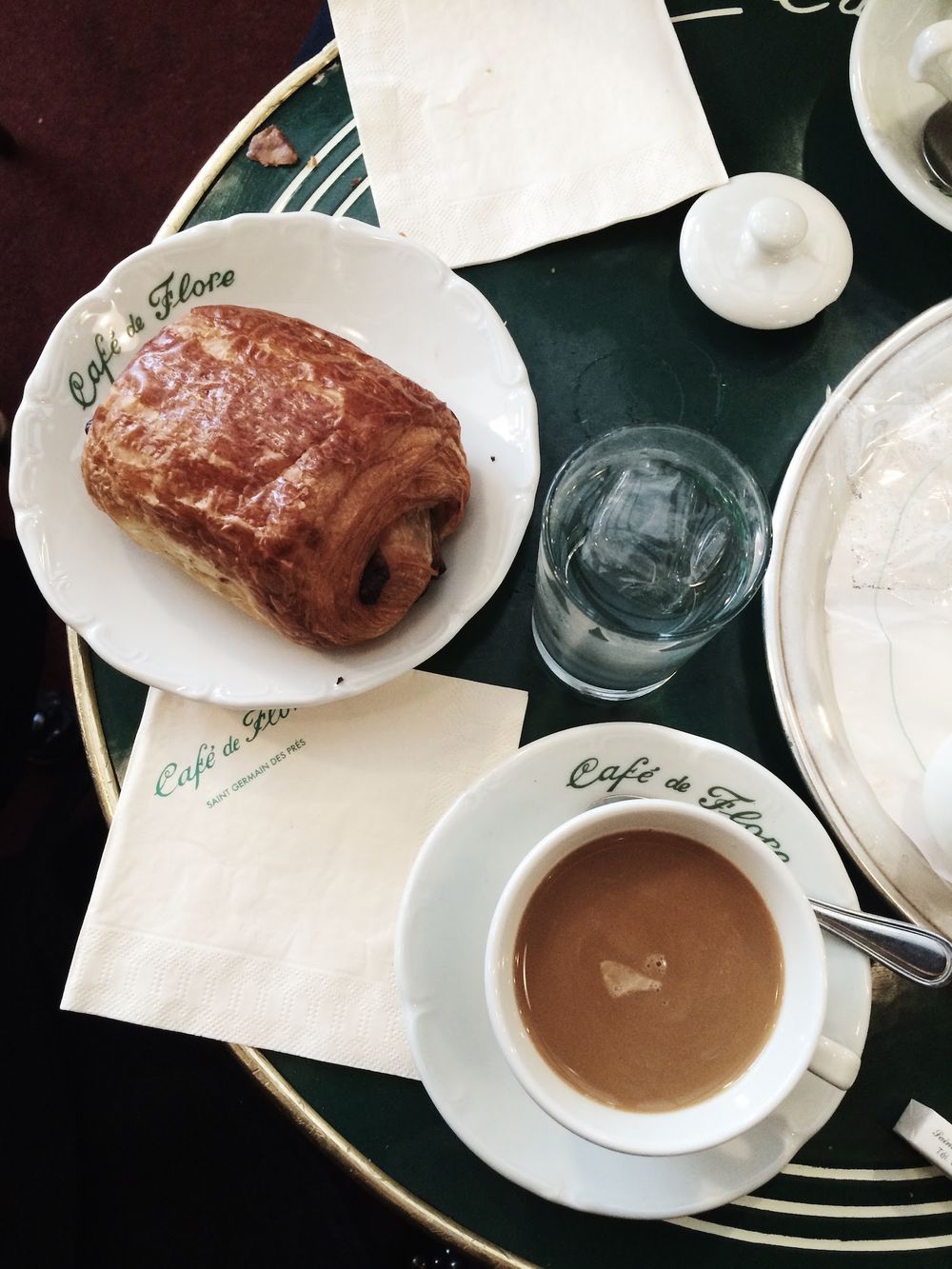 If there's one café you must visit in Paris, it's the magical Café de Flore. This charming café is one of the few tourist haunts which is still frequented by locals alike. That's probably due to its incredibly storied past, as one of the oldest coffeehouses in Paris. The tables of Café de Flore have welcomed numerous famous writers, philosophers, and painters since the 1880s!
4. See the Mona Lisa at the Louvre
Paris' most famous museum is a must-visit for any art history buffs. You could easily spend an entire day here looking at the most celebrated artworks of all time, but be sure not to miss La Jaconde, the Mona Lisa, in French. Just a heads up – the painting's size may be different than what you expect!
5. Visit the French National Archives Museum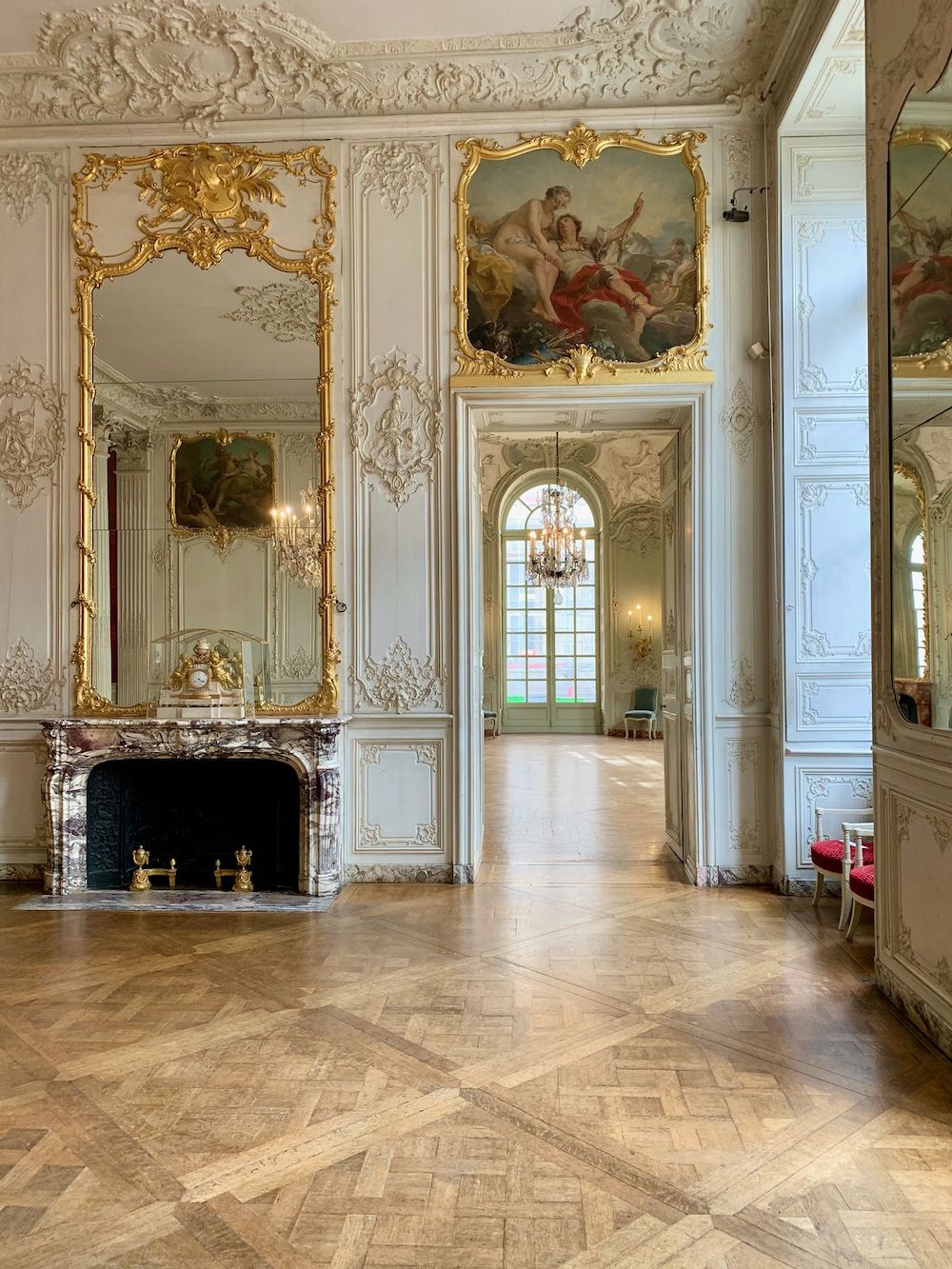 The Musée des Archives Nationales is one of my favorite museums in Paris and best of all, it's free to visit. I love this small museum located inside the Hôtel de Soubise because it lets everyone see a classic example of exquisite Parisian interior architecture. The rooms are stunning and you'll want to take photos of every piece of furniture inside. As a bonus, you get to learn about some key moments in France's history as a country.
6. Picnic on the Champs de Mars
This is a great budget activity to do in Paris. With a baguette, some fruit, some cheese, and fruity jams, you can have the perfect Parisian picnic on the grassy fields of the Champs de Mars. Take in the Eiffel Tower view from this expansive park and enjoy your delicious French food.
7. Enjoy a French Pastry
France is known for its many famous pastries. There are lots of Parisian patisseries where you can try some of the best pastries in Paris, from macarons at Pierre Hermé to choux at Odette, to chocolate eclairs at L'Éclair de Génie.
8. Support Local Artists in Montmartre
Montmartre is a neighborhood that sits on a relatively large hill in the north of Paris. It was where many of France's greatest artists resided including Claude Monet, Amedeo Modigliani, Pierre-Auguste Renoir, Edgar Degas, and even Picasso. Be sure to visit Place du Tertre where dozens of artists work on portraits in the open air. You can support them by getting your portrait drawn and have a Paris souvenir to take home with you!
9. See the Majestic Sacré Coeur
You must visit the beautiful white-domed basilica, the Sacré Coeur. The church itself is stunning and the panoramic views above Paris are unforgettable.
10. Have a Classic French Meal
There are lots of famous French dishes to choose from, but you need to have at least one traditional French meal before you leave Paris! Personally, I love having escargot, sipping on French Onion Soup in the fall, and eating Duck Confit any time of year. I have several recommendations for the best bistros in Paris as well as the best restaurants in Paris.
11. Browse the Bouquinistes Books by the Seine
The upper portions of the Seine have green stalls attached to the concrete barriers where the famous bouquinistes, or Parisian booksellers, sell vintage posters, books, magazines, and more printed matter. The bouquinistes are a quintessential part of the Parisian experience.
12. Eat a Fresh Croissant from a Boulangerie
Paris is known for its boulangeries that seem to be on every block. You can buy croissants, baguettes, pastries, and sandwiches at these quintessential French bakeries. There's something so satisfying about munching on a melt-in-your-mouth freshly baked buttery croissant! Try to eat one every morning you are in Paris.
13. Marvel at the Notre Dame
The Notre Dame Cathedral is truly the beating heart of Paris. This iconic landmark and historical Gothic cathedral still draws millions every year, despite the catastrophic roof fire in April 2019. While you can't go inside yet, you can still admire the façade from a public square out front.
14. Walk Under a Covered Passage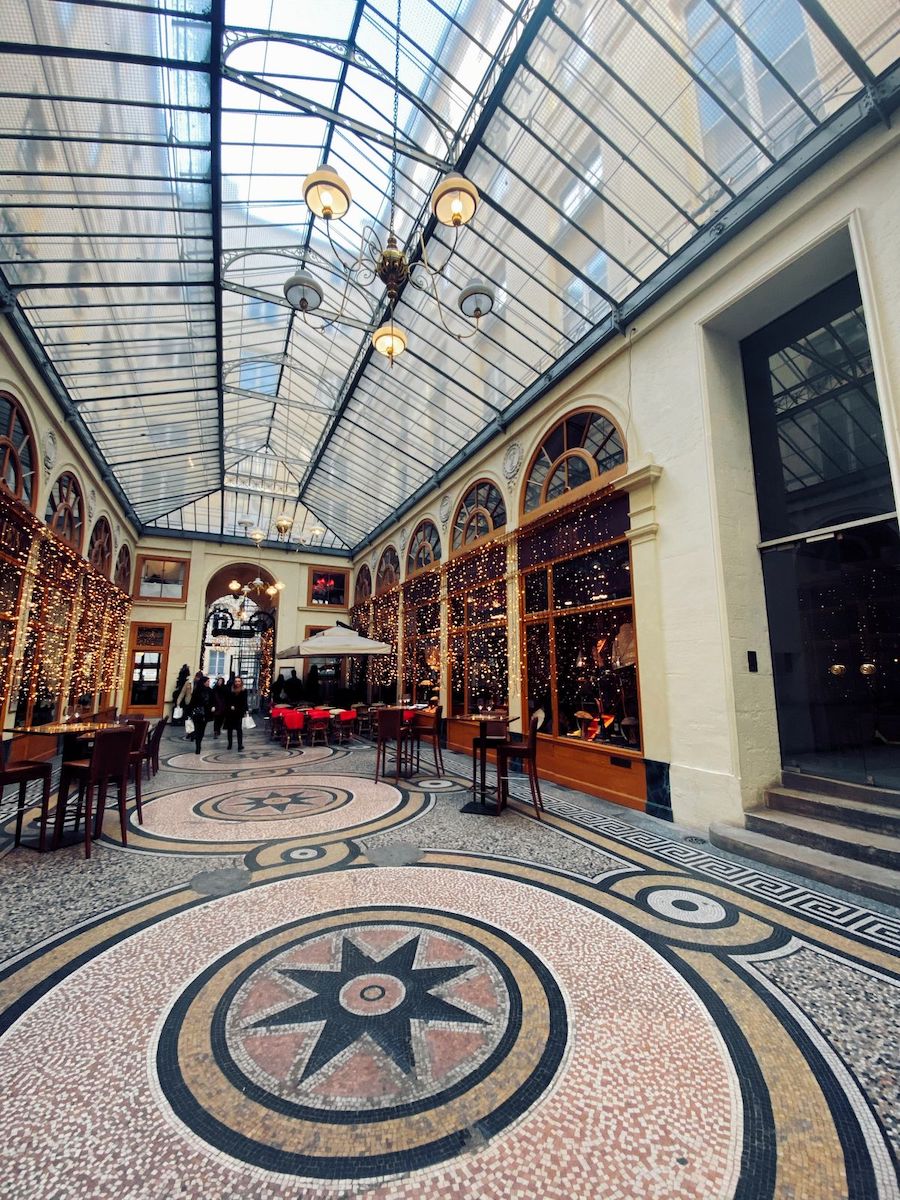 Walking through one of the famous covered passages of Paris is like taking a step back in time. Many of these interior architectural wonders have been well preserved in their 19th-century style. You can find quirky boutiques, traditional French restaurants, and vintage booksellers in the dozen or so passageways that remain in Paris.
15. Shop a Paris Farmer's Market
There are many open-air farmer's markets in Paris where you can buy fresh food, fruits, vegetables, bread, cheeses, and more. It's a great way to get a taste of local Parisian life.
16. Visit the Arc de Triomphe
One of the most famous monuments in Paris lies at the western end of the famous Champs Élysées. The Arc de Triomphe serves to memorialize the soldiers who died during the French Revolution. It was designed in 1806 by Jean Chalgrin, who sadly didn't live to see its construction completed. Since its construction, the Arc de Triomphe has been the site of many marches, protests, parades, and celebrations in French culture. You can visit the monument from below, or you can pay 12€ to climb the stairs and see the view from the top!
17. Stroll the Jardin du Luxembourg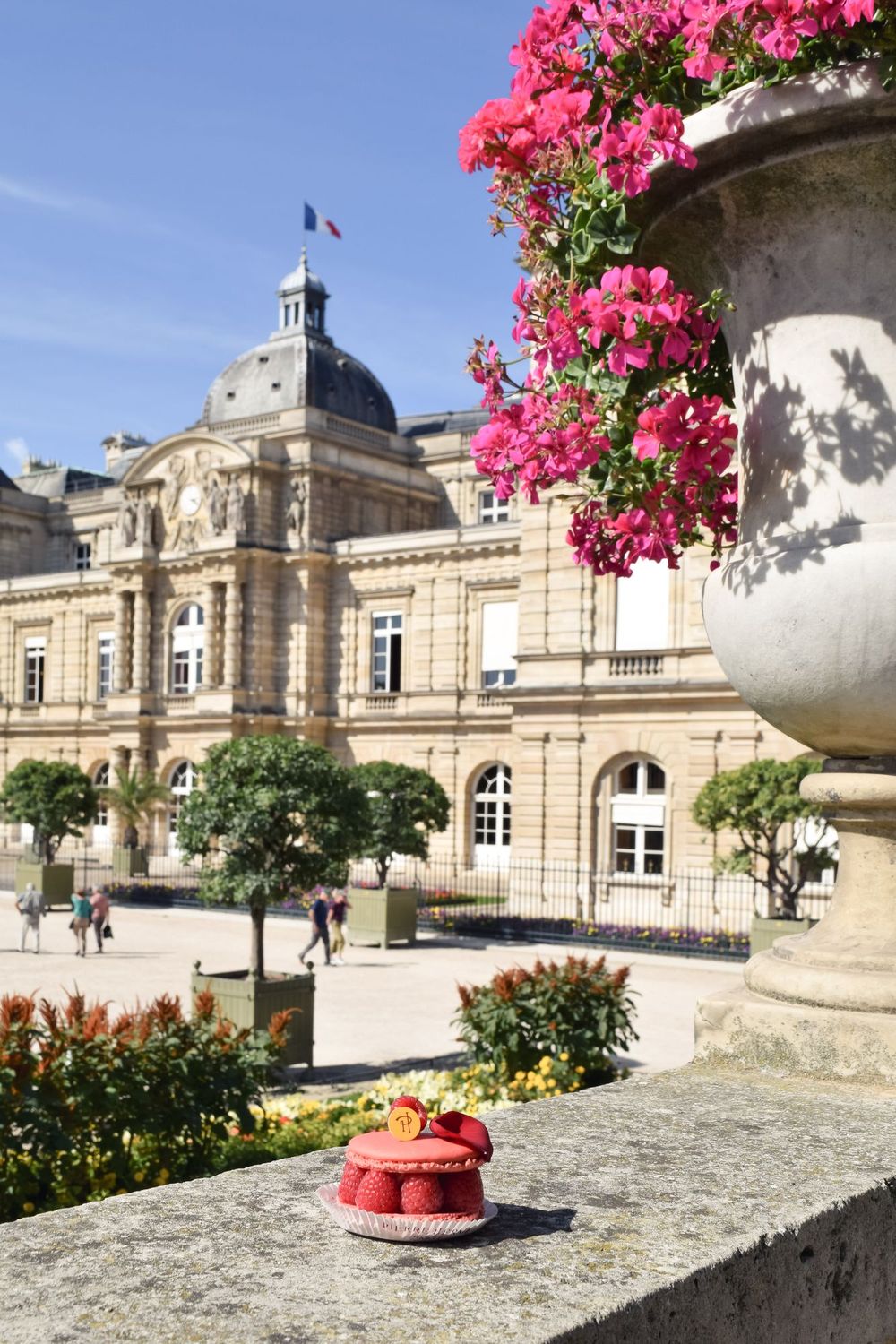 After your coffee at Café de Flore, be sure to walk the stunning gardens of Luxembourg in Saint Germain. The Jardin du Luxembourg was constructed at the request of the Italian-born Marie de Medici, Queen of France, in 1612. She also commissioned a stunning palace, which today is where the French Senate meets. In my opinion, this garden is the prettiest in all of Paris. It's easily a must-visit for a relaxing Parisian afternoon.
18. See Paris from Above at the Saint-Jacques Tower
This is my favorite vantage point above Paris where you can see all the major monuments around you. Taking a trip up the central Saint-Jacques Tower is absolutely worth it and takes just one hour to complete the tour!
19. Tuileries Gardens
The Jardin des Tuileries is a famous park in the middle of Paris where you can relax and admire the sculptures and flowers. A Ferris wheel has been installed there for a few years now that you can ride and admire the views of Paris from above.
20. See Monet's Water Lillies at l'Orangerie
The l'Orangerie museum is where Claude Monet's famous Water Lillies murals are housed. It's always a pleasure to visit this museum and see these masterpieces in person!
21. Shop for Fine Jewelry in Place Vendôme
This lovely square in Paris is great for fine jewelry shopping, but even if you don't have that kind of budget, you can still get some great photos in front of the classic and elegant Parisian architecture. Place Vendôme is a must-see!
22. Rent a Vintage Boat and Cruise the Seine
You can rent a 1960s boat and cruise down the Seine River, pretending you're in a vintage film. Classic Boats Paris is a great place to rent a boat with a small group. Alcohol can be provided if you desire!
23. Go Underground to the Catacombs of Paris
The Catacombs of Paris are a network of underground tunnels where you can see the bones and remains of former Parisian inhabitants whose remains were cleared from the city's cemeteries in the 18th century.
24. Art Galleries in Le Marais
Formerly the Jewish Quarter, the Marais district is home to the city's most chic contemporary art galleries and attracts a stylish crowd to go with it. This is where I chose to stay during my time in Paris and I couldn't have loved it more. My advice is to start your day with breakfast at Café Charlot, and then check out a few of the local Paris art galleries to see their exhibitions. Lastly, casually wander the side streets of the 3rd arrondissement for some incredible shopping and restaurants.
25. Be a Hipster in Canal Saint-Martin
The Canal Saint-Martin is where all the trendy kids in Paris hang out. Its hipster vibe is akin to that of Williamsburg. Stop by the Hotel du Nord for a drink on the sidewalk, or grab your own bottle of wine and sit along the river as so many Parisians love to do! Don't miss this cool neighborhood in Paris.
26. Take a French Cooking Class
France is renowned for its haute cuisine, so why not learn about it while you're here? Taking a cooking class is one of the best activities in Paris. A cooking class allows you to learn traditional French techniques and recipes directly from expert Parisian chefs.
You'll gain true insider knowledge of French cuisine and culture. Cooking classes in Paris tend to be hands-on and interactive. You'll get the chance to roll up your sleeves and actually prepare iconic French dishes like crepes, croissants, macarons, and more. It's an immersive and enjoyable way to learn!
A cooking class gives you skills, recipes, and knowledge you can take back home. After a French cooking class, you'll be able to show off what you learned by cooking amazing French meals for family and friends.
Cooking classes are a great way to meet travelers and foodies. You can bond over your love of French food and wine while you cook!
---
I think from this list you can tell that a big part of visiting Paris is taking the time to appreciate the nature and culture at your disposal. Paris is a leisurely city, and it's important to take advantage of that during your trip, especially if you come from a hustle and bustle city like New York, as I do!
Bon voyage!