Paris is not only the Eiffel Tower. Travel by twos or in small groups in this safe megacity to explore the monuments and also the rooftop dine and wine delights which are all over!
Saint-Jacques Tower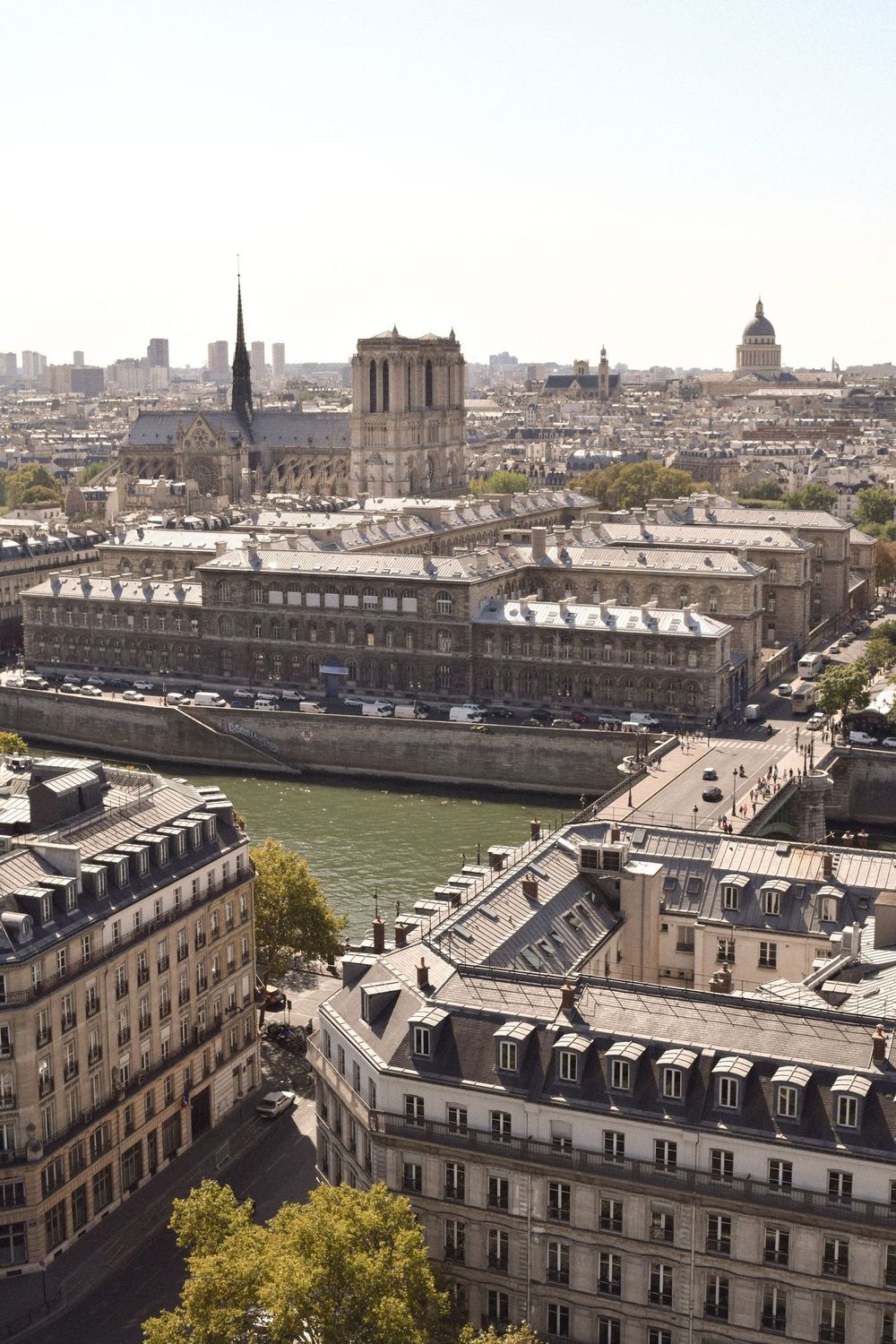 The Saint-Jacques Tower is the only part that is surviving out of a 16th century church that got destroyed during the French Revolution.
It is a monument located at the 4th arrondissement in Paris. A Gothic style tower which is 52 meters tall, it was once part of the Church of Saint Jacques de la Boucherie which got demolished in 1797.
Adults are charged €10 for admission but it is free during European Heritage Days.
The Pantheon
One of the best views in Paris, the Pantheon is a domed secular mausoleum which honors countless national luminaries from long French history with some famous ladies in the list.
Among these ladies buried here are Marie Curie (Radioactivity researcher), Genevieve De Gaulle-Anthonioz (French Resistance heroine), Germaine Tillion (ethnologist), Sophie Berthelot (wife of Marcellin Berthelot, chemist, who wished for his wife to be buried beside him), and Simone Veil (Minister of Health, Women's Rights).
The Pantheon was formerly a neoclassical church built by Louis XV and converted into a mausoleum during the French Revolution after it was secularized.
Montparnasse Tower
This Parisian quarter is made famous by its art history. As you walk the streets, you gaze upwards at artists' studios with big windows and skylights. Long before famous artists have lived there and worked on their famous masterpieces in the premises, but they are being inhabited now by the current crop of artists.
One of the famous academies, Academie de la Grande Chaumiere, which started in 1906 is still operational. A great dining experience awaits you at the base of the Montparnasse tower. Choose from established French restaurants like Le Select, Cafe Du Dome, La Coupole and La Rotonde.
Notre Dame
People always love to take selfies in front of the Cathedral of Notre Dame, but the real views are from the top! Notre Dame attracted 13 million tourists every year before the famous fire that closed it to visitors.
The world mourned for this iconic Gothic Cathedral which is one of the best views in Paris. It's an 800 year old icon not only for France but also for the world. But soon it will be back, with Christian relics still intact, including the tunic of St. Louis and the crown of thorns. The double rectangle towers are also safe.
Metro Line 6
Surprisingly, the Paris Metro Line 6 takes a route that gives you some of the best views in Paris. It crosses the Seine and offers a picture perfect view of the Eiffel Tower.
Metro Line 6 was launched in 1906 between the Place de l'Etoile (which is on top of the Champs Elysees) and Place d'Italie (just outside Paris Chinatown). Since then, it has been extended into Place de la Nation. It is fascinating because it swoops down south across the Seine and stretches between Bir Hakeim and Passy which affords you the best views of the river!
Pont Neuf
Means New Bridge, but is ironically the oldest bridge which crosses the River Seine in Paris. It was constructed way back in the 16th century but this famous bridge still stands strong and sturdy at 278 meters long and 28 meters wide. It connects the Ile de la Cite with both sides of the Seine.
La Coulée Verte (Promenade Plantée)
If you want to see one of the best views in Paris, check out La Coulée Verte, otherwise known as the Promenade Plantée. La Coulée Verte is a public park located in eastern Paris along a legendary rail line. It was saved from demolition in 1993 by the city of Paris and by the local residents by virtue of its being a hybrid public space where everyone can experience art, design and nature at the same time.
La Coulée Verte consists of a pleasant and free 5 kilometer stroll from La Bastille to Bois de Vincennes. It's very scenic and perfect from escaping the hustle and bustle of the city without leaving it!
L'Arc de Triomphe
This is one of the most photographed monuments in the world and offers stellar views of the Parisian landscape. L'Arc de Triomphe is a 50 meter arc which rivals the Eiffel Tower as the quintessential Paris landmark.
It cost more than 10 million francs to build and was commissioned by Napoleon on his birthday in 1806 for its construction. It was his monumental tribute to the French army which was very powerful during that time, owing to its conquest of most of Europe. Sadly, Napoleon died before the Arc was completed.
Tuileries Garden Ferris Wheel
When you go for a spin on this giant ferris wheel in the evening, you get great night views of the Paris skyline from different levels depending on what height you are on the wheel. It is in the premises of the Jardin des Tuileries which has played host for centuries to major celebrations and parades like the Bastille Day celebration.
Centre Pompidou Roof
This is a popular Paris structure which was the idea of President Georges Pompidou. He had the foresight to see a cultural center that paid attention to all modern creativity way back in 1969. The Centre Pompidou was jointly designed by British and Italian architects and opened in 1977. After seeing the views from the roof, you'll see an inspiring museum and gallery of modern art on the floors below.
Le Perchoir Bar
It is a very popular rooftop pub and bar in Menilmontant due to its 360 degree view of Paris. Its entrance is unpretentious because you won't see it right away. But once inside, you'll be treated to epicurean delights like celebrations, culinary delights and creative surprises. You can watch the sunset over Sacre-Coeur with your wine glass in your hand and will also be under garlands of colored lights.
The Roof of Le Printemps
Rooftop delights are always fascinating and romantic. But not all people know that on top of Le Printemps which is a huge department famous to every Parisian and to fashion conscious travelers to Paris, that there is a rooftop Cafe. It is one of the best kept secrets in Paris.
After shopping, head up to the rooftop and drink in the scenic views of Paris with a bit of brunch or lunch to enjoy. On top of this famous French department store, you can see Montmartre, the Palais Garnier, the Eiffel Tower, the Sacre Coeur and more famous monuments.
Galeries Lafayette Rooftop
The Galeries Lafayette Rooftop is another best kept rooftop secret of Paris. Galeries Lafayette is a well known department store which dates back to 1912. But go up to the top where there are several restaurants, bars and coffee shops for you to unwind and take in the southern side beauty of Paris in the open air.
I hope you enjoyed this list of the best views in Paris!