Galeries Lafayette is a famous grand magasin (department store) of Paris, which has been open since 1912! The store is well known for carrying a wide variety of designer fashion for men and women. It's also a luxury destination for beauty and homeware goods. What's also special about Galeries Lafayette is that they have a Gourmet food shop to boot, which offers fine French foods and treats.
The Galeries Lafayette store has been decorated and designed in the Art Deco style, which was popular in Paris during the 1920s. An exquisite glass dome was installed and even today you can see this intricately designed roof for yourself.
Galeries Lafayette offers a wide range of services, including tax-free shopping for non-EU residents, personal shopping, and beauty consultations. The stores often host events and pop-ups, providing visitors with a unique and exciting shopping experience.
That being said, if you are on a tight budget or not interested in high-end products, Galeries Lafayette may not be the best choice for you. The stores can be quite crowded, especially during peak tourist seasons, and the prices can be quite steep.
Here's everything you need to know about visiting the famous Galeries Lafayette store in Paris.
History of Galeries Lafayette Store in Paris
Galeries Lafayette is one of the most famous department stores in Paris and a historical monument in its own right. Here is a brief history:
The store's origins trace back to 1893 when two cousins from Alsace, Théophile Bader and Alphonse Kahn, opened a small haberdasher's shop at the corner of rue La Fayette and the Chaussée d'Antin in Paris.
Bader soon had a vision for a much larger store. In 1896, he bought the entire building at 1 rue La Fayette, and by 1905, the cousins had acquired more neighboring buildings on Boulevard Haussmann.
Between 1912 and 1914, the building at 40, boulevard Haussmann was erected. The store was designed by architect Georges Chedanne and later by his pupil Ferdinand Chanut. The iconic glass and steel dome, influenced by the Neo-Byzantine style, became the centerpiece of the building. This dome, and its Art Nouveau staircases, became legendary and are now considered signature architectural elements of Galeries Lafayette.
During World War I, the store was transformed into a makeshift hospital to support the war effort. In World War II, amidst occupation and limited merchandise, the store persisted, though it certainly faced challenges during these times.
After the wars, the Galeries Lafayette brand expanded. New stores opened across France and later around the world. It also diversified its business with the creation of subsidiaries and the acquisition of other brands.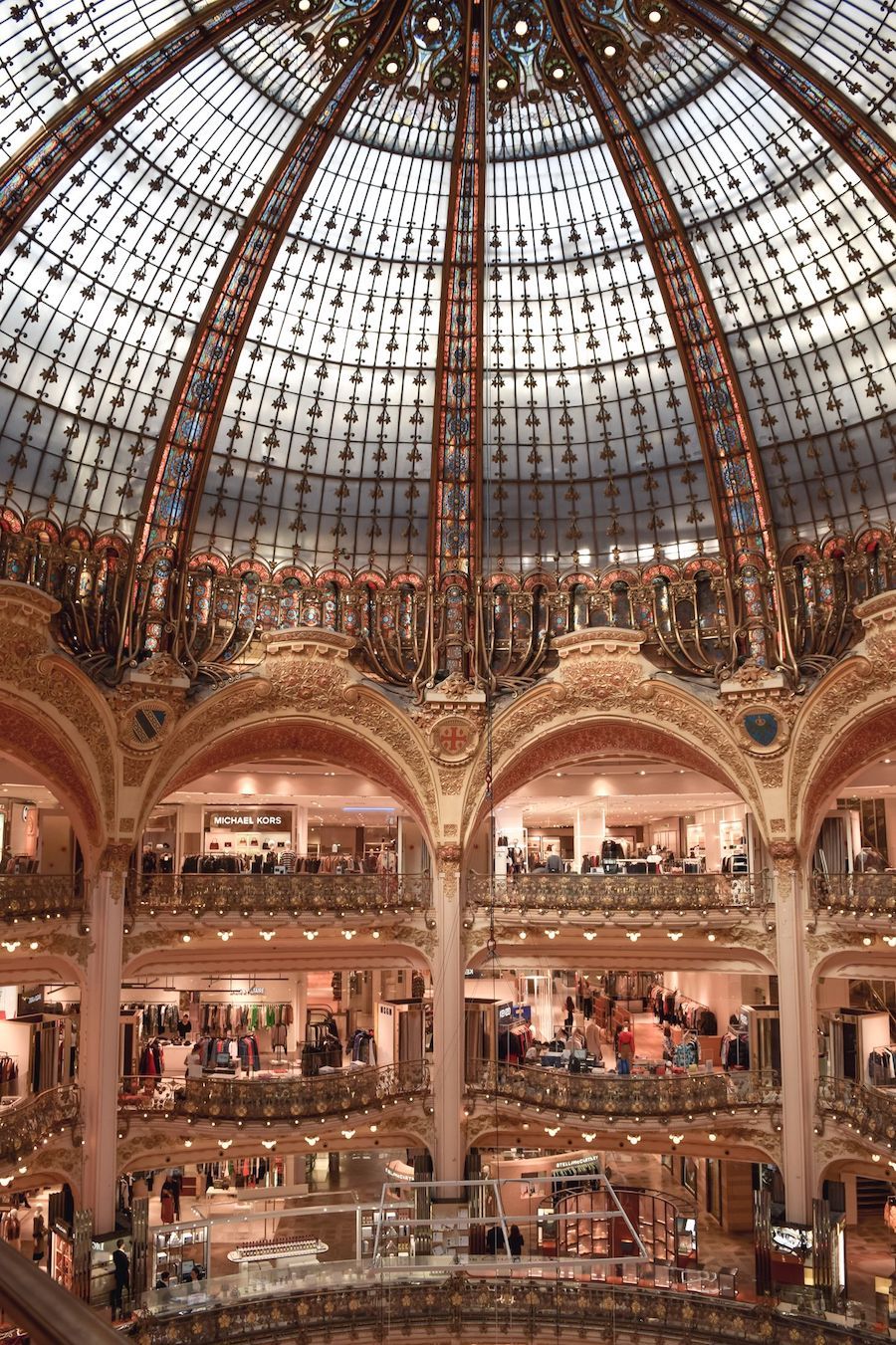 Today
Today, the Galeries Lafayette on Boulevard Haussmann is not just a department store but also a tourist attraction, drawing millions of visitors each year. Beyond France, Galeries Lafayette has sought to expand its international presence in the 21st century, with stores in locations like Berlin, Dubai, and Beijing, among others.
Throughout its existence, Galeries Lafayette has managed to uphold its status as a symbol of French luxury and fashion. Its pulse on the latest fashion trends, beautiful architectural design, and central location in Paris have cemented its place as a must-visit destination in the City of Light!
Which Galeries Lafayette to Visit
There are several Galeries Lafayette locations in Paris, each offering a unique shopping experience:
Galeries Lafayette Haussmann
This is the most iconic location, situated in a stunning Art Nouveau building on Boulevard Haussmann in the 9th arrondissement. The store offers an extensive range of fashion, accessories, beauty products, and home decor items, and also features panoramic views of the city from the rooftop.
Galeries Lafayette Homme
Galeries Lafayette Homme is the men's fashion building located on Boulevard Haussmann. Here, men can shop for clothing, shoes, and accessories.
Galeries Lafayette Le Gourmet
Galeries Lafayette Le Gourmet is a gourmet grocery store, food counter, and multi-restaurant hall dedicated to the finest food, pastries, desserts, cheese, and wine. It's a foodie paradise offering everything from freshly made meals and snacks to gourmet packaged food. Located just across the street from Galeries Lafayette Haussmann, you can go there before or after visiting the main store.
The main level has multiple food counters from Paris' best restaurants and bakeries. You can sample Greek food from Mavrommatis, munch on jamon iberico from 5 Jotas, or savor Italian pasta and pizza from Levoni. Craving the famous French viennoiserie? Head to the delicious boulangeries at Galeries Lafayette Le Gourmet: Chez Meunier and Babka Zana.
Satisfy your sweet tooth here with pastries from Yann Couvreur, éclairs from L'Eclair de Génie, macarons from Pierre Hermé, chocolate from Jean-Paul Hévin or Alain Ducasse, and candy from the Maison Boissier confectionery.
Head to the lower level to grocery shop for gourmet food, fresh produce, the best French cheeses, and a huge selection of wine. From foie gras in jars to olive oils from the south of France, you can find it here. The second level is newly open and offers a handful of restaurants to have a sit-down meal.
Galeries Lafayette Maison
On the floors above Le Gourmet in the same building, you will find the department store's home goods and kitchenware sections. Galeries Lafayette Maison sells the best French tableware, cookware, household linens, furniture, bedding, lighting, and home decorations. You'll find top European brands such as Le Creuset, Staub, Alessi, Flos, Kartell, and Vitra.
Galeries Lafayette Champs-Élysées
Galeries Lafayette Champs-Élysées is situated on the famous Champs-Élysées avenue and is a more recent addition to the Galeries Lafayette family. The store offers a curated selection of high-end fashion and beauty brands. It is not within walking distance from the main Galeries Lafayette store, so you'll need to arrange for transportation to get there!
Which Galeries Lafayette to visit in Paris? Ultimately, the choice of which Galeries Lafayette to visit in Paris will depend on your interests. If you're interested in high-end fashion and beauty, Galeries Lafayette Haussmann is the best choice, while shopping for up-and-coming fashion designers would be better to do at Galeries Lafayette Champs-Elysées.
How to Visit Galeries Lafayette: Logistics
Here are tips for visiting Galeries Lafayette Hausmann in Paris.
Best Time to Visit Galeries Lafayette
Galeries Lafayette is lovely to visit year-round, but it's especially stunning at Christmas. Every year the department store is decorated for Christmas in Paris, making December a wonderful time to go to Galeries Lafayette. A large Christmas tree decorated in different themes has been suspended from the ceiling since the 1970s! Each year the theme changes.
Another good time to visit Galeries Lafayette is during the months of July or January when the semi-annual nationwide Soldes, or sales, take place across France. You can find great markdowns on fashion brands and other goods during these times!
How to Get to Galeries Lafayette
You can reach Galeries Lafayette by metro, getting off at the Chaussée d'Antin La Fayette metro station stop on line 9. You can also take metro line 8, get off at Opéra, and walk around 5 minutes to the store.
Parking at Galeries Lafayette
Parking is available at Galeries Lafayette, under the building itself. The parking garage is run by a company called Indigo. You can enter via 48 Boulevard Haussmann. Day rates for parking at Galeries Lafayette start at 37€.
Things to Do at Galeries Lafayette Hausmann
There are dozens of fun things to do at Galeries Lafayette Hausmann. You could easily spend a whole day here, or at least several hours! Here is an overview of everything you can do at Galeries Lafayette.
Women's Fashion Shopping
If you love fashion, you simply must visit Galeries Lafayette. It's a shopping paradise in Paris and offers a huge selection of women's fashion for most budgets. You'll find the latest trends in women's clothing, shoes, handbags, accessories, scarves, sunglasses, jewelry, and more.
What Brands are in Galeries Lafayette?
Galeries Lafayette features a mix of established luxury fashion brands and emerging designers. Some of the high-end fashion brands available at Galeries Lafayette include Chanel, Dior, Celine, Chloé, Gucci, Louis Vuitton, Prada, Saint Laurent, Marni, and Valentino, as well as up-and-coming designers such as Courrèges, Paco Rabanne, Jacquemus, Marine Serre, and Off-White.
Classic mid-range fashion brands like Sandro, Maje, Claudie Pierlot, Rouje, IRO, Sessun, Soeur, Kujten, Eric Bompard, and more are also present.
The Galeries Lafayette store offers a vast selection of beauty products from luxury brands such as Chanel, Dior, Lancôme, Laura Mercier, Sisley, Chantecaille, Hermès, Estée Lauder, La Mer, and Tom Ford, as well as niche and emerging beauty brands like Drunk Elephant, Herbivore, and Sunday Riley.
You can shop Galeries Lafayette for jewelry from luxury brands, including watches from Cartier, Chopard, Chaumet, Bulgari, Tiffany's, and Van Cleef & Arpels.
For shoes, you can turn to Galeries Lafayette for shoe styles by famous shoe designers like Christian Louboutin, Roger Vivier, Repetto, and Carel. Affordable shoe brands sold at Galeries Lafayette include André, Jonak, and Minelli.
Galeries Lafayette carries all the major European handbag brands and designers like Longchamp, Goyard, Valextra, and Moynat which are always fun to browse.
Wellness Galerie
Galeries Lafayette opened a spa and wellness center on the lower underground level of the Hausmann store in 2022 called the Wellness Galerie.
From European facials to combat your jet lag to holistic treatments to keep your body and mind healthy, there are tons of wellness services to choose from. The Wellness Galerie is actually the largest wellness center by square footage in all of Europe!
Wellness brands like Seasonly, Belleyme, Martine de Richeville, Anatomik, and Skinneo all have stands in the Galeries Lafayette Wellness area.
Get a Manicure
I love getting manicures at Galeries Lafayette. Kure Bazaar, the eco-friendly French nail polish brand, has a nail bar on the 4th floor of the shop, in the shoe section. The manicure costs only around 20€ making it fun and affordable. You can look at all the shoes while your nail polish is drying!
Get a Haircut
The famous French hair salon Alexandre de Paris has a location inside the Galeries Lafayette department store on one of the upper floors where you can get your hair cut by a professional hairdresser.
Coffee Break at Café Coutume
On the 3rd floor of Galeries Lafayette, you can take a coffee break in between shopping sessions and sip on some delicious third-wave coffee from the Parisian coffee house Coutume.
Check out the View from the Galeries Lafayette Rooftop
Even if you're not looking to go shopping, I highly recommend a visit to Galeries Lafayette to experience the magnificent views of Paris. The upper floors of the department store have several restaurants, bars, and coffee shops where you can sip on something nice while taking in the southern views of Paris. If it's a nice day, then you can go to the very top floor and see a magnificent view over Paris in the open air!
The department store roof offers views of Palais Garnier, Madeleine Church, and even the Eiffel Tower! The Galeries Lafayette Rooftop is free to visit, and you don't need to make a purchase in the store to experience it!
How do you get to the rooftop at Galeries Lafayette? Take the elevator to the 6th floor of the building, then follow signs for the Terrasse, where you'll take a short flight of stairs up to the open-air landing.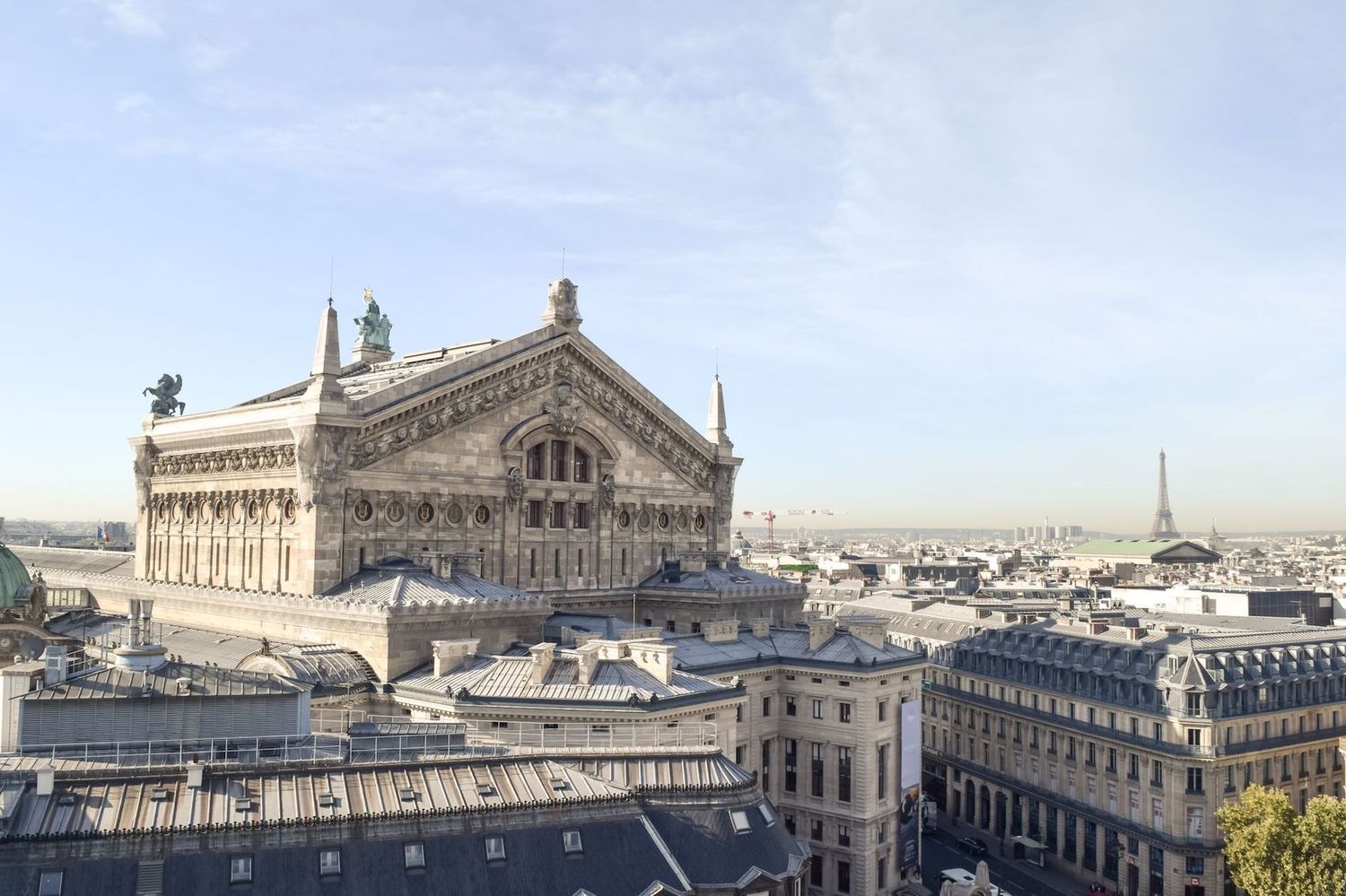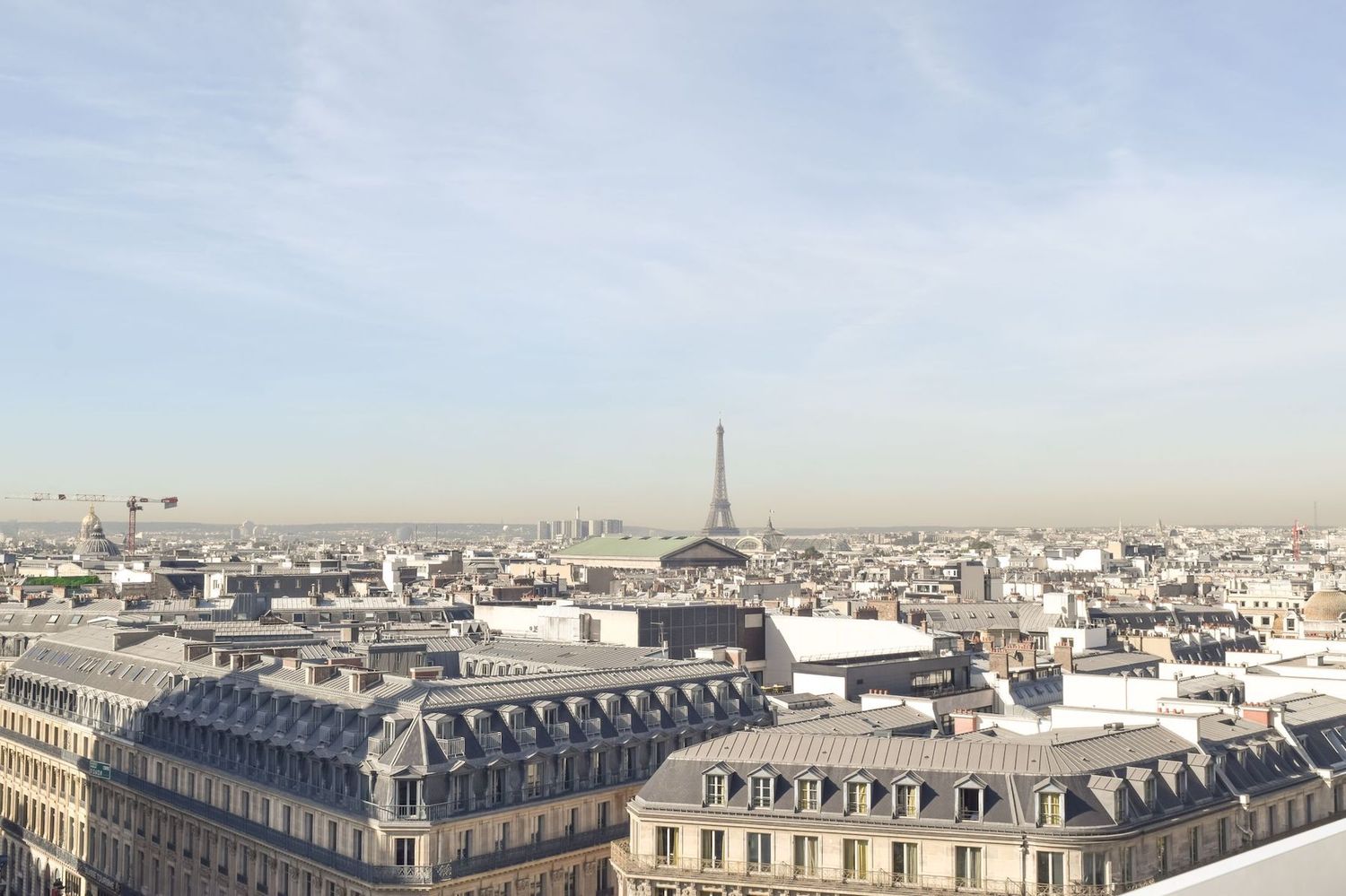 Rooftop Dining at Créatures
Créatures is the rooftop restaurant at Galeries Lafayette, where you can have a delicious French Mediterranean meal. The menu is 100% vegetarian and is overseen by French chef Julien Sebbag. The rooftop restaurant is open from 10 am to 1 am.
Take a French Cooking Class
Step into a real French kitchen and learn to cook alongside a chef with a Galeries Lafayette French cuisine workshop. The program lets students learn from chefs who've trained at the professional cooking school, Ferrandi Paris. You can learn to make unforgettable French meals, the history behind France's gastronomy, and perfect your culinary skills. The cooking classes are taught in English.
Take a Macaron Baking Class
You can also learn how to make the famous French pastry – le macaron – at the Galeries Lafayette store. This 18-person Macaron Bakery class lasts 1.5 hours and lets you discover how to make the perfect macaron from the outer shell to the ganache filling, and the final assembly.
Go Ice Skating in Winter
In the past, Galeries Lafayette has installed a large ice skating rink on their rooftop where visitors could skate for free! If you're in town for winter, then keep an eye out for this announcement in case it happens again!
Printemps vs. Galeries Lafayette
The equally impressive department store Le Printemps is located just down the street from Galeries Lafayette. Galeries Lafayette Haussmann is situated on Boulevard Haussmann in the 9th arrondissement, while Printemps Haussmann is located a stone's throw away.
Both stores offer a mix of established luxury fashion brands and emerging designers. Galeries Lafayette may have a slightly more comprehensive range of luxury brands, including Chanel, Dior, Gucci, Louis Vuitton, and Prada, while Printemps offers a mix of both high-end and mid-range brands, including Burberry, Givenchy, and Alexander McQueen.
There is somewhat of a rivalry between the two stores over which one has the best view! All the more reason to go and compare them for yourself!
Is Galeries Lafayette worth it?
Galeries Lafayette is definitely worth a visit if you are interested in high-end fashion, beauty, and lifestyle products. The stores offer a luxurious shopping experience with an extensive selection of products from top brands.
The iconic Galeries Lafayette Haussmann location, in particular, is known for its stunning architecture and impressive dome ceiling, making it a popular tourist attraction in Paris.
If you enjoy luxury shopping experiences and have the means to splurge on high-end products, Galeries Lafayette is definitely worth a visit!
Galeries Lafayette
40 Boulevard Haussmann
75009 Paris