What are the best French clothing stores in Paris, France? If you love shopping in Paris, then you won't want to miss a visit to these fashion boutiques.
Sézane
Sézane is a pioneering French brand known for its timeless elegance and unique online retail model. The flagship store in Paris attracts visitors from all over the world to explore its collections that blend traditional French aesthetics with contemporary fashion trends. Sézane emphasizes sustainability and quality, offering a range of clothing that transcends seasons, with a distinct feminine flair.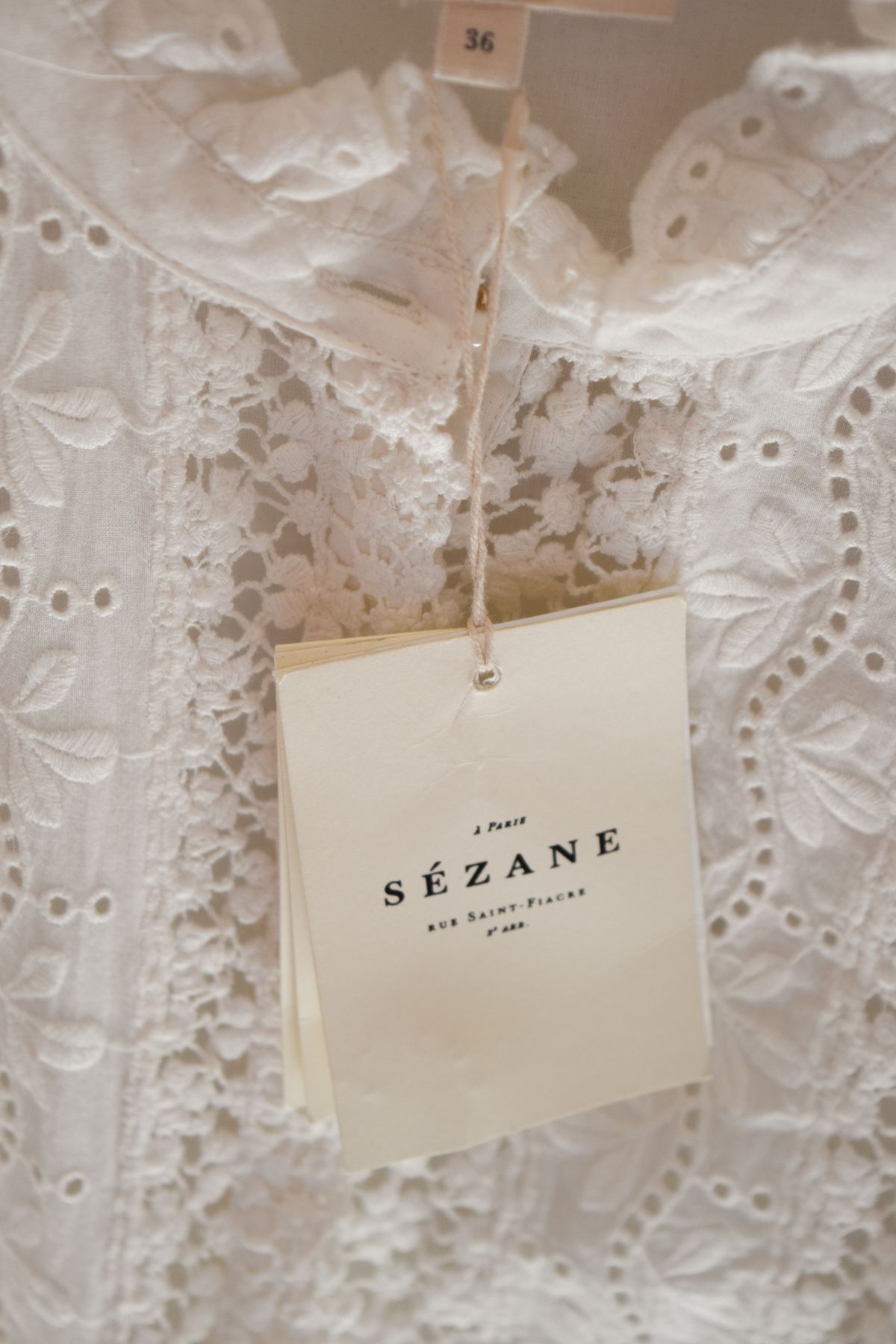 I first visited the Sézane store in Paris a few years ago and ever since then, I come at least once during my trips to Paris. Even if I don't buy anything, I love coming inside and seeing what the designers have come up with this season.
Sandro
Sandro, an esteemed Parisian brand, has a reputation for creating simple yet sophisticated women's clothing. With a focus on clean lines, quality fabrics, and intricate detailing, Sandro offers a mix of chic casual wear and elegant formal attire. Sandro clothing stores in Paris reflect the brand's Parisian charm, making shopping there an immersive experience.
Merci
Merci is a French concept store located in the historic Le Marais district of Paris. A haven for fashion addicts, Merci provides a curated selection of chic and casual clothing, along with home goods and unique accessories. Their offerings often include exclusive collaborations with up-and-coming designers, making it a must-visit for unique and trend-setting pieces.
Centre Commercial
Centre Commercial goes beyond fashion by integrating ethics into its retail concept. Located in several trendy Paris neighborhoods, this store unites fashion, art, and sustainability. By promoting eco-friendly practices and prioritizing local and ethical brands, Centre Commercial offers a conscientious shopping experience for the modern consumer.
Courrèges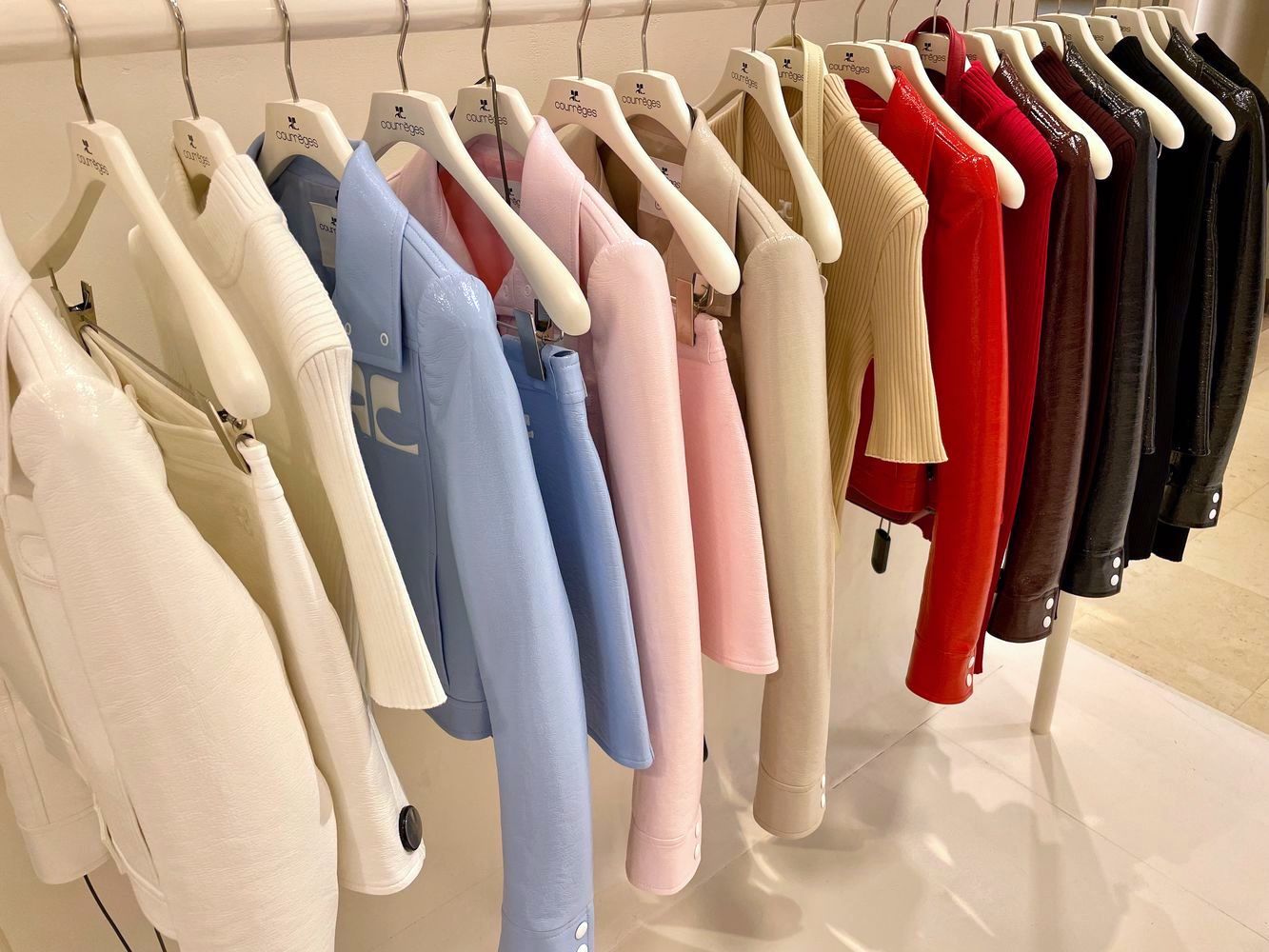 While a little bit more pricey than the other fashion boutiques on this list, Courrèges sells edgy pieces that I guarantee no one will have back home! They're known for their vinyl jackets that have been reinterpreted after the successful 60s design.
A.P.C.
A.P.C. is synonymous with minimalist and refined style. Renowned for its raw denim jeans and simple, high-quality wardrobe staples, A.P.C. has become a go-to for Parisian understated elegance. Their stores in Paris reflect the brand's aesthetic, offering shoppers a serene space to explore timeless pieces.
Comptoir des Cotonniers
Comptoir des Cotonniers promotes an accessible style that's effortlessly chic and standard. Their Paris stores showcase collections that emphasize natural materials and timeless design, catering to women who seek refined, everyday elegance. With a focus on quality and simplicity, Comptoir des Cotonniers has become a beloved brand in Paris.
Thanx God I'm a VIP
If you love vintage clothing, then you must visit Thanx God I'm a VIP in the 10th arrondissement of Paris. It's a vintage lover's paradise! Everything is sorted by color and the selection is really good, offering an extensive collection of second-hand designer pieces. This store provides a unique shopping experience, combining the thrill of treasure hunting with the satisfaction of finding high-end fashion at affordable prices. With a focus on sustainability and style, Thanx God I'm a VIP has become a favorite among fashionistas seeking one-of-a-kind finds.
Figaret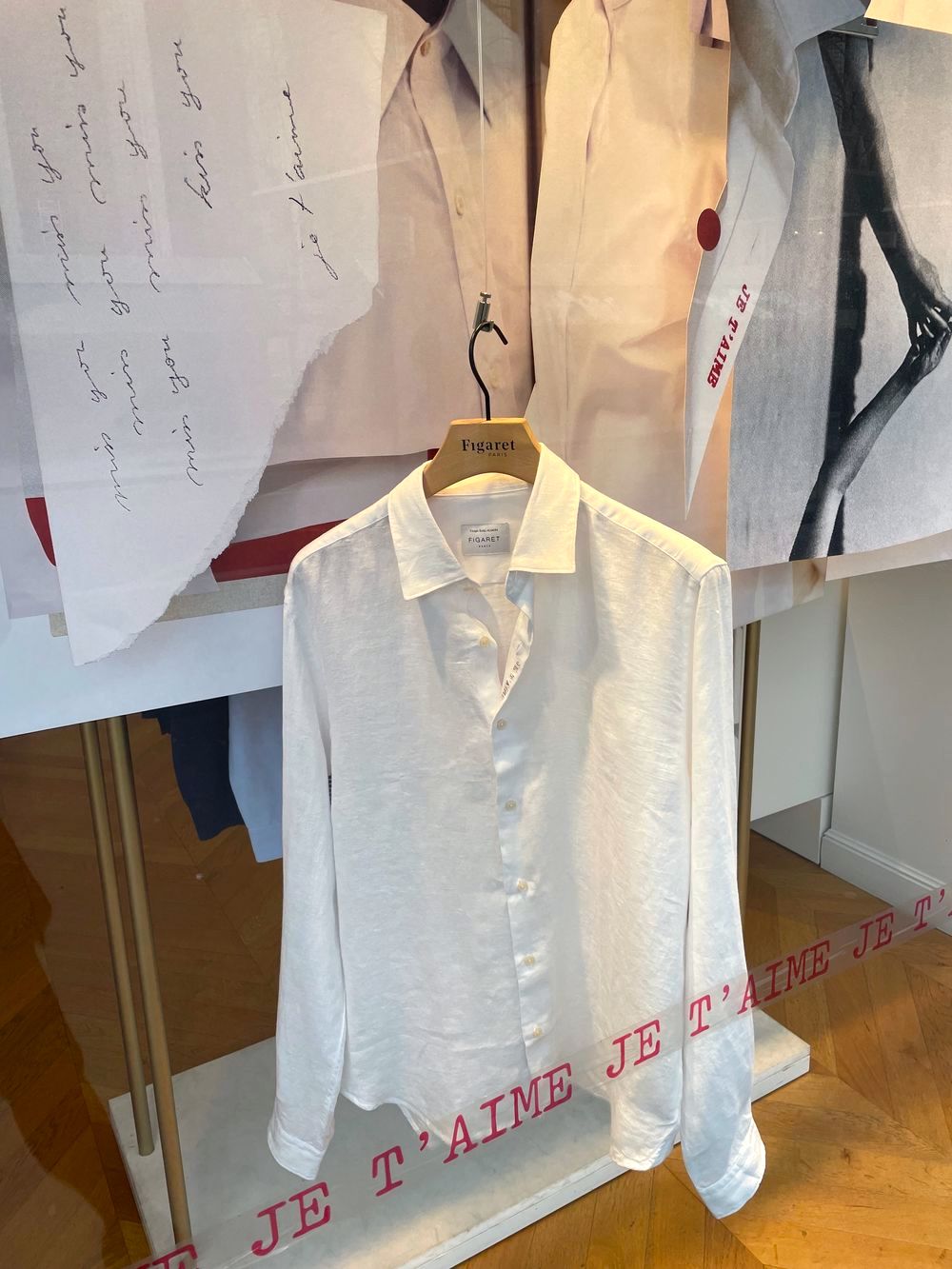 Figaret Paris stands as an emblem of French elegance in the domain of tailored shirts and blouses. With a rich history dating back to 1968, Figaret is renowned for its unparalleled craftsmanship and precision in creating the perfect fit. Offering collections for both men and women, Figaret's Paris boutiques provide a personalized shopping experience, allowing customers to choose their preferred fabrics, cuts, and details. Committed to excellence, Figaret continues to redefine the art of the shirt, making it an essential destination for women seeking quality, style, and sophistication.
Loulou Studio
Loulou Studio is a fashion brand founded by fashion influencer Chloé Harrouche. It captures the essence of Parisian chic, providing women with effortless wardrobe essentials that are both luxurious and practical. Loulou Studio's Paris boutique is a reflection of this ethos, presenting clothing that marries comfort and style.
Rouje
Founded by French actress and fashion icon Jeanne Damas, Rouje is a tribute to French femininity. It's a place where vintage-inspired dresses meet modern cuts and where lipstick shades are as crucial as accessories. The Paris store offers the full range of the brand's beloved collections, epitomizing casual French elegance.
Soi
Soi specializes in silk blouses for women. The brand designs unique prints and always has fun designs when I visit. I've seen prints with wine bottles, flowers, and even the Queen of England!
Soi Paris is known for creating original prints that tell a story. Each piece is designed in Paris and produced in limited quantities, ensuring uniqueness. Their Paris stores offer a variety of dresses, skirts, and blouses that celebrate femininity, creativity, and a distinct sense of playfulness.
Gerard Darel
Gerard Darel has long been a favorite among Parisian women. With its elegant designs, quality materials, and accessible price points, the brand offers something for every occasion. Their stores in Paris provide a comprehensive shopping experience, where timeless classics meet contemporary fashion.
Maje
Maje represents the epitome of stylish and feminine women's clothing in Paris. The brand plays with fabrics, textures, and prints to create womanly yet wearable pieces. Maje's stores in Paris are a testament to the brand's fashion-forward thinking, making it a must-visit destination for trendsetters.