Paris is the birthplace of high fashion, where grand couturiers like Coco Chanel began their careers more than a century ago. Today, the fashion market is alive and well in France, and you don't have to be filthy rich to afford the city's unparalleled sense of fashion. There are many French boutiques that sell affordable, on-trend pieces.
Today I'm going to share my absolute favorite places to shop while in Paris. I have lived in Paris as a student with a low budget as well as an employee of a tech company, so I'll share both affordable and luxury options for the best shopping in Paris.
Here is how to shop like a local French girl in Paris!
This city is filled with the trendiest boutiques, luxury stores, and enormous department stores. Whether you're looking for high-end brands like Chanel or simple items like freshly made products from local artisans, you'll find them here.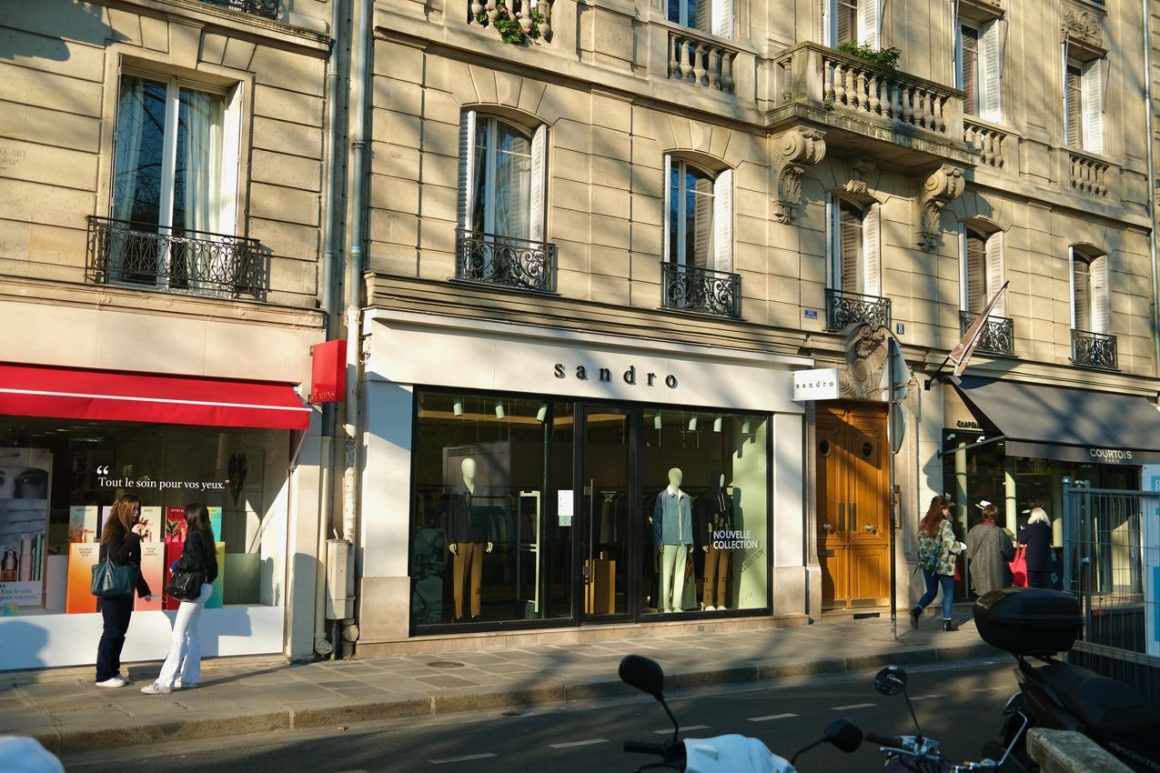 Affordable Shopping in Paris
When visiting Paris, it can be easy to get caught up in the glitz and glamour of the iconic department stores, but those aren't the only options available. Here is the best shopping in Paris for clothing at reasonable prices in Paris.
Sézane
When you're used to paying for a piece of clothing in your local mall, an item from the Sézane boutique in Paris may seem pricey. But if you think about it, these are the actual prices that some of us have been paying for clothing and other items for the last fifteen years.
Sézane is a very popular French fashion designer founded in 2013. The brand creates high-quality, ultimate stylish fashion at an affordable price for its customers. Sézane's style has been described as "boho chic," so there is no need to be intimidated. The clothes are French girl cute and wearable on all occasions from brunch with friends, to work, to a trip to a wedding as a guest! With such a wide variety of outfits in feminine colors and styles, there is something at Sézane to suit every taste.
The Sézane line includes classic pieces with subtle sophistication and elegance and more playful pieces that are perfect for kids or young adults who need to express their style. There are also beautiful home accessories such as cushions and pillows that are perfect for decorating your living room or bedroom that reflect the spirit of the French brand itself.
You can also shop Sezane from the US.
Camaïeu
Located conveniently in the Forum des Halles for easy access and a wide array of trendy options, Camaïeu has been touted by fashion bloggers and publications as one of the best values in European fashion. With clothing lines changing seasonally, this chain store offers an ever-evolving range of styles and trends for men, women, and children. The clothing here is made with quality fabrics that are soft to the touch, providing comfort and style.
If you're looking for a streamlined approach to chic dressing, Camaïeu's got you covered. Their dresses, blouses, pants, shoes, and accessories are all designed with simple elegance in mind—so you can look put together without having to think too hard about your outfit.
Bershka
Are you looking for a little retail therapy in Paris? Look no further than Bershka, clothing and accessories store for men and women.
Bershka offers fun, easy-to-wear fashion options at an affordable price. The clothes at Bershka are on the younger side, so if you're looking to get away from the more traditional Parisian style and instead want something more modern and edgy, Bershka might be a great fit.
Small Vintage Shops
If you love the thrill of the hunt, then vintage shopping is the best thing. You have to search carefully through racks and racks of clothing, trying to spot that perfect gem—the item that will make your wardrobe whole or give you that perfect sense you're looking for. It's a challenge, but when you find what you're looking for at a low price? That's when it becomes an addiction.
If you want to get into this world of thrifting, start by picking up some pieces from excellent Parisian vintage shops like Fripes de l'Etoile, Et Voila Vintage, Depot Vente de la Valle, and many more stores.
Mid-Range Shopping in Paris
When you're looking for the perfect combination of style, comfort, and class in Paris, there are a few places you should look. For mid-range shopping, these mid-range options for the best shopping in Paris stand out from the rest.
Sandro
Sandro is a French brand that focuses on creating women's clothing in a contemporary style. Their designs are classic yet modern, and their products are of the highest quality. The brand's concept is to create a total look that includes ready-to-wear pieces, shoes, handbags, and accessories. Their prices range from low to high. The Sandro brand is owned by the SMCP Group, which also owns two other brands—Maje and Claudie Pierlot.
Maje
Maje is a French fashion brand created by designer Judith Milgrom in 1998. Its name comes from her family nickname "Maji," an acronym for the first letters of her first name and those of her sisters Agathe and Joséphine. Their products include ready-to-wear pieces such as dresses and skirts and handbags, and jewelry, with prices ranging from low to high.
Claudie Pierlot
The flagship store of this classic French brand is located in the heart of the 2nd arrondissement. It sells contemporary clothing with a romantic twist. The store is gorgeous and has a lounge area off to one side, where you can sit and relax while your significant other tries on clothes. The prices are very reasonable (for Paris), and the quality is fantastic. This store is a must-visit for anyone who likes the girly aesthetic.
APC
APC offers cutting-edge fashion that's both chic and accessible. APC is another elevated basics brand that has been around for decades. Its clothing fits in with the minimalist aesthetic of the Scandinavian brands that have become so popular in recent years. Its products tend to be more expensive than Zara or H&M, but they are also of higher quality and will last longer. The pieces are classic and straightforward, making it easy to mix and match things in your closet.
Luxury Shopping in Paris for Designer Clothing
Paris is the world's most fashionable and opulent destination. In the city bounds, you'll find some of the most exclusive designer clothing, high-end fashion items, and timeless accessories to make anyone jealous.
When it comes to luxury shopping, Paris tops the list of European cities. The French capital is home to the most beautiful and decadent shops globally, and countless people travel there every year to get a piece of the action. But with so many options, it can be overwhelming to narrow down what you want to see. Here are some of our top picks for luxury shopping in Paris for designer clothing.
Chanel
Located off of Place Vendome, Chanel may be the most famous designer store on this list. This brand is a staple in fashion-lovers closets worldwide and has been worn by countless celebrities, from Jackie Kennedy Onassis to Kristen Stewart. Chanel offers a wide range of products for women and men, including evening gowns, bags, shoes, and more! But if you're looking for something specific like an evening gown or pair of earrings that match your outfit perfectly, then head down to rue Cambon, where they have items like these too!
Isabel Marant
The store is located on the Rue de Charonne in Le Marais. It's an area that has long been known for its Jewish community but has recently become more of an artistic hub, making it a perfect location for this particular brand. Isabel Marant's designs are chic and elegant, with a bohemian twist. Her clothes are made from natural fibers like cotton and wool, and her collections are filled with soft colors and earth tones. She also makes accessories like jewelry and shoes that complement her clothing line perfectly.
Chloé
If you're looking for high-quality clothing, then Chloé is the place to go! This luxury boutique offers everything from shoes and bags to dresses and jackets, so there's something for everyone here. Their sales team makes sure that all customers have a fantastic experience while shopping with them, too; they'll even hold your hand if necessary while finding what you need!
Courrèges
The Courrèges boutique has been around since the 1960s and is still going strong. It has become a cultural phenomenon and an iconic fashion brand. Its look is futuristic minimalism, with white coats and dresses trimmed in reflective silver tape.
Saint Laurent
Yves Saint Laurent has become a cult classic favorite designer shop in Paris. The store is a beautiful spot itself, with pieces for sale that have been in style for decades and will likely never go out of style. The signature YSL look tends to be edgy, with leather jackets and moto boots, but YSL also carries more modern items such as tunics and platform heels.
Best Department Stores for Shopping in Paris
Shopping in Paris has never been easier or more diverse. It can be hard to decide where to start your shopping spree with so many options. With this in mind, we have created a list of the best department stores in Paris that cater to all kinds of shoppers. Whether you're looking for high-end designer clothes or affordable fashion, you'll find something at one of these stores.
La Samaritaine
The newly reopened La Samaritaine department store is a must-visit if you're looking for luxury items. It's been around since the 1800s and has a reputation for high-quality clothing and accessories from designers worldwide. They offer both men's and women's clothing and kids' clothing, home decor, jewelry, and perfumes. The building itself is beautiful and worth the visit to see it.
Galeries Lafayette
If you love designer clothes and accessories, then the Galeries Lafayette store is for you. Galeries Lafayette features men's and women's clothing from top designers like Chanel, Dior, and Versace. You can also find jewelry from Cartier and Van Cleef & Arpels here. The building itself is gorgeous—Gustave Eiffel designed its beautiful Art Nouveau dome (yes, the man who built that famous tower in Paris).
Le Printemps
For designer clothing and accessories, Le Printemps is one of the best department stores in Paris. This store has everything from luxury watches to high-end shoes, so there's something here for everyone. You can also find home goods like bedding or kitchenware if you're looking for a souvenir from your trip to France. If you need help finding an item or have questions about pricing, please ask one of their friendly staff members for assistance! Check out the rooftop restaurant when you're done splurging!
Le Bon Marché
In business since 1838 in Paris, Le Bon Marché is known for its fine merchandise and food selection. The Bon Marché is part of the Galeries Lafayette empire of retail stores in France, but it remains a landmark destination for shoppers on its own. The store offers high-end fashion for men and women and cosmetics and accessories from famous designers like Dior and Chanel.
Best Streets for Shopping in Paris
Paris, France, is known for its incredible shopping. You can find everything from the latest design trends to vintage treasures in the French capital's boutiques. Whether looking for high-end luxury goods or streetwear, Paris has something for everyone. Here are the top shopping streets in Paris.
Champs Elysées
The iconic Parisian avenue Champs Elysées is home to all the luxury brands you could ever need! Louis Vuitton, Chanel, and Gucci are just a few of the more than 100 stores that line this picturesque street. The Champs Elysées is also home to Paris's most famous monuments, including the Arc de Triomphe and Place Charles de Gaulle (formerly known as Place de l'Étoile).
Avenue Montaigne
Avenue Montaigne is a magnificent place to shop in Paris. This street is home to some of the world's most exclusive designer boutiques like Dior, Balenciaga, and Fendi. There are also many upscale cafés and restaurants on this beautiful cobblestone street where you can grab lunch or a glass of wine after a long day of shopping.
Rue du Faubourg Saint-Honoré
The epitome of French high fashion, the Rue du Faubourg Saint-Honoré should be your first stop when looking for luxury goods. This street boasts some of the most famous names in fashion, including Chanel, Miu Miu, and Chloé. If you want to shop with the best of the best, start here.
Best Outlets for Shopping around Paris
Paris has a reputation as the fashion capital of the world. But while their designer labels may be the envy of every shopper on earth, they can also be a little out of reach for all but those with the most generous budgets.
Luckily, if you are looking for the best shopping in Paris, there is a host of outlets that allow you to enjoy the Parisian fashion experience without breaking the bank. Let's look at the best outlet store that you can find around Paris.
La Vallée Village Paris
La Vallée Village Paris is a must-do for shoppers looking for luxury items on a bargain. This Paris outlet mall is one of France's best keep secrets on where to shop for discount luxury fashion in Paris. It has more than 110 boutiques and features a variety of brands, including Jimmy Choo and Burberry. The shops of La Vallée Village have a large selection of designer shoes, high-end accessories, and upscale clothing for men and women.
There are several restaurants on-site and a children's play area to keep younger travelers happy. The outlets are about 30 minutes outside of Paris and can be reached by the RER train, making it easy to get there from central Paris.
Insider Paris Shopping Tips from a Local
Here are a few tips for your shopping trip in Paris!
Insider Tip #1: Sale Periods
This past summer, I was lucky enough to spend six weeks in the city of light. By chance, I happened to arrive right ahead of the "sale" season in France (les soldes) which begins in early July! If you can visit France during July or January you're going to be pleasantly surprised that it's essentially a national event for nearly all retailers to put their spring and fall merchandise on sale during these months! You can shop Paris' famous boutiques guilt-free knowing you're getting the best price on your goods.
Insider Tip #2: Stock Shops
Many Paris retailers have "stock" versions of their stores. These outlet shops are located all over Paris (my favorites are in the Marais) and inside you can buy last season's clothing at a huge (50%+) discount. I love visiting these stores because they're open year-round and you can get some really great deals on previous seasons by the designer!
---
If you're looking for a new swimsuit or some ideas for your next vacation, you should check out this article. You'll find the best shopping in Paris and some great tips to help you on your next trip. It's a lot of fun to have a guide on what to do and see when you go on vacation, and this article will give you a run down.