Paris is the birthplace of high fashion, where grand couturiers like Coco Chanel began their careers more than a century ago. Today, the fashion market is alive and well in France, and you don't have to be filthy rich to afford the city's unparalleled sense of fashion. There are many French boutiques that sell affordable, on-trend pieces.
Today I'm going to share my absolute favorite places to shop while in Paris. I have lived in Paris as a student with a low budget as well as an employee of a tech company, so I'll share both affordable and luxury options for the best shopping in Paris.
Here is how to shop like a local French girl in Paris!
This city is filled with the trendiest boutiques, luxury stores, and enormous department stores. Whether you're looking for high-end brands like Chanel or simple items like freshly made products from local artisans, you'll find them here.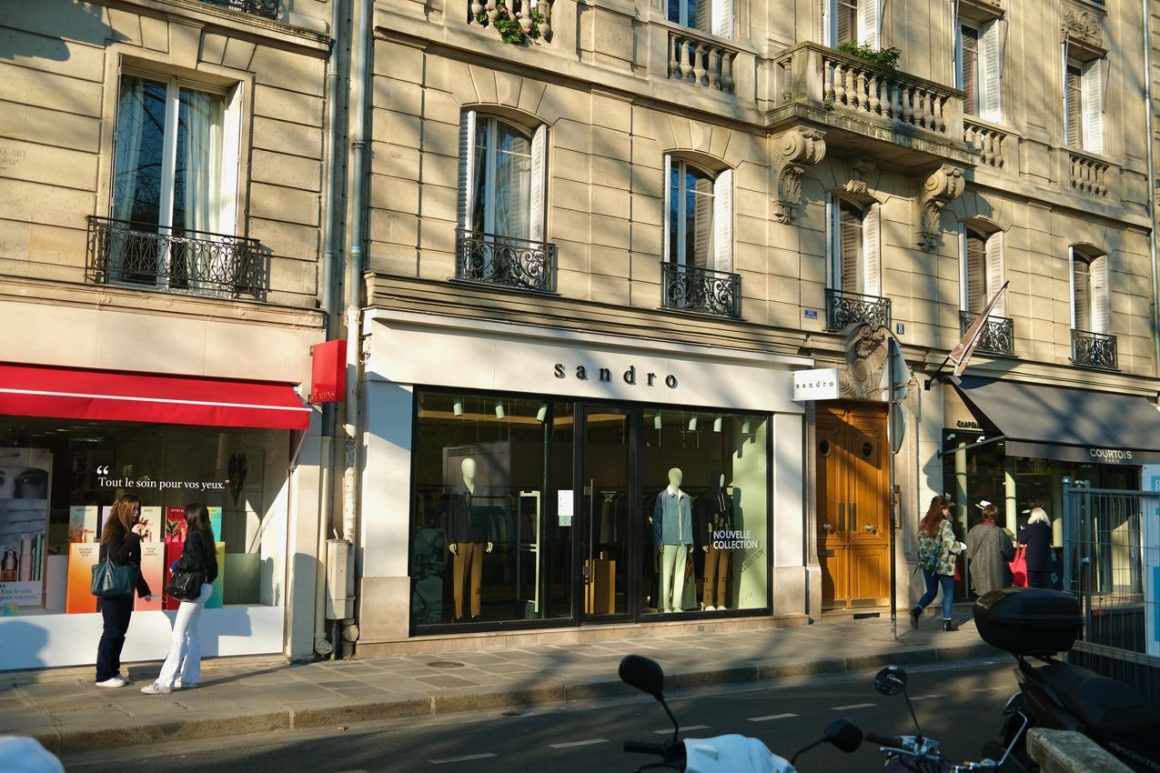 Shopping Districts of Paris
Paris is renowned for its luxury boutiques, department stores, and eclectic shops, with several districts standing out as shopping paradises.
For luxury shopping in Paris, the Golden Triangle (bounded by Avenue Montaigne, Avenue George V, and the Champs-Élysées) features high-end brands like Chanel, Celine, Yves Saint Laurent, Louis Vuitton, and Dior.
The Marais is known for its vintage stores and edgy fashion boutiques, making it a favorite among trendsetters. If you want to shop the coolest French fashion brands then don't miss my Le Marais Shopping guide.
Saint-Germain-des-Prés offers a mix of upscale boutiques, mid-range brands, and historic shops, providing a distinctly Parisian shopping experience.
Boulevard Haussmann is home to famous department stores such as Galeries Lafayette and Printemps, offering a variety of both luxury and affordable options under one roof.
Le Bon Marché in the 7th arrondissement is the city's oldest department store and is known for its elegant ambiance and high-quality goods.
For bohemian and artistic merchandise, Montmartre is the go-to district, while not far away, the Saint-Ouen Flea Market offers a treasure trove of antiques and vintage items.
Each district has its own unique atmosphere and selection!
Shopping Streets in Paris
Paris, France has certain streets particularly known for their incredible shopping. You can find everything from the latest design trends to vintage treasures in the French capital's shopping streets. Here are the top shopping streets in Paris.
The iconic Parisian avenue Champs Elysées is home to all the luxury brands you could ever need! Louis Vuitton, Chanel, and Gucci are just a few of the more than 100 stores that line this picturesque street. The Champs Elysées is also home to Paris's most famous monuments, including the Arc de Triomphe and Place Charles de Gaulle (formerly known as Place de l'Étoile).
Avenue Montaigne is a magnificent place to shop in Paris. This street is home to some of the world's most exclusive designer boutiques like Dior, Balenciaga, and Fendi. There are also many upscale cafés and restaurants on this beautiful cobblestone street where you can grab lunch or a glass of wine after a long day of shopping.
The epitome of French high fashion, the Rue du Faubourg Saint-Honoré should be your first stop when looking for luxury goods. This street boasts some of the most famous names in fashion, including Chanel, Miu Miu, and Chloé. If you want to shop with the best of the best, start here.
Rue de Rivoli is a long street that runs straight through central Paris. Here you can find lots of international, fast fashion brands as well as brand-name shops like Sephora, Zara, Mango, and more. This street gets incredibly busy on weekends.
Best Department Stores for Shopping in Paris
Shopping in Paris has never been easier or more diverse. It can be hard to decide where to start your shopping spree with so many options. With this in mind, sometimes shopping at the best department stores in Paris can give you an overview of all the fashion the city has to offer.
Whether you're looking for high-end designer clothes or affordable fashion, you'll be able to browse through hundreds of brands at once. With so much to choose from, you'll surely find something you love at one of these stores!
La Samaritaine
The newly reopened La Samaritaine department store is a must-visit if you're looking for luxury items. It's been around since the 1800s and has a reputation for high-quality clothing and accessories from designers worldwide. They offer both men's and women's clothing and kids' clothing, home decor, jewelry, and perfumes. The building itself is beautiful and worth the visit to see it.
Galeries Lafayette
If you love designer clothes and accessories, then the Galeries Lafayette store is for you. Galeries Lafayette features men's and women's clothing from top designers like Chanel, Dior, and Versace. You can also find jewelry from Cartier and Van Cleef & Arpels here. Mid-range boutique brands like Sessun, Rouje, Sandro, Eric Bompard, and Maje are also present in the store. It's truly a shopper's paradise with 7 levels of heaven!
Le Printemps
For designer clothing and accessories, Le Printemps is one of the best department stores in Paris. This store has everything from luxury watches to high-end shoes, so there's something here for everyone. You can also find home goods like bedding or kitchenware if you're looking for a souvenir from your trip to Paris. If you need help finding an item or have questions about pricing, please ask one of their friendly staff members for assistance! Check out the rooftop restaurant when you're done splurging!
Le Bon Marché
In business since 1838 in Paris, Le Bon Marché is known for its fine merchandise and food selection. The Bon Marché is part of the Galeries Lafayette empire of retail stores in France, but it remains a landmark destination for shoppers on its own. The store offers high-end fashion for men and women and cosmetics and accessories from famous designers like Dior and Chanel.
BHV
BHV Marais, often referred to simply as BHV, is a famous department store located on Rue de Rivoli in the 4th arrondissement which stands for Bazar de l'Hôtel de Ville. Originally opened in 1856 by Xavier Ruel, BHV started out selling textiles and sewing notions. It expanded into a multi-story, one-stop shopping destination carrying everything from home goods to electronics. Today BHV is owned by the Galeries Lafayette Group and welcomes over 30 million visitors annually, solidifying its status as a beloved Parisian institution famous for its dizzying selection of goods.
Best Clothing Stores in Paris
Most people go to Paris and want to shop for fashion! Here are the best places to shop in Paris for clothing – no matter your budget!
Luxury and Designer Shopping
Paris is the world's most fashionable and opulent destination. In the city bounds, you'll find some of the most exclusive designer clothing, high-end fashion items, and timeless accessories to make anyone jealous.
Chanel may be the most famous designer store on this list. This brand is a staple in fashion-lover closets worldwide and has been worn by countless celebrities, from Jackie Kennedy Onassis to Kristen Stewart. Chanel creates unique treasures for women. Head down to Rue Cambon, where they have the most heavenly luxury shopping in Paris.
Dior, a pioneering fashion house established in 1946 by Christian Dior, epitomizes Parisian luxury and elegance. With its inception in Paris, it embodies the city's rich history in fashion, offering an authentic and culturally immersive shopping experience. Dior's flagship 30 Avenue Montaigne store in Paris offers not only a rich collection of haute couture but also a peek at the brand's Parisian heritage. Shopping at Dior in Paris provides an opportunity to indulge in a timeless style that has defined the fashion industry for decades.
Celine, a prestigious French luxury brand, was founded in 1945 by Céline Vipiana, initially as a children's shoe business, before evolving into a ready-to-wear fashion house. With boutiques around Paris, it offers a sophisticated and minimalist style that has significantly influenced the fashion industry. Shopping at Celine in Paris represents a unique blend of contemporary design and Parisian chic, making it a quintessential stop for fashionistas visiting the city.
Louis Vuitton, established in 1854 in Paris by its namesake founder, quickly became synonymous with high-quality craftsmanship in the field of luxury luggage and leather goods. It represents an enduring symbol of French luxury and innovation, blending tradition with contemporary styles. Shopping at Louis Vuitton in Paris gives access to premium quality products that will turn into family heirlooms. Visiting its flagship store on the Champs-Elysées is an opportunity to witness firsthand the heritage and craftsmanship that has defined the brand for over a century.
Saint Laurent has become a cult classic favorite designer shop in Paris. The store is a beautiful spot itself, with pieces for sale that have been in style for decades and will likely never go out of style. The signature YSL look tends to be edgy, with leather jackets and moto boots, but YSL also carries more modern items such as tunics and platform heels.
Lanvin, founded in 1889 by Jeanne Lanvin, stands as the oldest French fashion house in continuous operation, a testament to its enduring relevance and quality. Initially, it gained renown for its children's clothing, which led to a subsequent expansion into women's wear. Lanvin shopping in Paris showcases a refined collection of apparel and accessories that embody the epitome of Parisian sophistication.
Modern French designer Isabel Marant has several stores across Paris. Isabel Marant's designs are chic and elegant, with a bohemian twist. Her clothes are made from natural fibers like cotton and wool, and her collections are filled with soft colors and earth tones. She also makes accessories like jewelry and shoes that complement her clothing line perfectly.
If you're looking for feminine, retro clothing, then Chloé is the place to go! This luxury boutique offers everything from shoes and bags to dresses and jackets, so there's something for everyone here. Their sales team makes sure that all customers have a fantastic experience while shopping with them, too; they'll even hold your hand if necessary while finding what you need!
The Courrèges boutique has been around since the 1960s and is still going strong. It has become a cultural phenomenon and an iconic fashion brand. Its look is futuristic minimalism, with white coats and dresses trimmed in reflective silver tape.
Mid-Range Shopping
Rouje, established in 2016 by French influencer and fashion icon Jeanne Damas, quickly carved out a niche in the Parisian fashion scene. The brand embodies modern French chic, offering ready-to-wear pieces inspired by vintage styles and the everyday Parisian woman. Shopping at Rouje in Paris offers a fresh and contemporary retail experience, characterized by its youthful vibrancy and fashionable allure. A visit to its boutique at 11 bis Rue Bachaumont, 75002 Paris is a must for shopping for French elegance and modern, feminine aesthetics.
Balzac Paris, established in 2011 by French couple the De Gastines and their brother-in-law, quickly emerged as a brand blending accessible French fashion with modern digital commerce. This brand captures the essence of Parisian chic, offering timeless wardrobe pieces with a contemporary touch. Shopping at Balzac Paris in the French capital offers a curated selection of sustainable and responsible fashion. A visit to its 82 Rue d'Hauteville store in Paris provides a glimpse into the innovative spirit of the new wave of French fashion, characterized by both elegance and ethical production.
Sézane is a very popular French fashion designer founded in 2013. The brand creates feminine, everyday clothing and fashion accessories at an affordable price for its customers. The Sézane store in Paris has the best selection of Parisian-approved clothing. I recommend visiting the original L'Appartement store at 1 Rue Saint-Fiacre, 75002 Paris, or the biggest Sézane store at 63 Boulevard des Batignolles, 75017 Paris.
Sézane's style has been described as "boho chic," so there is no need to be intimidated. The clothes are French girl cute and wearable on all occasions from brunch with friends, to work, to a trip to a wedding as a guest! With such a wide variety of outfits in feminine colors and styles, there is something at Sézane to suit every taste.
The Sézane line includes classic pieces with subtle sophistication and elegance and more playful pieces that are perfect for kids or young adults who need to express their style. There are also beautiful home accessories such as cushions and pillows that are perfect for decorating your living room or bedroom that reflect the spirit of the French brand itself. You can also shop Sezane from the US.
Sandro is a French fashion brand with classic yet modern designs you want to wear. Sandro makes ready-to-wear pieces, shoes, handbags, and accessories. Prices tend to be upmarket, yet less than designer clothing.
Maje is a French fashion brand created by designer Judith Milgrom in 1998. Its name comes from her family nickname "Maji," an acronym for the first letters of her first name and those of her sisters Agathe and Joséphine. Maje makes feminine French clothing and ready-to-wear pieces such as dresses skirts handbags, and jewelry, with prices in the mid-range.
Claudie Pierlot sells contemporary French clothing with a romantic twist. The prices are very reasonable (for Paris), and the quality is fantastic. This store is a must-visit for anyone who likes the girly aesthetic.
A.P.C. offers minimal-chic fashion that's both simple and stylish. APC is a French elevated basics brand that has been around for decades. Its clothing fits in with the aesthetic of the Scandinavian brands that have become popular in Paris in recent years.
Affordable Shopping
When visiting Paris, it can be easy to get caught up in the glitz and glamour of the iconic department stores and upscale shops, but those aren't the only options available. Here is the best shopping in Paris for clothing at reasonable prices in Paris.
Located conveniently in the Forum des Halles, Camaïeu has been touted by fashion bloggers as one of the best values in European fashion. If you want a streamlined approach to chic dressing, Camaïeu's got you covered. Their dresses, blouses, pants, shoes, and accessories are all designed with simple elegance in mind.
Bershka offers fun, easy-to-wear fashion options at an affordable price. The clothes at Bershka are on the younger side, so if you're looking to get away from the more traditional Parisian style and instead want something more modern and edgy, Bershka might be a great fit.
Vintage Shopping
If you love the thrill of the hunt, then vintage shopping in Paris is the best thing. You have to search carefully through racks and racks of clothing, trying to spot that perfect gem—the item that will make your wardrobe whole or give you that perfect sense you're looking for. It's a challenge, but when you find what you're looking for at a low price? That's when it becomes an addiction.
If you want to get into this world of thrifting, start by picking up some pieces from excellent Parisian vintage shops like Fripes de l'Etoile, Et Voila Vintage, Depot Vente de la Valle, and many more stores.
Best Accessories Stores in Paris
Goyard, a prestigious luxury house renowned for its leather goods and accessories, was established in 1853 in Paris by François Goyard. It stands as a testament to fine craftsmanship and exclusivity, continuing a tradition of luxury and elegance that has been upheld for over a century and a half. The store's flagship at 233 Rue Saint-Honoré, 75001 Paris always has a line out front, so get there early!
Fauré Le Page, a historic brand originally established as a gunsmith workshop in 1717 by Louis Pigny, transitioned into luxury leather goods manufacturing in the 20th century. This transformation allowed the brand to evolve and carve a significant place in the Parisian luxury accessory market, with a heritage deeply rooted in exceptional craftsmanship. It's quite popular among French people and Parisians and the store is centrally located at 233 Rue Saint-Honoré, 75001 Paris.
Polène, a young luxury handbag and accessories brand, was founded in 2016 by the siblings of a Parisian family. This brand distinguishes itself with its leather craftsmanship, focusing on creating refined, and timeless pieces at affordable prices. The Polène Paris aesthetic encapsulates a contemporary Parisian elegance. A visit to its 69 Rue de Richelieu, 75002 Paris store lets you experience firsthand the modern luxury and innovative designs that are rapidly cementing Polène's reputation in the French leather goods industry.
Best Concept Stores in Paris
Merci is a renowned concept store in Paris, established in 2009 by Bernard and Marie-France Cohen. It is known for its eclectic blend of fashion, furniture, and home decor, offering a unique and innovative shopping experience in the heart of the city. Find it in Le Marais, along the Boulevard Beaumarchais.
Centre Commercial was founded in 2010 by Sébastien Kopp and François-Ghislain Morillion, the minds also behind the eco-friendly brand Veja. This concept store combines fashion with social responsibility, hosting a selection of brands that emphasize sustainability and ethical production practices. It's located in the trendy Canal Saint-Martin neighborhood at 2 Rue de Marseille.
The Broken Arm, opened in 2013 by Anaïs Lafarge, Guillaume Steinmetz, and Romain Joste, serves as a contemporary space that seamlessly blends fashion retail with a cafe. This Parisian store has quickly gained a reputation for its curated selection of designer pieces and its relaxed, artistic atmosphere. It's in the trendy Haut Marais area at 12 Rue Perrée.
Best Outlets for Discount Shopping in Paris
Paris has a reputation as the fashion capital of the world. But while their designer labels may be the envy of every shopper on earth, they can also be a little out of reach for all but those with the most generous budgets.
Luckily, if you are looking for the best shopping in Paris, there is a host of outlets that allow you to enjoy the Parisian fashion experience without breaking the bank. Let's look at the best outlet store that you can find around Paris.
La Vallée Village Paris
La Vallée Village Paris is a must-do for shoppers looking for luxury items on a bargain. This Paris outlet mall is one of France's best-kept secrets on where to shop for discount luxury fashion in Paris. It has more than 110 boutiques and features a variety of brands, including Jimmy Choo and Burberry. The shops of La Vallée Village have a large selection of designer shoes, high-end accessories, and upscale clothing for men and women.
There are several restaurants on-site and a children's play area to keep younger travelers happy. The outlets are about 30 minutes outside of Paris and can be reached by the RER train, making it easy to get there from central Paris.
Paris Shopping Tips from a Local
Here are a few tips for your shopping trip in Paris!
Insider Tip #1: Sale Periods
This past summer, I was lucky enough to spend six weeks in the city of light. By chance, I happened to arrive right ahead of the "sale" season in France (les soldes) which begins in early July! If you can visit France during July or January you're going to be pleasantly surprised that it's essentially a national event for nearly all retailers to put their spring and fall merchandise on sale during these months! You can shop Paris' famous boutiques guilt-free knowing you're getting the best price on your goods.
Insider Tip #2: Stock Shops
Many Paris retailers have "stock" versions of their stores. These outlet shops are located all over Paris (my favorites are in the Marais) and inside you can buy last season's clothing at a huge (50%+) discount. I love visiting these stores because they're open year-round and you can get some really great deals on previous seasons by the designer!
Bookstores in Paris
Beyond fashion, Paris has plenty of other shops. Paris has a rich literary landscape and visiting the best bookstores in Paris is definitely worth it. Whether it's the iconic Shakespeare and Co. in the Latin Quarter or specialized bookshops like Dalloz Librairie Juridique for legal texts, Paris offers plenty of book shopping for all interests.
The Latin Quarter stands out as the area with the highest concentration of bookstores, making it a mecca for bibliophiles. Essential French terms to know include "librairie" for bookstore, "bouquiniste" for a used book dealer.
Home Decor Shopping in Paris
In Paris, home decor shopping is nothing short of an artistic pursuit. Wandering through Le Marais, you can stumble upon boutique stores brimming with hand-crafted ceramic vases, antique mirrors, and vintage chandeliers that reflect the city's knack for design.
For more contemporary pieces, the showrooms in Saint-Germain-des-Prés offer sleek furniture and modern artworks that redefine luxury. Don't forget the flea markets like Marché aux Puces de Saint-Ouen, where you can haggle for unique treasures from bygone eras.
Whether it's artisanal textiles from small ateliers or iconic pieces from renowned design houses like Dior Maison, Paris offers many decor elements that will bring French elegance to any home.
Kitchen and Tableware Shopping in Paris
In the culinary capital of the world, Paris, the hunt for premium kitchenware is an experience that rivals the city's finest dining. A must-visit is E. Dehillerin, an institution located in the Les Halles district, where you'll find an extensive range of copper cookware and specialized utensils cherished by professional chefs.
For iconic French cookware, Le Creuset stands as a symbol of quality and heritage, and there's no better place to shop for these enamel-coated cast iron essentials than in Paris. The Le Creuset flagship store at 14 Rue Tronchet sells the brand's full range, from signature Dutch ovens to specialty items like tagines and paella pans.
For French-made knives and cutlery, head to Laguiole in the 8th arrondissement; their artisan blades are a perfect blend of functionality and elegance. Maison de la Porcelaine is your go-to for charming, everyday tableware, while Astier de Villatte on Rue Saint-Honoré offers exquisite handmade ceramics that are works of art in their own right.
---
I hope this article helped you find the best shopping in Paris and gave you some practical tips to help you discover new treasures.