Welcome to a literary journey through the City of Light! Paris, a city renowned for its rich cultural tapestry, is a haven for bibliophiles. In this iconic metropolis where luminaries like Victor Hugo and Ernest Hemingway found inspiration, independent bookshops and grand bookstores alike offer literary treasures amidst intriguing spaces. It's easy to find bookstores in Paris that capture the essence of Parisian literary culture.
Whether you're a passionate reader seeking rare editions or simply wish to bask in the ambiance of a Parisian book haven, this guide will introduce you to the best bookshops and bookstores that are must-visit landmarks in their own right. So, let your imagination take flight as we explore the charming aisles and whimsical corners that make Paris a world literary capital.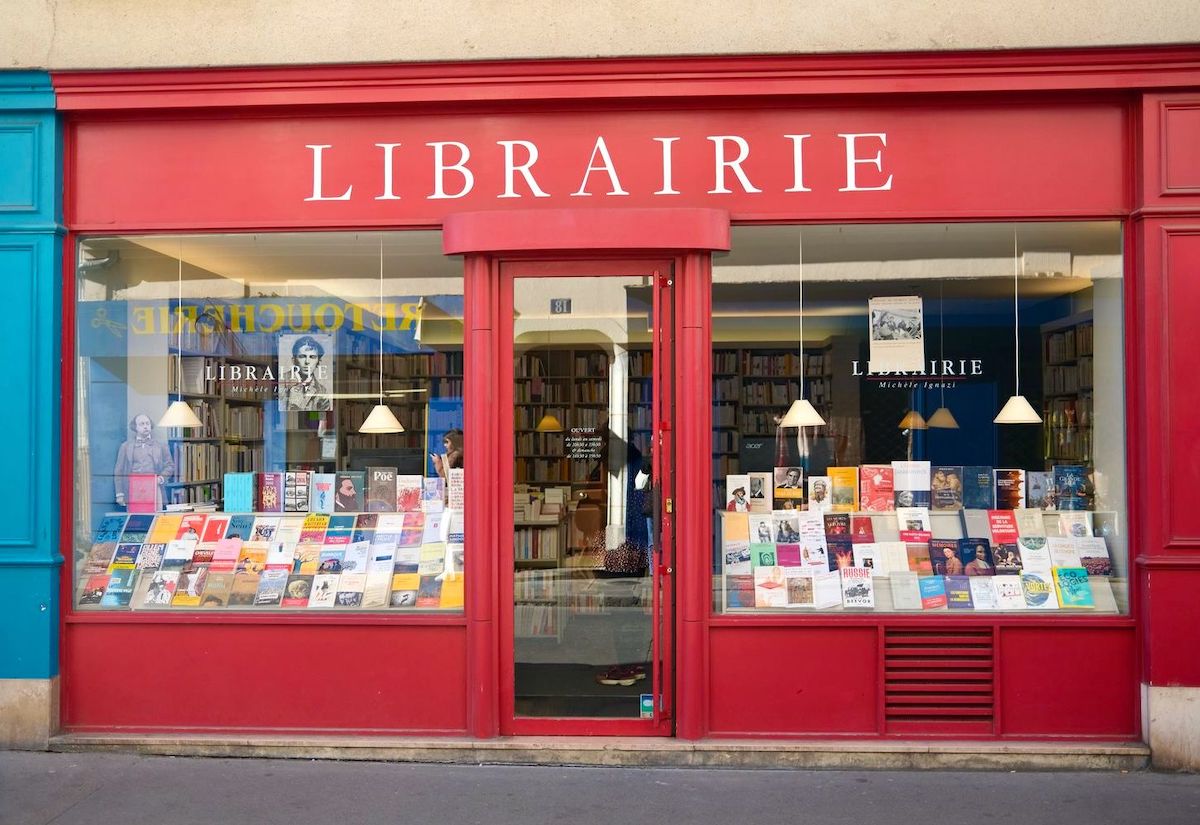 How to Say "Bookstore" in French
The word for "bookstore" in French is "librairie." It's important to note that in French, a "librairie" specifically refers to a store that sells new books. If you're looking for a store that sells used books, that would be a "bouquiniste." These terms will come in handy as you navigate the literary landscape of Paris.
Not to be Confused with "Library"
Since the French word for bookstore sounds so similar to the English word for library, you might be wondering how to say that word. The word for "library" in French is "bibliothèque." While "librairie" refers to a bookstore where you buy books, "bibliothèque" is the place where you borrow them. The distinction is crucial to avoid any confusion while exploring the literary haunts of Paris!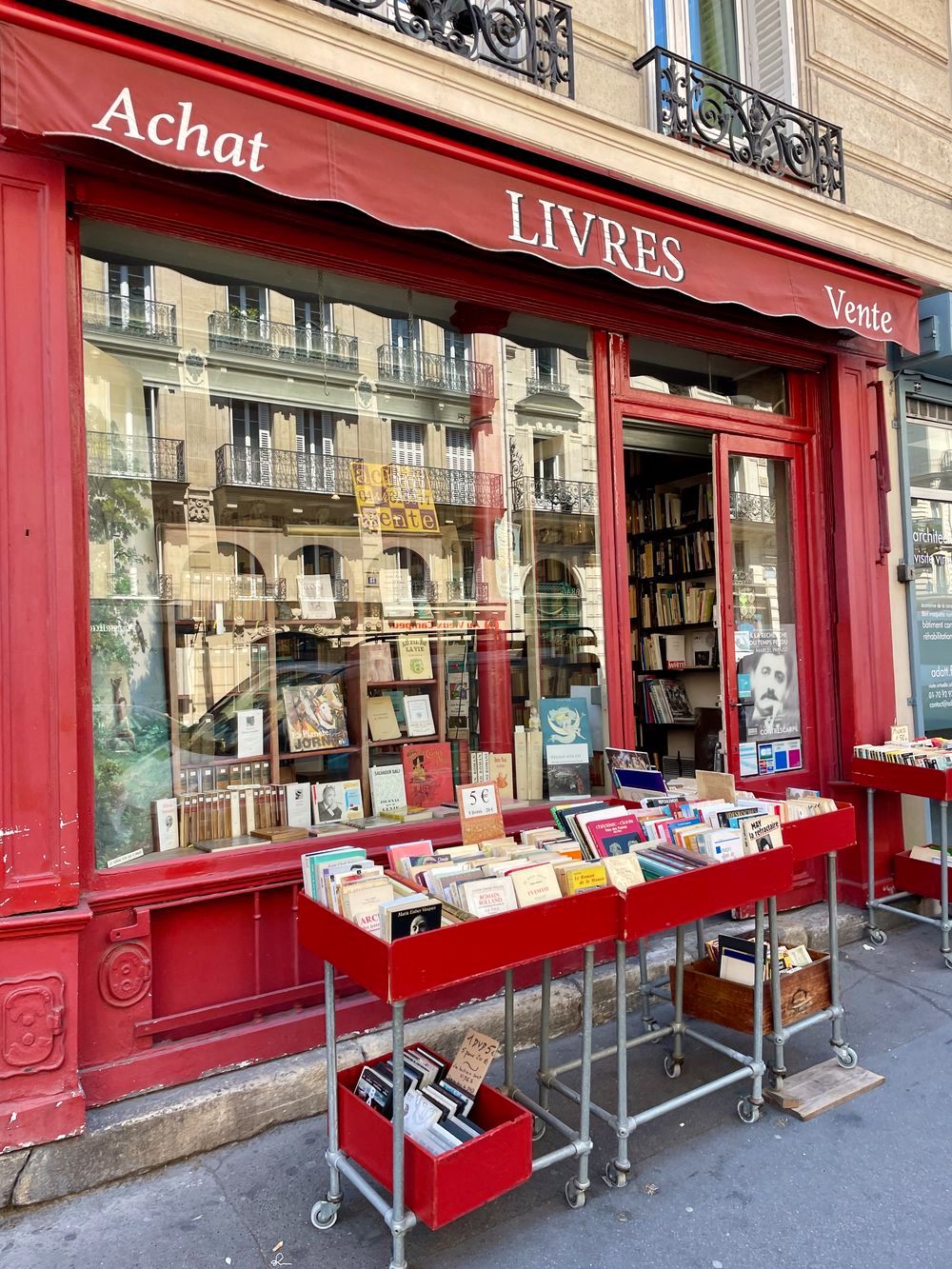 Best Bookstores in Paris
Shakespeare and Co.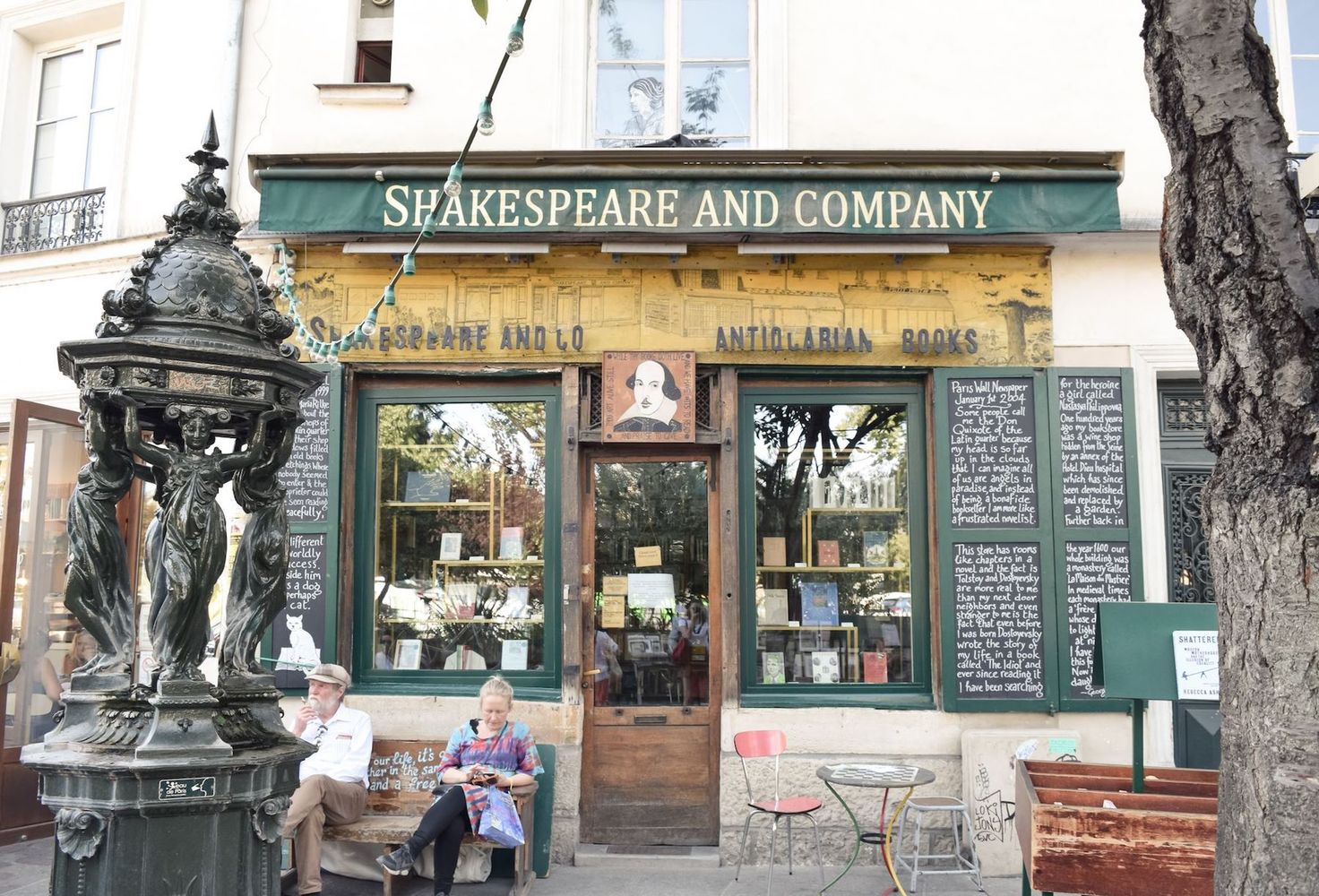 Nestled in the heart of Paris's Latin Quarter, across the Seine from Notre Dame Cathedral, Shakespeare and Co. is more than just a bookstore; it's a literary institution. Founded in 1951 by George Whitman and inspired by an earlier bookstore of the same name, this English-language bookstore has long been a sanctuary for expatriate writers and artists. With its labyrinthine layout, antique wooden bookshelves, and a rich history of hosting literary giants like James Baldwin and Allen Ginsberg, Shakespeare and Co. is a must-visit for any book lover in Paris.
37 Rue de la Bûcherie, 75005 Paris, France
San-Francisco Book Co.
A stone's throw from the Luxembourg Gardens, San-Francisco Book Co. specializes in second-hand English-language books. From classic literature to modern bestsellers, this small, charming shop offers a diverse selection at reasonable prices. The knowledgeable staff and cozy atmosphere make it an excellent spot for bibliophiles seeking a quiet reading haven.
17 Rue Monsieur le Prince, 75006 Paris, France
Comme un Roman
Situated in the trendy Marais district, Comme un Roman, meaning "Like a Novel," lives up to its name. The bookstore has a modern, airy layout and focuses on contemporary literature, both French and international. The staff is passionate about recommendations, often curating special lists and themed displays, making this store a refreshing, dynamic experience for readers. I got some great recommendations here last year when I lived in the neighborhood!
39 Rue de Bretagne, 75003 Paris, France
Smith & Son
Smith & Son stands as the oldest English-language bookstore in Paris, having opened in 1870. Located in front of the Jardin des Tuileries, this English bookstore in Paris sells an extensive collection of books in almost all genres. Its old-world charm, complete with wooden interiors and a laddered library aesthetic, transports you back in time, making it a favorite.
248 Rue de Rivoli, 75001 Paris, France
Librairie Galignani
Prestigious and elegant, Librairie Galignani is one of the oldest bookstores on the European continent, founded in 1801. Situated on the Rue de Rivoli, it boasts an impressive selection of fine art books, literature, and international publications. The store's refined atmosphere and historic significance make it a unique part of Paris's literary scene.
224 Rue de Rivoli, 75001 Paris, France
La Librairie du Cinema du Pantheon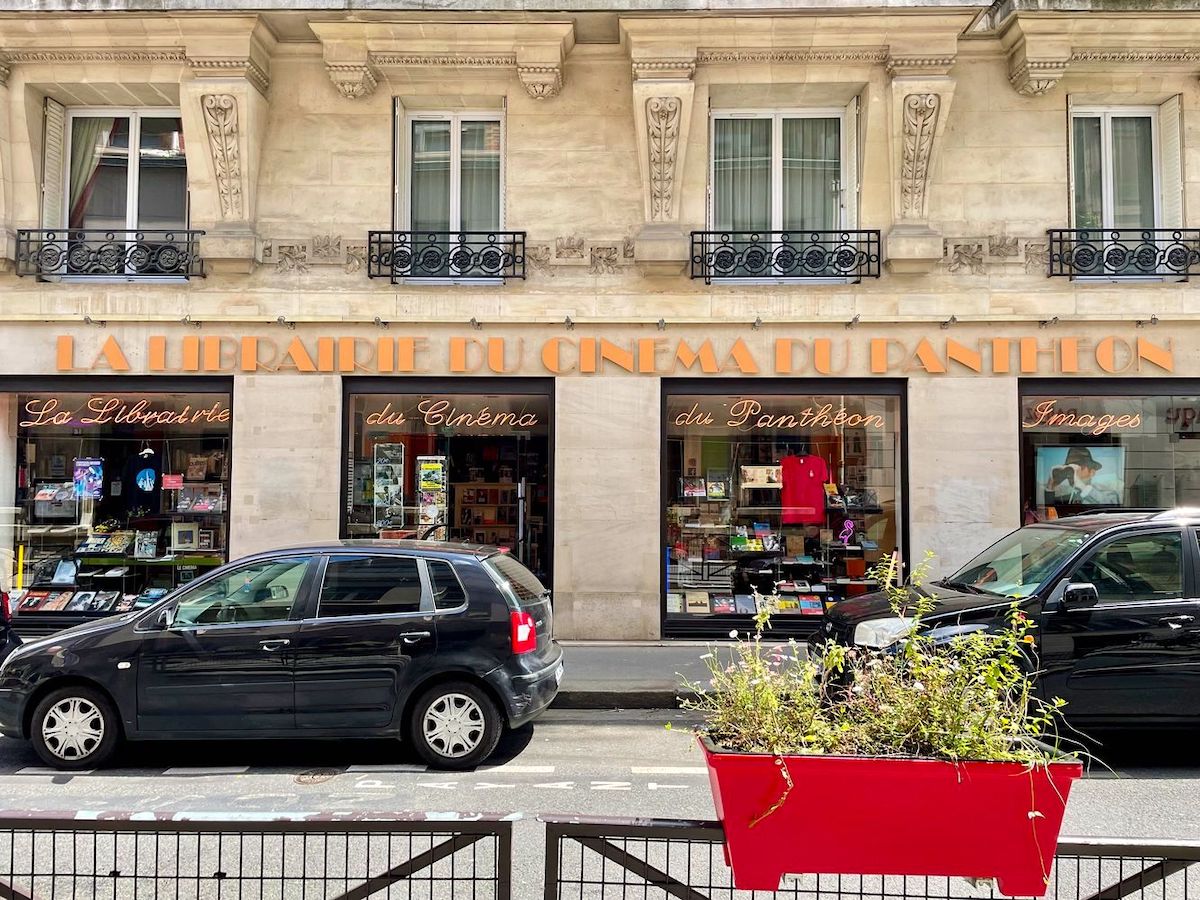 For film buffs, La Librairie du Cinema du Pantheon is a must-visit. Located near the Pantheon, this specialized bookstore sells fascinating books on French and international cinema, director biographies, screenplays, and film criticism. There are tons of independent cinemas nearby for you to catch a film afterward. I recommend Le Champo!
15 Rue Victor Cousin, 75005 Paris, France
OFR Marais
Short for "Our Favorite Shop," OFR Marais is a trendy, multidisciplinary space that sells books, art, and fashion magazines. Located in the Marais, it's a chic store with a youthful vibe, attracting those interested in design, photography, and contemporary art.
20 Rue Dupetit-Thouars, 75003 Paris, France
Gibert Joseph
A staple in the Latin Quarter, Gibert Joseph is one of the largest bookstores in Paris. It's basically a department store for books. With hundreds of thousands of new and used books in multiple languages, across every imaginable genre and field of study, it's an amazing educational resource. Its academic orientation makes it popular among students. I bought a used European history schoolbook here once for 2€, created for high-school students, to brush up on my French!
26 Boulevard Saint-Michel, 75006 Paris, France
Librairie Gourmande
For the epicureans, Librairie Gourmande in the Montorgueil district is a culinary haven. This specialty bookstore focuses exclusively on gastronomy, offering a wide array of cookbooks, wine guides, and culinary history texts. If you're a foodie, it's a great place to find your next recipe book!
92-96 Rue Montmartre, 75002 Paris, France
The Abbey Bookshop
Tucked away in the Latin Quarter, The Abbey Bookshop is a Canadian-owned, English-language bookstore known for its cozy, labyrinthine layout filled with over 35,000 titles. With a welcoming atmosphere and free coffee for visitors, it's a hidden gem that offers an authentic, intimate shopping experience.
29 Rue de la Parcheminerie, 75005 Paris, France
Librairie Philosophique J. Vrin
Situated near the prestigious Sorbonne University, Librairie Philosophique J. Vrin has specialized in philosophy texts since it opened in 1911. With an exhaustive collection of works from antiquity to contemporary thought, it is a crucial resource for French scholars and philosophy fans.
6 Place de la Sorbonne, 75005 Paris, France
Dalloz Librairie Juridique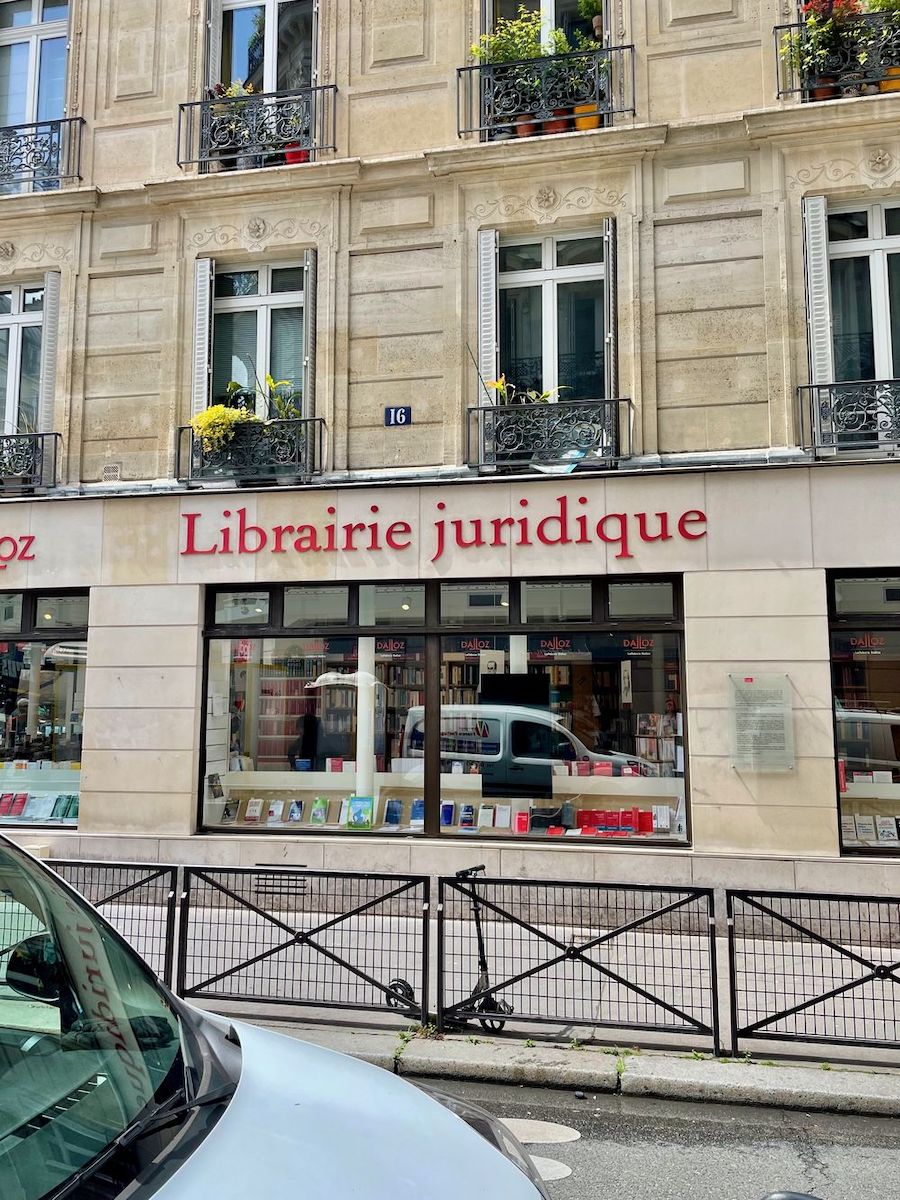 A librairie juridique is a specialized bookstore that focuses on legal texts, journals, and literature. In these stores, you'll find a range of materials including law books, legal commentaries, statutes, case law collections, and other professional publications pertinent to the legal field. These bookstores are frequented by law students, legal practitioners, scholars, and professionals who require in-depth information on various aspects of law.
Dalloz Librairie Juridique is the go-to place for reading about French and international law. Situated in the Latin Quarter, it sells many legal texts, journals, and resources, making it an indispensable hub for those in the legal field.
22 Rue Soufflot, 75005 Paris, France
Book Off
If you're on the hunt for affordable books, Book Off is your destination. Situated in the affordable area of Ledru Rollin, this Japanese chain offers second-hand books and used media, primarily in French but with a decent selection in English and other languages, at extremely low prices. It's an excellent place for budget-conscious readers looking for a good deal.
90 Rue du Faubourg Saint-Antoine, 75012 Paris, France
Where to Shop for Books in Paris
If you want to leave your book shopping up to fate, there's one quarter you need to explore. The highest concentration of bookstores in Paris is found in the Latin Quarter, specifically in the area surrounding the Sorbonne University.
This historic neighborhood on the Left Bank of the Seine has long been associated with intellectual and artistic life, attracting students, scholars, and bibliophiles. The narrow streets are lined with bookshops offering everything from antiquarian texts and academic works to mainstream fiction and foreign language literature.
The Latin Quarter's reputation as the intellectual heart of Paris makes it a prime location for bookstores of all kinds! The area embodies the spirit of literary Paris, making it a must-visit destination if you're keen to explore the city's rich book culture.
---
Whether you're a seasoned bibliophile or a casual reader, Paris offers an abundance of bookstores for all interests and languages. Each shop brings its unique character, collection, and history, contributing to the city's rich literary tapestry. Happy reading!