Le Bon Marché is a famous department store in Paris, France where you can find luxury fashion, beauty, and home goods. It is considered to be the first and oldest department store in the world.
What is the meaning of bon marche exactly? Bon marché" is a French phrase that translates to "good market" or "good deal" in English. It implies that the goods or services are reasonably priced or are a good value for the money. In the context of the Parisian department store Le Bon Marché, the name suggests the store's historical aim to provide a wide variety of goods at fair, transparent prices.
History
Located in the 7th arrondissement of Paris, the store was founded in 1838. Le Bon Marché was originally founded by a man named Aristide Boucicaut and his wife, Marguerite. The store began as a small shop in Paris in 1838 and over the following decades, Aristide transformed it into one of the first department stores in the world.
Aristide Boucicaut was a pioneer of the department store format and introduced several innovative retail strategies, such as price tags, the idea of sales, and a money-back guarantee.
Marguerite Boucicaut also played an integral role in the store's operations and was heavily involved in the business. After Aristide's death, Marguerite continued to run the store until her own death in 1887. Their innovation and vision helped to shape the modern retail industry.
It was heavily revamped by Boucicaut in 1852. It went through a series of expansions and transformations over the following decades.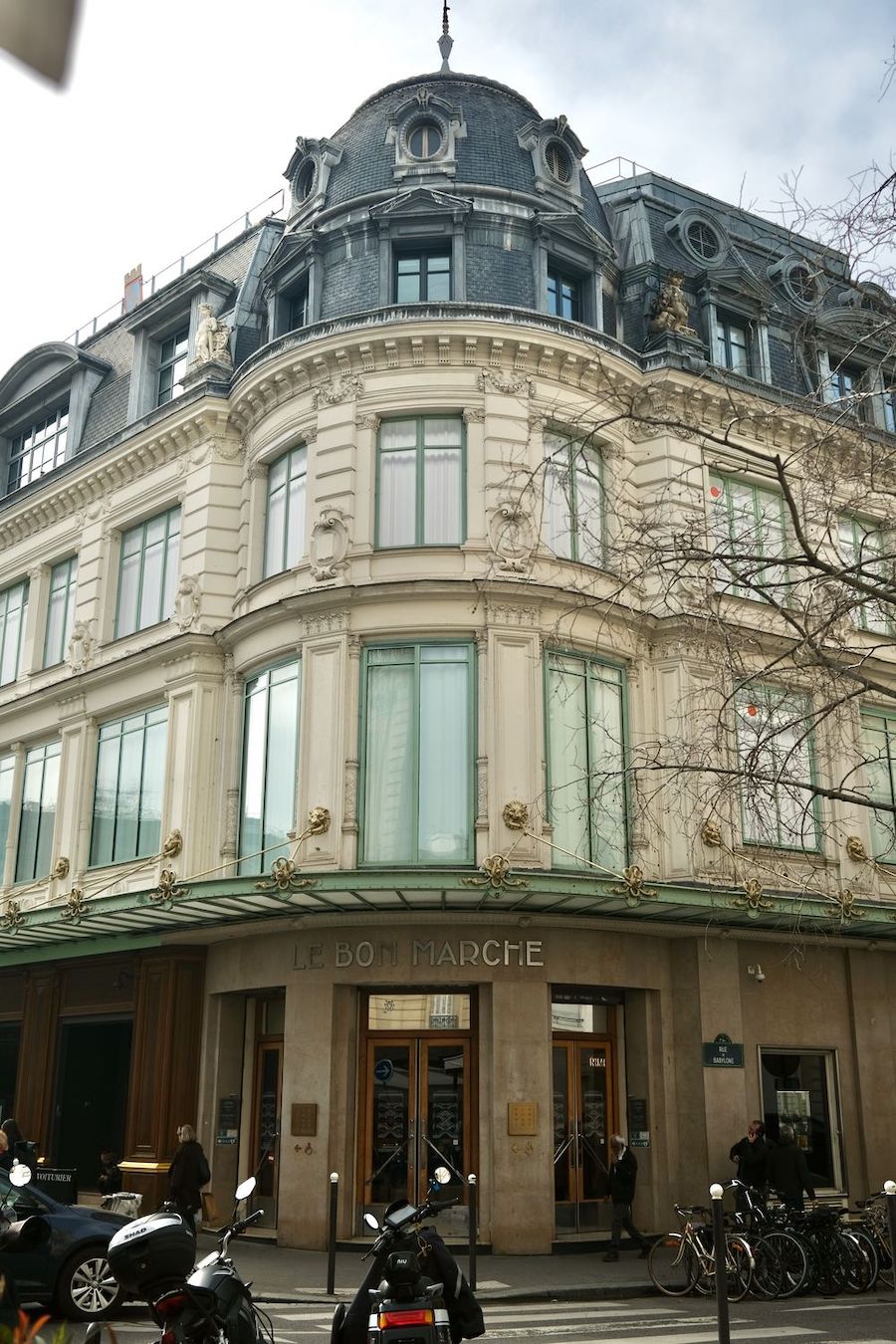 What to Buy at Le Bon Marché
Le Bon Marché is truly a high fashion lovers' paradise! The offerings at Le Bon Marché are diverse and are spread over several floors. The exact configuration of the store may change over time, but typically, here's what you can find on each store level:
Ground Floor: Here, you can shop for accessories such as bags, scarves, jewelry, watches, and cosmetics. You might also find a section for books, stationery, and gift items.
First Floor: This floor traditionally houses women's fashion, including a variety of contemporary mid-range brands, and high-end clothing.
Second Floor: Here, you can find even more womenswear and ready-to-wear labels, including lingerie, sleepwear, and loungewear.
Third Floor: Going up you'll find more high-end designer labels and clothing from Europe's major fashion houses.
Fourth Floor: Here is where you'll find the shoe department. You can find designer shoes as well as contemporary shoes by more accessible designers.
Fifth Floor: This floor sells stationary, home goods, small gifts and trinkets.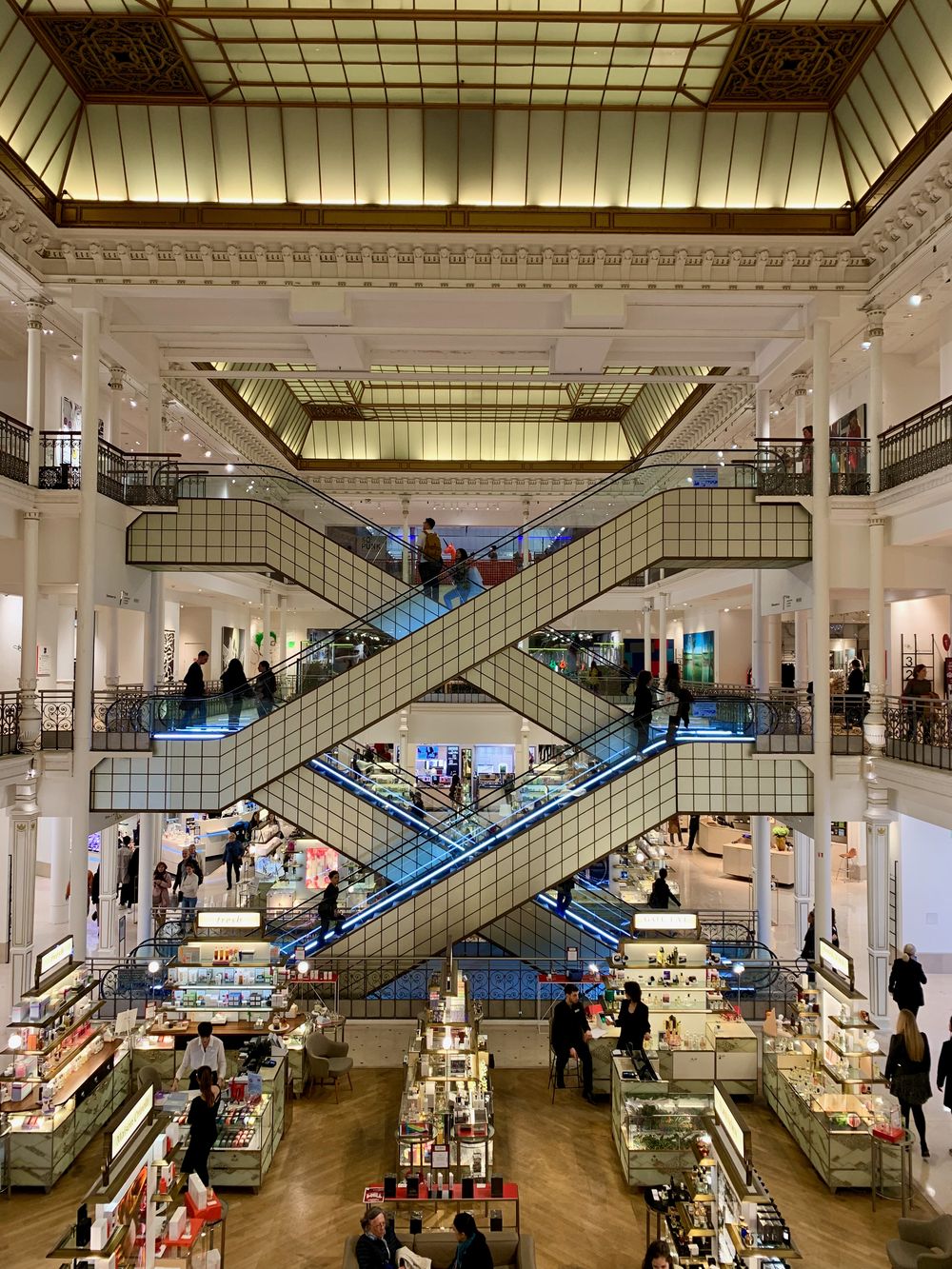 La Grande Epicerie
La Grande Epicerie is a separate building dedicated to fine foods from around the world, which is also part of the LVMH group. Here you can shop for gourmet food like olive oil, chocolate, and madeleines. There are also several food stands where you can buy freshly cooked meals and heat them up at home or eat them in place. It's definitely worth a stop if you're a foodie!
La Carte 24 Sèvres Loyalty Program
La Carte 24 Sèvres is a loyalty program offered by Le Bon Marché. It offers various benefits and rewards for regular customers. Benefits include exclusive discounts, invitations to private sales and events, personalized shopping services, and more. Points can be accumulated with purchases made at Le Bon Marché and La Grande Épicerie de Paris, which could then be redeemed for rewards or discounts on future purchases.
The name of the program is derived from the location of Le Bon Marché, which is on Rue de Sèvres in the 7th arrondissement of Paris.
---
Le Bon Marché is owned by LVMH (Moët Hennessy Louis Vuitton), a multinational corporation specializing in luxury goods. The complex is the ultimate destination for shoppers looking for luxury goods in a historically rich environment.