There wasn't a single cloud in the sky on the day that I walked the steps of the Sacré Coeur. It was a crisp early Sunday afternoon, and I had just finished my latte at KB Caféshop when I made my way to the iconic cathedral on foot. The terrible Paris terror attacks had just occurred but the monument was overflowing with visitors as it usually is.
On the way, I passed this cute shop selling candles with different Paris monuments printed on the outside. They were black and white and so elegant. I thought they would make great gifts for friends and family back home.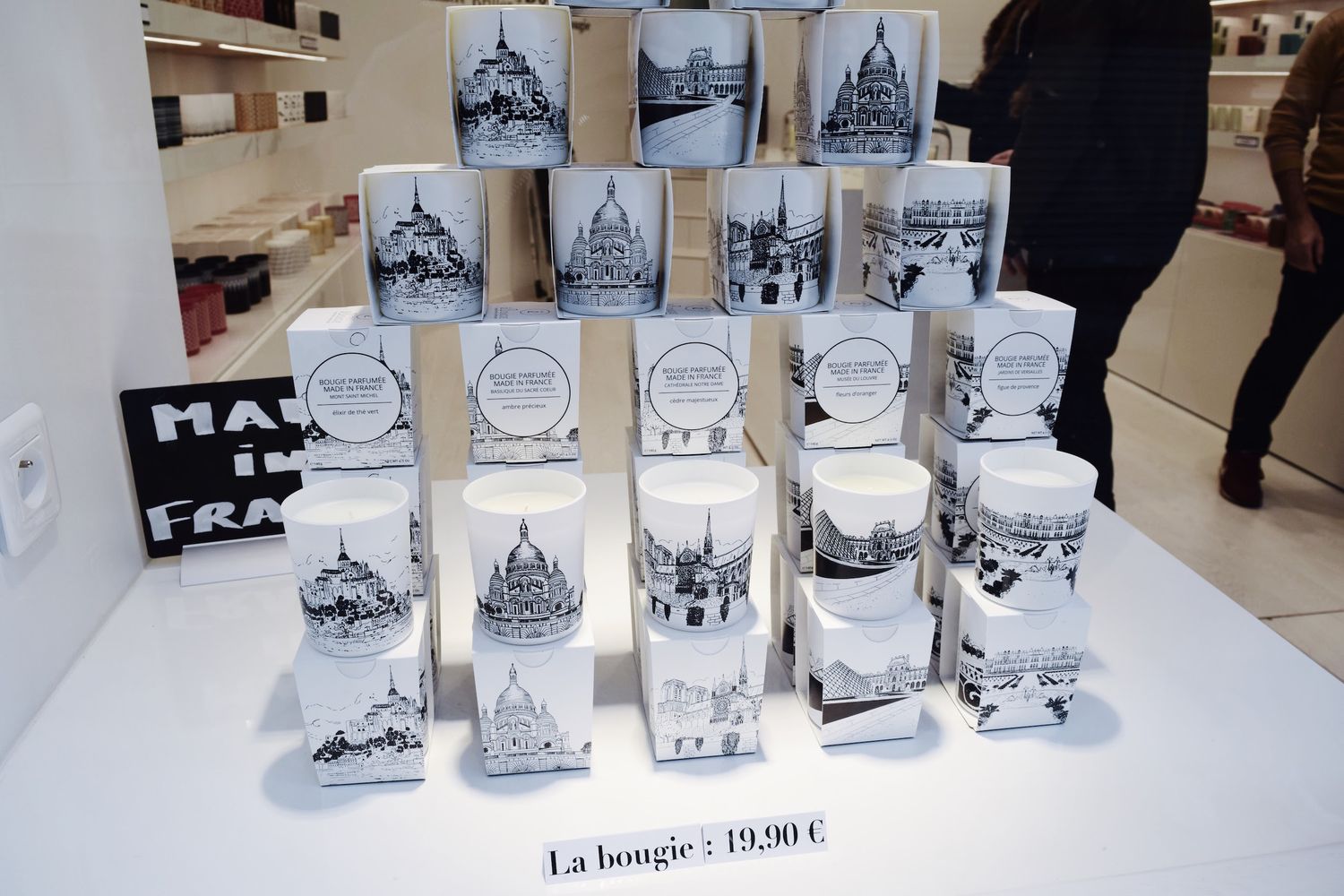 It got me thinking: What are the best Paris souvenirs to buy and bring back home? Here are the Parisian souvenirs you can't leave town without!
The Best Thing to Bring Back From Paris
Determining the single best thing to bring back from Paris can be subjective, as it often depends on personal preferences, interests, and the unique experiences one has in the city. However, one universally appreciated item that captures the essence of Paris might be a bottle of fine French wine.
French wine is emblematic of the country's rich culinary tradition and expertise. Whether it's a bottle from a famous region like Bordeaux or Burgundy or a selection from a small vineyard discovered during a tasting tour, wine can be a tangible representation of the time spent in Paris.
It offers an opportunity to savor the flavors of France once back home and can be shared with friends and family, making it a memorable and distinctive shared souvenir from Paris!
Famous Gifts from Paris
These items are often sought after by tourists and embody the rich culture and style of Paris.
Eiffel Tower Replica
The most classic Paris souvenir is a small Eiffel Tower Replica which you can buy for cash in front of most major Paris tourist spots, or from a more reputable boutique.
Art Prints
Paris, known as the art capital of the world, offers a plethora of art prints from famous artists or vibrant street art scenes. Whether it's a print from the Louvre or a piece from a local artist, these are wonderful keepsakes to remind you of your trip to Paris.
Berets
The beret is an emblem of French style and has been worn by artists, poets, and revolutionaries throughout history. Available in various materials and colors, a beret purchased in Paris adds a touch of French flair to any wardrobe. It's a timeless souvenir that is very Parisian chic.
Victor Hugo Books
Victor Hugo, one of France's most celebrated authors, has left an indelible mark on literature. His works, such as Les Misérables and The Hunchback of Notre Dame, are not only masterpieces but also provide insight into 19th-century French society. Acquiring his books in their original language is a treat for literary addicts.
Marcel Proust Books
Marcel Proust's monumental work In Search of Lost Time is a profound exploration of art, time, and memory. Buying his works in Paris allows one to connect with French literary tradition and engage with one of the greatest literary achievements of the 20th century. Proust's writings make for an intellectual and enriching gift.
Non Touristy Souvenirs from Paris
If you're looking to avoid typical touristy souvenirs in Paris, here are some more unique and authentic options, many of which you can buy from the city's non-touristy gift shops.
Flea Market Finds
Head to Saint-Ouen and pick up a unique antique vase or home accent. Flea market trinkets are great gifts and souvenirs from Paris.
Original Illustrations and Drawings
Sketches, paintings, or prints bought directly from street artists are fantastic non-tourist souvenirs. Why not have your portrait painted by one of the many Place du Tertre painters?
French Cookbooks
There are tons of French cookbooks written by renowned French chefs or focused on specific regional cuisine.
What to Buy in Paris
These products reflect the essence of Parisian culture and style, and many offer a blend of luxury, tradition, and local flavor that makes them unique to the city.
Fashion
You can't leave Paris without buying at least one fashion item. After all, it's the fashion capital of the world! A classic marinière is the perfect piece of French fashion to bring back home with you and wear forever! You can buy one of these blue and white striped shirts from Armor Lux, Petit Bateau, or the Saint James brand.
Gourmet Food
There are dozens of gourmet French foods that people buy in Paris. From unique jams, jars of honey, mustard, terrine, madeleines, macarons, or spices to local market finds, you must bring back an edible piece of Paris!
Makeup
The world's best beauty brands are found in Paris and many times, you can get luxury makeup for cheaper in Paris. I always stock up on my Lancôme mascaras, Laura Mercier tinted moisturizers, and Chanel lipsticks when in Paris.
Skincare
French pharmacies are known for high-quality skincare lines. Go to CityPharma to get the best prices on the many effective French skincare products. I typically pick up body lotions, serums, sunscreen, and face creams from the pharmacy in Paris before heading home.
Best Products to Buy from Paris
Whether it's the elegance of French fashion or the richness of gourmet foods, these items represent some of the best products Paris has to offer.
French Wine
French wine is a symbol of the nation's rich viticultural heritage, with regions like Bordeaux, Burgundy, and Champagne being world-renowned. Authentic French wine not only represents the taste of France but is also a luxurious item to enjoy or gift. Whether it's a vintage red or an exquisite sparkling wine, choosing a bottle from a Parisian wine shop ensures an authentic and memorable souvenir.
Macarons
Macarons are one of Paris's most iconic pastries, recognized for their delicate texture and vibrant flavors. Often packaged in beautiful boxes, these colorful almond meringue cookies make an elegant gift or personal treat. Available at prestigious patisseries like Ladurée or Pierre Hermé, they offer a taste of authentic French gastronomy.
French Cheese
French cheese is an iconic product that represents the culinary heritage of France. With over 1,000 different types of cheese available, each region has its unique specialties. From creamy Brie to pungent Roquefort, buying cheese in Paris offers an authentic taste of French culture. Remember, you can only bring back hard cheese from France in your suitcase!
French Olive Oil
France's olive oil is celebrated for its quality and flavor. Primarily produced in the Provence and Corsica regions, French olive oil is often cold-pressed, preserving the rich taste and nutritional benefits. Its distinct flavor makes it a must-buy for any home cook.
Maille Dijon Mustard
Maille Dijon Mustard is a staple in French cuisine, known for its smooth texture and tangy taste. Established in 1747, the brand has become synonymous with quality mustard. This culinary delight can be found in various blends, and it's an ideal gourmet condiment gift for a home cooks.
Mariage Frères Tea
Mariage Frères is the best teamaker in Paris and I often bring back a box of specialty tea after a trip to Paris. This renowned French tea company offers unique and exotic blends. With a history dating back to the 17th century, the brand combines traditional French tea artistry with modern flavors. It's a sophisticated gift option for tea lovers.
Avène Cold Cream
Avène Cold Cream is an amazing ultra-hydrating body cream that you cannot buy in the US! I always get a tube or two and pack them in my checked luggage to bring back home.
Nuxe Huile Prodigieuse Multi-Purpose Body Oil
Nuxe's Huile Prodigieuse is a luxurious multi-purpose body oil beloved by many for its nourishing and hydrating properties. Comprised of seven precious botanical oils, this product is a favorite in French skincare. It's a great souvenir for anyone interested in beauty and self-care.
Trudon Candle
Trudon is one of the world's oldest and most prestigious candle manufacturers. Known for their handcrafted candles and unique scents, a Trudon candle is more than just a fragrance; it's a piece of history. This makes it a beautiful and thoughtful gift to bring back from Paris.
Cheap Things to Buy in Paris
By focusing on local markets, lesser-known brands, and neighborhood shops, you can discover unique and budget-friendly items that still capture the charm of Paris. If you're looking for affordable shopping options in Paris, here are some inexpensive things you can buy:
Postcards
French postcards with images of famous landmarks or artwork are cheap and easy to carry with you back home. If you'd like to send them, head to La Poste to buy some stamps!
Key Chains
Eiffel Tower Keychains are widely available and budget-friendly.
Magnets
There are lots of cheap magnets depicting various Parisian icons and symbols to buy around Paris.
Reusable Shopping Bags
Reusable Shopping Bags are often adorned with French motifs, phrases, and pictures of monuments. Bring one back home and think of Paris every time you go grocery shopping!
Paris Metro Map
Grab a printed copy of the Paris metro map from any subway station. Unfold it and it becomes a cool poster and a memory of the city's massive public transportation network. This is one of the best FREE Paris souvenirs!
Bourjois Makeup
Bourjois makeup is cheap and of great quality. It's the best affordable French makeup brand where you can buy cheap nail polish and makeup items. It's found for sale at most Monoprix chain stores.
Luxury Gifts from Paris
Luxury gifts from Paris reflect the city's reputation for elegance, sophistication, and fine craftsmanship. Here are a few high-end options:
Hermès Silk Scarf
You can get a luxury silk scarf from one of the Hermès boutiques for around 200€. I was nervous the first time I went to Hermès but the experience was actually pleasant and the sales associates were quite helpful.
Guerlain Perfume
Guerlain is known for its high-end fragrances that were a favorite of royalty. It's the brand of choice for sophisticated Parisian women. Pick up a Guerlain perfume bottle while in Paris and gift it to someone special in your life back home!
Chanel Handbags
Chanel is the most famous fashion brand in the world. If you want to really make someone's day, buy a Chanel handbag as a gift while you're in Paris. You'll save money on the purchase if you get a VAT refund on your way out of the Schengen Zone.
Tailored Clothing
The art of "sur-mesure" is still practiced in Paris. Since made-to-measure clothing is hard to gift to someone else unless you know their exact measurements, this si one gift you'll probably have to give to yourself.
---
I hope this list of the best Paris Souvenirs helped you find the perfect gift from Paris to cherish forever – whether for yourself, a friend, or family member!