If you find yourself in Paris over the holidays (or just on vacation) and looking for gifts for friends and family back home, don't worry because Paris is undoubtedly a shopper's paradise.
When I travel, I love to get my loved ones gifts that are unique to the destination I'm coming from. So, I'm going to share the most Parisian (or at least, really French) shops and gifts you can buy around town!
Here are the best non-touristy Paris gift shops for getting French gifts for your friends and family back home! You can also pick up a classic Paris souvenir for yourself at one of these stores.
Maison LaBiche
Known for its personalizable garments, Maison LaBiche is an adorable shop to pick up a t-shirt or sweater. Pre-made ones have a simple word written in cursive on the upper right section of the shirt, usually written in between the stripes.
Le Slip Français
Why not get your friends some Made in France underwear while in town? It will surely give them a good laugh! Le Slip Français is where to go for high-quality French underwear – male and female!
Saint James
Saint James created the original marinière shirt (blue and white stripes) in Bretagne, the northwestern region of France. Since then, the brand has become ubiquitous with classic French style. Saint James clothes are known for being high quality and authentically French!
Merci
Merci is an ultra-famous concept store with a bright red Fiat in the courtyard. It features all kinds of quirky Parisian gifts at a wide range of prices. I found a high-quality beret here for just 20 euros that came in a dozen colors. Check it out for yourself in the Marais!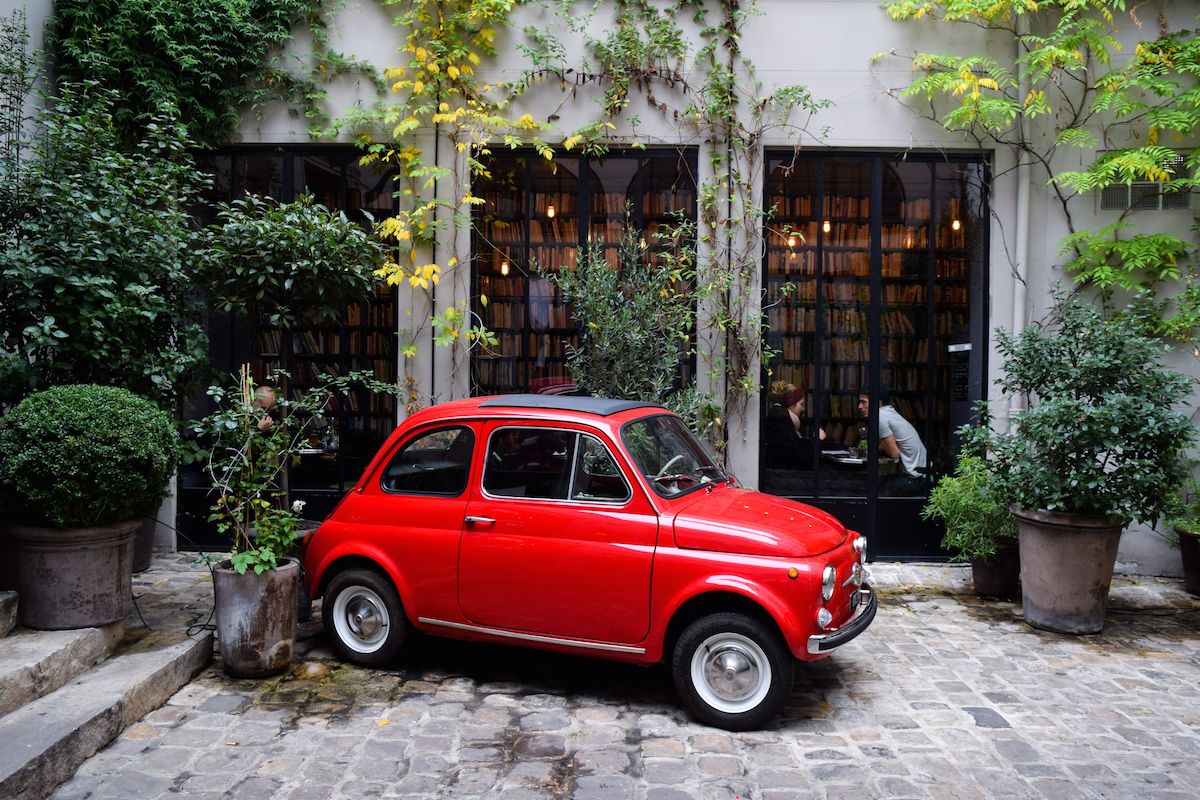 Mariage Frères
This storied tea shop creates an extensive variety of tea in an assortment of flavors. It's the highest quality you'll find in Paris. Visit one of the many Mariage boutiques in Paris for a gift your friends and family will love.
Maison Bremond 1830
When shopping for the cook in the family, head to Maison Bremond 1830 where you'll find an assortment of treats from Provence, gourmet olive oils, and olive wood kitchen accessories.
Sézane
Sézane is probably the most on-trend, accessible fashion and accessory brand in France right now. I'd absolutely get your best friend something here. It's more expensive than a fast-fashion retailer, but not unattainable by any means. 
Pierre Hermé
If you have time before your flight back home, go to Pierre Hermé and pick up some of the city's best macarons. The Ispahan is my personal favorite pastry – a pink macaron with cream and raspberries in between!
I hope this post gave you a good idea of where to go shopping in Paris for memorable gifts!