If you're heading to New York City and wondering which neighborhoods you should stay in or visit, then check out this list of the best NYC neighborhoods to visit for first-timers. NYC is a diverse American city, and the 10 neighborhoods below will give you a great taste of the coolest places to see in New York. If you want to go beyond the Empire State Building and Times Square, this list is for you!
Greenwich Village
Greenwich Village, often referred to simply as "the Village," is one of New York City's most iconic neighborhoods. Located on the west side of Lower Manhattan, it's celebrated for its artistic heritage, 1960s counterculture movement, and bohemian spirit. The Village has long been a hub for social progress and activism, including women's rights movements.
For knowledge and literary pursuits, Greenwich Village offers iconic bookstores, literary salons, and educational institutions like New York University. Many of these venues host workshops, readings, and lectures that foster intellectual growth.
The Marlton is one of the best Greenwich Village hotels for a cozy and antique feel.
The culinary scene in Greenwich Village has chic brunch spots, cozy tea houses, and lively wine bars. Family Meal at Blue Hill is one of the best locally sourced American restaurants in the area.
The neighborhood is renowned for its thriving arts scene, with various theaters, galleries, and live music venues. The Blue Note Jazz Club has been hosting incredible jazz performances since 1981 in a cozy, underground space on West 3rd Street. Major jazz musicians like Dizzy Gillespie, Sarah Vaughan, and Oscar Peterson have graced the Blue Note stage.
The legendary Washington Square Park, a social gathering point, often features street performers, musicians, dancers, and artists, adding to the creative ambiance of the area. The fountain featured in the opening credits of the cult 90s TV show Friends.
West Village
The West Village in New York City is a distinctive neighborhood celebrated for its bohemian charm, meandering streets, and artistic heritage. Unlike the city's more regimented grid system, the West Village's streets wind and twist in an organic pattern, giving the area an intimate feel.
One of the main draws of the West Village is its literary and artistic history. The West Village is home to the Cherry Lane Theatre, New York's longest continuously running Off-Broadway theater. The IFC Center is one of the best independent cinemas in New York City.
Many renowned writers, musicians, and artists have called the area home, and its artistic spirit continues to thrive in the numerous theaters, jazz clubs, and performance venues found throughout the neighborhood.
Furthermore, the West Village hosts some iconic landmarks, including the Stonewall Inn and Jefferson Market Library, one of the few High Victorian Gothic-style buildings left in Manhattan.
The neighborhood's architecture is a highlight, characterized by Federal-style townhouses, quaint cobblestone streets, and hidden courtyards. It's an ideal place for a leisurely stroll, providing a sense of tranquility that's hard to find in other parts of Manhattan.
The West Village is known for its brownstones, made with a type of sandstone that was historically a popular building material for townhouses. One (66 Perry Street) was featured as the exterior of Carrie Bradshaw's apartment in Sex and the City.
The West Village offers a plethora of dining options from trendy cafes and bistros to historic taverns. Via Carota serves soulful Italian plates and is the first joint effort from chef power couple Jody Williams and Rita Sodi. Rosemary's and L'Artusi prepare contemporary Italian dishes, while Buvette has a cozy French bistro atmosphere.
The famous cupcake shop Magnolia Bakery opened its first location on Bleecker Street back in 1996. From gourmet cuisine to comfort food, the West Village has it all.
Shopping in the West Village is another popular activity, centered around Bleecker Street, with shops for trendy clothing, antiques, and specialty items.
Nolita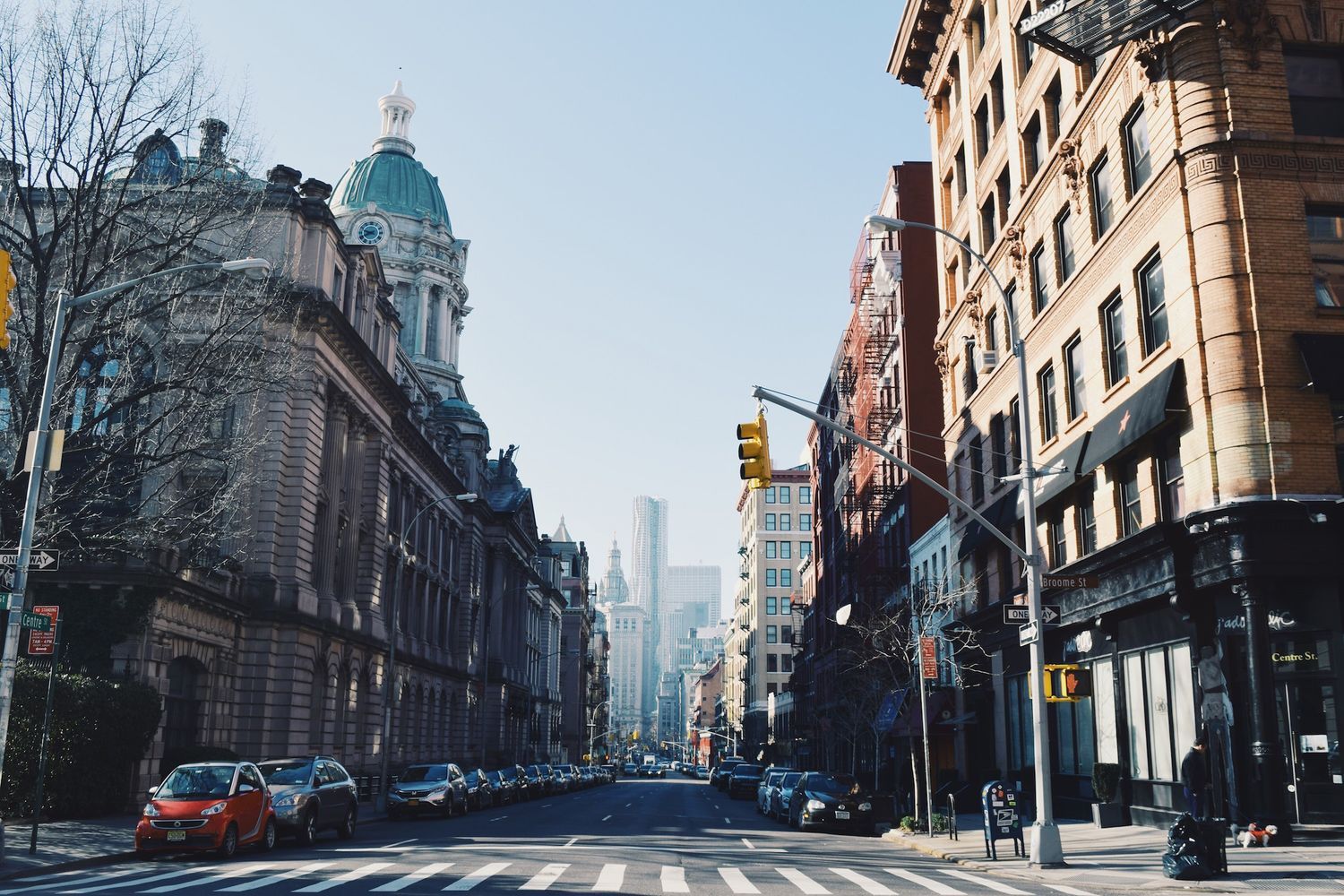 Nolita, standing for "North of Little Italy," is a small but vibrant neighborhood in New York City. It's an area known for stylish charm, trendy boutiques, and a blend of cultural influences. Visiting Nolita combines a taste of old New York with modern comforts.
A significant reason to visit Nolita is its culinary scene. The neighborhood is home to an array of eateries ranging from upscale restaurants to cozy cafes and family-run bakeries. Russ & Daughters Cafe is a popular Nolita sit-down cafe for bagels, smoked fish, and classic American fare, a beloved 100+ year-old shop.
Shopping is another highlight of Nolita, with a plethora of independent boutiques, unique designer shops, and vintage stores. McNally Jackson Books has been a mainstay in the area for 19 years.
Nolita's streetscape is a visual treat, characterized by its low-rise buildings, colorful facades, and public art. Strolling around, you'll discover murals, street art, and small galleries that contribute to the neighborhood's artistic vibe. 303 Gallery exhibits cutting-edge exhibitions of contemporary artists.
Elizabeth Street Garden, a community garden filled with sculptures and greenery, provides a peaceful oasis amid the urban landscape.
The neighborhood also maintains a strong community spirit, with various events and festivals celebrated throughout the year. These gatherings often highlight local artists, musicians, and vendors, adding to the sense of camaraderie and local pride.
Bowery / NoHo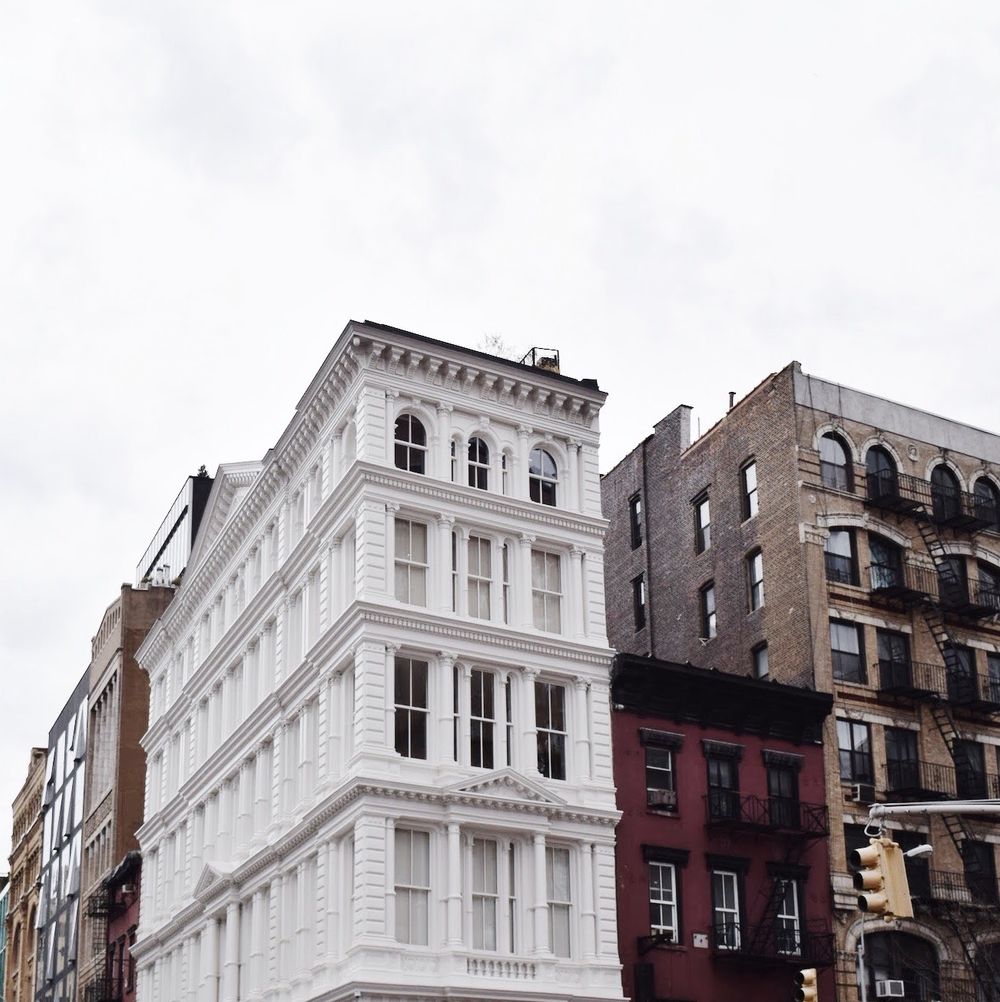 The Bowery, located on the Lower East Side of Manhattan, and named after the same wide street, is among New York City's most historic and dynamic micro-neighborhoods. It has undergone significant transformation and revitalization, and it's part of the best NYC neighborhoods to visit for this blend of grit and glamor. NoHo, short for "North of Houston Street," is another micro-neighborhood right next door to the Bowery area.
Historically, the Bowery was known for its edgy, artistic scene. In 1973, the iconic CBGB club opened as a venue for punk rock musicians to play like the Ramones, Blondie, and Patti Smith. The space was a former 19th-century saloon. The area became a haven for gritty artists, musicians, and writers, and this creative energy still resonates.
Another one of the Bowery's iconic landmarks is the Bowery Ballroom, known for hosting live music performances. Its intimate setting and exceptional acoustics make it a beloved venue for both established artists and up-and-coming musicians.
The Bowery Hotel is an old-school NYC hotel that regularly hosts international actors and its lively lobby bar is where wealthy creatives come to gather for drinks.
These NYC neighborhoods are home to influential art galleries and the New Museum, a leading destination for contemporary art and innovative artistic expressions.
The Merchant's House Museum is a well-preserved 19th-century house in NoHo, one of the few intact family homes remaining in Manhattan.
NoHo and the Bowery's culinary scene has options ranging from Michelin-starred restaurants to trendy food halls like the Bowery Market. You can enjoy gourmet meals or opt for ethnic cuisines that reflect the multicultural fabric of the area. BONDST is a particularly trendy restaurant in the area.
Shopping in the Bowery offers the chance to discover emerging fashion trends or find unique vintage treasures.
The Bowery's architecture and urban design are also of interest. The neighborhood showcases a mix of old tenement buildings, industrial lofts, and modern structures that tell the story of its changing identity. The Bowery Mural Wall, a rotating canvas for street artists, adds to the visual appeal of the area.
Astor Place is a notable public square in NoHo named after the famous Astor family of New York.
A visit to the Bowery is an eclectic mix of art, food, shopping, music, and history, capturing the essence of New York City's diverse and ever-evolving character.
Soho
Soho is a neighborhood that stands out as a must-visit area in New York City. Nestled in Lower Manhattan, it is well-known for its art history, architectural beauty, and fashionable vibe.
Historically, Soho was the epicenter of the city's art scene, but today there are only a few art galleries like Louis K. Meisel Gallery that remain. The commercial and cosmopolitan elements have certainly taken over the area in modern times.
The architecture of Soho is a particular highlight. Many of the loft buildings are embellished with intricate cast-iron facades, making it the largest collection of such architecture in the world. The Cast Iron Historic District works to preserve the 500+ buildings with ornate façades, emblematic of the district.
The Soho neighborhood is very well-known for its amazing shopping. Wander inside Soho to find local boutiques like Polène and A.P.C. or opt for high-end, designer shops like Chanel, Prada, and Louis Vuitton. Stroll down Broadway to find more popular mainstream American and international brands like Bloomingdale's.
Some popular spots to eat and drink include Balthazar, Jack's Wife Freda, and Cafe Habana. For a taste of France, visit the famous Dominique Ansel Bakery, which often has a line outside.
Soho is a downtown classic you can't miss on your trip to Manhattan.
Upper East Side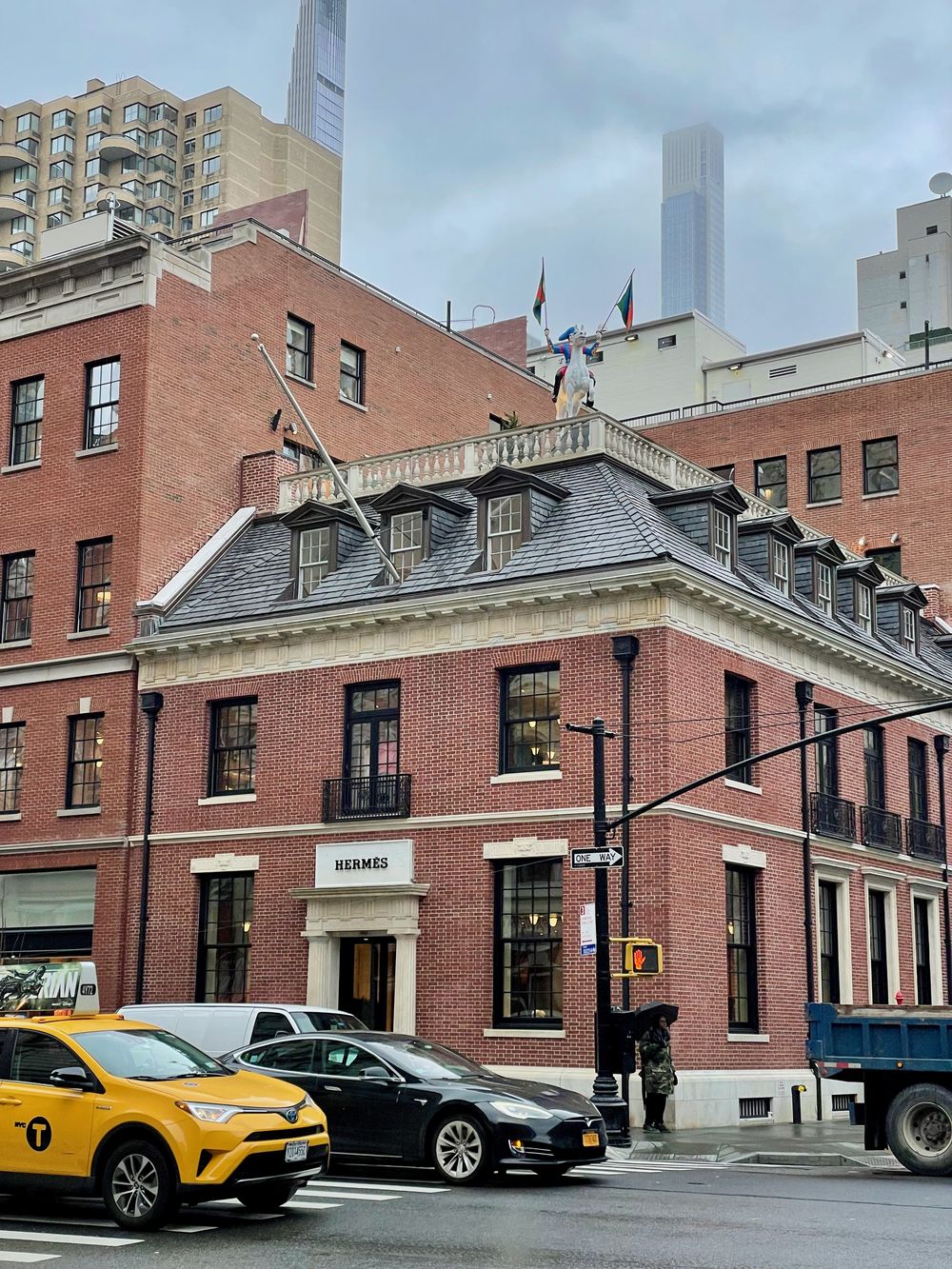 The Upper East Side is one of the city's most iconic areas, known for its old money residents and refined elegance. It's one of the cleanest and classiest neighborhoods in Manhattan. This is where Gossip Girl's Lily Van Der Woodsen called home, after all.
Visiting the Upper East Side provides a chance to explore its prestigious museums, such as the Metropolitan Museum of Art and the Guggenheim Museum. The Museum Mile along Fifth Avenue is an unrivaled cultural destination, housing numerous world-class museums and art collections like the Frick.
The neighborhood is also synonymous with luxury and class, with upscale shopping destinations and dining establishments. Renowned designers and high-end stores line Madison Avenue, providing a premium shopping experience for expensive goods.
Architectural students will be delighted by the stately mansions and historic townhouses that reflect the grandeur of a bygone era. The streets are adorned with beautiful trees, and you can also enjoy a leisurely stroll in Central Park, which borders the Upper East Side, offering a respite from the bustling city.
In addition to these attractions, the Upper East Side is also known for its sophisticated nightlife, excellent schools, and premier healthcare facilities. Its reputation as one of the city's most affluent and stylish neighborhoods makes it iconic.
Tribeca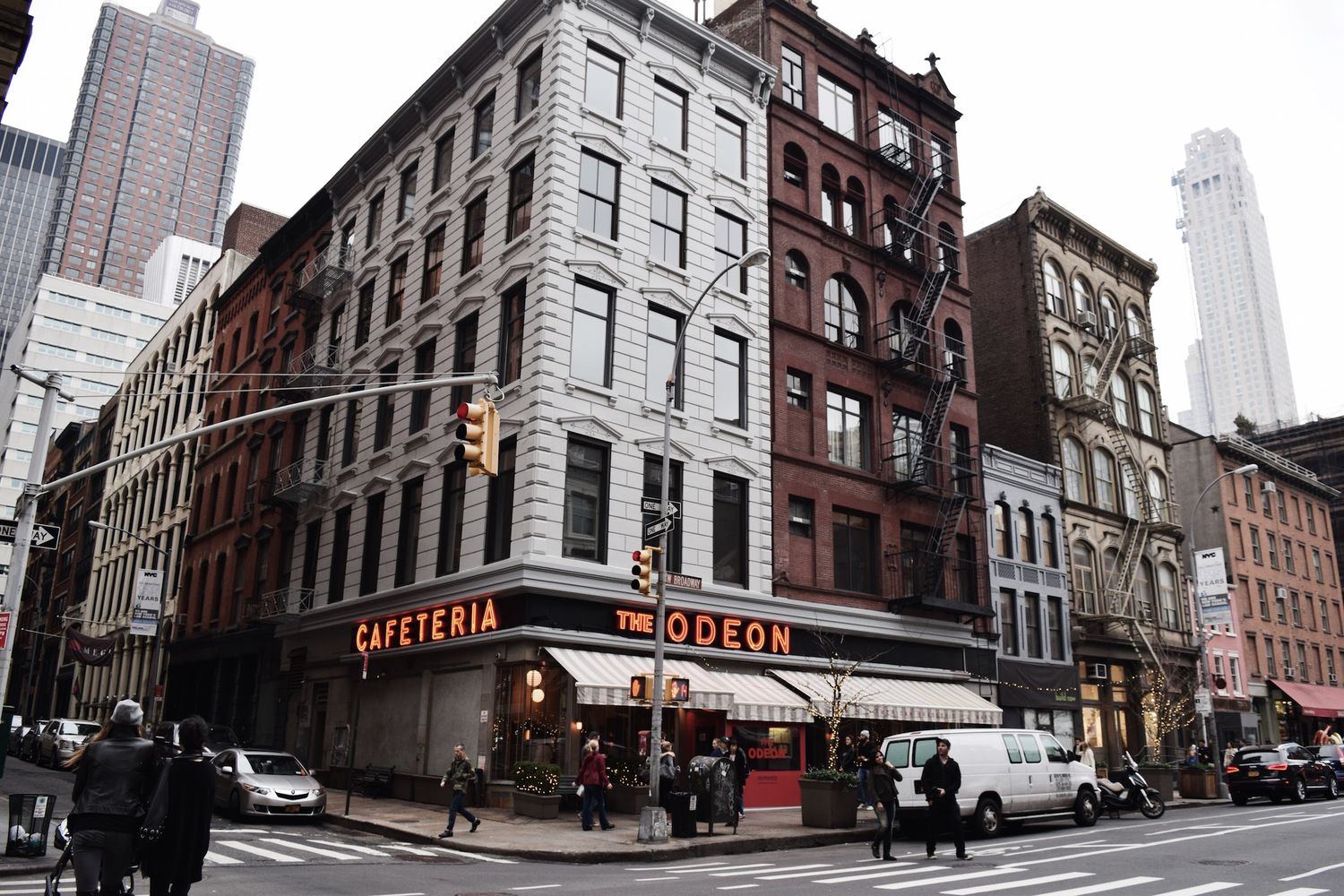 Tribeca is the downtown version of the Upper East Side, just much much cooler. Taylor Swift purchased a loft here, and it's no wonder, the neighborhood is brimming with beauty and excitement.
TriBeCa, an abbreviation of "Triangle Below Canal Street," is a neighborhood in Lower Manhattan that is known for its industrial-chic charm, cobblestone streets, and cultural attractions.
Tribeca's defining characteristics are its family-friendly parks, reputable schools, and safe environment. This local atmosphere might be particularly attractive to families visiting NYC for the first time.
Take your kids to the Ghostbusters Firehouse, located in Tribeca, and pose by the iconic firehouse hook and ladder 8 from the Ghostbusters movie.
Tribeca's shopping experience is another significant draw. The neighborhood hosts designer boutiques, trendy shops, and beauty salons that cater to diverse tastes and styles.
Tribeca is renowned for its dining and restaurants like the Odeon Restaurant, a stylish, enduring hotspot for American fare in a neo-industrial space.
Tribeca is also home to the famed Tribeca Film Festival, an event that celebrates cinema, including works by women filmmakers. This festival provides a platform for creative expression and connects audiences with filmmakers from various backgrounds.
Fitness and wellness are also integral to the Tribeca lifestyle. The neighborhood boasts several fitness studios, yoga centers, and spas, many of which offer women-centric classes and services. These facilities promote a holistic approach to well-being with opportunities for self-care and relaxation.
The Woolworth Building designed by architect Cass Gilbert and built in 1913 was the tallest building in the world (at 792 feet) for 17 years. The distinctive Gothic Revival skyscraper features ornate terra cotta and limestone facade, gargoyles, and intricate decoration. It's a private residence but you can get drinks at The Wooly Public and admire the stained glass ceiling and marble mosaic walls.
Tribeca's typical architecture, characterized by renovated industrial buildings turned into luxurious lofts and apartments, adds to the neighborhood's appeal. The blend of historical charm with modern elegance provides a scenic backdrop for leisurely strolls or photography.
East Village
The East Village, located in Manhattan, is known for its vibrant cultural diversity, artistic spirit, and eclectic charm.
The East Village's residents are a mix of poets, artists, actors, playwrights, and musicians. You can explore the many independent bookshops, small galleries, and theaters that host poetry readings, performances, and art exhibitions.
Tompkins Square Park is a wonderful place to relax, people-watch, and enjoy some green space in the heart of the city. Community gardens are a unique feature of the East Village, reflecting a strong sense of local engagement and environmental consciousness.
St. Mark's Place is a famous East Village street known for its punk rock heritage and vivacious nightlife. Lined with bars, restaurants, and shops, it is a terrific place to experience the energy of the East Village.
The Strand Bookstore is an iconic East Village bookstore and is a must-visit for book lovers. It has been a fixture in the East Village since 1927 and boasts over 18 miles of books.
Founded in 1979 by James C. Nicola, the New York Theatre Workshop is an Off-Broadway theater in the East Village known for premiering impactful contemporary plays like Jonathan Larson's iconic rock musical Rent, which moved to Broadway after its world premiere at NYTW in 1996 and went on to win multiple Tony Awards and a Pulitzer Prize for Drama.
Catch a film at the Village East by Angelika, a Moorish Revival-style theater that dates back to 1925.
East Village cafes, restaurants, and bakeries offer international cuisines and healthy, organic choices. Vegan, vegetarian, or farm-to-table dining are the norm, here.
Veniero's Pasticceria & Caffe was founded in 1894 by two Italian immigrants, Antonio Veniero and Michele Piazzolla, to sell traditional Italian pastries. Veniero's is now a beloved local institution for authentic Italian cannolis and sfogliatelle amidst classic 1950s-era decor.
Lower East Side
The Lower East Side (LES) of Manhattan is a neighborhood formerly synonymous with the immigrant experience in America.
The 19th century saw a massive influx of immigrants to the LES, particularly from Germany, Ireland, and Eastern Europe. Crowded tenement buildings became a symbol of the neighborhood, with many families living in cramped and often squalid conditions. With the influx of various cultures, the LES became a melting pot.
The neighborhood played a vital role in punk rock, avant-garde art, and other cultural movements in the late 20th century when artists moved in looking for cheap rent.
More recently, the LES has seen significant gentrification, with the arrival of upscale restaurants, boutiques, and luxury apartments. While this has led to economic growth, it has also sparked debates over the loss of the neighborhood's historic character and cultural identity.
While no longer a gateway for immigrants, the neighborhood's history is preserved in sites like the Tenement Museum, which offers a glimpse into the lives of early immigrant families. The influence of diverse cultures can be seen in LES architecture, shops, and eateries, forming a tapestry of traditions and experiences.
Iconic culinary establishments like Katz's Delicatessen, an iconic deli serving up pastrami sandwiches and Jewish deli classics since 1888, sit alongside trendy cafes, craft cocktail bars, and international restaurants.
The Essex Market, an indoor food market in operation since 1940, and Hester Street Fair offer local produce, artisan cheese, crafts, and street food.
Economy Candy is an old-fashioned candy store that has been a Lower East Side institution since 1937. It offers a wide variety of candy, including many hard-to-find and nostalgic treats. Whether you're craving traditional Chinese fare or contemporary fusion cuisine, the Lower East Side offers it all.
Art and creativity thrive in the LES. The neighborhood holds numerous galleries like the Perrotin and Richard Taittinger galleries, showcasing both established and emerging artists. The streets are decorated with murals and graffiti, reflecting the area's resounding artistic energy. You can find inspiration in the neighborhood's eclectic mix of artistic expressions.
Shopping in the Lower East Side is another unique experience. Whether you're looking for avant-garde fashion, streetwear and sneakers, or rare vinyl records, the LES provides an exciting and unconventional shopping adventure.
Nightlife in the Lower East Side includes live music venues like Pianos and underground clubs to rooftop bars like Hotel Chantelle with stunning city views. Entertainment options like dancing the night away at a burlesque club (The Box) or enjoying an intimate jazz performance are all possible, making the seedy LES a hotspot for nightlife.
The Lower East Side exemplifies the authentic and ever-evolving nature of New York City, making it among the best NYC neighborhoods to visit. It's easy to cross over into Chinatown on the south side and continue exploring the immigration history of New York.
Meatpacking District
The Meatpacking District's cobblestone streets collide around 14th Street and 9th Avenue, providing the perfect backdrop for some street-style photos.
The Meatpacking District in New York City, once known for its gritty warehouses, has evolved into a fervent and fashionable area, making it one of the best NYC neighborhoods for residents and visitors. Its transformation has brought a unique blend of the old and new, preserving historic architecture while introducing trendy shops, galleries, and dining hotspots.
The district is famous for the High Line, an elevated linear park that offers panoramic views of the city and the Hudson River. This urban park, created from a disused railway line, hosts art installations and provides scenic spots to relax and people-watch.
Gansevoort Market is a cool indoor food hall with over 20 vendors selling everything from pizza to sushi to ice cream. It's a great spot for casual dining and trying new foods!
The Whitney Museum of American Art has one of the city's best collections of 20th and 21st-century American art.
The nightlife in the Meatpacking District is unparalleled with the city's best clubs, lounges, and bars on almost every block! The Standard, High Line is a dreamy hotel featuring a rooftop bar with sweeping views of the city skyline, as well as a popular nightclub and restaurant.
West Chelsea
West Chelsea in New York City is a vibrant area that has attracted attention for its dynamic blend of art, architecture, leisure, and creativity.
One of the major reasons to visit West Chelsea is its status as the heart of the city's contemporary art scene. The neighborhood has over 200 art galleries, showcasing works from emerging and established artists. This dense concentration of NYC contemporary art galleries has turned West Chelsea into a hub for art admirers and collectors.
The High Line, an elevated public park built on a disused rail line, has become a symbol of urban renewal and innovative design in West Chelsea. It offers a unique perspective of the city, with meticulously landscaped gardens, art installations, and stunning views of the Hudson River and the metropolis skyline.
Chelsea Market is a massive indoor food hall with over 35 vendors selling goods like artisanal cheese and lobster rolls, a must-do for foodies looking to sample diverse cuisines.
West Chelsea has distinctive contemporary architecture, with ultra-modern buildings designed by some of the world's leading architects. The area's transformation has led to the construction of visually striking residential and commercial structures, providing a feast for cutting-edge architecture lovers.
One of the more quiet neighborhoods in Manhattan, West Chelsea is where you can get away from the crowds for a short while.
Union Square
Union Square, located in Manhattan, is a lively and multifunctional neighborhood.
At the heart of the neighborhood, Union Square Park serves as a hub for community gatherings, social activities, and relaxation. The park features statues, a playground, and a bustling atmosphere, making it an excellent spot for people-watching and leisure.
The Union Square Greenmarket, held several times a week, is one of NYC's most popular farmers' markets. It offers fresh, locally sourced produce, baked goods, flowers, and more. Visitors can enjoy a taste of regional flavors and meet local farmers and artisans.
The New School, a progressive university is known for its innovative programs, hosts lectures, performances, and other events that are open to the public.
Union Square's central location makes it a convenient base for exploring other nearby neighborhoods and attractions. It's well-connected by public transportation, making it easy to venture into other areas of Manhattan.
Midtown
Midtown Manhattan is the bustling heart of New York City and one of its most iconic neighborhoods, filled with attractions and landmarks that are known the world over. It's an area that blends business, entertainment, shopping, and culture, making it a must-visit for travelers.
One of Midtown's defining features is its impressive skyline, dominated by iconic structures like the Empire State Building, the Chrysler Building, and Rockefeller Center. The observation decks at the Empire State Building and Rockefeller Center offer stunning 360-degree views of the Manhattan skyline.
Times Square, often referred to as "The Crossroads of the World," is in Midtown, famous for its neon lights, massive electronic billboards, and the annual New Year's Eve ball drop. It's an energetic hub of theaters, shops, and restaurants, and a place where there's always something happening.
The Theater District is another prominent feature of Midtown, home to Broadway and theaters that offer world-class plays and musicals. Seeing a Broadway show here is a quintessential New York experience!
Midtown also holds a wealth of cultural institutions, including the Museum of Modern Art (MoMA), an extraordinary collection of modern and contemporary art. St. Patrick's Cathedral, a stunning example of Gothic Revival architecture, is another cultural landmark in the neighborhood.
Shopping in Midtown is among the best. Fifth Avenue hosts a mix of high-end designer stores and well-known retail brands. Flagship stores of many international brands have addresses on Fifth Ave.
Central Park's southern edge is accessible from Midtown, the entry to a green oasis to escape the city's frenetic pace. Walk, bike, or take a horse-drawn carriage ride through the park to enjoy its natural splendor.
With so many world-famous sights packed into Midtown, it's no wonder it's a must-visit area for first-time tourists. The energy and spectacle of this neighborhood make it quintessential New York City.
Lincoln Square
Lincoln Square, situated on the Upper West Side of Manhattan, is an elegant NYC neighborhood with a blend of arts, entertainment, and urban sophistication.
Perhaps the most renowned attraction in the Lincoln Square area, the Lincoln Center for the Performing Arts is a major cultural hub, home to world-class institutions like the Metropolitan Opera, New York Philharmonic, New York City Ballet, and Juilliard School. Whether you're interested in opera, ballet, classical music, or theater, Lincoln Center provides unmatched performance experiences.
Lincoln Square hosts various cinemas, including the AMC Lincoln Square 13, known for its large IMAX screen. The neighborhood is often involved in film festivals and movie premieres, making it a go-to spot for film culture fans.
Fordham University and the Juilliard School add to the intellectual vibrancy of the area, often hosting lectures, workshops, and public classes for the greater NYC community.
Lincoln Square's location near the southwest corner of Central Park provides easy access. The Lincoln Square area extends to the Hudson River, offering scenic views and access to Riverside Park. It's a lovely place to stroll, bike, or simply enjoy the waterfront ambiance.
Williamsburg
Williamsburg, located in Brooklyn, has emerged as one of New York City's dynamic and trendy neighborhoods. It's a destination in and of itself! This is the best and only Brooklyn district on our list of the best NYC neighborhoods to visit.
Strongly associated with American hipster culture, Williamsburg is known for its thriving art scene, hosting numerous galleries, street art displays, and public art.
Venues like the Music Hall of Williamsburg and Brooklyn Steel are renowned for hosting live performances by performing and vocal artists across various genres.
Nitehawk Cinema, an independent movie theater known for its curated film selections, special screenings, and in-theater dining experience is the neighborhood's best cinema.
The Williamsburg Flea Market is a popular weekend shopping spot, featuring antiques, crafts, and food vendors.
Food trucks and gourmet restaurants collide here. Smorgasburg, a massive open-air food market, offers a culinary adventure with a wide range of international cuisines. Innovative restaurants, trendy cafes, and artisanal bakeries abound.
Williamsburg has become a hub for craft beer and spirits, where you can take tours of local breweries and distilleries, such as the Brooklyn Brewery, to learn about the brewing process and enjoy tastings.
The Williamsburg waterfront offers breathtaking views of the NYC skyline. Parks like Domino Park and East River State Park provide scenic spaces for relaxation, picnicking, or simply enjoying the view.
For nightlife in the form of craft cocktails, rooftop bars, or dance clubs, the Williamsburg neighborhood provides plenty of options for an entertaining night out.
---
What are your favorite neighborhoods in NYC?