Wondering what to do in New York on a rainy day? The average annual rainfall in New York City is 49 inches. This amounts to about 4 inches of rain per month on average. What are the best things to do in NYC when it rains? Here are several New York rainy day activities to try!
New York City is an incredible place to explore, but when it rains, it can be difficult to enjoy the city's many attractions. Fortunately, there are plenty of fun, indoor activities you can do in the city when it rains. From visiting world-class museums and art galleries to exploring the city's many shopping centers and arcades, to enjoying a night at the theater or a show at a comedy club, there is something for everyone to enjoy in New York City when it's raining.
Here are the best things to do on a rainy day in NYC: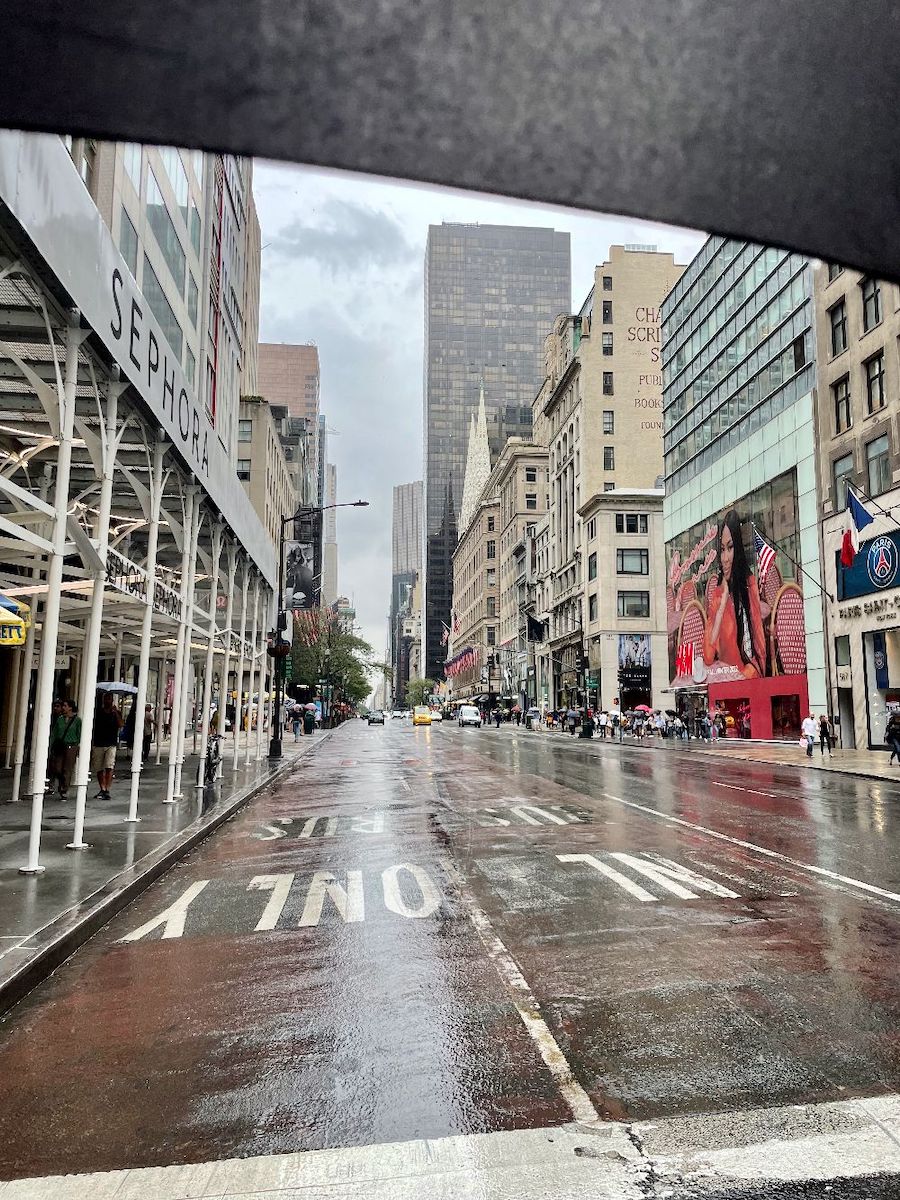 Visit a Museum
New York City has over 80 museums with a variety of collections, styles, and exhibits. Many of these museums offer free admission or discounted rates during the week. Visit the Whitney, Frick, Guggenheim, Metropolitan Museum of Art or the MoMA. There are plenty of amazing art museums open on rainy days in New York! Spending a rainy day exploring art and culture at one of these museums is a great way to stay dry and inspired.
Catch a Movie
With so many movie theaters in the city, you can easily find something to watch. Plus, you can make a day of it with dinner and drinks before or after the show. See an independent movie at IFC Center or Paris Theater.
AMC Lincoln Square 13 is a movie theater located on the Upper West Side and features 13 screens, including an IMAX and a Dolby Cinema. It is a popular choice for blockbuster movies and also hosts special events and Q&A sessions with filmmakers and actors.
Regal E-Walk 13 is found right in Times Square and features 13 screens, including an RPX (Regal Premium Experience) auditorium with a giant screen and immersive sound. It is a popular choice for both blockbusters and independent films.
Landmark at 57 West is a Hell's Kitchen movie theater featuring 8 screens, including a large-format screen and a lounge area with a bar. It is known for showing a mix of mainstream and independent films, as well as special events and Q&A sessions.
The Alamo Drafthouse Cinema is located in Downtown Brooklyn and features 7 screens, as well as a bar and restaurant with a full menu and table service. It is known for its strict no-talking, no-texting policy and its programming of both new releases and cult classics.
Bowling
Bowling is one of the most fun rainy day NYC activities. There are many bowling alleys throughout the city that provide indoor entertainment, rain or shine. Here are a few options to consider:
Bowlmor Times Square is an upscale bowling alley in the heart of Times Square that features 48 lanes, billiards, and an arcade. It also has a full-service bar and restaurant.
Frames Bowling Lounge is a sleek and modern bowling alley in Midtown that has 28 lanes, a full bar, and a restaurant. It also features a DJ and a lounge area with sofas and TVs.
Brooklyn Bowl is a trendy bowling alley in Williamsburg with 16 lanes, a restaurant, and a stage for live music performances. It also features a full bar and a separate dance club.
Escape Rooms
Escape rooms are immersive entertainment experiences where players are locked in a themed room and have to solve a series of puzzles and challenges in order to escape within a set amount of time, usually one hour.
Escape rooms typically have a particular storyline or theme that ties the puzzles and challenges together. They are designed for groups of 2-10 people, and they can be played by friends, family, or coworkers as a team-building exercise.
With several locations throughout NYC, Komnata Quest offers a variety of well-designed escape rooms with themes ranging from horror to adventure. Some of their popular rooms include "Escape the Wild West," "The Impossible Murder Mystery," and "Doctor Frankenstein."
Mission Escape Games, Clue Chase, and PuzzleWorks are some other favorites.
Shopping
The Big Apple is home to some of the best shopping in the world. From high-end department stores to indoor food vendors, you'll have plenty of options to choose from.
Chelsea Market is a popular indoor food hall and shopping destination housed in a historic building that was once a Nabisco factory, and the interior still features some of the original industrial architecture.
The market is known for its wide variety of gourmet food vendors and specialty shops, offering everything from artisanal bread and cheese to fresh seafood and handmade chocolates.
Hit an Arcade
Spend some time playing arcade games and enjoying the classic pastime of pinball on a rainy day in NYC. New York City has many great arcades for both classic and modern gaming fans. Here are some of the best arcades in NYC to check out:
Barcade is a popular spot that combines classic arcade games with craft beer. It features a rotating selection of vintage arcade games from the 80s and 90s, as well as a full bar with over 25 beers on tap.
Modern Pinball in Kips Bay is dedicated to pinball machines and features over 30 machines from different eras. It also has a museum section with rare and vintage pinball machines, as well as a full-service bar.
Two Bit's Retro Arcade in the East Village features a mix of classic and modern games, including pinball machines, vintage arcade games, and new virtual reality games. It also has a full bar with signature cocktails.
Enjoy a Performance
From plays to musicals, there's always a show to see in NYC. Look for discounted tickets to get the most out of your experience. NYC is famous for its theater scene, with Broadway and Off-Broadway shows running year-round. Many theaters also offer matinee performances on rainy days, making it a great time to catch a show.
Visit the New York Public Library
Spend some time in one of the many libraries in the city. From classic literature to new releases, there's something to read for everyone. The New York Public Library is home to millions of books, manuscripts, photographs, maps, and other materials, making it a treasure trove for anyone interested in history, literature, or the arts. Spend a rainy day browsing the collections and discovering something new.
The NYPL offers free guided tours of its historic Stephen A. Schwarzman Building, where you can learn about the library's architecture, history, and collections. Tours are offered daily and last about an hour.
Take a Cooking Class
Take a cooking class and learn how to make your favorite dishes at home while it rains in New York. Rainy days are often a great time to take a cooking class and learn some new culinary skills. There are many options for cooking classes in NYC.
Institute of Culinary Education (ICE) in Battery Park offers a wide range of cooking classes for all levels of experience, from beginner to advanced. Classes include everything from knife skills to global cuisine, and they also offer one-day workshops and boot camps.
The Brooklyn Kitchen is a culinary supply store in Williamsburg offering cooking classes and workshops, including classes on knife skills, pasta-making, and fermentation.
Eataly is a famous Italian market and restaurant in Flatiron that offers a variety of cooking classes and workshops, focusing on different regional cuisines and ingredients. Classes range from pasta-making to pizza-making to wine and cheese pairing.
Get Artsy
Visit an art gallery or take a painting class to get creative. There are many art studios and schools in NYC that offer classes and workshops in a variety of mediums, including painting, drawing, sculpture, and printmaking. Some popular options include The Art Students League of New York, The National Academy Museum & School, and The New York Academy of Art.
NYC is home to numerous art galleries, showcasing a wide range of contemporary and historical art. A rainy day is the perfect time to browse galleries and discover new artists and artworks.
As you can see, New York City is full of unique rainy day activities and attractions both indoors and out, so there's always something to do when the weather isn't cooperating.