Constructed throughout the 1800s, Paris' covered passages, also known as arcades, were built as a way for locals to escape the often rainy weather while still enjoying the city on foot.
Previously numbering in the hundreds, these covered passages have dwindled down into the dozens, but exploring these discrete spots today provides an insider's view of the city, and a chance to return home with a one-of-a-kind Parisian experience.
Today, Paris' covered passages offer everything from vintage shops to international cuisine, all found under the alluring, glass ceilings of these covered halls.
These passages carry the French charm you'd hope to find in a trip to Paris – an epic, arched entryway, marble floors, and wood-adorned shop fronts reflective of the past. They are a gateway into Paris' history and an eclectic activity all can appreciate.
Walking through a Parisian covered passages is like taking a step back in time to 19th century Paris.
Here are some of the best covered passages in the city of Paris.
Galerie Vivienne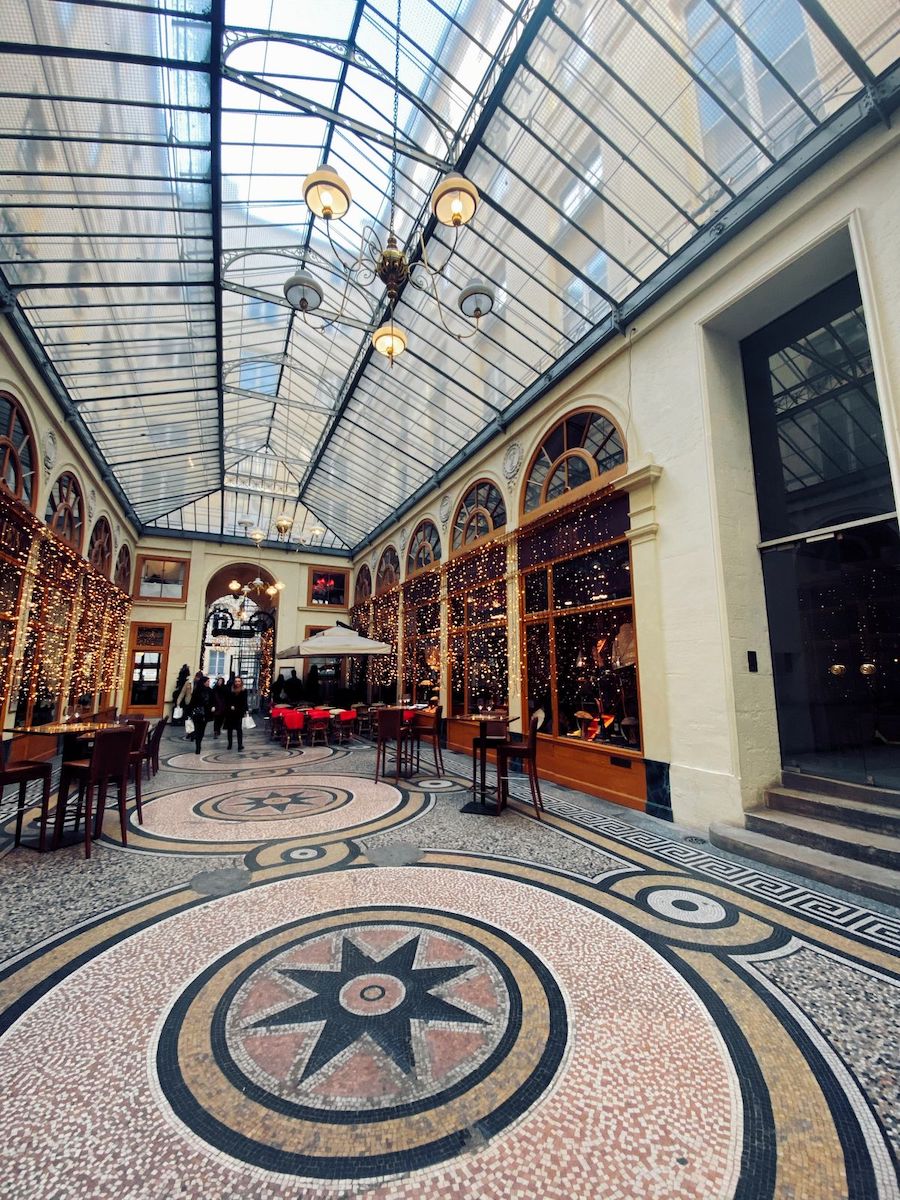 Walking through Galerie Vivienne is reminiscent of the time period it was built in, the early 1820s. Tucked between the Bistrot Vivienne, detailed sculptures are carved into the top of the gated Galerie entrance as if it were a grand French cathedral. Filled with natural light from its glass-topped roof, you can find this covered passage tucked away in the 2nd arrondissement of Paris. One of the most popular covered passages in Paris, you'll find very elegant boutiques that range from clothing shops to home decor. Whether you're planning to shop extensively or not, the opulent passage itself is reason enough to pay a visit.
Galerie Colbert
Built at the same time as its nearby counterpart Galerie Vivienne, Galerie Colbert is an extravagant covered passage complete with marble pillars and an iconic dome-shaped, glass ceiling inside it, one of its main highlights. Although it originally began as a shopping passage, today it's open to public visitors not as a commercial center but as an important cultural landmark for the city, housing the Bibliotheque Nationale de France – the French National Library, and several of the country's official art institutes.
Passage des Panoramas
Another covered arcade in the 2nd arrondissement of Paris is the Passage des Panoramas, one of the earliest built passages in the city. In this passage, you'll almost forget you're strolling through the inside of it, as natural light beams through the ceiling and the halls are lined with restaurant chalkboards featuring the menus of the day.
Passage des Panoramas is the perfect place to get your non-French dining fix; it's known for its international cuisine from Indian to Japanese dining. Depending on the time of year, you'll stroll this covered passage under holiday ornaments or timely decorations of the season. Perhaps the most notable place within the Passage de Panoramas is the Théâtre des Variétés, a historic theater still in use today that's been in operation since the beginning of the 1800s.
Passage du Grand Cerf
For a more eclectic passage experience, the Passage du Grand Cerf is a trendy covered arcade with unique shopping from handmade jewelry to vintage shops. At night, take your pick of chic French bistros to dine at in this epic passage. With glass ceilings reaching nearly 40 feet and three stories high, you'll find this narrow passage embellished with decor hanging down from these tall ceilings, adding to its grandiose ambiance.
Passage Jouffroy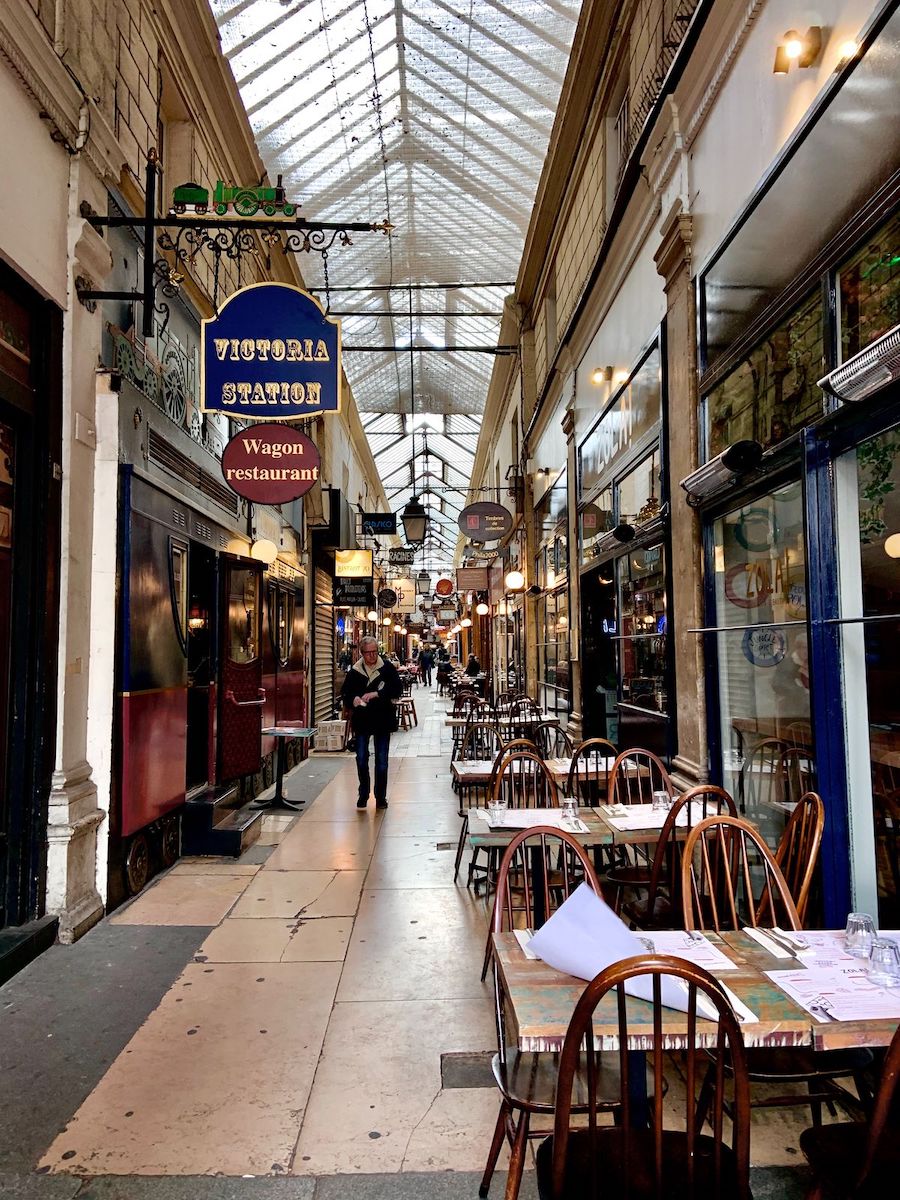 At the cusp of the 2nd and 9th arrondissement is Passage Jouffroy. A vision of Paris' past, Passage Jouffroy maintains its wood-adorned charm mixed with iron and glass architecture and marble floors. With some of the most varied shops among the covered passages in Paris, some of its quirky spots include an umbrella repair shop and toy shops like The Toy Box and Tin Tin, both shops filled with trinkets where you can even get blueprints for a custom-made dollhouse. For literary aficionados, one of Paris' oldest bookstores lives in this passage, founded back in 1850, with everything from affordable books to crafting literature.
When mentioning Passage Jouffroy, its description wouldn't be complete without the famous Hôtel Chopin, completely submerged in the Passage Jouffroy, and the only hotel located inside of one of Paris' covered arcades. For a stay in the City of Lights, it's hard to beat Hôtel Chopin's charm and peaceful environment.
Galerie Véro-Dodat
Moving closer to the hustle and bustle of the city, you'll find Galerie Véro-Dodat near the iconic Louvre Museum. It's recognizable by its checkered black-and-white tiling and clean-cut facade leading you into it. Characterized by similar qualities of other passages – artisan boutiques, bistros, bookstores, and wooden shop exteriors – what makes it unique is its ideal location.
Tucked between some of the most trafficked areas in all of Paris, it offers visitors relatively affordable shopping and eateries in the midst of its expensive surroundings. Although it was extremely well-known in its heyday of the early 1900s, today it's more low-key, and considered an insider spot that not many know about.
Passage Verdeau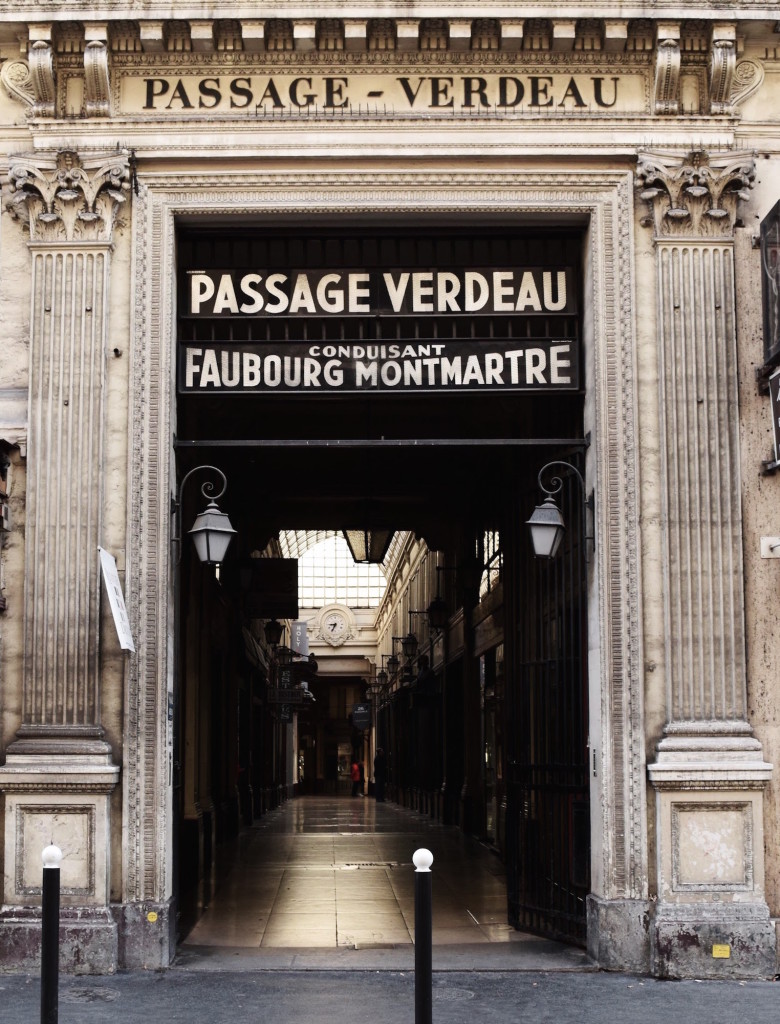 Passage Verdeau is one of the first passages I discovered in Pariss on my own many years ago. This passageway is found right across the street from Passage Jouffroy and was built by the same Parisian architects, making it a great way to see both covered passages while you're in the 9th arrondissement. The perfect spot to pick up all things antique, you can find everything from vintage books once owned by Parisians from the past to antique film cameras.
---
To help preserve a key piece of Parisian history, visiting the covered passages is a great way to support the small businesses operating inside of them. Not to mention, these passages are a fantastic way to collect original souvenirs on your trip to the City of Lights and leave an authentic French memory in your mind. So, the next time it's raining in Paris, head to the covered passages and make the most of your day!