Looking for the best macarons in Paris can make for somewhat of a treasure hunt. Macarons are one of the most highly sought after pastries in Paris and greater France. Macarons should not be confused with macaroons – a different type of pastry. Macarons are a French bakery confection made with meringue, egg white, sugar and almond powder. Macarons are recognizable because they appear as a little sandwich: perfectly round, about 2 inches wide, with two rounded cookies holding a sweet filling in between.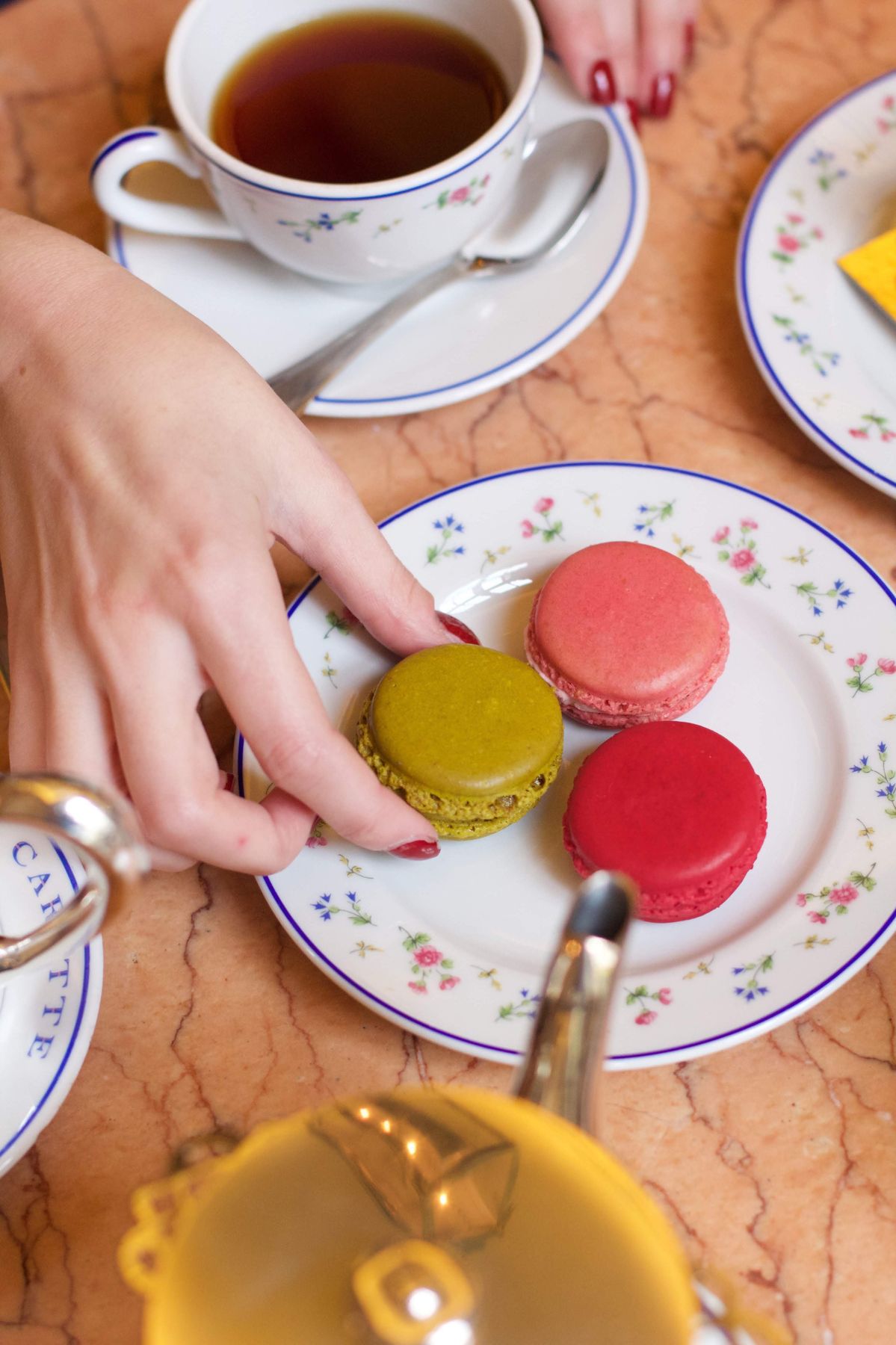 Macarons in French Culture
Before I get into where you can purchase macarons in France, I wanted to share a bit of history about this sweet pastry to give you an idea of what to expect!
Where did French macarons originate?
Like many aspects of French culture and tradition, the macaron has a long and somewhat disputed history.
The earliest sign of macarons was found in Venetian monasteries during the 8th century AD. It is believed they came to France through the French queen Catherine de' Medici, who originally hailed from Florence. De Medici commissioned her Italian pastry chefs to bake them after she brought them with her to France in 1533, after marrying Henry II of France.
However, the Larousse Gastronomique claims that macarons were invented in a convent near Cormery in 1791. The following year, two nuns sought asylum in Nancy during the French Revolution and sold the pastry to pay for their housing. They became known as the "Macaron Sisters" but their macarons were served plain, without any special flavors.
Around the 1930s, macarons started appearing as the double sided pastry we know them to be. Jams, liqueur and spices to create a variety of tastes and flavors. In Paris, the macaron was composed of two almond meringue biscuits smushed around buttercream, jam or ganache filling.
It is unknown whether Pierre Desfontaines who worked for the French pâtisserie Ladurée or Claude Gerbet, another baker, invented the modern macaron. This macaron was sometimes called the "Gerbet" or "Paris macaron."
What are the best macaron flavors?
Macarons come in a wide variety of flavors but my favorites are the raspberry, pistachio, vanilla and almond ones!
How much does a Macaron cost in France?
One of the great things about macarons is that they are so affordable. Now, relative to the amount of food you actually receive for the cost, they aren't exactly a bargain. BUT if you are tight on cash and still want to try this delectable treat, then you can absolutely get buy with purchasing 1-2 macarons, which sell for about 2.5 euros each at a high end patisserie. Your local boulangerie will probably sell them for 1-2 euros each. As you can see, macarons are not out of reach for most travelers to Paris. They can be an affordable way to experience French food culture without going over budget!
How long are macarons good for?
Macarons can last several days if you keep them in the refrigerator. However, I'd recommend purchasing them on the same day you plan to eat them for ultimate freshness! I've even purchased macarons in the morning, flown back home to New York, and enjoyed the macarons with friends that evening before.
Where can you find the best macarons in Paris?
If you're ready to try the best macarons in Paris, I did some taste testing and am happy to share six of my favorite places to buy macarons in Paris. This list attempts to focus on authentic French producers of macarons.
1. Pierre Hermé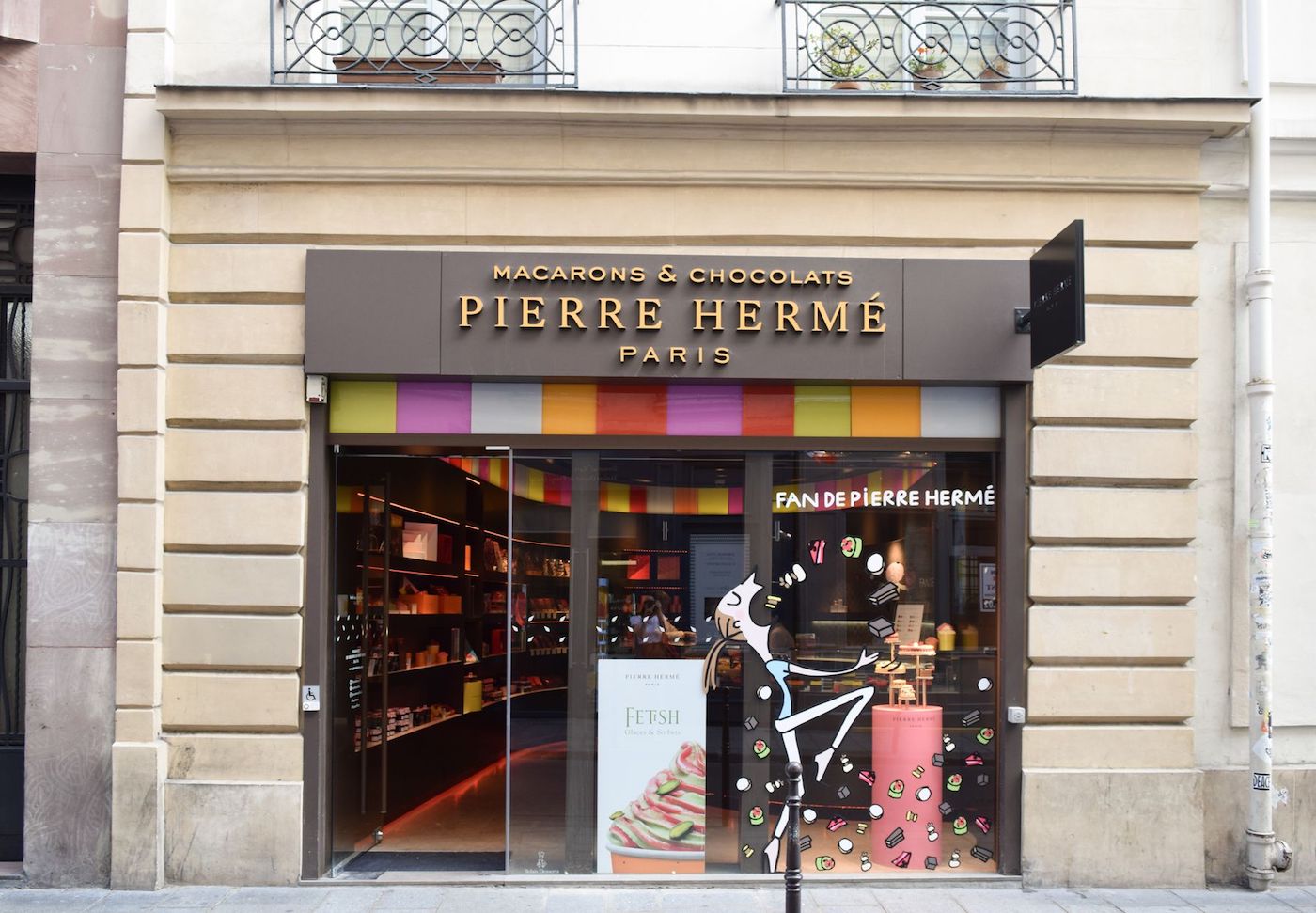 This is my all-time favorite place to buy macarons when in Paris. Pierre Hermé has essentially devoted his life to mastering the art of French pastries – specifically the macaron. Hermé trained under master French chef Gaston Lenôtre at the age of 14! In 2016, his success as a pastry chef earned him the title of World's Best Pastry Chef.
You can visit a Maison Pierre Hermé Paris at the following locations, among many more:
72 Rue Bonaparte 75006 Paris
86 avenue des Champs-Elysées 75008 Paris
61 rue Bonaparte 75006 Paris
4 rue de Bretagne 75003 Paris
46 Rue cambon 75001 Paris
39 avenue de l'Opéra 75002 Paris
Now, don't be put off by the fact that this Parisian pastry shop has multiple locations! Normally I try to shop local but you can absolutely trust Pierre Hermé who has expanded his brand successfully without diluting the quality. I have shopped at several different locations and am never disappointed by my treats!
2. Ladurée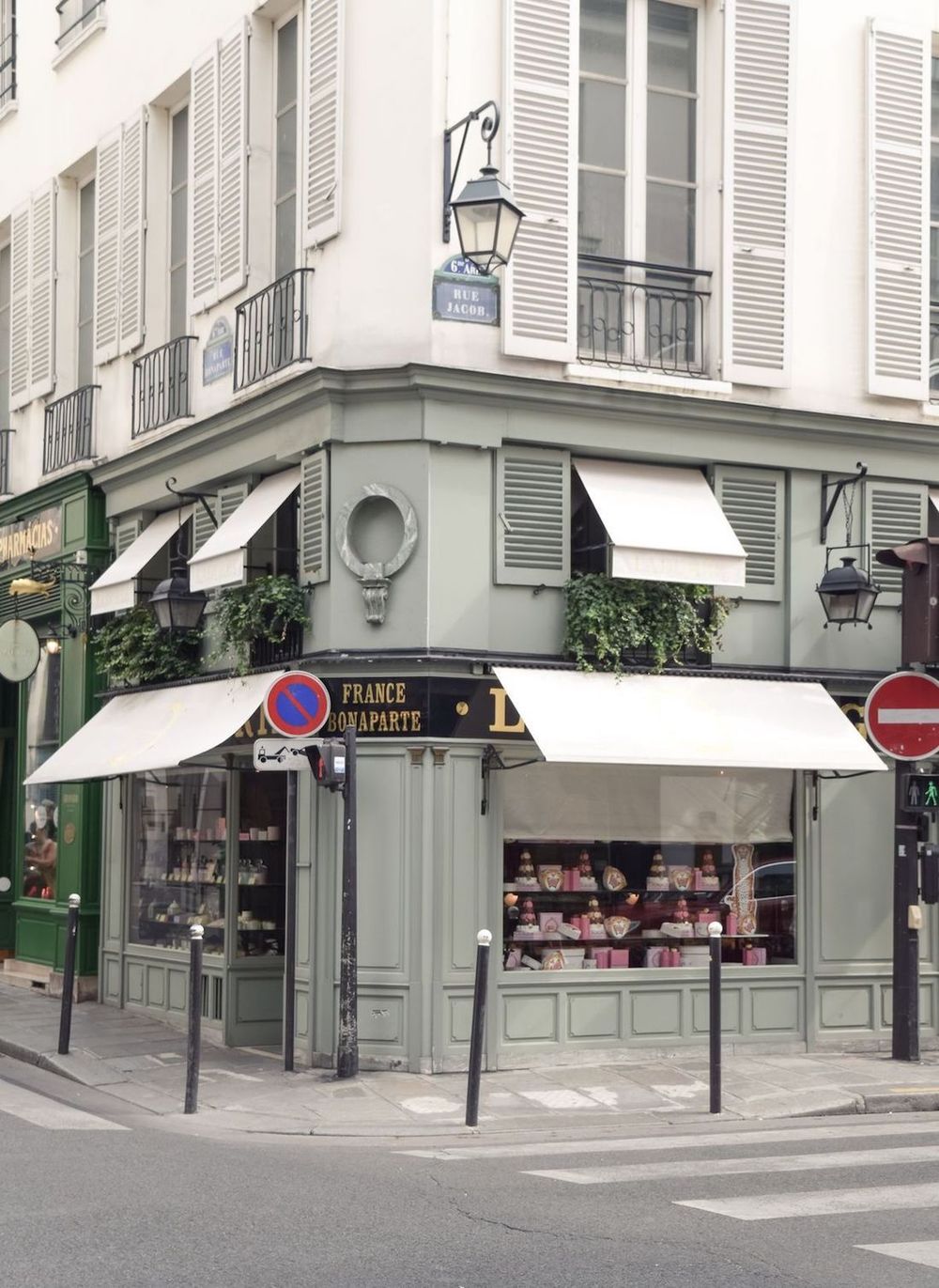 No guide to macarons in Paris would be complete without a mention of Ladurée, arguably the brand that started a worldwide firestorm of macaron popularity. Ladurée is a luxury bakery that was founded on Rue Royale in Paris, France in 1862 by writer and miller Louis Ernest Ladurée. In 1930, Louis Ernest's grandson, Pierre Desfontaines began selling the double sided macaron we know today. Today, the shop sells upwards of 15,000 macarons every day across the globe.
Now, I'm going to be honest with you: As charming as their history may be, Ladurée has become a tourist trap in Paris. It's not someplace that I enjoy going for this reason, but I can understand the appeal, especially for first-time visitors to Paris so that's why I have it listed.
75 Av. des Champs-Élysées 75008 Paris
3. Carette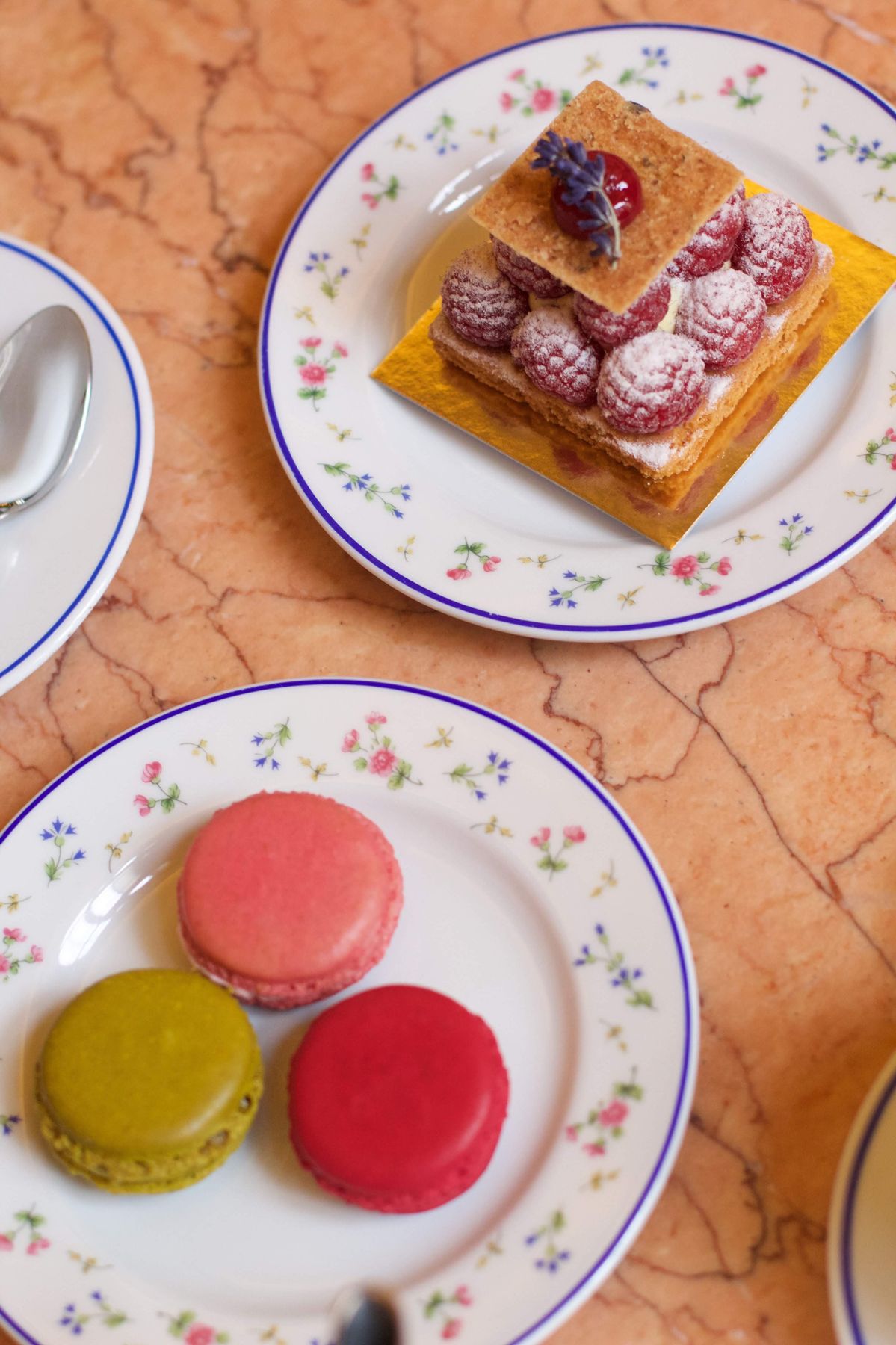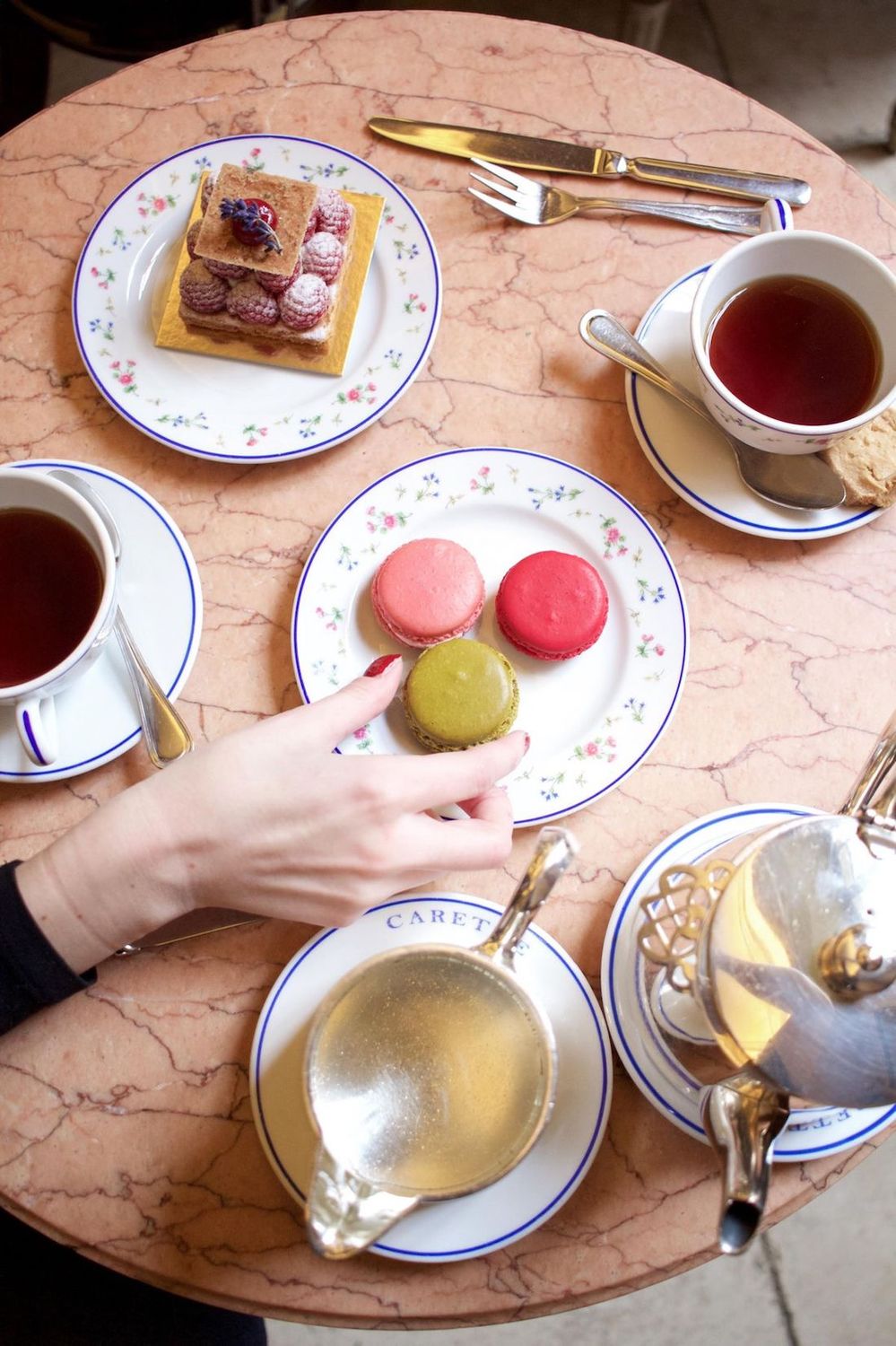 Carette is one of the chicest places to eat macarons in Paris. It's quite the experience in and of itself and emphasis is on taking your time to relax and enjoy your pastries! Carette opened in 1927 by a man named Jean Carette and his wife, Madeleine, in Place du Trocadéro.
Carette still occupies the Place du Trocadéro as well as two other locations:
25 Place des Vosges 75003 Paris
7 Place du Tertre 75018 Paris
4 Place du Trocadéro 75016 Paris
4. Angelina
Angelina is a famous teahouse founded in Paris in 1903 by Austrian confectioner Antoine Rumpelmayer. Along with serving delicious macarons, you can enjoy its famous hot chocolate (chocolat l'Africain). During the 20th century, Angelina was frequented by elite Parisians, including Marcel Proust and Coco Chanel.
226 Rue de Rivoli, 75001 Paris, France
19 Rue de Vaugirard, 75006 Paris, France
108 Rue du Bac, 75007 Paris, France
5. Mulot
The most modern of the bunch, baker Gérard Mulot brings a fresh breath of air to a traditional baking industry. He describes pastries as the indisputable jewel of French gastronomy.
76, rue de Seine 75006 Paris
The Legacy of the Macaron
Macarons gained enormous popularity outside of France around 15 or so years ago. It probably began with Sofia Coppola's cult classic, Marie Antoinette film of 2006, where colorful French pastries including macarons were a symbol of decadent 18th century luxury for the film's protagonist. Ladurée created the pastries for the film! Ladurée opened up their first US location on New York's Madison Avenue in 2011. Since then, macarons have epitomized the French pastry obsession some Americans have!
If you ask me, the macaron is the one pastry you must try while in Paris. It's also the most accessible, which is why I advise it to everyone!