Pierre Hermé Paris is a prestigious gourmet French pastry brand. It was founded by the renowned pastry chef, Pierre Hermé. Hermé started his career at the age of 14 as an apprentice to Gaston Lenôtre. He is especially known for his innovation in pastry-making, often referred to as the "Picasso of Pastry" by Vogue magazine.
Famous Pierre Hermé Macarons
Pierre Hermé is particularly known for his delicious macarons. Costing between 2-3€ each, they're an affordable way to savor a French pastry masterpiece.
Pierre Hermé is famous for his innovative approach to macaron flavor combinations. He revolutionized the traditional macaron by incorporating unusual yet harmonious flavors and textures, taking the French culinary world by storm.
He is known for creating a plethora of unique and seasonal flavors every couple of months that go beyond the conventional offerings.
Some of the famous flavors developed by Pierre Hermé are:
Ispahan: This is a combination of rose, lychee, and raspberry, which is also featured in his renowned Ispahan pastry.
Mogador: A popular flavor that blends the tanginess of passion fruit with the richness of chocolate.
Infiniment Vanille: A luxurious macaron with a complex blend of vanillas from various regions.
Infiniment Chocolat: A delight for chocolate lovers, crafted with pure origin Venezuelan chocolate.
Jardin Enchanté: A seasonal offering that brings together the flavors of rose and cranberry.
Pierre Hermé's approach to macarons is characterized by precision and creativity. His dedication to finding the finest ingredients and his pairing flavors elevates the humble macaron to a gourmet experience.
This creative spirit and dedication to excellence have made Pierre Hermé a prominent name recognized globally!
The Best Pierre Hermé Pastry: Ispahan
The Ispahan is a signature pastry created by Pierre Hermé. This delicacy is characterized by a harmonious blend of flavors and textures, combining lychee, rose, and raspberry in one exquisite dessert.
At the core of the Ispahan is a luscious lychee and rose-flavored cream, which is enveloped by layers of macaron shells. These elements are complemented by fresh, slightly tart raspberries, which balance the sweetness of the other components.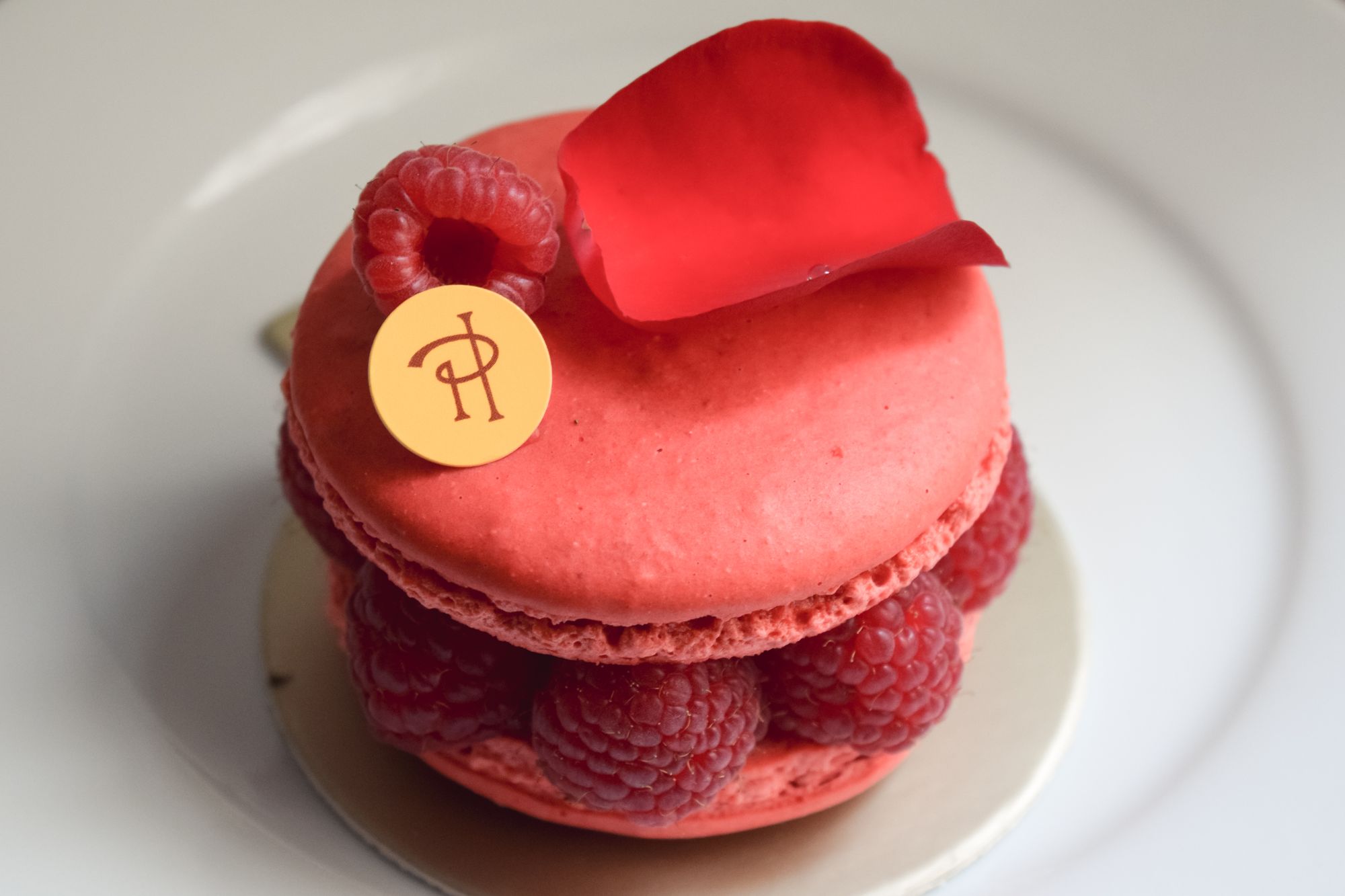 It is garnished with a single, carefully placed rose petal and a sprinkling of dried lychee pieces, which not only add to the taste but also contribute to the visual appeal of the pastry.
The Ispahan has become one of the defining creations of Pierre Hermé's career, showcasing his knack for pairing unique flavors and textures in a manner that is both innovative and harmonious.
Seasonal Pierre Hermé Pastries
Pierre Hermé releases a number of seasonal pastries that reflect the ingredients and spirit of the times.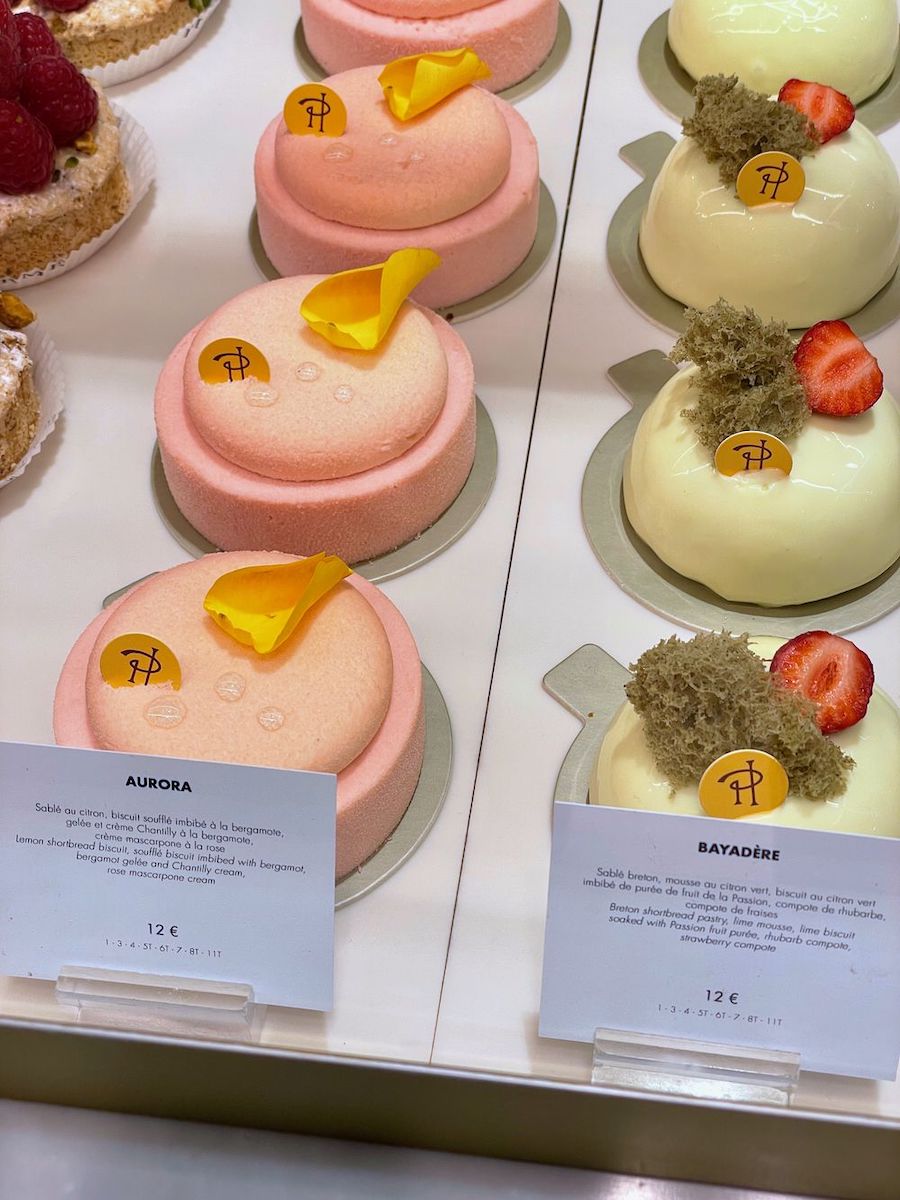 Pierre Hermé Boutiques
The brand, Pierre Hermé Paris, offers a wide variety of luxury pastries, including his famous macarons, chocolates, and cakes. Pierre Hermé operates numerous boutiques worldwide, where these creations are sold.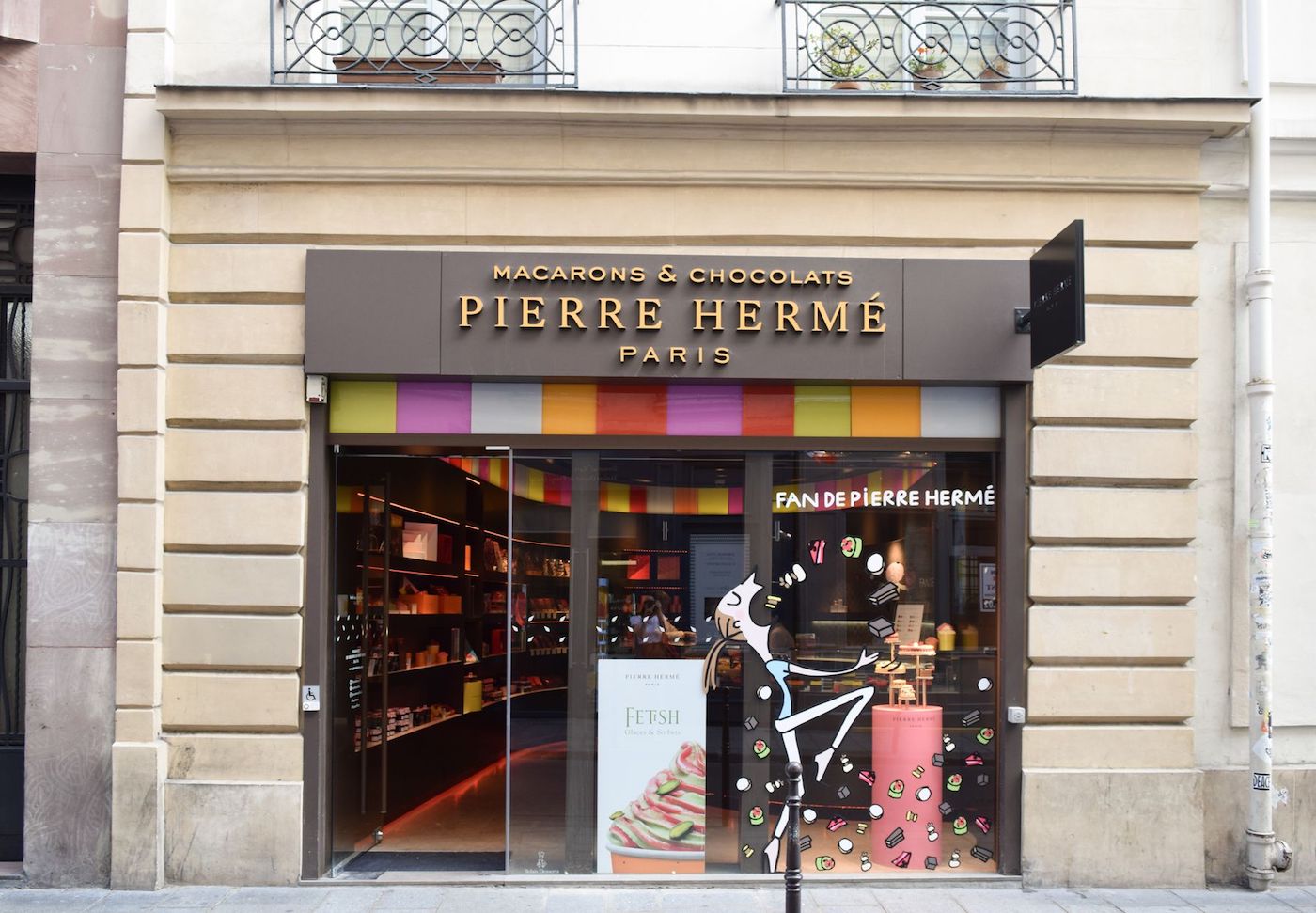 The Pierre Hermé brand is synonymous with quality and innovation, often incorporating unique flavors and ingredients into traditional French pastry recipes. Pierre Hermé products are recognized for their fine quality, making them a favorite among gourmet pastry fans globally.
72 Rue Bonaparte, 75006 Paris
4 Rue Cambon, 75001 Paris
39 Avenue de l'Opéra, 75002 Paris
3 Rue Jean du Bellay, 75004 Paris, France
18 Rue Sainte-Croix de la Bretonnerie, 75004 Paris
4 Rue de Bretagne, 75003 Paris, France
89 Bd Malesherbes, 75008 Paris, France
58 Av. Paul Doumer, 75116 Paris, France
185 Rue de Vaugirard, 75015 Paris
Pierre Hermé Cafés
Pierre Hermé cafés and boutiques are distinct, although they both fall under the umbrella of the Pierre Hermé Paris brand.
The cafés provide a space to savor the pastries and sweets crafted by Pierre Hermé in a relaxed, upscale setting. Often, they may also offer a slightly expanded menu, featuring light meals and a larger selection of beverages, making them a destination for more than just sweets.
The Pierre Hermé Beaupassage Café and the 86Champs concept store are both worth checking out if you have time!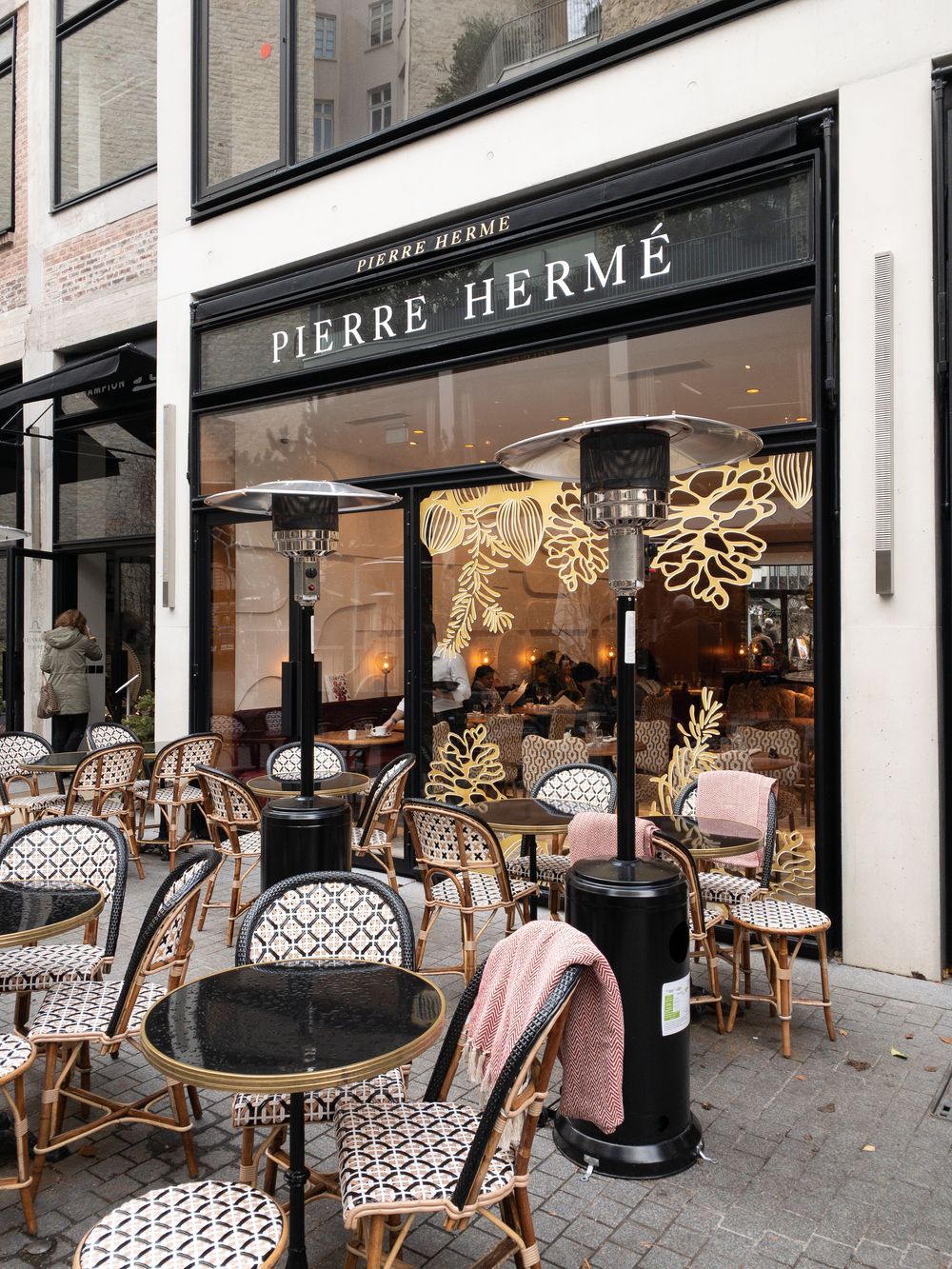 The boutiques primarily focus on offering a wide range of takeaway products such as macarons, chocolates, cakes, and other pastries, while Pierre Hermé cafés offer a sit-down experience where customers can enjoy a selection of the brand's pastries, along with a range of beverages like tea, coffee, and hot chocolate.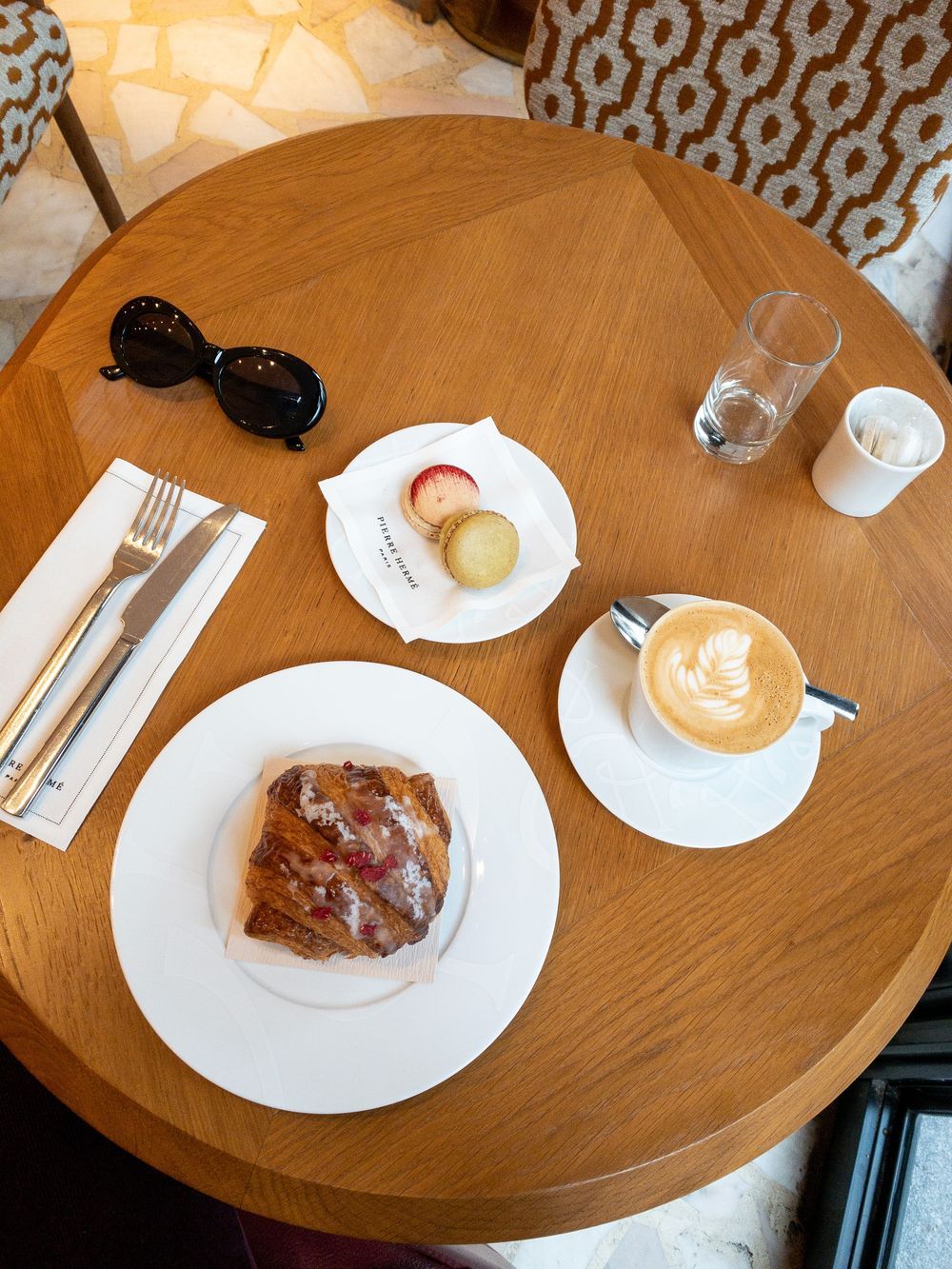 126 Boulevard Saint-Germain, 75006 Paris, France
43 Rue Saint-Placide, 75006 Paris, France
53 – 57 Rue de Grenelle, 75007 Paris, France
133 Avenue des Champs-Élysées, 75008 Paris, France
Place de la Résistance, 75007 Paris, France