Chez Meunier boulangerie in Paris is a feast for the eyes! Every time I go, there's a new bakery item I discover that I love. I discovered the place at Galeries Lafayette Le Gourmet and since then I've been hooked!
The bakery is an organic boulangerie with several locations in Paris. They actually just won the 2023 best croissant in Paris award from the city!
KNOW BEFORE YOU GO: Customer service at Chez Meunier is terrible. That doesn't mean it isn't worth visiting, but you need to be prepared to interact with rude employees who aren't happy to fix their mistakes.
Most Google Maps reviews of Chez Meunier are pretty bad and I can understand why. It's mostly due to the store's very slow and rude staff who really don't care about customer service. It can take 20 minutes to get through the ordering and paying process with your items during busy times.
I've been overcharged before for items I didn't order here so watch closely what they add before paying. While it isn't a problem to make a mistake, the employees become angry and annoyed when you ask them to fix the bill so you can make the correct payment. It's a shame because I like their products but it's always stressful to visit!
Yes, Chez Meunier employees and managers move slowly and aren't polite, but honestly, most boulangeries in Paris have the same problem as this one.
Some customers noted that the items were dry, too. While I haven't had that experience, it seems like the bread and bread cakes from Chez Meunier were the most disappointing. I don't go there for those items, personally. It's probably better to go to an independent boulangerie in that case.
I like Chez Meunier for their sweets – sweet breads, croissants, and pastries. Everything listed in this article is something I personally tried and enjoyed unless noted otherwise.
There is also a 1.5€ surcharge for eating what you buy in the store at the tables and chairs.
Here are my recommendations on what pastries and baked goods to buy from Chez Meunier.
Viennoiserie
Chez Meunier has your standard variety of French viennoiserie like croissants, chocolate croissants, almond croissants, and pain aux raisins.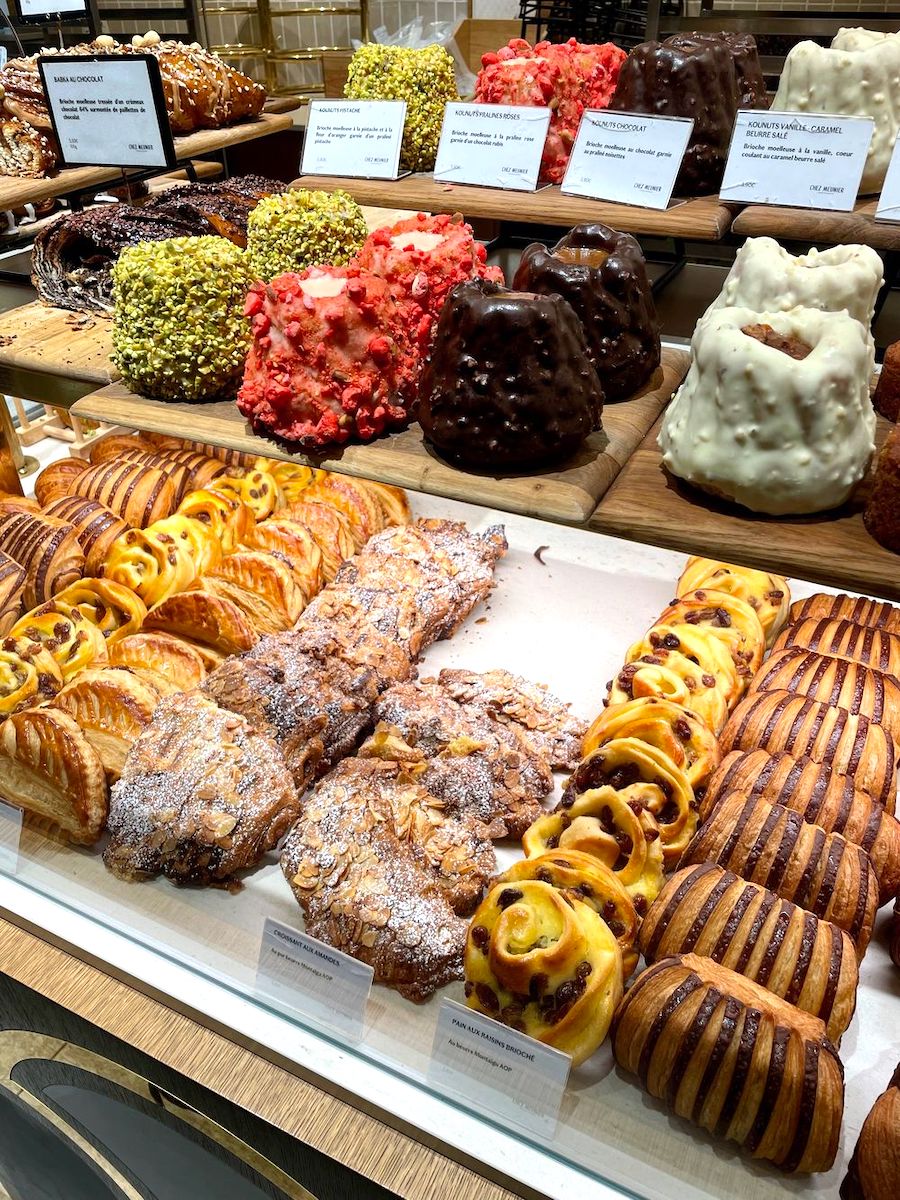 New York Rolls
These New York rolls looked delicious! I haven't tried them but I'll report back when I do. They were available in pistachio and "fruits rouge" (red fruit) flavors.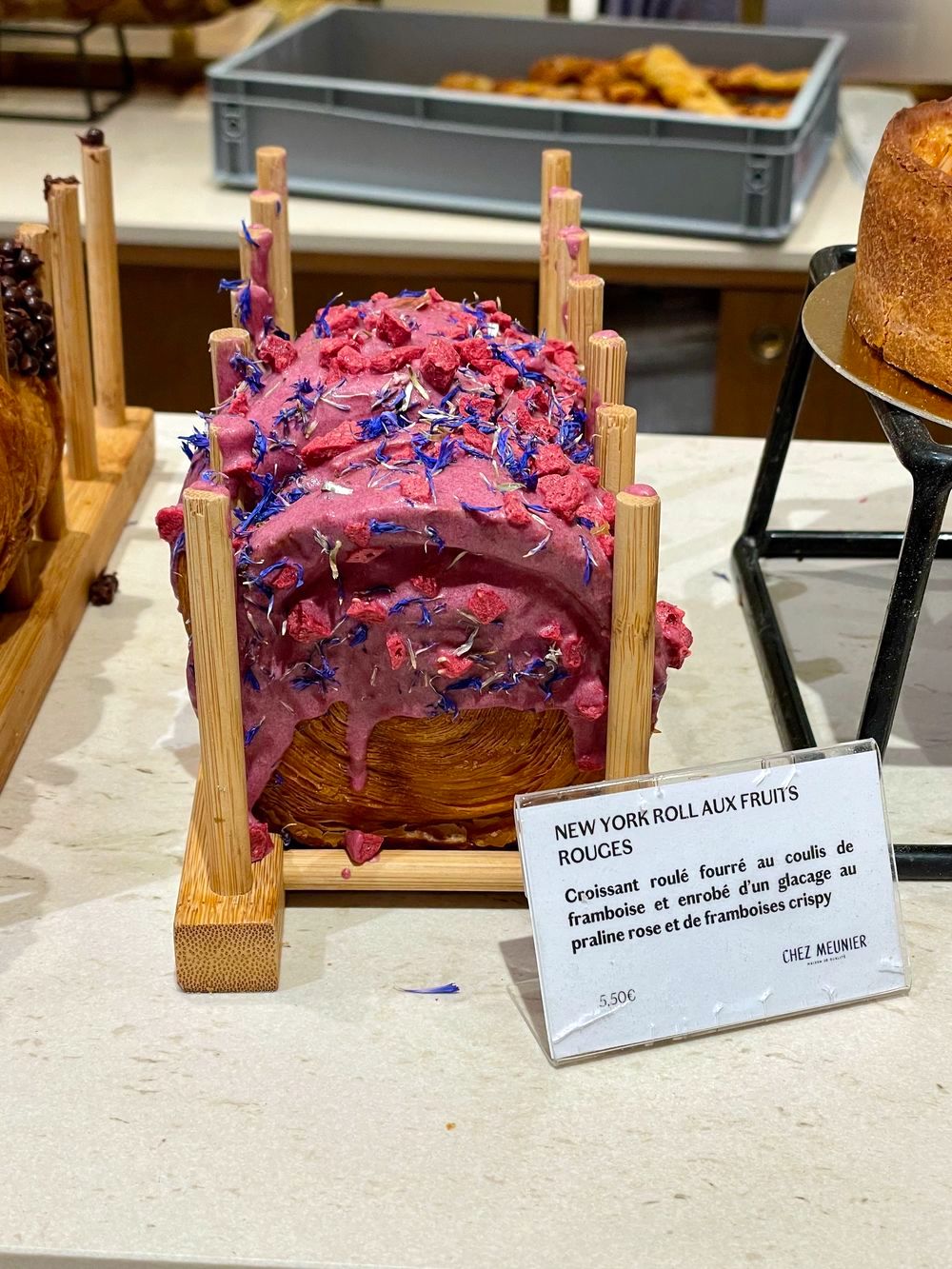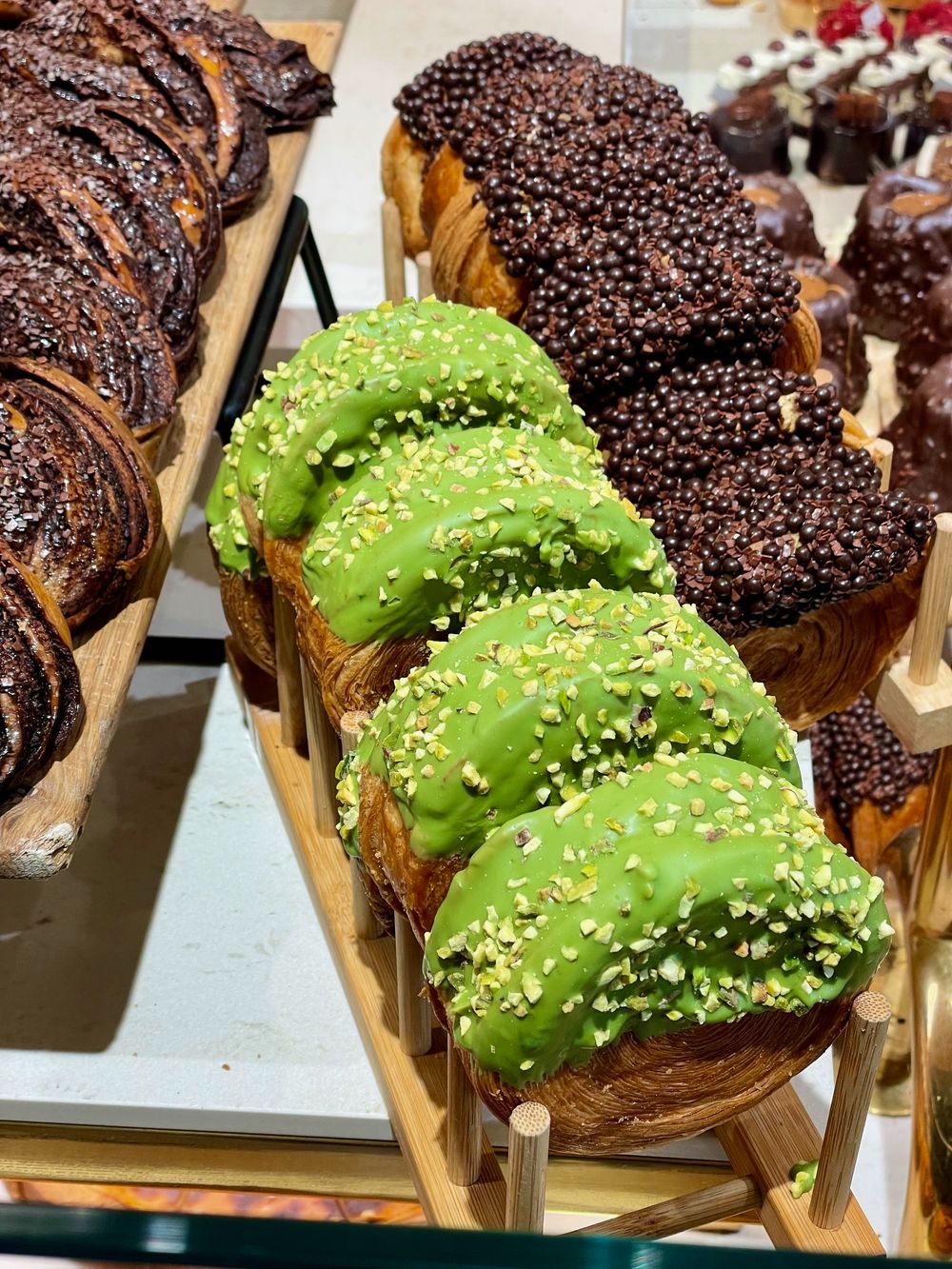 Big Pain au Chocolat
Maybe you have seen those oversized chocolate croissants on Instagram? Chez Meunier is where to buy them! These big chocolate croissants are great for sharing.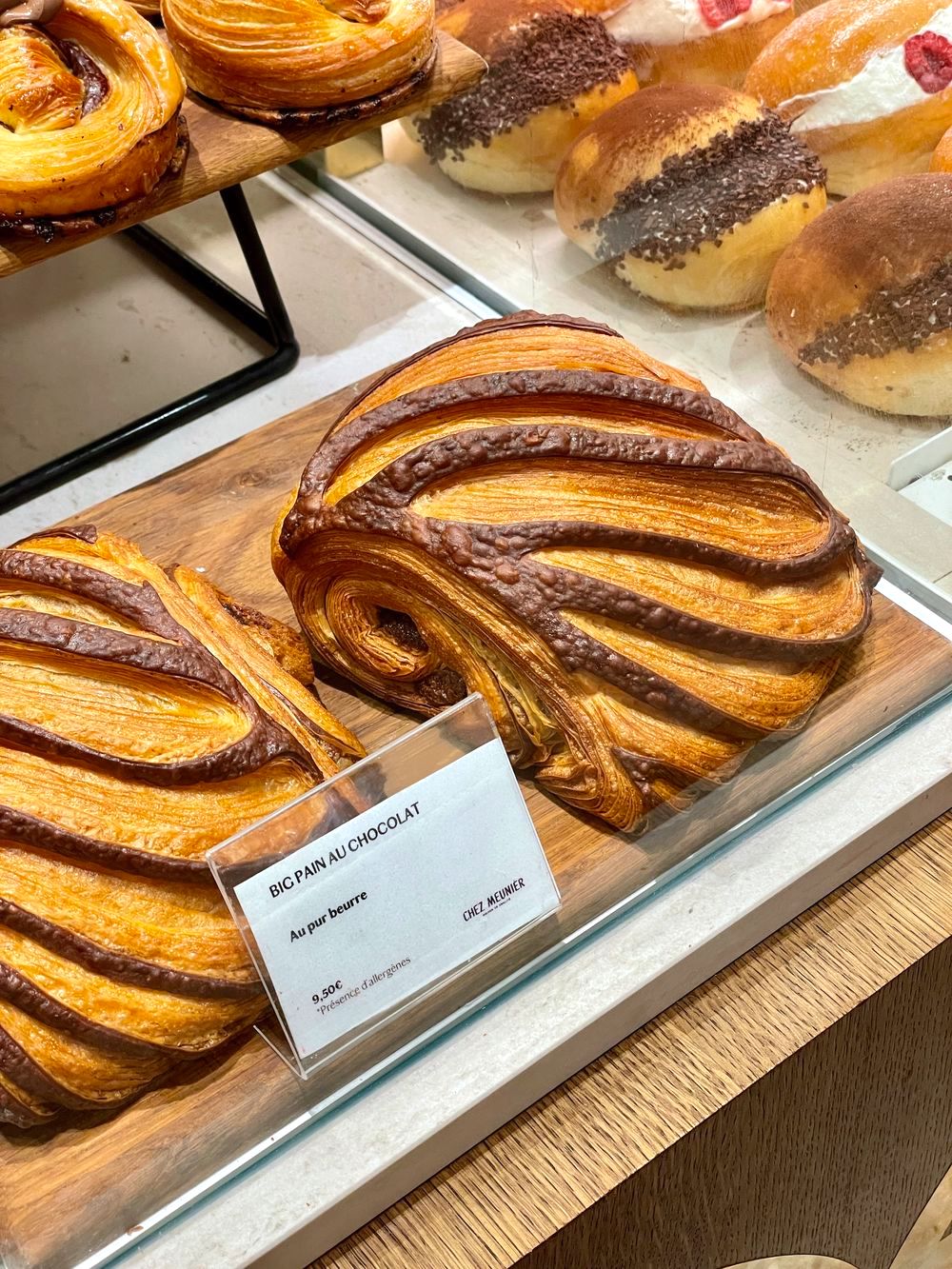 Noeud Gourmand
I had this knotted croissant topped with Nutella tartine on top one morning. I didn't expect it to have a chocolate chip cookie attached beneath, but it did! This one was really good but very sweet.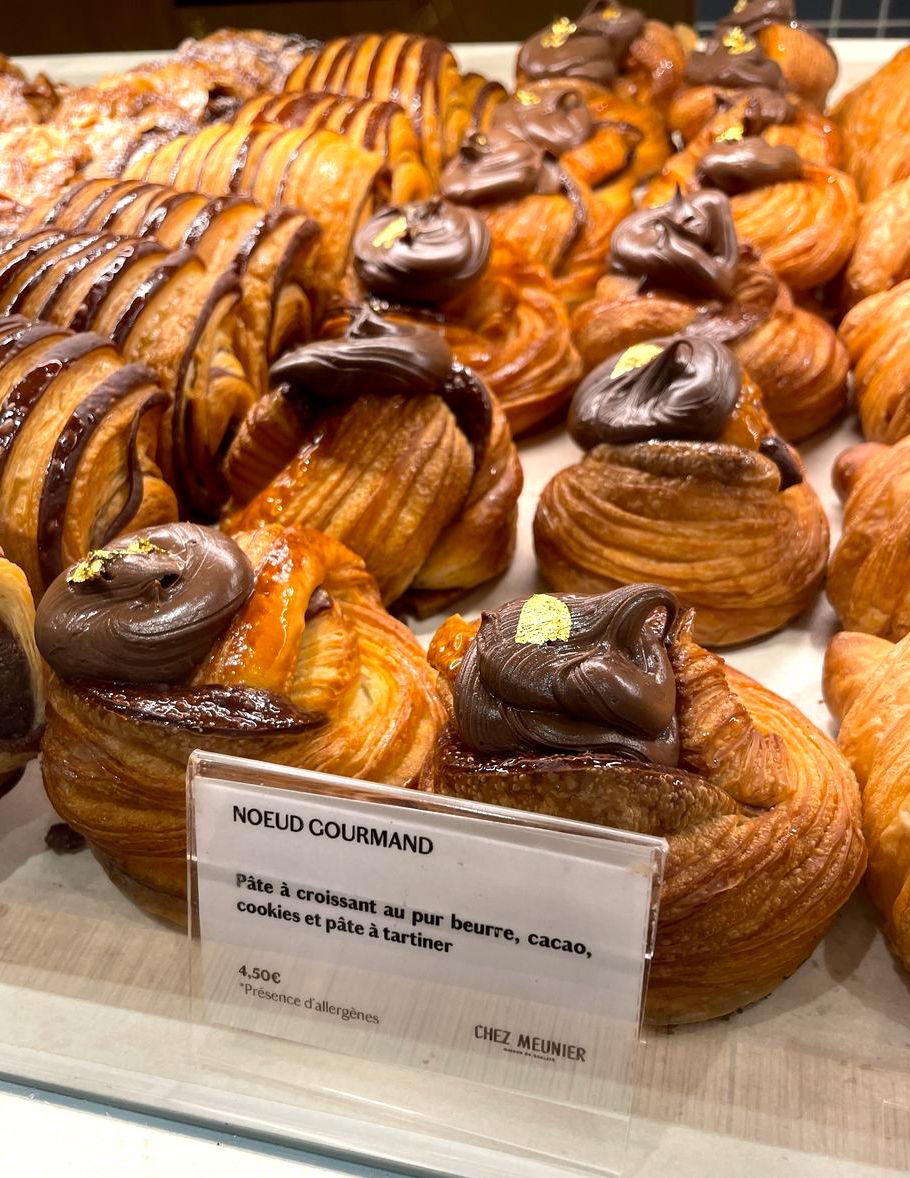 Croissant Rocher
This is a chocolate-coated croissant that is absolutely delicious! It has a chocolate filling too.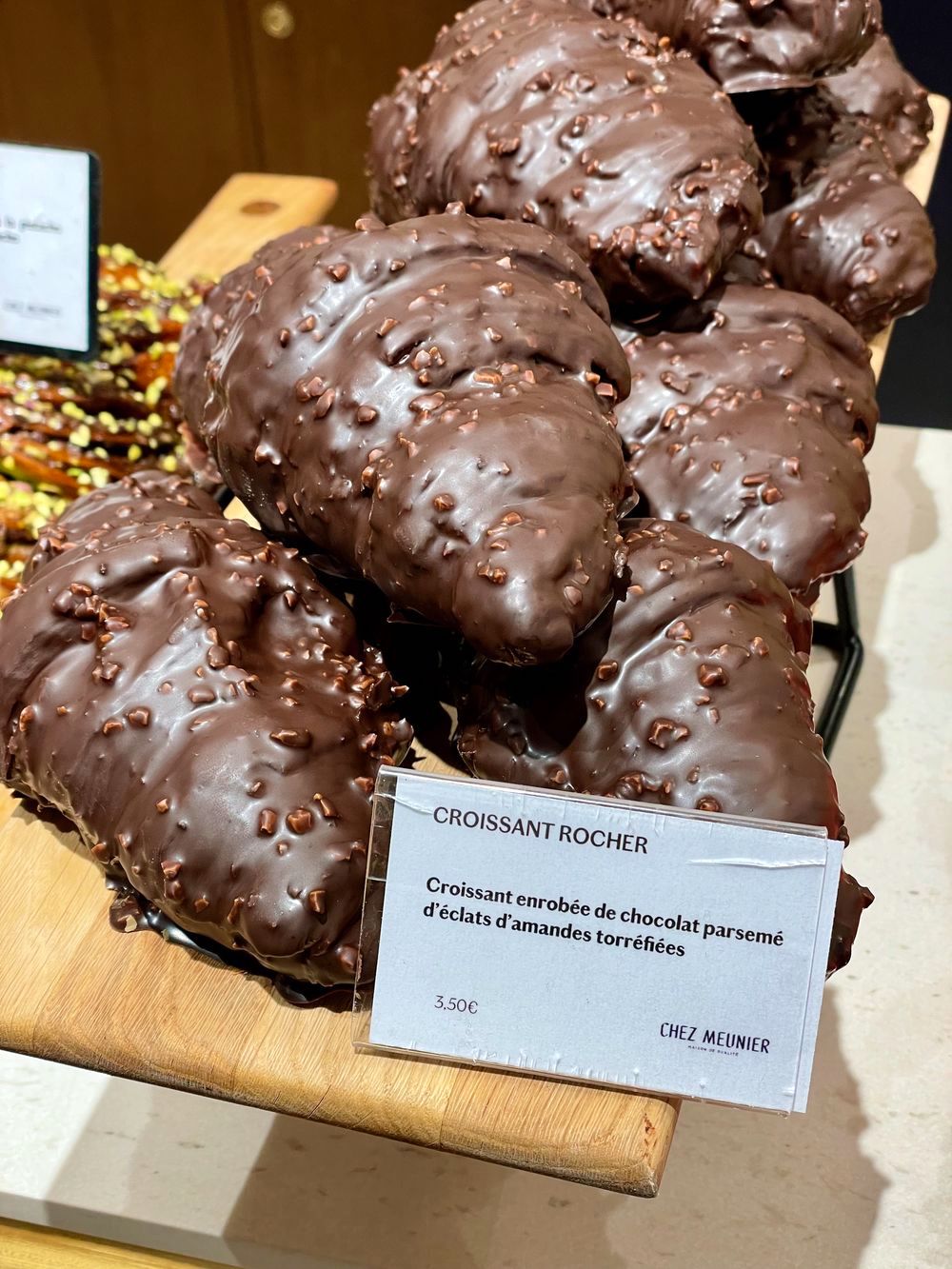 Coated Pistachio, Rose, and Apricot Croissants
One day I came across these brightly colored croissants. Upon closer inspection, I learned that these are coated in icing with different flavors! The pink croissant is "rose" flavored, the green is "pistachio-matcha" flavored, and the orange one is "apricot" flavored!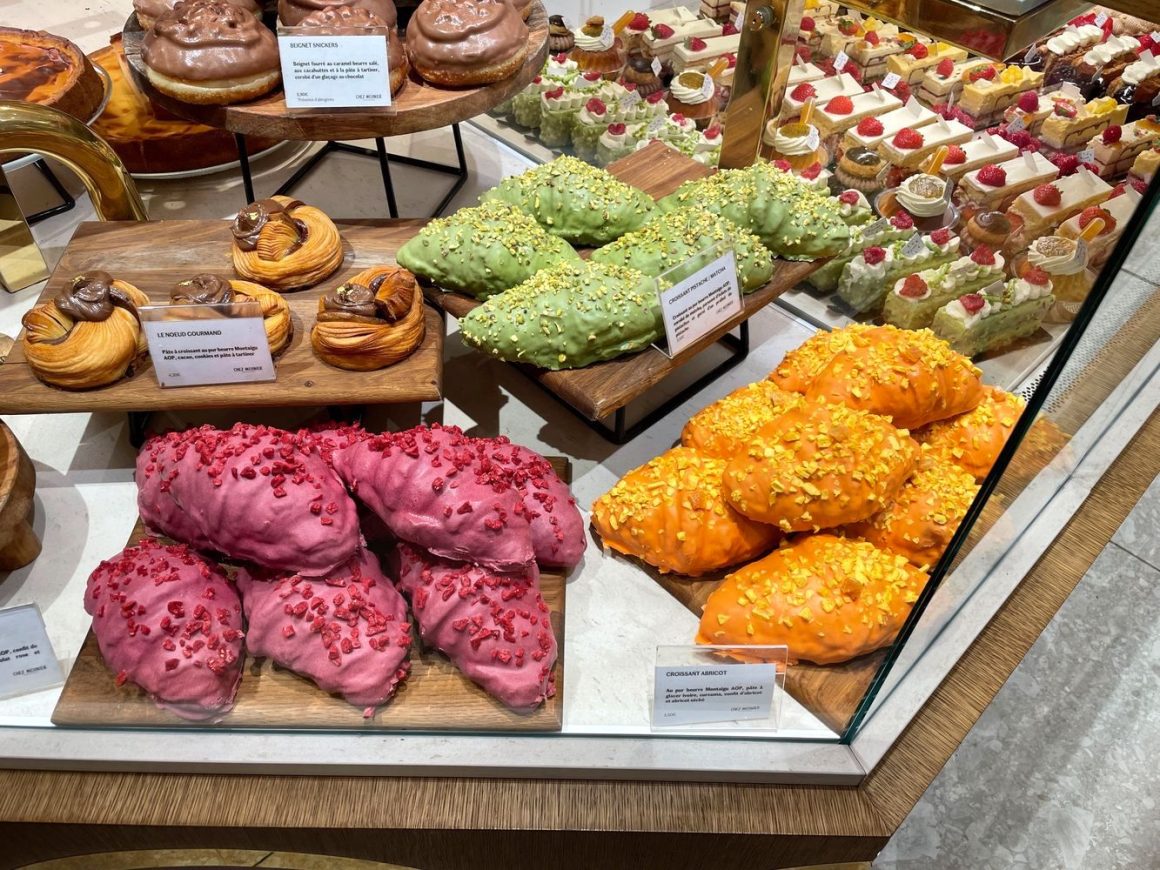 The pistachio-matcha croissant looked especially appealing.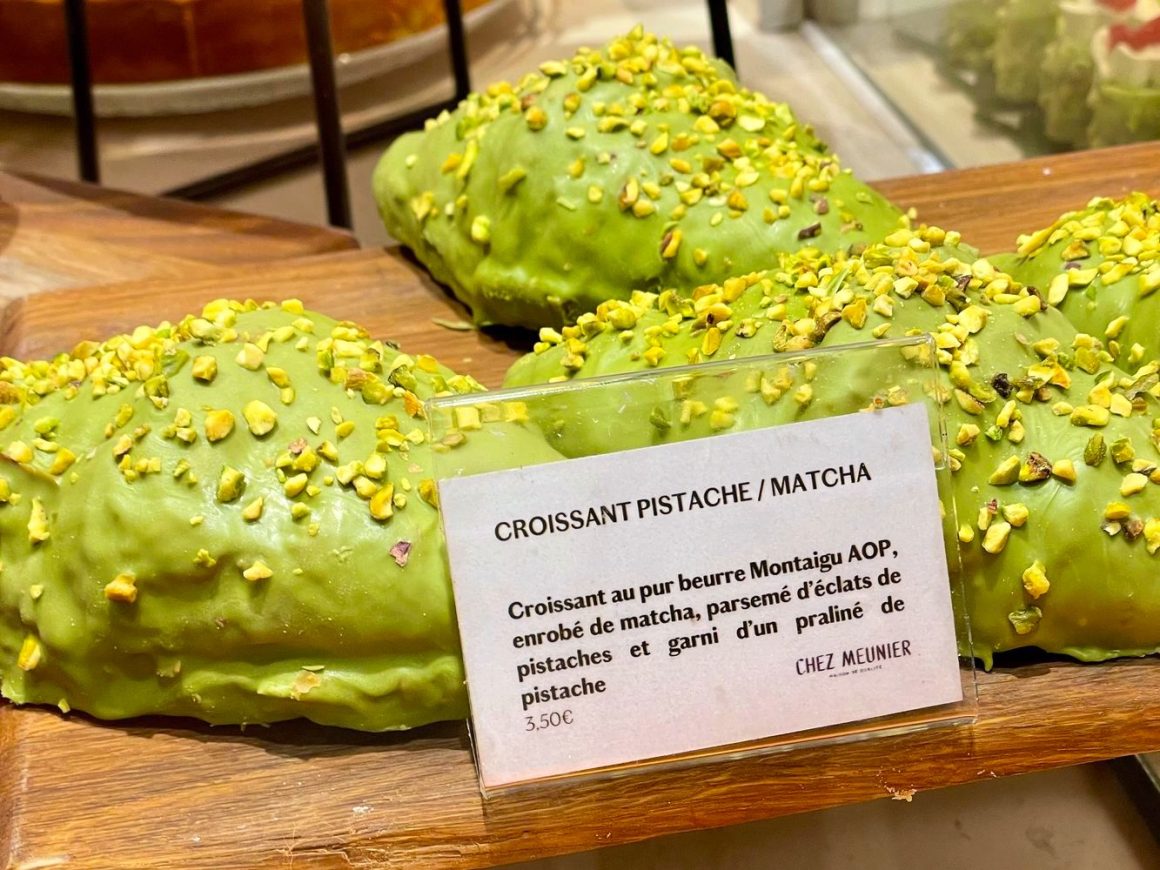 The rose croissant also looked divine.
Naturally, I had to try two for myself!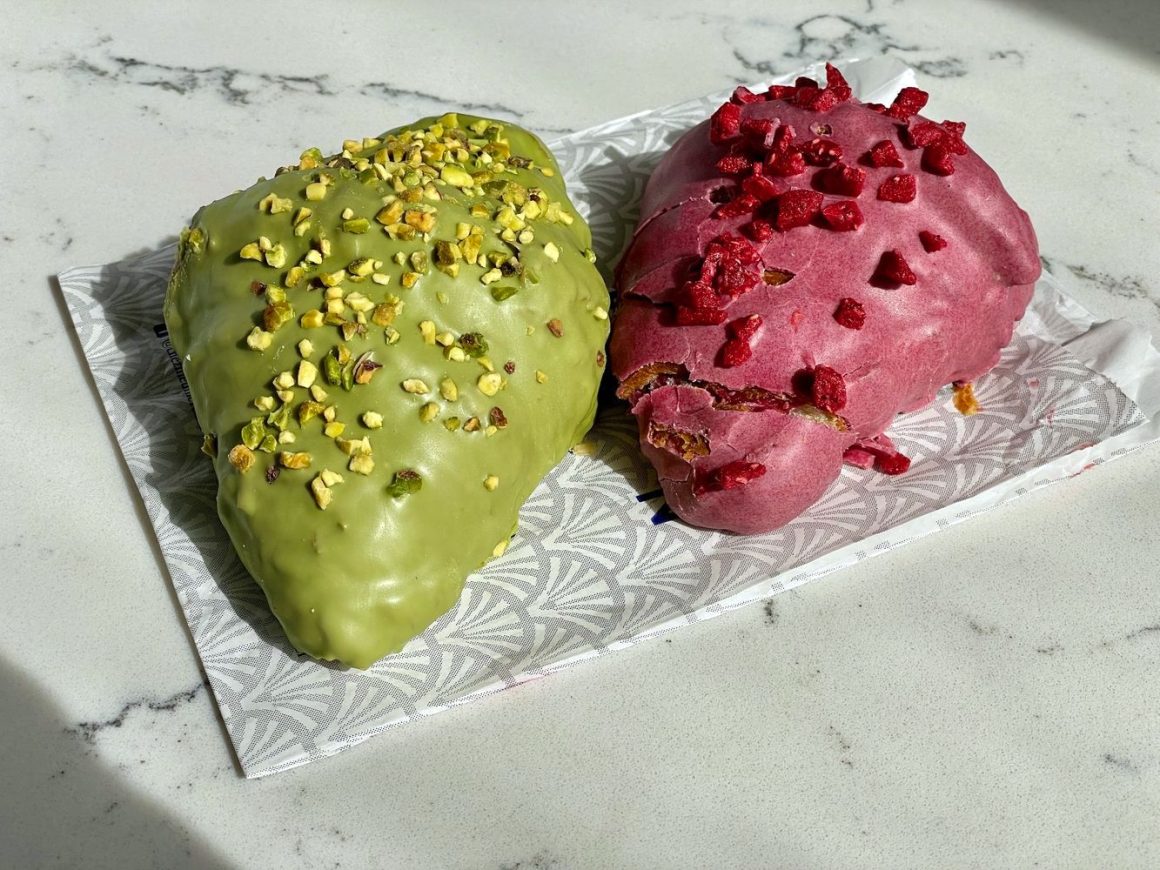 They were melt-in-your-mouth good! Seriously, these croissants were some of the BEST I've ever had in my life. They were very sweet, yes, so I recommend eating them with some bitter black coffee! The paste filling inside was scrumptious.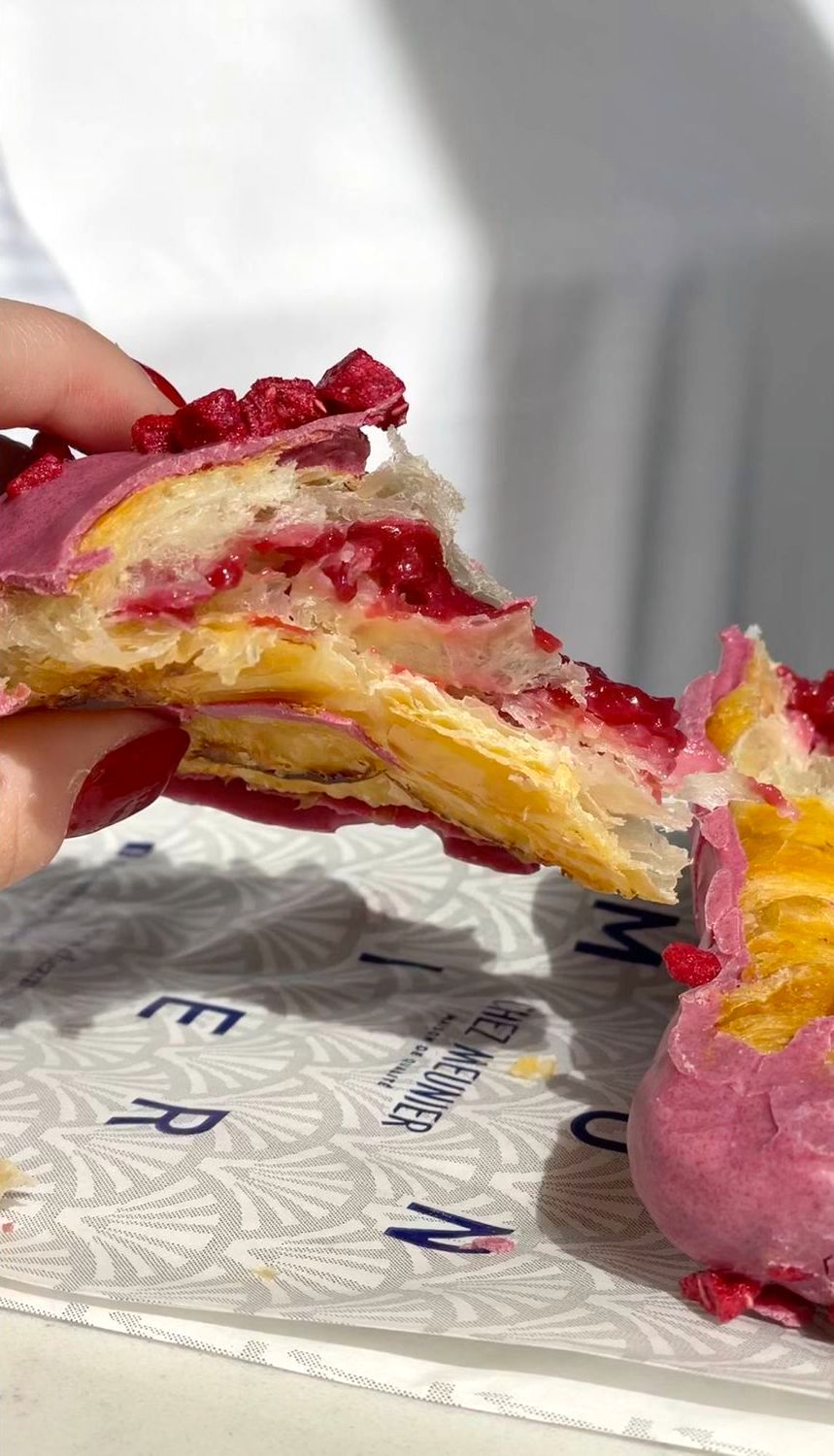 Babka
Babka is another favorite breakfast pastry of mine made at Chez Meunier. Babka is a type of sweet, braided bread or cake that originated from the Jewish communities in Poland and Ukraine. It is traditionally made with a rich yeast dough filled with various ingredients such as chocolate, cinnamon, or fruit fillings, which are then twisted or braided before being baked.
The pastry has a distinct appearance with layers of filling visible in every slice. It's quite popular in several Eastern European and Middle Eastern countries.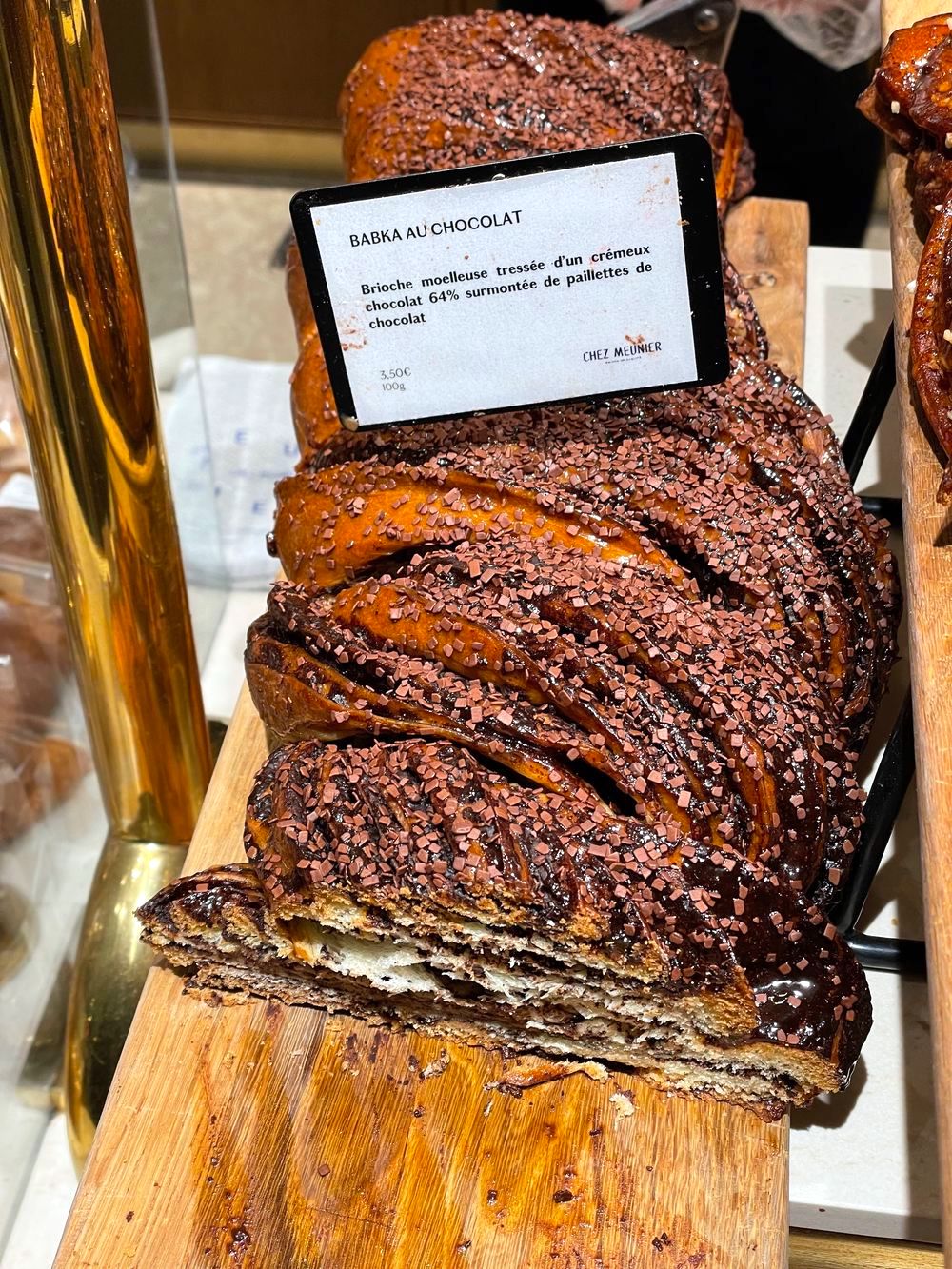 The Babka from Chez Meunier is phenomenal. Like the croissants, there are different flavors available. I particularly loved the Chocolate Babka and the Pistachio Babka.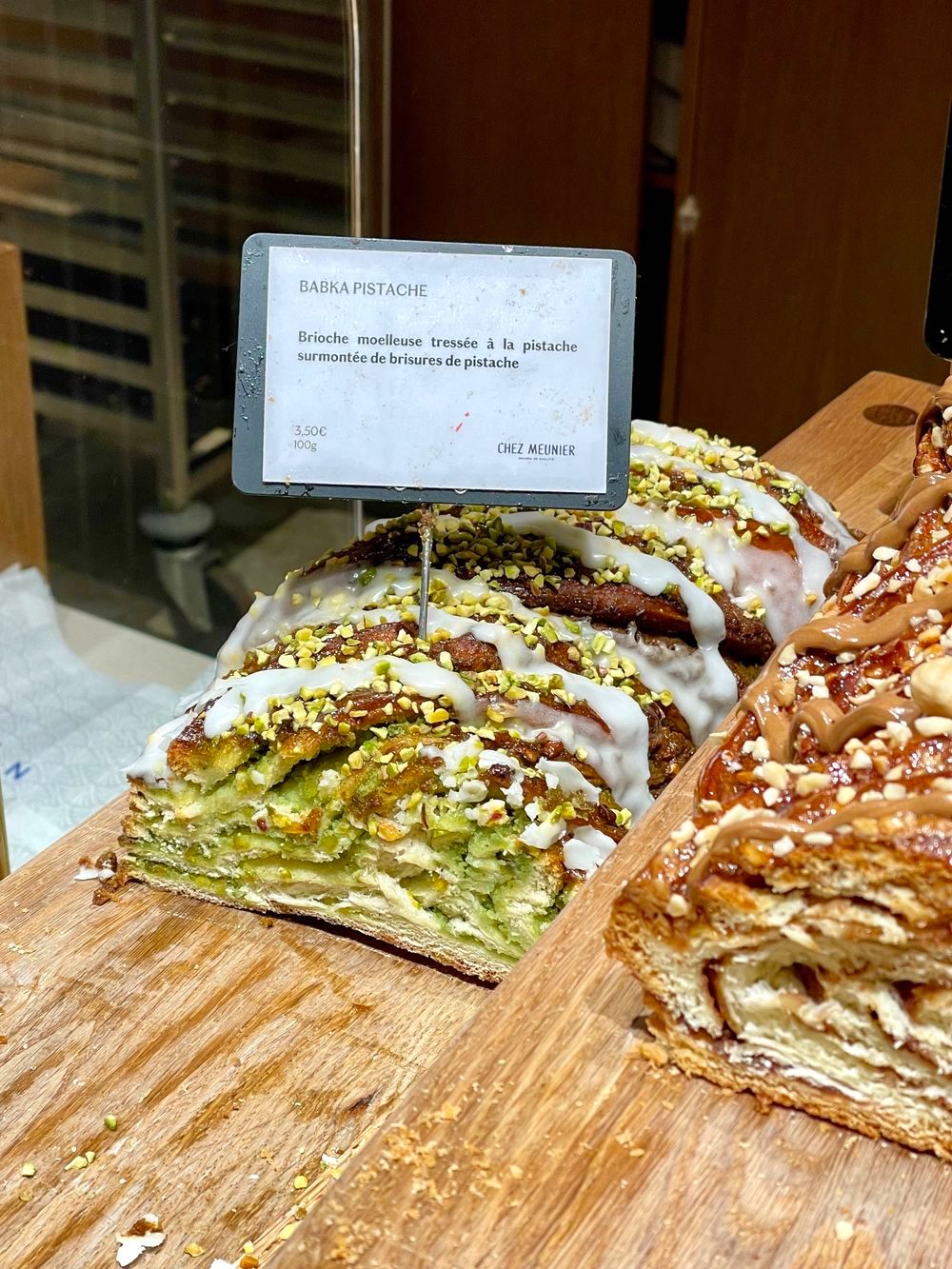 Ficelle Apéritive
I grabbed these Ficelle Apéritive sticks on my way to the airport once! It is a thin, baguette-like bread stick, usually seasoned. Its name translates to "aperitif string" in English, which aptly describes its string-like, slender shape. It is crispy in texture and easy to eat on the go. They make for a great snack. This one is made with olives and Emmental cheese.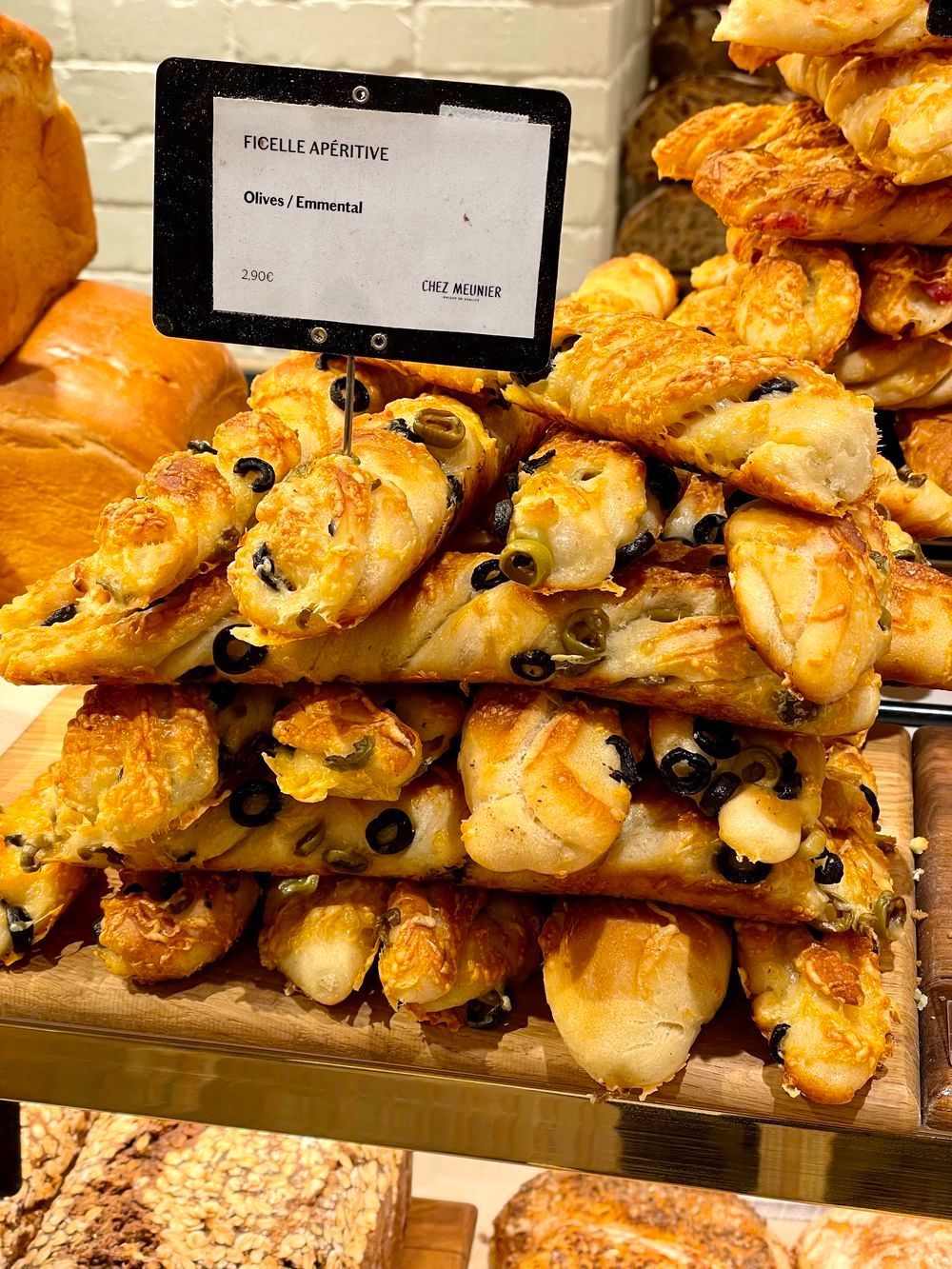 Patisserie Items
There are tons of pastries to choose from at Chez Meunier. Here are some passionfruit tarts, lemon tarts, chocolate tarts, and more.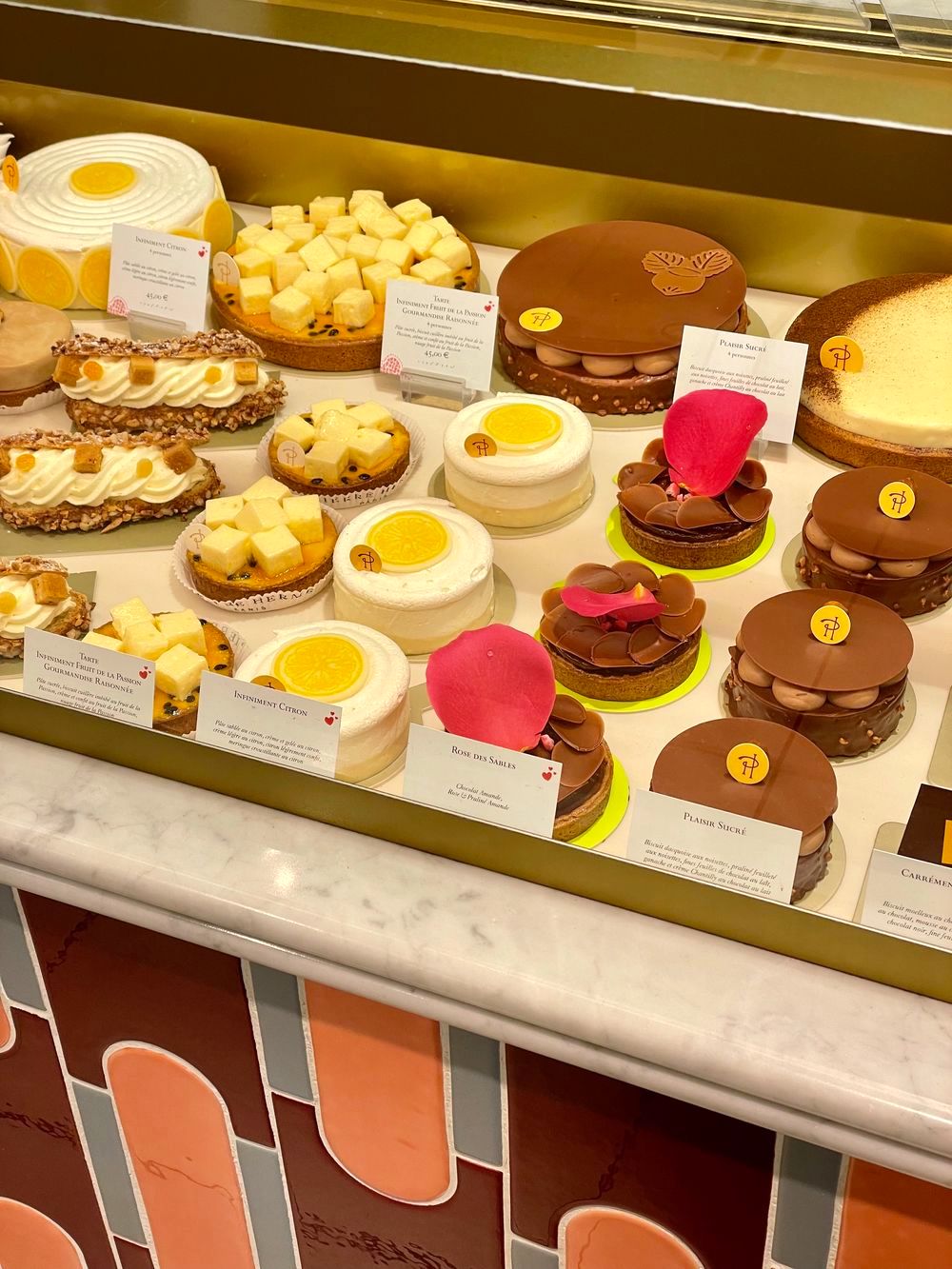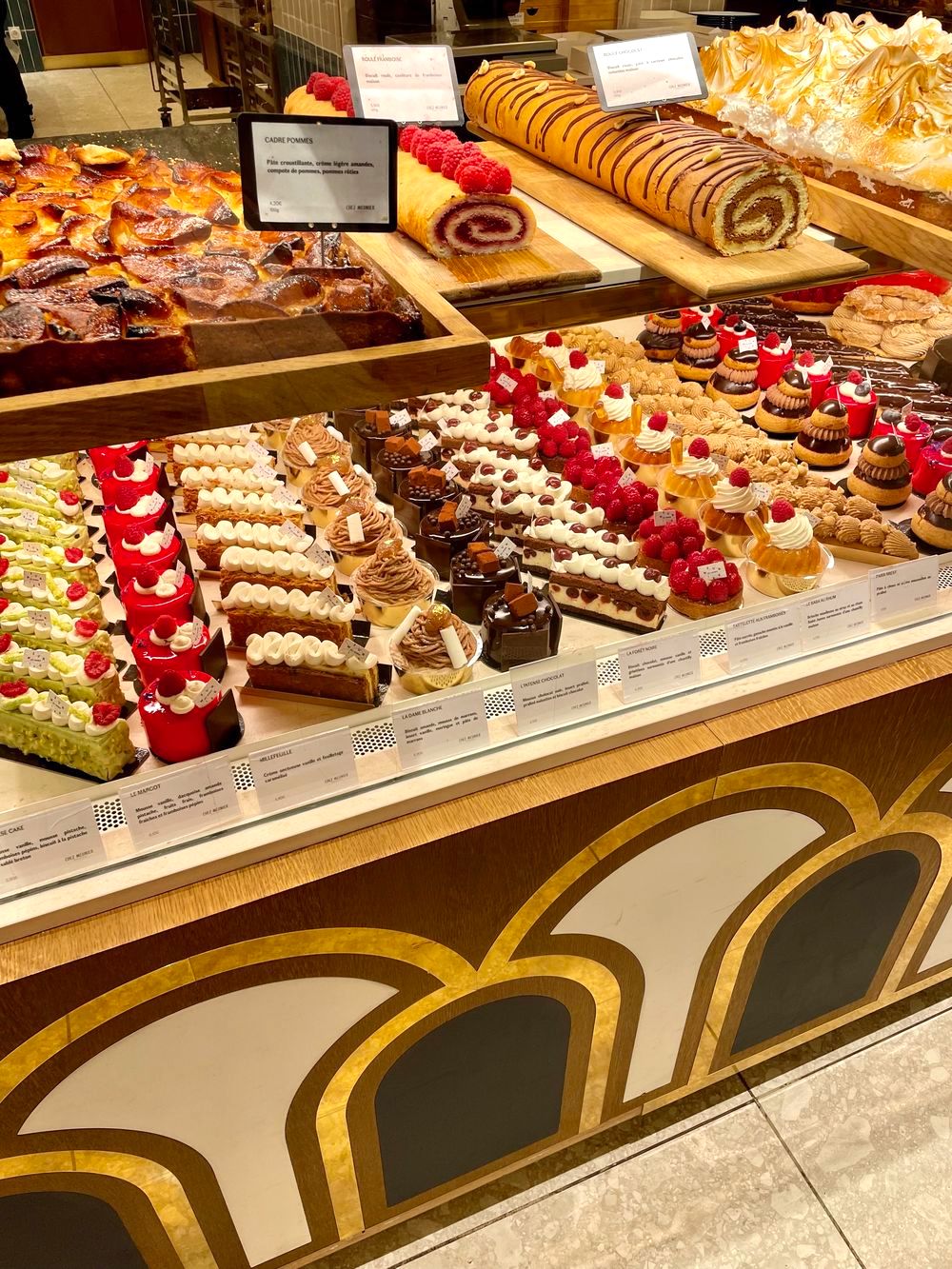 Kounuts
Kounuts are a mix of a mini kougloff and a classic donut! Kougloffs are regional bread pastries from the Alsace region of France. This is a little spin on the pastry from Chez Meunier!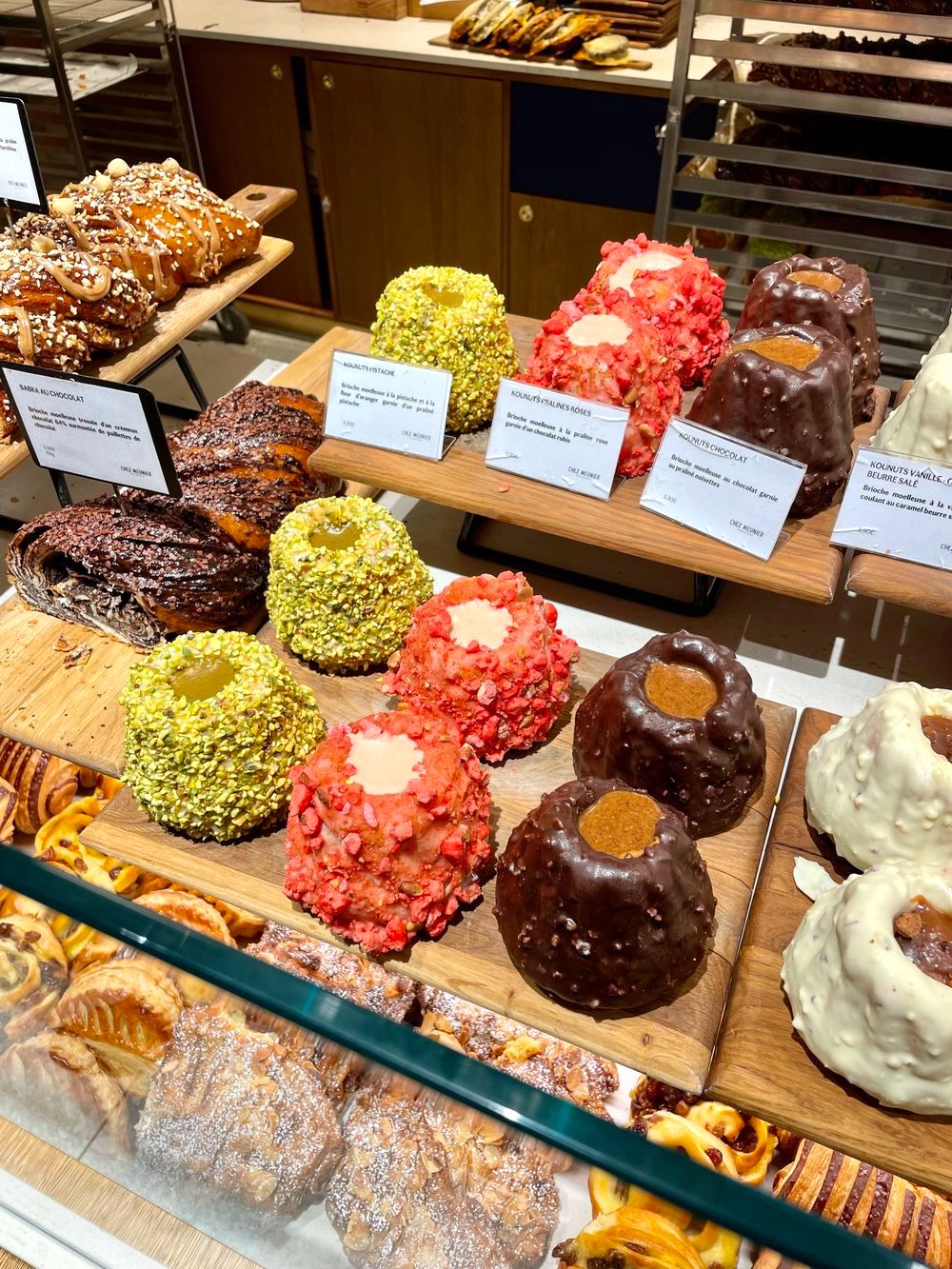 L'Intense Chocolat
I love a good chocolate tart, and the "intense" chocolate pastry from Chez Meunier did not disappoint!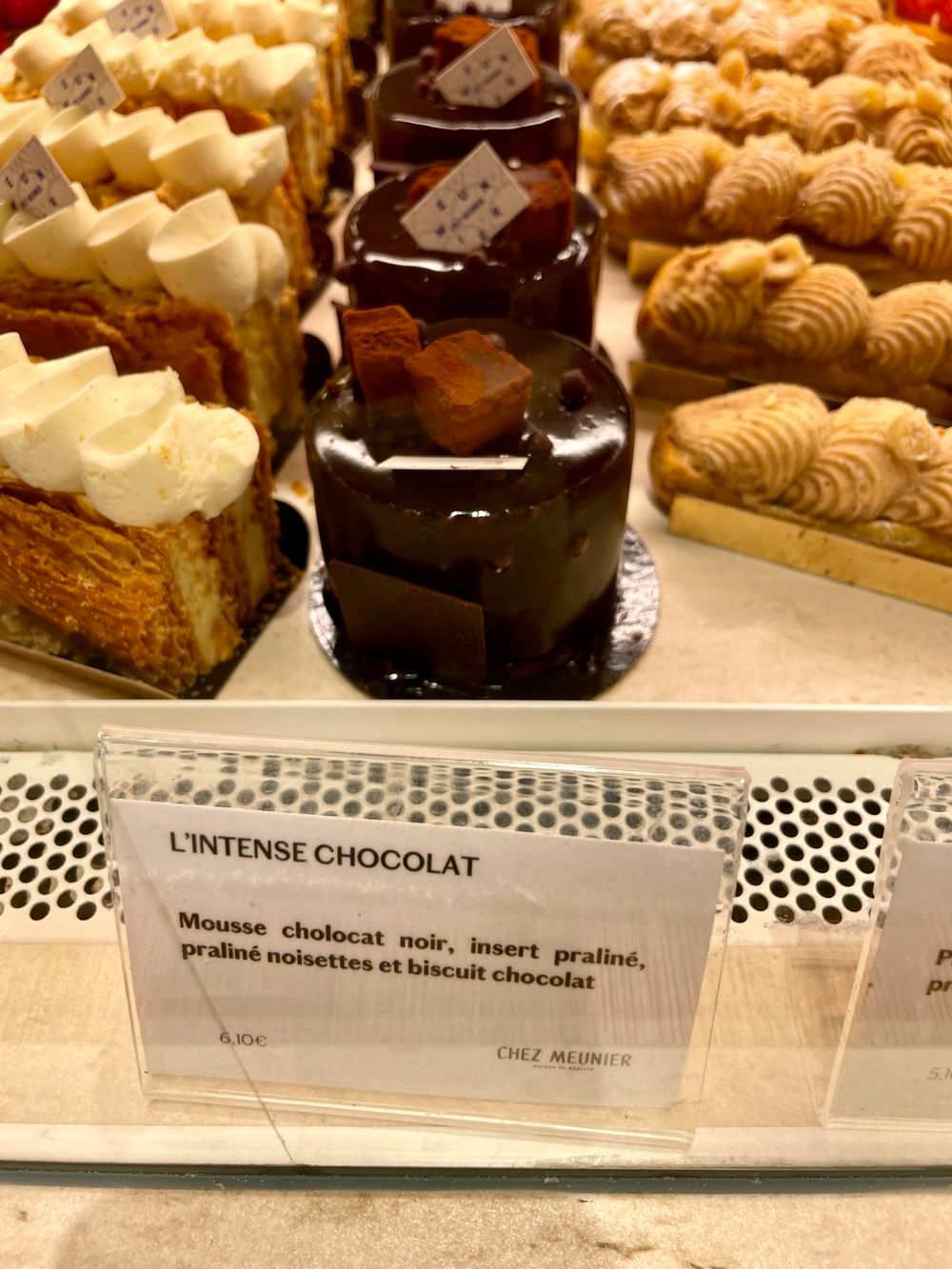 Sandwiches and Lunch Items
Ham and Cheese Croissant
Once I got a warm ham and cheese croissant from Chez Meunier that was delicious!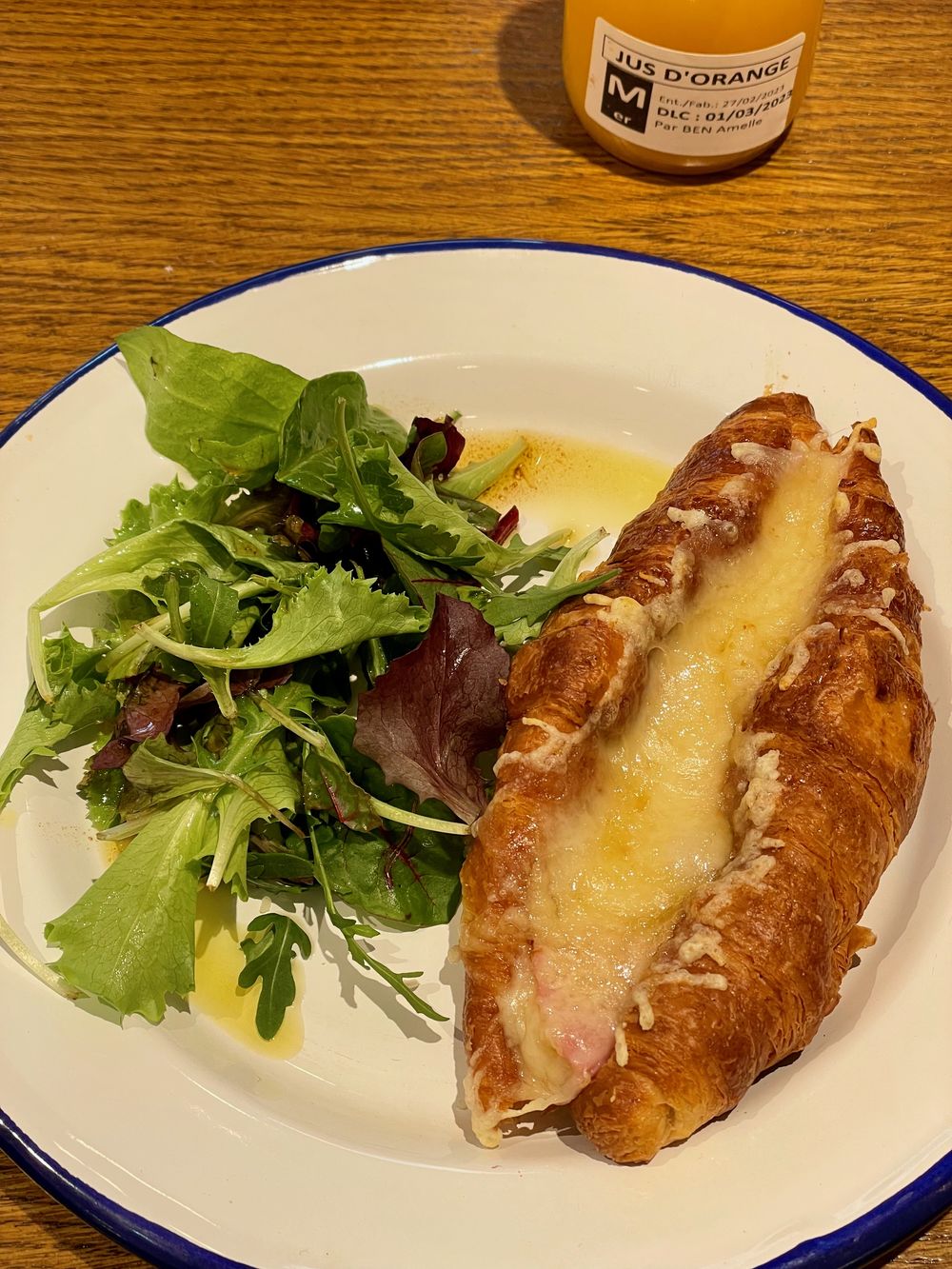 I encourage you to visit Chez Meunier if you are in Paris!
Chez Meunier, Galeries Lafayette le Gourmet, 35 Bd Haussmann, 75009 Paris, France
18 Rue Rambuteau, 75003 Paris, France
29 Av. Niel, 75017 Paris, France
153 Bd Malesherbes, 75017 Paris, France