Paris is known for its delectable cuisine, and there's no better place to experience this than at Galeries Lafayette Le Gourmet. Located in the 9th arrondissement of Paris, Galeries Lafayette Le Gourmet is a gourmet food store that offers an unparalleled selection of high-quality food from around the world.
Walking into Galeries Lafayette Le Gourmet is like entering a food lover's paradise. The store has three floors filled with everything from fresh produce to artisanal cheeses and charcuterie, as well as specialty ingredients like truffles and caviar.
It truly is a one-stop shop for all your gourmet food needs, making it a must-visit destination for any foodie visiting Paris. Galeries Lafayette Le Gourmet is the place for sourcing the finest food products from around the world.
Visit the Ultimate Gourmet Food Destination in Paris
Whether you're looking for rare spices or unique wines, you can be sure that everything on offer at Galeries Lafayette Le Gourmet has been carefully selected by their expert team of buyers who travel the world in search of the best products available. To indulge in some of the best gourmet food in Paris, a visit to Galeries Lafayette Le Gourmet should definitely be on your itinerary.
How to Get to Galeries Lafayette Le Gourmet
Galeries Lafayette Le Gourmet is located across the street from the main Galeries Lafayette Haussmann department store. The complete address is 35 Boulevard Haussmann, 75009 Paris. If you are already in the city, there are several ways to make your way to this fantastic food destination. Here are some general directions.
Metro/Bus
Using public transportation, take Metro line 7 or 9 and get off at the Chaussee d'Antin La Fayette station. Alternatively, take bus number 20,21,22,24,26,27 or 29 and alight at Opera Station.
Once you arrive at either station exit onto Rue Auber and walk towards Boulevard Haussmann. The department store will be obvious with its glass dome and giant French flag flying high above its ornate facade.
Driving
If you're not keen on using public transportation but would rather have a car service pick you up from your hotel or Airbnb rental instead then Uber and Taxi services can be found all over Paris. However, parking around this busy area can be challenging so it's best to opt for public transport.
Walking
Walking from your current location in central Paris may also be a great option if weather permits since it's likely only a few kilometers away! Depending on where you are located within central Paris it could take anywhere from 10 minutes up to 45 minutes. Nonetheless walking will provide some beautiful views of the city along the way!
Shopping at Galeries Lafayette Le Gourmet
Galeries Lafayette Le Gourmet is a food lover's paradise. Not only does it offer an impressive selection of gourmet food and edibles from every corner of the globe, but it also boasts a beautiful and well-designed store. Upon entering, you'll be greeted with an abundance of smells and sights that will make your mouth water. There are several sections within Galeries Lafayette Le Gourmet that are sure to impress any food fan.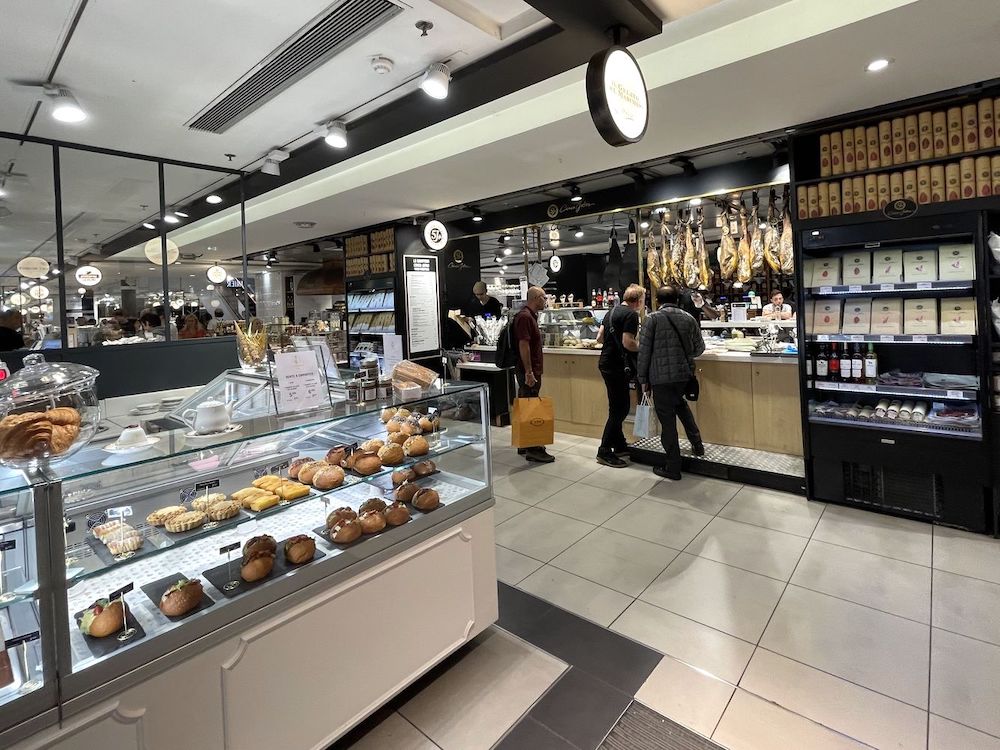 Ground Floor: Food Counters, Bakeries and Pastry Shops
The main floor has dozens of small bakeries and patisseries where you'll find artisanal breads, pastries, chocolates, and desserts. You simply walk up to each counter and order the food you want. You can pay on the spot and most places give you a small bag to carry away the food you buy. It can be heated up if you like and the shop will give you bamboo spoons or forks to help you eat.
Not all vendors accept the Galeries Lafayette fidelity card, but most do! I recommend signing up for this program if you plan to spend a lot during your visit as you'll get a 10€ gift card for every 300€ you spend at any Galeries Lafayette store.
My favorite bakery here is Chez Meunier which sells the most delectable baked goods you can imagine! Here is an oversized pain au chocolat for sale.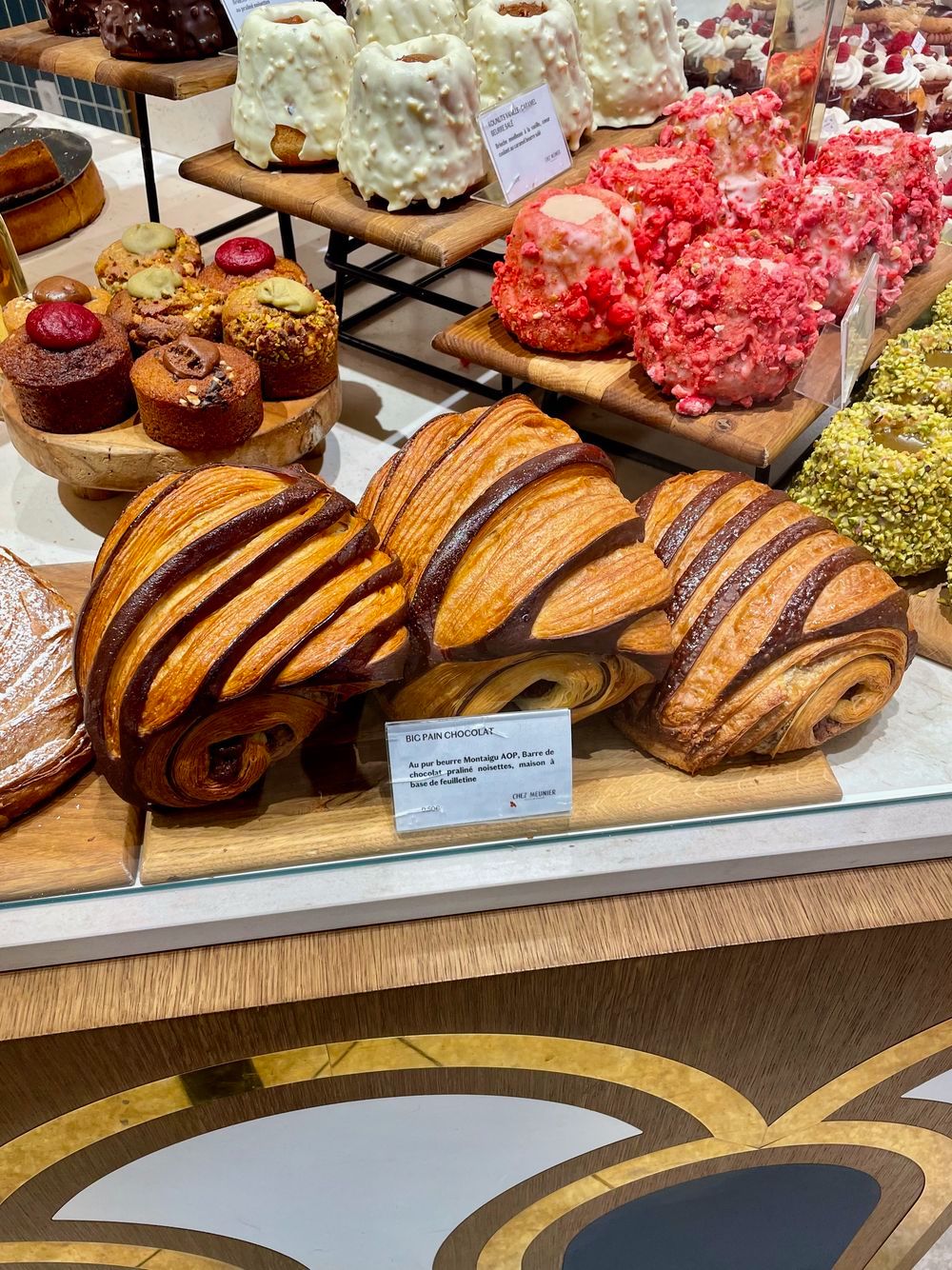 Babka Zana is another boulangerie with a stand at Galeries Lafayette le Gourmet. They sell tasty sandwiches like le Déli and le Tuisien as well as sweet brioche bread and chocolate rugelach treats.
Panade is a newer boulangerie near the entrance of the store.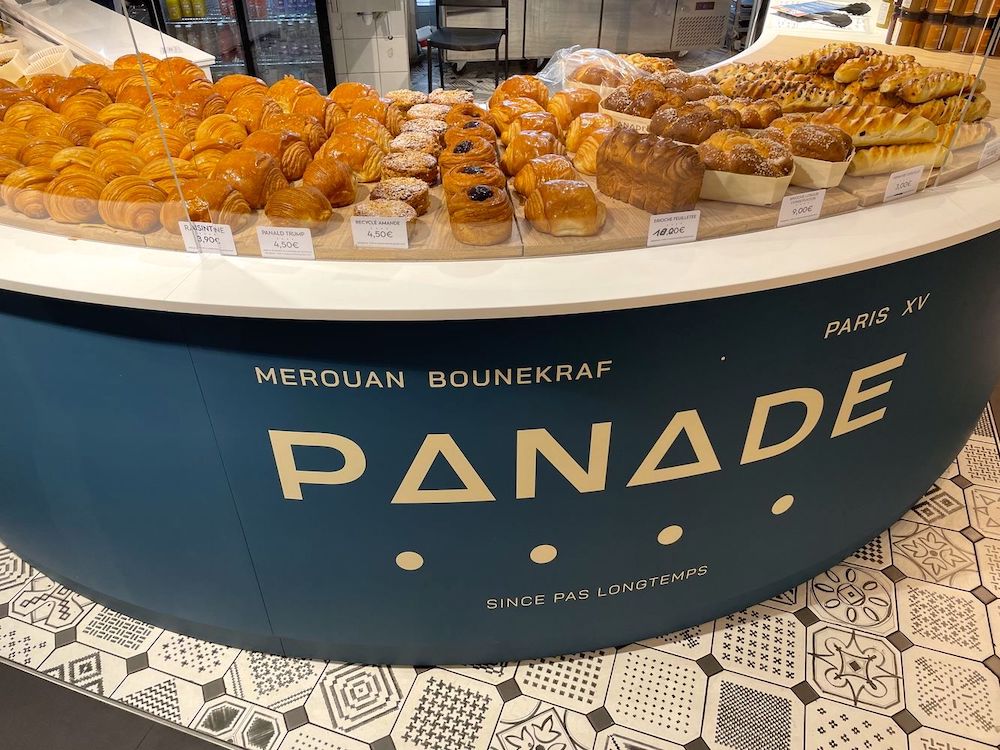 The French patisseries in the store are Yann Couvreur, Philippe Conticini, Dalloyau, L'Éclair de Génie, and Pierre Hermé.
For chocolate and candy, you can shop from Pierre Marcolini, Jean-Paul Hévin, Le Chocolat Alain Ducasse, and Maison Boissier.
There are also several food counters and sit-down restaurants where you can buy food to go or eat in. 5 Jotas is a Spanish restaurant selling delicious jamon ibérico, Mavrommatis sells authentic Greek takeaway food, and Petrossian offers its luxury caviars.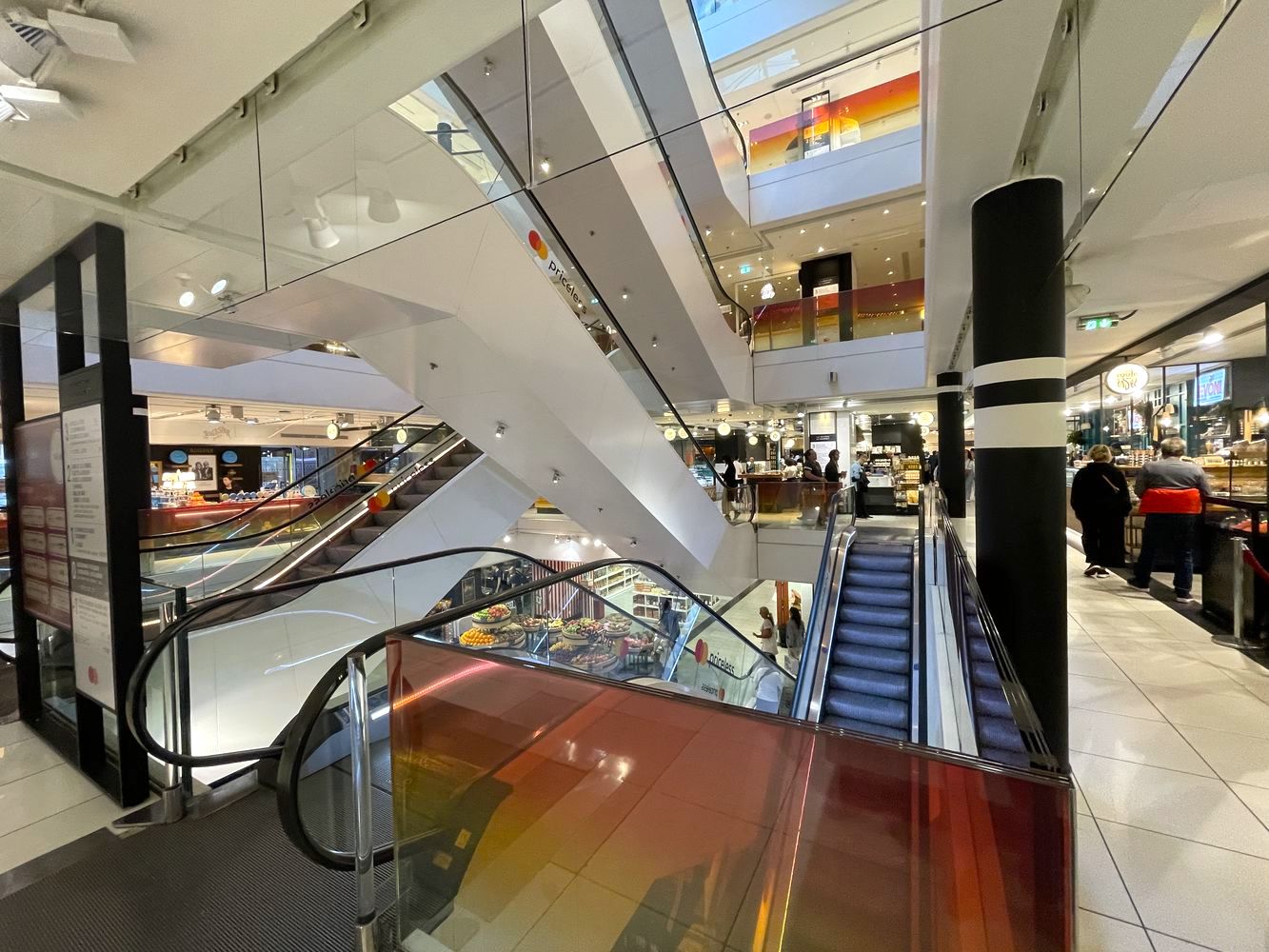 Lower Level: Grocery Store
The lower floor is where you'll find the gourmet grocery store with tons of packaged foods, olive oils, vinegar, terrines, rillettes, truffle salt, fleur de sel, patés, and more.
What sets Galeries Lafayette Le Gourmet apart from other gourmet food stores is the unique and rare food items available for purchase.
Truffles, one of the most expensive ingredients in cooking, can be bought as fresh whole truffles or truffle-infused oils. Caviar ranges from reasonably priced options to incredibly expensive varieties.
Rillettes are popular French gourmet food items and you can buy several canned varieties on the lower level.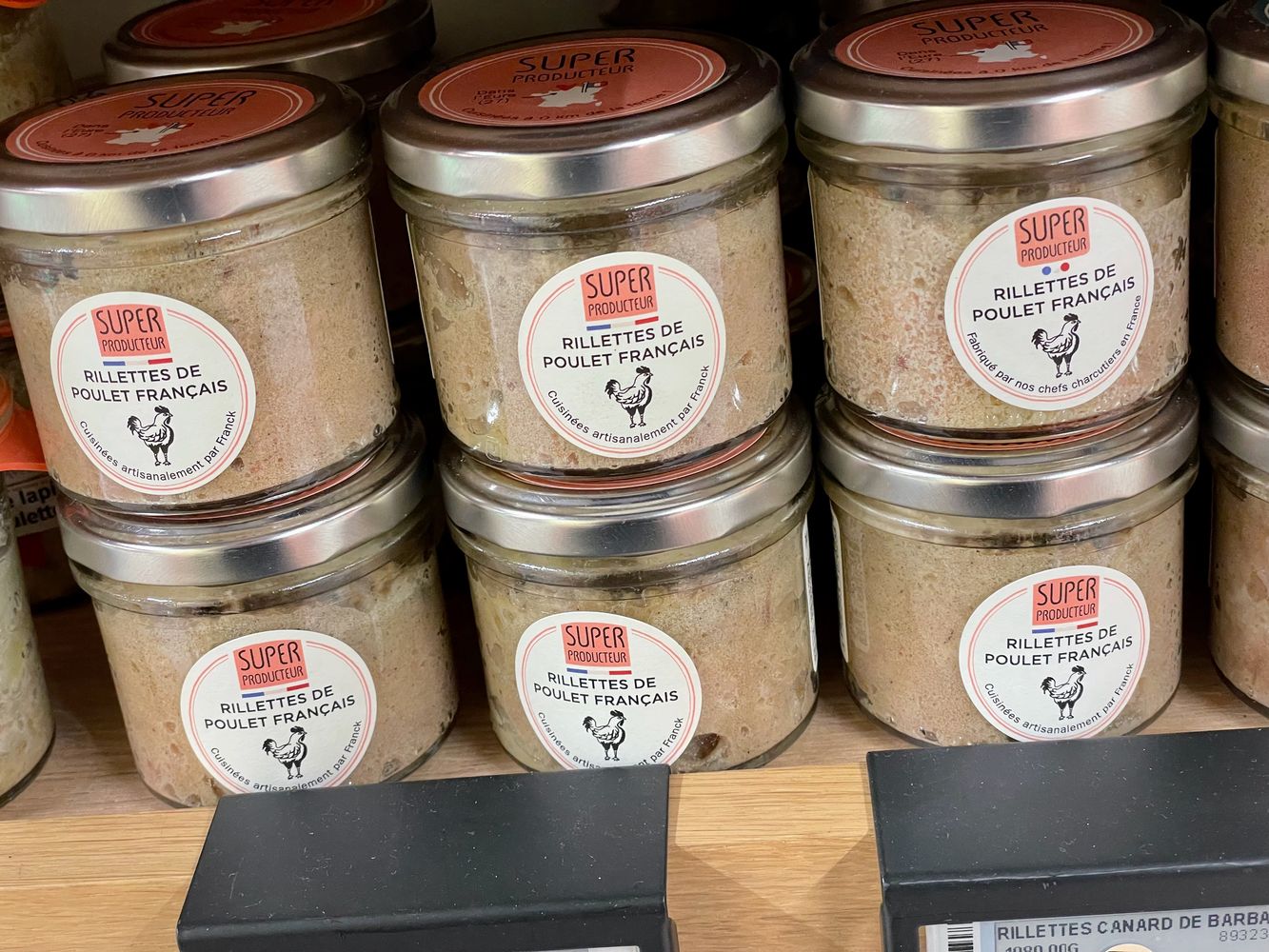 The famous French mustard brand Maille has a big selection of French mustards!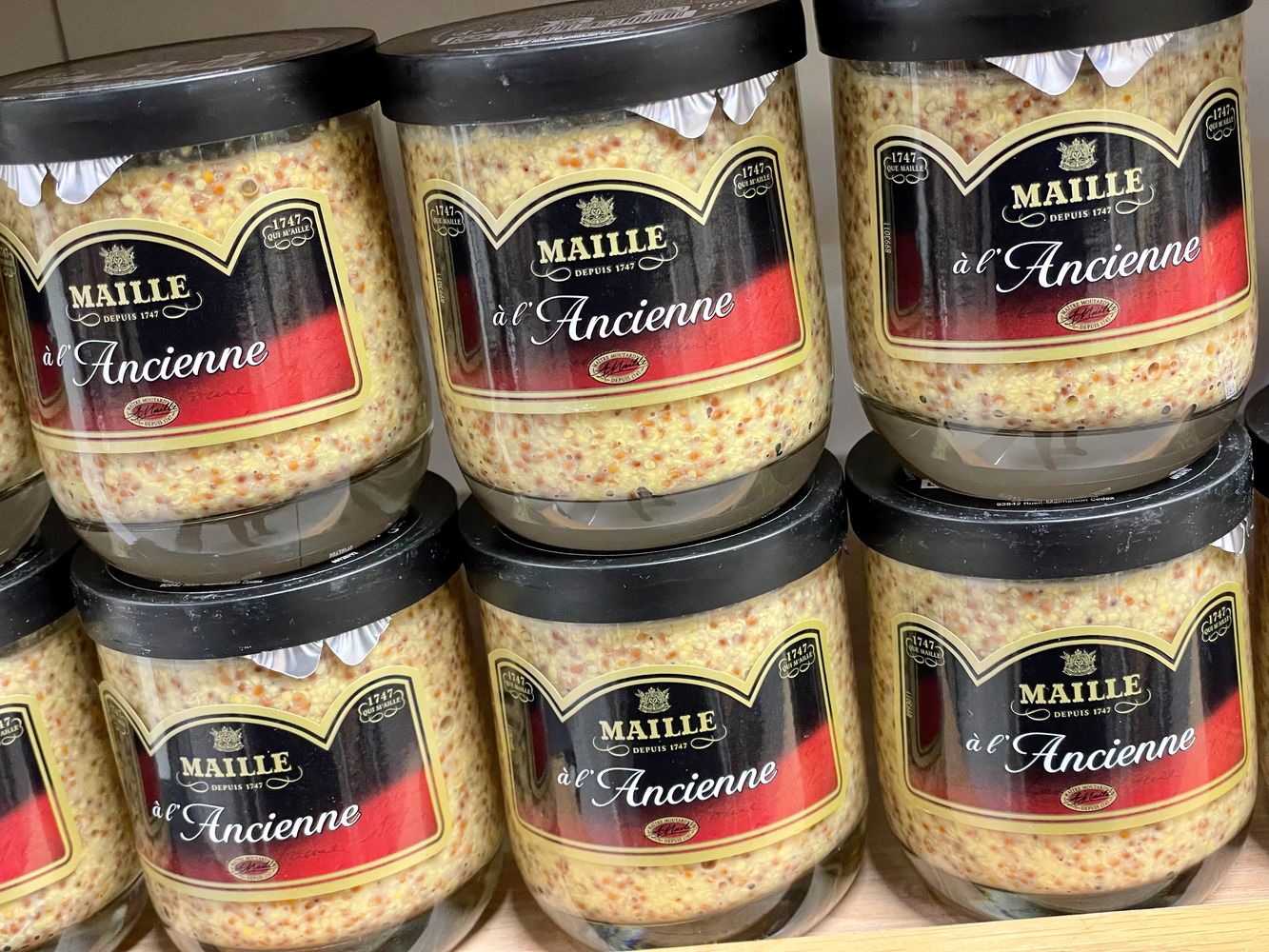 The fresh fruit and vegetables are sourced from Maison Colom, a famous French grocer based in the famous Rungis food market and run by Yoni Cohen. The company only buys from the best French produce distributors and it partners with luxury hotels like Le Meurice in Paris and Les Airelles in Courchevel to provide fresh produce.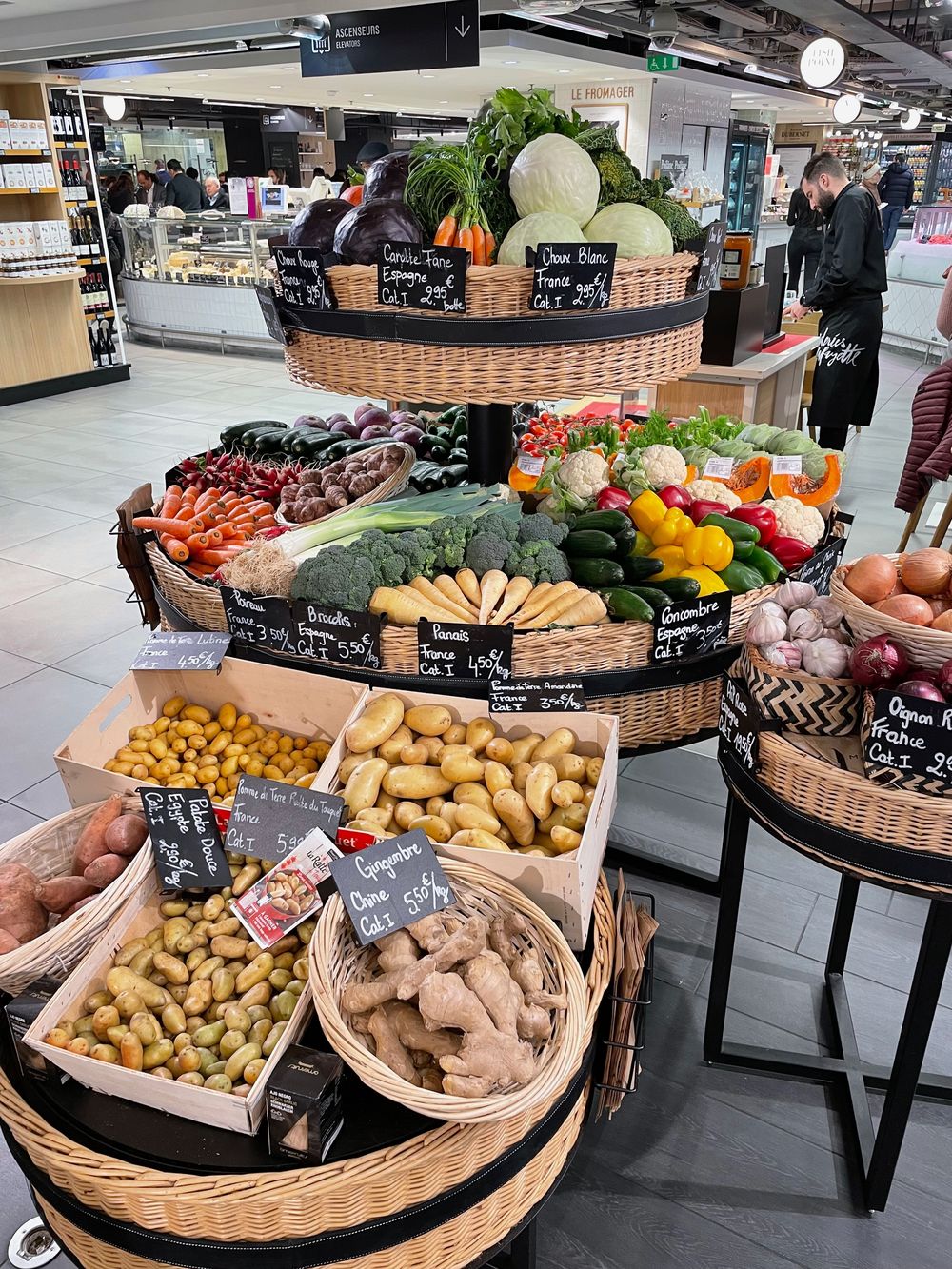 You'll also find a cheese counter, which offers hundreds of cheeses from Europe and beyond, some of which are extremely rare and difficult to find elsewhere. Brie, comté, tomme, roquefort – it's all there!
After exploring the grocery store sections, make sure to check out the seafood section where you'll find everything from lobster to scallops. If meat is more your thing, head over to the meat section for Le Bourdonnec butcher meats including specialty cuts like Wagyu beef or Iberico ham.
For prepared meats, the Maison Vérot delicatessen, in operation since 1930, sells charcuterie, pâté en croûte, foie gras, Lyon sausage, and meat puff pastries.
Don't miss out on visiting the extensive wine section "La Cave" featuring wines from all over France as well as other countries such as Italy and Spain. There are several rare and prestigious vintage wines for sale.
If you're looking for something truly special or unique souvenir to gift someone (or yourself!), there's always a collection of limited edition products such as rare vintage chocolates or artisanal honey from France.
Second Floor: Restaurant Hall
Moving upstairs to the second floor (US) or first floor (FR) is the wine restaurant hall. Galeries Lafayette Le Gourmet is a genuine haven for foodies, with café and restaurant options for different tastes and budgets.
Duclot La Cave offers an extensive wine collection for purchase.
Yora by José Arias sells Peruvian street food, Mosugo by Mory Sacko offers street food by a Michelin-star chef, Bagnard makes Mediterranean cuisine, Starving Club by Thibaut Spiwack makes delicious burgers, Rice Street by Quan Bai makes tasty Japanese street food, and The Crossing offers specialized Indian dishes.
Whether you're looking for a quick bite or a leisurely meal, you'll find something that suits your palate.
Third Floor and Above: Home Goods and Kitchen Store
Upstairs, you'll find Galeries Lafayette Maison where you can buy tons of home goods and kitchenware from the country's best-known brands. You can shop for Yves Delorme, La Redoute Interieurs, Olivier Desforges, AM/PM, Madura, Cinna, Le Creuset Dutch ovens, Saint-Louis fine glassware, and every type of cooking and kitchen utensil you can think of!
Things to Do at Galeries Lafayette Le Gourmet
Beyond shopping, there are actually several fun activities you can participate in during your visit to the gourmet store.
Cooking Classes: Learn French Cuisine from the Experts
Galeries Lafayette Le Gourmet also gives you the opportunity to learn how to cook some of the most iconic French dishes through their cooking classes. Galeries Lafayette cooking and patisserie classes are taught by expert chefs who have years of experience in preparing delicious meals and pastries using fresh and high-quality ingredients. Choose from a variety of cooking and baking classes that cater to different levels of expertise – from beginners to experienced cooks.
The macaron bakery class lasts 1.5 hours and costs just 55€. Each cooking class typically lasts for around 3 hours and includes a demonstration by the chef followed by hands-on cooking experience for students. The classes are conducted in small groups, ensuring that each student receives personalized attention and guidance from the chef.
You can either book directly on their website or visit the store's concierge desk physically. Reserve your class ahead of time because they can book up fast, especially during peak tourist season.
Taking a French cooking class is an excellent way to learn more about French cuisine while having fun at the same time. Whether you're a novice or an experienced cook, there's something for everyone at this Parisian gourmet food destination!
Events and Special Occasions
Galeries Lafayette Le Gourmet is not only a gourmet food destination but also an event venue. It is a popular spot for hosting events such as birthdays, corporate functions, bridal showers, and even weddings.
The store has several spaces available for rent to host your special event in Paris. Whether you are looking for an intimate setting or a large space, Galeries Lafayette Le Gourmet has got you covered.
Bon Appétit!
Galeries Lafayette Le Gourmet is a true foodie's paradise that offers an unrivaled gourmet food experience in the heart of Paris. For rare ingredients, unique flavors, and culinary inspiration, this is the place to be. With its stylish interior and welcoming atmosphere, it's a must-visit destination for anyone who loves food.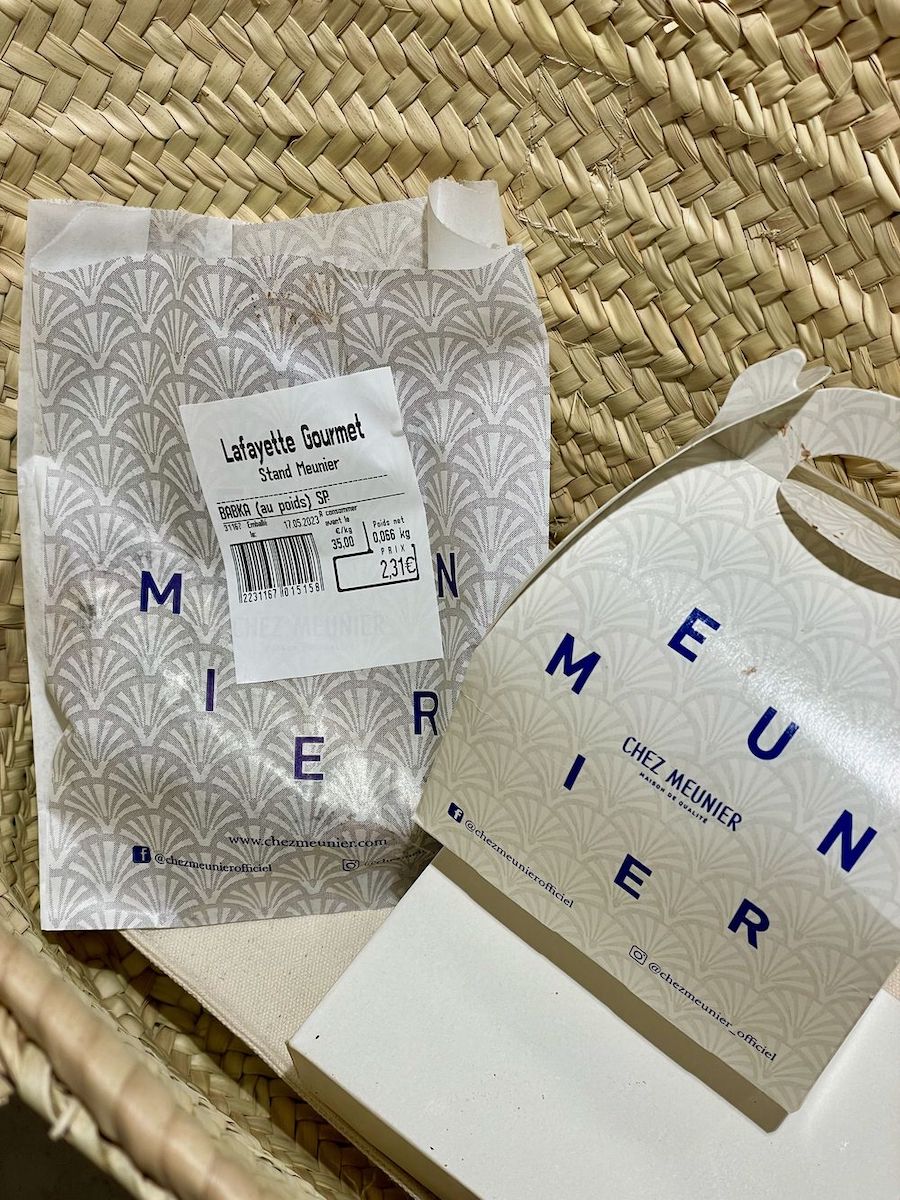 There are thousands of hard-to-find items that you can discover here – truffles from Périgord, Iberian ham from Spain, saffron from Iran, just to name a few. It's a veritable treasure trove of edible delights that will leave you feeling inspired and awed at the same time.
Whether you're a foodie on the hunt for new culinary adventures or simply looking for a unique shopping experience in Paris, Galeries Lafayette Le Gourmet should be at the top of your list. With its impeccable selection of gourmet food, delicious dining options, and welcoming atmosphere, it's an experience that you won't forget anytime soon.
35 Boulevard Haussmann, 75009 Paris, France