French cuisine is renowned for its finesse and flavor, but one distinctive delicacy you'll find on menus across Paris might surprise some visitors – frog legs! While the idea of eating frogs may seem unusual to the uninitiated, frog legs are cherished in France as delicious, tender meat. If you're looking to sample the best cuisses de grenouille (frog legs) that Paris has to offer, you have plenty of tempting options.
Why the French Eat Frog Legs
In Paris, frog legs are considered a delicacy and are commonly served in high-end restaurants. Traditionally, they are prepared using simple ingredients that enhance their delicate flavor. The frog legs are often seasoned with a mix of fine herbs such as parsley and garlic. They are typically pan-fried in butter until they acquire a slightly golden crust.
This dish is then paired with a light garnish of lemon slices to add some acidity, which complements the tender meat of the frog legs. To enjoy them, use a fork and knife to delicately remove the meat from the bones.
In Paris, frog legs are savored for their unique, mildly gamy taste, which is somewhat reminiscent of chicken, but with a finer texture. They are served in portions as an appetizer or a main course, depending on the restaurant and the order.
Best Frog Legs in Paris
Here is where you can enjoy this delicacy in a relaxed setting, perhaps paired with a glass of fine French wine!
Roger La Grenouille
Roger La Grenouille, established in 1930 in Paris' Saint-Germain-des-Prés neighborhood, is renowned for specializing in frog legs, a French culinary delicacy. The restaurant, translating to "Roger the Frog", has become a significant part of Parisian gastronomic history, attracting both locals and visitors.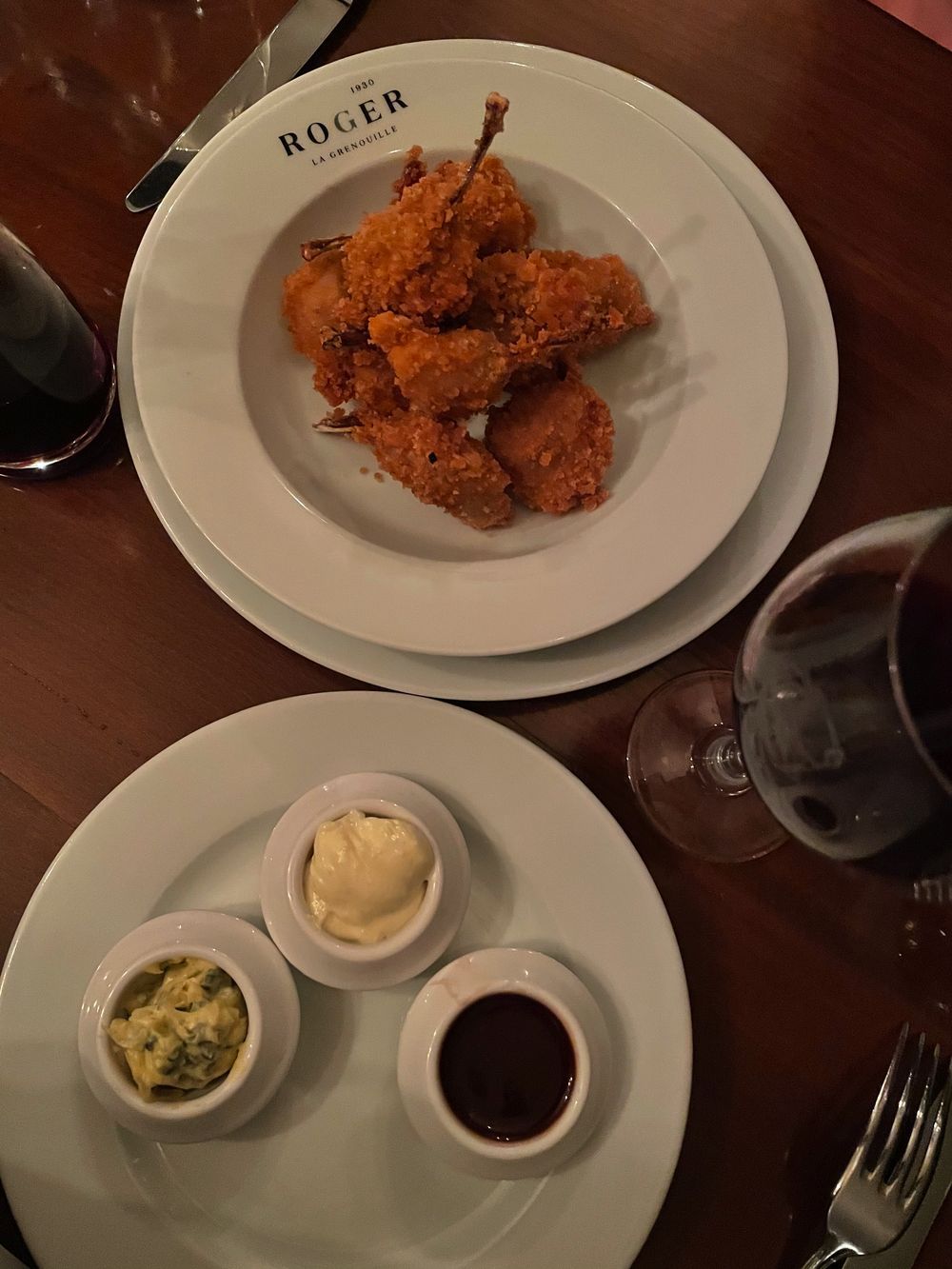 Maintaining a rustic and frog-themed decor, it offers a cozy and slightly whimsical dining atmosphere. Despite changing hands over the years, it has preserved its original charm and commitment to quality service and fresh ingredients. A visit promises not only a gastronomic delight but a glimpse into authentic Parisian history.
28 Rue des Grands Augustins, 75006 Paris, France
Au Moulin à Vent
Au Moulin à Vent also known as "Chez Henri" is a well-established restaurant located in the 5th arrondissement of Paris, France. This restaurant, founded in 1946, is known for offering traditional French cuisine including some of the best frog legs in Paris. It has garnered a reputation for its warm atmosphere and its classic Parisian interior characterized by vintage decorations, checkered tablecloths, and historic photographs adorning the walls.
20 Rue des Fossés Saint-Bernard, 75005 Paris, France
Brasserie Flottes
The Brasserie Flottes is a well-known restaurant located in the 1st arrondissement of Paris, close to the Place de la Concorde. Established in 2001, it offers patrons a vibrant and stylish setting where they can enjoy classic French brasserie dishes like the famous French frog legs.
The restaurant is also known for its oyster bar, which offers a selection of fresh oysters, a popular choice especially during the winter months.
2 Rue Cambon, 75001 Paris, France