If you are looking for an economical way to get to the Paris city center from CDG Airport, then you should try riding the RoissyBus!
I recently started taking the RoissyBus from CDG Airport to Paris (and back) and couldn't be happier with this direct mode of transportation directly to the city center.
What is the RoissyBus?
The RoissyBus is a mode of public transportation that is part of the RATP network, and brings travelers from most CDG terminals to Paris, dropping them off just one block away from the Palais Garnier, in the Opéra neighborhood of Paris.
The bus is extra long and has racks available for storing your luggage. I've never been on the bus when it's crowded. There are typically plenty of available seats and I've never seen it completely full in either direction.
RoissyBus Stops
The RoissyBus stops at all major CDG terminals, picking up passengers on the way to Paris. It drops you off very close to the Palais Garnier. The reverse trip does the same.
How Often the RoissyBus Runs
The RoissyBus runs every 15-20 minutes between the hours of 6 AM and 12:30 AM, 7 days a week. Most times, it arrives within 10 minutes, but once I had to wait 20 minutes for it to arrive. Overall, it's very reliable.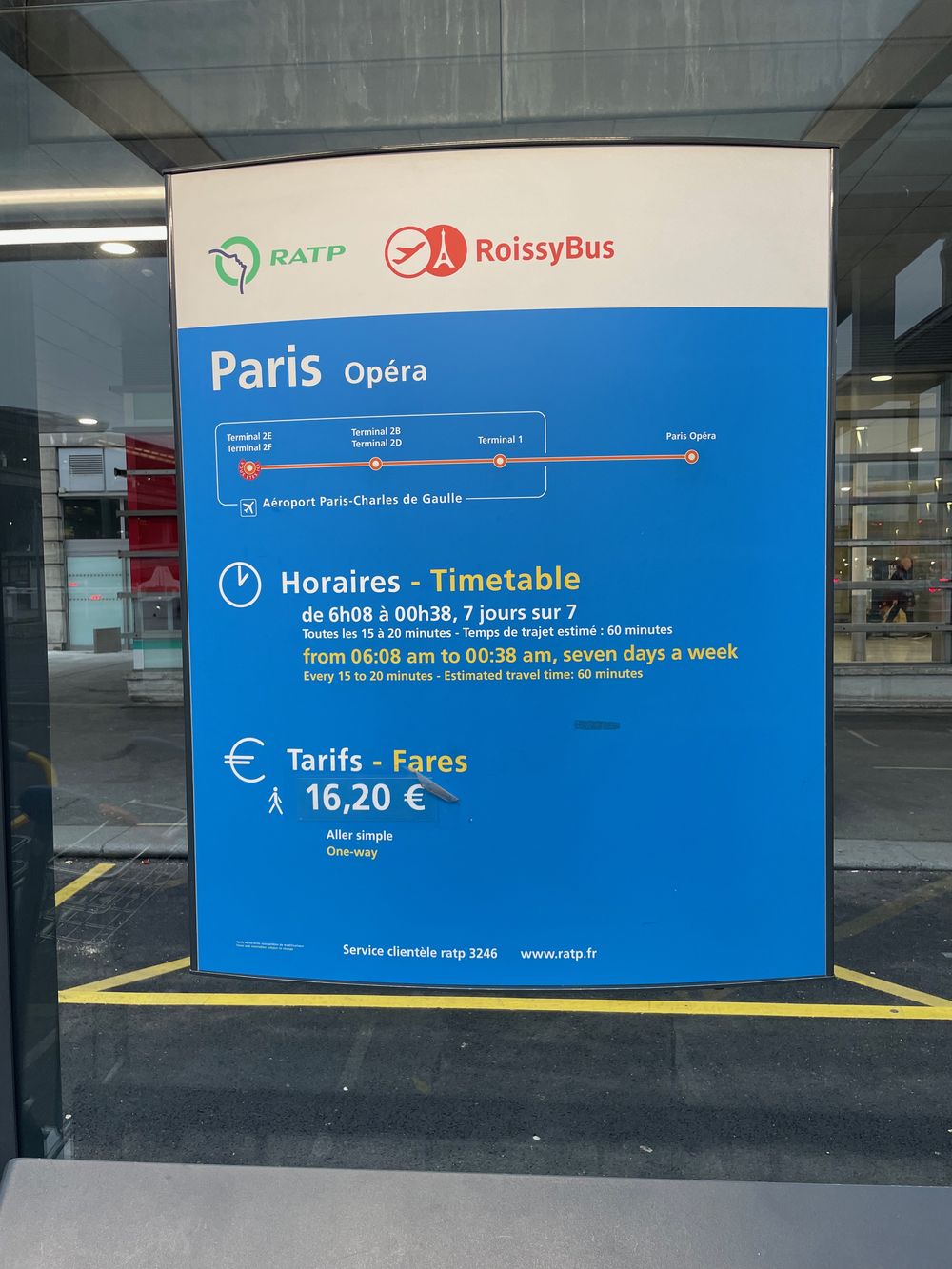 RoissyBus Cost
The RoissyBus is very affordable, costing just 14€ for a one-way trip between the airport and the city. You can buy your ticket at a machine or use the official RATP app to load tickets onto your Navigo pass.
How to Find the RoissyBus at CDG
The RoissyBus stops at nearly all the terminals at CDG. Follow signs to find the nearest pick-up stop at your terminal. I typically arrive at Terminal 2E and the pickup area is located outside in the middle of the highway rings.
How to Find the RoissyBus in Paris
RoissyBus picks up people heading to the CDG Airport very close to the Palais Garnier monument in the Opéra neighborhood. If you're staying in the area, it's incredibly convenient!
RoissyBus vs RER/Metro
Compared to the RER followed by the Paris metro, RoissyBus is much more comfortable, and you don't have to worry about traveling on public transportation with large suitcases which is usually a pain when taking the RER. You need to lug them up and down staircases, shove them onto the metro cars, and annoy everyone around you when there isn't enough room, such as during rush hour. 
RoissyBus vs Taxi
Compared to a taxi, the RoissyBus is much more affordable, saving you at least 40€. You still have to deal with traffic in a taxi, so why not do it for cheaper?