Summer might be the most popular travel season, but every Parisienne knows that September is undoubtedly one of the best times to visit the City of Love. The summer's heat is gone, fall foliage is revealing its stunning colors, and there are endless things to do in September in Paris.
September in Paris Weather
September in Paris marks the beginning of the autumn season, and the weather tends to be relatively mild and pleasant. The average temperatures range from around 13°C (55°F) in the early mornings and evenings to about 20°C (68°F) during the day.
While the beginning of the month may still have some lingering warmth from summer, the temperatures gradually cool as September progresses. Rainfall is not uncommon, with an average of 15 rainy days throughout the month, so it's a good idea to have an umbrella or raincoat handy.
The days begin to shorten, and the amount of sunshine reduces slightly compared to the summer months. September in Paris offers a comfortable climate, with a mix of sunny and overcast days, and occasional rain, making it a lovely time for sightseeing and outdoor French activities!
September in Paris What to Wear
In September, Paris experiences a transition from summer to autumn, so it's wise to dress in layers that can accommodate both warm and cooler temperatures.
Parisian women typically wear lightweight sweaters or long-sleeve tops paired with jeans or casual slacks. A versatile jacket or trench coat is a good option for unpredictable weather changes, and may be easily removed if it gets warmer.
Since Paris is known for its fashion, a nice scarf can add both style and warmth. Comfortable walking shoes are essential as you may find yourself exploring the city on foot, but a pair of stylish flats or ankle boots can also work well.
I recommend carrying an umbrella everywhere as rain can be intermittent in September. Overall, aim for a blend of comfort, versatility, and style in your attire, keeping in mind the city's chic reputation.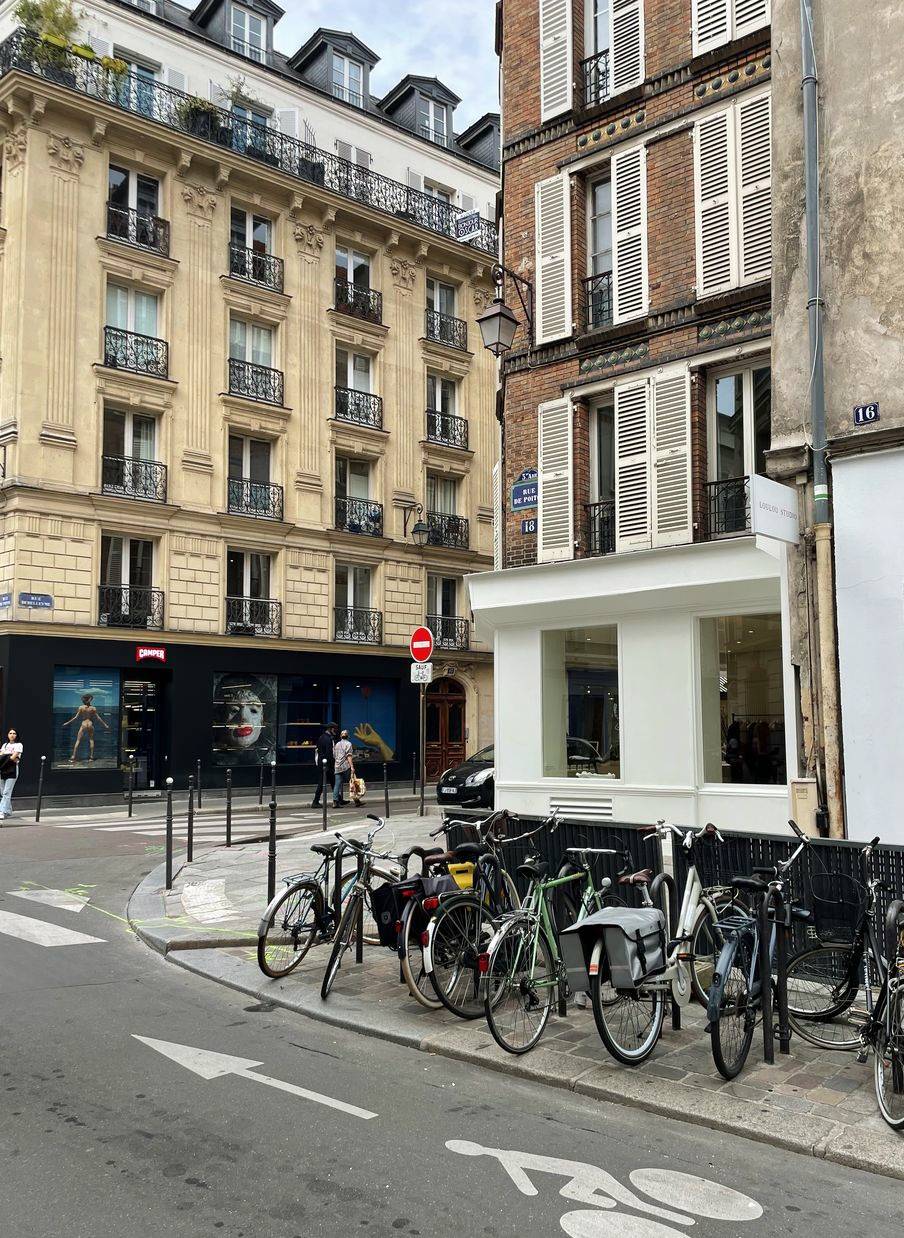 Things to Do
Here are a few of my favorite fall in Paris activities!
Watch the leaves change in Parisian parks and gardens
Fall in Paris is a gorgeous time of year, thanks to the changing leaves in its many parks and gardens. A popular place to view the foliage is the Jardin du Luxembourg, which contains French and English gardens, an apiary with beehives, and a rose garden. Take a walk under the canopy of trees and then enjoy one of the many activities for adults and children alike, such as chess, rides, or remote control boats.
Go to a cemetery
Paris has some of the world's most beautiful cemeteries, and what better time to experience them than during autumn's misty, mysterious days? Pay your respects at the tombs of highly-lauded folks like Oscar Wilde, Chopin, or Degas at Père Lachaise, or simply enjoy the peace and quiet of Montmartre or Montparnasse. Even if you choose to explore one of Paris's other 11 cemeteries, you're sure to find awe-inspiring art and architecture, fascinating culture and history, and a sense of peace.
Read and people-watch at a café
What better place is there to take shelter from autumn's many rain showers than at a charming cafe? Since Paris is almost synonymous with cafe culture, the excellent options are endless. Buy yourself a coffee and for the ultimate relaxing experience, put your phone on silent, pull out a good book, and let yourself be transported to a quieter place. One of our favorites is the pint-sized Boot Cafe on Rue du Pont aux Choux.
Enjoy art and cultural events
As the crowds of summer tourists depart Paris in September, Parisians experience la rentrée, or the return from summer holidays as city life gets back into full swing. This is one of the best times to experience Paris's many cultural offerings. Celebrate the opening of new art performances during Autumn Festival, learn about history and culture at European Heritage Days, or catch the opening of a new art exhibit at one of the many museums.
Visit the Catacombs
For a chilling start to the spooky season, descend under the streets of Paris to the Catacombs, where the bones of thousands of people buried in Saints-Innocents cemetery were transferred during a public health crisis in the late 1700s. Situated in the tunnels of an old quarry, the Catacombs are full of stacks of bones from unknown people. Pay your respects at this unusual place, and make sure to book tickets ahead of time because it can get busy.
Drink hot chocolate
Paris has been famous for hot chocolate since it became a huge hit at the courts of Versailles in the early 1600s. Now, the city has many cafes dedicated exclusively to hot chocolate, where you can find it spiced, dark, white, or even Viennese style (thickened with egg yolk!). And what better time to enjoy a steaming cup of sweetness than during the chills of autumn? Angelina is one of the most iconic destinations, but don't miss Les Deux Magots, a favorite haunt of Hemingway, Sartre, and others, for a peek into French literary history.
Celebrate the harvest season with wine festivals and tours
A trip to Paris would be incomplete without experiencing wine culture, and luckily September brings some excellent festivals celebrating the end of the harvest season. Fete des Vendanges takes place at Les Clos Montmartre, one of Paris's hidden vineyards, during September or October. Even if you miss the festival, you won't regret scheduling a vineyard and wine-tasting tour.
Explore 59 Rivoli – The Art Squat
If you're looking to have a unique, artsy experience on a rainy day, you can't miss 59 Rivoli – The Art Squat. Part gallery, part art studio, and part ode to counter-culture, this creative space will remind you that the spirit of the bohemian artist movement of late 19th century Paris is still alive and well. Located on a busy commercial street, 59 Rivoli stands in opposition to popular culture and provides a thought-provoking, entertaining experience.
Experience a ghost-walking tour
Paris is known for being the City of Love, but it has a spooky, mysterious side as well! Get your fill of ghosts, spirits, and other things that go bump in the night on a ghost-walking tour of the city. A knowledgeable guide will share the otherworldly and macabre side of Paris, leaving you with some chills down your spine and a deeper insight into the city's history. CityWonders offers a great tour, and a quick search will easily reveal even more options to perfectly fit your schedule and budget.
Eat French comfort food
France is known for its small portions and top-notch meals, but the beginning of the cold weather season is the perfect time to indulge in the other side of French cuisine – decadent comfort food. Tartiflette offers copious amounts of cheese and potatoes, hearty cassoulet is a stew that has been filling stomachs since the 1300s, and you can't go wrong with a hot cup of iconic French onion soup. Bouillon Pigalle is a great, affordable place to enjoy some of France's most beloved dishes.
Take a market tour and cooking class with a French chef
If you're itching for an unforgettable, hands-on experience, book a market tour and cooking class with a local Parisian chef. You'll spend the morning selecting your materials at one of Paris's many neighborhood markets, and then be expertly guided through preparing a delicious meal to enjoy that evening. La Cuisine Paris offers a multitude of cooking classes, market tours, and even patisserie and baking classes.
Don't miss Paris in early fall, when it's at its most bustling and beautiful. Enjoy the crisp air, renewed artistic and cultural events, and stunning foliage as you experience this gorgeous city. Hopefully, this article gave you some ideas to start planning your perfect trip today!