Wondering what to pack for Paris in the fall? If you're heading to Paris in the fall, or L'automne, then firstly – you are a good travel planner as this season is a great time to visit Paris!
Whether you're traveling during late September, October, November, or early December, fall is a wonderful time to visit the city of light!
Deciding what to wear in Paris in the fall can be challenging. The weather starts to cool down and can be downright unpredictable at times.
Paris Fall Packing List
The key to packing for Paris in the fall is to plan for layering! Often, fall mornings in Paris are cold, but by the early afternoon, the sun comes out and warms up the temperatures. For this reason, you may want to remove an outer layer later in the day.
Here's what I recommend packing for Paris in the fall!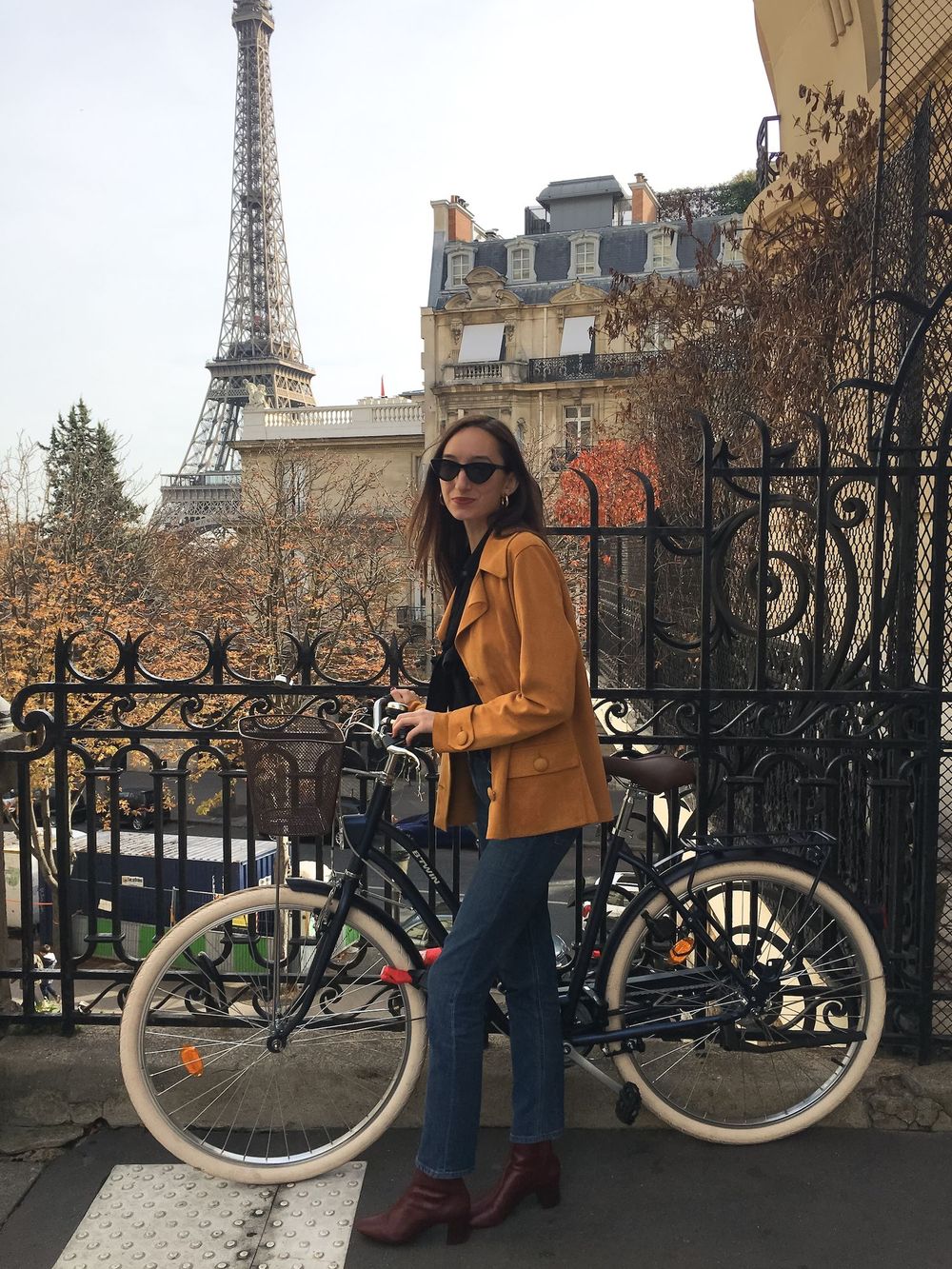 Clothing
Light undershirts
Camis and short-sleeved t-shirts are a great way to add a little bit of extra warmth under your heavier layers.
Long-sleeve Shirts
Great for warmer fall days. These could be form-fitting or loose, button-up, Oxford shirts.
Sweaters
Definitely bring some thick sweaters with you to Paris in the fall! I love a good chunky knit sweater to wrap myself in. I also have a few thinner sweaters in basic colors that I bring along, like this 100% cashmere sweater from Quince.
Bottoms
I always bring a suede or corduroy skirt with me to Paris, a nice pair of black pants for going out, and a few pairs of comfortable AGOLDE jeans. If I have space, then I'll bring two additional pairs of casual pants like dark green corduroy pants or navy blue wool blend pants.
Dresses
I like to bring two dresses with me to Paris in the fall: One casual one for daytime outings, and one fancy one for nice dinners!
Outerwear
Light Jacket
Bring along a light fall jacket for the warmer autumn days in Paris!
Trench Coat
Paris is known for its rainy days, so try to bring a trench coat or waterproof jacket with you. The Sezane Scott trench is a great option.
Heavy Coat
I absolutely recommend bringing at least one heavy coat with you in case the temperatures dip into the 30s, which is entirely possible during autumn in Paris! My beige Stories wool coat keeps me nice and cozy as I stroll the charming yet windy Parisian streets.
Shoes
Walking Shoes
Bring at least one comfortable pair of walking shoes with you. Flats are great for early fall, while enclosed boots are better for late fall trips to Paris. Parisians wear sneakers, but not running shoes. Try a pair of classic Converse or Veja Sneakers, which are super trendy in Paris.
Fall Boots
Fall boots are a must-have to look chic while visiting Paris. Suede is the material of choice, but leather is also quite popular. You could choose ankle boots or knee-high boots, whichever you prefer!
Heels
If you plan to go out to dinner, then don't forget to bring a pair of nice high heels to Paris! Ankle strap heels are very much in style here in Paris.
Accessories
Belts
I bring one brown leather belt and one black leather belt with me to Paris when I go there in the fall!
Handbags
I typically bring one crossbody leather bag with me when I want to move around lightly, and one larger tote bag for when I have more to carry while in Paris. The A.P.C. Half-Moon bag is extremely popular in Paris.
My Longchamp Pliage tote has served me well for more than 5 years! If you have space in your luggage, bringing several handbags could be useful to match with your outfits, too!
Scarves
I bring two wool scarves with me to Paris: One beige one and one burgundy or navy colored one! I own this beige scarf and it's heaven! You could also bring a silk scarf (very Parisian) with you to fit in with the locals.
It's not a bad idea to bring a hat and Agnelle gloves as well if you're traveling to Paris in late fall. The temperatures can easily drop to the 30s (and lower) so it's best to be prepared for the cold! Paris is far from the cheapest city for last-minute purchases.
Where to Go if You Forget Something
If you do forget something while in Paris, then head to Hema or Monoprix for cheap, on-the-spot purchases. While these stores don't run dirt cheap, they are very common and easy to find throughout Paris!
Carnaval des Affaires at 30 Boulevard Poissonnière in the 9th arrondissement is great for cheap extras and is located in central Paris. I've bought a duffle bag here for 10 euros to bring some extra purchases with me back home.
Have a fun fall trip to Paris!