Springtime in Paris is unlike any other. If you're visiting Paris in the spring, then you picked a fabulous time to go! Once the temperatures start to climb, Parisians come out of their apartments to bask in the sun and enjoy the city's famous sidewalk terraces. Flowers begin to bloom and you can see some of the most beautiful cherry blossom trees in Paris during the springtime!
These are just a few of the reasons many people consider Spring the best season to visit Paris. Keep reading to learn how to make the most of spring in Paris, France!
Spring in Paris
As someone who loves Paris in all seasons, here is my guide to visiting Paris in spring. Whether you arrive in March, April, May or June, you're bound to love your springtime visit to Paris with my advice!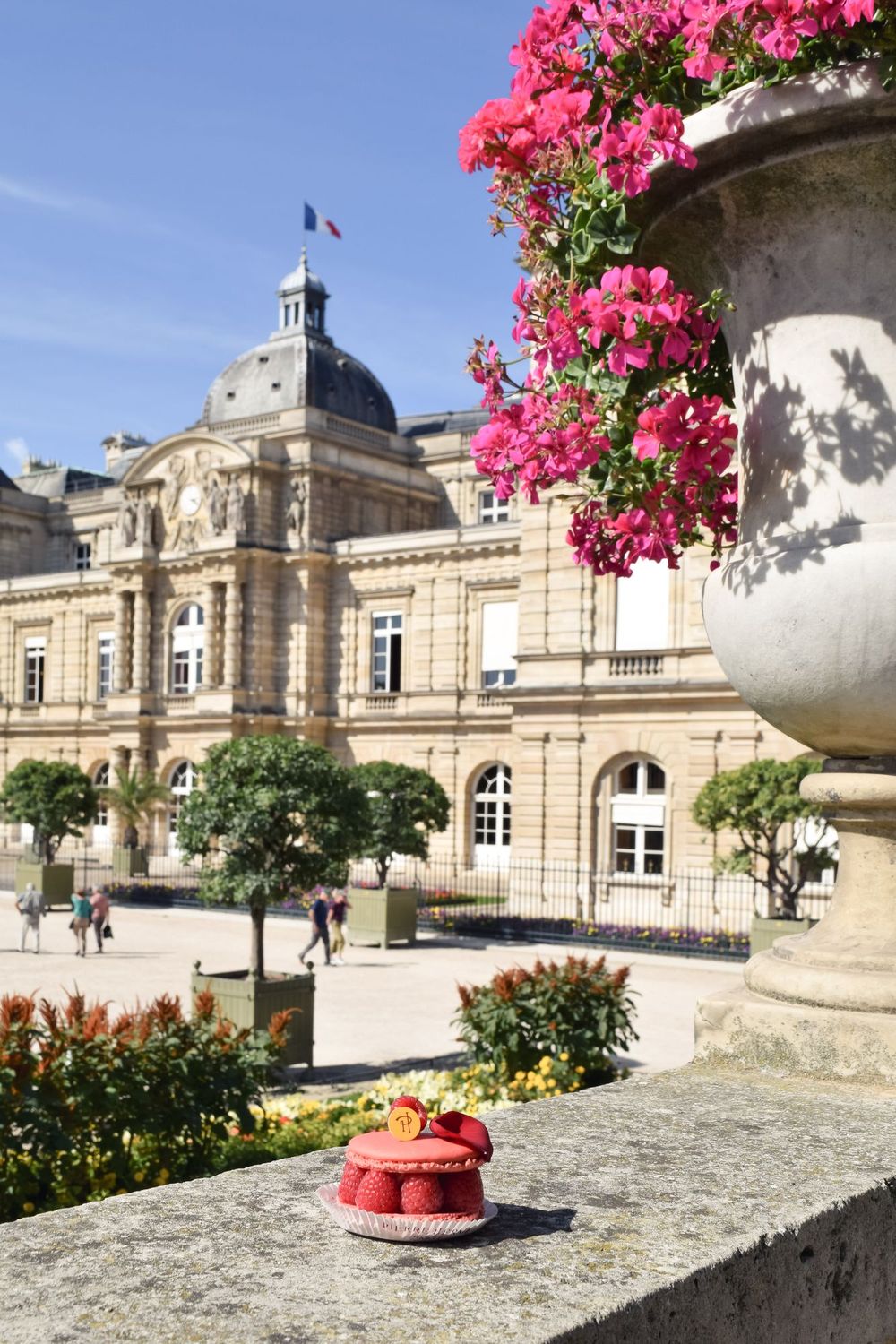 Spring in Paris Weather
The weather during Spring in Paris can vary quite a bit, bu you'll be pleasantly surprised to learn that spring weather arrives much faster in Europe than it does in the northern United States. While New York can see snow storms in April, Paris is well on its way to springtime weather by this time!
The downside to warm temperatures is that rain tends to be common during spring in Paris. But hey, rain is better than snow, right?
Spring in Paris Temperatures
March temperatures in Paris will fall to an average low of 41 °F (5 °C) and rise to an average high of 54 °F (12 °C). Come April, temperatures will climb to a low of 45 °F, and a high of 60 °F. In May, you can expect temperatures in the range of 51 °F to 67 °F. Finally, in June, temperatures in Paris will be between 56 °F and 72 °F (13 °C to 22 °C).
What to Pack for Spring in Paris
When it comes to packing for spring in Paris, the best way to dress is by layering. So bring your t-shirts to layer under your sweaters and jackets. Here are a few practical essentials to put on your spring in Paris packing list.
An Umbrella – I recommend bringing an umbrella with you no matter the season in Paris. You never know when you will run into some rain!
A Trench Coat – Parisians wear trench coats to shield themselves from the rain but you can bring any type of raincoat you feel most comfortable in!
A Spring Sweater – Mornings and late afternoons in Paris are generally chilly during the spring, so bring a light spring sweater in case you get cold.
A Warm Scarf – Parisians love their scarves and you'll fit right in with an oversized wool scarf to keep you warm when the wind blows.
The Best Hotels for Spring in Paris
The best hotel for spring in Paris is one that has a black iron balcony, of course! Aside from the inside, these hotels are centrally located near Paris' many attractions, meaning you're only a short walk away from the magic the city has to offer.
Luxury Hotels in Paris
Paris has no shortage of luxury hotels. Spring is a great time to book a luxury hotel and take advantage of the beautiful views out of a top Paris hotel room. The highly rated luxury 5-star hotels in Paris which have retained their Parisian charm are:
Mid-Range & Boutique Hotels in Paris
These mid-range boutique hotels are a nice balance between charm and price. Many of them draw a creative, cool crowd making them the perfect choice for a modern Parisian hotel experience.
Budget Hotels in Paris
Visiting Paris on a budget is difficult, but these budget hotels in Paris offer the lowest prices around. The trade off is that they are located off the beaten path – though this shouldn't be a problem in the spring, when the weather in Paris is nice!
Getting To and From Paris in Spring
Now that you've got most of the planning down, it's time to figure out how you're going to get to Paris in spring! Like most major cities, you have quite a few options.
Flights to Paris
If you're coming from the United States, you will probably fly into one of the city's two main airports: Charles de Gaulle (CDG) or Orly (ORY). Although it's considered an official Paris airport, I definitely recommend against flying to Beauvais Tillé (BVA) airport, because it's quite far from Paris, and not worth the headache.
Plane ticket prices to Paris have been dropping lower over the years. It used to cost at least $800 to fly round-trip to Paris from the USA, but these days you can find tickets for as low as $300! The major airlines that fly often to Paris are Air France, Delta, JetBlue, and American Airlines.
I recommend Air France business class for the long-haul flight. Affordable all-business class flights take off from Newark, NJ thanks to a small airline called La Compagnie.
Low-cost airlines you can consider for your budget flight to Paris are French Bee and Norwegian Air.
After landing at the airport, there are a few options for getting into Paris.
My preferred option for getting to central Paris from the airport is through RoissyBus, the city's direct bus transfer line that goes straight to Opéra. While a standard city bus or the RER will make all the local stops and take a really long time, RoissyBus goes directly between the city and the airport. A one-way trip typically costs just 16€ and you take a large bus with plenty of seating and rack space on the bus for your luggage.
Here are all the options:
Cheapest: RER Metro or Public Bus
Affordable: RoissyBus
Expensive: Uber or a Parisian Taxi
Trains to Paris in Spring
If you're coming from within Europe, you could also take one of the many high-speed trains that go to Paris' major train stations. If you're coming from London, the easiest way to get to Paris is on the Eurostar train that arrives to Gare du Nord.
Buses to Paris in Spring
The cheapest option for getting to Paris is usually by bus, but obviously, you must be already located in Europe to take advantage of this option! FlixBus is a respected bus company serving many destinations in Europe.
Getting Around Paris in Spring
Paris offers a ton of different ways to get around the city. Of course, some ways are better than others to get around Paris in spring! I highly recommend walking as often as possible if you visit Paris in the spring. It's the most economical way to get around Paris and offers you the best way to see the city and get a feel for what it's like to be a local!
For longer distances, you can get around Paris in spring in the following ways:
Metro: RATP is the official Paris public transportation company. A one-way Paris metro/ ticket costs just €1,90. You can purchase a pack of 10 tickets at a discount, for just €14,90. The metro is easy to use, but be sure to look up your route via RATP or Google Maps ahead of time!
Bus: The bus is a great way to see the city while traveling through it, though in my experience, it's quite slow and is best for shorter routes. You can use the same tickets you bought for the metro to take the bus! Visit RATP to confirm the route you need to take. Be sure to validate your ticket upon boarding the bus.
Bike: Parisians love to ride bicycles through the city and Velib is the company which offers easy to rent bikes to Parisians.
Scooter: Electric scooters have made their way to Paris, for better or worse! Rent an electric scooter through Lime.
Uber or Taxi: The easiest, but most expensive way to get around Paris is using a Taxi. Keep in mind, Uber has started requiring a passport to use their service abroad. The metro closes at 1am so you may be forced to call a taxi if you need to get home late at night.
Things to Do During Spring in Paris
There are so many things to do during spring in Paris. It's the perfect season to take a strong along the beautiful passageways of Paris. Because it's not too hot and not too cold, you can walk for hours comfortably in spring!
Here are some of the top things to do during spring in Paris:
See the Cherry Blossoms in Paris in Square René-Viviani
Attend the Livre Paris Book Fair
Lunch at Perruche, on the roof of Le Printemps
Have a rosé at a sidewalk café in Paris
Eat Macarons in the Jardin du Luxembourg
Sip champagne while watching the sunset on the banks of the Seine
Paris Marathon (April)
PAD Paris Art + Design (April)
Easter mass at Notre Dame
Taste of Paris Food Festival (May)
European Museums Night (La Nuite Européenne des Musées) (May)
The Roland Garros tournament or French Open (May/June)
Saint-Germain-des-Prés Jazz Festival (May)
If this is your first trip to Paris, be sure to read about the best things to do in Paris, anytime of the year!
What to Eat During Spring in Paris
Many people want to visit Paris just to try the delicious food that France is known for! You may be surprised to learn that when it comes to eating in France, things work a little differently than they do in the United States. Here is a general idea of what to expect when deciding where to eat during spring in Paris!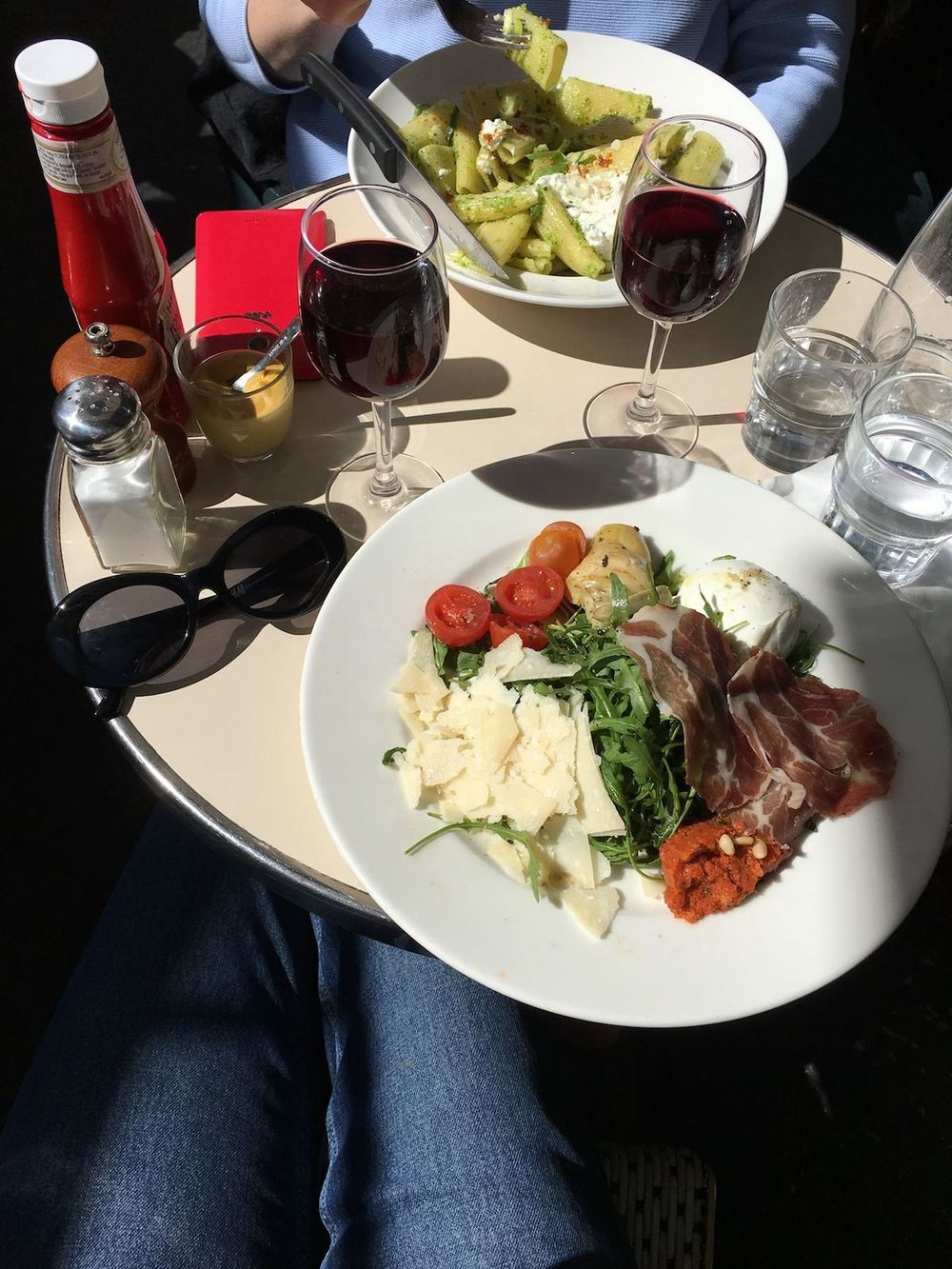 Grocery Stores in Paris – $
To start off, you can buy inexpensive food at a grocery store during your trip to Paris in spring. Franprix and Carrefour are the most prevalent grocery stores in Paris that I prefer, but G20 and Monoprix are other options that could be closer to you.
What you must know about grocery stores in Paris is that they do not provide paper or plastic bags for you to use to transport your groceries back home. You can always buy a reusable tote bag on the spot if needed, but try to bring your own tote bag to save money!
Boulangeries – $
For a higher quality food experience, head to your nearest boulangerie, which is essentially a French bread bakery that offers a variety of affordable foods from croissants, to baguettes, to quiches, to sandwiches and salads. Boulangeries are the perfect option for eating affordably but well in Paris.
Most boulangeries offer what is called a "formule" or a group of things at one single price, often lower than if you had purchased each item individually. A common formule you will see advertised is : a sandwich, a dessert, and a beverage for something like 7–8 euros. This is often a good deal if you don't have food and drinks at home!
Some smaller boulangeries also do not provide a bag for you to carry your purchases, so bring a larger bag to hold them if you purchase multiple things. They also often have credit card minimums that could be as high as 10 or 15 euros, so it's good to bring cash with you if you're only making a small purchase. The larger chain boulangeries don't have these issues however so head to Paul or Maison Kayser if you don't want to worry about it.
Cafés & Brasseries – $$
For a quintessential Parisian experience, head to a café or brasserie to eat. Keep in mind, many places called "café" serve much more than coffee. Most cafés and brasseries in Paris have a full service food menu where you can get everything from a croque monsieur to a duck confit, to pasta, to a Niçoise salad. Brasseries tend to be mediocre in terms of food quality. I also find them a bit overpriced, but you can usually see the menu and pricing posted outside before deciding to sit. Many French people go to cafés and brasseries for drinks only as they are happy to serve you wine, beer and other drinks. Most of the typically Parisian sidewalk cafés or "terrasses" with round bistro tables and wicker chairs are cafés or brasseries.
I don't usually share a list of cafés and brasseries to visit because they are literally found all over Paris and serve more or less the same food. They are a reliable option for dining and you should look for the one near your hotel upon arrival. Google Maps ratings are also a good place to check when deciding which one to visit.
Casual Restaurants in Paris – $$
Casual restaurants have popped up everywhere recently in Paris. These establishments offer an easygoing dining experience that locals love! Often times you can order takeout from these places with no problem. Some of my favorite casual dining restaurants in Paris are:
Blend Burger
Frenchie
East Mamma
Breizh Café
La Droguerie
Modern French Restaurants – $$$
Modern French restaurants are also popping up quite frequently in Paris these days. Chefs are creating updated versions of traditional classics and serving them in modern, chic spaces. For this type of dining experience, check out:
Traditional French Restaurants in Paris – $$$
Traditionally French restaurants can offer an authentic experience of eating French food for the average Parisian of decades past. These restaurants are often minimally decorated, or feature elements of old French restaurants. For a classic French dining experience, try:
Chez L'Ami Jean
Les Philosophes
Allard
Café des Musées
L'Assiette
Benoît
La Bourse et la Vie
Fine Dining Restaurants in Paris – $$$$
Lastly, you should consider haute French cuisine from restaurants that specialize in serving an exceptional French meal. Often times, these restaurants are Michelin starred. For the best fine dining restaurants in Paris, try:
Le Train Bleu
Guy Savoy
Le Meurice
L'Ambroisie
Arpège
Where to Drink During Spring in Paris
Although Paris isn't known for its nightlife the way that other European cities like Berlin and London are, there is still a strong drinking culture you can enjoy if you want to have a night out!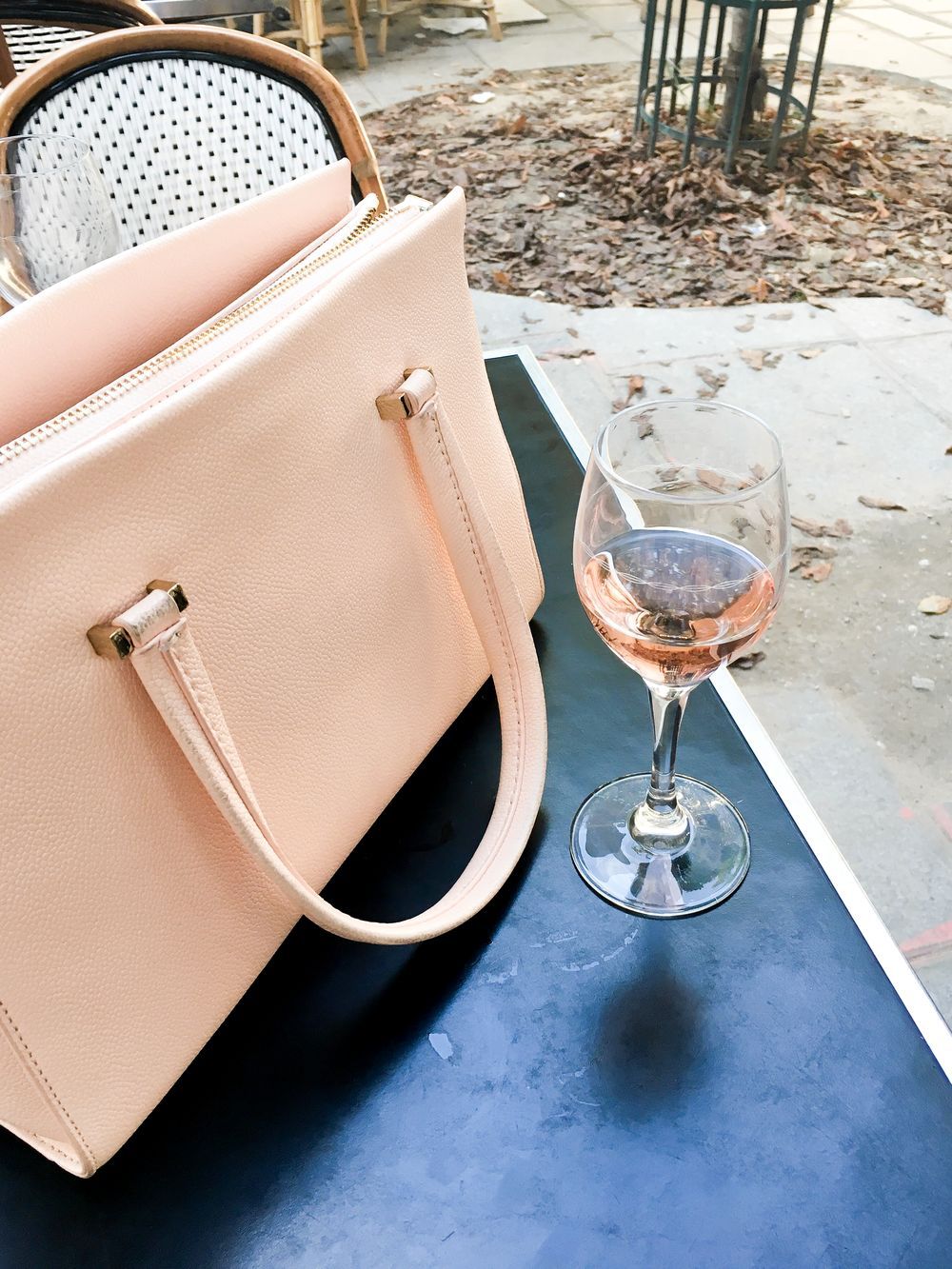 You can't get more French than having a glass of wine or beer on a sidewalk terrace at a café or brasserie! This is what Parisians do, and each evening after work you will spot groups of locals huddled around a small round bistro table. You'll also see these places busy late into the night. You have to visit Rue Montorgueil in the center of Paris at night at least once to get an idea for how popular and fun this is!
If cocktails are your thing, then these places are worth a visit:
Experimental Cocktail Club – 37 Rue Saint-Sauveur
Little Red Door – 60 Rue Charlot
Prescription Cocktail Club – 23 Rue Mazarine
Candelaria – 52 Rue de Saintonge
Who doesn't love a good rooftop bar in the spring? When the weather is nice, a rooftop bar in Paris can be a really special experience. My favorite rooftop bars to visit during spring in Paris are:
Le Perchoir – 33 Rue de la Verrerie
La Terrasse Hotel Bar – 12-14 Rue Joseph de Maistre
Perruche – Printemps de l'Homme, 2 Rue du Havre
If clubbing is really where your heart is, then my favorite nightclub in Paris is La Mano, a hipster club with an open dance floor and oldies music. If the weather is nice, head to Rosa Bonheur sur Seine – a floating nightclub on a boat along the Seine river!
Where to Get Coffee in Paris in Spring – Paris Cafés
Coffee in Paris is a morning ritual for Parisians and tourists alike. You have two main choices for getting coffee in Paris in spring, both of which I partake in regularly!
Sidewalk Cafés
The most Parisian way to start your spring morning is by sipping coffee and eating breakfast while sitting down and people-watching at a typical sidewalk café, just like the French. Most cafés and brasseries will offer you a croissant to nibble on or bread with butter and jam, too!
Here are the most common coffee beverages you can order from a Parisian café:
Un café – a simple coffee
Un café au lait – a coffee with milk
Un cappuccino – a coffee with frothed milk
Un café viennois – a coffee with cream on top
Specialty Coffee Shops
Paris has a ton of third wave coffee shops where you can sip some artisanal specialty coffee, too. These shops serve top quality drinks like lattes, flat whites, and cortados. The downside is that the majority of specialty coffee shops in Paris do not serve croissants and other typical French baked goods. They will most have banana bread or other snacks baked in-house.
My favorite artisanal coffee shops to visit during spring in Paris are: Fragments and Boot Café in Le Marais, Café Kitsuné followed by a walk through the Palais Royal, KB CaféShop in Montmartre, and Passager in the 11th!
Where to Shop During Spring in Paris
I'll bet you can't name a better city in the world to go shopping than Paris! The city lives and breathes fashion. So many people want to get a taste of French fashion from the source, and the city has an abundance of shops that cater to nearly every style or budget. Even if you're not looking to revamp your wardrobe while in Paris, there are plenty of shops for you to pick up memorable Paris souvenirs and cute gifts for your friends and family back home.
Clothing & Accessories
The major department stores in Paris are Galeries Lafayette and Le Printemps in the 9th, Le Bon Marché in the 7th, and BHV in Le Marais. Department stores in Paris are your best bet for finding the widest selection of fashion, gifts, accessories, suitcases and more in Paris!
If you love luxury French fashion, be sure to visit La Samaritaine which just reopened!
For the latest contemporary French fashion boutiques in Paris, head to Le Marais, the city's trendiest neighborhood when it comes to finding unique pieces from independent designers.
My favorite French fashion designers with boutiques in Paris include: Sandro, Comptoir des Cotonniers, Saint James, Mirae, Sézane, and Figaret.
Paris has seen an influx of new handbag and leather goods designers, each of which have their own unique style. These shops are a great place to find on-trend handbags that none of your friends back home have! Be sure to visit Léo et Violette, RSVP, Polène, and Olivia Clergue.
Gift Shops in Paris
For cute gifts in Paris that don't come from a Made-in-China tourist trap, check out the following authentic French shops for unique items to take back home: Merci in Le Marais, Mariage Frères for gourmet French tea, Maison Brémond 1830 for cooking supplies, Pierre Hermé for delicious macarons, and lastly, CityPharma for discount French skincare and beauty products.
---
Enjoy your spring trip to Paris!
Lastly, it's time to enjoy your trip to Paris in spring! Let me know your tips and suggestions for visiting Paris in spring in the comments!