When I booked a round-trip ticket from Paris to Miami, I originally booked Economy. The pandemic was still in full swing, meaning the planes were mostly empty except for dual citizens or expats visiting family at home.
It was my first time flying directly to Miami from Paris and even though there was an empty seat next to me on my way to Miami, the length of the flight was a bit uncomfortable. It took us around 9 or 10 hours to get to Miami since we were fighting the northern blowing Gulf stream winds.
Ahead of my return trip, I decided to upgrade to Business class since I knew the flight would be overnight and quite long.
I paid $823 at the gate to upgrade (looking at check-in, the price was similar at $822).
I got the very last window seat in Business class (9J) which meant I had an aisle and window on either side of me.
There's only one flight to Paris from Miami each day and it's on the new Airbus A350s. The Airbus A350 does not have a First Class cabin. Instead, 34 business class seats are offered arranged in a 1-2-1 configuration. The seats fit neatly into a Herringbone pattern and everyone sits at an angle.
Lounge Access
Business Class gets you access to the Air France Lounge or Delta Sky Lounge, their partner airlines. Since Miami Airport doesn't have an Air France Lounge, I hung out in the Delta Sky Lounge for an hour until boarding. It was certainly an upgrade from the Priority Pass lounges I have been used to. There were lots of food and snack choices available as well as a full bar. The view was not great at all, but the lounge had plenty of natural sunlight streaming in.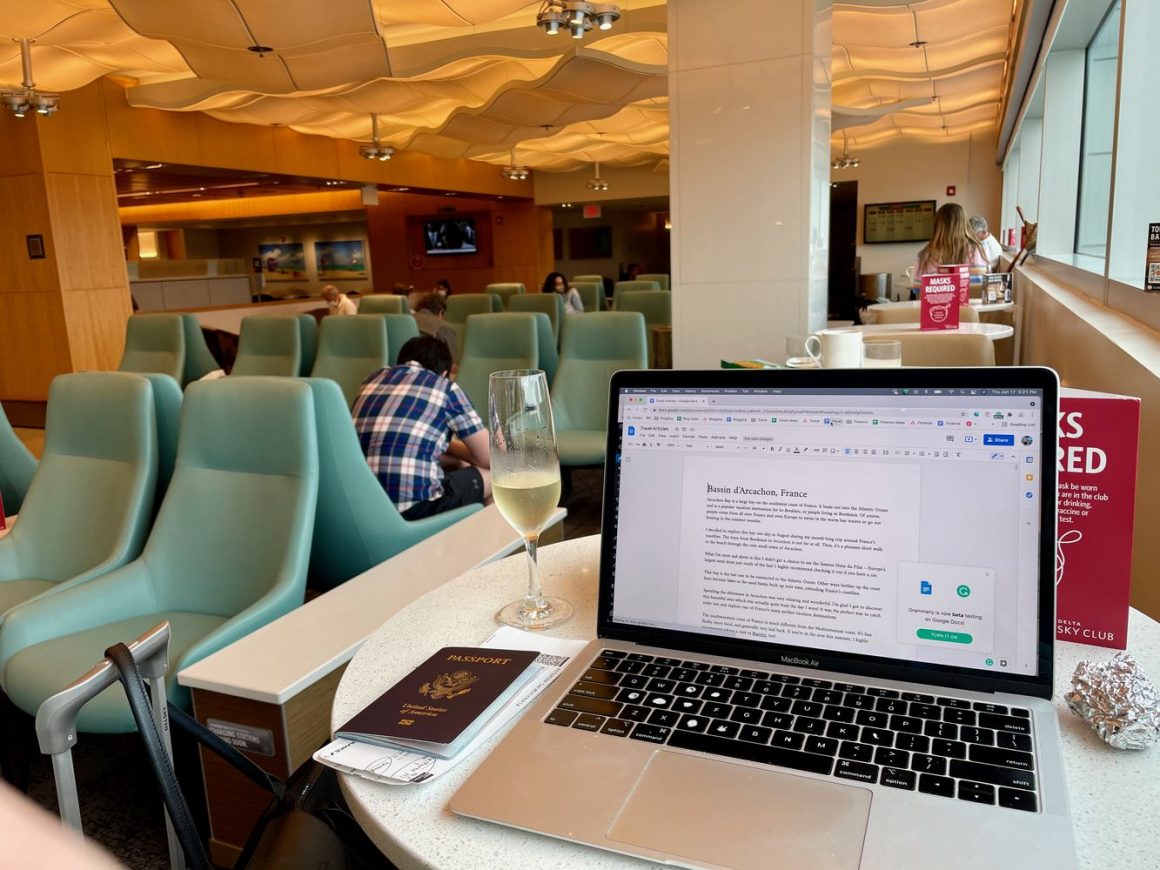 Boarding
France had recently decided to open up their borders to Americans so I knew that there would be a flood of people traveling to Paris and sure enough, the gate was packed with people waiting to board. Although two lines were formed for Zones 1 and 2 (Sky Priority) to the right and Zones 3, 4, and 5 to the left, everyone had basically formed a crowd around the entrance.
Boarding was not orderly at all, and I was surprised that the gate agents didn't even check people's tickets to see what zone they were in.
One of the perks of Business class is that you get to board with Zone 1, however, it didn't really make much of a difference on this flight.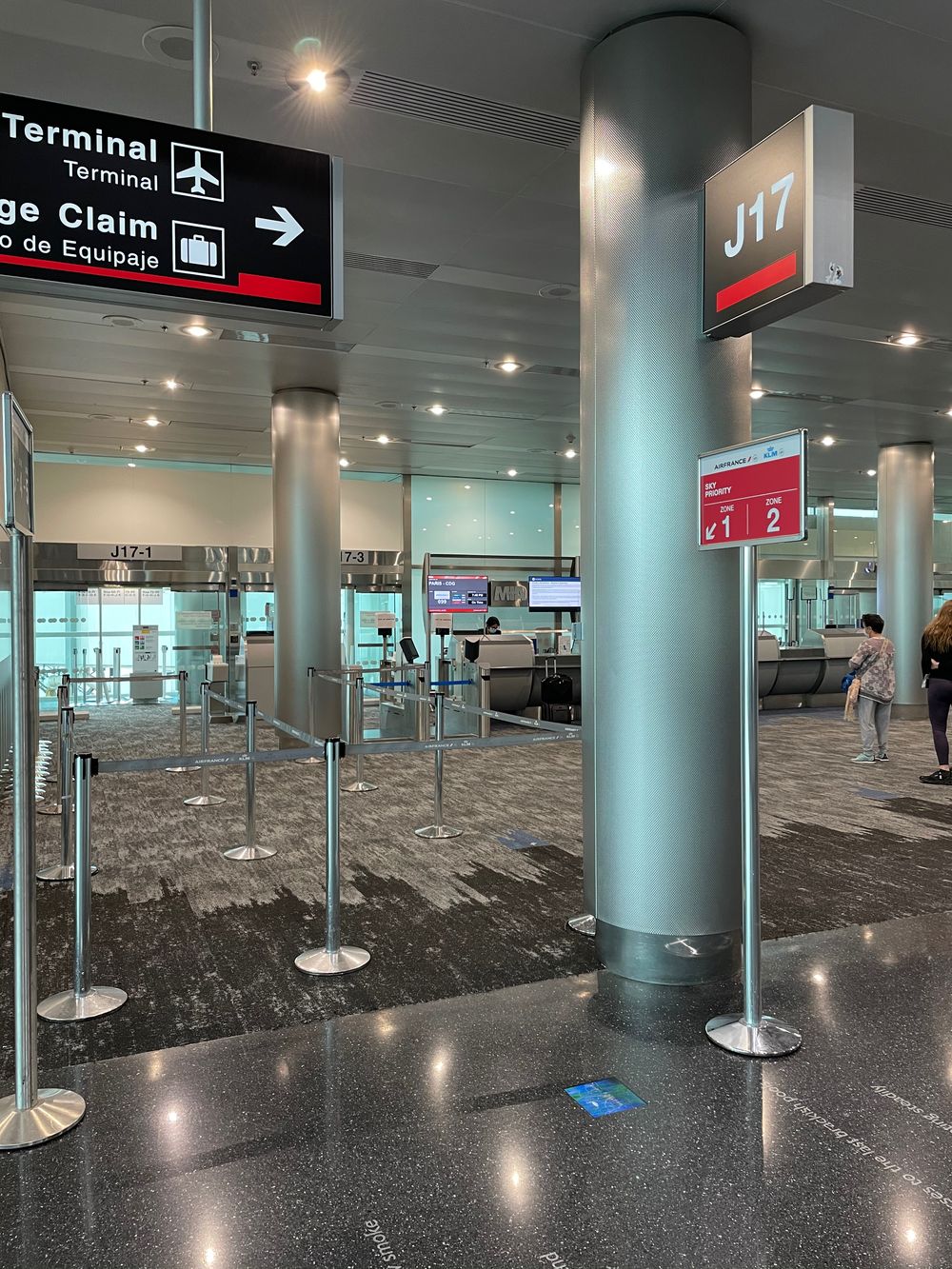 The good thing was that once you did reach the galley way, the two plane doors were utilized according to class. Business class travelers were directed to enter the front door, while Economy travelers entered the second door.
Economy passengers didn't pass through the Business class section which I was happy about as there was plenty of room to stand up and adjust what I needed to.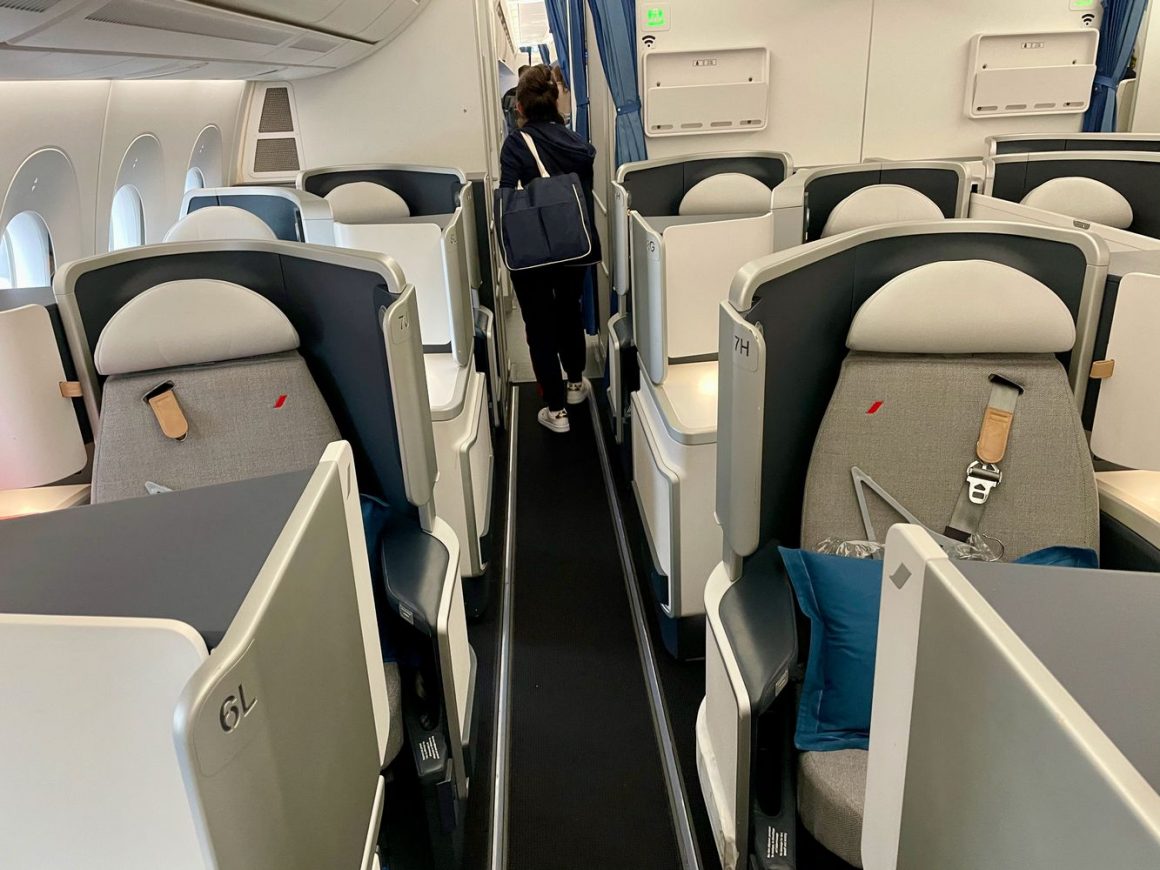 My Seat
I found a large fluffy pillow, a quilted blanket, and a hanger for my coat waiting for me at my seat.
Although I had a window seat, I sadly didn't have much of a view as I was in the last seat and my media console was blocking half the view. I had to really stretch over the side table to see out the window. Not a big deal, but worth mentioning!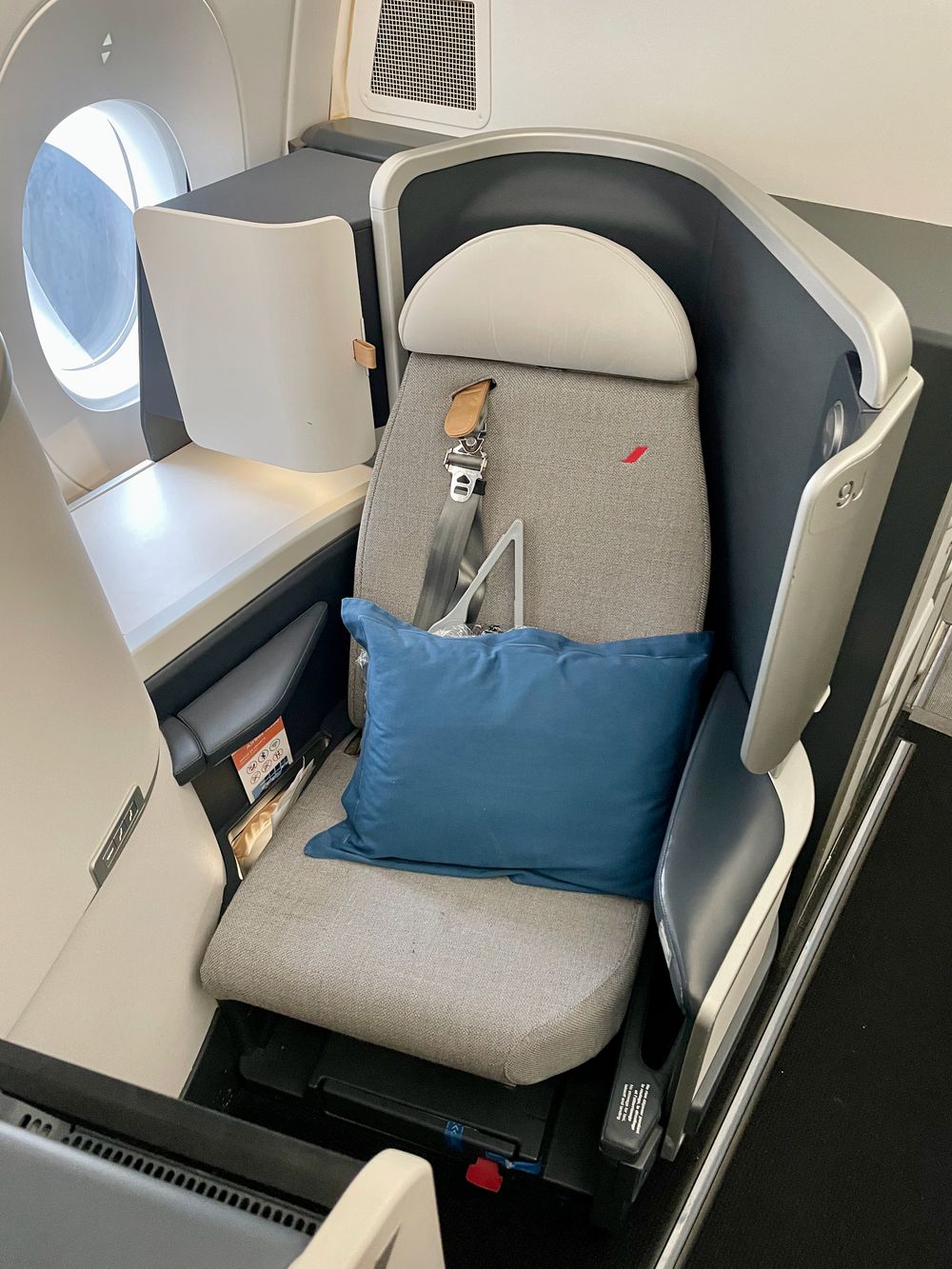 There is plenty of storage for your belongings. A small side surface can hold bags, magazines, or laptops. The closed cabinet has a bottle of Evian water, noise-canceling headphones, and a face mirror. The TV remote control is also found attached to this wall.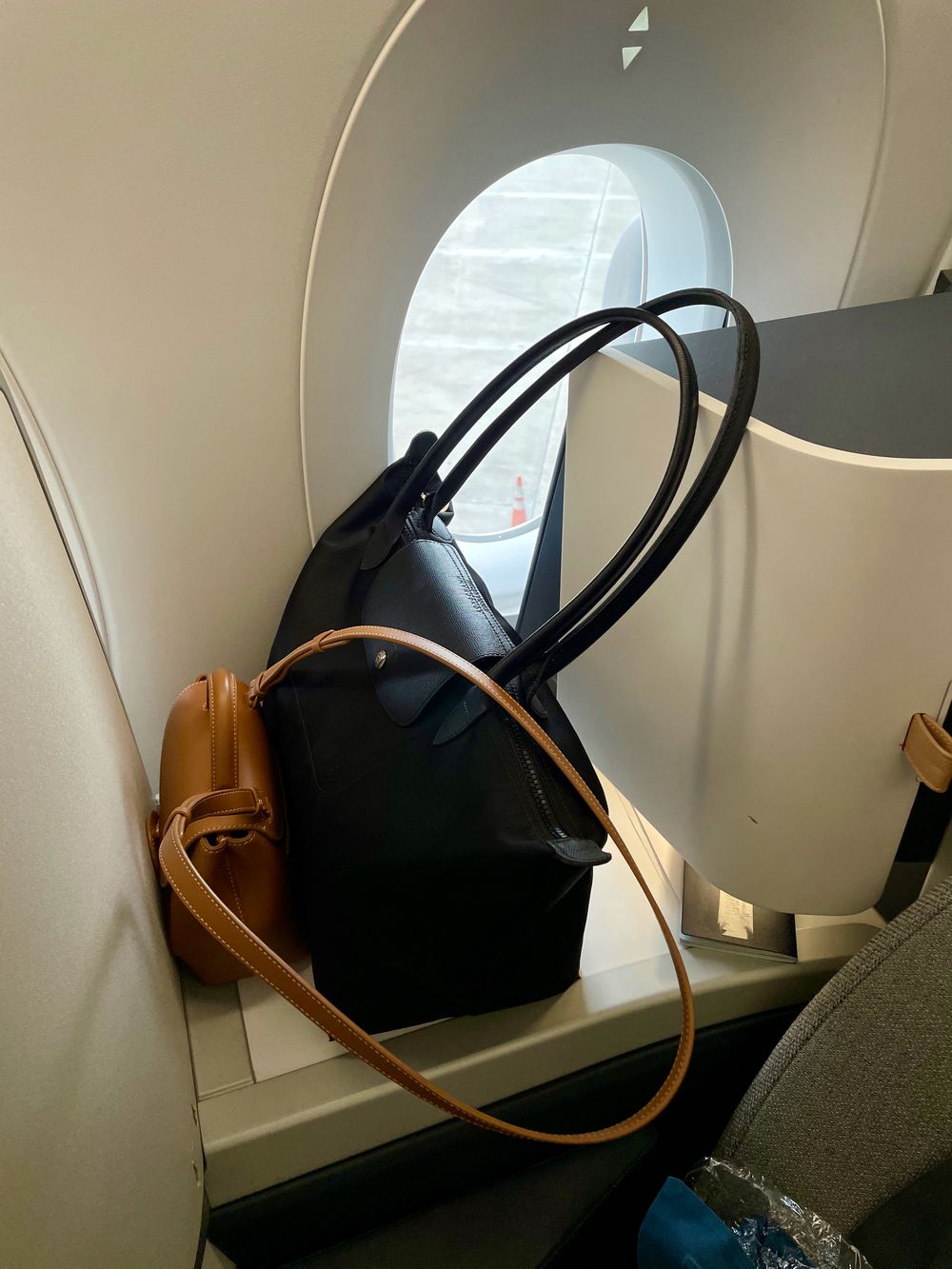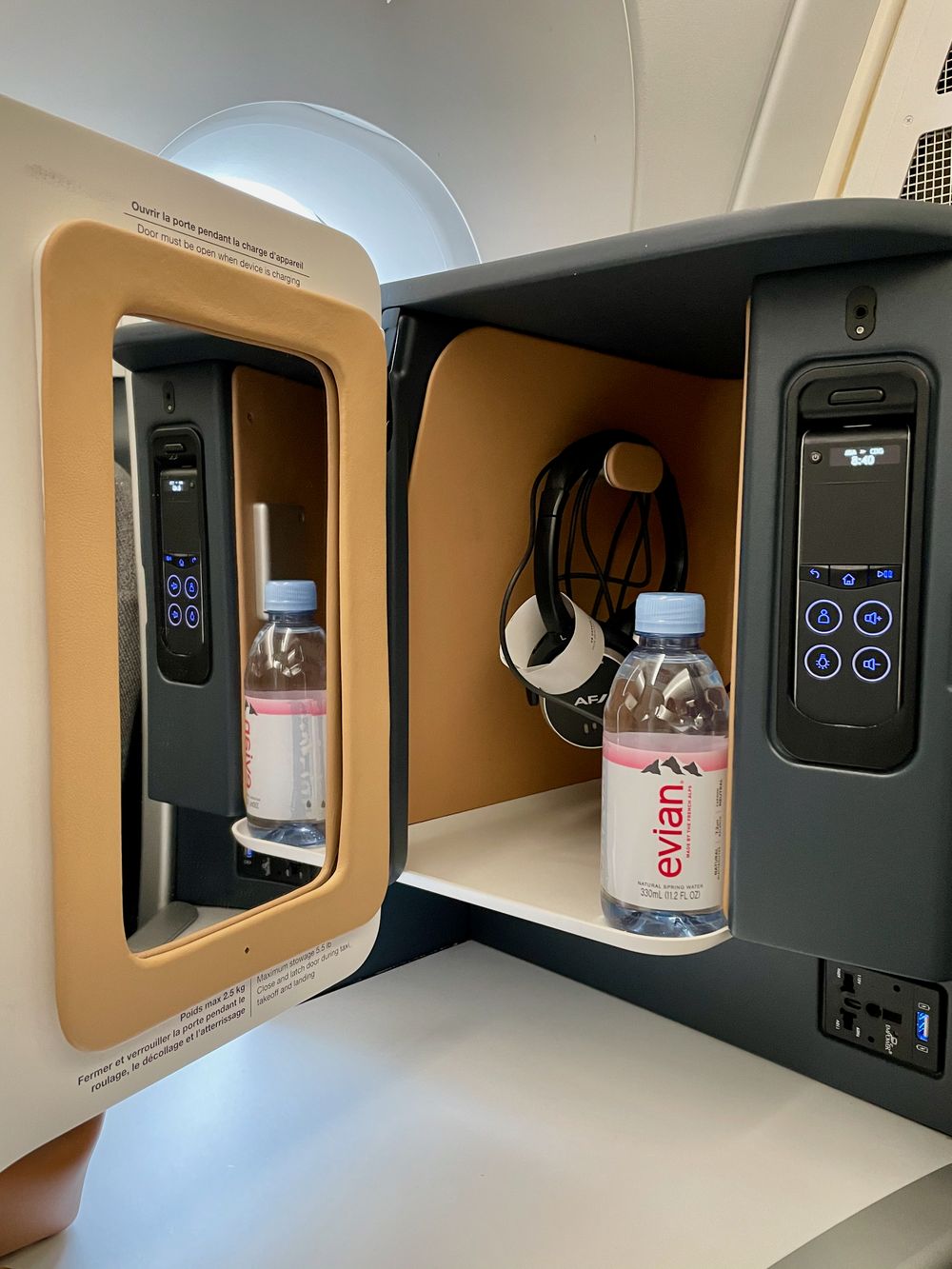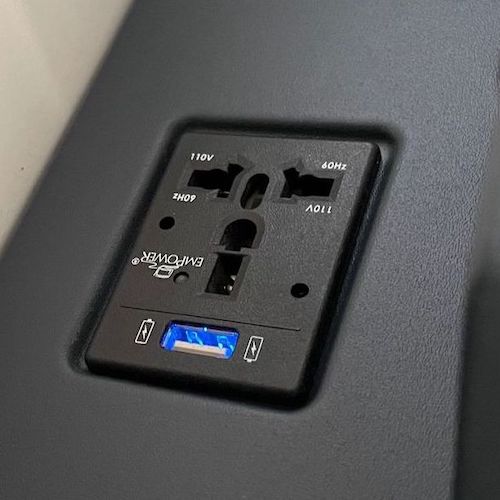 It was a bit inconvenient to have the power outlets located behind me, but I made it work. I got used to the wires on my right side and tucked them in where I could.
There were two places to plug in a USB wire – behind you below the small cabinet or in front of you, below the TV.
The seats are lie-flat so there is plenty of legroom to stretch out.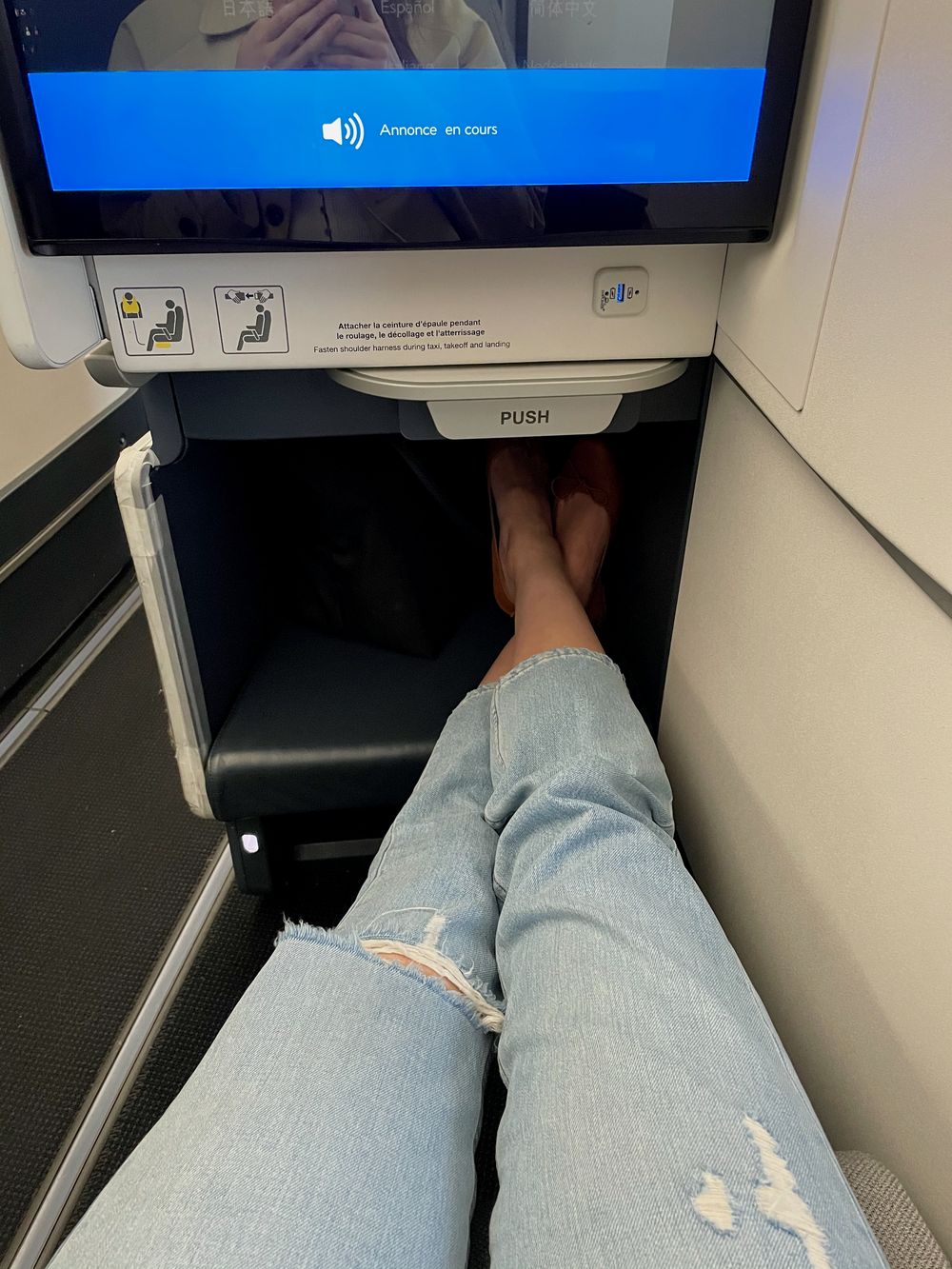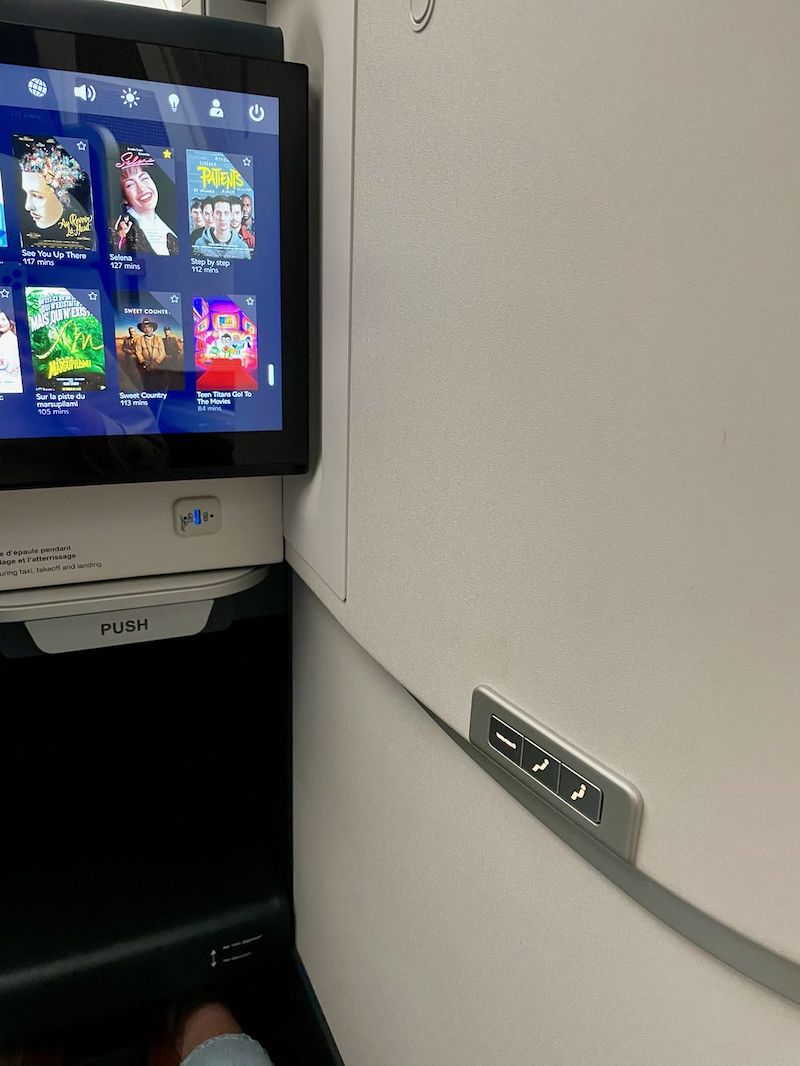 The buttons to the side allow you to adjust your seat. You can move the seat bottom forwards or backward, and the back can recline upwards or downwards.
Before Take-off
We had some time to get settled as the Economy passengers boarded.
After it seemed like everyone had found their seat, the flight attendant came around with a pre-takeoff drink – aperitif – and offered a choice of champagne, water, or orange juice.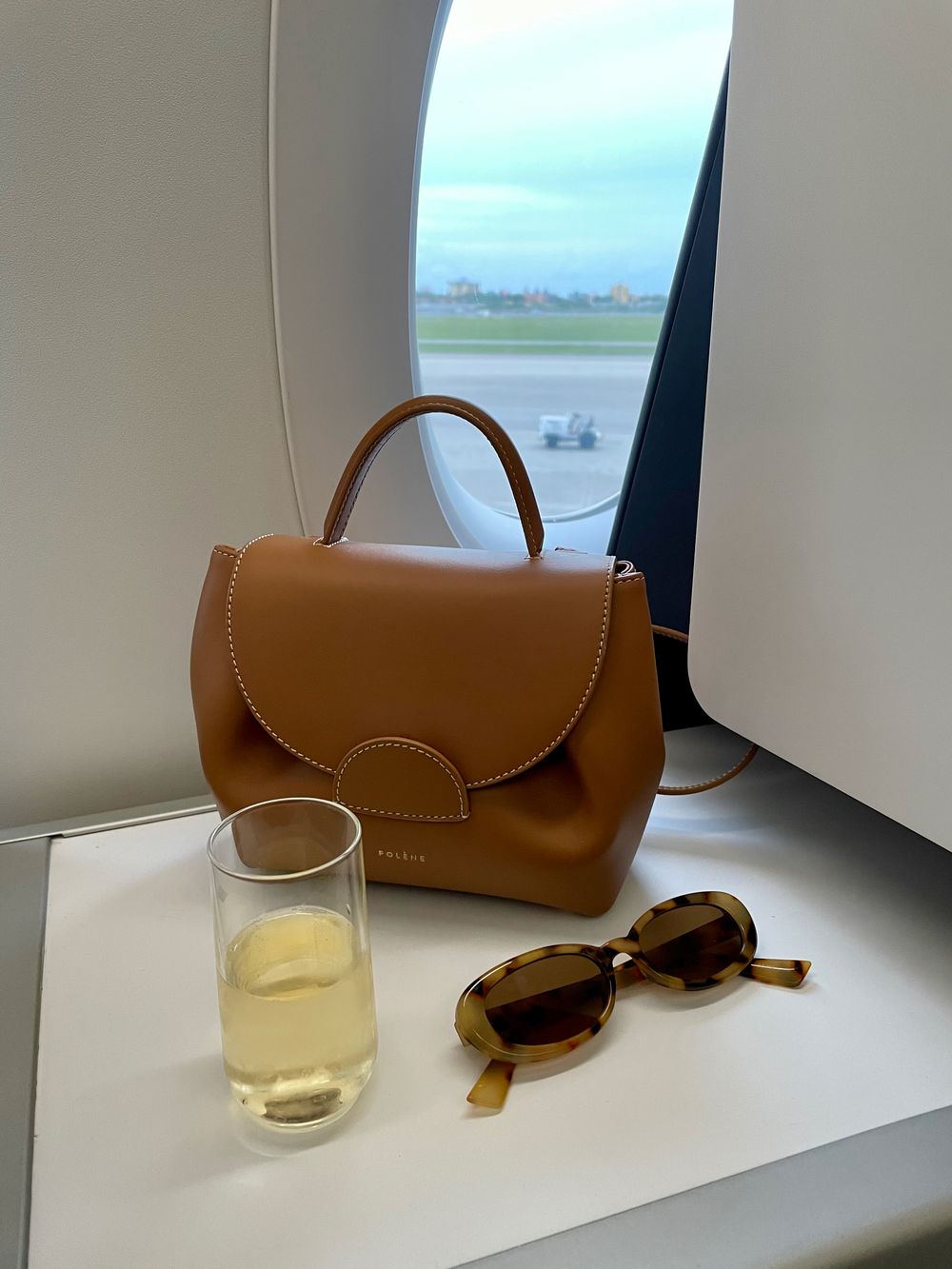 Amenities
A small bag is given to all Air France Business class passengers, in addition to a Sanitize Kit because of the pandemic. The Sanitize Kit had a cleansing wipe, sanitizing gel, and a fresh mask.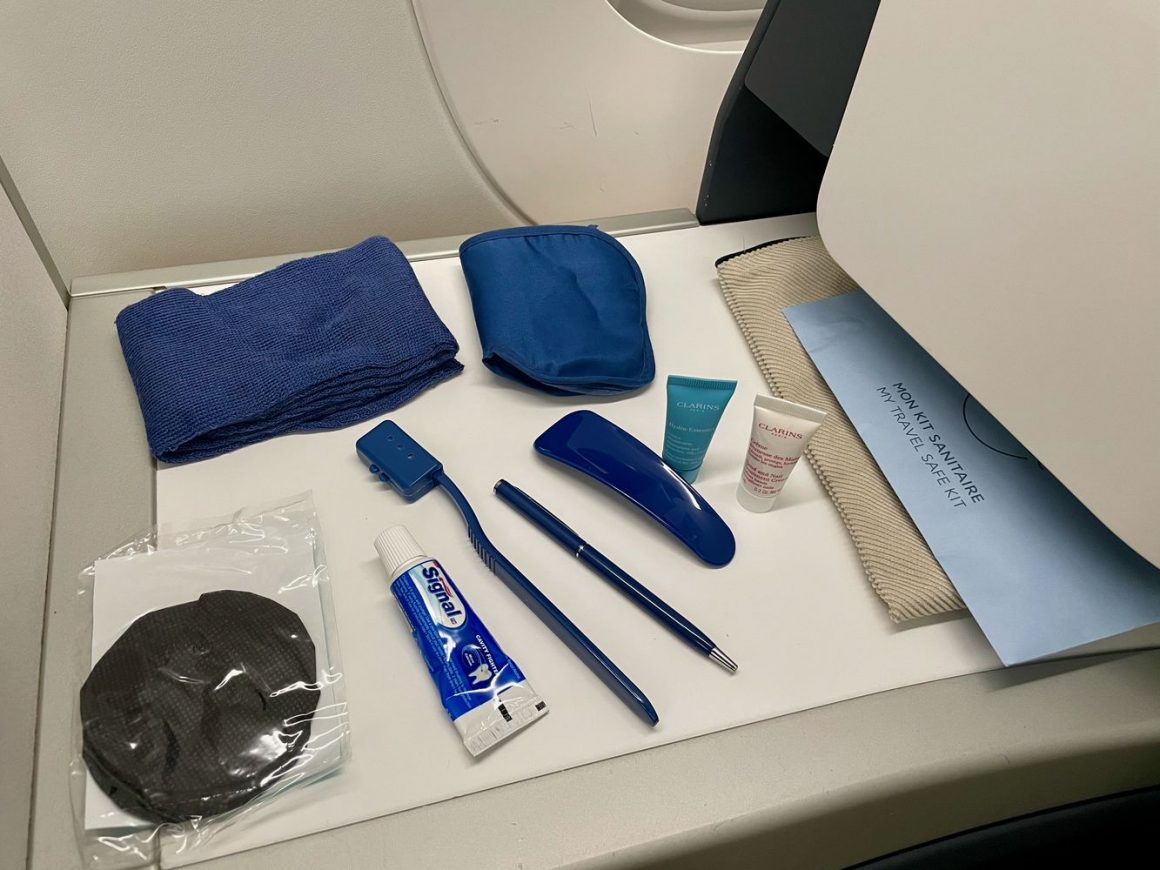 The pouch included two long socks, a sleeping mask, sanitation pads for the noise-canceling headphones, toothpaste, a toothbrush, a pen, an eyeglass cleaning cloth, earplugs, shoe openers, and two Clarins skincare products – a hand lotion and a body cream.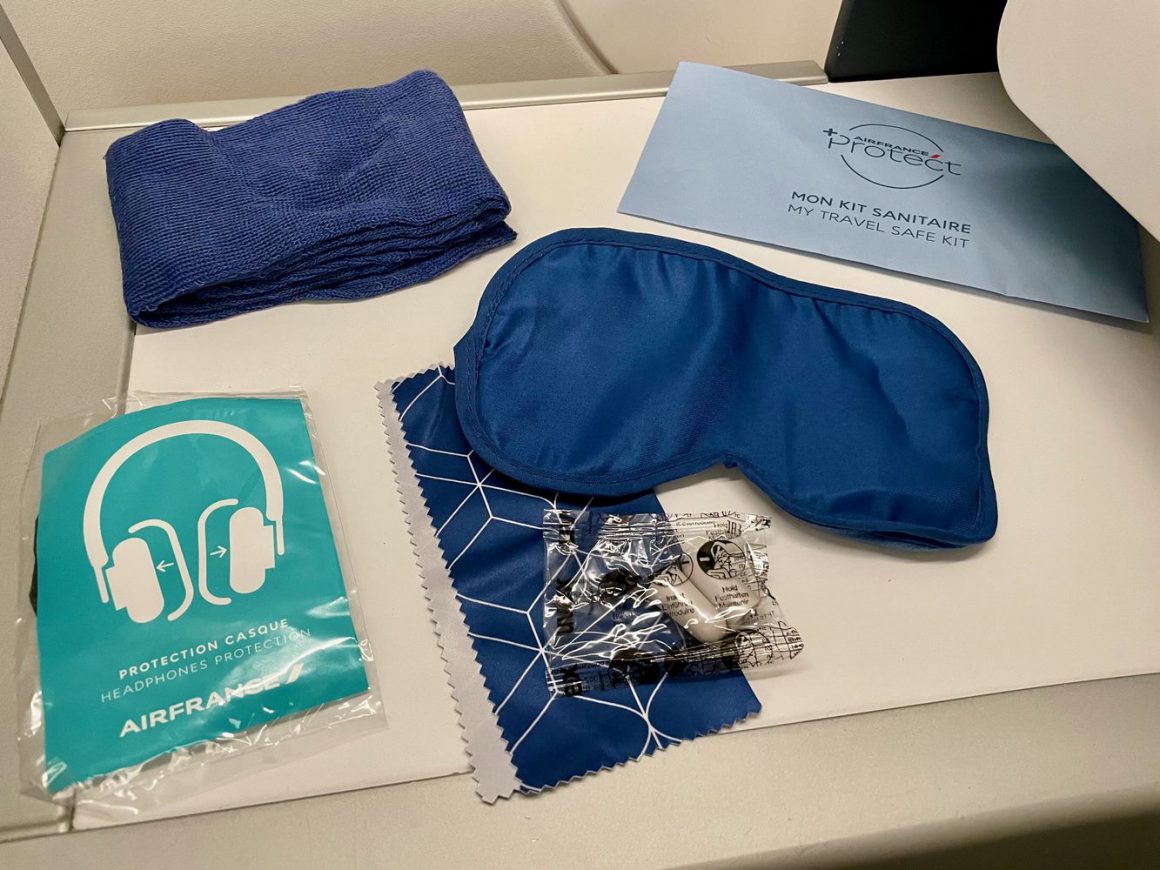 Dinner Service
Dinner was served about one hour into the flight.
A small table slides out from under the TV and then it is rotated into a rectangular tabletop. The tabletop slides forward pretty far so that you can eat comfortably.
The starter is served first, alongside the dessert and cheese. Once your main dish is finished, the flight attendants swap your starter plate out for the main dish plate, leaving the rest on the tray.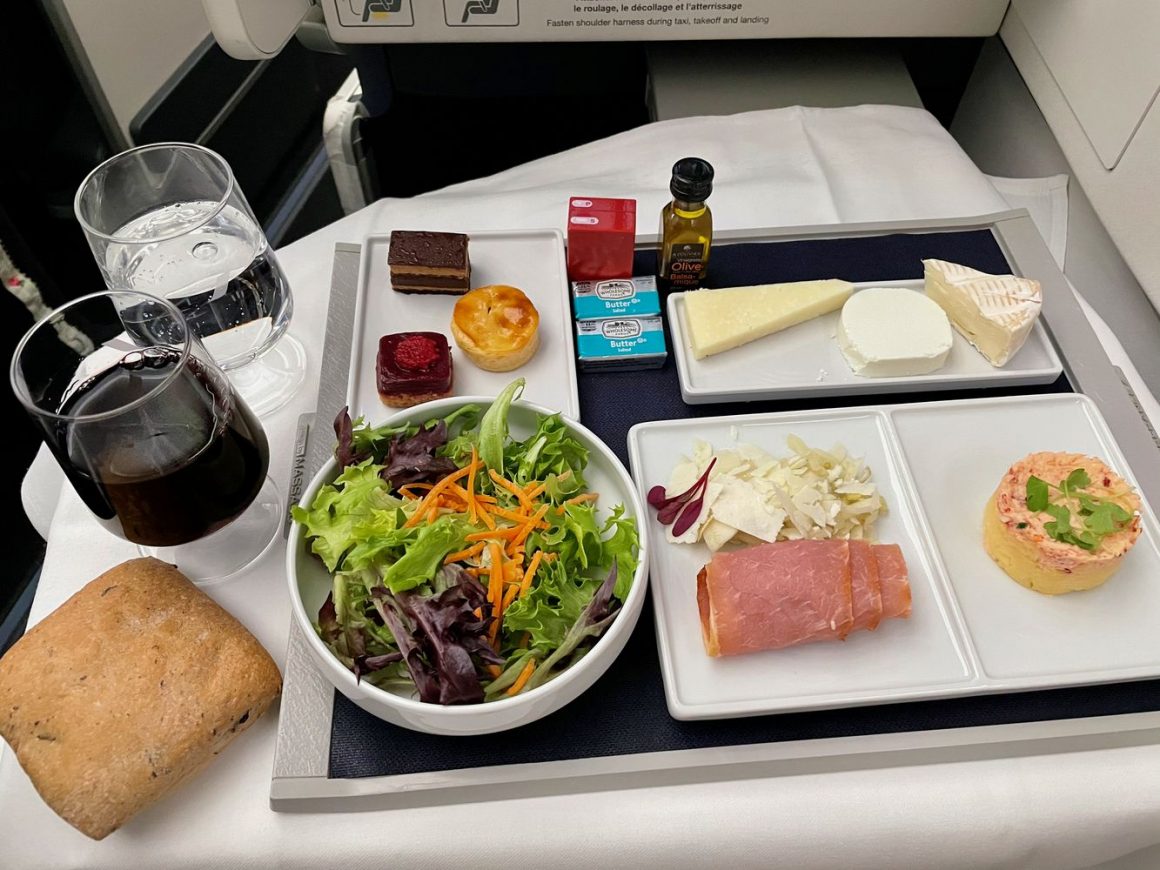 The starter was the same for everyone: lobster salad with a smoked pork fillet, but there were four different choices for the main dish.
The choices consisted of:
Pan-fried tournedos, made in a red wine sauce with coffee and spices, and a side of baked potates and green beans
Chicken fillet with chrizo and chili peper emulsion, with a side of potato purée with garlic and bell peper
Pan-fried snapper fish with a citrus sauce, and a side of zucchini and potatoes
Asparagus and smoked mozzarella raviolis, with a sidee of mushrooms and crushed tomatoes
The flight attendants walk around after take-off to ask you for your dinner choice.
The dinner is served with French cheese of course!
I got the pan-fried snapper fish! It was very good.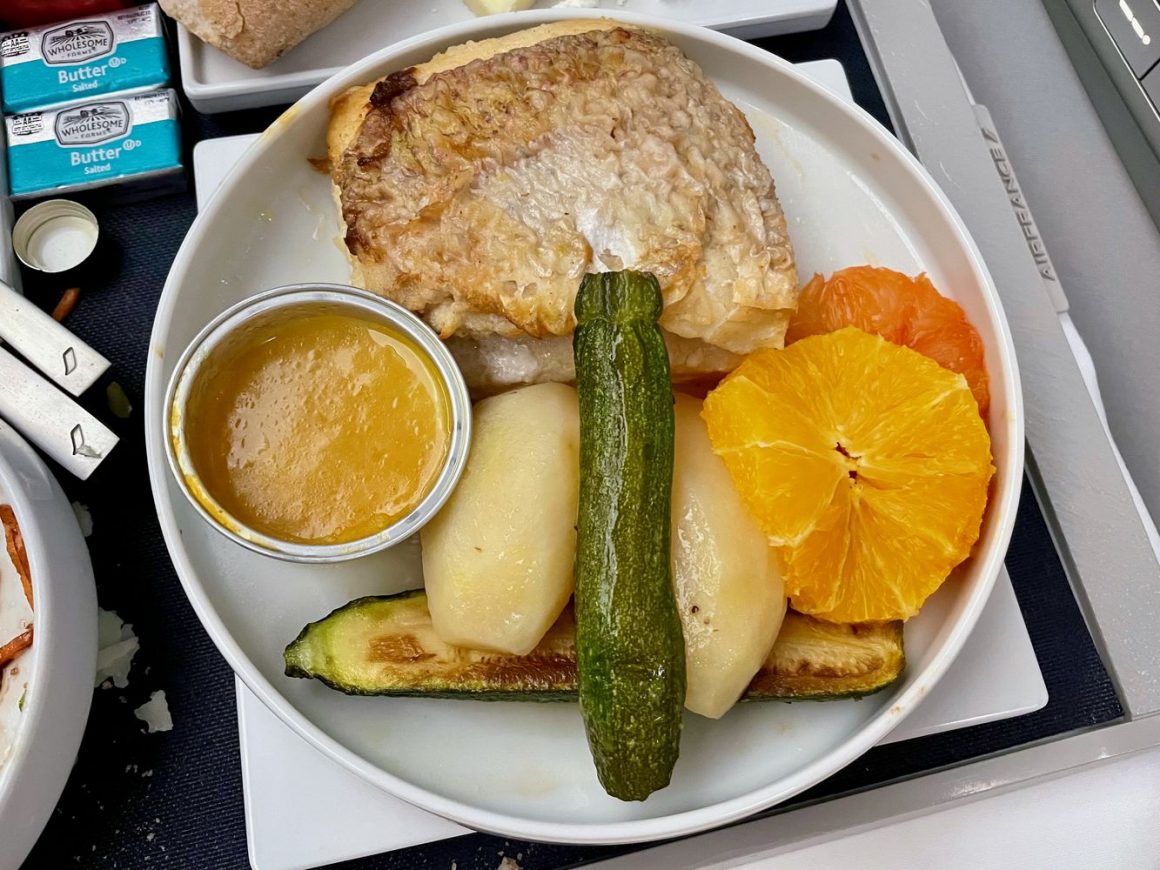 For dessert, there was raspberry cheesecake, a small chocolate cake, and a morello cherry financier cake.
The wine and champagne selection of sommelier Paolo Basso included: Laurent Perrier Brut champagne, Pouilly Fumé Domaine Pauul Corneau white wine, Chabliis Chartron white wine, Margaux Le Relais de Durfort-Vivens red wine, and Château Villemajou Gérard Bertrand red wine.
Night Time!
After dinner is finished, the flight attendants offer everyone a coffee, tea, or drink, and the shades are lowered for the night.
Even though the curtain was closed, I noticed many people from the Economy class coming through the Business class cabin to use the restroom. I was surprised that the flight attendants really didn't say anything.
I reclined my seat (you can control how close the bottom seat is to the tv a swell as how much the back recline) and put on an old film from the Air France entertainment selection. I'm always happy with the Air France movie choices and there's generally a film that interests me!
Luckily, there is a remote control that you can pull out from the side cabinet as the TV is pretty far from arm's reach when you are fully reclined and comfortable in the seat.
By 11 pm I was dozing off…
Breakfast
Around an hour and a half before landing, the lights in the cabin came back on and I knew it was time for breakfast. Oddly enough the flight attendants didn't ask me if I wanted to be woken for breakfast the next day (I had heard that they offer this). Some people chose to "sleep in," and they were not disturbed, while others sat up and prepared their trays for the breakfast meal.
Breakfast included a small selection of pastries like croissants and pains au chocolates, plain yogurt, a fruit salad, fruit juice, coffee, and tea.
The menu indicates that an omelet can be made with potatoes and bacon if desired, but this was not offered to me.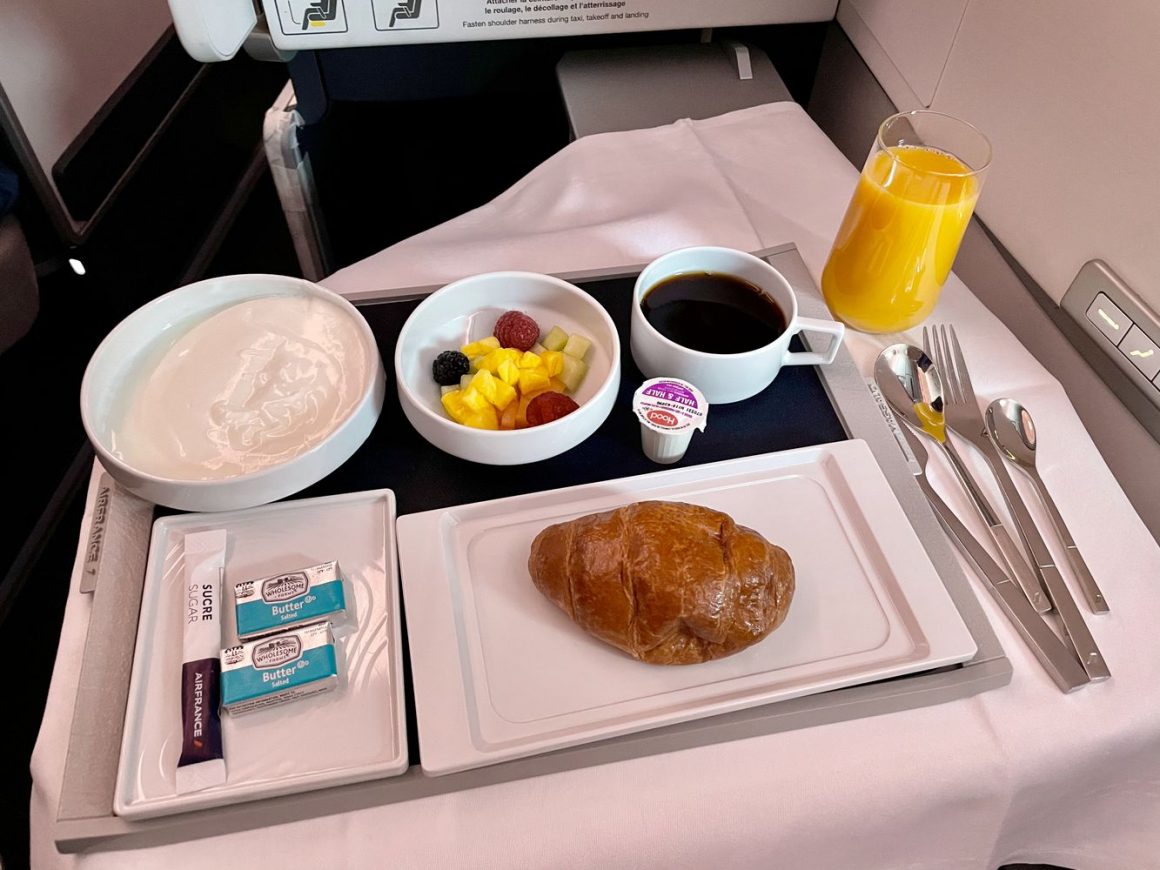 I asked for a cappuccino rather than the standard coffee and the flight attendants brought me one after serving everyone breakfast.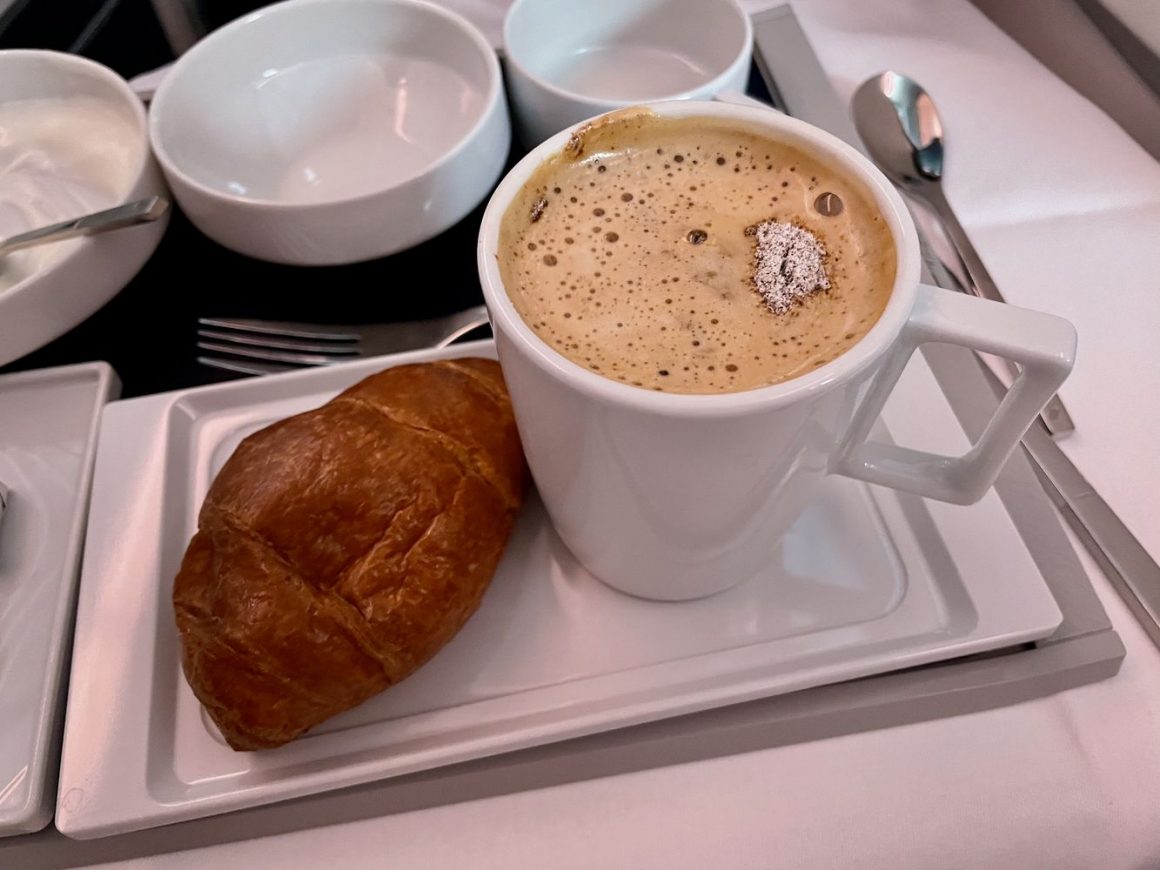 Deplaning
When it was time to leave, the Business class was allowed to depart first, followed by Economy. Sadly, once you get off the plane, you're no longer really in Business class status and you must make your way through the airport and go through border control just like everyone else!
Baggage Claim
Air France Business class does give your baggage "Sky Priority" status, meaning they come out of the airplane hold first, but for this flight, I didn't check any bags so I didn't have to wait around for that.
I have certainly flown many Delta/Air France flights and I can assure you that Sky Priority suitcases always pop out first!
Closing Thoughts
I have to say that while it was certainly nice to stretch my legs out in the plane the overall experience did not feel very luxurious at all. Boarding the plane was a nightmare; the flight attendants on board were nice but didn't go out of their way to explain to me how things worked. I think they should be aware of it's someone's first time flying Business and perhaps explain some of the perks and benefits. I was really left to figure out everything on my own, which is a shame because there were different processes, gadgets, and whatnot on the plane.
That being said, I really don't enjoy flying Economy – who does? – so I will probably still book another Air France business class flight in the future!
Au revoir!