Montmartre is a must-visit neighborhood during your trip to Paris. This charming neighborhood is unlike any other in all of Paris. Montmartre is located on a steep hill in the northern part of Paris, in the 18th arrondissement. Its cobblestone streets were walked by many famous artists of the 20th century, and the artistic atmosphere lives on today, giving the neighborhood a uniquely Parisian charm.
A Quick History of Montmartre Paris
Montmartre has a somewhat surprising past, and it wasn't always part of Paris, either!
Prior to the French Revolution, Montmartre served mainly religious purposes and an Abbey was established there in the 12th century by King Louis VI. The land consisted of vineyards, wheat fields, and grassy hills. After the Revolution, the abbey was destroyed but the small Saint-Pierre de Montmartre remained.
In the 18th century, Montmartre was a small town located just outside the city of Paris. Its town hall was located in the central Place du Tertre. After the Battle of Paris in which Russian soldiers occupied the neighborhood due to its height over Paris, the town formally joined Paris in 1860.
Construction for the Sacré-Coeur Basilica, the neighborhood's widely visible landmark began in 1876.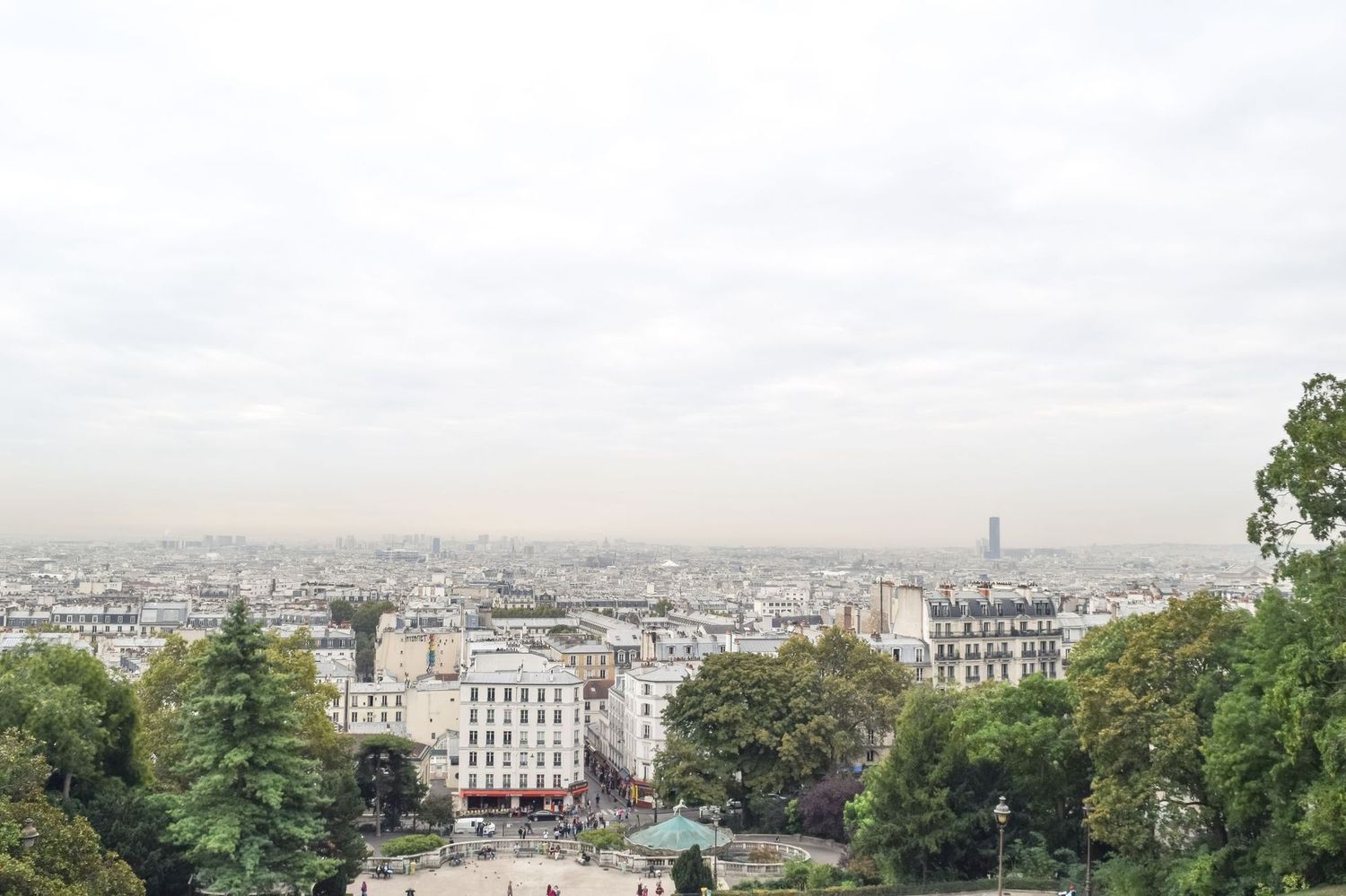 Around the 19th Century, Montmartre became famous for its lively cafés, public dancing squares, and cabarets. Entertainment venues such as Le Chat Noir and Le Moulin Rouge drew in top talent and expansive audiences.
During the Belle Époque (the time period from the end of the 19th to the early 20th century), many famous artists and writers had studios, lived, or worked in the area including Pablo Picasso, Amedeo Modigliani, Claude Monet, Pierre-Auguste Renoir, Edgar Degas, Piet Mondrian, and Vincent van Gogh. They were undoubtedly attracted to the area's affordable cost of living and lively atmosphere.
Picasso even painted one of his most famous paintings while living in the neighborhood: Les Demoiselles d'Avignon.
Montmartre Today
Today, Montmartre is just as charming to visit as it was during La Belle Epoque! It's the subject and filming locations of quintessential films like Amélie, and Midnight in Paris. Artists still come to the neighborhood and paint portraits of anyone willing to sit for them, keeping the city's artistic past alive.
Here is my Montmartre travel guide for first-time visitors!
What to Know Before Visiting Montmartre
Montmartre is a very hilly place so if this is where you will be staying then be sure to bring some good walking shoes! There are lots of steep hills and staircases to climb to get around so be aware of this before you decide to walk in stilettos!
Secondly, as in any large city, beware of scammers on the street, and don't talk to anyone who doesn't seem like they have your best interest in mind. The area just south of the Sacré Coeur is notorious for being a hangout of scam artists trying to sell something to unsuspecting tourists. Be vigilant as you would anyway when traveling!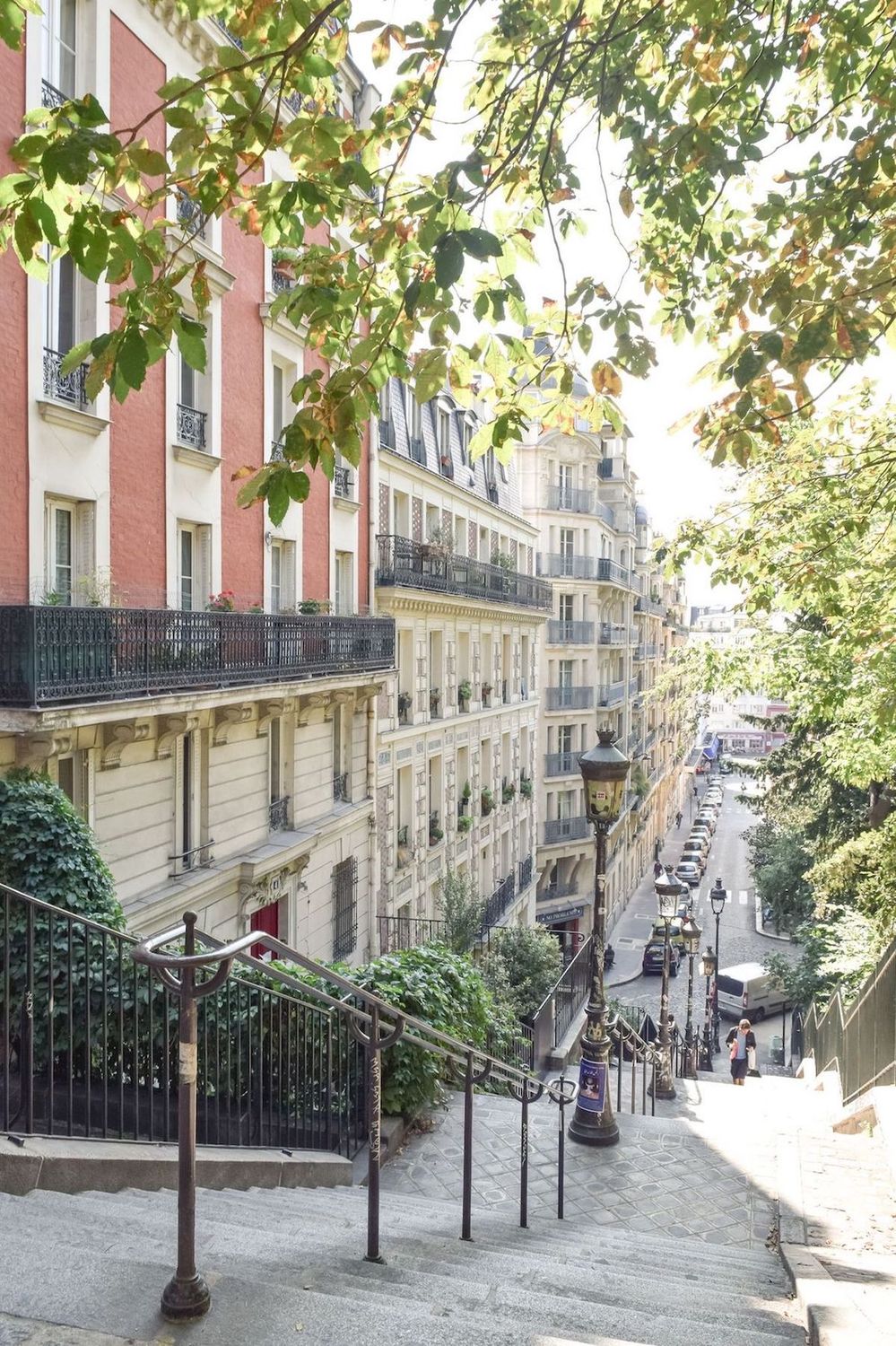 How to Get to Montmartre
You can reach Montmartre easily by cab, Uber, or by the Paris metro. It is served by line 12 (Abbesses) and line 2 (Anvers and Blanche).
The Lamarck-Caulaincourt metro is another stop just north of the neighborhood.
Where to Stay in Montmartre – Montmartre Hotels
Ibis is one of my favorite French hotel chains as it's always affordable and clean! There are actually several Ibis hotels in Montmartre you could stay with.
If you have a bigger budget then I'd recommend Hotel Particulier for its chic and trendy ambiance, Terrass Hotel for its amazing rooftop, or Hotel Le Relais for its elegance.
The good thing about Montmartre is that because it's a little bit further from the main tourist drag, the hotel prices are considerably lower than in the center of Paris!
Where to Get Coffee in Montmartre – Montmartre Cafés
I recommend heading to Hardware Société for breakfast or brunch! This is an Australian-style café that serves the best coffee in Montmartre!
Pain Pain is also a delicious choice for breakfast. They were voted "Best Baguette" in 2012 and offer a beautiful space to enjoy some French bakery treats and coffee in the morning!
Where to Eat in Montmartre – Montmartre Restaurants
Relive the cult French movie Amélie by going to Les Deux Moulins, the famous 1950s-style café where the main character works!
Rue des Abbesses is filled with charming restaurants; Le Vrai Paris is a favorite.
Le Consulat and La Bonne Franquette are situated in a charming block not far from Place du Tertre – another lively spot to eat a meal.
Le Basilic and Le Bon Bock are two highly-rated restaurants in the area.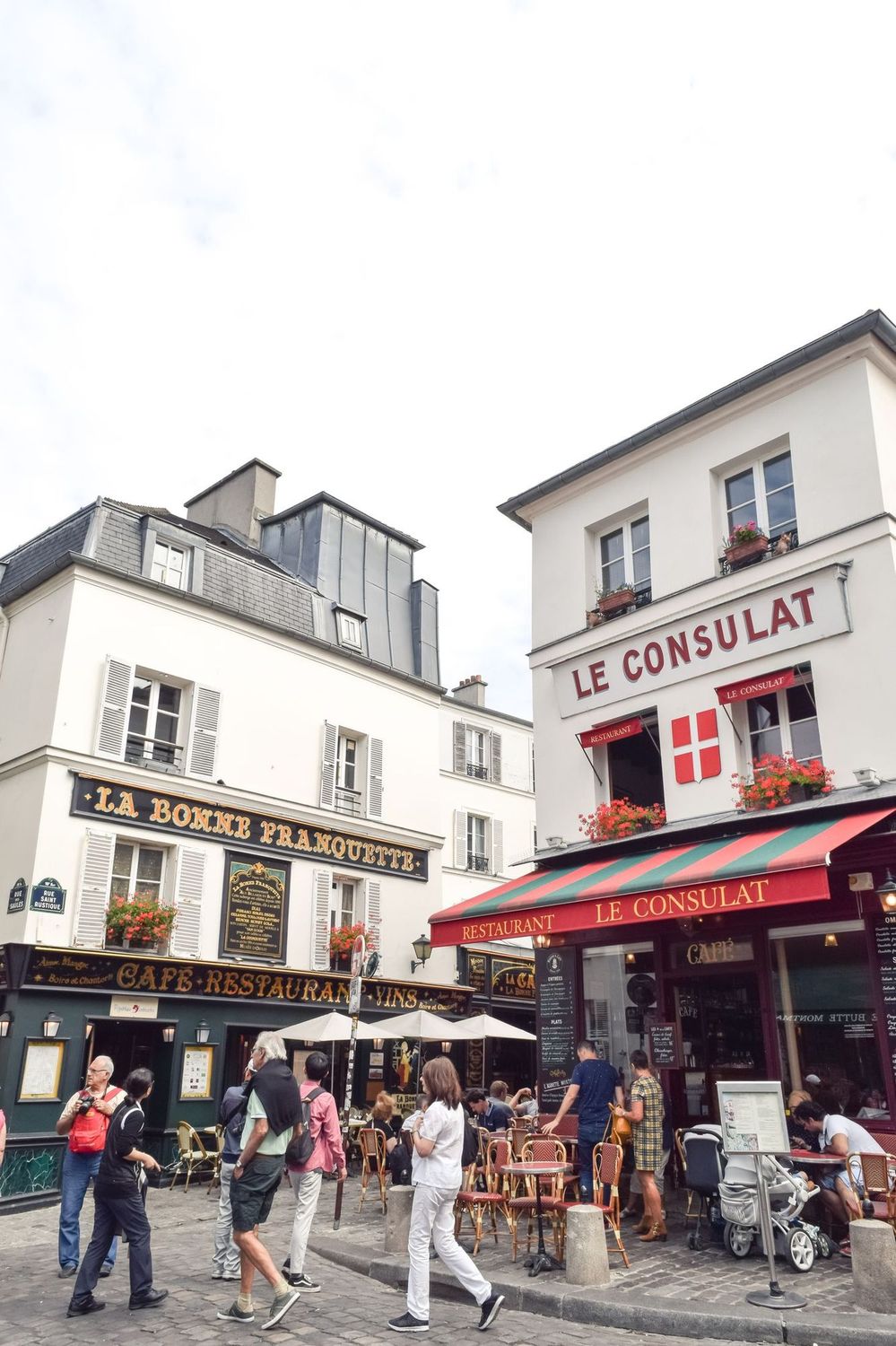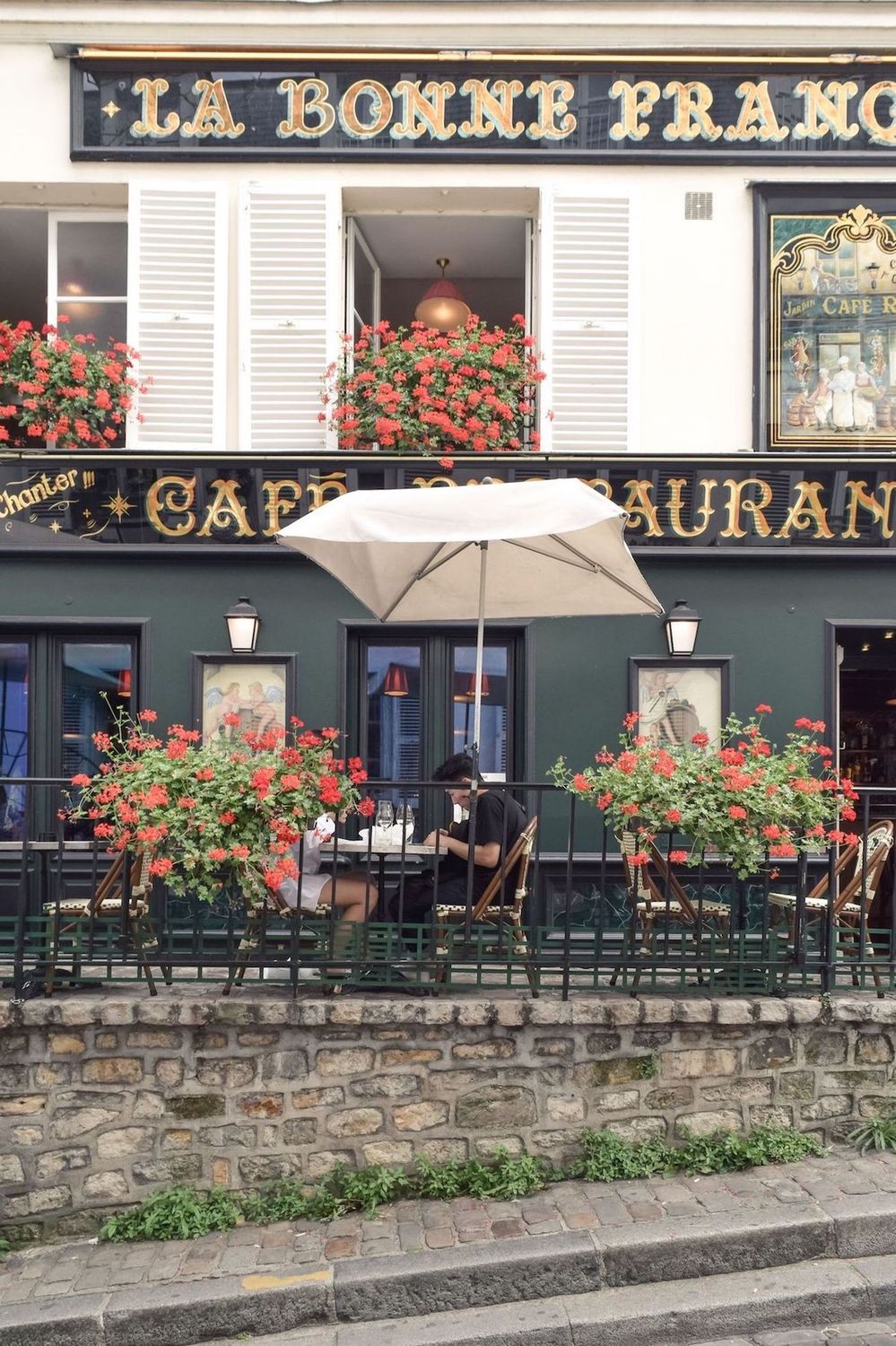 Where to Shop in Montmartre – Montmartre Shopping
While Montmartre isn't known for the best Paris shopping, you can find some treasures at L'Objet qui Parle, a well-known shop dedicated to unique French objects. If you're into French fashion brands, then two very famous ones have their surplus stores in Montmartre: APC Surplus and Maje Outlet.
APC Surplus: 20 Rue André del Sarte, 75018 Paris
Maje Surplus: 92 Rue des Martyrs, 75018 Paris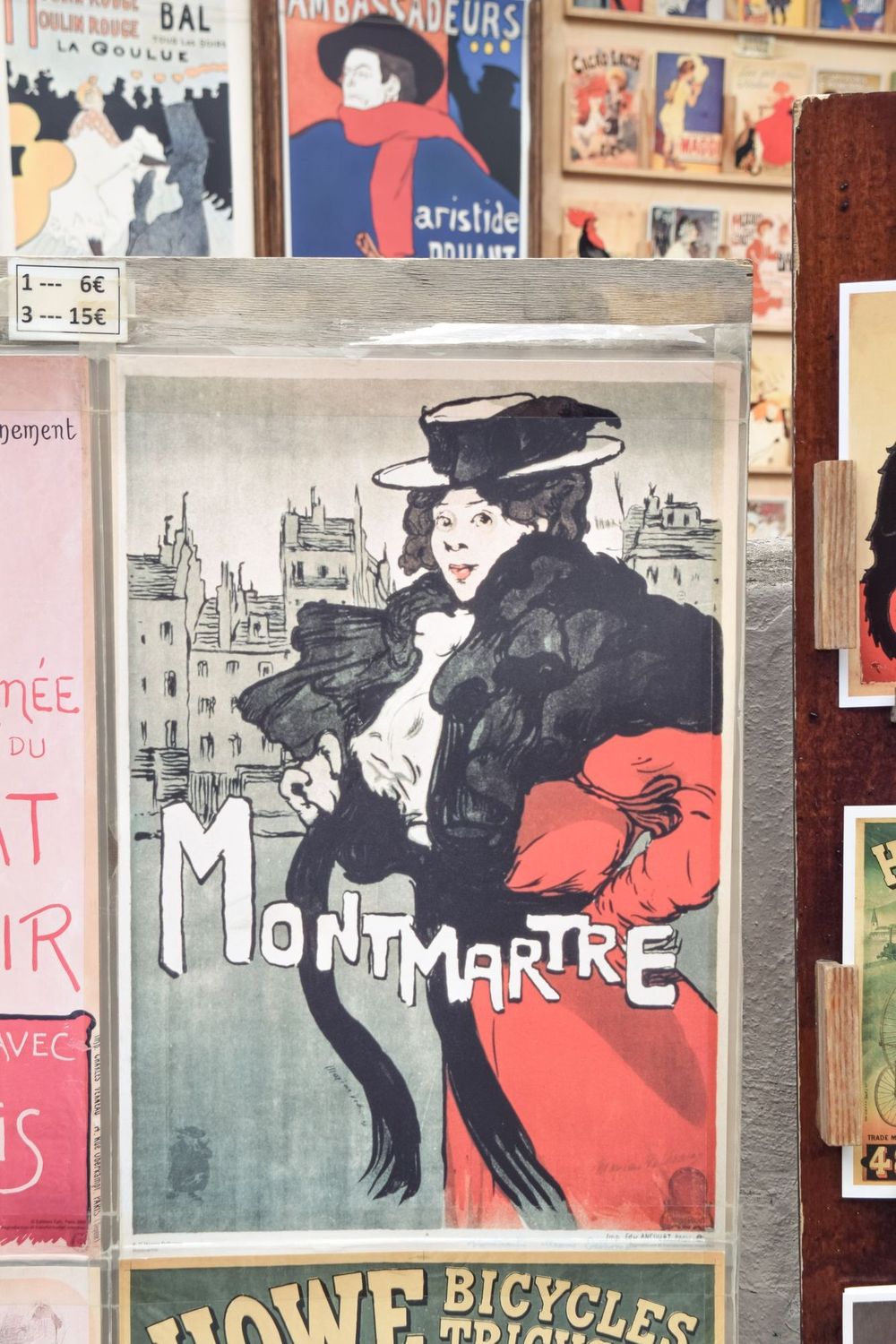 What to Do in Montmartre
There's a seemingly endless list of things to do in Montmartre.
One of your first stops should absolutely be the Sacré-Cœur – the breathtaking white-dome basilica on the top of the hill.
Follow up this visit with a stroll through Place du Tertre, where local artists draw portraits all day long and sell their own paintings!
Be sure to take a photo at La Maison Rose with its beautiful pastel pink façade.
If you feel like having fun, then try to see a show at the storied Moulin Rouge, where the can-can dance was invented!
Montmartre also has its own museum: Musée de Montmartre which provides an excellent resource on the history of this charming and adored neighborhood.