Paris nightlife is vibrant and diverse, offering a range of experiences for both residents and tourists. In the heart of the city, there are numerous options including bars, clubs, and restaurants that stay open late. Traditionally, nightlife starts late with many Parisians dining around 9 pm, followed by visits to bars and clubs.
Paris Nightlife Districts
Popular nightlife districts include Bastille, Oberkampf, and Marais, each offering a distinct ambiance and a selection of venues.
In the Marais district of Paris, you can enjoy a lively night out at the renowned Andy Wahloo bar, famed for its artistic decor and eclectic cocktail menu. For a vibrant atmosphere, consider Le Mary Celeste, a popular venue known for its innovative cocktails and delectable small plates.
Jazz Clubs in Paris
Jazz has a rich history in Paris, dating back to the 1920s when the city embraced the genre, providing a refuge for many American jazz artists. Today, the city hosts several famous jazz clubs where this legacy continues.
The renowned Duc des Lombards in the 1st arrondissement is a must-visit for jazz enthusiasts, offering live performances coupled with a warm ambiance. Similarly, New Morning in the 10th arrondissement is a popular spot, known for hosting both local and international jazz talents.
Another iconic venue is Le Caveau de la Huchette in the 5th arrondissement, a historic club that has been a hub for jazz lovers since the 1940s, situated in a building with centuries of history.
Cocktail Bars in Paris
In the capital, several Paris cocktail bars are hotspots with a unique ambiance. Here are some renowned establishments:
Le Syndicat: Situated in the 10th arrondissement, it's known for using French spirits and for its inventive cocktails.
Little Red Door: Found in the 3rd arrondissement, it's celebrated for its creative cocktail menu and the cozy, intimate setting.
Bisou: Located in the vibrant neighborhood of Le Marais, Bisou offers a tailored cocktail experience as it lacks a traditional menu, instead creating drinks based on individual preferences.
Experimental Cocktail Club: This establishment, found in the 2nd arrondissement, has been a significant player in revitalizing the cocktail scene in Paris with its inventive mixology.
Candelaria: Situated in the 3rd arrondissement, it combines a taqueria with a hidden cocktail bar, known for serving high-quality cocktails in a stylish setting.
Bar Hemingway: Located in The Ritz Hotel, it's an iconic venue named after the famous writer Ernest Hemingway, offering classic cocktails in a luxurious atmosphere.
Le Mary Celeste: Situated in Le Marais, it offers a selection of innovative cocktails along with a menu of fresh, locally sourced dishes.
Clubbing in Paris
Nightclubs, often opening around midnight, offer a variety of music genres catering to different tastes.
Raspoutine is a renowned club located in the 8th arrondissement of Paris. Originally opened in the 1960s, it carries a rich history and has long been a hotspot for celebrities and the elite. The club has luxurious Russian-inspired interiors, plush red seating, and chandeliers. It often hosts top DJs and offers a vibrant dance floor where patrons can dance the night away to a mix of house, techno, and other electronic music genres. Raspoutine has a somewhat exclusive reputation, with a strict door policy; it is recommended to dress elegantly and possibly book a table in advance to ensure entry. It is a place where you can experience a high-energy, upscale Parisian nightlife scene.
L'Arc Paris is a prestigious nightclub and party venue situated in the 8th arrondissement, near the Arc de Triomphe, hence its name. It is known for its upscale and glamorous ambiance, often attracting a clientele of celebrities, fashion icons, and socialites. It's where Kendall Jenner and Kourtney Kardashian found out their sister Kim had been robbed in Paris.
The club features a chic interior with modern design elements, and it frequently hosts internationally renowned DJs, offering an energetic dance floor.
Due to its high-profile nature, L'Arc has a selective door policy to maintain its exclusive atmosphere. Stick to a smart dress code and make table reservations to ensure a smoother entry experience. If you are looking to enjoy a night of luxury and wild entertainment, L'Arc Paris is a prominent place to consider in the Paris nightlife scene.
Swingers Clubs
Les Chandelles is a well-known, upscale club located in the 1st arrondissement of Paris. It operates as a highly selective swingers club, catering to a clientele looking for an exclusive and somewhat libertine experience. The club emphasizes discretion and elegance, offering a sophisticated and sensual environment where guests can explore their fantasies with like-minded people.
Inside, the decor is intimate and classy, with dim lighting and plush furnishings setting the tone for a luxurious evening. The club adheres to a strict dress code, requiring guests to dress elegantly to match the upscale atmosphere of the venue. Les Chandelles enforces a stringent door policy, only allowing entry to couples and single women, to maintain a balanced and comfortable environment for all. It is a venue where you can delve into a more risqué aspect of the city's vibrant nightlife.
Hotel Bars
I love visiting hotel bars in Paris which offer a relaxing, upscale atmosphere.
Bar Hemingway, located within The Ritz Paris, exudes a classic charm, known for its rich history linked to the famed writer Ernest Hemingway; it offers an extensive cocktail menu in a cozy, refined setting.
Les Ambassadeurs, situated in the Hôtel de Crillon, provides an elegant and grandiose atmosphere, where guests can enjoy expertly crafted cocktails, a wide selection of wines, and live music performances, all under a stunning crystal chandelier.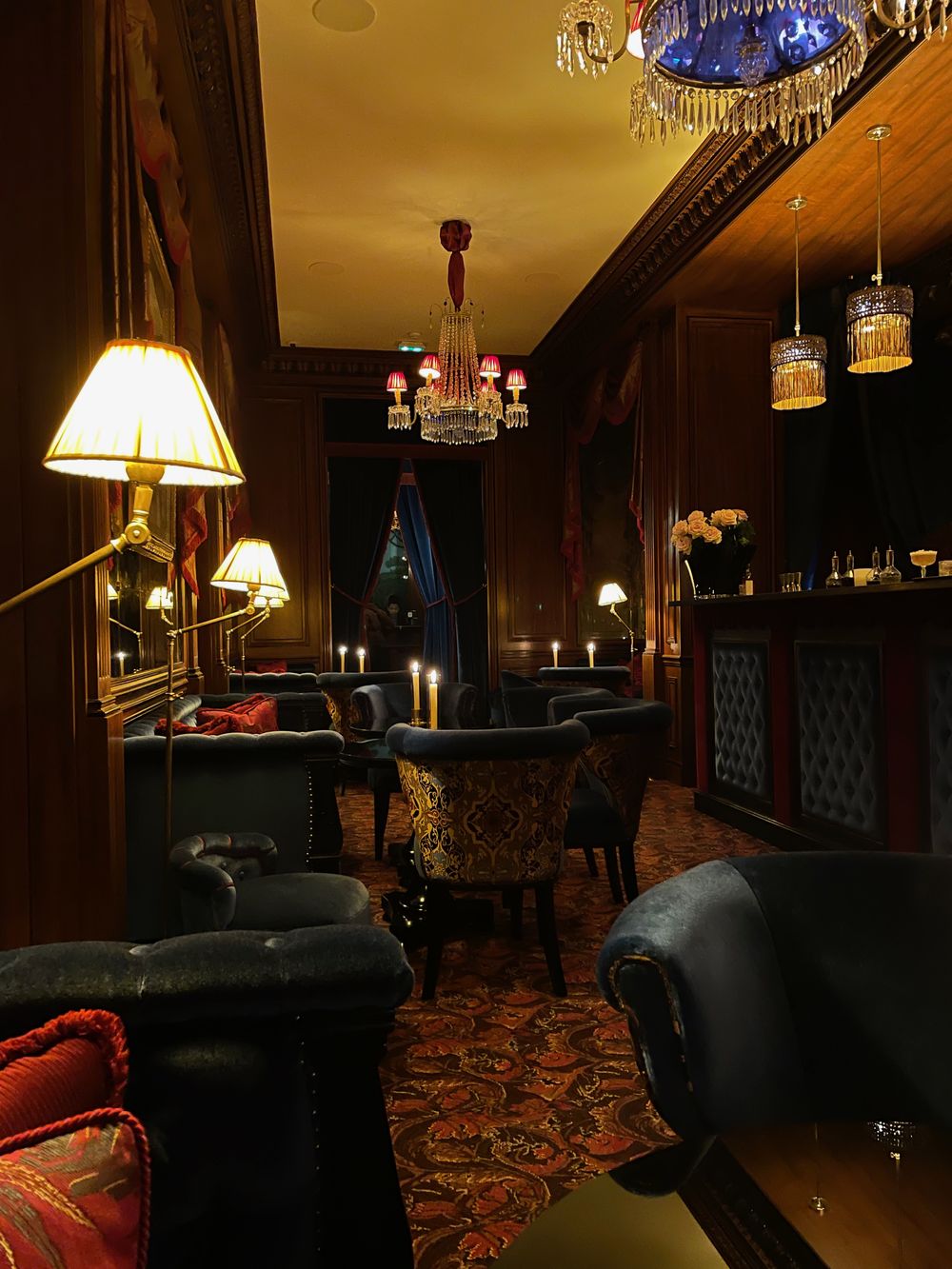 Theaters and Concert Halls in Paris
Paris is home to several theaters and concert halls that host nightly performances, ranging from opera to modern theater productions. If you love music, then definitely book a concert evening at one of the many musical theaters.
Quiet Nightlife
Hanging out at a café is the easiest way to experience level 1 of Parisian nightlife. Most Parisian cafés transform into lively hubs, with people gathering to enjoy a drink and conversation. You're not going to have a wild night here, but you'll meet your fair share of characters.
Lastly, for a quieter night, a stroll along the Seine River offers a serene atmosphere with the beautifully lit historical monuments as a backdrop.
Paris Nightlife Tips
Remember to check opening hours and any potential entry requirements or restrictions when planning your night out in Paris. This way, you can experience the vibrant nightlife the city has to offer, which is indeed a vital part of Parisian culture and the Parisian lifestyle!
Parisian nightlife is characterized by its elegance, with a touch of the city's bohemian spirit. Always dress smartly when planning to visit upscale venues!