Known as the City of Light, Paris dazzles from every vantage point. But to truly soak in the magic of this iconic destination, you need to see it from above. Rooftop bars offer some of the best views in Paris, letting you take in the city's architecture, monuments, and romantic atmosphere from new heights. I'll take you on a tour of the top rooftop bars to experience the best of nightlife in Paris.
We'll visit rooftops with up-close Eiffel Tower views, panoramas of Notre Dame and the Seine, and gardens offering a respite from the hustle below. From hotels and department stores to museums and churches, I'll show you some of the best places to go for rooftop cocktails, wine, and snacks while admiring Paris from above.
Whether you're looking for a spot for sunset drinks or to soak in a 360-degree view of the City of Light, you'll discover the finest rooftop bars and cafes through this Paris rooftop guide. So grab a drink and join me on a scenic tour of Paris's rooftop venues!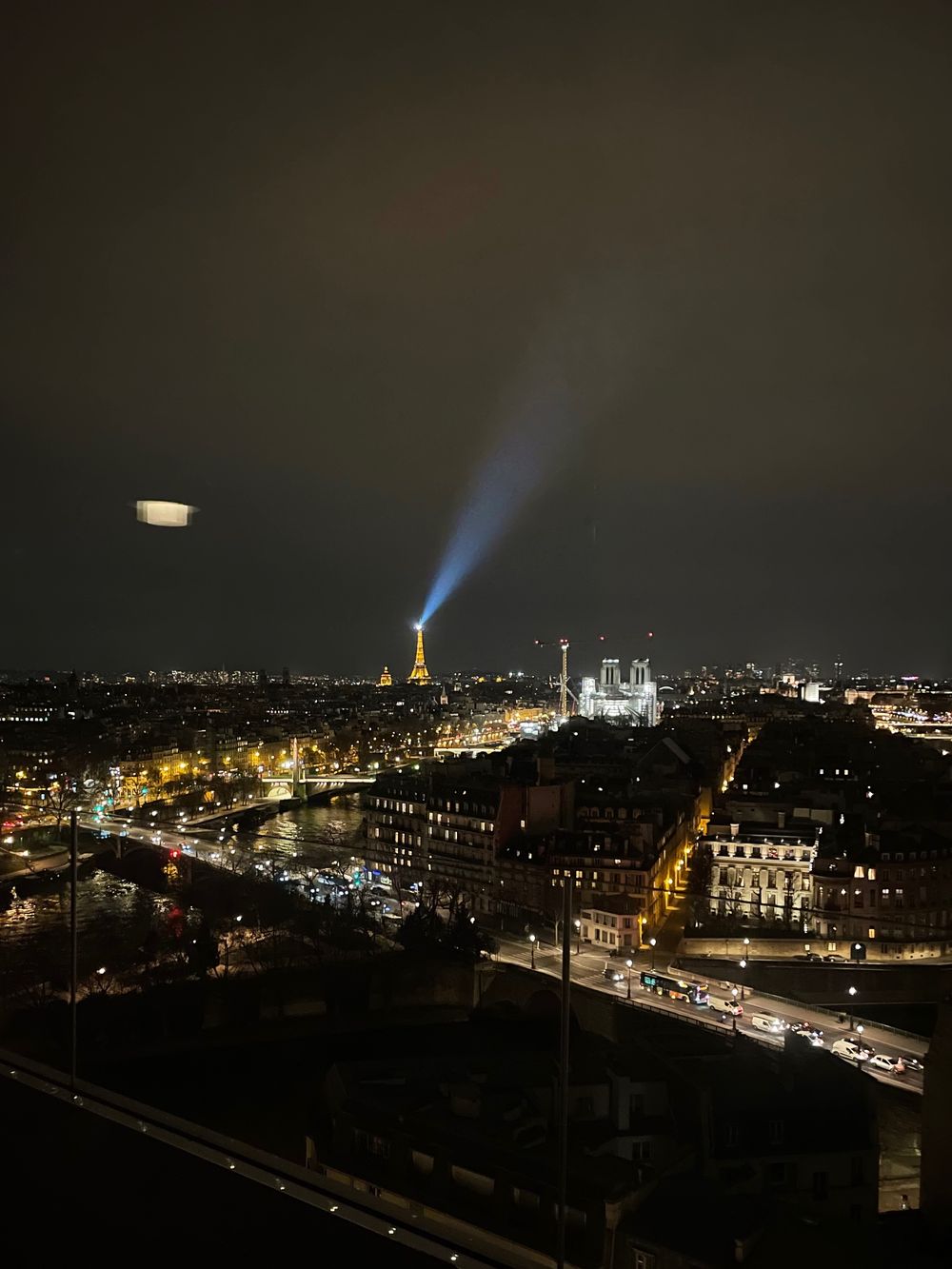 Bonnie Restaurant
In the trendy area of Le Marais, Bonnie Restaurant offers not just a dining experience but also a chance to enjoy breathtaking rooftop views from 20 floors above Paris – a rarity! This venue is known for its chic design and cozy ambiance, providing a perfect setting to unwind. Visitors can indulge in a curated menu of French cuisines paired with exquisite wines. As the evening unfolds, the rooftop transforms into a sparkling haven with a panoramic view of the Parisian skyline. It's a must-visit spot for those looking to blend gastronomy with the beauty of Paris from a lofty perspective.
Le Perchoir
Le Perchoir, a name synonymous with Parisian nightlife, stands as one of the top rooftop bars in Paris. Situated at an elevated position, this bar offers patrons an unobstructed view of the city's magnificent sights. With a trendy and vibrant atmosphere, it is an ideal place for both casual and formal gatherings. The bar offers a diverse menu, featuring both innovative cocktails and classic selections. Its minimalist yet stylish decor creates a welcoming environment for locals and tourists alike seeking a night of relaxation and enjoyment.
Terrass" Hotel
As one of the iconic landmarks in Paris, Terrass" Hotel not only offers luxurious accommodation but also houses a rooftop bar that presents a fantastic viewing platform of the city. The open terrace is adorned with lush greenery, creating a garden-like setting amidst the urban landscape. Visitors can enjoy a selection of fine wines and gourmet dishes, complemented by the spectacular backdrop of the Eiffel Tower. The establishment prides itself on offering top-notch service, ensuring a memorable experience for all who visit.
Skybar Paris
Skybar Paris epitomizes sophistication and elegance. Nestled at a prime Montparnasse location, it attracts a crowd looking for an upscale nightlife experience. The bar boasts a modern and sleek design, coupled with an extensive beverage menu featuring premium liquors and cocktails. As night falls, guests can witness the city of Paris transforming into a glittering jewel from the ultra high Montparnasse Tower vantage point. The serene ambiance and stunning views make Skybar Paris a preferred choice for those looking to enjoy a tranquil evening in the city of lights.
Ilvolo Bar Rooftop
Ilvolo Bar Rooftop stands as a haven for those looking to escape the hustle and bustle of Parisian streets. Offering a rooftop experience with a touch of Italian flair, this bar presents a blend of modernity and tradition. Visitors can indulge in an array of Italian aperitifs and signature cocktails while taking in the panoramic views of Paris. The bar maintains a warm and inviting atmosphere, making it a suitable choice for a relaxed evening outing. Its prime location allows guests to witness some of the most beautiful sunsets over the historic cityscape.