Amidst historical avenues and romantic vistas, Paris stands as a gourmet paradise, and millions of prepared meals are served across the city around lunchtime. The aroma of freshly baked baguettes and simmering sauces beckons.
A typical French lunch is not just a meal, but a cultural affair characterized by a leisurely pace and flavorful dishes. Before you set out to indulge in this mid-day Parisian delight, know that a traditional French lunch comprises a starter, a main course, and a dessert, often complemented by a glass of fine wine.
Dine like a local by immersing yourself in a lunchtime meal that marries taste with time-honored gastronomic ingenuity.
Typical Lunch in Paris
A typical lunch in Paris often starts with a light entrée, such as a seasonal vegetable salad or a bowl of velvety soup. The main course usually features a meat or fish dish, accompanied by a side of vegetables or starch like potatoes or rice.
French cuisine is known for its emphasis on quality ingredients and expert preparation. A baguette, a French staple, is commonly served alongside the meal to soak up sauces and gravies.
While enjoying lunch, some French people opt for a glass of well-paired French wine to elevate the experience.
The French don't eat cheese or dessert after lunch every day unless they're having a really leisurely Sunday family meal. A cheese platter or a classic French dessert, such as a tarte tatin or crème brûlée, graces the table on these occasions, offering a sweet end to the meal.
Remember, the essence of a Parisian lunch is not just in the sumptuous food but also in the relaxed and unhurried manner of its enjoyment, the art of conversation, and a happy appreciation for the art of fine dining.
Best Time to Eat Lunch in Paris
In Paris, the optimal time for lunch is between 12:00 PM and 2:00 PM. During this window, many Parisians take a break from work or daily errands to enjoy a leisurely meal. It's not uncommon for restaurants to be bustling with activity during these hours, showcasing a vibrant dining scene that is both a gastronomic and social occasion.
Make reservations if you plan to dine at a popular establishment to ensure a spot during this peak period. Many restaurants close their kitchens in the afternoon before reopening for dinner service, making the 12-2 PM timeframe the ideal moment to savor a true Parisian lunch experience.
Lunch Places in Paris
Chez Francis
Located near the iconic Eiffel Tower, Chez Francis stands as a beacon of traditional French culinary heritage. As you step inside, you're greeted by an ambiance that perfectly marries sophistication with a warm, welcoming atmosphere. The menu boasts an array of delectable options, ensuring a fulfilling lunch experience. Try their signature dishes, which seamlessly blend classic French flavors with a modern twist. As you enjoy your meal, you might even be treated to a splendid view of the Eiffel Tower, adding a magical touch to your lunchtime. Make sure to pay a visit to this renowned establishment for a lunch that promises both flavor and luxury.
7 Place de l'Alma, 75008 Paris, France.
Sip Babylone
Sip Babylone is a cute brasserie located across the street from the luxury Hotel Lutetita. I love grabbing a table here and admiring the hotel while eating a light meal.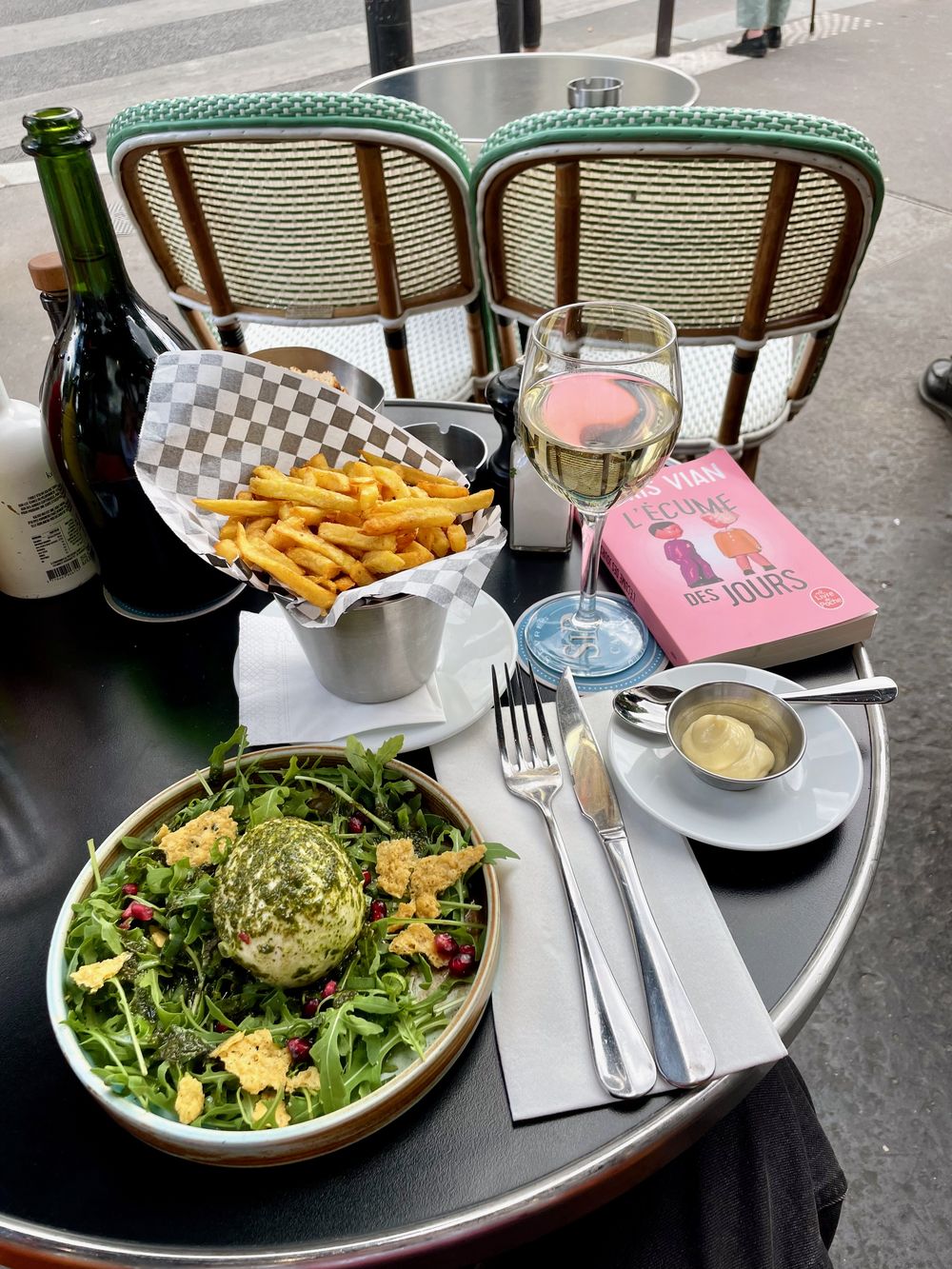 46 Boulveard Raspail, 75007 Paris, France
Loulou Restaurant Paris
Situated amidst the picturesque Tuileries Garden, Loulou Restaurant Paris offers not only a culinary retreat but also a feast for your eyes. The restaurant prides itself on serving dishes that are both visually appealing and palate-pleasing. With a menu that celebrates the rich diversity of French cuisine, Loulou is an ideal spot for a lunch that promises to be both gourmet and scenic. Whether you're enjoying a plate of freshly prepared pasta or indulging in a decadent dessert, your lunch experience here is bound to be memorable.
107 Rue de Rivoli, 75001 Paris, France.
Au Pied de Cochon
With a history that spans decades, Au Pied de Cochon has stood the test of time, offering patrons a taste of authentic French cuisine round the clock. Its vibrant atmosphere coupled with a menu that pays homage to classic French dishes makes it a must-visit for those seeking a hearty lunch in Paris. From their renowned onion soup to the signature pig's trotters, every dish promises a burst of flavors that are both traditional and comforting. The restaurant's dedication to preserving culinary traditions ensures a lunch experience that is both timeless and delightful.
6 Rue Coquillière, 75001 Paris, France.
Frenchie
In the bustling streets of the 2nd arrondissement, you'll find Frenchie, a modern haven of gastronomic delight. This establishment, known for its innovative approach to French cuisine, offers a menu that is both contemporary and deeply rooted in the culinary traditions of France. The seasonal menu ensures that you get to enjoy the freshest ingredients in dishes that are crafted with finesse and creativity. A lunch at Frenchie is not just a meal, but a journey that explores the modern evolution of French cuisine, promising an experience that is both novel and nostalgic.
5-6 Rue du Nil, 75002 Paris, France.
Robert et Louise
For those seeking a rustic and authentic Parisian dining experience, Robert et Louise stands as the perfect destination. This family-run establishment specializes in meat dishes, expertly prepared in their open wood-fired grill. The ambiance here is warm and homely, making you feel like a guest at a family gathering rather than a restaurant. The hearty meals, characterized by robust flavors and simple yet expert preparation, promise a lunch that is both satisfying and heartwarming. It's a place where culinary traditions are cherished, offering a lunch experience that is both genuine and rich in heritage.
64 Rue Vieille du Temple, 75003 Paris, France.
Boulettes
Boulettes is a lovely restaurant I discovered while exploring the famous Rue Montorgueil. The word boulettes means meatballs! Traditional sides like vegetables and rice accompany the main serving at this outlet for homemade French cuisine. Boulettes is a restaurant that shouldn't be underestimated by its simple dishes; the lunchtime menu is sure to satisfy!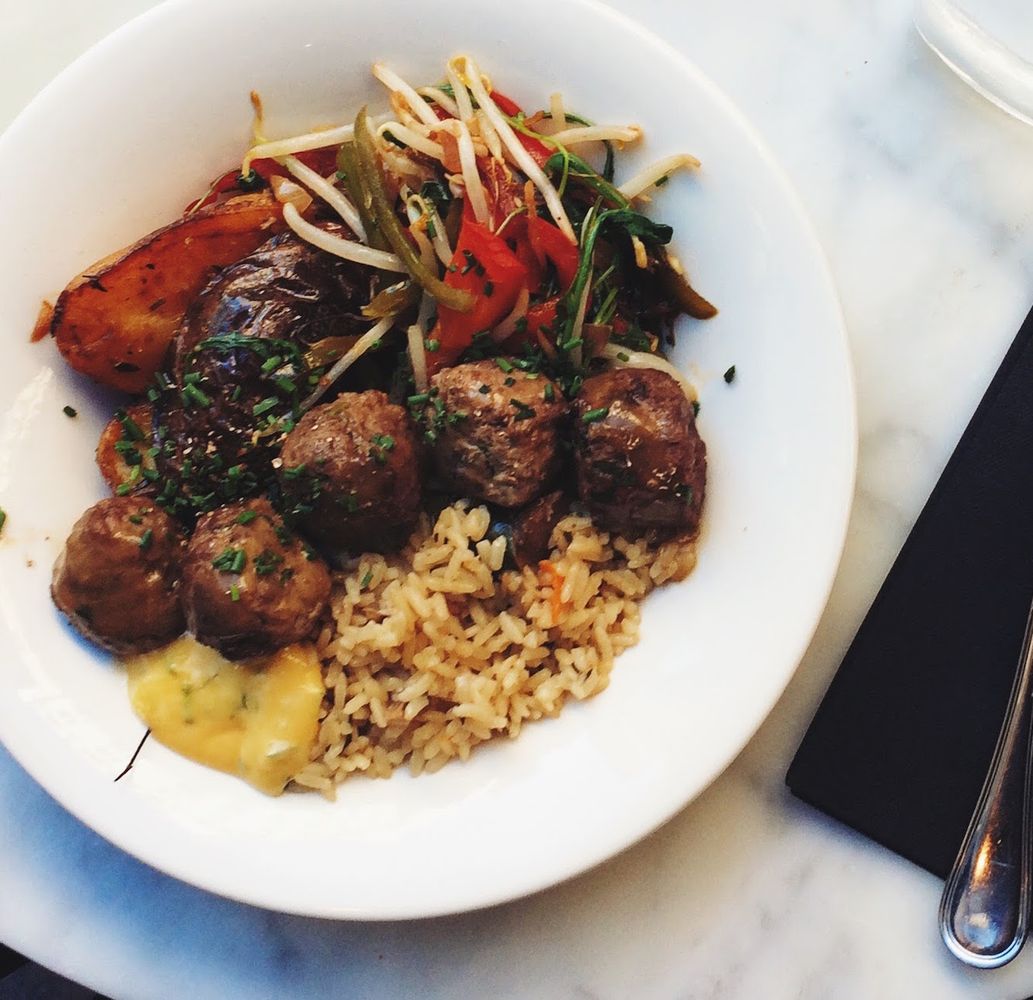 179 Rue Saint-Denis, 75002 Paris, France
Enjoy your lunch in Paris!