French grocery stores aren't all that different from American ones even if they are set up a little differently. That being said, there are enough surprising things about French grocery shopping to know so I thought I'd compile a list of my best tips for having a pleasant grocery shopping experience while in France!
I live in Paris so my experience will mainly come from grocery shopping in the capital city. That being said, many of these tips apply to grocery shopping elsewhere in the country!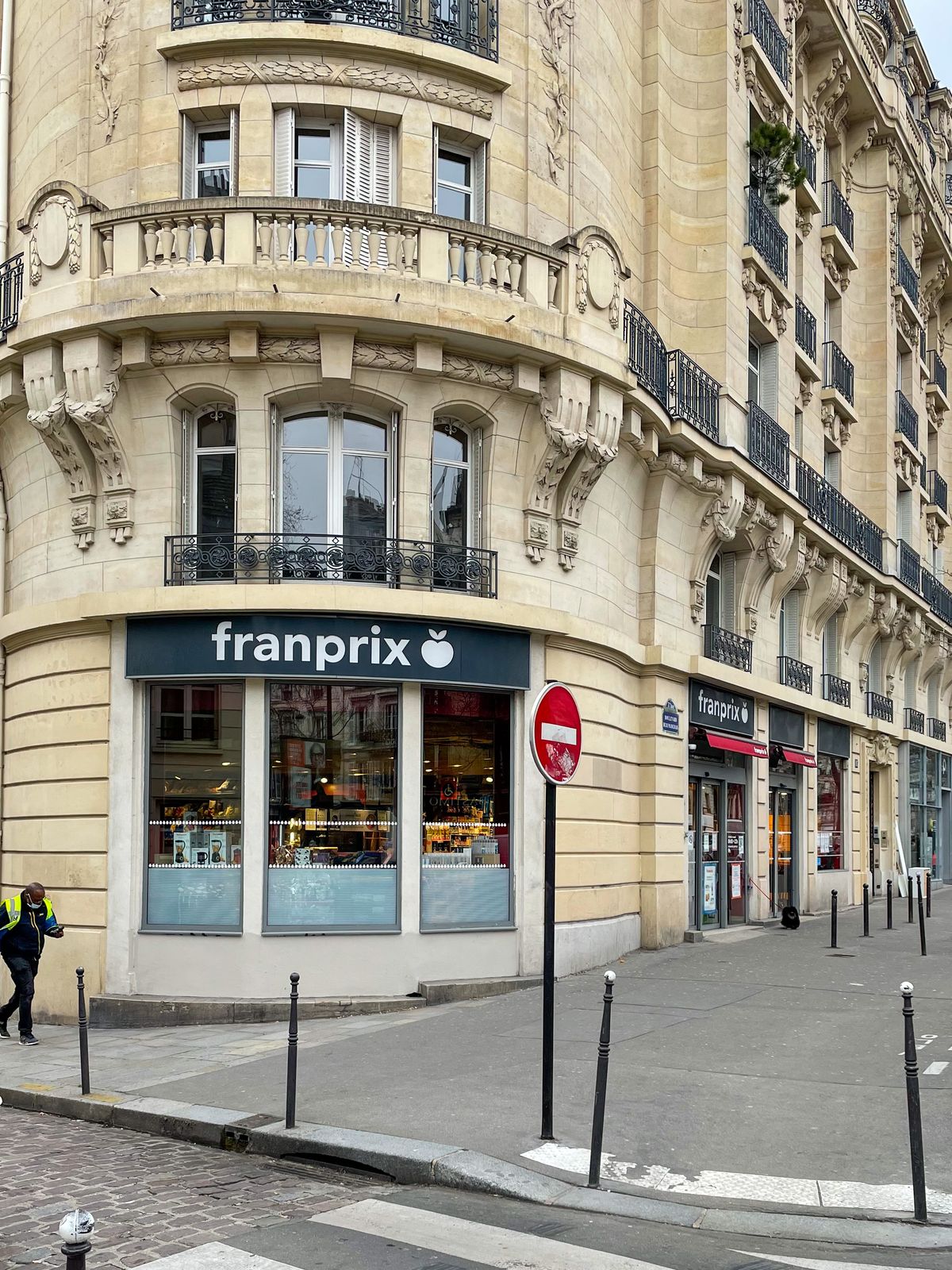 French Grocery Store Hours
Grocery shopping in Paris is a weekly or more often event for many French families living in the capital city of France. Keep in mind that many French grocery stores and supermarkets are closed on Sundays and late into the evening so don't count on grocery shopping in France outside the 8am – 8pm time frame on Monday through Saturday!
If you're lucky, your local grocery store will be open on Sunday mornings from 9am – 1pm for example, but don't count on it! Similarly, some grocery stores in densely populated areas may stay open until 9pm or 11pm.
Once you're sure you've got a place to shop, here are our best French grocery shopping tips!
Major French Grocery Stores
Here are the major French grocery stores and supermarkets you'll see in France:
Carrefour: Carrefour is my favorite French grocery store. I can always find what I need and the shops are very well stocked.
Monoprix: Monoprix is the French version of Walmart. Not all locations offer grocery stores, but many of them do. They also sell a wide variety of clothing, home goods, electronics, and various affordable products across France. This mega-brand has been around since the 1930s and is as ubiquitous in France as la baguette!
Franprix – Franprix is a competitor of Carrefour. I find their shops to be a bit smaller, but the products are very similar.
Other grocery stores you may come across include Casino, Auchan, G20, Intermarché, E.Leclerc, and Picard which specializes in high-quality frozen food.
Small French Convenience Stores
Many of the major grocery stores in France have mid-sized versions, specialty versions, and mini versions akin to convenience stores. Here is a general idea of what you may come across for Carrefour, for example:
Carrefour Market: the largest type of grocery store, carrying everything you may need at home and lots of varieties of the same product.
Carrefour City: A mid-sized version of the grocery store, carrying the basic essentials, but not more than one or two versions of a similar product.
Carrefour Express: A small convenience store for drinks, snacks, and hygiene products.
French Organic Grocery Shops
A big organic food movement happened in France several decades ago. The majority of the French grocery stores I named above will have a dedicated organic produce section which you can easily find inside.
Bio is the French word for organic so keep an eye out for this word!
The prices for organic fruits and vegetables will be about 20-25% more than for non-organic produce.
If you prefer to shop for organic groceries only, you can absolutely do that in France! There are several dedicated organic grocery stores to choose from. Some are chain shops while others are independent. Here are a few ideas:
Naturalia
Biocoop
Bio c' Bon
Cheap Grocery Shops in France
The cheapest supermarkets in France include LIDL and Netto, two low-cost grocery stores mostly found in less desirable areas. You won't find these shops in the center of Paris for example.
The good news is that the cost of groceries in France is far less than what you would pay for similar products in the United States.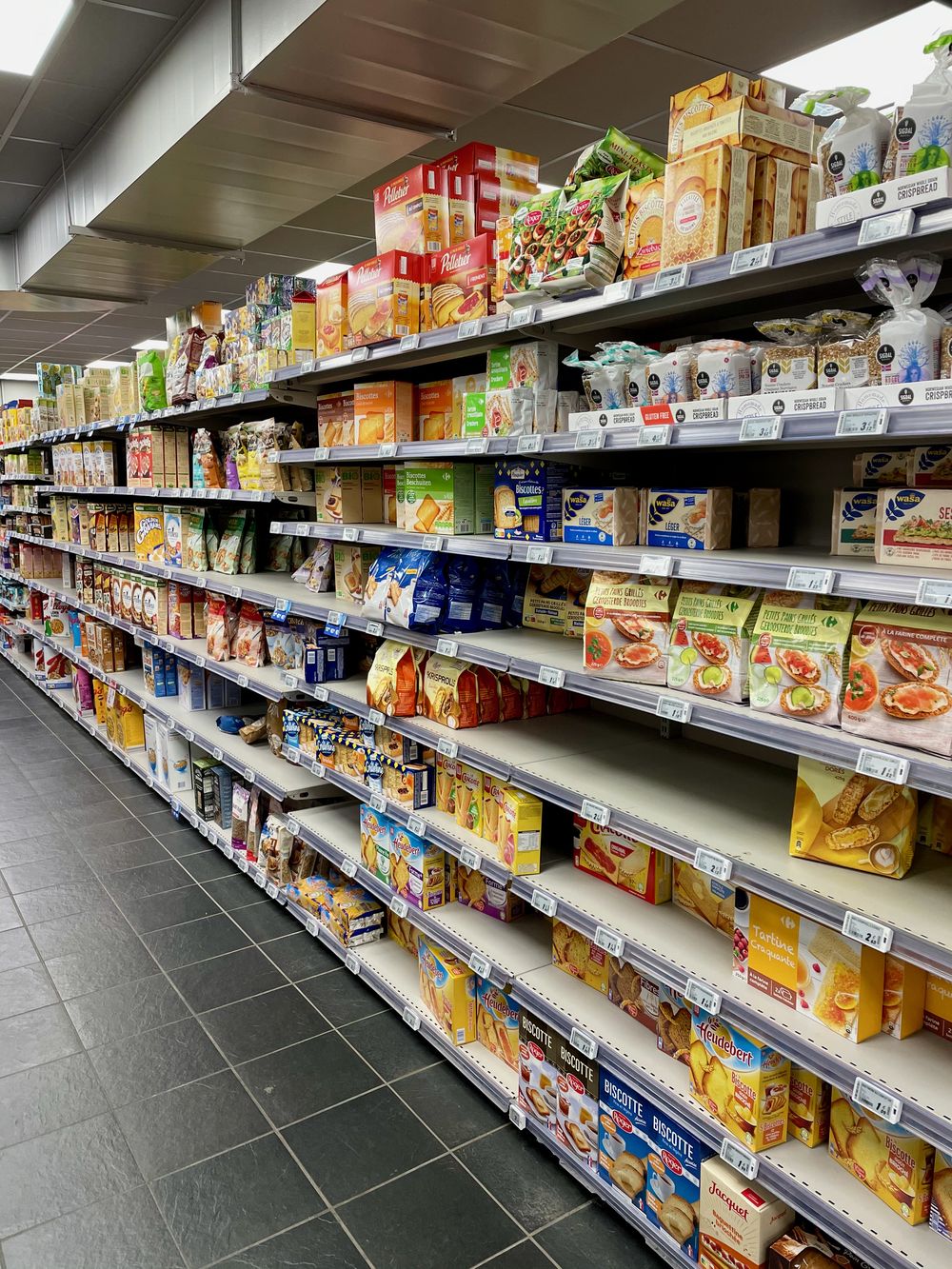 What to Bring to the Grocery Store in France
The biggest difference between American and French grocery shops is that you must bring your own bag with you when you shop in France. The horror, I know!
In an effort to save the environment from destructive and wasteful plastic bags, France has effectively banned disposable plastic grocery bags since 2016.
If you don't have your own bag, you'll have to pay 10 cents for a recyclable paper bag at the shop (if they have any). The majority of French people will bring their own large reusable shopping bags or a rolling market cart where they transport their groceries on wheels.
In fact, those little rolling trolleys are so ubiquitous in France and you can spot them almost anywhere! You might even trip over one as I did at a French outdoor market!
Bag Your Own Groceries
I was always surprised to see that no one helps you bag your groceries in France, unlike in America. I'm not sure why this is because honestly, it's quite stressful to have to shove your purchases in your bag as quickly as possible because the next customer is waiting to make their purchase, but that's life here!
To be honest, the very rushed check-out and grocery bagging process are some of the things I dislike the most about the French grocery shopping experience.
…which brings me to my next tip!
Do French Grocery Shops Deliver?
If you're wondering if France has joined the on-demand delivery revolution, the answer is Oui!
The major grocery chains offer low-cost grocery delivery services in most parts of France. I live in Paris and my groceries are delivered in just two days! Depending on the size of my Carrefour order, I pay no delivery fee for orders over 150€, 5€ for orders over 100€, or 8€ for orders up to 100€. Carrefour also delivers to pregnant women for free, no matter the order total.
This is totally worth it to me as I'm not someone who enjoys grocery shopping for necessities! I do buy my fruits, vegetables, and cheeses in person so I can pick them out myself. But the rest I have delivered!
There is also an "express" grocery delivery service, now too. If you need a few very common items, you can generally have them delivered in just a few hours. This is useful when you're in a pinch, but the product selection is too limited for my needs so I go the normal route.
While grocery delivery in France is super convenient (you can even use restaurant delivery apps like Deliveroo to order groceries), I recommend doing your grocery shopping in person for the first month or so of your life in France. There are so many products I discovered by chance in the store, different brands and varieties to know, that you need to familiarize yourself with what's available before ordering online!
For safety reasons, I do not recommend giving your building code to the delivery handler nor letting your delivery person go upstairs to your apartment door. It's best to meet them downstairs and get the groceries from the street.
Should You Tip for French Grocery Delivery?
So you're probably wondering if you have to tip the grocery delivery person when in France. Tipping is a big part of American culture, but it's not the case in France. My answer to this is no, you don't have to tip, but it's a good idea if you can!
The majority of my delivery men do not expect a tip. I can tell by their body language that they're already turning their back after dropping the last box and I have to actually say "wait!" in order to tip them. Plus, many grocery stores even write on their websites that tipping is not required or expected.
I tip around 2–5€ (depending on what I have on hand) anyway because grocery delivery is a physically demanding, tough job. The delivery guys don't treat me or my groceries any differently for tipping, but I do it anyway. It's totally up to you, though.
Fidelity Programs
If you find yourself going to the same grocery store over and over again, be sure to sign up for the fidelity program! Joining is free and many times prices are lower for members than the public. I have been able to save hundreds of euros over the years thanks to these fidelity programs.
Tax is Included
You'll be happy to know that the VAT is included in the price listed on the item in the grocery store! So the price you see is the price you'll pay at the register. Before any discounts, of course!
What to Buy at the Grocery Store in France
I buy all my non-perishable at French grocery stores as well as any beverages. Water, snacks, jam, and more all come from my local Carrefour!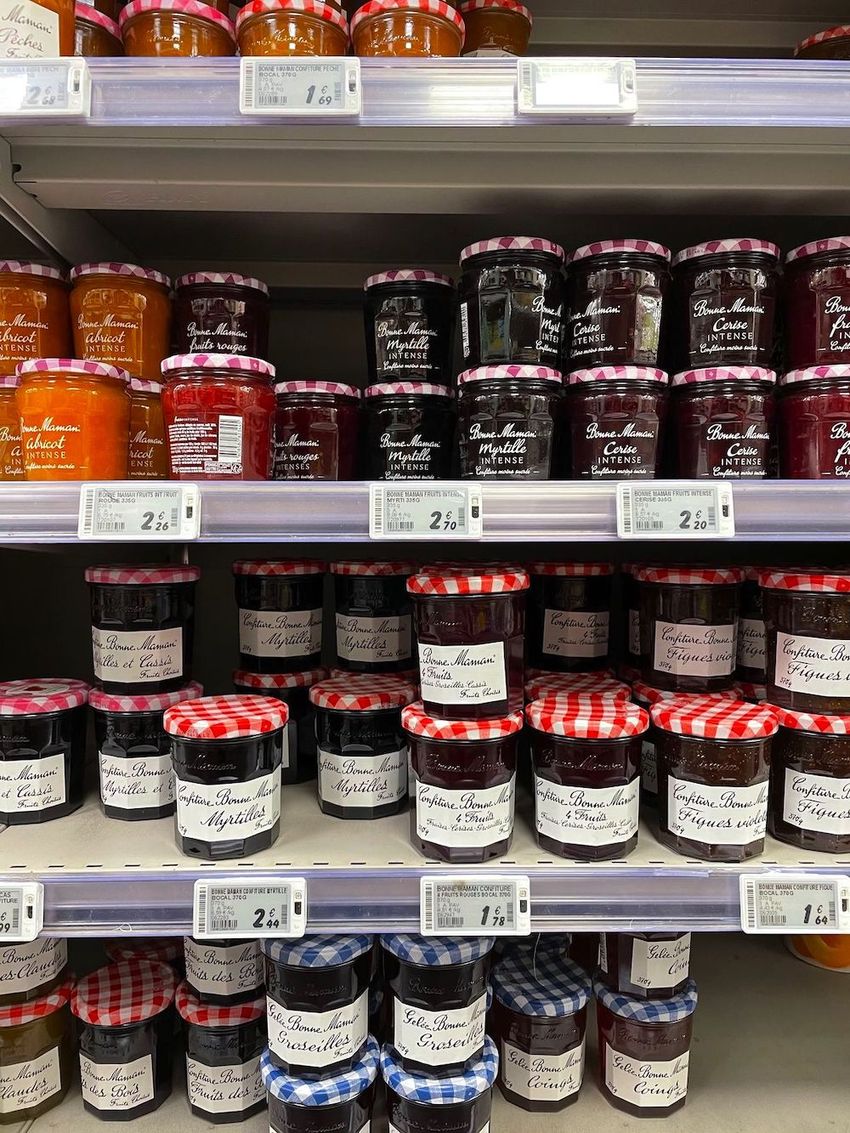 Things You Should Buy Elsewhere
While you may be tempted to get everything on your list at your local grocery store in France, don't make this rookie mistake!
As a general rule, the food that France is known for should be purchased elsewhere. You can get these products at grocery stores but they will be of far inferior quality than if you purchased them from a shop that only sells that specialty product.
Meat – You should purchase meat at the local boucherie butcher shop
Cheese – Head to the fromagerie for the best quality cheese you can find!
Bread – The boulangerie is where it's at!
Wine – There are plenty caves à vin where you can find amazing wines
Trust me, you'll pay just slightly more for a product that's easily 2 or 3 times better than what you'll find at the grocery store! Many times the shop assistants in these places can work with your budget too and recommend something based on how much you want to spend.
Once I was talking with a friend and told her how much I love Saint-Felicien cheese and that I just buy it at the grocery store. She was like, Oh my God, you have to buy it from a cheese shop, it's so much better, trust me! So I did and boy did I feel so silly for raving about my budget Carrefour cheese! There really is no comparison between the two.
The same goes for wine. Sure, you can get used to cheap wine from Carrefour, but I dare you to go to your local cave à vin and ask them for a good wine that's not too expensive (un vin rouge/blanc pas trop cher) and it will probably blow your mind!
Don't Forget the Farmer's Markets!
My last tip is to consider doing a portion of your grocery shopping at your local fresh fruit and vegetable market! There are tons of them around Paris and many cities in France. Farmers come from the neighboring region with fresh, locally sourced produce. You can find everything from cheese to fruit to vegetables to flowers at these markets, which France is quite famous for!
Here are a few food markets in Paris to consider doing some grocery shopping at:
Marché d'Aligre
Marché Maubert
Marché Batignolles
Marché Rue Mouffetard
Be sure to bring a good straw market basket with you to tote around all your goodies!
---
As you can see, the French grocery shopping experience is pretty different from the American one even though the goal is the same. French people do their grocery shopping at many different stores, while Americans typically have their go-to one-stop shop for groceries. 
As a culture that values cooking and preparing meals at home, French grocery shopping norms are a key part of everyday life in France. I hope you have a lovely experience getting groceries in France!
Pin this for later: