Spending two months in France has been so incredibly fulfilling for me. I still can't believe I can wake up in this beautiful country and spend my days here. Most of all, I'm so proud that I earned it. When I left New York at the end of April, it was raining. I remember walking down the wet sidewalk thinking that I couldn't have been happier to be leaving the city! For many people, New York is the dream. It was my dream. But after seven long years, I felt like New York was draining me. I needed a break from the constant traffic, hoards of people on the sidewalks, and obscene prices!
I hopped a plane to France at my first chance and spent a lovely five weeks in the southwestern Basque Country (in Biarritz to be exact!), before traveling through the Provence region for another four weeks.
After living in France for the last two months, I don't miss the States just yet, but here are the most major differences I've noticed between my life in the south of France and my life in New York:
1. People Say Hello to You
In New York, you avoid eye contact with people on the street like it's the plague, but in France, people say Bonjour to you even if they don't know you! I've spent most of my adult life living in New York City and so I never felt that not saying hello to someone was rude. So, at first this was so strange to me, but after a while, I started to find it odd when someone didn't say hello. There is something very civil and classy about saying hello on the street, and I love it. I can certainly understand why so many people feel that New Yorkers are rude, now!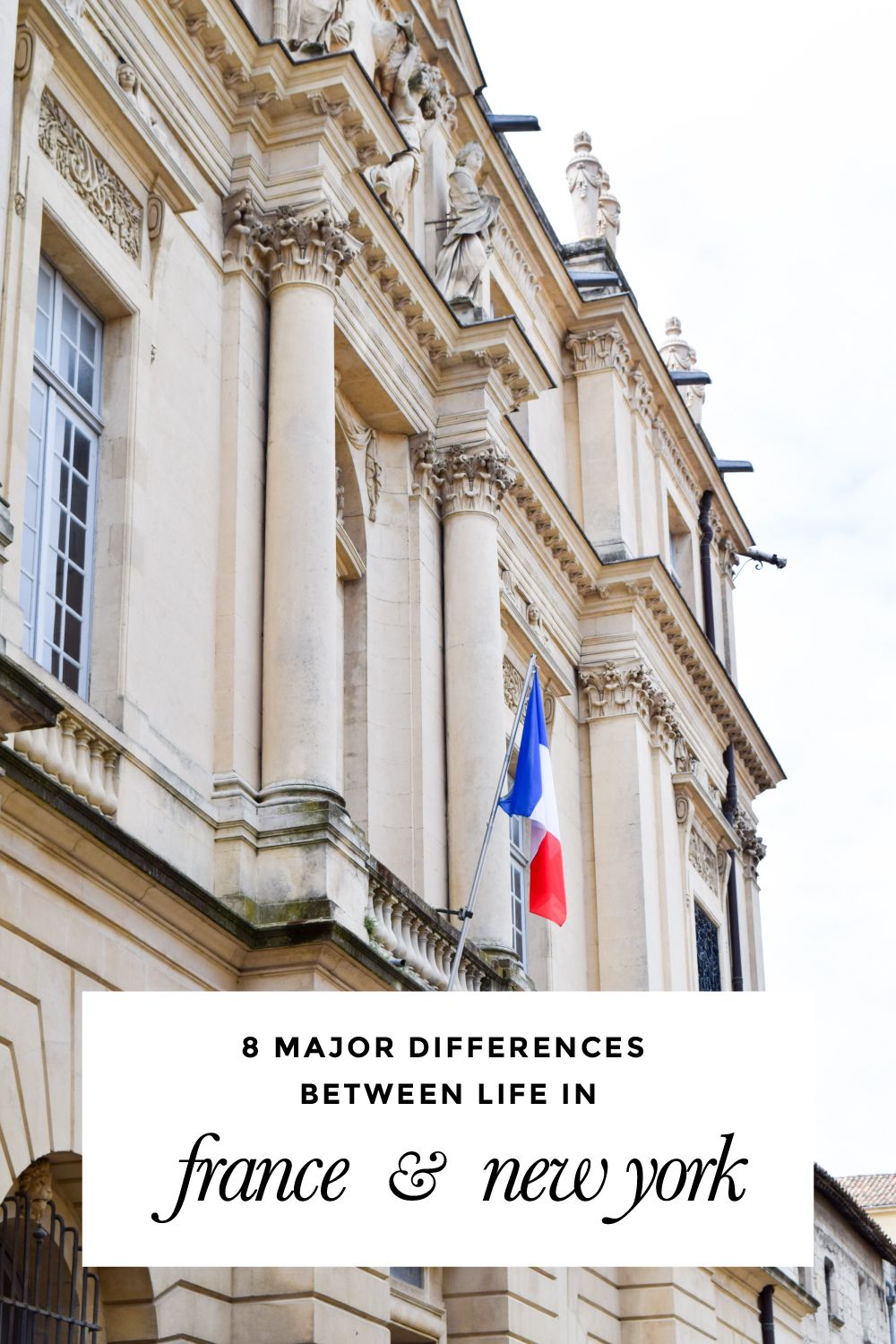 2. Great Food
These days, there is nothing I love more than having breakfast on my balcony overlooking the beautiful Carlton residence. Lately, I've been buying baguettes almost every other day! They are so addicting and I can definitely understand why the French love them so much. They go with pretty much anything – fruit spread in the morning, ham for lunch, Nutella for a snack, or cheese after dinner. The possibilities are endless, and the taste of a fresh baguette is simply delightful.
3. Cash Only!
It isn't all sunshine and rainbows here in France. For some reason, with the exception of large box retailers, the French just didn't get the memo that consumers prefer the ease of paying via credit card, and many refuse to even own a card processor! Shops and restaurants generally don't accept credit cards for purchases under ~20 euros, though I've taken taxis that have a 50 euro minimum. It's no surprise that Uber has become so popular in Europe and taxi drivers have only themselves to blame because they refuse to accept credit cards!
4. Cars Stop for Pedestrians
I will never forget the time when I was almost hit by a car in Soho. I was crossing Prince Street on Broadway, and an SUV nearly body-slammed me! (I have a few more near-car-death experiences in New York, but that one is the most memorable.)
I also won't forget the first time I accidentally made a car stop for me in France. Yes, you read that right. I unknowingly stopped traffic in Biarritz! I had only stepped just near the edge of the sidewalk, when the car assumed I wanted to cross, and politely stopped for me! I was in shock, and even though I didn't want to cross, I felt it would be rude to not accept this kind gesture!
Lesson learned: if you approach the edge of the sidewalks, cars will assume you intend to cross. It's so wonderful to no longer have to wait for traffic to slow down to cross a busy street!
5. Nothing is Open During Lunch, After Work, on Sundays, or in August
You know what they say: When in Rome, do as the Romans. The same applies here. This means absolutely no shopping outside of weekday working hours!
Generally, you can expect stores to be open from 10am until Noon, and then again at 2pm until 6pm, give or take. On the flip side, restaurants are open for lunch – you guessed it – from 12 to 2pm. So don't try to eat or shop outside of these hours!
Saturdays are a bit more flexible, but they are crazy busy because pretty much everything is closed on Sundays. August is France's national vacation-taking month, and many restaurants and shops shut down entirely during this month.
The quintessential New York-style 24 hour convenience store is a rarity in this part of the world. This is just the way things are in France, and I certainly don't see them changing any time soon, so it's best to get used to it. :)
6. Cheap, Cheap Wine
What goes great with a baguette? Wine, bien sur! I'll never forget when a friend of mine from Europe refused to purchase one glass of wine at a restaurant in New York. She said she'd rather buy a bottle. The glass was $12 and the bottle was around $30. I was so confused because a glass of wine would have been cheaper! She explained to me that she just couldn't mentally comprehend how a restaurant could get away with charging over $10 for one glass of wine, so she would rather get her money's worth and buy the bottle! Well, she was right. In France, wine is like water. A glass of wine at a bar or restaurant may set you back 3-5 euros, tops! You'd be hard-pressed to find a glass of wine for less than $10 in New York. Here, there are plenty of phenomenal bottles of wine for less than $8. You are, of course, at the source.
7. Google Maps is NOT Reliable
In New York, any business I needed to see the hours for was right at my fingertips. I open Google Maps, search the business, and boom: the hours, address, and telephone are readily available. When I do this in France, either the hours are wrong, or if I get particularly lucky, I show up to find the business has closed entirely. Joy! I actually ended up walking to the nearest grocery store two times before it was finally open on the third time I arrived during my first weekend in France.
8. Services are Slow or Non-Existent
Seamless? Unheard of. Uber? Only in the major cities. Wash-and-fold? Sure, but you better be prepared to wait. Many of the services I so dearly loved in New York like ordering lunch delivery online on a snowy day, are just non-existent here. Things like dry-cleaning and laundry service do exist of course, but turnaround time can be up to five times longer than in New York, meaning you could be waiting a full week just to get your laundry back! I never realized just how spoiled I was in New York. Things around here move at a much slower pace than across the Atlantic, which isn't necessarily a bad thing, but certainly takes some adjusting!
---
Of course there are many more differences between two places separated by an enormous ocean, but these are the first eight that came to mind! What other differences have you noticed?