A few years back, I was lucky enough to spend one month during the spring in the lovely seaside town of Biarritz. I knew nothing about the city when I arrived, but luckily with the help of some locals, I discovered the most amazing places to visit in this charming French city known for its sandy beaches and Basque culture. Biarritz was even featured as one of the top 10 European summer destinations, so it should definitely be on your radar!
If you find yourself heading to the southwest of France, then here are twelve of my favorite things to do, see and eat in Biarritz!
Visit the Grande Plage
The Grande Plage is the main beach in Biarritz, located right next to the downtown centre ville. It's a sprawling beach filled with the colorful, striped tents that Biarritz is known for. Grab a snack and some beverages, and head to this classic Biarritz beach for a day in the sun!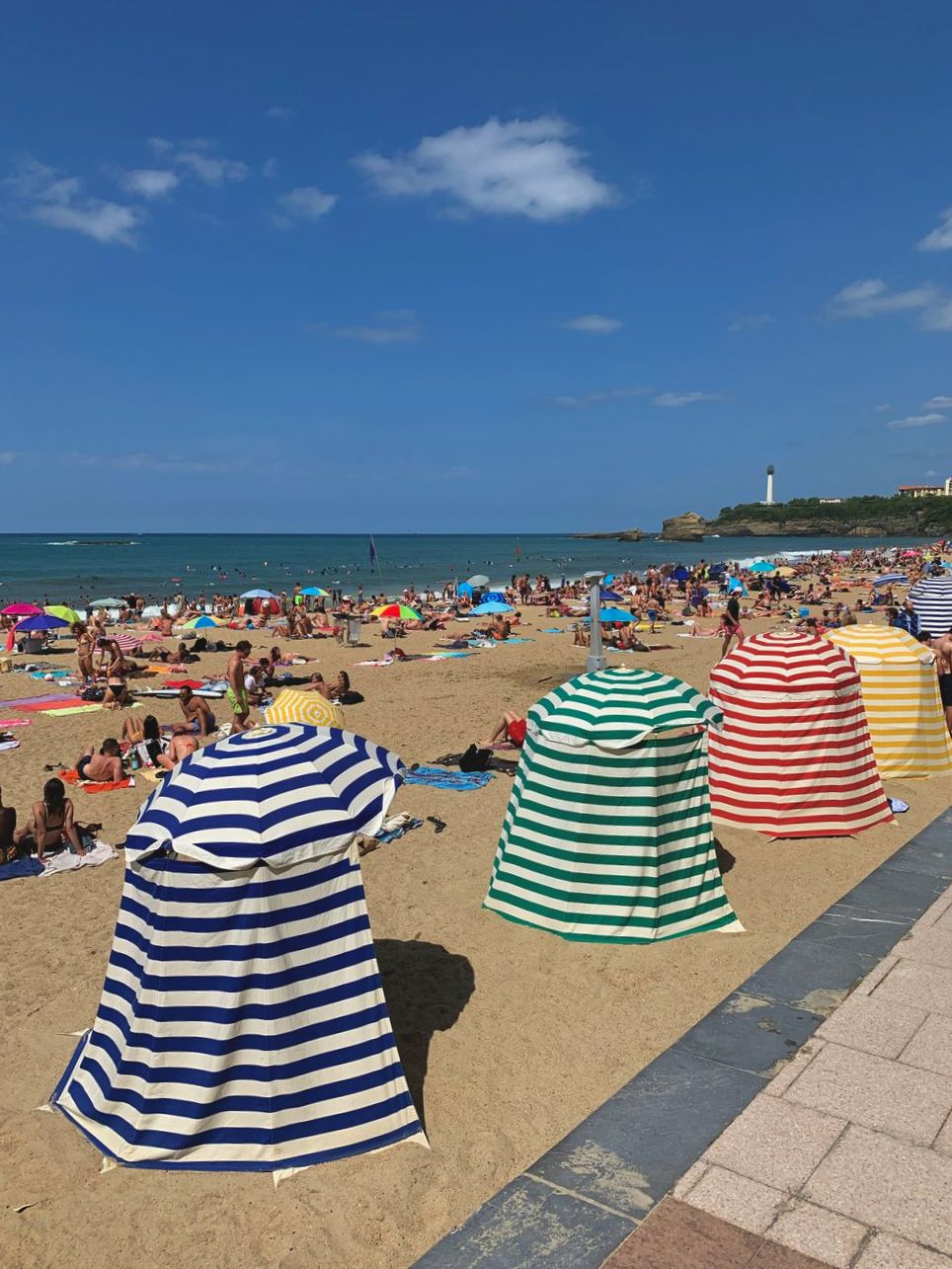 See the Rocher de la Vierge
One of the most famous attractions in Biarritz is Rocher de la Vierge, a rock formation that juts out into the Bay of Biscay via a metal footbridge. The statue of the Virgin Mary was constructed in 1865, long after the rock was used as an anchor point for Napoléon III!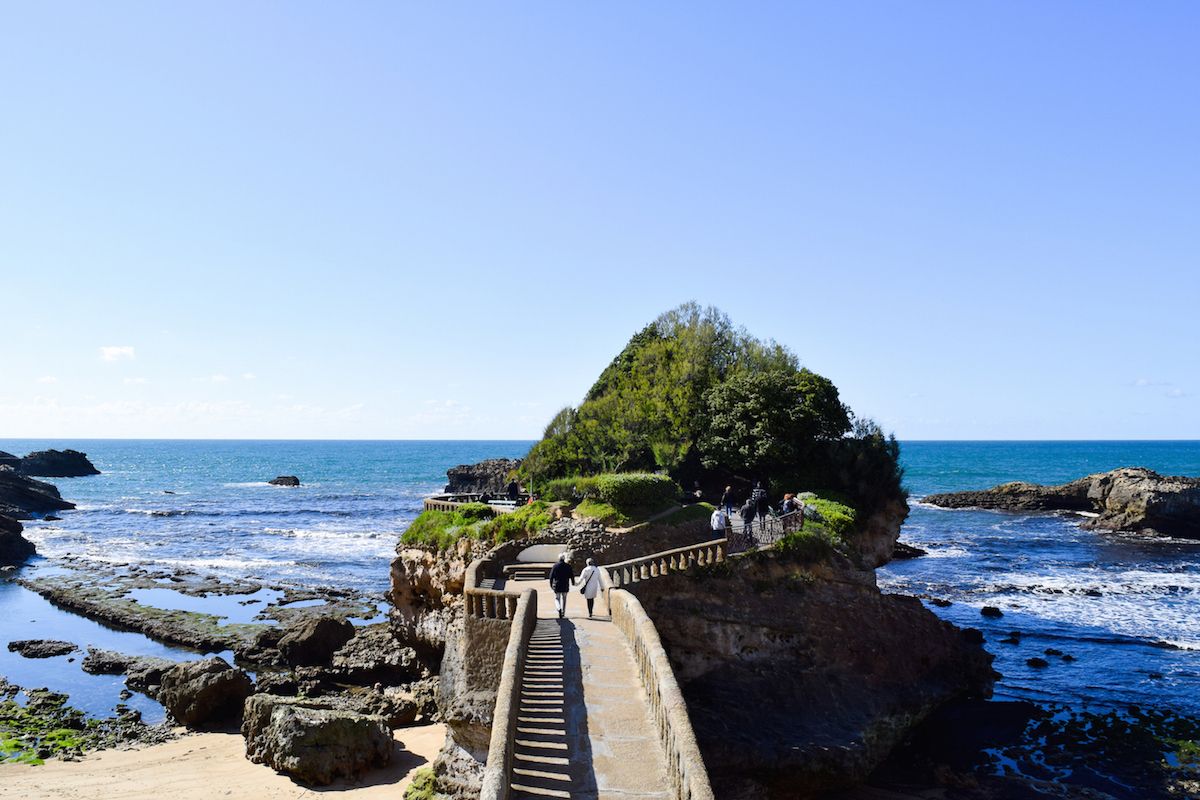 Walk around Rocher du Basta
Rocher du Basta is a small island next to the Grand Plage, accessible via a gorgeous bridge made of rock. Enjoy a terrific view of the ocean and Grande Plage from this lookout spot.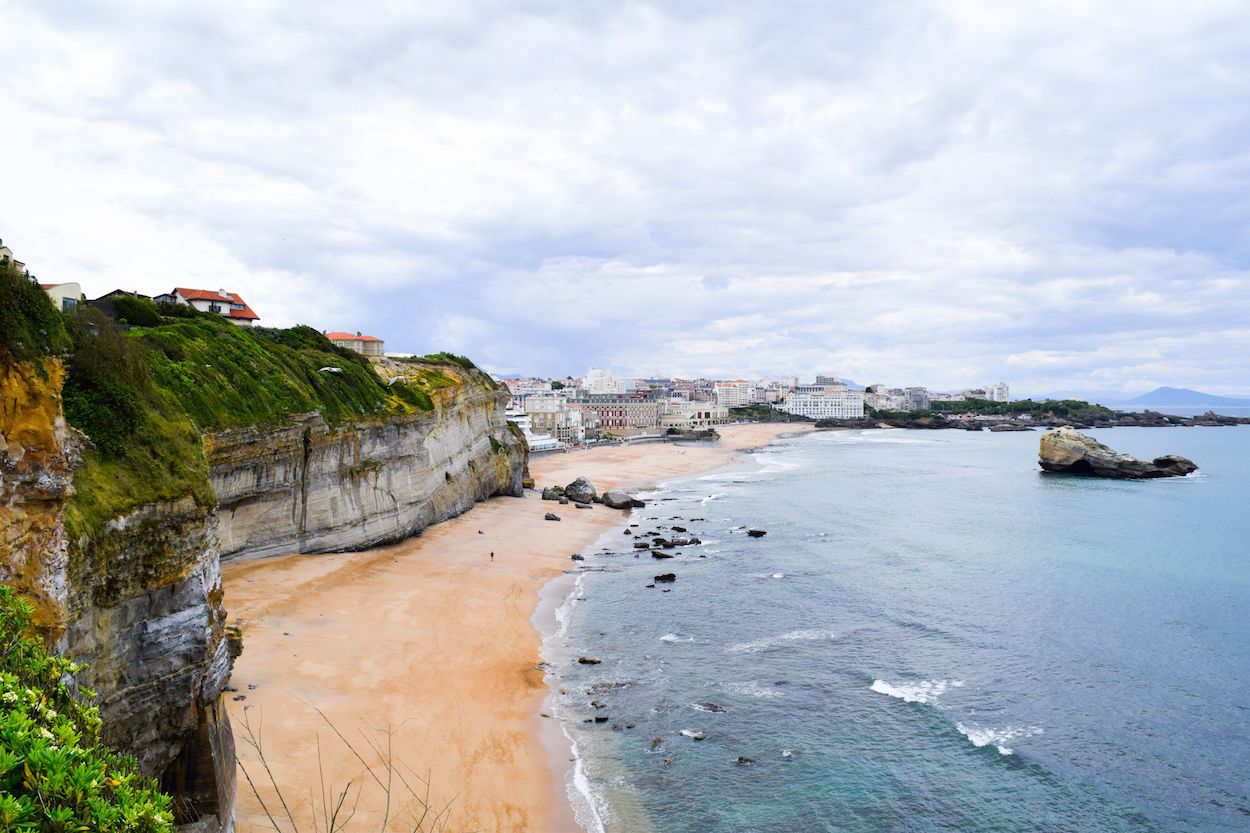 Enjoy views from Le Phare
On the far side of the Grand Plage is Biarritz's famous lighthouse. What's most interesting about this spot is the incredible heights from which you can see the ocean and city. It's about a 15-minute walk from Biarritz's city center, and certainly worth the trek for the magnificent natural surroundings!
La Côte des Basques
Watch the sunset from the open-air bar Etxola Bibi, formerly called Les 100 Marches, with a drink in hand or climb down the winding path to watch the surfers at the beach below at Cote des Basques.
Bali Bowls
Grab an açai bowl before heading to the beach at this tasty smoothie shop! 18 Place Georges Clemenceau
Lunch at Le Café du Commerce
A typically French brasserie and bistro, lunch at Le Café du Commerce will certainly fill your need for a traditional French lunch. 1 Rue des Halles
Have pre-dinner drinks at Comptoir du foie gras
Just across the street from Les Halles (the main market of Biarritz), you'll find an adorable bar where locals come to meet for pre-dinner drinks. Be sure to get a bottle of rosé and of course, a side of foie gras to enjoy the sunset and balmy ocean air… 1 Rue du Ctre
Get a Burger at Le CAB
Ok, to be honest, I've had one of the BEST burgers of my life at Le CAB in Biarritz. And that's saying a lot coming from an American! Seriously, whether for lunch or dinner – definitely stop here at some point during your stay in Biarritz. 62 Rue Gambetta
Eat Seafood at Bar Jean
The seafood at Bar Jean is a popular dinner destination among locals, and it stays busy even after dinner! 5 Rue des Halles
Get Drinks at Bar de La Plage
Bar de la Plage is the chic, hotspot in town, located on the ground level of the Casino. Don't even think about going to a discotheque. Bar de la Plage is the place to be after dinner. I even saw Vincent Cassel here one night! (Enough said). 4 Rue Gardères
Get Drinks at Eden Rock Café
This oceanside bar offers gorgeous views over the rocks and ocean of Biarritz. It's the perfect place to take in the evening over a lovely glass of wine… 2-4 Espl. du Port Vieux
What are your favorite things to do in Biarritz? Would you go to Biarritz during a summer trip to France?