Nestled along the Basque coast of southwestern France, Biarritz serves as a captivating destination where the energy of the Atlantic Ocean mingles seamlessly with French elegance. This picturesque resort town, famed for its stunning beaches, world-class surfing, and opulent architecture, has much more to offer than meets the eye.
Deciding where to stay in Biarritz can be a pivotal aspect of your Biarritz travel experience. From the luxurious oceanside hotels to cozy guesthouses tucked away in quaint alleys, your choice of accommodation in Biarritz can dramatically influence your encounter with this charming French jewel.
I've visited Biarritz many times and even spent one month living there in 2016. I'll guide you through the best options tailored to different tastes and budgets, all designed to help you capture the essence of Biarritz in the most authentic way possible.
Luxury Hotels
If you're looking for luxury and comfort, consider places like Hôtel du Palais or Sofitel Biarritz Le Miramar Thalassa which have ocean views and relaxing spa facilities.
Mid-Range Hotels
For a comfortable stay without breaking the bank, hotels like Mercure Plaza Biarritz Centre or Le Gamaritz might suit your needs. The Mercure is located right on a central busy plaza, just steps away from the beach.
Budget Options
Biarritz is quite expensive, especially during high season. Hostels and guesthouses, such as the Coast Hostel, offer affordable accommodation for travelers on a budget.
Short Term Rentals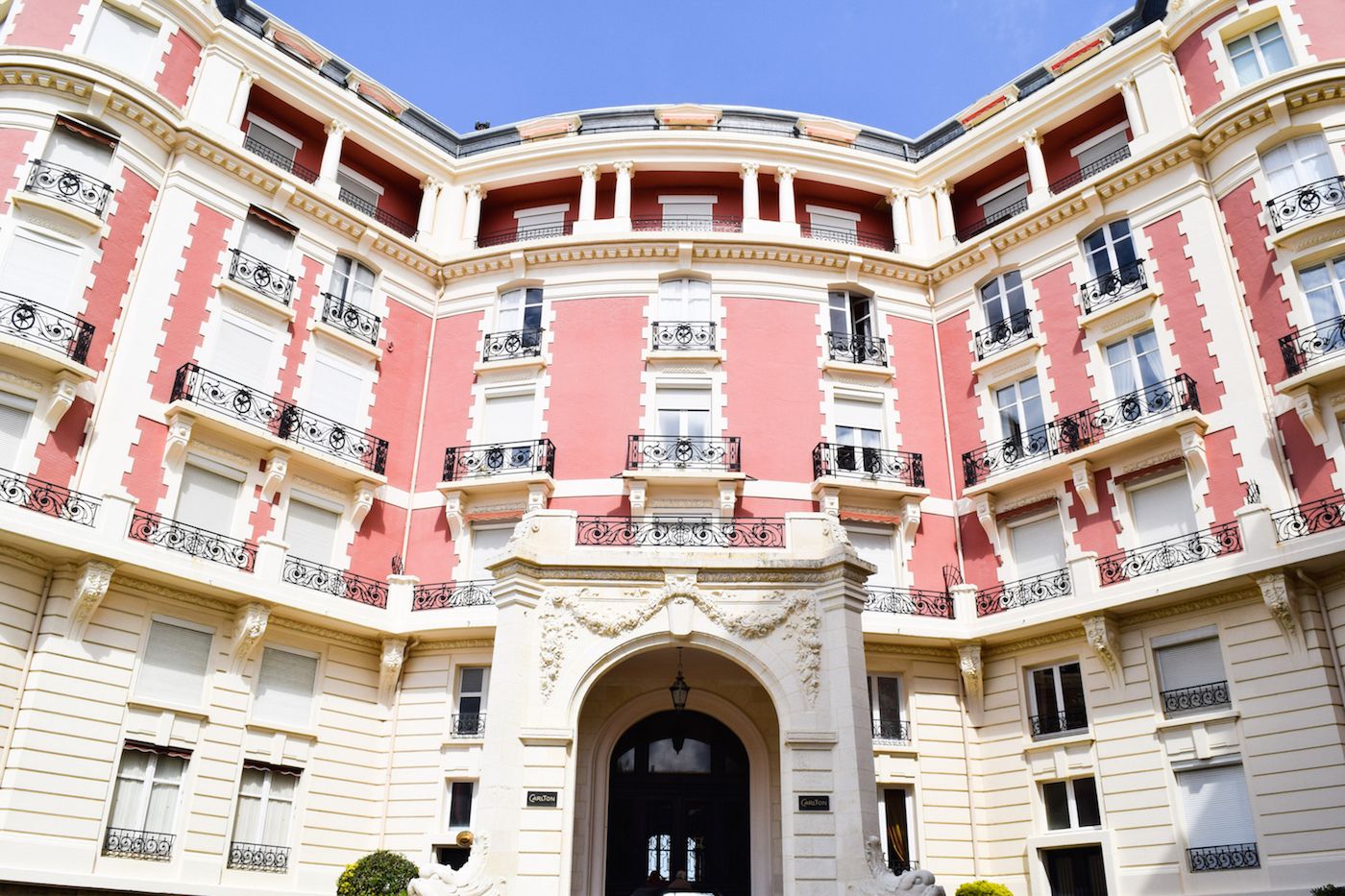 Vacation Rentals are the most comfortable option for a longer stay in Biarritz. Platforms like Airbnb and VRBO provide private residences for rent, allowing you to experience the city like a local.
One of the most beautiful residential buildings in Biarritz is certainly Le Carlton. This beautiful pink palace is a former hotel that was built in the early 20th century. Now, it's a luxury apartment building with stunning views of the Hotel du Palais and the Atlantic Ocean.
If you get lucky and book in advance, you can find some short-term rentals available here.
Check out the entrance of Le Carlton on the corner of Rue de l'Université Américaine and Avenue Reine Victoria.