So you moved to France and now you need to furnish and decorate your house/apartment? Here is how to buy furniture and decor at the best home decor shops in France as a foreigner or expat.
France has lots of options when it comes to home decorating and affordable furniture. Many European home decor and furniture shops have opened in France making the selection fairly wide.
I'll share the best furniture shops and homeware stores in France for different budgets starting with the biggest chain stores, followed by luxury furniture stores, then some mid-range boutiques, and finally the most affordable home decorating stores.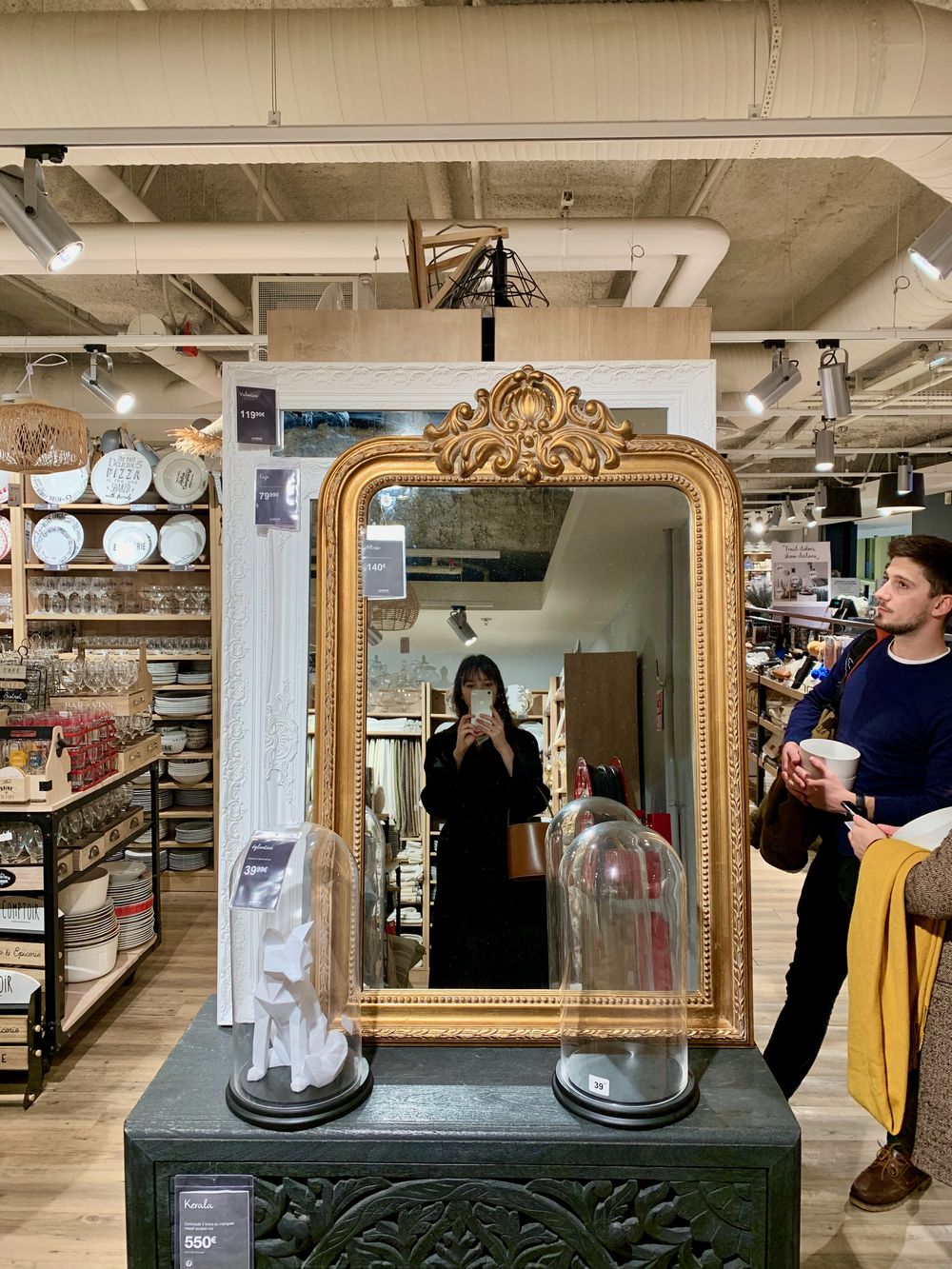 Largest Home Furniture Stores in France
These are the biggest home decorating stores in France. These chain furniture stores in France have multiple locations and large product selections. Prices are mid-range and quality is decent.
La Redoute
La Redoute is a French furniture brand with a long and illustrious history. La Redoute was founded in 1837 by Joseph Pollet in the town of Roubaix, France. The company is best known for its catalog sales of French home goods, which include furniture, home decor, and fashion.
It was originally a mail-order catalog company but has since become one of the leading furniture brands in France. The company has always been committed to providing quality, affordable furniture to its customers, and it has developed a reputation as a reliable source of well-made, stylish furniture.
La Redoute is also known for its innovative design, featuring modern and cutting-edge pieces that are both stylish and functional. Today, La Redoute is one of the most respected furniture brands in France, offering customers a wide selection of pieces to choose from.
AM/PM
AM/PM is a line of furniture and home goods by the La Redoute company. They have standalone stores all over Paris and France. It is known for stylish, contemporary designs and a wide range of products. Its offerings range from large furniture pieces like beds and sofas to smaller decor items and textiles. Prices are mid-range to upper mid-range when compared to La Redoute.
Maisons du Monde
Maisons du Monde was founded by Xavier Marie in 1996 in Brest, France. The company is best known for its catalog sales of French home goods, which include furniture, home decor, and fashion. It has over 250 stores in Europe.
You can also shop for Maisons du Monde products online, or in one of their many stores across France. Maisons du Monde has furniture and decor in different styles like bohemian, French country, modern, and mid-century modern. If you want to decorate your home or apartment on a budget, Maisons du Monde is one of the cheap French home goods brands that have your back!
Casa
Casa is a chain home goods store founded in 1993 and is headquartered in Paris, France. The company is best known for its home goods, furniture, and decor at affordable prices. I snagged a beautiful rustic stool here for my bathroom for just 30€! It's one of the best discount furniture stores to shop from in Paris.
Habitat
Habitat is a British retail chain of home furnishings that was first established in 1964 by the designer Sir Terence Conran. Habitat designs and sells furniture, upholstery, lighting, and home accessories that are known for their modern, clean-lined, and often colorful style. Habitat has a good presence in France.
The brand expanded to France in the 1970s and over the years, it has established several stores across the country. It offers a wide range of contemporary furniture and home accessories, and it's been a popular choice for people seeking stylish, quality home goods.
BHV
BHV, or Bazar de l'Hôtel de Ville, is a French retail chain which has been in operation for over 150 years. Founded in 1856, BHV was originally a department store in the heart of Paris, catering to the city's elite customers.
BHV has become one of the most recognizable brands in France and has become a leader in fashion, home decor, and furniture sales. BHV sells a variety of both indoor and outdoor furniture and is known for its high quality and affordable prices. Its Paris flagship store is located in the heart of Le Marais. Its strong reputation, quality products, and competitive prices have made BHV one of the leading furniture retailers in France.
High-End Furniture Stores in France
There are lots of luxury furniture stores in France if you're looking for high-end decor and furniture and want to invest in your residence. These are the best upscale French furniture stores to check out.
Ligne Roset
Ligne Roset is an upscale, modern French furniture company that was founded by Antoine Roset in 1860 in Montagnieu, France. It is most famous in the US for launching the Togo sofa in the 1970s. Ligne Roset operates stores in Boston, New York, and Washington DC in addition to over 200 stores in Europe.
Ligne Roset stands as the epitome of luxury and innovative design in the Parisian furniture market. Located in the heart of the city, the store is a haven for those seeking contemporary, high-end furniture. Renowned for its collaborations with both established and up-and-coming designers, Ligne Roset offers a broad range of customizable pieces, from sofas to dining tables.
Parisians flock here not just for the furniture but for the comprehensive interior design service that promises a unique and personalized living space!
Roche Bobois
Roche Bobois is a luxury French furniture store and another prominent name in Paris's high-end furniture landscape. Founded in the 1960s, the furniture store maintains its roots in the height of mid-century design.
Situated in an elegant showroom, the store offers modern and contemporary furniture, imbued with a distinct sense of style and sophistication. It is especially famous for its Mah Jong Sofa, a modular masterpiece that embodies the brand's creativity.
Offering limited edition pieces and collections in collaboration with renowned designers such as Jean Paul Gaultier, Roche Bobois is a go-to destination for unique French furniture and statement pieces.
Sarah Lavoine
Maison Sarah Lavoine was founded by French interior designer Sarah Lavoine. The shop sells high-end furniture and home decor for the modern Parisian home with a feminine twist.
Sarah Lavoine is a French interior design and lifestyle brand that has been making waves in France since its inception in 2008. Founded by acclaimed French designer Sarah Lavoine, the brand is renowned for its signature style of blending traditional French elegance with contemporary modernity.
With a focus on creating timeless, quality pieces that are both functional and stylish, Sarah Lavoine has become one of the most sought-after names in interior design in France. From furniture and lighting to wallpapers and fabrics, the brand offers a unique range of products that exude sophistication and sophistication.
Thanks to its commitment to quality and craftsmanship, Sarah Lavoine has become a go-to for injecting French flair into a home.
Pierre Augustin Rose
Pierre Augustin Rose is a lesser-known but highly esteemed boutique furniture store that embodies French elegance and minimalism. Unlike its competitors, the store opts for a pared-down aesthetic, focusing on the timeless beauty of simple, functional pieces.
Located in a chic Parisian arrondissement, it attracts a discerning clientele who appreciate the subtle sophistication of its custom-made tables, chairs, and sofas. Made from the finest materials, every piece exudes an understated elegance that resonates with those who are seeking a more tranquil and refined living environment.
Pierre Augustin Rose has carved out a niche for itself as the go-to destination for minimalistic yet luxurious furniture.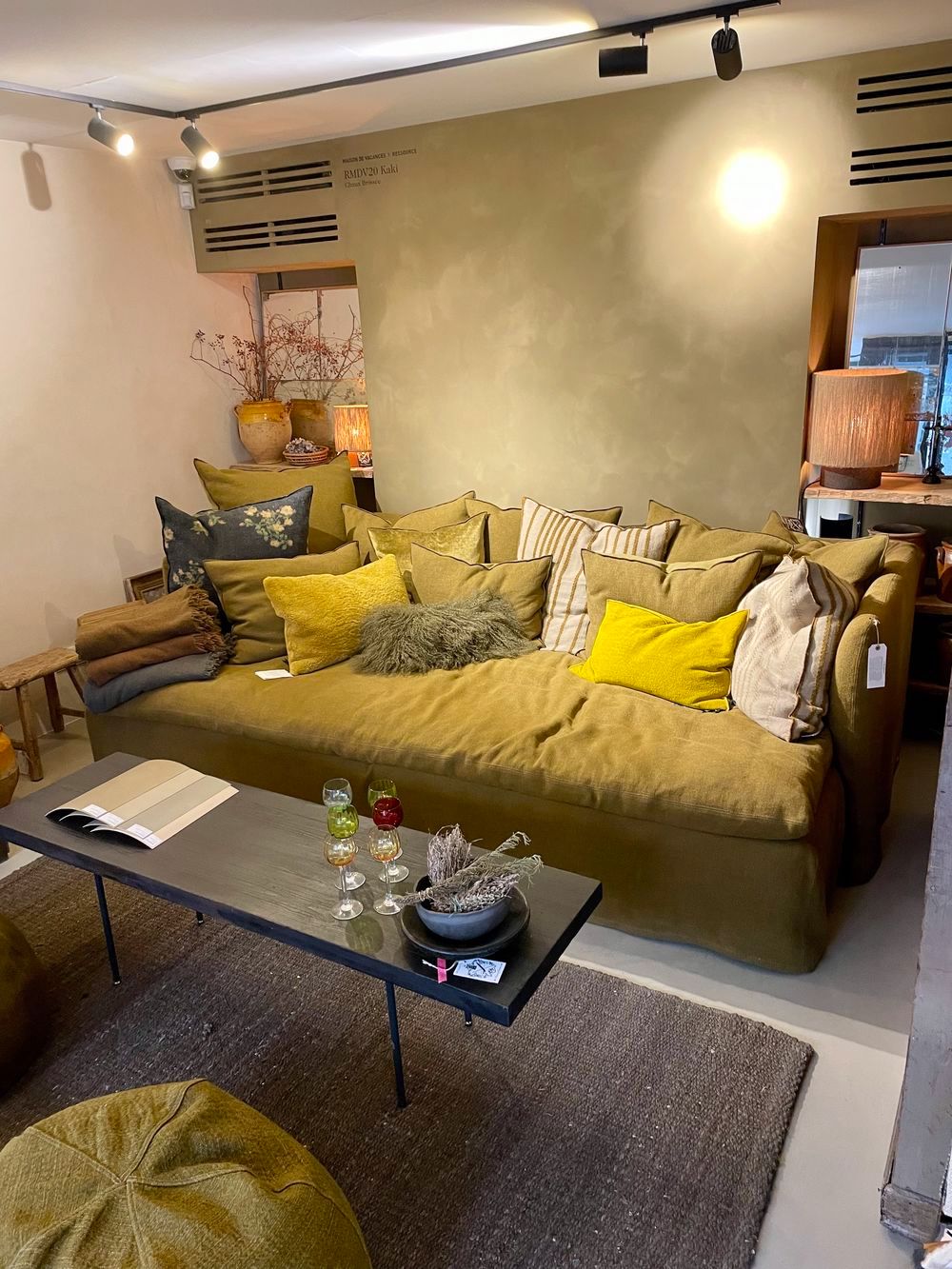 Home Decor Boutiques in France
If you want to buy furniture from a boutique where the pieces are more unique and stylish, then there are plenty of French home decor boutiques to choose from. These shops are often curated by the owners and each piece is selected for its beauty and functionality.
These home decor brands from France have a great balance of quality and price. They are newer to the market but still sell high-quality premium home products. They are where you'll find the trendiest products!
Alinea
Alinea is a mid-range French home goods store that sells a wide range of furniture and decor for the living room, outdoor area, bedroom, bathroom, and more. The aesthetic is fairly simple and minimal, with some pieces designed in the mid-century modern style.
Caravane
Caravane Paris is a local furniture shop that sells made-to-measure sofas. They have great linen-upholstered sofas that give you that cool, laid-back Parisian look.
Fleux
Fleux is a concept store in Paris, France, known for its curated selection of modern and contemporary design pieces. Fleux' is located in the Marais district and occupies several storefronts on the same street, each with its own focus. Their products range from functional to artistic, featuring sleek, modern aesthetics and innovative design.
The store stocks products from both well-known and emerging designers, making it a popular spot for design lovers. It's known as a go-to place for finding unique, creative, and design-forward pieces in Paris.
Merci
Merci is a beloved French concept store filled with artistic home goods and fashion from around the world. The home store was founded in 2009 by Marie-France Cohen and her husband, who had formerly founded Bonpoint, a children's clothing store.
Shortly after, she sold the business to the Gerbi family, owners of the fashion chain, Gérard Darel, who remain in control of the shop. From linen textiles to vintage finds, Merci is always on the pace of what is next in French interior design trends.
Manufacture Cogolin
Manufacture Cogolin, founded in 1924 in the village of Cogolin in the French Riviera, is a luxury rug and carpet maker renowned for its high-quality handcrafted designs. The company is especially recognized for its traditional hand-weaving techniques, which are employed to create unique and sophisticated carpet designs.
The company has been praised for its innovative designs and high-quality materials, which include silk, wool, linen, and other premium fibers. Their pieces range from traditional, classic designs to more modern and contemporary styles.
La Trésorerie
For affordable yet chic homeware in France, you must visit La Trésorerie. La Trésorerie is a concept store located in Paris, France. The name translates to "The Treasury" in English, and it lives up to its name by offering a wealth of household goods and accessories.
Opened in 2014, La Trésorerie specializes in sustainable, functional, and beautiful products for the home, including furniture, kitchenware, textiles, lighting, and more. The shop prides itself on its commitment to sustainable living, and many of the items it sells are eco-friendly, ethically produced, and built to last.
The products at La Trésorerie are carefully selected, and the store emphasizes transparency in production, favoring local and European manufacturers with fair working conditions. The store also houses a café, Café Smörgås, which is known for its Swedish pastries and sandwiches.
The Socialite Family
The founders of this Parisian interior design blog have launched their own furniture and home decor line, called The Socialite Family. What began as a blog to document the most stylish French homes has evolved into a full-fledged home goods brand. You can find high-end furniture and contemporary home decor at this French home goods store. They even have a physical location not far from the Sezane boutique in central Paris.
Astier De Villatte
Astier de Villatte has a lovely boutique in central Paris where you can find beautiful ceramics inspired by the French countryside and slow living.
Astier de Villatte is a renowned French company best known for its handmade ceramic dinnerware, glassware, and candles. Founded in 1996 by Ivan Pericoli and Benoît Astier de Villatte, the brand has become a favorite for unique, artisanal items for the home.
Astier de Villatte's ceramics are handmade in Paris using a traditional pottery style known as "faience," a type of white glazed pottery. Their ceramics, including dishes, platters, vases, and other items, are noted for their irregular shapes and distinctive off-white glaze that allows the dark clay beneath to show through.
La Serviette Paris
La Serviette Paris is an independent French brand of textiles sells every type of linen you could imagine from napkins to towels, bed linens, curtains, and more. Check out La Serviette to shop locally today!
Selency
Selency, previously known as Brocante Lab, is a French online marketplace for second-hand furniture and home decor. Founded in 2014 by Charlotte Cadé and Maxime Brousse, it's a platform that connects buyers and sellers of vintage, antique, and second-hand furniture, lighting, decorative objects, and more.
Selency is unique because it curates its offerings: every item sold on the platform is selected by the Selency team for its quality and design merit. This ensures that while the items are pre-loved, they are still desirable and in good condition. The platform includes pieces from a wide range of styles and periods, making it possible to find everything from mid-century modern pieces to more traditional antiques.
Marché aux Puces de Saint-Ouen
France has a strong flea market culture and you can often stumble upon furniture flea markets along the boulevards in Paris. However, the biggest flea market of Paris is located just north of the border in a small town called Saint-Ouen.
You can reach the Saint-Ouen flea market via Metro line 4 and it's open every single weekend. Browse through old French furniture and discover lots of beautiful vintage homeware items like pitchers, tablecloths, tableware, and more.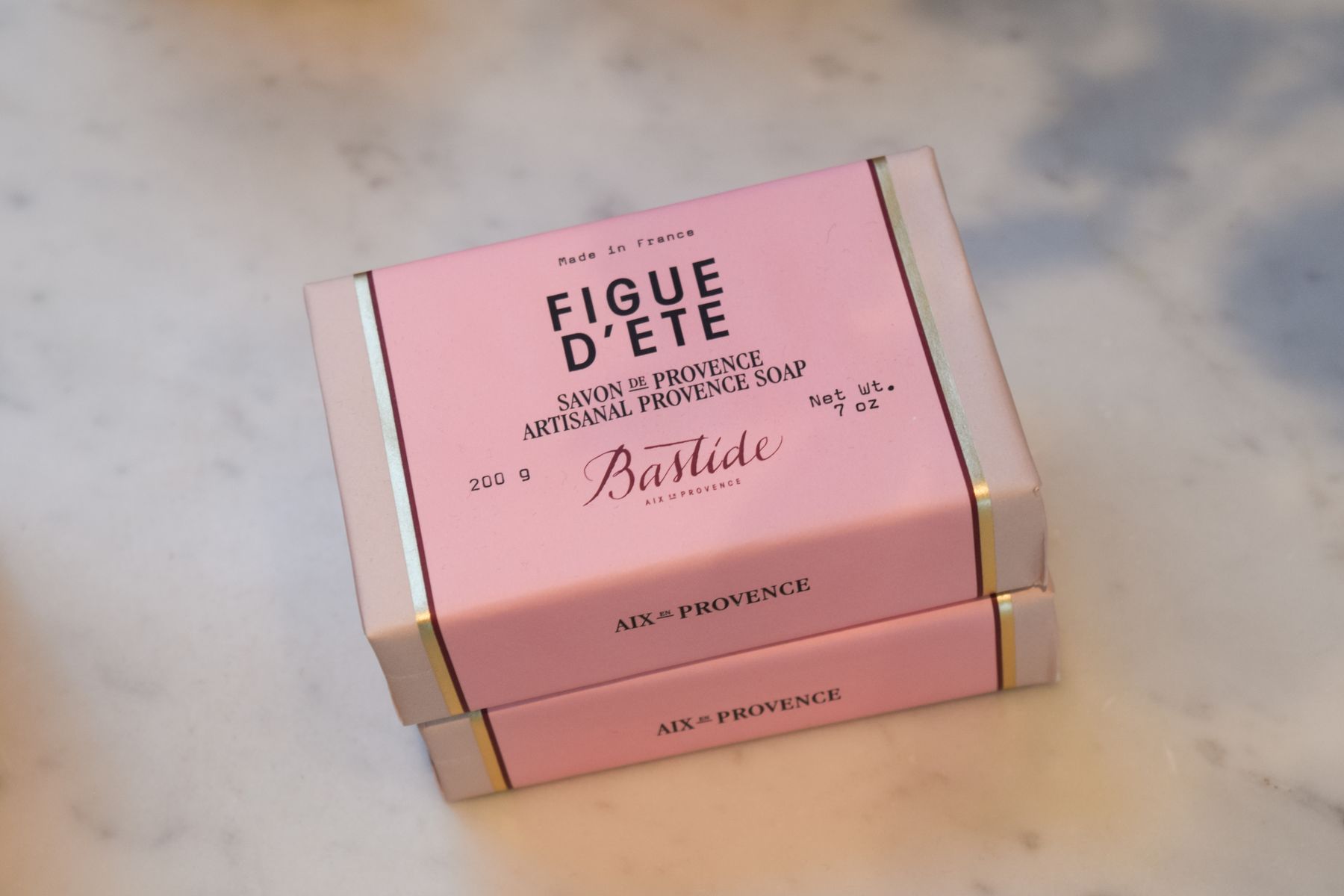 Cheap Furniture Stores in France
Here is where you can buy cheap home goods and affordable furniture in France.
Monoprix
Monoprix has been selling home goods in France since 1932, when it first opened its doors in the city of Paris. It was founded by Max Heilbronna, a son-in-law of Theophile Bader, the founder of Galeries Lafayette, a major department store in Paris. The first store was opened in the heart of Paris and sold a variety of items, including food, clothing, and household goods.
The chain has grown to include more than 500 stores located throughout France, offering a wide selection of items, including kitchen appliances, furniture, and home decor. Monoprix has become a fixture in French households, providing quality products at competitive prices.
Monoprix is undoubtedly one of the most popular retailers in France, offering an expansive range of products and services that make shopping for home goods easier and more convenient than ever before.
Ikea
The budget home decor shops have made their way to France in recent years. When shopping on a budget, Ikea is one of the best cheap French home decor and furniture shops to try. Buying cheap furniture in France isn't easy but it's certainly possible at Ikea. There is a big Ikea store in the center of Paris near La Madeleine.
H&M Home
H&M Home is a design-driven interior brand, which is part of the Swedish multinational clothing retail company H&M (Hennes & Mauritz). Similar to their clothing line, H&M Home offers trendy, stylish, and affordable home decor items and furnishings.
H&M Home is indeed present in Paris and in various locations throughout France. They offer a range of products for every room in the house including bedding, kitchenware, bathroom accessories, textiles, and decorative items.
Zara Home
Zara Home is a brand owned by the Spanish retail group Inditex, which is also the parent company of the famous fast-fashion brand Zara. Zara Home specializes in home decor and housewares, offering a wide range of products that includes bedding, table and bath linens, furniture, tableware, cutlery, and decorative items like candles, picture frames, and ornaments.
Zara Home has several locations in Paris and throughout France, including one centrally located in the Madeleine area of Paris.