If you want the highest quality kitchen supplies, cookware, and tableware, France is the place to buy it. France is well known for its long history of kitchenware production from the finest porcelain plates to exquisite crystal glassware. French cookware in particular is designed to last a lifetime.
I've included many of the best kitchen stores in Paris below for a range of budgets, starting with the most expensive. Scroll down if you want my recommendations for more budget-friendly kitchenware stores in Paris!
E. DEHILLERIN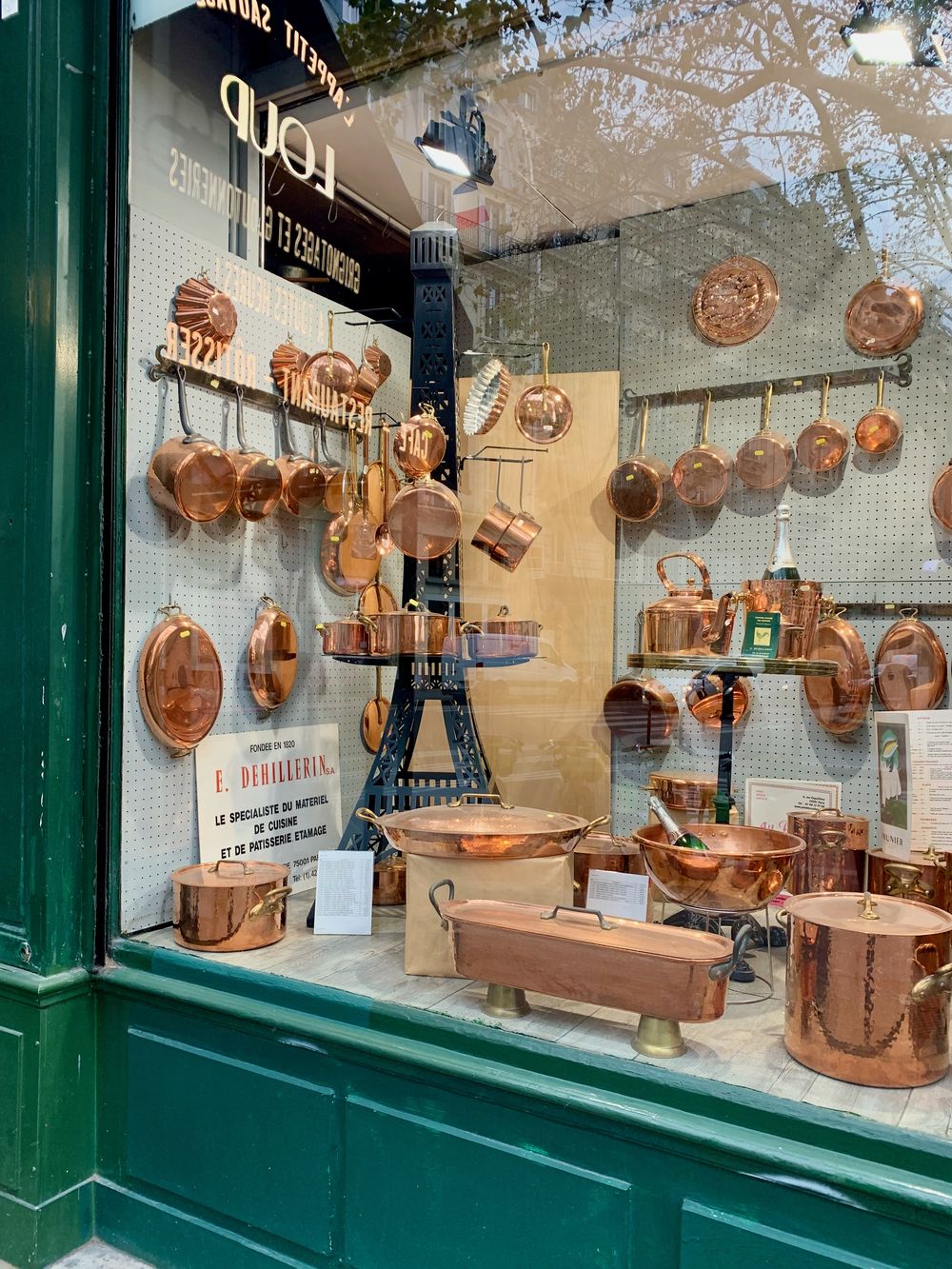 E. Dehillerin is an amazing kitchenware store situated in Paris, France. It was established in the year 1820 by Eugène Dehillerin. For over two centuries, it has been a popular destination for both professional chefs and home cooks. You can purchase French kitchen utensils, cookware, and professional-grade culinary tools. Its long history and rich heritage have made it an iconic institution in the world of gastronomy.
18-20 Rue Coquillière, 75001 Paris, France
La Bovida
La Bovida is a renowned culinary store established in 1921 in Paris, France. For many years, it has been a trusted destination for restaurant professionals and cooks. Today, the store is operated by Trouble Obsessionnel Culinaire. The store has a vast selection of kitchenware, spices, and culinary ingredients.
36 Rue Montmartre, 75001 Paris, France
Mora
Mora is a historic kitchenware store established in 1814. It has garnered a reputation as a premier destination for culinary professionals and fans who want high-quality cooking utensils and accessories. Throughout its extensive history, Mora has been a family-run business, handed down through several generations. The store offers a diverse range of products, including bakeware, cookware, and pastry tools, catering to a wide spectrum of culinary needs. Its longevity and commitment to quality have made it a revered institution in the Parisian culinary market.
13 Rue Montmartre, 75001 Paris, France
A. Simon
A. Simon is a notable kitchenware and pastry equipment store in Paris, France. It was founded in the year 1814, making it one of the historic establishments in the French culinary scene. Throughout its long existence, it has been a favorite spot for both amateur cooks and professional chefs. The store is renowned for offering quality kitchen tools, utensils, and pastry supplies. It has an enduring presence in the culinary market.
48 Rue Montmartre, 75002 Paris, France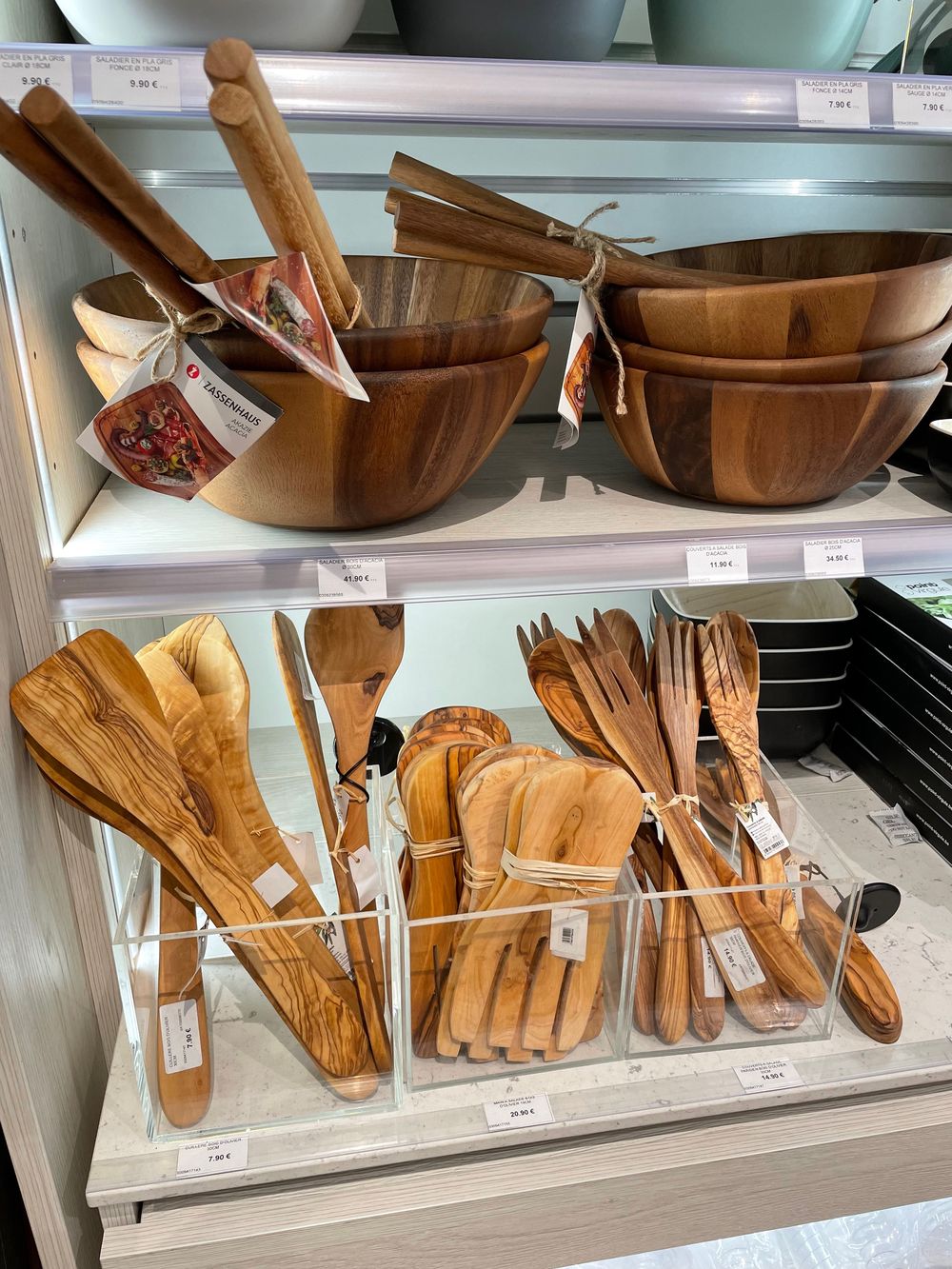 Le Creuset
Le Creuset is a French cookware and bakeware company that has been making high-quality, colorful products for over a century. Founded in 1925 in Fresnoy-le-Grand, France, the company has become a beloved household name around the world.
Le Creuset is renowned for its cast iron cookware, made from special sand molds and fired at incredibly high temperatures to create a durable, non-porous, and virtually indestructible product. The company produces colorful enameled stoneware, stainless steel, and non-stick pieces, as well as kitchen accessories and textiles.
Le Creuset's signature product is its iconic Cast Iron Dutch Oven, available in multiple sizes and colors, which has become a kitchen staple for home cooks. Other best-sellers are the Stainless Steel Stock Pot, the Enameled Cast Iron Skillet, and the Signature Round Dutch Oven.
14 Rue Tronchet, 75008 Paris, France
Staub
Staub is a French cookware brand renowned for its high-quality cast iron products. Founded in 1974 by Francis Staub, he was inspired by the centuries-old tradition of casting iron cookware in Europe. Staub's cookware is known for its superior heat retention, making it a favorite for slow cooking and browning. The brand has since expanded its product offerings to include enameled cast iron Dutch ovens, Paella pans, grills, and other specialty cookware pieces.
Staub's best-selling products include the classic Round Dutch oven, the Multi-Cooker, and the Grill Pan. The Round Dutch oven is an all-purpose product that is perfect for baking, roasting, braising, slow-cooking, and more. The Multi-Cooker is perfect for one-pot meals, with its five-ply construction and non-stick interior. And the Grill Pan is perfect for grilling, searing, and sautéing. All of these products are made with Staub's signature cast iron construction, making them a durable and reliable choice for your kitchen.
Staub, Galerie Lafayette Maison, 35 Boulevard Haussmann, 75009 Paris, France
Mauviel
Mauviel is a French cookware company with more than 170 years of experience in the industry. Founded in 1830 in Villedieu-les-Poêles, Normandy, the company has become renowned for its high-end copper cookware. Mauviel has become a symbol of French craftsmanship and gastronomy, and their cookware is used by professionals and casual cooks alike. The brand is famous for its high-quality and durable materials.
Mauviel's most popular collection is the M'Heritage range, which features a range of copper cookware with stainless steel or tin lining. This range includes everything from saucepans and sauté pans to roasting pans and woks. The M'Cook collection is another popular range, offering cookware made of stainless steel and aluminum, as well as ceramic non-stick cookware. The brand also makes kitchen utensils such as ladles, whisks, spatulas, and trivets.
Mauviel, E. Dehillerin, 18-20 Rue Coquillière, 75001 Paris, France
Baccarat
Baccarat is a prestigious French manufacturer known for producing fine crystal glassware and other luxury items. It was established in 1764 in the town of Baccarat, situated in the Lorraine region of France. Over the centuries, it has maintained a reputation for crafting exquisite crystal products, including chandeliers, barware, and jewelry. Its craftsmanship has garnered numerous awards and has been favored by royalty worldwide. The brand's long history of excellence and innovation has established Baccarat as an emblem of French luxury and elegance.
11 Place des États-Unis, 75116 Paris, France
Christofle
Christofle is a renowned French manufacturer specializing in fine silver flatware and home accessories. The company was founded in 1830 by Charles Christofle in Paris, France. It quickly gained recognition for its exquisite craftsmanship and innovative silver-plating techniques. Throughout its history, Christofle has been associated with luxury and elegance, offering products that range from cutlery to ornamental pieces. Its longstanding commitment to quality and artistry has cemented its place as a leading name in the luxury goods sector globally.
221 Rue Saint-Honoré, 75001 Paris, France
9 Rue Royale, 75008 Paris, France
56 Rue du Four, 75006 Paris, France
51 Rue François 1er, 75008 Paris, France
Galeries Lafayette Maison
Galeries Lafayette Maison is a sector of the larger Galeries Lafayette Group. It specializes in offering a curated selection of home goods and accessories, including furniture, decor, and kitchenware. The store presents products from both well-established and emerging designers.
Galeries Lafayette Maison is located in Paris, operating within the larger Galeries Lafayette department store, a historic retail destination since 1912. Its focus on luxury and innovation makes it a go-to place to blend contemporary trends with timeless elegance in home furnishing and accessories.
35 Boulevard Haussmann, 75009 Paris, France
Dior Maison
Dior Maison is a luxury line of homeware and decorations under the renowned fashion house Christian Dior, established in 1946. This line extends the brand's elegant and sophisticated aesthetic to home goods including kitchenware, serving platters, dinnerware, silverware, tableware, linens, and home decor. Each piece from Dior Maison showcases the finesse and craftsmanship that the Dior brand is famously known for. It has become a coveted name for luxury and class at home. Dior Maison embodies the seamless blend of fashion and interior design, signifying opulence and artistry.
Dior, 30 Avenue Montaigne, 75008 Paris, France
Merci
Merci Paris was founded in 2009 by the fashion designer, Marie-France Cohen, who formerly founded the children's store, Bonpoint. She wanted to bring worldly-inspired designs to Paris by curating a collection of beautiful, timeless pieces that would last a lifetime. The brand quickly grew in popularity and soon became known for its exotic, elegant pieces from artisans around the world. From its most trendy French designer brands to its timeless furniture, Merci Paris has become a go-to for stylish and sophisticated homeware and clothing.
Merci Paris has some best-selling decorations that are must-haves for any home decorator. The brand's signature linen products are a classic style that is always popular, and the dreamy linen sofas grace many Parisian living rooms. Merci Paris also has a line of stylish kitchen accessories, such as linen napkins, placemats, and dish towels, that come in all colors under the rainbow. The brand also has a selection of stylish glassware, kitchen tools, cookbooks, aprons, and many more unique home accessories, which are perfect for any home that wants character.
111 Bd Beaumarchais, 75003 Paris, France
Monoprix
Monoprix is a French homeware brand that has been around since 1932 when it was founded by Max Heilbronn. The brand is known for its stylish, modern, and affordable products for the home, featuring everything from furniture to decor and kitchenware. Monoprix has become a household name in France, and is now available in over 200 stores across the country. Monoprix is known for its decent quality and affordable home products designed to make life easier and stylish.
Monoprix often collaborates with up-and-coming fashion designers. Some of Monoprix's best-selling kitchen and bath products include their stainless steel cookware sets, blenders, and dishwashers. Their bathroom ranges include stylish and modern taps, toilets, and showers. Monoprix also has a range of stylish and modern furniture pieces and decor items, making it a great choice for any home.
101 Rue Berger, 75001 Paris, France