Aside from the famous Paris attractions, such as the Eiffel Tower and Notre Dame, you'll want to explore some of the city's most picturesque streets. Today I'll share some of the most famous streets, avenues, and boulevards in the French capital to help you learn about the streets that made Paris what it is!
These are the most famous streets in Paris you must know about! Lined with some of the city's most prestigious fashion boutiques or the best boulangeries in Paris, each has something unique to offer its daily visitors.
Famous Boulevards in Paris
These are the city's most famous wide boulevards.
Avenue des Champs-Élysées
The Avenue des Champs-Élysées is a boulevard in Paris, France, that is 1.9 kilometers (1.2 miles) long and 70 meters (230 feet) wide. It is located in the 8th arrondissement of the city. You may get it from the Place de la Concorde and it will take you to the Place Charles de Gaulle, where you will see the Arc de Triomphe. It is the world's longest avenue by a long shot.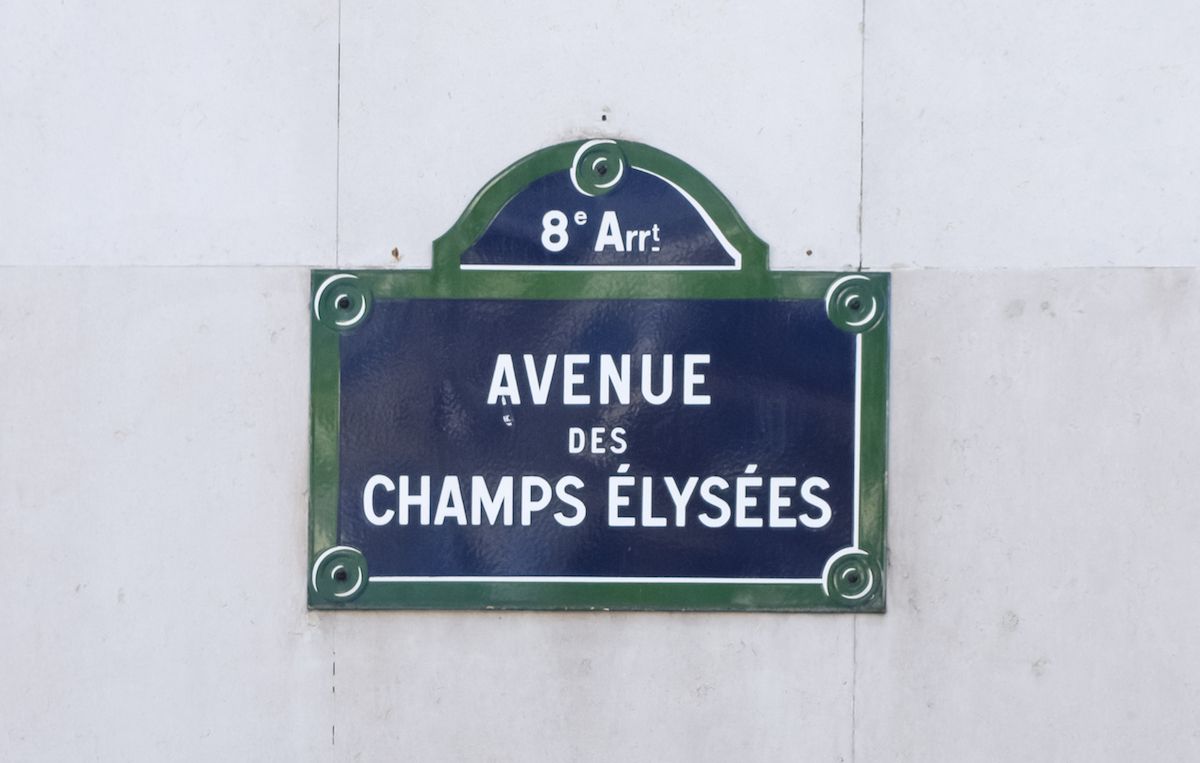 Every day, more than 300,000 people come to the city. Many of them come to admire the city's towering monuments, go on a shopping spree, or be mesmerized by the excitement of the large-scale celebratory events that are conducted here. At any time of day or night, everything takes place here, along the world's most beautiful road, at any hour of the day or night.
The future Emperor of France, Prince Louis-Napoléon Bonaparte, spent a brief period in 1846 in flats off Lord Street in Southport (UK), where he was born in 1819 and where he spent most of his childhood. It has been suggested that the design of the boulevard was influenced by the contemporary design of the Champs-Élysées.
Avenue Montaigne
In Paris, Avenue Montaigne, which runs from the Champs-Elysées as far as the Alma Bridge, is often regarded as perhaps the most prestigious and affluent thoroughfare in Paris.
Top perfume names and notable haute-couture firms have made Avenue Montaigne their base of operations. Spectacular views may be had from the Place de l'Alma, which is located in the center of the city.
Avenue Montaigne aka the allée des Veuves (alley of widows), was a gathering place for grieving ladies in the early 18th century. However, the street has been altered significantly since the early 18th century.
Rue de Rivoli
This stretch of Parisian roadway is popular with visitors to the city because of the diversity of things to do. If you don't know what you're looking for, the length of Rue de Rivoli can be intimidating, and you may find yourself wandering aimlessly.
If all you want to do is see the renowned street in person, taking a free guided walking tour is the ideal way to do it. Even if they are unaware of the history of the Rue de Rivoli, most people are aware that it is a popular destination to shop for French fashion.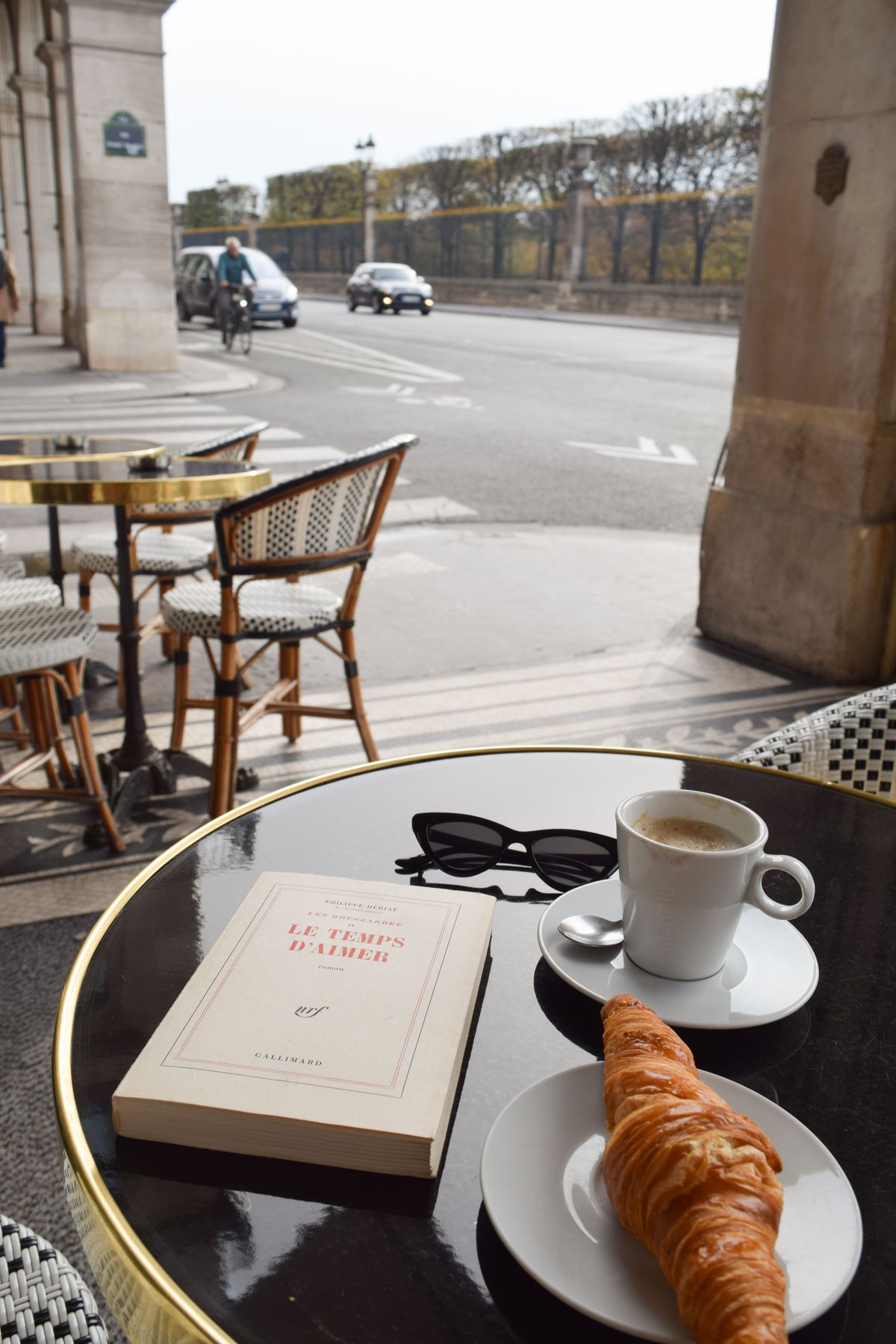 The lengthy road is lined with a variety of retail establishments selling everything from tacky Parisian souvenirs to high-end fashion labels. As you travel down the road, you'll pass by a variety of retail establishments selling a variety of goods, from cheap Parisian gifts to high-end clothing.
The Angelina tea shop is considered somewhat of a Parisian institution among the city's upper crust. It was founded by a chocolatier in 1903, who named the establishment after his daughter-in-law, Angelina, who was born in the same year.
Over the years, Angelina swiftly established itself as the place to be seen and be seen well. Coco Chanel herself was known to come here throughout the day to relax and enjoy the teas and snacks that the parlor has to offer.
Boulevard Haussmann
Boulevard Haussmann, located in the heart of Paris, stands as a symbol of urban elegance and architecture. Named after Baron Georges-Eugène Haussmann, the man behind the transformation of Paris during the Second Empire, this wide thoroughfare is renowned for its opulent facades and grand buildings designed in the classic Haussmannian style.
The boulevard is home to some of Paris' most iconic department stores, including Galeries Lafayette and Printemps, making it a shopping haven for all. Alongside its commercial appeal, Boulevard Haussmann offers glimpses into the cultural fabric of the city, with theaters and historical sites lining the street.
Boulevard Saint-Germain
Boulevard Saint-Germain is one of Paris's most historic and lively streets, reflecting the city's artistic and intellectual heritage. Stretching through the renowned Left Bank, this street is home to a multitude of chic cafes, bookstores, and high-end boutiques, maintaining an air of sophistication.
Famous cafes like Les Deux Magots and Café de Flore, once frequented by literary and philosophical giants such as Jean-Paul Sartre and Simone de Beauvoir, still stand as cultural landmarks.
Boulevard Saint-Germain also houses impressive structures such as the Saint-Germain-des-Prés Abbey, adding to its historic charm. Known for its vibrant street life and as a hub for fashion, art, and literature, Boulevard Saint-Germain remains an essential destination to experience the quintessential Parisian lifestyle.
Rue Soufflot
Rue Soufflot is a distinct and picturesque street in Paris's 5th arrondissement, offering a striking visual connection between the Panthéon and the Luxembourg Gardens. Named after the architect Jacques-Germain Soufflot, who designed the Panthéon, this street holds a place of prominence in the city's urban landscape.
The Panthéon itself, a mausoleum that contains the remains of distinguished French citizens, stands as a magnificent testament to neoclassical architecture at the end of Rue Soufflot.
Along the way, you can enjoy a blend of charming cafes, bookshops, and specialty stores that offer a more tranquil and authentic Parisian experience. The historic grandeur and local charm make Rue Soufflot a compelling avenue that captures both the monumental and the everyday aspects of Parisian life.
Famous Small Streets in Paris
These are the city's famous small streets with more of a local vibe.
Rue Montorgueil
Rue Montorgueil is a street in the Montorgueil-Saint Denis-Les Halles area of Paris, located in the 1st and 2nd arrondissements.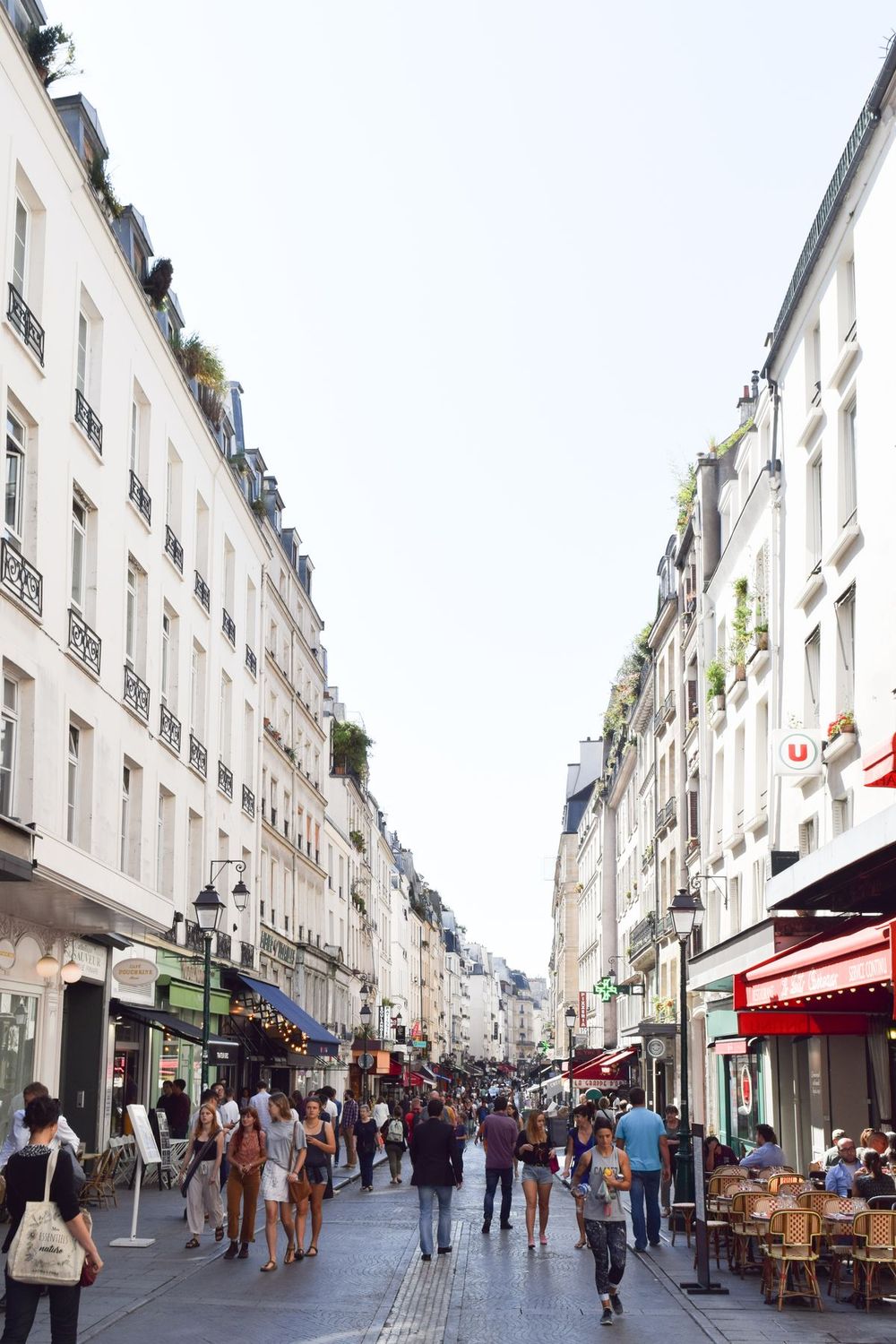 A busy pedestrian street in the center of Paris, the Rue Montorgueil neighborhood is home to a variety of shops and restaurants. In addition to being one of Paris's market streets, this road is home to some of the city's best meat and fish markets, as well as well-loved Parisian pastry shops such as La Maison Stohrer, and a variety of tiny bistros, small boutiques, and diverse bars that are sure to please everybody.
Rue des Rosiers
The Rue des Rosiers, which translates as "street of rosebushes," is located in the heart of the Jewish district, which is informally known as the Pletzl (Yiddish for "little place").
Shopping hours in Paris are regulated, but an exception has been made for this region because Saturday is the Jewish Sabbath, and hence the shopping hours in this area have been extended. Cafes and stores are open on Sundays and major holidays in this region as a result of this, drawing big numbers of both Jews and non-Jews to the area.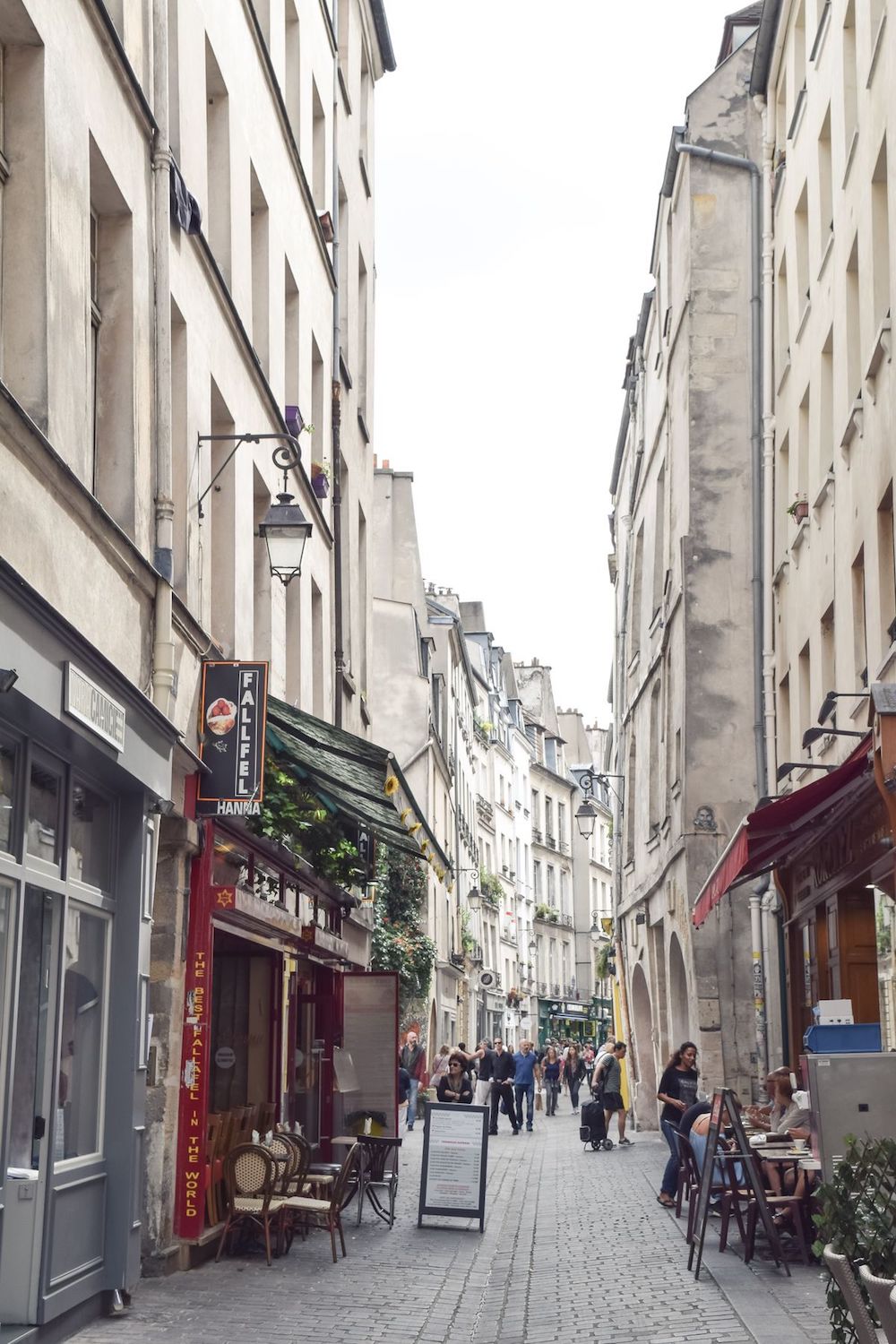 Walking through the Rue de Rosiers, one can hear traditional Hebrew music playing in the background, and Hebrew inscriptions can be seen everywhere. Street sellers, restaurants, and an entire society that lives its existence via interactions with one another may be found in the midst of the ancient houses that are continuously in motion.
The street is bustling at all hours due to the presence of retail and residential establishments. Chic boutiques have been attempting to purchase out modest businesses in order to "embourgeoisize" the industry in recent years. With the advent of new premium clothes businesses and apartments, the edges of the quartier have been transformed as a result of these trends.
Rue Cler
A superb assortment of specialized food stores, pastry shops, butchers, delicatessens, cheese experts, fishmongers, greengrocers, chocolate shops, and cafés can be found in the neighborhood around Rue Cler.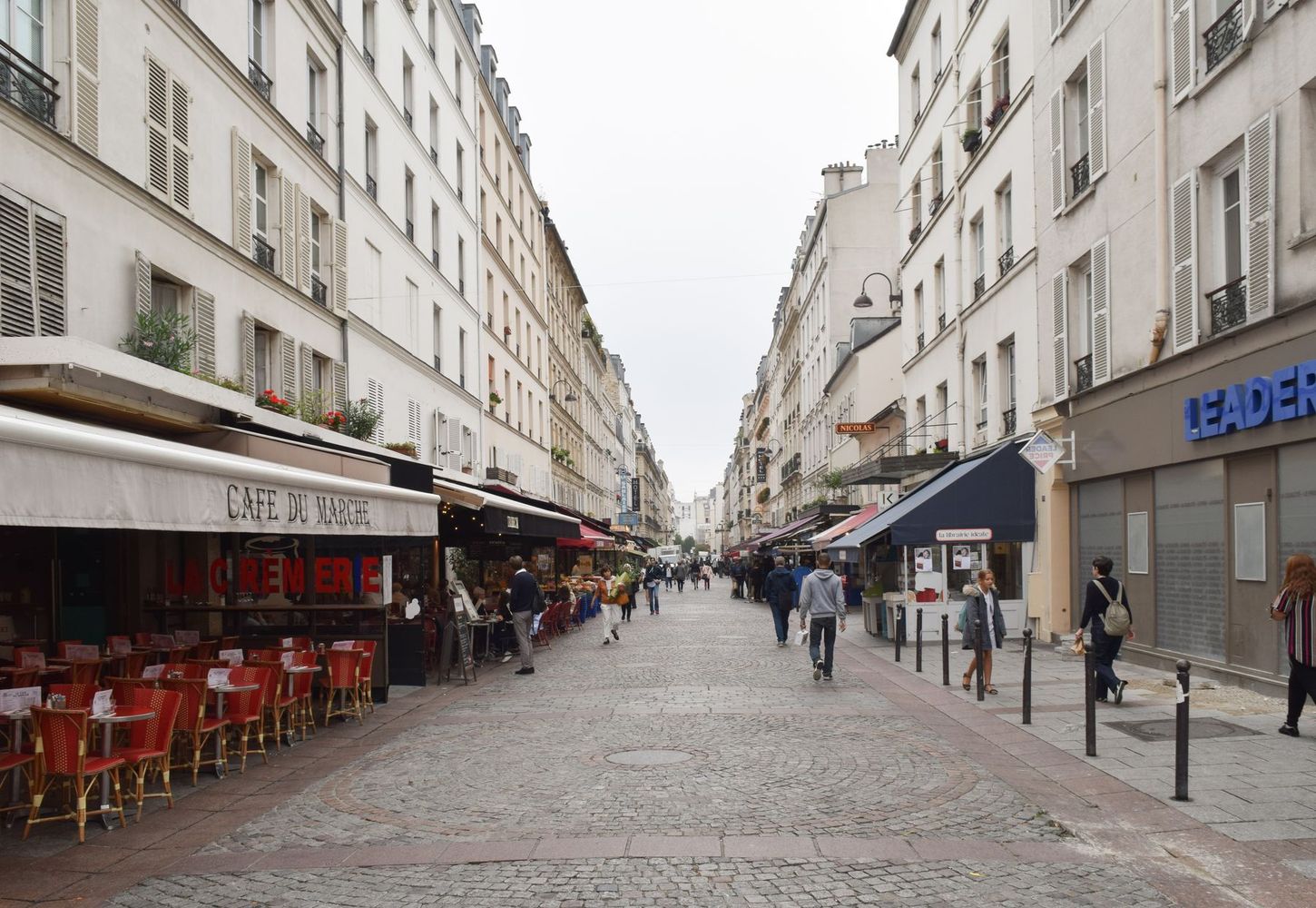 The majority of the street is designated as a pedestrian area and retains its original cobblestones. This traditional market strip is where the residents go to buy their favorite delicacies or to relax on one of the numerous café terraces with their friends and family and watch the world go by, and it is also where the tourists come to shop.
Discover hidden jewels along Rue Cler, one of Paris' most renowned market lanes, which is a must-see for any visitor. This is where native Parisians go for their daily shopping, as it is densely packed with cafés, boulangeries, and specialty businesses.
Rue des Martyrs
Rue des Martyrs, located in the 9th arrondissement of Paris, is a vibrant street that represents the very essence of local Parisian life. Stretching nearly a kilometer, this street is a haven for food fanatics, boasting many bakeries, cheese shops, patisseries, and markets that tantalize the senses.
Local residents flock here to enjoy the quality and diversity of products that encapsulate the flavors of France. Moreover, Rue des Martyrs is steeped in history, having been a path for pilgrims in centuries past, and has been immortalized in literary works by authors such as Emile Zola.
With its blend of culinary excellence, historical significance, and local charm, Rue des Martyrs is a must-visit for anyone seeking to connect with the heart and soul of the city.
Rue Saint-Anne
Rue Saint-Anne, situated in Paris's 1st and 2nd arrondissements, stands out as the epicenter of Japanese culture and cuisine within the city. Known as "Little Tokyo" to locals, this street is a gastronomic paradise for lovers of Japanese food, offering an extensive range of sushi bars, ramen shops, and specialty grocery stores.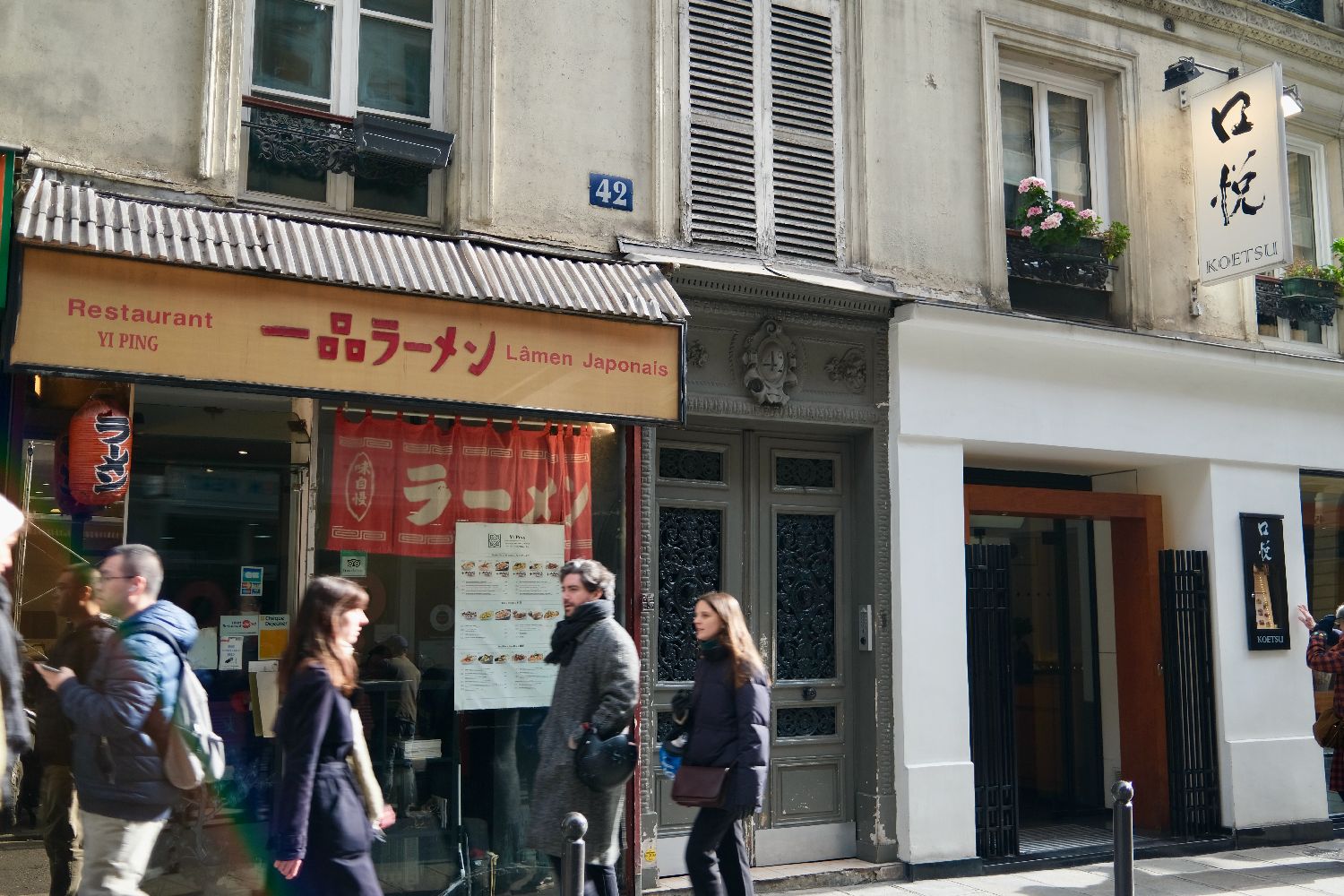 From traditional dishes to contemporary culinary innovations, Rue Saint-Anne provides an authentic taste of Japan in the heart of Paris. Beyond cuisine, this street also hosts various Japanese bookstores, cultural boutiques, and events, further cementing its reputation as a cultural bridge between Paris and Tokyo.
Rue Mouffetard
You must pay a visit to Rue Mouffetard, which is located in the Quartier Latin. It is one of the most historic and scenic streets in Paris, and it is pedestrianized. The locals refer to this street as "la Mouffe." It is here that a road has existed since the Romans were in town, more than 2000 years ago, and it is the site of a wonderful street market every Saturday.
In the French language, the word "mouffet" signifies "skunk." As a result, the street became well-known as a destination for animal skinners, and the name mofettes is derived from the French meaning "odors of pestilence," which refers to the foul odors that were released during the skinning process.
It is a highly bustling street where you can find a daily market selling fresh produce every day of the week. The variety of stores is a true feast for the eyes and the senses. It's easy to lose track of time here, what with the pastries, cheeses, and delicious smells emanating from the eateries.
Sitting on a patio in the sun in Place de la Contrescarpe, sipping a café au lait while people-watching and admiring the historic buildings, you can picture what life was like in Paris during the Middle Ages. It has a realistic feel to it.
In addition, because of its atmosphere and fine looks, which are still evocative of the Middle Ages, this street served as a significant source of inspiration for Victor Hugo when he penned Les Miserables.
---
Which one of these famous streets in Paris have you visited before? Did I miss any that should be on this list?