It is safe to say that the cobblestone pedestrian streets in Paris have seen a lot of history. Currently, cobblestones in Paris are buried beneath asphalt on approximately one-third of the city's streets, but they continue to be used as surface pavement on a few iconic boulevards and squares, such as the Champs-Élysées and the Place de la Bastille, and narrow alleys in historic neighborhoods such as Montmartre, where they have been preserved.
Here are a couple of Paris's lesser-known, hidden cobblestone pedestrian streets to explore and see a part of Paris most tourists don't!
Passage de l'Ancre
Passage de l'Ancre is a private alley in Paris that leads to a residence. In the middle of nowhere, behind a gorgeous crooked, cyan blue door, is a moment in history. You will find plenty of glass storefronts and antique businesses along this passageway.
Take a stroll down the cobblestone lane and into the heart of this lush green sanctuary, where you'll find the world's oldest umbrella repair business. Passage de l'Ancre, or "anchor street," was named after an anchor-shaped sign that used to hang outside the door of an ancient hostel on the street.
Rue Montorgueil
Rue Montorgueil is a pedestrian market street where you can purchase the best meat and fish in Paris. Head to the famous pastry shop La Maison Stohrer for a selection of delicious pastries. Montorgueil is a central meeting spot for Parisians with its cozy bistros, charming boutiques, and unique bars varied enough to please everyone.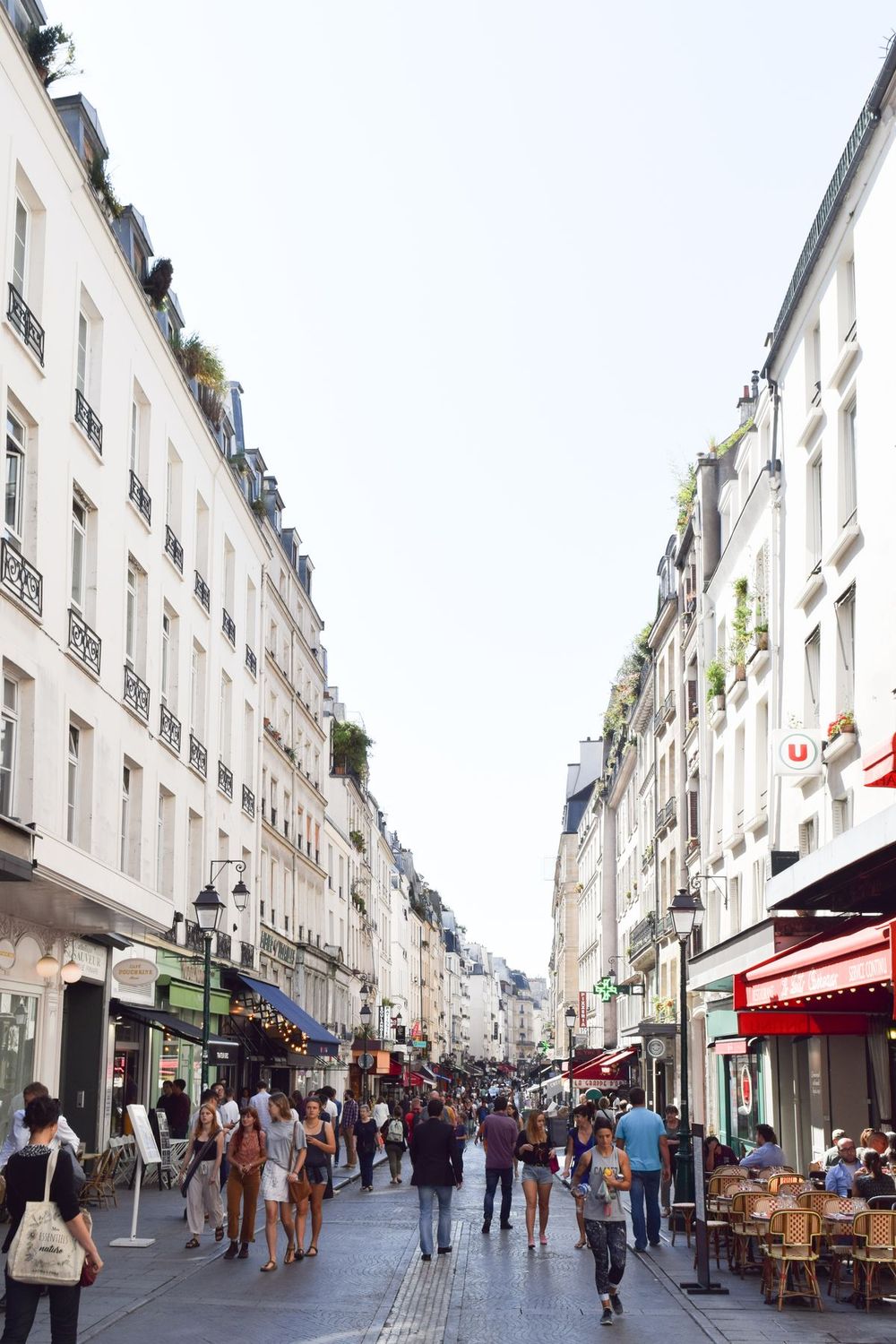 Rue Montorgueil demonstrates how Paris is able to offer a high-quality modern life while retaining traditions like family-owned fishmongers, brasserie bars, and cheese specialists. Pedestrian streets in Paris like Montorgueil keep this old-world tradition alive!
Cour Damoye
Cour Damoye is a secret yard a few steps away from the chaotic Bastille neighborhood. The cobblestoned Cour Damoye is not the typical street you'll see in Paris. It is unavailable to cars, the street houses coffee brewers, independent designers, small business offices, and boutique galleries. You'll be totally enchanted by this stunning passageway as it's one of the most lovely streets in Paris.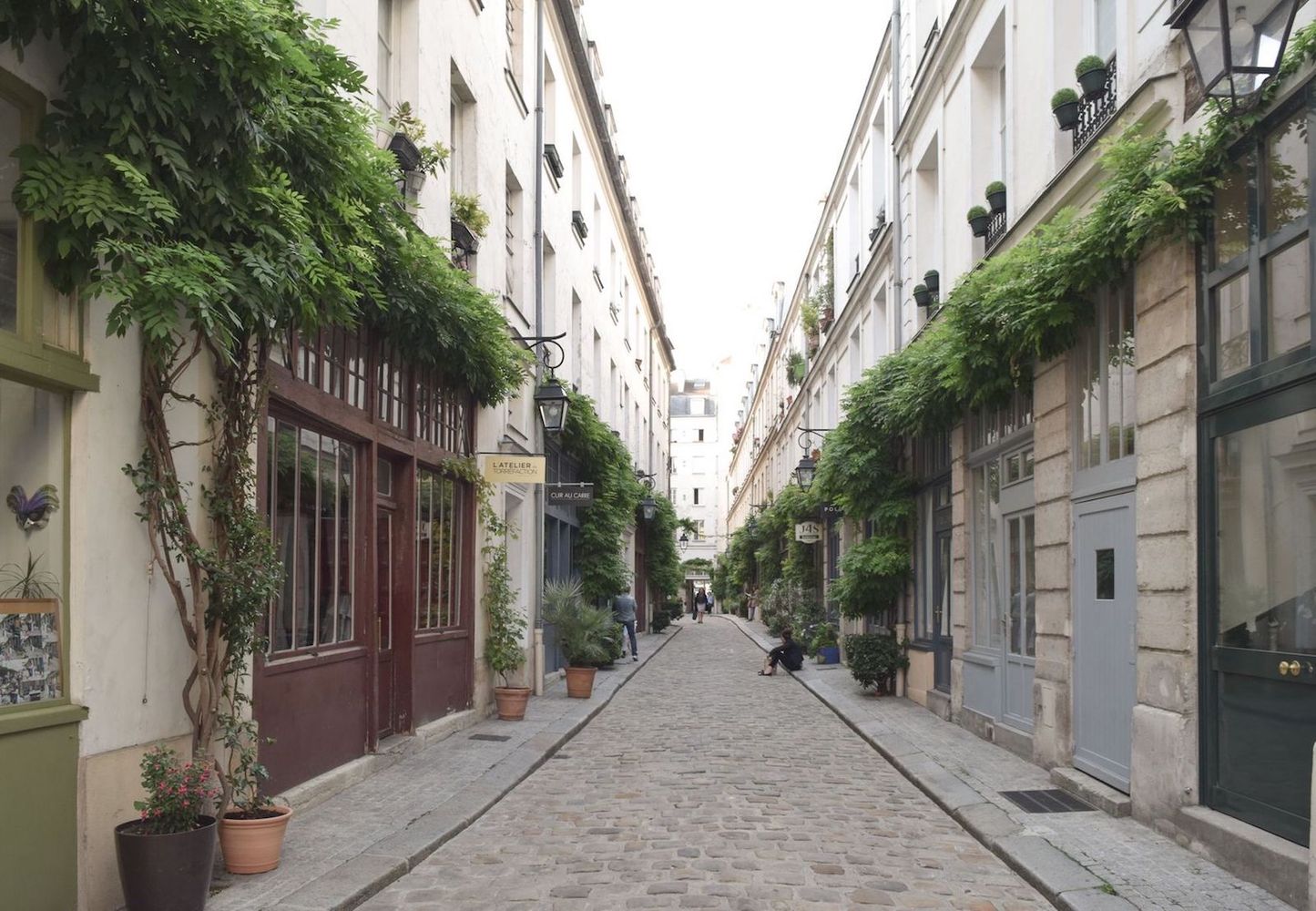 Cour Damoye is really a fascinating little street. It's very photogenic and just off the Place de la Bastille in the heart of the 11th arrondissement.
Village Royal (Cité Berryer)
Located in the midst of fashionable and opulent Paris, where cultural and tourist attractions abound, is a lovely tunnel that is a welcome respite from the bustle of the city: le Village Royal, also known as Cité Berryer.
A "village within a city" located only a few minutes' walk from the Madeleine Church, Place de la Concorde, Place Vendôme, and Jardin des Tuileries.
The Royal Village appears to have been appropriately titled.
The new facility, which was once a vast greenfield, was built in response to population increase and opened its doors in 1746. All that was left was a significant barracks, which happened to be the one hosting the royal guard of Louis XIII, the well-known mousquetaires, or musketeers!
From the second part of the 18th century forward, the 8th arrondissement grew in popularity as financials and aristocratic families moved away from the Marais, which was already congested. Because the area was expanding rapidly, a marketplace was established. The Marché d'Aguesseau formed, with booths and stores containing butchers, fishmongers, and other enterprises of various types on the premises of the town hall.
The pedestrian passageway, which hosts luxury labels including Dior and Chanel, had a comprehensive renovation in 1992, transforming it into a stunning example of Parisian elegance while retaining its historic aspect and charm.
Rue des Thermopyles
If you want to stroll along the lovely pedestrian streets in Paris then you can't miss the cobbled Rue des Thermopyles. Take in the country village ambiance that can still be found in this secluded part of Paris.
You'll discover a row of little dwellings tucked away among the wisteria, climbing vines, and community gardens of the 14th arrondissement neighborhood. Murals are frequently found on the walls, the most recent of which was a homage to rap musician Népal painted by Section 75 and Les Gars Laxistes.
Move into Cité Bauer, which is another refuge of solitude and nature to enjoy. Vines of wisteria and ivy wrap themselves over the buildings and slither across this picturesque street. During the spring and summer, the street is filled with the overpowering scent of wisteria blooms!
This street, also known as Thermopylae, is one of Paris' most quaint and scenic streets. It stands out not only for its distinctive architecture, which is unlike most of the city, but also beautiful greenery and an abundance of trees.
It is the street's name, which commemorates the ancient Battle of Thermopylae, which was fought in Greece in 480 BC, that has piqued the curiosity of the locals, at least among the Greek population. Surprisingly, there is no relation to the actual event! It was simply named as such by Alexandre Chauvelot, who made the road for private use in 1859 and was responsible for the road's construction.
Cour du Commerce Saint-André
The charming Cour du Commerce Saint-André is a narrow cobblestoned passage in the 6th arrondissement. Walk down it and you'll be transported back to 1734, with tiny shops lining the narrow cobblestoned alleyway housing a bistro founded in 1686 that is still popular today.
This pedestrian-only path offers an amazing look at Paris pre-Napoleon III, Napoleon Bonaparte's nephew, who instructed Baron Haussmann to modernize the city in 1852, and before the French Revolution.
It was necessary to demolish entire neighborhoods that had been there since Middle Ages in order to modernize them, but in exchange, Parisians gained wide streets like Boulevard Saint-Germain no longer getting splattered by mud from horse carriages, as well as an improved sanitation system, potable water, and gaslights in previously dark streets, as well as spacious parks and greenery. Luckily this Saint Germain des Pres passageway remains!
Rue Saint-Rustique
Located in central Montmartre, between two charming cafés, midway between the Sacré Coeur and La Maison Rose is a hidden gem. Rue Saint-Rustique is one of the oldest streets in the city of Paris. This narrow, cobblestone street leads to the Basilica of the Sacred Heart and happens to be the oldest ancient route in all of Montmartre.
Rue Saint-Rustique is the name of the street, and it is here that you will get a taste of the antique 18th arrondissement.
Once upon a time, Montmartre was a self-contained village with its own population. This hilltop community, perched high above the enormous streets of Paris below, was home to windmills, vineyards, and fields when the French Revolution began in 1789. Throughout the age, Paris has expanded and Montmartre has become part of the fabric of the city.