Paris, often hailed as the fashion capital of the world, beckons visitors with a promise of luxury and elegance where you can buy anything your heart desires. Amidst its historic streets and magnificent architecture lies an unparalleled world of luxury shopping. Esteemed fashion houses, like Chanel and Louis Vuitton, have their origins here, selling not just high-end products, but an exquisite shopping experience steeped in heritage. Shopping in Paris is truly like no other city in the world!
As you stroll through areas such as the Triangle d'Or or Rue Saint-Honoré, the exclusive boutiques and designer stores present the finest apparel, accessories, and fragrances. I live in Paris and these are the premier shopping districts, a haven for fashion aficionados seeking the epitome of style and luxury. Let's embark on this voyage of style and sophistication!
Luxury Paris Shopping Districts
Paris is a city where luxury is not just a term, but an experience steeped in history and grandeur. As you traverse through this illustrious city, some neighborhoods hold luxury, upscale boutiques where you can shop for timeless elegance.
Whether you are a seasoned fashion connoisseur or simply looking to dress to live the Parisian lifestyle, our luxury shopping guide will lead you through the best luxury shopping destinations in Paris.
Triangle d'Or (Golden Triangle)
The famed Triangle d'Or, or Golden Triangle, forms a triangle between Avenue Montaigne, Avenue George V, and the Champs-Elysées, which houses the most prestigious fashion houses in the world. Here, sophistication meets style, with boutiques from labels such as Chanel, Dior, and Louis Vuitton offering an exclusive glimpse into haute couture. Within the Golden Triangle, the art of luxury shopping unfolds before you, offering an experience that is nothing short of extraordinary.
Madeleine
The Madeleine neighborhood is situated amidst historical landmarks like the Eglise de la Madeleine. The upscale area boasts exclusive boutiques that offer a refined shopping experience. Apart from the high-end fashion, you can explore gourmet food shops that epitomize French culinary excellence. The Madeleine area, with its classic Parisian charm, offers a luxurious retreat for those seeking an exclusive and tranquil shopping environment.
Place Vendôme
Place Vendôme stands as a beacon of luxury and grandeur in the center of Paris. Renowned for hosting high-end jewelers and exclusive boutiques like the shirtmaker Charvet, this square encapsulates the spirit of luxury. Here, you can find exquisite pieces from world-renowned jewelers such as Cartier, Van Cleef & Arpels, and Boucheron. The majestic architecture and the elegance that resonates in Place Vendôme make it a quintessential destination for an opulent shopping experience.
Sèvres
In the Sèvres district, you will encounter a mix of luxury boutiques and contemporary stores. A focal point is Le Bon Marché, Paris' oldest department store, offering extensive premium goods and designer labels. The Hermès Rive Gauche store is located not far, near the 5-star Lutetia hotel. Rue de Grenelle nearby is also dotted with luxury shops.
Luxury Shopping Streets in Paris
In the vibrant city of Paris, the allure of luxury shopping is simply irresistible. This city, renowned for its fashion heritage, has many luxury shopping streets, each with a unique blend of history, elegance, and exclusivity. No Parisian luxury shopping guide would be complete without navigating the iconic shopping streets of Paris. Each turn unravels a world of sartorial splendor and opulence.
Champs Elysées
Synonymous with luxury and grandeur, Champs Elysées stands as one of the most prestigious shopping streets in Paris. This historic avenue is home to flagship stores of international brands, offering high-end products from fashion to cosmetics. As you walk along the tree-lined street, the vibrant atmosphere coupled with the sheer elegance of the boutiques provides an exquisite shopping experience that embodies the spirit of Parisian luxury.
Avenue Montaigne
Nestled in the heart of the Golden Triangle, Avenue Montaigne promises a shopping experience of unparalleled luxury. This street, characterized by its sophisticated charm, is a hub for haute couture, housing exclusive boutiques like Dior and Chanel. As you explore Avenue Montaigne, the exquisite displays and lavish interiors transport you into a world where fashion transcends time, offering a haven for those seeking the finest things in life.
Rue François Ier
Just a stone's throw away from Avenue Montaigne, Rue François Ier offers a quieter yet equally luxurious shopping experience. Here, you will find a selection of high-end boutiques and designer stores showcasing the latest in fashion and accessories. The street maintains an air of exclusivity, allowing for a serene and intimate shopping experience where luxury meets tranquility.
Rue du Faubourg Saint-Honoré
Rue du Faubourg Saint-Honoré is renowned for housing designer boutiques, including the likes of Hermès and Lanvin. As you traverse this bustling street, the eclectic mix of traditional and contemporary stores offers a rich and diverse shopping experience, promising an adventure in luxury fashion.
Rue Saint-Honoré
Continuing the journey of luxury, Rue Saint-Honoré presents an extension of sartorial excellence and opulence. This street, with its historic charm and modern luxury, offers a curated selection of boutiques and stores that cater to the discerning shopper. On Rue Saint-Honoré, the exclusive offerings and the vibrant atmosphere provide an invigorating shopping experience that epitomizes the essence of Parisian style.
Luxury Clothing Stores in Paris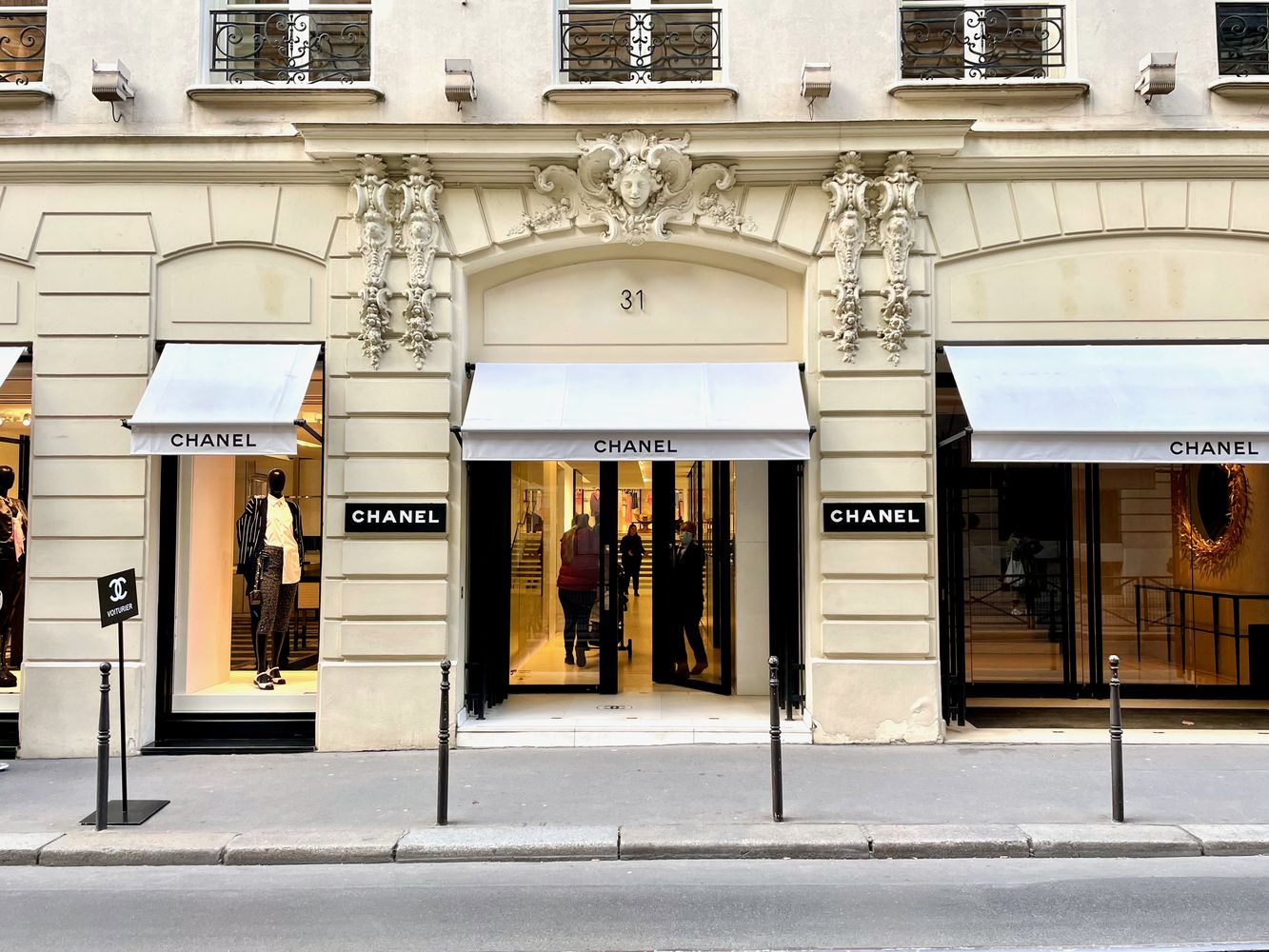 Chanel
Founded by Coco Chanel in 1910, Chanel revolutionized the fashion world with its timeless elegance and innovation, setting new standards for women's fashion. The brand's flagship boutique, a testimony to its grandeur, is located at 31 Rue Cambon, in the 1st arrondissement of Paris.
Dior
Established in 1946 by Christian Dior, the Dior brand quickly rose to prominence with its groundbreaking "New Look", which introduced a renewed sense of femininity post-World War II. You can visit its distinguished boutique at 30 Avenue Montaigne, a place where fashion lovers can immerse themselves in Dior's rich legacy.
Celine
Celine, founded by Céline Vipiana in 1945, originally began as a children's shoe boutique, later expanding to women's fashion and accessories, known for its minimalist and modern aesthetic. The quintessential Celine shopping experience awaits you at its boutique located at 53 Avenue Montaigne in Paris, centrally at 4 Rue Duphot, or on the left bank at 16 Rue de Grenelle.
Saint Laurent
Established in 1961, Yves Saint Laurent, known today as Saint Laurent, brought modernity to the fashion industry with iconic pieces like the Le Smoking suit. To shop for Saint Laurent, visit their prestigious boutiques on Avenue Montaigne, Place Saint-Sulpice, or Rue du Faubourg Saint-Honoré, where the brand's contemporary elegance is on full display.
Lanvin
Lanvin, the oldest French fashion house, was founded by Jeanne Lanvin in 1889, blossoming from a small millinery business to a world-renowned luxury fashion brand. For an exclusive selection of Lanvin creations, visit their boutique situated at 15 Rue du Faubourg Saint-Honoré, offering an intimate glimpse into Lanvin's historic elegance.
Luxury Shoe Stores in Paris
Roger Vivier
Roger Vivier, established in 1937, has been synonymous with luxury footwear, crafting shoes with ornate buckles and quality materials, which garnered him a reputation as the "Fragonard of the shoe." Experience the timeless elegance of Roger Vivier at their premier boutique located at 29 Rue du Faubourg Saint-Honoré in Paris.
Louboutin
Founded in 1991, Christian Louboutin quickly rose to fame with its distinctive red-lacquered soles, becoming a symbol of luxury and sophistication in the world of high-end footwear. You can find the flagship boutique of this esteemed brand at 19 Rue Jean-Jacques Rousseau, where the designer's vibrant and artistic creations come to life.
Luxury Accessories Stores in Paris
Goyard
Established in 1853, Goyard is renowned for its exclusive handcrafted trunks, leather goods, and accessories, recognized by a signature hand-painted chevron pattern. To explore Goyard's legacy and craftsmanship, visit the historical boutique at 233 Rue Saint-Honoré, a place where tradition meets luxury.
Moynat
Founded in 1849, Moynat holds a legacy of crafting exquisite luggage and handbags, embodying French elegance and artisanal expertise. A visit to their flagship store at 348 Rue Saint-Honoré offers a glimpse into Moynat's beautiful French accessories line-up.
Fauré le Page
Fauré le Page, with its roots dating back to 1717, originally began as a manufacturer of firearms and later transitioned into creating luxurious leather goods and accessories, characterized by a distinctive scale motif. Immerse yourself in the world of Fauré le Page by visiting their boutique at 21 Rue Cambon, where history and luxury intertwine.
Luxury Beauty Stores in Paris
Biologique Recherche
Biologique Recherche, a French luxury skincare brand, was established in the 1970s by a family of skincare scientists who were passionate about crafting personalized skincare products based on scientific research. To experience the brand's commitment to innovation and quality firsthand, visit their flagship spa and store located at 32 Avenue des Champs-Élysées in Paris.
Guerlain
Founded in 1828 by Pierre-François Pascal Guerlain, the brand Guerlain has been a hallmark of French luxury beauty, offering fragrances, cosmetics, and skincare products that blend tradition and innovation. The brand's Abeille Royale Youth Watery Oil is a best-seller worldwide.
Dive into the world of Guerlain at their historic boutique on 68 Avenue des Champs-Elysées, a venue that epitomizes the brand's elegance and heritage.
Clarins
Clarins, established in 1954 by Jacques Courtin-Clarins, pioneered in formulating skin care products using plant extracts, aiming to improve skin health and beauty. For an immersive Clarins experience, visit their boutique and spa at 10 Rue de Babylone, where you can shop the brand's extensive skincare and beauty products in a serene setting.
Luxury Department Stores in Paris
Le Bon Marché
Established in 1838, Le Bon Marché stands as Paris's oldest department store, renowned for its eclectic collection of high-end goods and its commitment to providing a luxurious shopping experience. To immerse yourself in a world of luxury and elegance, visit their iconic store situated at 24 Rue de Sèvres in the vibrant 7th arrondissement of Paris.
La Samaritaine
La Samaritaine, founded in 1870 by Ernest Cognacq and Marie-Louise Jaÿ, quickly grew to be one of Paris' most prestigious department stores, offering exquisite luxury goods and services. After a grand renovation, the store has reopened, retaining its historic charm coupled with modern amenities at 9 Rue de la Monnaie, located centrally in the 1st arrondissement!