Sometimes when the Louvre is overrun by tourists, you might want to take a more leisurely stroll through Paris' art scene and history. Each of these museums can be fully explored in just one day – and most in just a morning or afternoon. They are perfect for when you want to see amazing Parisian art without the hassle and stress of waiting in long lines or being surrounded by lots of tourists.
Read on to find the best small museums in Paris. They each have a charm to them that only a small museum can give you. You won't feel overwhelmed by rushing around to see everything, and you can move at a slow pace. This is the best type of museum visit to do when you want to practice slow travel! Several of these museums appear on my Paris travel guide.
Musée Rodin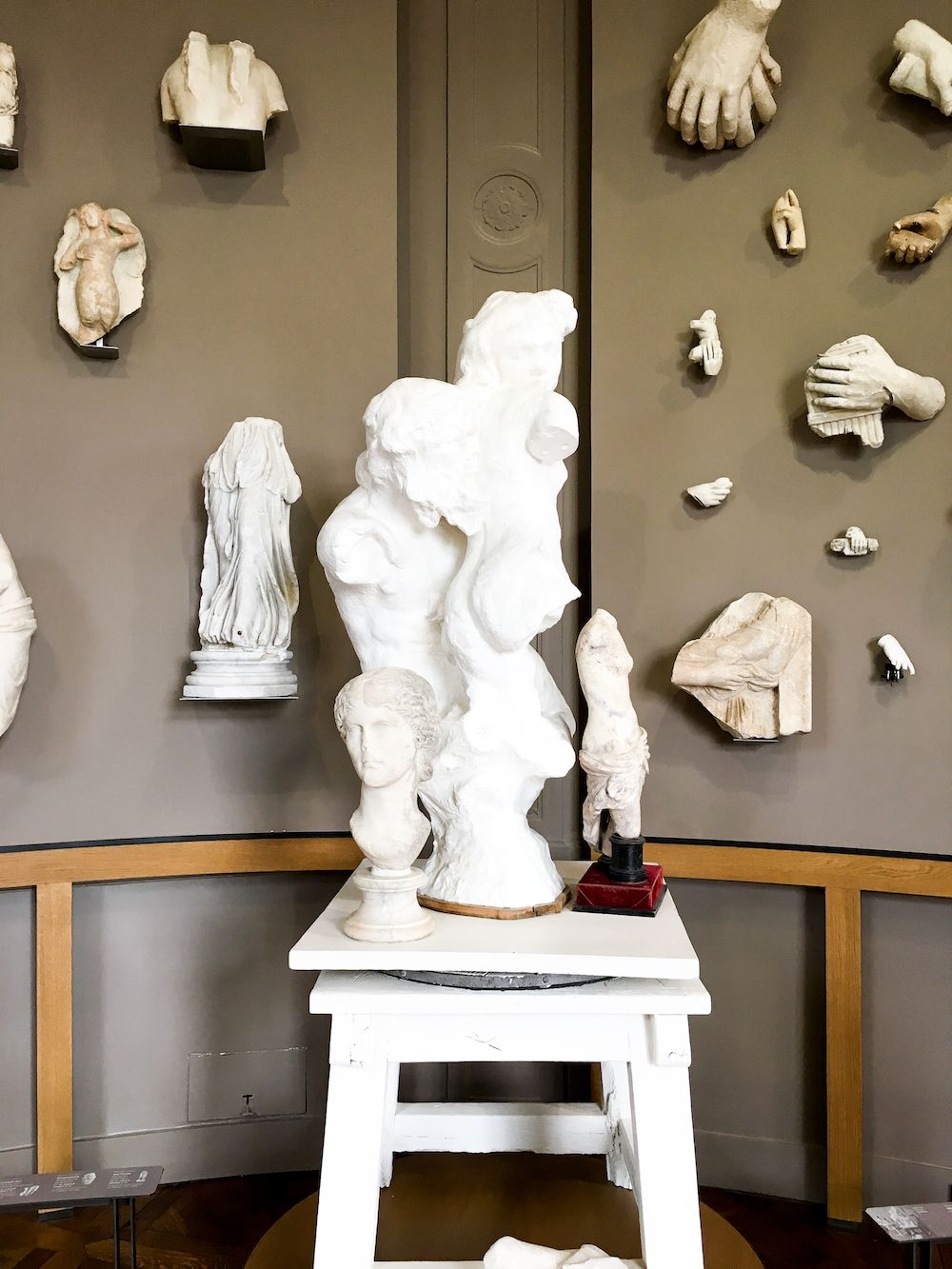 Created to honor French sculptor Auguste Rodin, the Musée Rodin not only displays the sculptor's famous pieces but also works from his private collection.
Known best for his sculpture, The Thinker (1902), Rodin was a revolutionary artist of the late 1800s. Focused on the human form, Rodin's art explored the style of partial figures and also aimed to engage the human psyche by sculpting scenes full of passion. His unfinished Gates of Hell exhibited these traits and was the birthplace of his most famous sculptures The Thinker and The Kiss.
Visitors to Musée Rodin can see these iconic pieces – with the exception of The Kiss – at the museum as they are permanent fixtures. Many of his other sculptures such as Iris, Messenger of the Gods, are also displayed at the museum.
In addition, visitors can explore Rodin's experimentation in other visual art forms through his abstract paintings and drawings of the female nude. 
The museum is located in the 7th arrondissement at 77 rue de Varenne 75007 Paris.
Admission costs €13 and tickets may be purchased online. The museum does have some free days and offers free admission to younger people, students, teachers, journalists, and job seekers, but these tickets must be booked in advance. For visitors of both Musée Rodin and Musée d'Orsay, combination tickets can be purchased for €21.
L'Orangerie
Built in an old orangery – a room where citrus trees could grow protected during the winters – L'Orangerie is a beautiful museum with exhibits featuring Impressionist and Post-Impressionist works.
Henri Matisse, Paul Cézanne, Pablo Picasso, and Claude Monet are just some of the star-studded names with works in the museum. The Cycle des Nymphéas is a series of Monet paintings and was painted for and gifted to the museum in 1919. Showing scenes from Monet's Giverny property, the paintings are central to L'Orangerie and are one of the most popular exhibitions.
The museum isn't the only beautiful part of a visit. Located in Jardin des Tuileries, a visit can combine both botany and art. The gardens also feature incredible views of the Seine River and Place de La Concorde.
Both L'Orangerie and Jardin des Tuileries are located in the 1st arrondissement at Jardin Tuileries, 75001 Paris, France.
Tickets for L'Orangerie can be purchased online with a combination Musée d'Orsay ticket. The museum is open every day with the exception of Tuesdays.
Petit Palais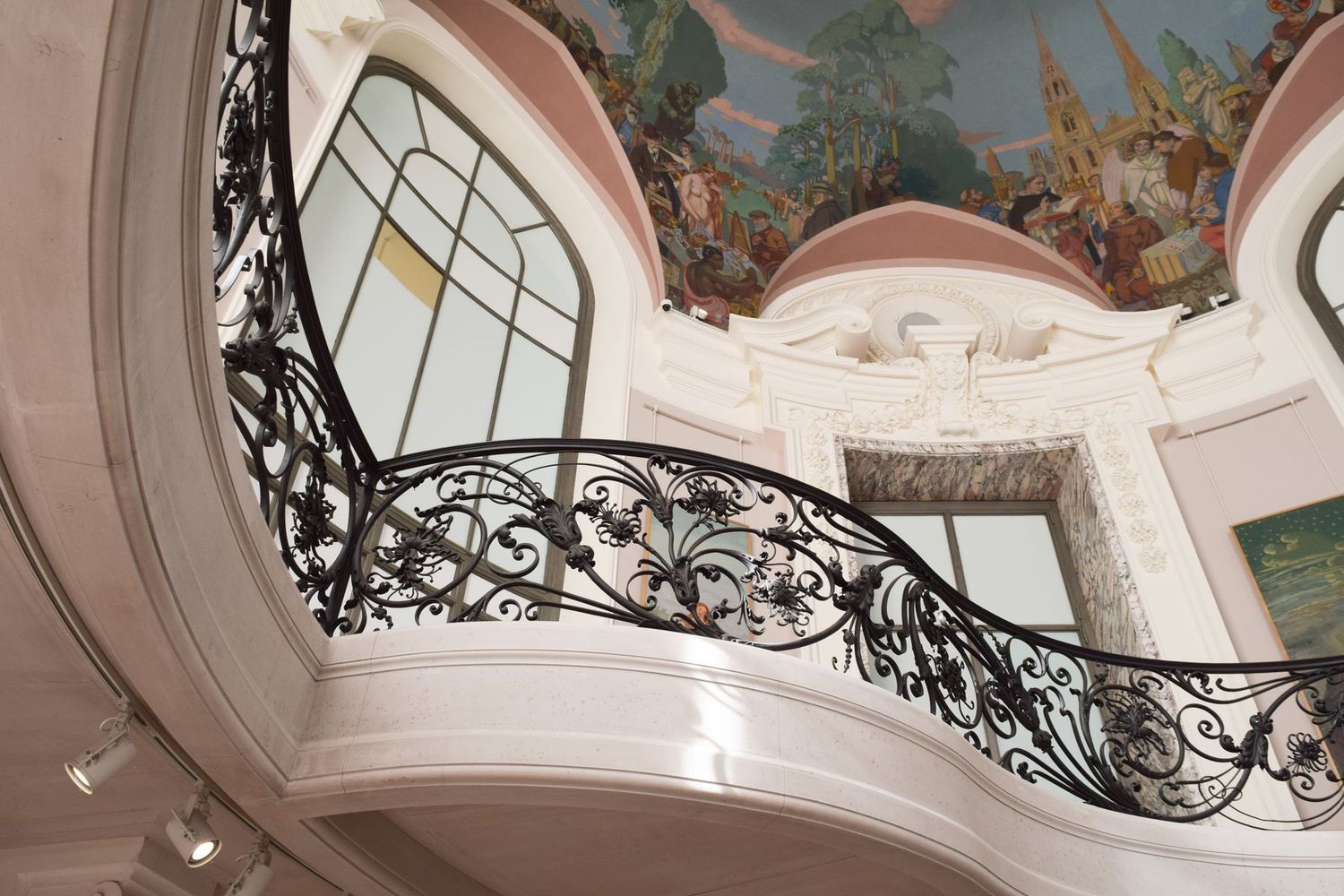 Designed by architect Charles Girault for the 1900 Universal Exhibition, the Petit Palais was built to honor the benefits of art and show off the grandeur of Paris. The building itself is a trapezium shape with four wings built around a central garden.
Each wing features different pieces of art. Two galleries feature large murals painted for the exhibition. The North Pavilion's ceiling was painted by Fernidand Humbert while the garden peristyle's ceiling was done by Paul Baudoüin. This is just a small sampling of the art visitors will experience inside.
Now housing the City of Paris' Museum of Fine Arts, the Petit Palais features works from antiquity through the 20th century. Home to many Parisian collections, the Petit Palais takes visitors on an artistic journey through time. It's one of the most popular free art galleries in Paris to visit.
The Petit Palais is located in the 8th arrondissement at Av. Winston Churchill, 75008 Paris, France. Admission is free.
Musée Marmottan-Monet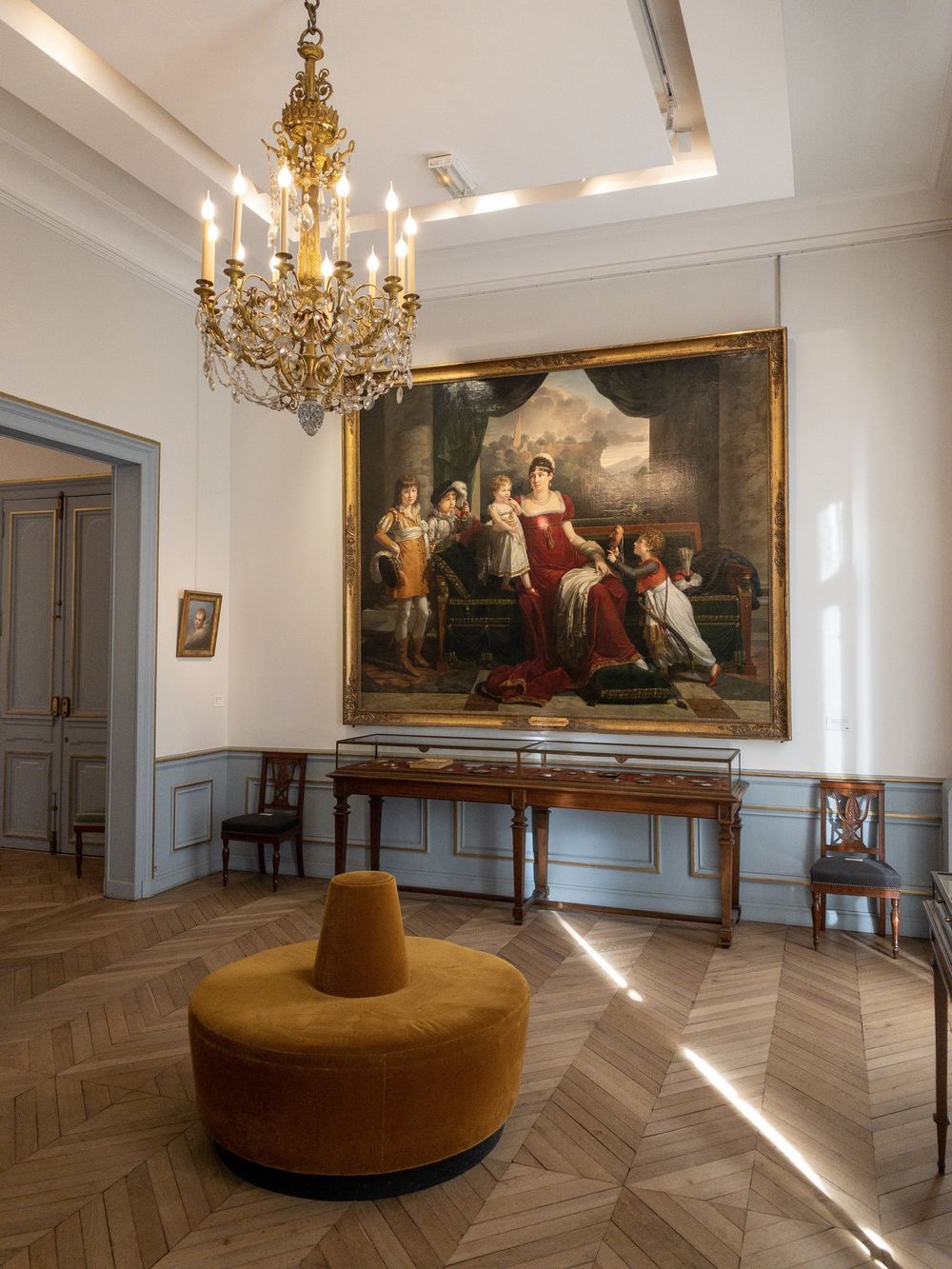 Passed down through the Marmottan family, the Musée Marmottan-Monet was a hub of art and culture since the early 1900s when Paul Marmottan began to display the family's art collections.
Eventually, the museum was given to the Académie des Beaux-Arts as a public gallery. During this time the museum began to display many Impressionist artists such as Renoir and Monet. However, their biggest gift came when Claude Monet died in 1966, the control of leaving his original paintings to his son, Michel Monet.
Michel Monet gifted over a hundred paintings to the museum after his father's death. The majority of these paintings had never been seen by the public, and Musée Marmottan-Monet was their first host. Monet's gift eventually spurred other children of Impressionist artists to give paintings from their parents' collections to the museums. These included works by Paul Gauguin and Henri Duhem.
The museum includes works from beyond the Impressionist era with Italian and Dutch Renaissance paintings and a collection of 322 miniatures dating from the Middle Ages to the Renaissance.
Musée Marmottan-Monet is located in the 16th arrondissement at 2 rue Louis Boilly – 75016 Paris.
Admission costs €12.
Musée Gustave Moreau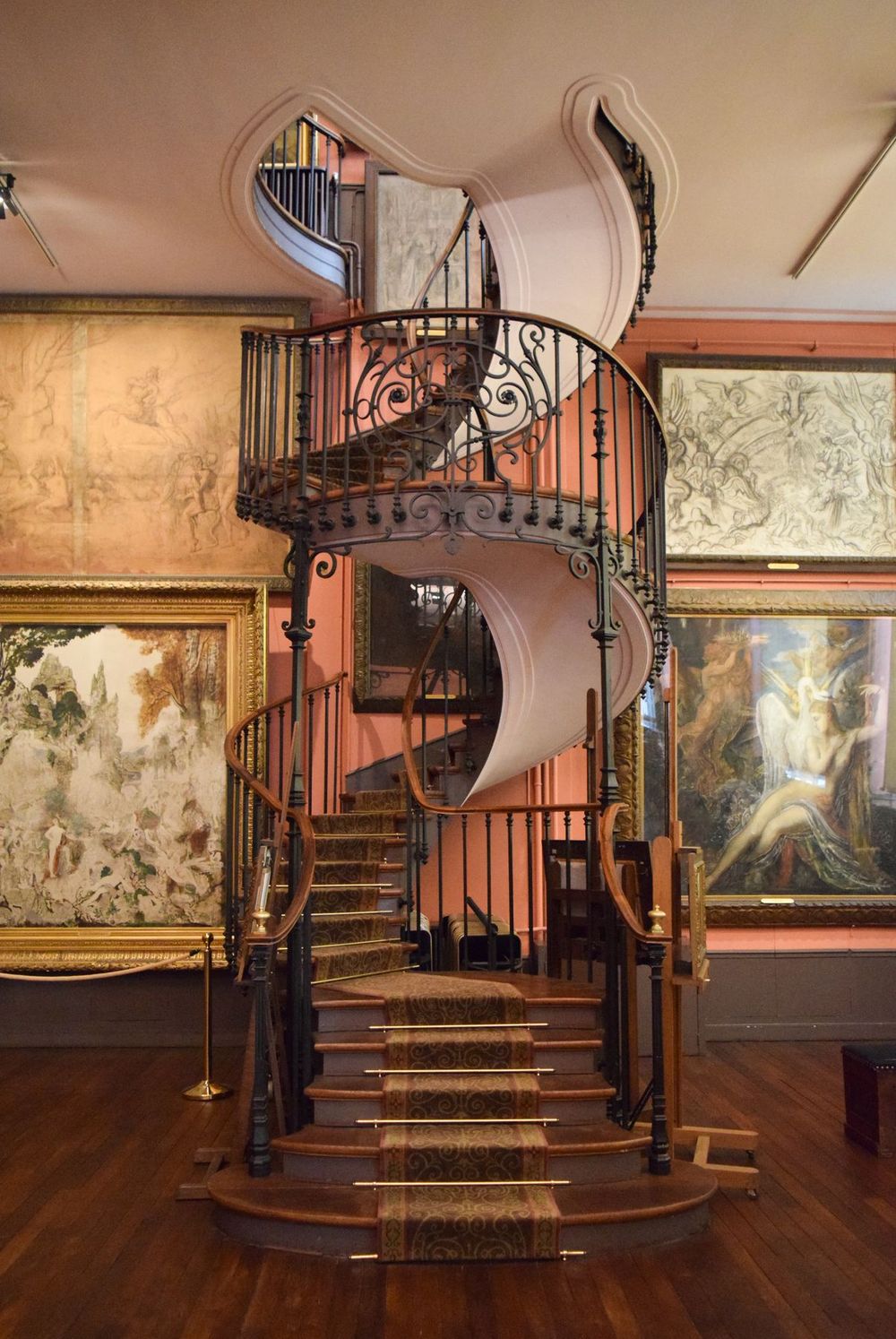 Built inside artist Gustave Moreau's family home, the Musée Gustave Moreau still follows its original museography and Moreau's vision from its opening in 1910. A prominent artist during the French Symbolist movement, Moreau specialized in illustrations of mythical and biblical characters. His technique offered a blend of materials and drawings of both animals and humans.
Working from a studio on the third floor of his childhood home, Moreau kept his completed works with him in his studio and eventually spilled into the rest of the house. In 1895, Moreau hired architect Albert Lafon to redesign the space and turn the home into a museum.
Today, the museum still reflects Lafon's design and Moreau's vision. The first floor is reminiscent of a normal gallery with Moreau's work, family portraits, and other donation pieces displayed. Connected to the first floor by a beautiful spiral staircase is the second floor gallery. With windows facing the North, this floor offers views of both the neighborhood and the art.
Musée Gustave Moreau has several hundred paintings and thousands of drawings displayed within it. The museum is one of the finest places to explore the French Symbolist movement and see works from the movement's most prominent artists.
Musée Gustave Moreau is located in the 9th arrondissement at 14 rue de la Rochefoucauld. Admission costs €7 and includes a guided tour.
Musée Jacquemart-André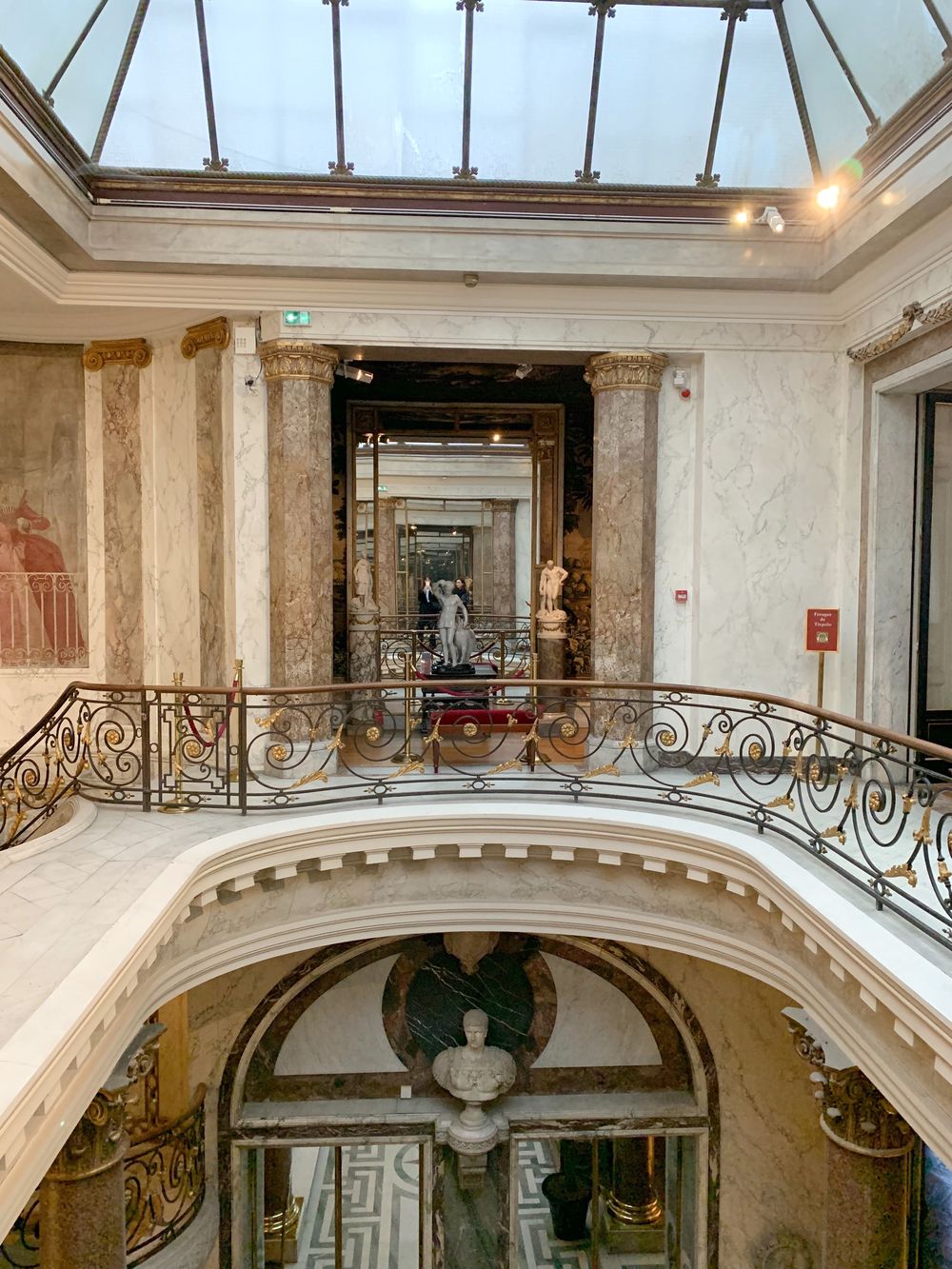 Owned by the Institut de France, Musée Jacquemart-André is often compared to New York's Frick Collection. Originally created by Edouard André, a 19th century collector, and his wife Nélie Jacquemart, the museum collections are made up of artifacts and art collected during the couple's travels.
Detached frescoes, tapestries, works from both German and Flemish art schools and restored 19th century rooms, the museum allows visitors to peek into the mansion of collectors and experience history through art. The fact that the museum is housed in the Jacquemart-André mansion makes the museum a unique visit in Paris because visitors can walk restored private apartments and ceremonial rooms.
Another highlight of the museum is Nélie Jacquemart's collection of Italian Renaissance paintings located on the museum's first floor. As an avid collector of Italian art, her collection illustrates her devotion to the style.
The Musée Jacquemart-André is located in the 8th arrondissement at 158 boulevard Haussmann.
Admission to both the permanent collections and temporary exhibitions cost €15.
Musée de Montmartre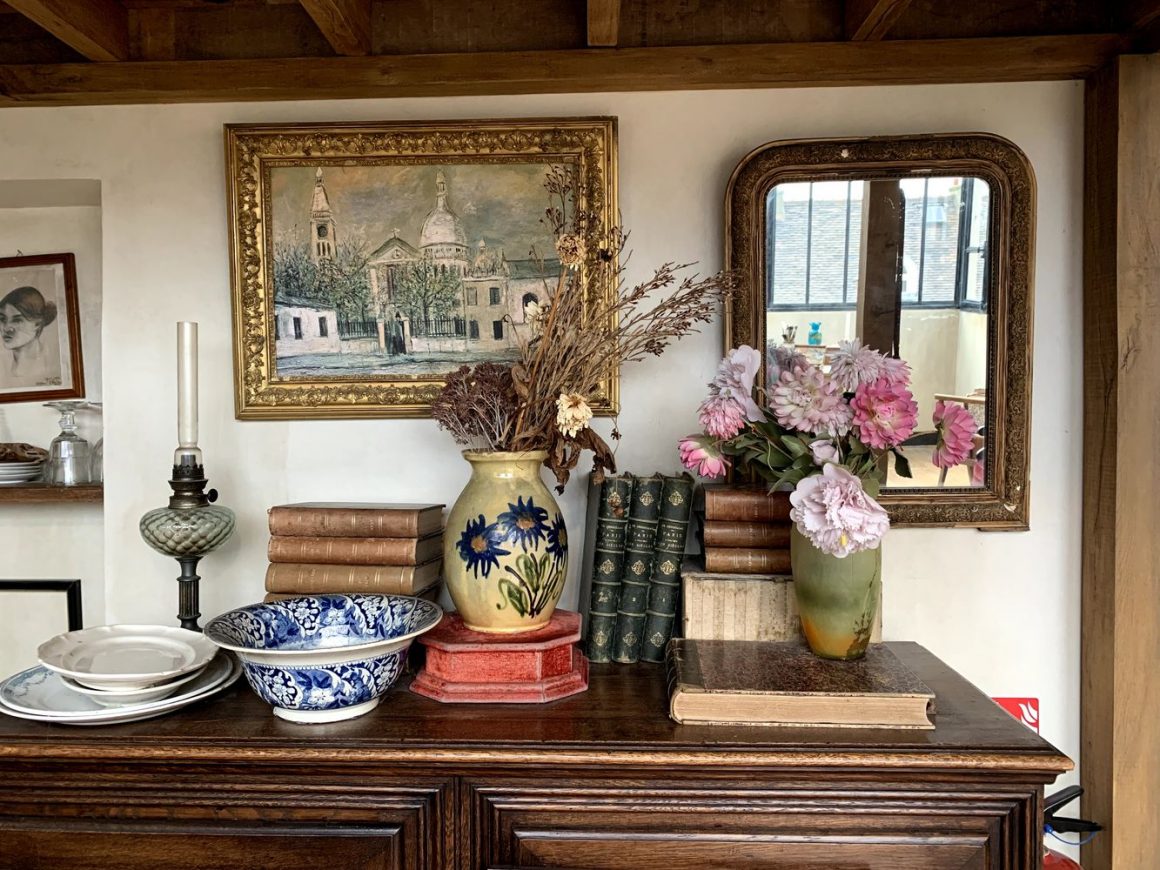 Housed inside the Bel Aire House, Montmartre's oldest building, Musée de Montmartre features the signed works of Toulouse-Lautrec, Modigliani, Kupka, Steinlen, Valadon, and Utrillo; zinc plates from Le Chat Noir's shadow theatre, an entire exhibit dedicated to the French Cancan, and more.
As a meeting place and studio lodging for many artists such as Auguste Renoir and Suzanne Valadon, the museum walks visitors through Montmartre's history from the perspective of its artistic residents.
Opened in 1960, the museum is a wonderful place to learn about the liveliness of Paris' art scene and the Montmartre neighborhood. With traveling exhibits and its permanent collections, visitors will marvel at how close they are to their favorite artists' old haunts.
Musée de Montmartre is located in the 18th arrondissement at 12 rue Cortot. Admission costs €13.
Musée Carnavalet
The oldest museum in Paris, Musée Carnavalet is dedicated to Parisian history. Opened in 1880, the museum features the remains of the arch of Nazareth, a statue of King Louis XIV, a relief of Henri IV, and other historic artifacts.
The museum is built in two mansions from the 16th and 17th centuries, but later renovations incorporated the remains of demolished buildings into the mansions' interiors and exteriors in the 19th century. This distinct architectural feature allows visitors to travel in time merely by looking at the mansion's design.
Another highlight of the museum is its orangery. This room was restored in 2000. The museum itself also underwent a large-scale restoration project beginning in 2016. It was closed for five years and just reopened in the spring of 2021.
Musée Carnavalet is located in the 3rd arrondissement at 23 rue de Sévigné.
Admission to the museum's permanent collections is free. Temporary exhibitions will have a small fee.
Musée de la Vie Romantique
Located in the home and studio of Ary Scheffer, the Musée de la Vie Romantique was not originally a museum, but instead a meeting place for Paris' most famous Romantic artists.
Artists such as George Sand and Eugène Delacroix would meet in the home on Fridays often with pianist Frédéric Chopin and a whole host of other painters, writers, and musicians. Visitors can feel as though they too are mingling with these artists as they enjoy snacks and tea from Rose Bakery, the museum's in-house tearoom.
The first floor of the museum is entirely devoted to George Sand, a French novelist who famously had an eight-year affair with Chopin. Her work, portraits, furniture, and jewelry are all on the display in the house.
The second floor displays Ary Scheffer's paintings as well as contemporary work by other Parisian artists. Two temporary exhibitions are also organized each year and displayed in the museum.
Musée de la Vie Romantique is located in the 9th arrondissement at 16 rue Chaptal.
Admission is free for permanent exhibitions, however, when there is a temporary exhibition, the museum does charge an entry fee.
Musée Bourdelle
For fans of Auguste Rodin and the Musée Rodin, Musée Bourdelle is a Paris must-see. Located in Antoine Bourdelle's studio and home, the museum showcases some of his statues, paintings, and drawings.
As an apprentice of Auguste Rodin, Bourdelle trained under the best, and then eventually went on to train some of the most renowned artists of the Impressionist era, including Henri Matisse. This museum is entirely dedicated to the work Bourdelle left behind in 1929 after his death.
For academics, the museum also features a research room and by-appointment access to an archive collection.
Musée Bourdelle is located in the 15th arrondissement at 18 rue Antoine Bourdelle. Admission to the museum is free.
Maison de Victor Hugo
Maison de Victor Hugo is a museum that houses the living quarters of writer Victor Hugo most famously known for his novel, Les Misérables.
The author lived on the second floor of the mansion from 1832 through 1848. It was here that he wrote many of his most prolific works including large chunks of Les Misérables. The museum allows visitors to walk through Hugo's life in three stages: before, after, and during his exile to Guernsey.
The museum also features many of Hugo's original decor pieces. Though best known as a writer, Hugo was also passionate about furniture and decoration. At Maison de Victor Hugo, Hugo created a home fit for a French creative and collected pieces to compliment his taste.
Maison de Victor Hugo is located in the 4th arrondissement at Hôtel de Rohan-Guéménée.
---
I hope you enjoyed this list of the best small museums in Paris!