As you may have noticed, I just got back from a whirlwind 10-day road trip through Texas and couldn't wait to share the itinerary I planned for the trip!
My mother and I originally planned to go to Texas to visit her father in Corpus Christi, and I thought, why not make a road trip out of it?
Texas is the largest state of the lower 48 United States by land mass. I was initially a little concerned that the trip would involve endless hours of driving but much to my pleasant surprise, you can drive between the major cities in Texas in as little as 1-2 hours!
This itinerary is ideal for first-time visitors to Texas who want to see the popular cities and towns the state has to offer. We focused on central and southern Texas for this trip but you could also explore the western portion of Texas or even stop along the numerous charming small towns along the highway.
Texas Road Trip Itinerary
Ok so here is what I planned for a 10-day road trip to Texas!
Flights
I looked at a few of the major airports in Texas and landed on flying into San Antonio as it was the cheapest first destination.
We took an early morning flight to San Antonio and arrived at around 11:30 am. From there, we rented a car through Alamo and drove straight to Corpus Christi!
Corpus Christi – 3 nights
Corpus Christi was our first stop on the trip. We stayed for three nights at the Aloft in order to have plenty of time to visit my grandfather, but you may wish to stay a bit shorter if you don't have family in the area. Don't get me wrong, there is a ton of things to do in Corpus, and it's always nice to spend some time on the coast before a long road trip!
Here are a few ideas for what to do in Corpus Christi:
Selena Memorial
Original Whataburger
Downtown Beach
Horse Riding on South Padre Island
San Antonio – 1 night
Next up, we went to San Antonio where we stayed for just one night. You could definitely stay here two nights if you wanted, but we felt one night was enough for what we wanted to do. I also felt like eating San Antonio riverwalk at night was a bit touristy to do more than once – even though it was so beautiful!
Here are my top ideas for things to do in San Antonio.
About a 30 minute drive from Downtown Austin south west is Salt Lick BBQ – a highly rated BBQ restaurant in Driftwood, TX. Black's Barbecue in Lockhart, TX is another popular BBQ join. Either of these could be a good place to stop on your drive from San Antonio to Austin!
Austin – 3 nights
About a two hour drive later, we were in the capital of Texas: Austin! We decided to stay three nights in Austin and we had plenty to do and see.
I wrote up a whole guide on what to do in Austin, and there was so much more we didn't even get to do because it was off season, like visiting Hamilton Pool, for example! Eating barbecue was certainly a highlight of visiting Austin, as was vintage shopping in the trendy South Congress neighborhood.
We didn't get a chance to experience the live music scene Austin is known for, but if we go again, we'll certainly make it a priority to visit The Elephant Room – the jazz music hot spot recommended by so many Austinites during our visit!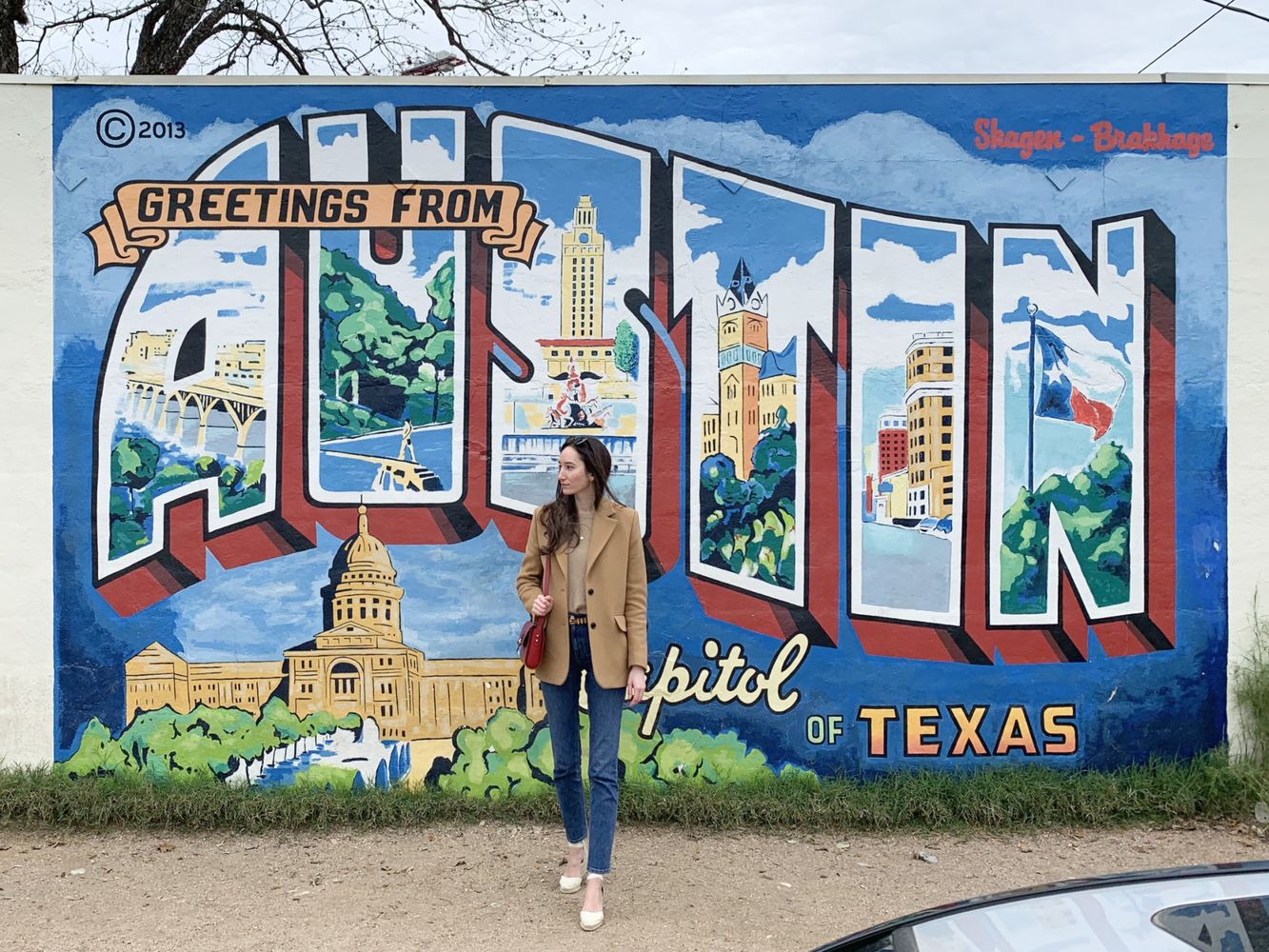 Waco – 3 nights
The last stop on our Texas road trip was Waco. We primarily wanted to visit Waco to tour Joanna Gaines' famous Magnolia Market – and we were pleasantly surprised by how many cool home decor shops were located in this Texas city with a small town feel. Be sure to read my guide to Waco if you decide to add this city to your itinerary, which you definitely should!
Everyone was so kind during our trip to Waco and we really felt a sense of community during our time there!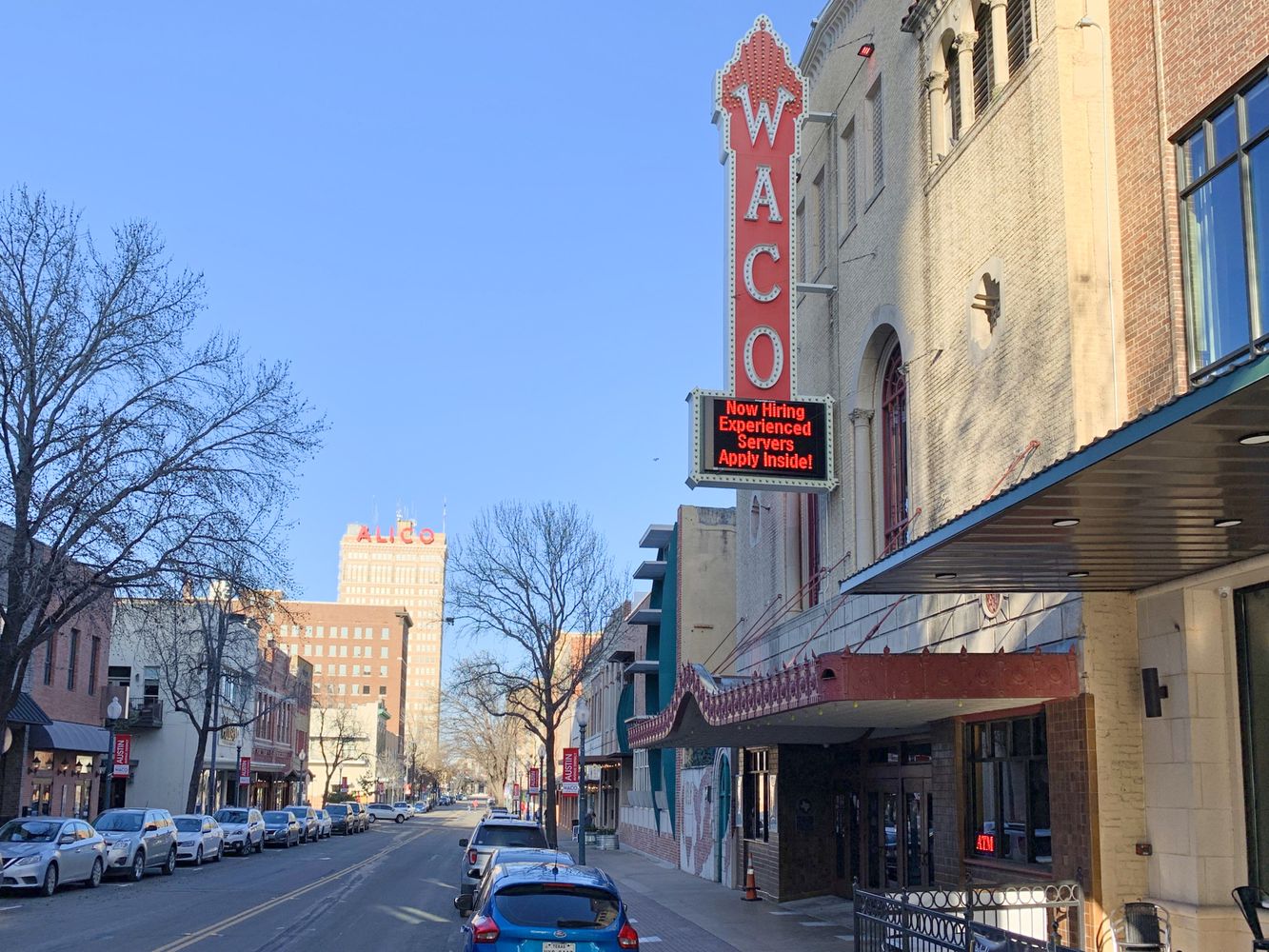 Now, Waco is not far from Dallas, and we ended up making an unexpected day trip to Dallas, where I saw Dealey Plaza, the site of John F. Kennedy's assassination.
If you do make the drive to Dallas, be sure to stop at the Czech Stop, or Little Czech Bakery, in West, Texas. It's located off Exit 353 on I-35 North. This bakery has put the large Czech community of West, Texas on the map for its delicious "kolaches" or dough-based Czech pastries holding sweet fillings like strawberry, cream cheese and more.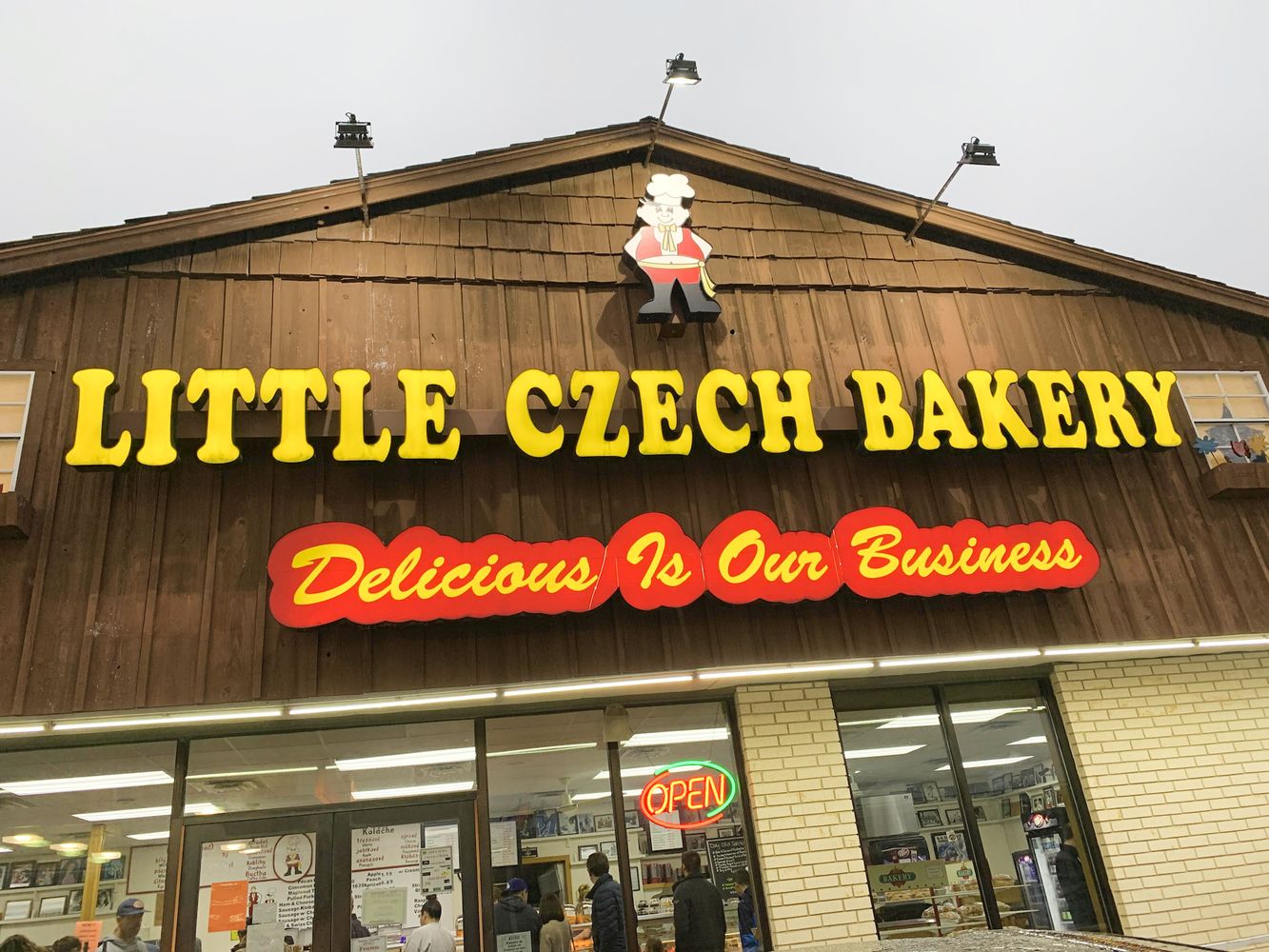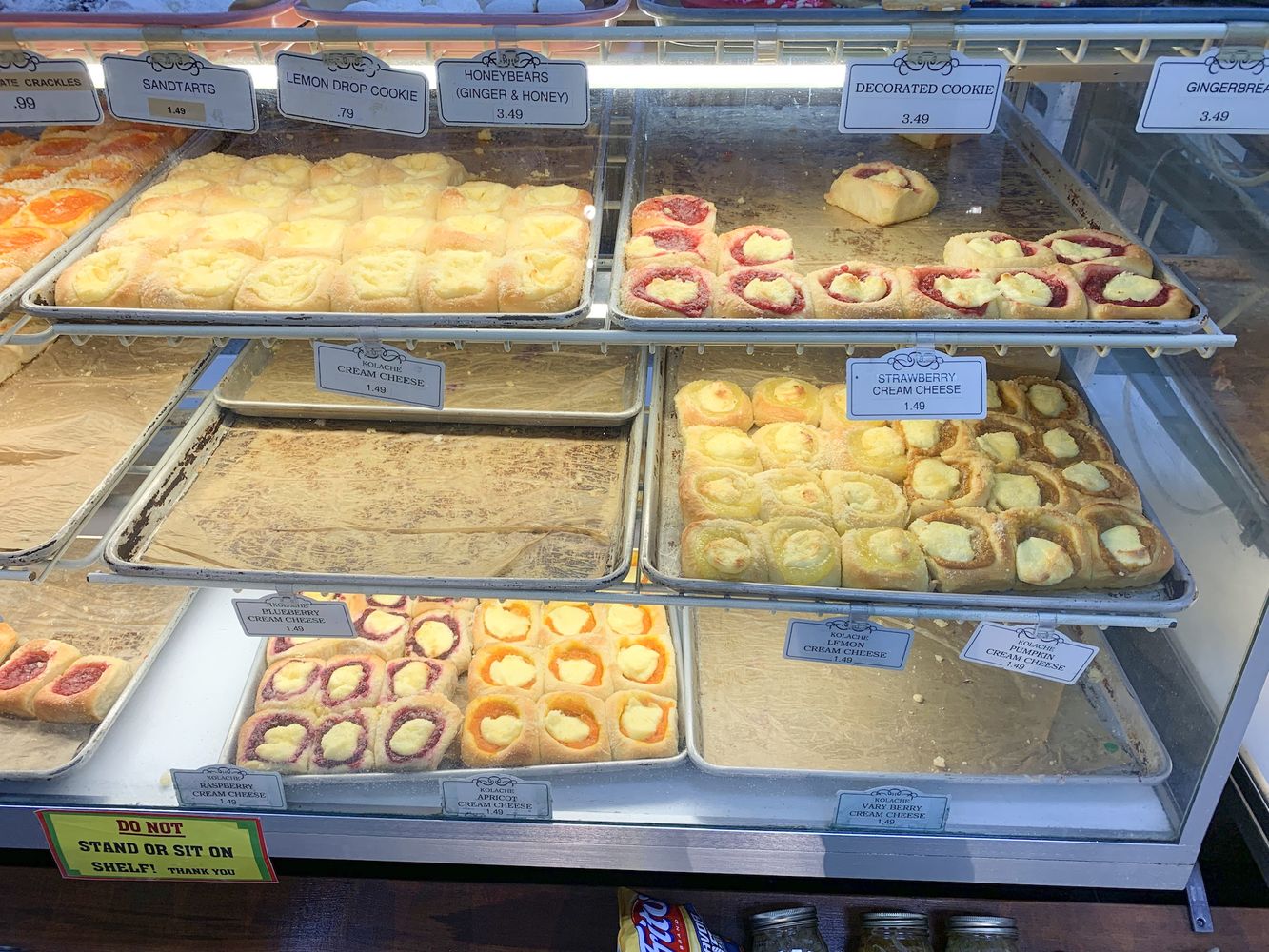 Cafe Homestead located about 15 minutes north of Downtown Waco was another highly recommended American food spot we just didn't have time to visit. This lunch-only restaurant is known for its home style American cooking.
Tips for Renting a Car & Driving in Texas
Cars are a big part of American culture and the best way to see Texas is admittedly by driving. I have a couple tips to share with you in case you're not from this part of the country as driving here is a bit different!
Rent a larger car than you normally would – We rented a tiny compact car as I find those easier to drive, but this wasn't the best idea after all! There are lots of dips in the pavement between the road and the driveways you turn in from the road, and each time, we could hear the bottom of the car scrape the pavement beneath. We also hit a lot of curbs when parking the car as it was just too low to the ground.
Frontage roads – Frontage roads were a new concept to me, as someone from the north! In Texas, most highways have something called frontage roads, when you take an exit on both sides. Frontage roads are just local streets that run parallel to the main highway and allow you to access the businesses and driveways located along the highways. So often in your Google Maps, you will take an exit, and immediately be driving parallel to the highway along the Frontage road. When getting back on to the highway, you usually have to get on the frontage road and drive for a little while until you come across the next entrance to the highway. Just something to be aware of!
Left lane is for passing – While this is kind of an unwritten rule in most of the country, I rarely see people following this rule on highways in the north east! In Texas, however, most people obey it. So keep yourself out of the left lane unless you are passing another vehicle to avoid ticking people off!
I hope this post was helpful in planning your Texas road trip!