Are you traveling to Europe and wondering where the best places to visit in Spain are? Spain is an expansive country where each region is vastly different from the next. You could easily spend a year or more exploring this diverse and rich country, but if you're limited in time, here are the top 10 best destinations to visit in Spain!
Madrid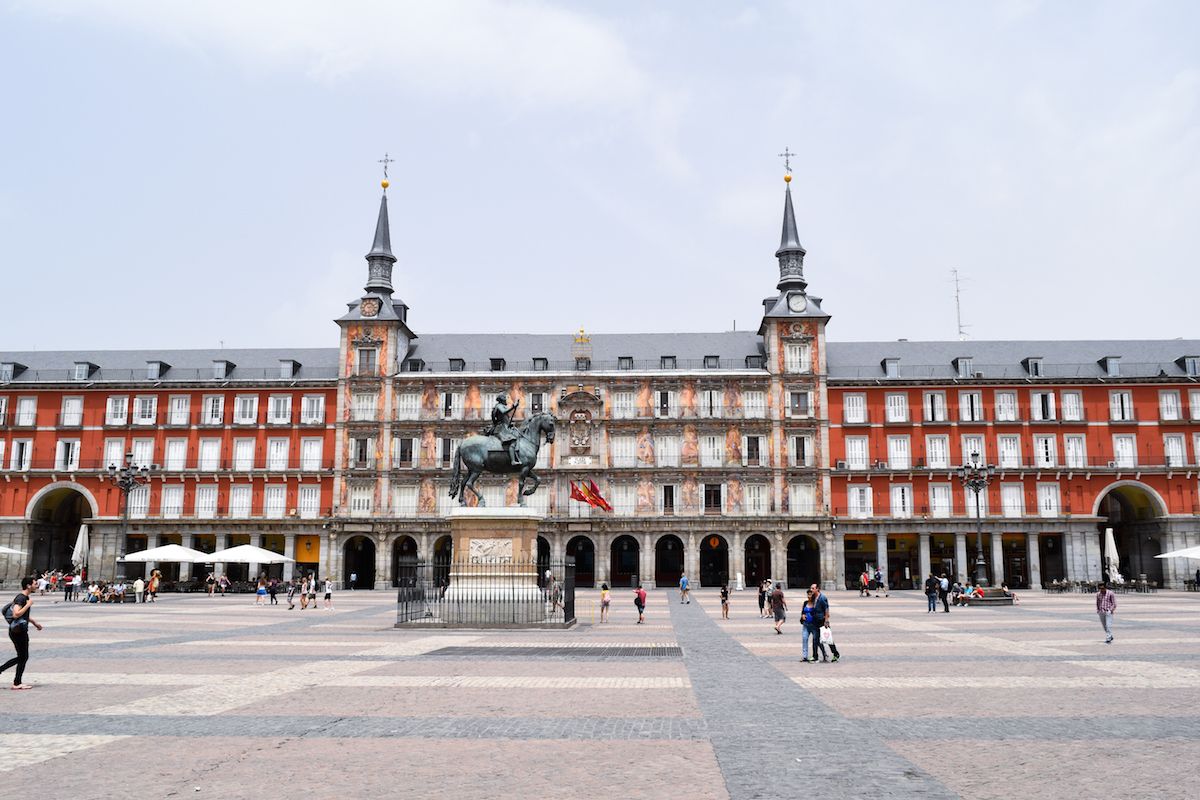 The first spot on our list of the best places to visit in Spain is smack dab in the middle of the country. Madrid, the capital of Spain, is worth visiting as a tourist to Europe due to its elegant and classic heritage, vibrant art scene, and exquisite culinary treats.
Madrid's historic center offers a blend of architectural styles, from medieval buildings to baroque palaces. The Royal Palace, Plaza Mayor, and Almudena Cathedral are must-see landmarks that showcase this architectural elegance.
The city is home to renowned art museums such as the Prado Museum and Reina Sofia, with masterpieces from Spanish artists like Francisco Goya and Pablo Picasso.
In addition, Madrid provides a lively atmosphere with its numerous cafes, bars, and nightclubs. The city is famous for its traditional Spanish cuisine, and tourists can savor local dishes like churros, paella, and tapas in various eateries throughout the city.
Madrid's green spaces, such as El Retiro Park, provide a tranquil escape to relax and enjoy nature.
Moreover, Madrid serves as a gateway to other picturesque Spanish destinations, with excellent transportation connections to cities like Barcelona, Seville, and Valencia. Its central location allows tourists to explore diverse regions of Spain conveniently. The warm hospitality of the locals and the city's blend of tradition and modernity make a trip to Madrid an immersive European experience.
Barcelona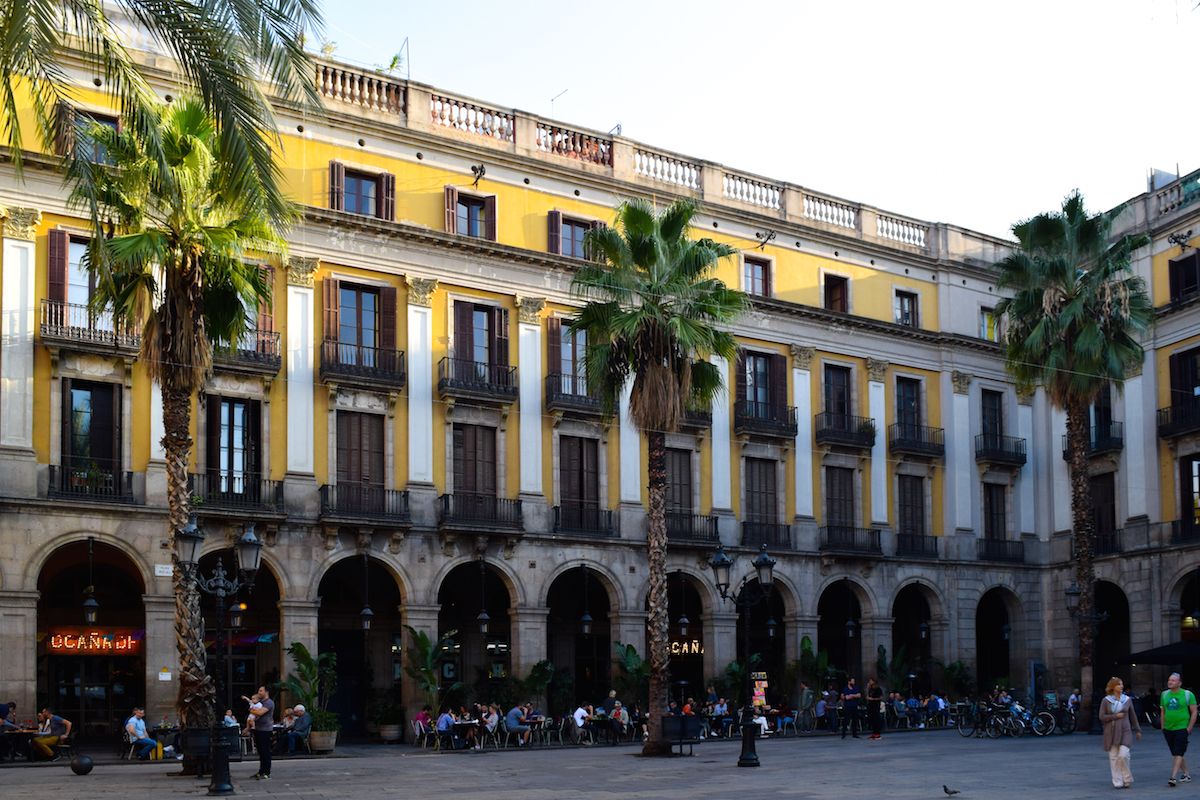 If Madrid is New York, then Barcelona is LA! This seaside city is actually more popular than Spain's capital, receiving millions of tourists every year. It's not hard to understand why when you've got a beautiful beach lined up against a thriving cosmopolitan city.
Barcelona, located in the northeastern part of Spain, has a unique mix of traditional Catalan culture, modern-day amenities, architectural wonders, beautiful beaches, and a fiery culinary scene.
The city is most famous for the architectural works of Antoni Gaudí, including the iconic Sagrada Familia, which has been under construction for over a century, and Park Güell, a public park filled with imaginative sculptures and mosaics. These landmarks showcase the Modernisme architectural style that defines much of the city's appearance.
Barcelona's lively streets, particularly La Rambla, are bustling with cafes, shops, street performers, and markets. The Gothic Quarter offers narrow streets filled with medieval structures and a sense of history.
The city's culinary scene is eminent, offering myriad dining options, from traditional Catalan dishes in local tapas bars to exquisite fine dining experiences. For art lovers, museums dedicated to artists like Pablo Picasso and Joan Miró will be of great interest.
Being a coastal city, Barcelona boasts beautiful beaches, such as Barceloneta Beach, where you can relax and enjoy water sports.
Barcelona's packed cultural calendar, including festivals like La Mercè and traditional Catalan dances, offers you a front-row seat to local traditions. Sports fans can enjoy a game at Camp Nou, home to one of the world's most famous football clubs, FC Barcelona.
The combination of cultural richness, architectural marvels, a pleasant Mediterranean climate, and a dynamic social atmosphere makes Barcelona a multifaceted destination in Spain.
San Sebastian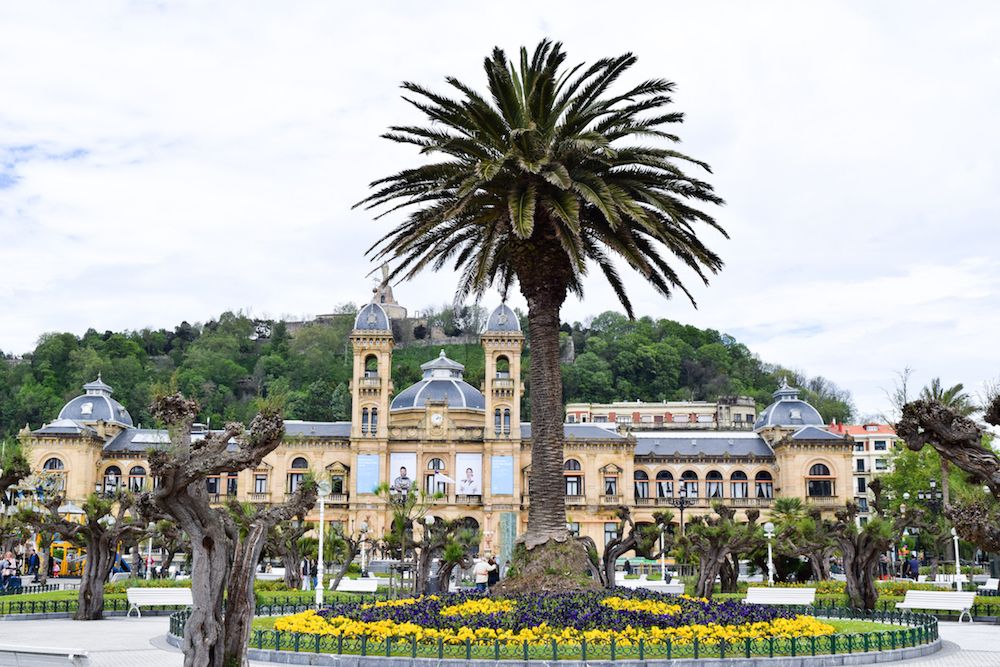 San Sebastian is where Spanish royalty took their vacations, escaping the hot Madrid sun for the cool Basque Country seaside breeze in northern Spain. Donostia-San Sebastian, its official name, has a remarkable blend of traditional Basque culture and contemporary Spanish influences.
As one of the best places to visit in Spain, San Sebastian is most known for its food culture and its culinary reputation is exceptional. Enjoy eating pinxchos, the Basque version of small tapas, for just 2-3€ each while you're there. Drink a glass of Txchacoli, the local favorite white sparkling wine to go with your food.
The city has a high concentration of Michelin-starred restaurants, reflecting its status as a gastronomic capital. Food lovers can explore the numerous bars and eateries, sampling innovative dishes and traditional Basque flavors.
La Concha Beach has a distinctive crescent shape and golden sands. It's a favorite spot for both relaxation and water activities, offering a beautiful backdrop of lush green mountains. Surf fans will prefer Zurriola Beach, known for its bigger waves.
Every September, the city hosts the San Sebastian International Film Festival, one of the most prestigious in Europe, attracting film buffs, directors, actors, and industry professionals.
The city's old town, Parte Vieja, offers winding alleys and streets filled with historic charm. You can explore the San Telmo Museum to learn about Basque culture or take a funicular to Mount Igueldo for breathtaking views of the city and the bay.
Pop over to nearby Bilbao to visit the famous Guggenheim Museum of Spain.
San Sebastian's compact size makes it easy to explore on foot, allowing older tourists to comfortably discover the town. Whether your interests lie in food, culture, nature, or simply relaxing by the sea, San Sebastian has it all.
Valencia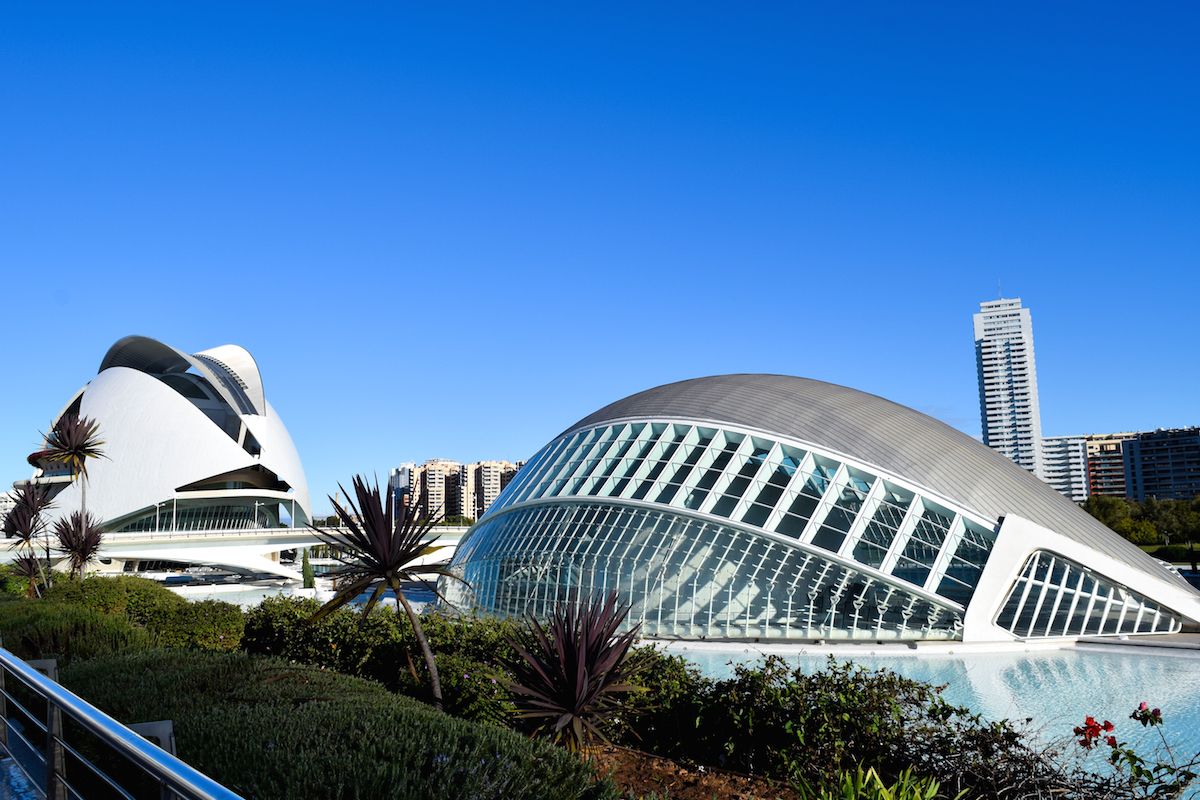 The birthplace of paella, Valencia is the third-largest city in Spain and a popular coastal destination. It's one of the best places to visit in Spain.
Architecturally, Valencia offers a mix of the old and the new. The historic district features landmarks like the Valencia Cathedral and La Lonja, which represent Gothic and Renaissance styles.
In stark contrast, the City of Arts and Sciences, designed by Santiago Calatrava, is a modern architectural complex that includes a planetarium, opera house, and marine park. The futuristic architecture was featured in films like Tomorrowland with George Clooney! This blend provides a fascinating insight into Valencia's past while embracing its forward-thinking spirit.
Valencia is famous for its paella, a traditional Spanish dish with rice, saffron, vegetables, and optionally chicken or seafood served in a large iron pan. Explore the Central Market, one of Europe's largest covered markets, to sample local produce and traditional Valencian foods.
The city's lively festivals are noteworthy. Las Fallas, held in March, is a unique celebration involving the construction and eventual burning of large sculptures, accompanied by fireworks, parades, and traditional attire. It's an unforgettable Spanish cultural experience!
Valencia's pleasant climate and coastal location also mean that beach lovers can enjoy the sun and sea at beautiful urban beaches like La Malvarrosa.
The Turia Gardens, a converted riverbed that runs through the city, offers a lush green space for walking, cycling, and relaxation.
With numerous museums and galleries, such as the IVAM (Instituto Valenciano de Arte Moderno), Valencia easily caters to art fanatics and regional history nerds.
The combination of Valencia's cultural richness, innovative architecture, culinary delights, engaging festivals, and relaxing beaches makes it a well-rounded Spanish experience.
Alicante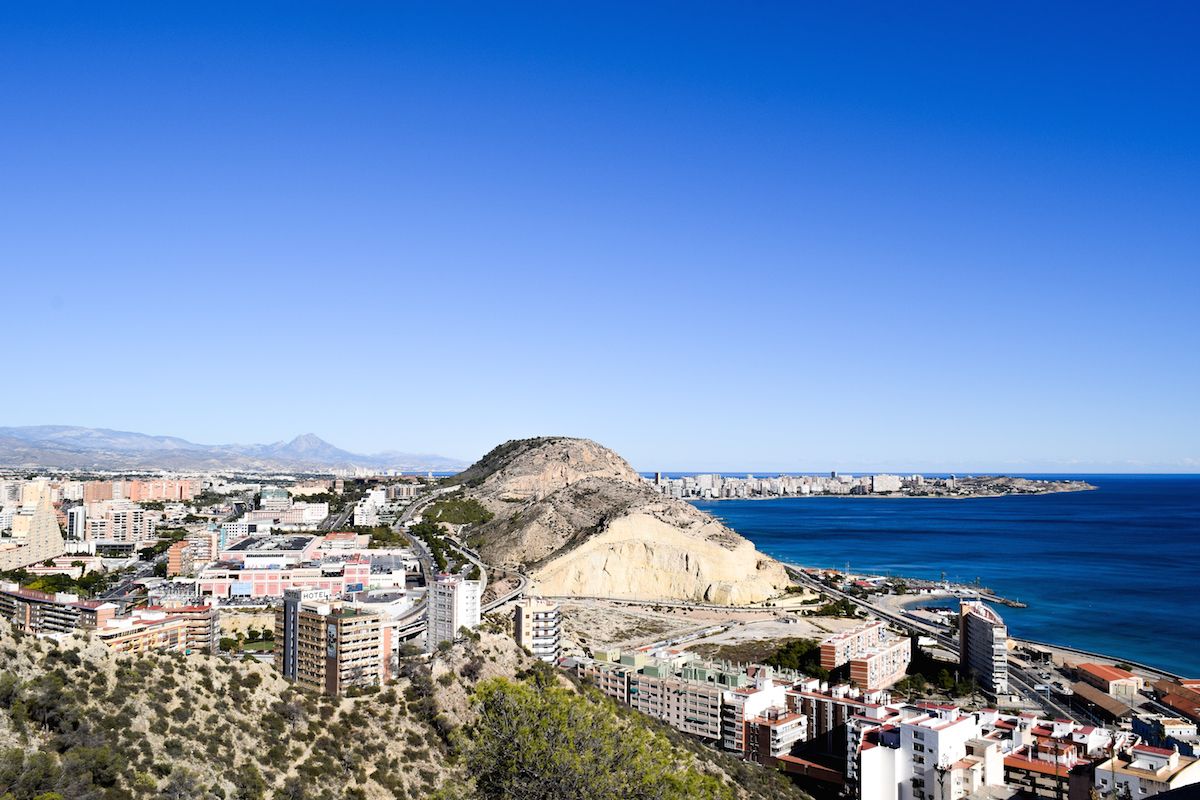 Alicante is a seaside city that has some of the warmest year-round temperatures in Europe. A port city on Spain's southeastern Costa Blanca, Alicante is one of the best places in Spain to visit for its beautiful coastline, storied pasts, pleasant climate, and local culture.
Alicante's history can be explored through its well-preserved landmarks, such as the 9th-century Santa Bárbara Castle, which sits atop Mount Benacantil with panoramic views of the city and the Mediterranean Sea.
When you're done exploring the castle grounds, head to the Explanada de España, an impressive coastal promenade made up of millions of marble tiles. Lined with palm trees, cafes, and markets, it's an ideal place for a leisurely stroll.
The city's beaches, such as Playa de San Juan and Postiguet Beach, are among its most attractive features, providing soft sand and clear waters for relaxation and water sports.
The Archaeological Museum of Alicante provides a deep dive into the region's past, with innovative displays that chronicle human history from prehistoric times to the modern era.
The city is also famed for its festivals, like the Bonfires of Saint John, a lively celebration with fireworks, parades, music, and traditional dance.
Alicante's culinary scene is influenced by its coastal location, with seafood playing a prominent role. Local dishes like arroz a banda (a type of rice dish with fish) can be savored in various restaurants and tapas bars.
For nature lovers, the nearby Guadalest Valley and Canelobre Caves offer unique opportunities for hiking and exploration, a big contrast to the urban experience.
Alicante's Mediterranean charm, accessibility, and friendly local atmosphere give it a high status as a worthwhile destination in the Spanish landscape.
Granada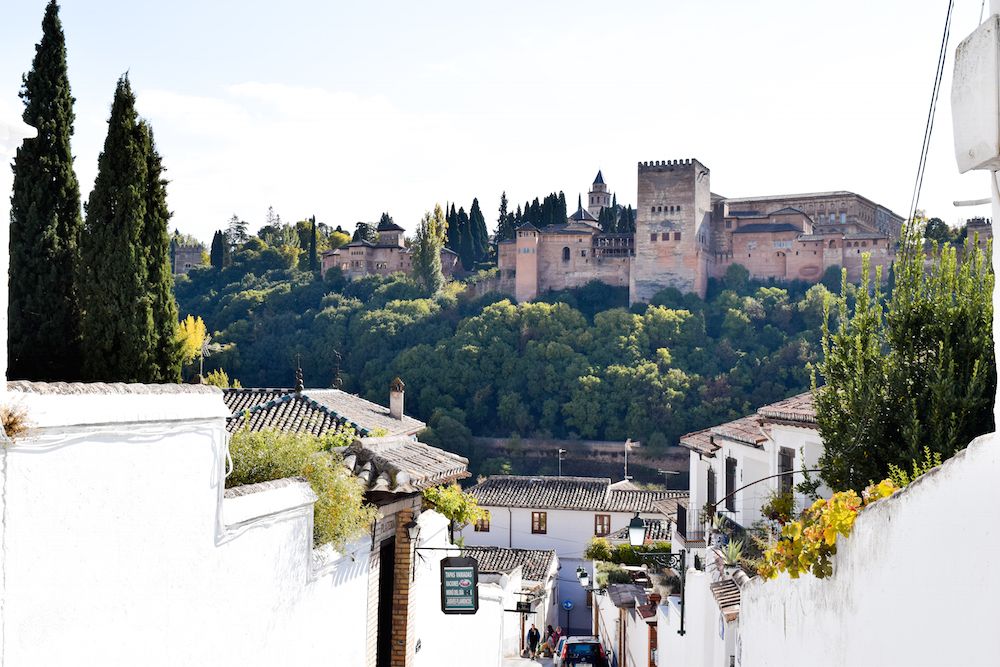 The mountainous Spanish city of Granada is famous for its convergence of three world religions – Christianity, Judaism, and Islam. Located in the southern region of Andalusia, Spain, Granada has stunning architectural masterpieces, vibrant street life, and a unique fusion of Moorish and Christian traditions.
The city's crown jewel is the Alhambra, a breathtaking palace and fortress complex that stands as a testament to Granada's Moorish history. With its intricate tilework, lush gardens, and panoramic views of the Sierra Nevada Mountains, the Alhambra is a UNESCO World Heritage Site and a must-see for anyone in town.
The historic neighborhood of Albaicín, with its narrow, winding streets and white-washed houses, provides a glimpse into Granada's medieval past. Exploring this area offers a sensory experience filled with the scents of jasmine, the sounds of traditional Flamenco music, and opportunities to discover hidden courtyards and viewpoints.
Granada's culinary stage is noted for its tradition of free tapas, where local bars offer a complimentary dish with each drink purchased. This custom allows you to sample a wide variety of local flavors, enhancing their gastronomic experience.
The city's location at the foot of the Sierra Nevada Mountains offers outdoorsy types the chance to hike, ski, and mountain bike. Meanwhile, the nearby tropical coast provides a contrasting beach experience.
Granada is a hub for Flamenco, an expressive art form encompassing music, guitar playing, singing, dance, and handclaps. You can experience authentic Flamenco performances in the traditional cave settings of the Sacromonte neighborhood.
Granada's Royal Chapel, Granada Cathedral, and other museums further enrich the city's cultural fabric as one of the best religious sites in Spain.
There is no doubt that Granada's blend of Moorish elegance, lively street culture, culinary splendor, and natural surroundings make it one of the best places to visit in Spain. A trip to Granada provides an outstanding Spanish experience.
Seville
Seville, the capital of Andalusia in southern Spain, is a top destination to visit in Spain for its culture of flamenco dancing!
The city's architectural splendor is evident in landmarks such as the Alcázar Palace, a 16th-century royal castle known for its intricate Mudejar architecture, lush gardens, and ornate tilework. The Seville Cathedral, one of the biggest Gothic cathedrals in the world, and La Giralda, its iconic bell tower, are also must-see attractions. Don't miss the ornate Plaza de España, a plaza built for the Ibero-American Exposition of 1929 to promote Spain.
Seville's lively neighborhoods, like Barrio Santa Cruz and Triana, offer charming streets and squares filled with cafes, boutiques, and traditional tapas bars, providing opportunities to engage with the local culture.
The city is particularly famous for its tradition of Flamenco. You can enjoy authentic performances in various tablaos and even partake in Flamenco dance lessons. This passionate art form, deeply rooted in Seville's cultural identity, is a memorable show.
Seville's culinary scene reflects the flavors of Andalusian cuisine. From traditional tapas to contemporary gastronomy, the city offers phenomenal dining experiences, emphasizing local ingredients like Iberian ham and olive oil.
One of the highlights of visiting Seville is its festivals. The Feria de Abril, a week-long celebration in spring, features colorful parades, traditional dress, music, and dance. Semana Santa, or Holy Week, is marked by solemn and elaborate processions that showcase the city's deep religious traditions.
For opera, Seville's Maestranza Opera House offers a must-see program. Parks like Parque de María Luisa provide a green oasis within the urban landscape, perfect for relaxation and leisurely strolls.
Seville's blend of Moorish and Christian influences, combined with its modern vitality, creates a unique and enchanting atmosphere amidst the warmth of southern Spain.
Segovia
Segovia, located in the central part of Spain, is worth a visit for its historical legacy, architectural marvels, and charming old-world atmosphere.
One of Segovia's most recognizable landmarks is its ancient Roman Aqueduct, built around 50 AD. This well-preserved engineering marvel, consisting of more than 160 arches and built without mortar, is a testament to the architectural ingenuity of the Roman era and stands as the entrance to the city's historic center. Many agree that this Aqueduct is one of the best places to visit in Spain.
The Alcázar of Segovia is another iconic structure, with its fairytale-like appearance characterized by turrets and spires. This fortress has served as a royal palace and military academy and offers beautifully decorated rooms and panoramic views from its tower.
The Segovia Cathedral, a stunning example of late Gothic architecture, dominates the city's skyline and is celebrated for its intricate stained glass windows and impressive altarpiece.
Segovia's narrow, winding streets and squares are filled with well-preserved medieval and Renaissance buildings, giving you a sense of stepping back in time.
Culinary experiences in Segovia are marked by the city's famous dish, cochinillo asado, or roast suckling pig, which can be enjoyed in many of the local dining establishments.
The nearby landscapes of the Sierra de Guadarrama offer hiking and nature walks, providing a rural escape after your urban exploration.
Segovia's tapestry of historical influences, including Roman, Jewish, Moorish, and Christian, contributes to a diverse cultural heritage. Festivals and events throughout the year like the Hay Festival can give you insight into local Segovian customs and way of life.
With its picturesque surroundings, Segovia offers a quintessential local Spanish experience, away from the bustle of larger cities.
Mallorca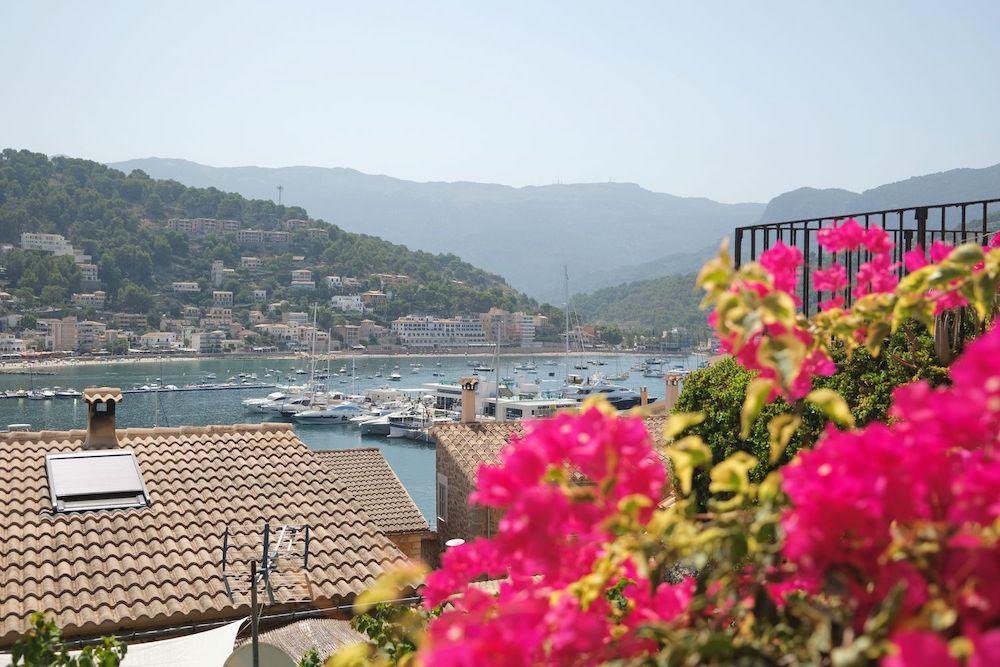 An article about Spain wouldn't be complete without mentioning the beautiful Balearic Islands which are among the best places to visit in Spain for mainland Spaniards and Europeans. Take a drive around the island of Mallorca, the largest of Spain's Balearic Islands, first to explore its luxurious hotels, secluded beaches, and fresh seafood.
The island's coastline boasts stunning beaches, ranging from secluded coves with crystal-clear waters to expansive sandy shores. Beaches like Es Trenc, Cala Agulla, and Playa de Muro are popular spots for sunbathing, swimming, and water sports.
Mallorca's interior contrasts with the coastal areas, with the Serra de Tramuntana mountain range providing opportunities for hiking, cycling, and exploring charming villages like Valldemossa and Deià. These mountains are a UNESCO Heritage site and offer breathtaking vistas and unique flora and fauna.
The island's capital, Palma de Mallorca, is plentiful in history and culture. Key attractions include the Gothic-style Palma Cathedral, the Royal Palace of La Almudaina, and the historic Bellver Castle, with sweeping views from above the city and harbor. Palma's lively markets, shopping streets, and bustling plazas provide an urban experience infused with Mediterranean charm.
Mallorca's culinary setting is another highlight, reflecting the island's unique blend of Spanish and Mediterranean flavors. Traditional dishes like ensaimada (a sweet pastry) and sobrasada (a type of sausage) are must-tries, and the island's vineyards offer local wines for tasting.
Though it tends to be family-friendly, the island is somewhat known for its nightlife, with towns like Magaluf particularly famous for their lively party scene.
Cultural festivals and traditional celebrations such as the Sant Joan Festival in June provide an opportunity to immerse yourself in local traditions.
For art and architecture aficionados, the island has various museums, galleries, and modernist architectural works, such as the Fundació Pilar i Joan Miró, dedicated to the artist Joan Miró.
If you feel like dancing, then head to the neighboring island of Ibiza, where the most famous electronic DJs come from around the world to play at the island's nightclubs. Pro tip: Take a boat to the island of Formentera for some of the most beautiful waters you'll ever see!
Canary Islands
The Canary Islands are often overlooked due to their distance away from mainland Europe, but these Spanish islands are not to be missed. This group of Spanish islands off the northwestern coast of Africa is known for its black and white sand beaches and mountainous terrain.
The Canary Islands is an archipelago located close to Africa but is 100% a part of Spain. The islands claim an extraordinary variety of natural beauty. From the volcanic landscapes of Lanzarote and the lush forests of La Gomera to the towering peak of Mount Teide in Tenerife, the Canary Islands offer a stunning range of ecological diversity. Each island has its unique personality and geological features.
The subtropical climate of the Canary Islands ensures pleasant weather throughout the year, making them an ideal destination for sun-seekers and beachgoers. Famous beaches like Maspalomas in Gran Canaria and Playa de las Américas in Tenerife are popular for suntanning and water sports.
The islands' culture reflects a blend of Spanish, African, and Latin American influences through local cuisine, music, dance, and festivals like the springtime Carnival of Santa Cruz de Tenerife, one of the largest carnivals in the world.
For water-based activities go snorkeling, scuba diving, surfing, and sailing. The unique underwater landscapes and abundant marine life make the archipelago a prominent destination for divers.
The islands also cater to luxury travelers, with high-end resorts like the Gran Hotel Bahía del Duque Resort, golf courses, and spa facilities.
Moreover, the Canary Islands have numerous historical sites to explore. The Cueva de los Verdes in Lanzarote, a cave formed by lava flows, and the ancient Guanche mummies in Museo y Parque Arqueológico Cueva del Viento, provide insights into the islands' geological and human past.
Whether you are drawn to the tranquility of untouched nature, the excitement of outdoor pursuits, or the relaxation of resort life, the Canary Islands offer something for every taste and interest. They're one of the best year-round destinations in Spain!
---
If you haven't booked a ticket to Spain, then what are you waiting for? If you have, then these 10 places in Spain should absolutely be on your bucket list!