I had the chance to visit the beautiful island of Menorca last year around Easter and I had an amazing time despite it being early spring. Menorca is one of the Balearic Islands, located in the western Mediterranean Sea, not far from the much bigger Mallorca. The vibe in Menorca, or Minorca, as it's sometimes spelled, it's much more chill and laid back. It's not a big family destination like Mallorca, nor is it a party island like Ibiza. Menorca is the perfect place to relax, unwind, and admire the cultural history of this naturally beautiful island.
Pre-Historic Sites
Menorca was first inhabited by the Talayotic people around 3000 BC. They left behind megalithic structures, such as the Naveta d'Es Tudons, a burial monument and tomb, and the Talaiot of Trepuco, a prehistoric village settlement, which is still visible on the island today.
Menorca was first mentioned in written records by Greek and Roman writers in the 2nd century BC. It was known as Nura or Minorica, which means "smaller island" in comparison to the nearby island of Majorca. The Romans established a settlement on the island, known as Mago. In the 8th century AD, Menorca was conquered by the Moors, who ruled the island for more than 400 years.
Ciutadella
Menorca was captured by the Catalan-Aragonese forces in 1287, as part of their conquest of the Balearic Islands. The island became a part of the Kingdom of Aragon, and its capital, Ciutadella, became an important center of trade and culture. The Cathedral Basilica of Ciutadella de Menorca is most impressive. It was constructed on orders of King Alfonso III of Aragon in 1287.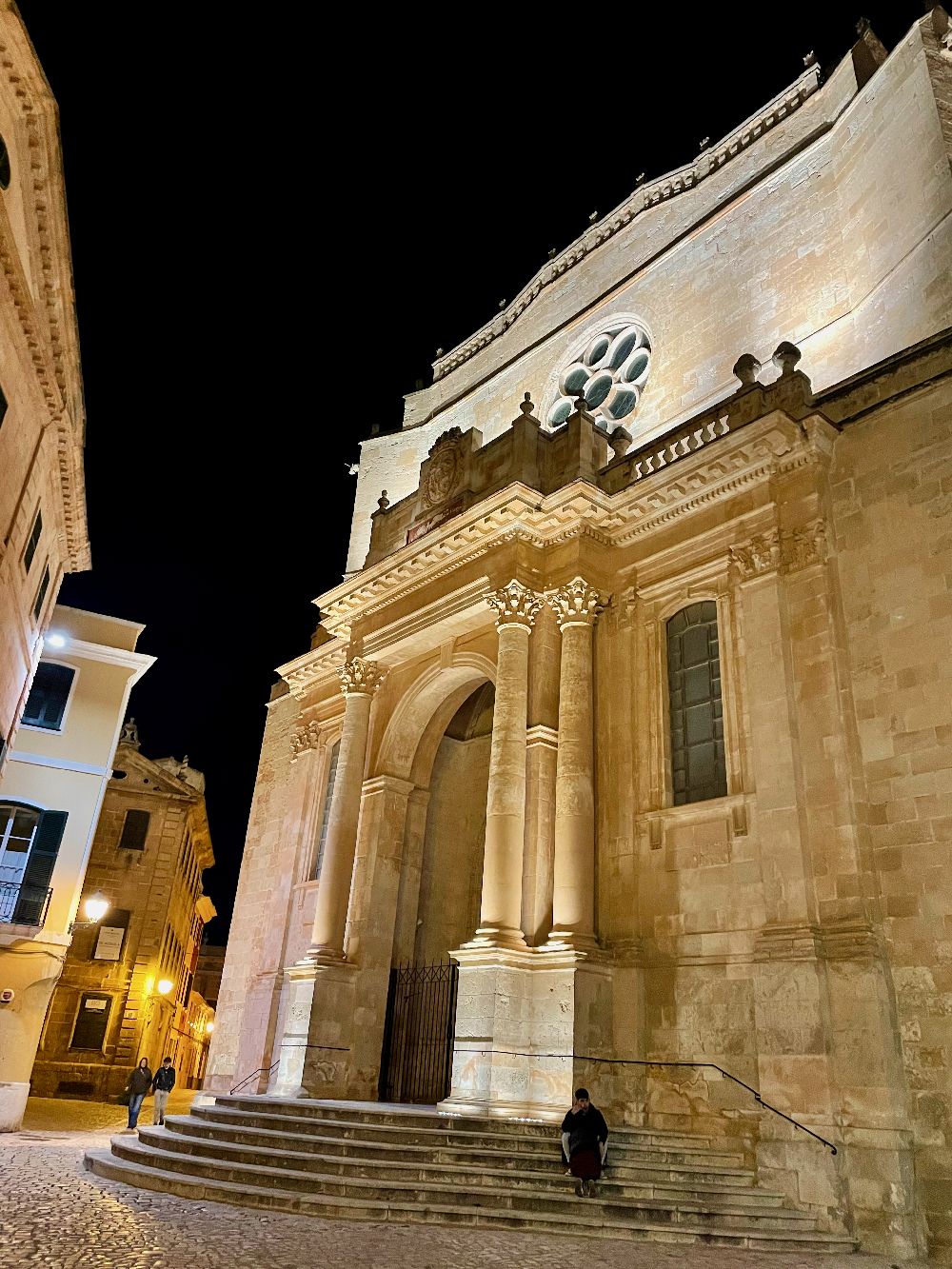 Mahon
Menorca remained under Spanish rule for centuries, but it was occupied by the British during the War of the Spanish Succession in the early 18th century. The British held the island for most of the century, establishing the port city of Mahon as their main naval base in the Mediterranean. Menorca was returned to Spanish control in 1802. Today, Mahon is the capital of the island, not far from where the airport is located.
Mercat de Pescados
The Mahon Fish Market, Mercat de Pescados, is a great place to eat fresh seafood in Menorca.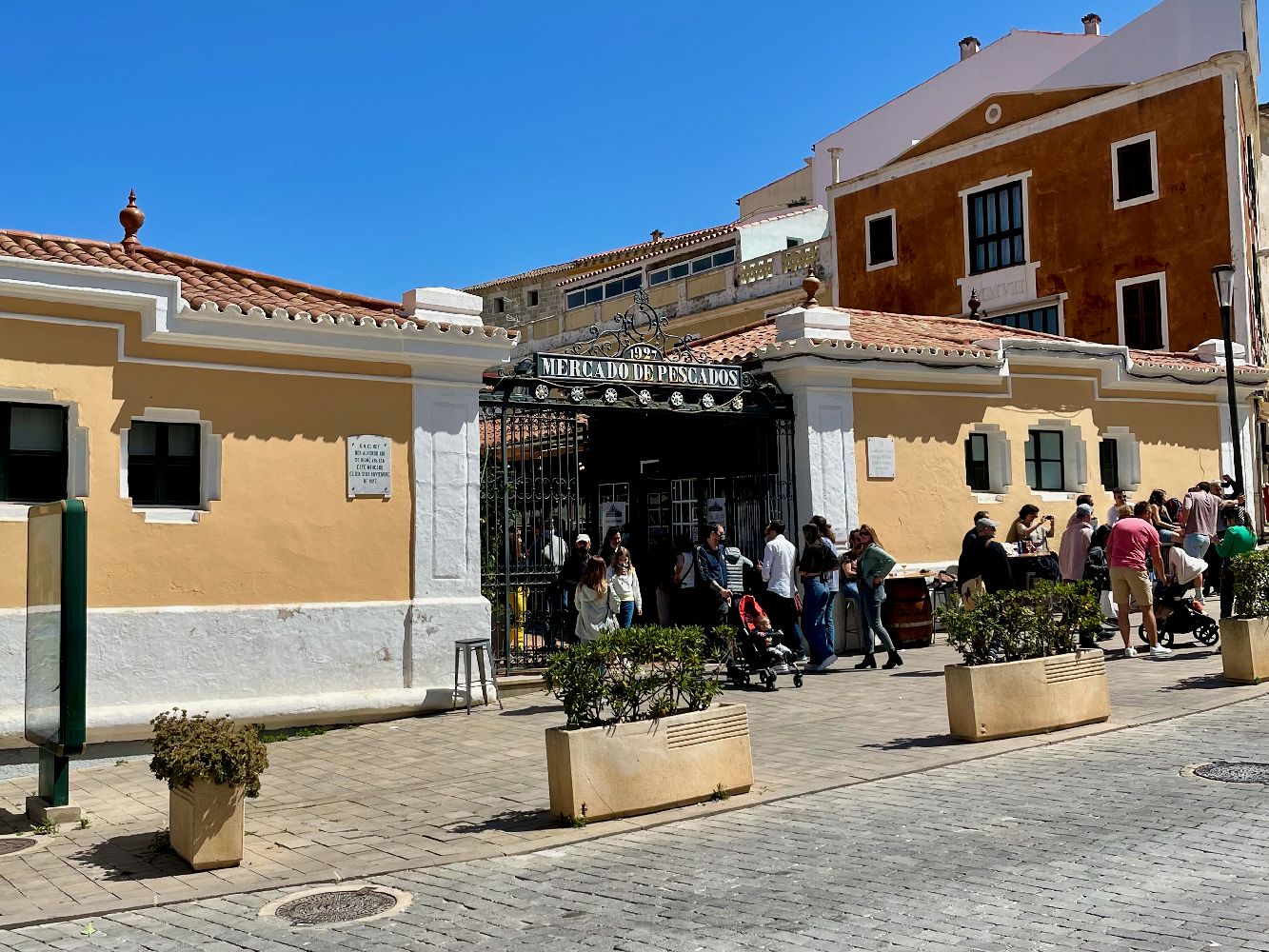 Església del Carme
Església del Carme is a church built between 1750 and 1808 in Mahon.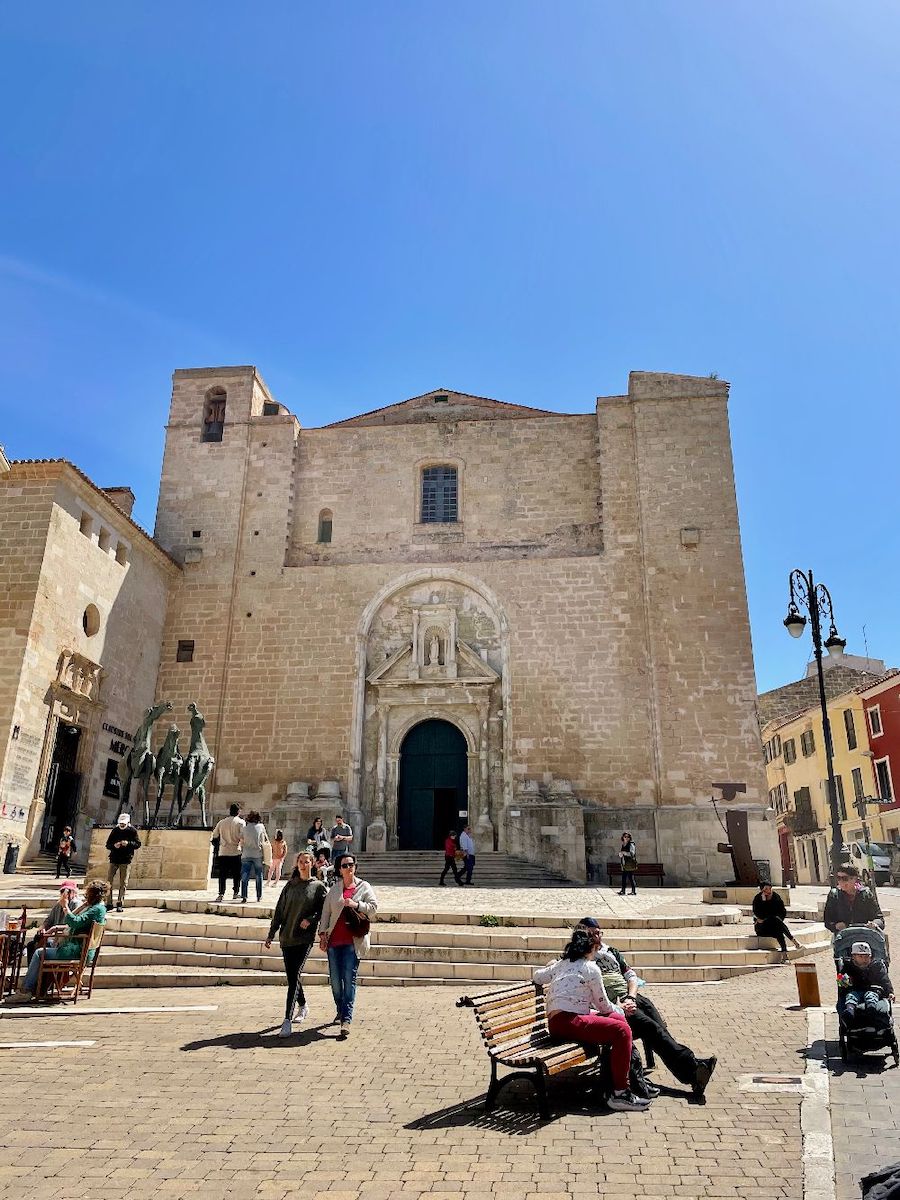 Santa Maria de Maó Cathedral
Santa Maria de Maó is a central Cathedral in Mahon where important religious ceremonies such as Easter Mass are held.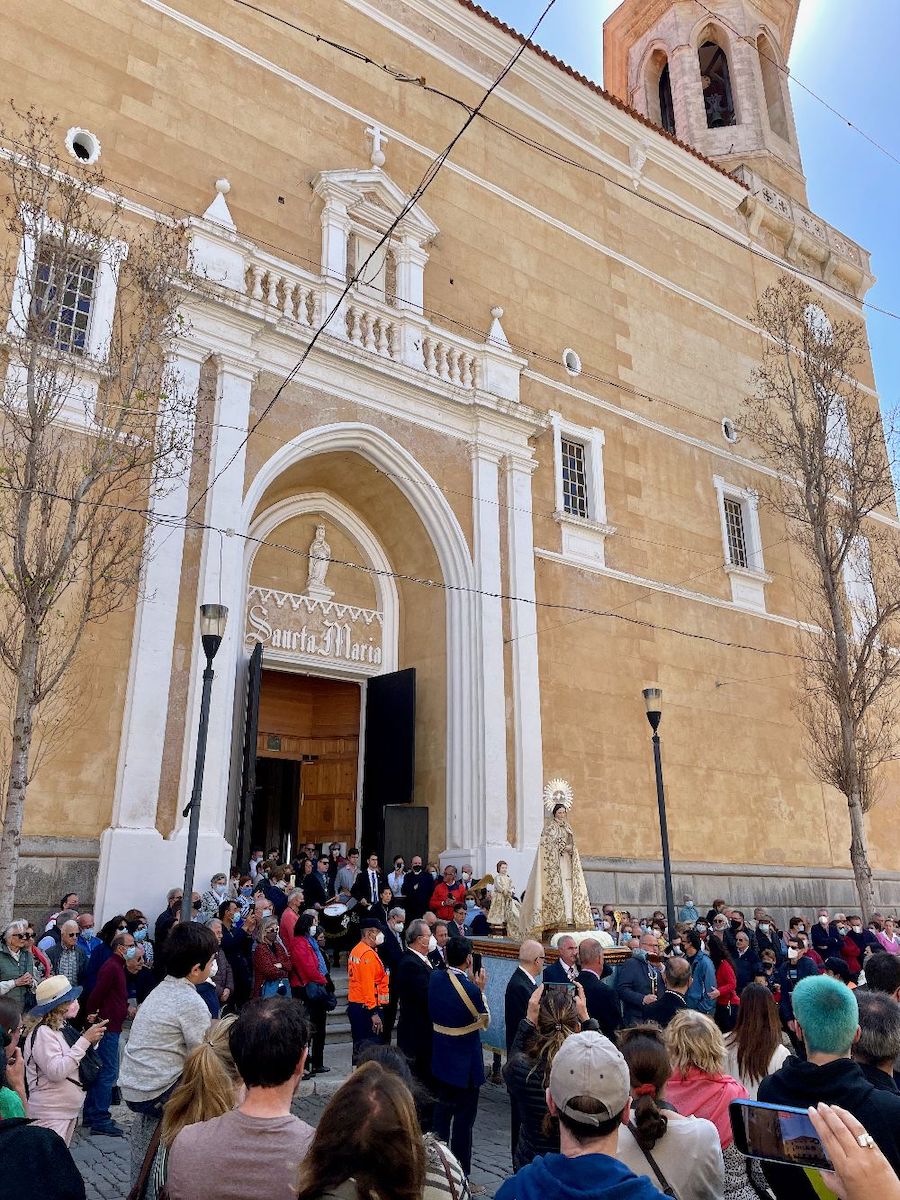 Stay in a Local Hotel
We stayed at a locally owned boutique hotel called Hotel Hevresac and fully enjoyed the Menorcan experience. A delicious traditional Spanish breakfast is served each day in the hotel and it has a quirky lobby with a homey living room to relax in.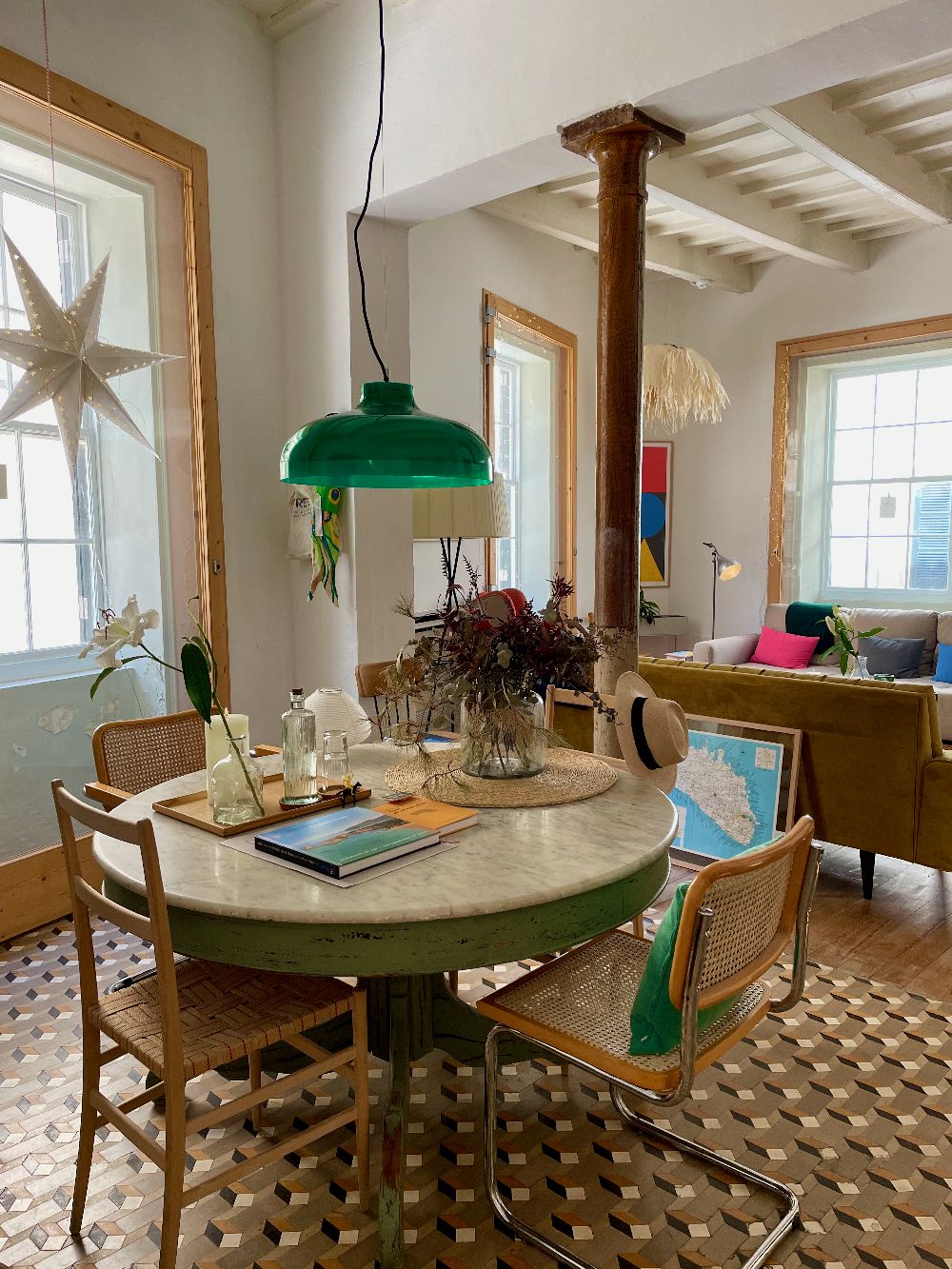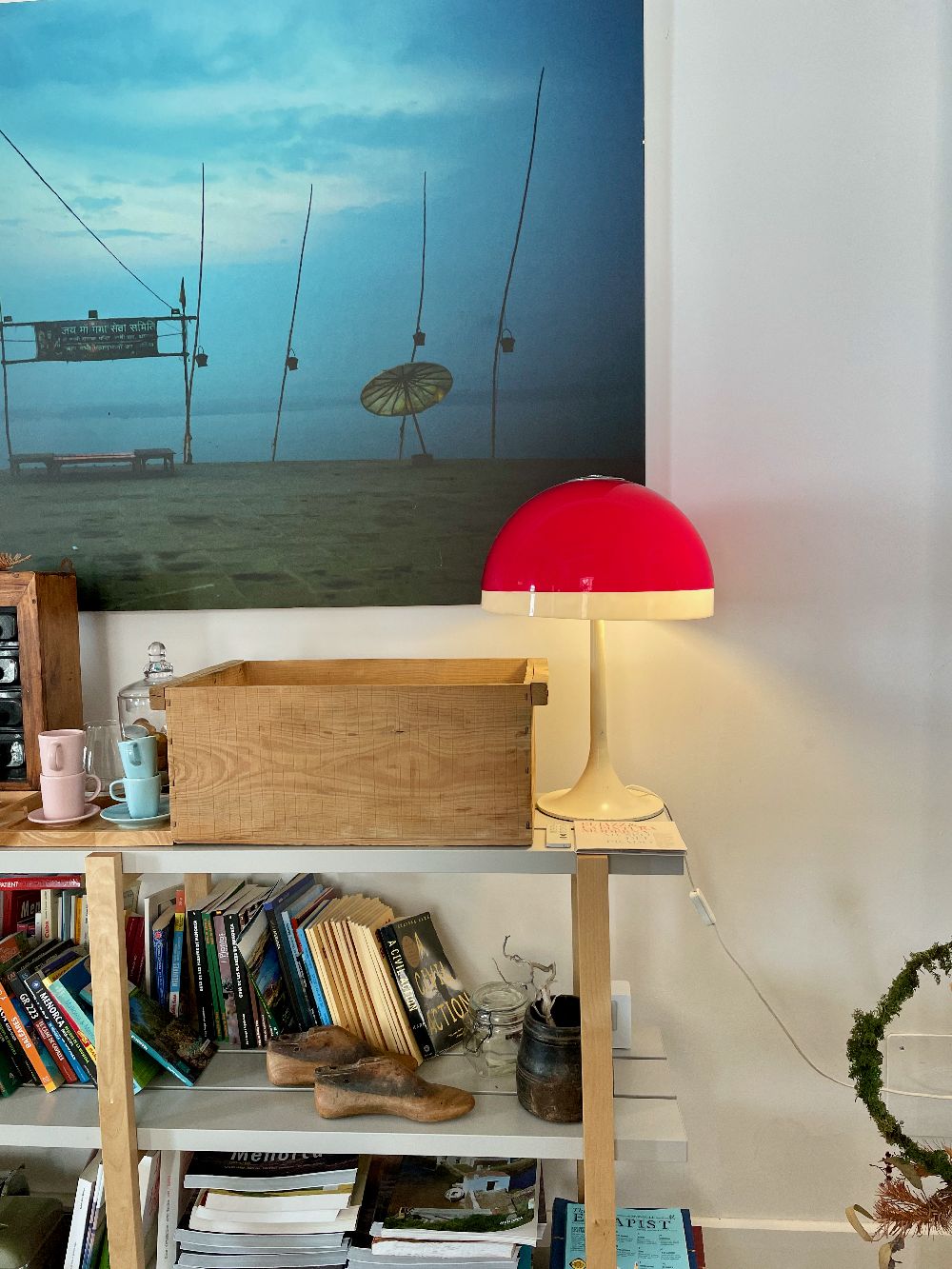 Cala Mitjana
This is definitely one of the all-time best things to do in Menorca! Cala Mitjana is a gorgeous, picturesque cove located on the southern coast of Menorca, one of the Balearic Islands in the Mediterranean Sea. It is known for its crystal-clear waters, fine white sand, and unspoiled natural surroundings. Cala Mitjana is one of the many secluded and unspoiled beaches on the island that are popular with tourists who are looking for a more tranquil and peaceful environment.
The cove is accessible by foot, and you can park your car nearby and walk through a wooded area to reach the beach. It is also possible to reach Cala Mitjana by boat.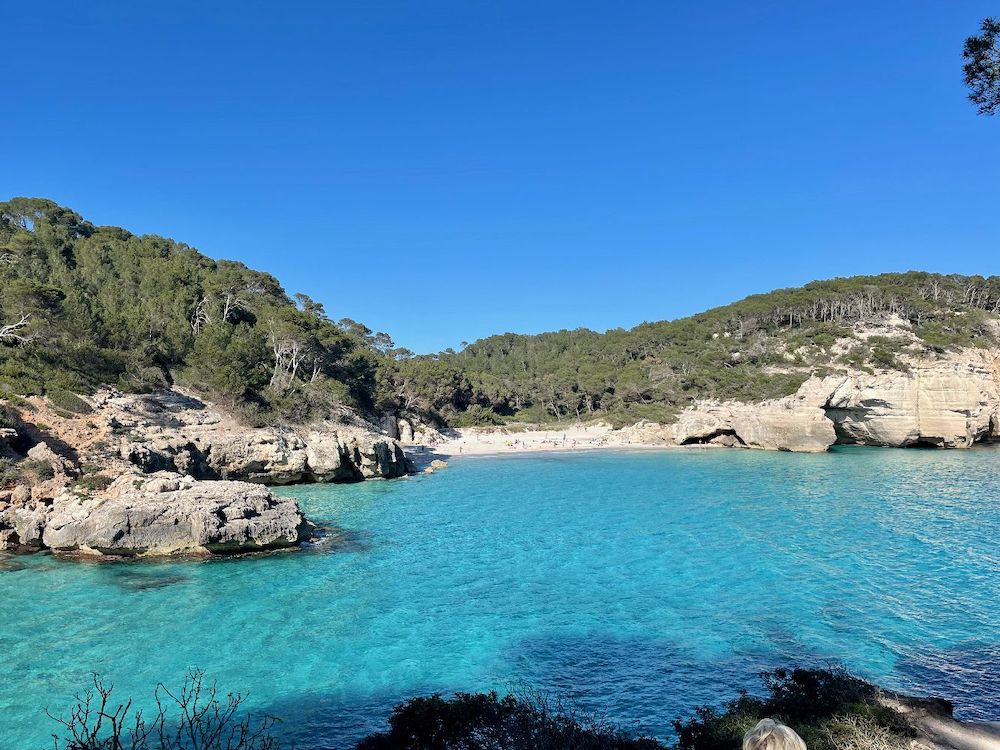 Cala Mitjana is surrounded by cliffs covered with lush vegetation, creating a sense of seclusion and privacy. The beach is relatively small and does not offer many amenities, which makes it perfect for those who prefer a more natural and rustic beach experience.
Cala Mitjana is a popular spot for swimming, sunbathing, and snorkeling. The water is clear and turquoise, and there is a variety of marine life to discover underwater. The beach is also an excellent spot to photograph, especially during sunset when the light creates a stunning natural display!
Cala Binidali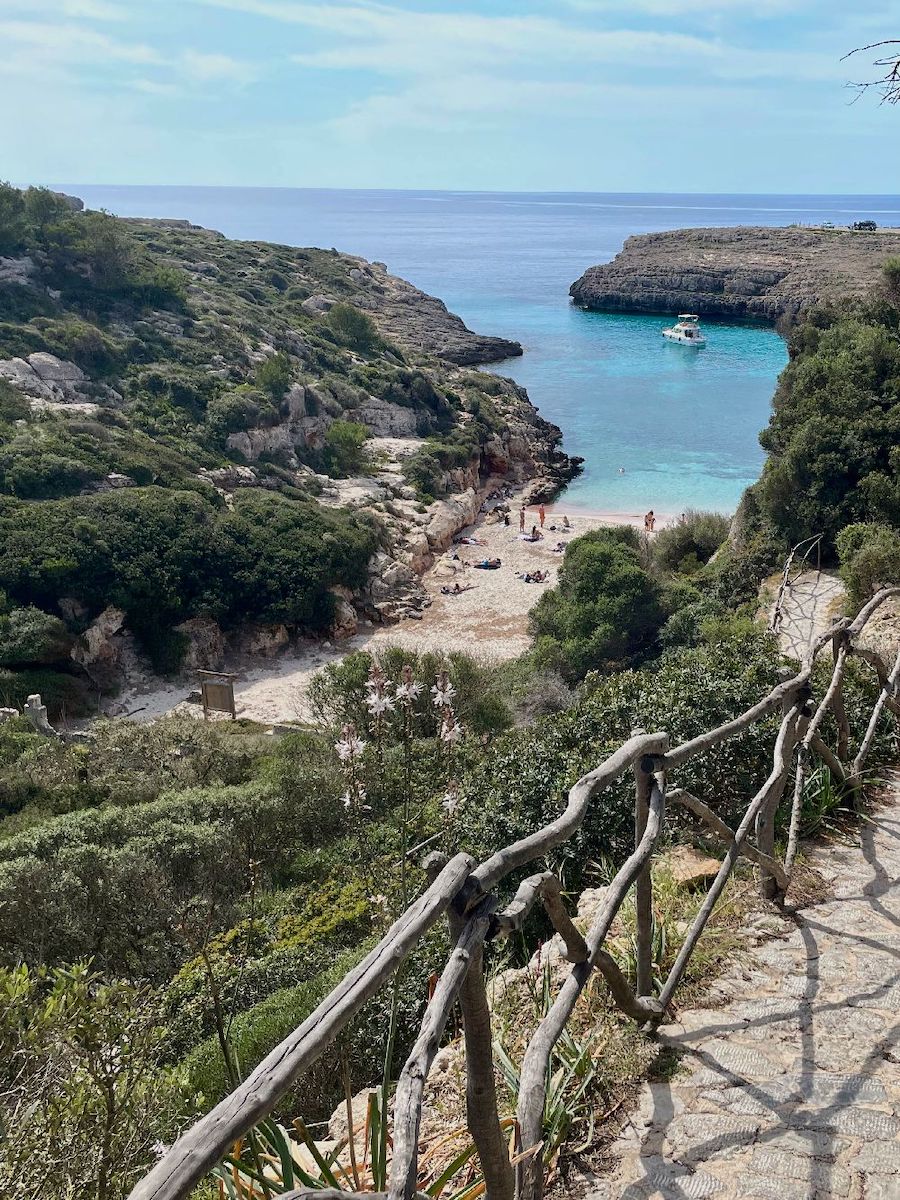 Cala Binidali is a small and secluded cove located on the south coast of Menorca, not far from Mahon. It is known for its crystal-clear turquoise waters, fine white sand, and unspoiled natural surroundings.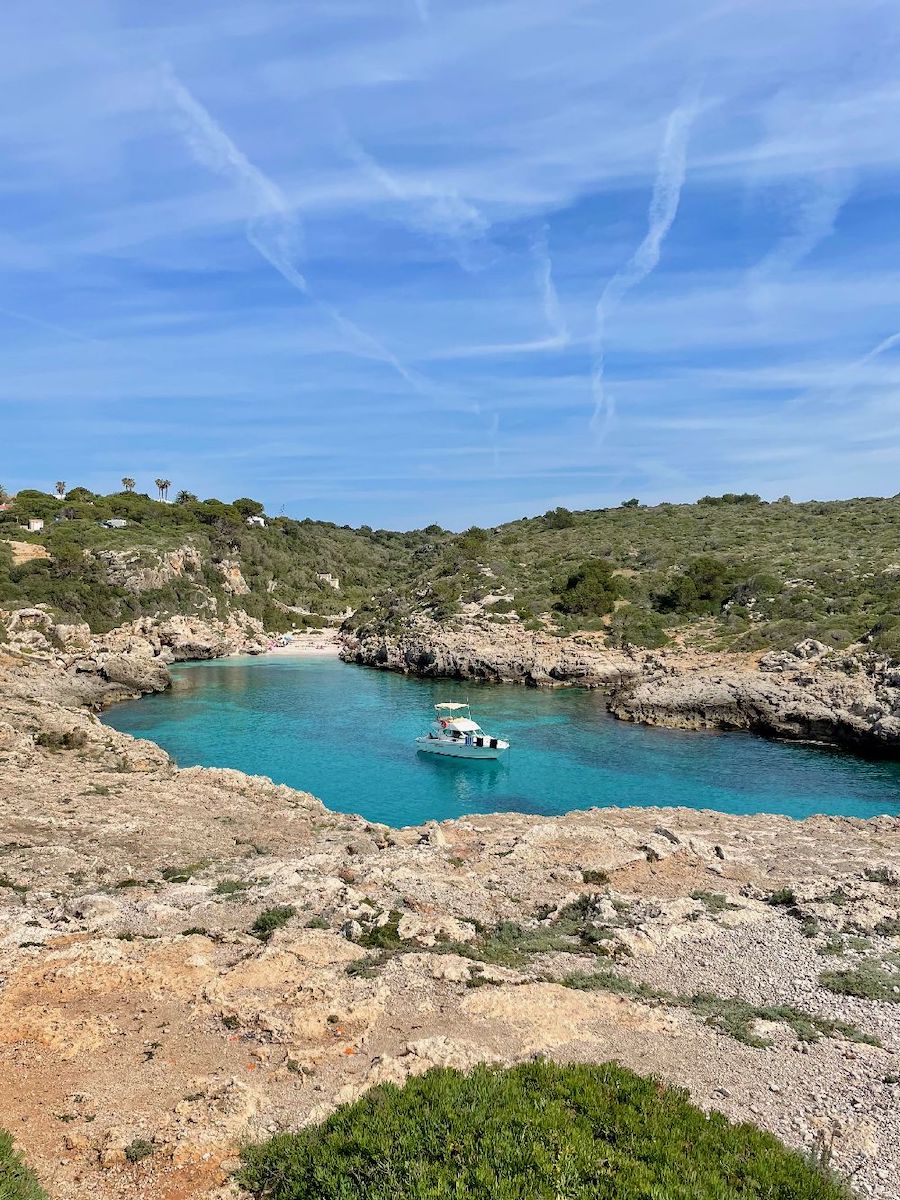 Cala Binidali is relatively small and not as well-known as some of the other beaches on the island, which makes it an ideal destination for those who prefer a more quiet and intimate beach experience. The cove is surrounded by rocky cliffs and natural wilderness. Watch out for jellyfish!
Take in the Spanish Architecture
The architecture of Menorca is a unique blend of influences from different periods in the island's history. Due to its strategic location in the Mediterranean, Menorca has been inhabited by various civilizations throughout its history, each leaving its mark on the island's architecture.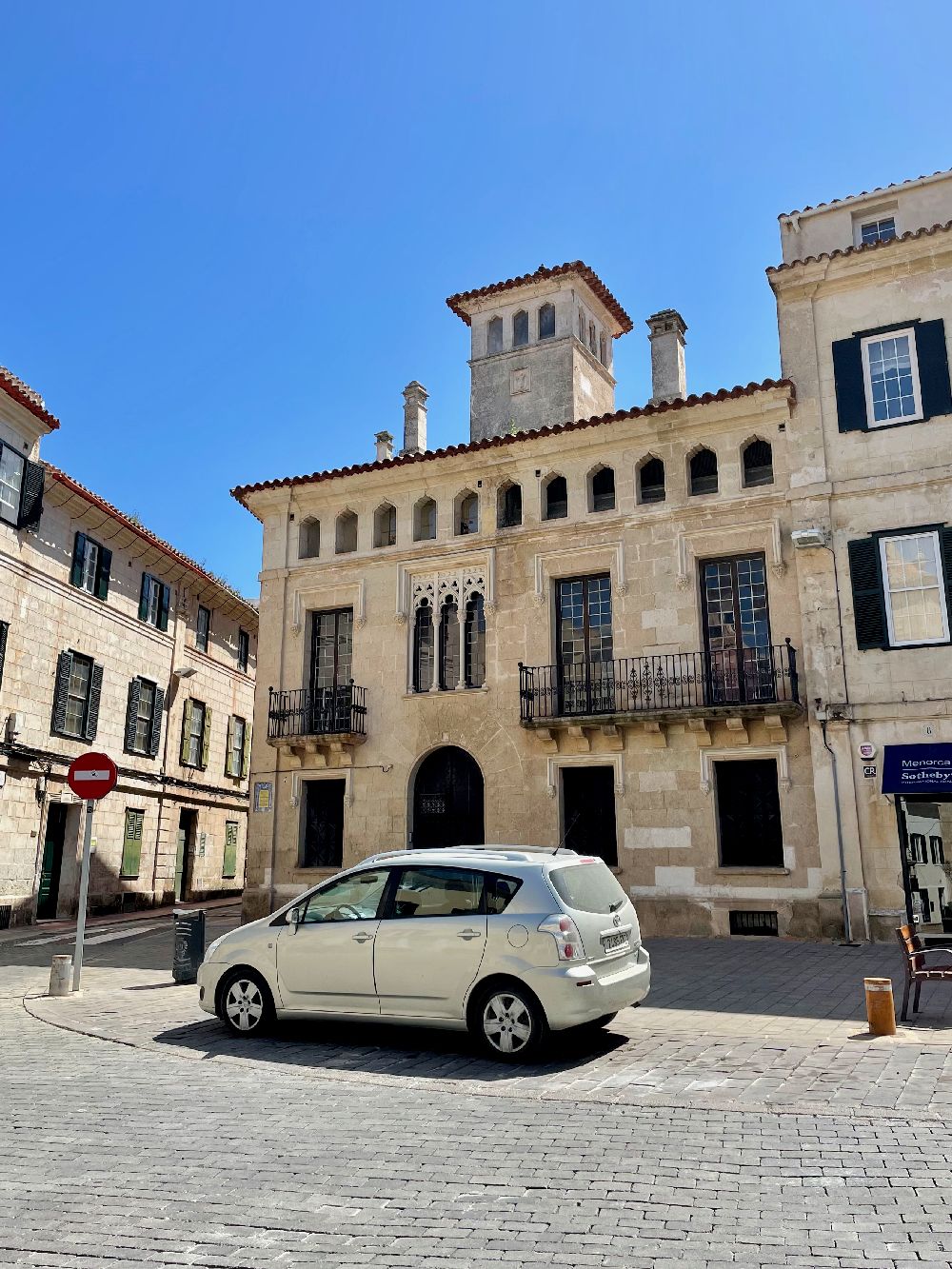 One of the most distinctive architectural styles found on the island is the Menorcan Traditional Architecture, also known as "Arquitectura Menorquina." This style is characterized by simple and functional structures, often painted in white and with a flat roof. The use of local materials such as limestone, wood, and wrought iron is also common in Menorcan Traditional Architecture.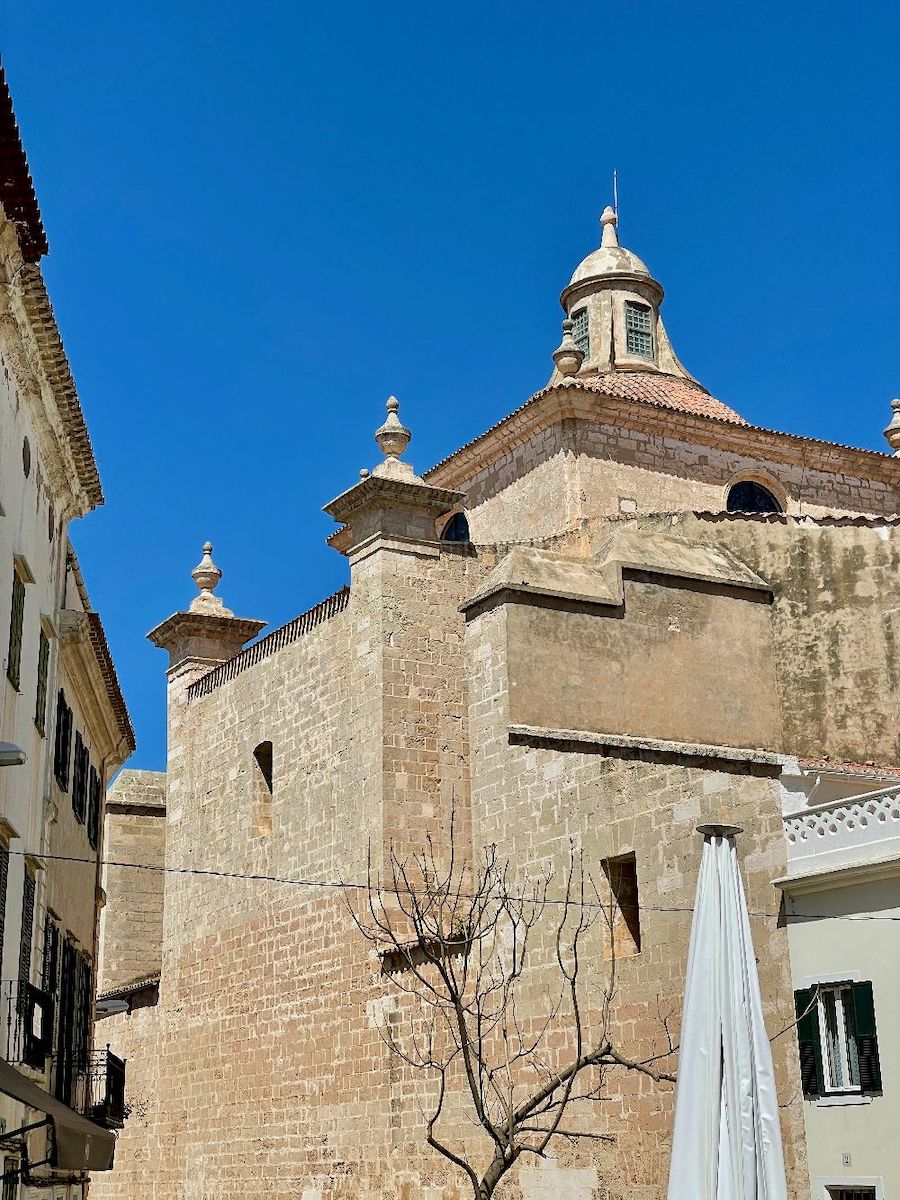 Another important architectural style found on the island is the Gothic style, which is especially evident in the island's religious buildings such as the Cathedral of Santa Maria in Ciutadella and the Church of El Carmen in Mahon. These buildings feature pointed arches, ribbed vaults, and large rose windows, among other Gothic elements.
Try the Mahon Gin
Mahon Gin is a specialty gin that is produced on the island. It is named after the island's capital city, Mahon, and is made using a unique combination of botanicals that gives it a distinctive flavor and aroma. Trying a Mahon Gin and Tonic is one of the best things to do in Menorca if you like cocktails!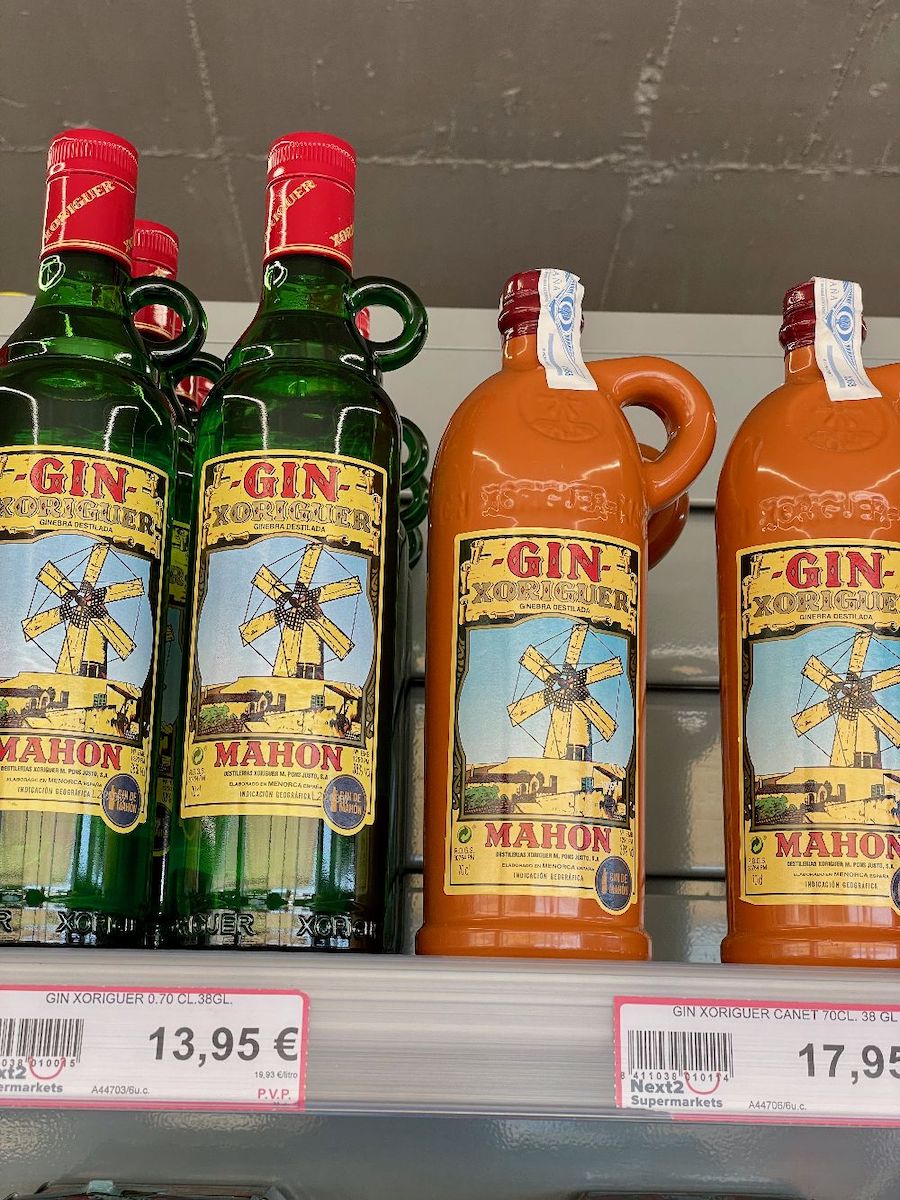 Mahon Gin is produced using traditional copper pot stills, which are used to distill a blend of high-quality juniper berries, as well as local botanicals such as lemon, orange, cardamom, and cinnamon. The resulting gin is known for its smooth and complex flavor, with notes of citrus and spice.
One of the distinctive characteristics of Mahon Gin is its use of locally sourced ingredients, which gives it a strong sense of place and reflects the island's unique terroir. The gin is also typically aged for a period of time in oak barrels, which imparts a subtle woody flavor to the final product.
Wander the White Buildings of Binibeca
Binibeca is a small resort town located on the southern coast of Menorca, one of the Balearic Islands in the western Mediterranean Sea. It is known for its beautiful white-washed buildings, narrow streets, and relaxed atmosphere, making it one of the best places in Menorca to explore.
Binibeca was designed in the 1970s by architect Antonio Sintes, who was inspired by traditional Menorcan architecture and sought to create a modern resort that would reflect the island's unique cultural heritage. The town features a distinctive blend of modern design and traditional elements, with buildings that are painted white and adorned with blue shutters and doors, and narrow streets that wind their way through the town.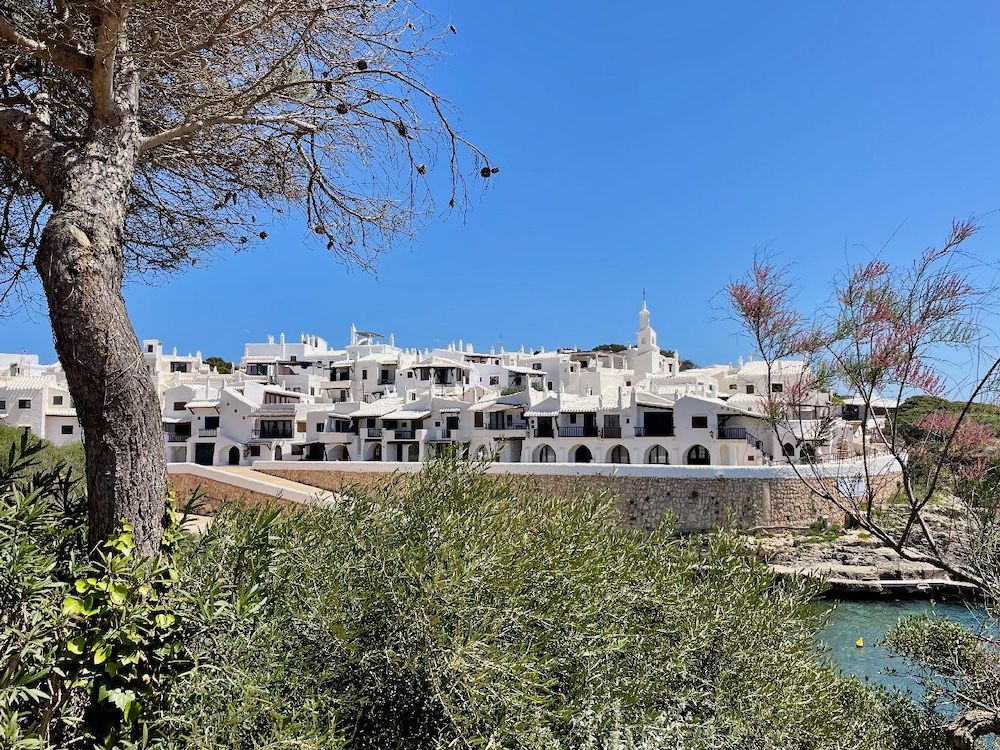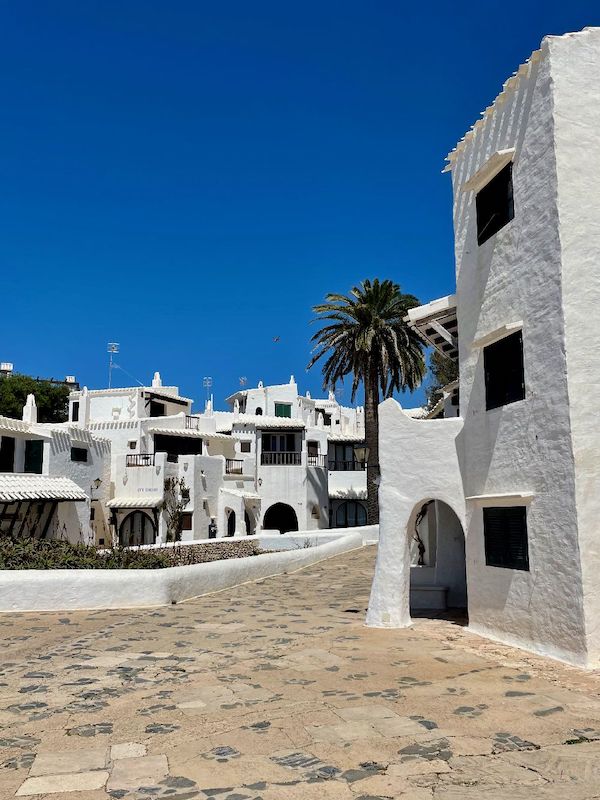 One of the highlights of Binibeca is its beach called Binibeca Nou, which is a beautiful crescent-shaped stretch of sand that is surrounded by rocky cliffs and turquoise waters.
Sa Punta Prima
Sant Lluis and Sa Punta Prima are two neighboring towns located on the southeastern coast of Menorca, one of the Balearic Islands in the western Mediterranean Sea.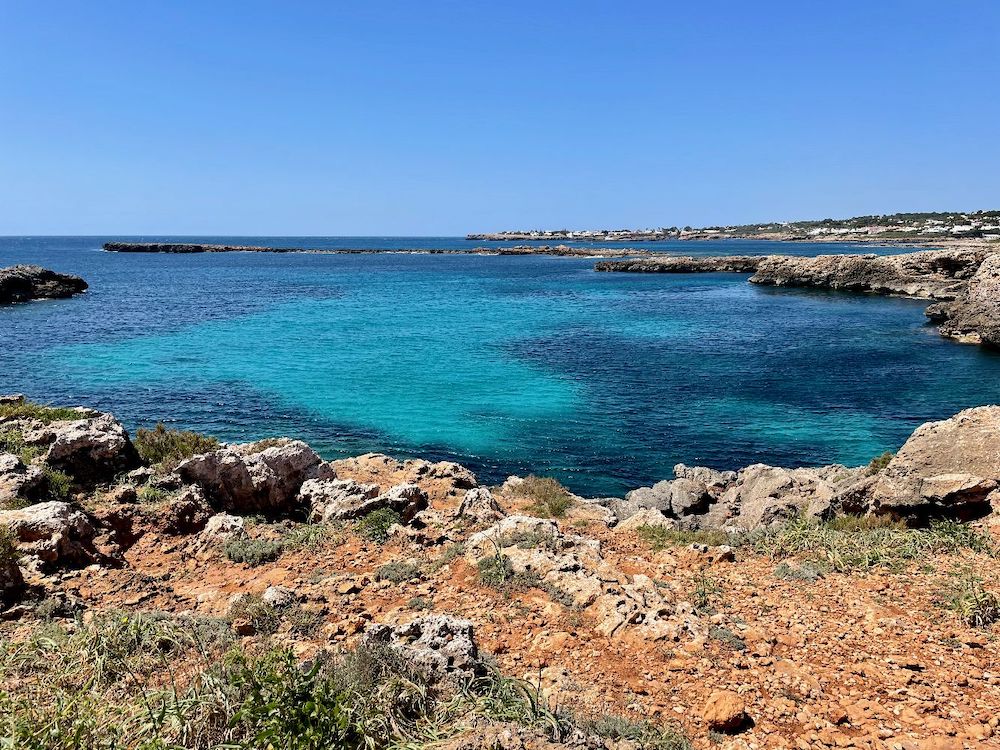 Sa Punta Prima is a popular tourist destination located just a few kilometers from Sant Lluis. It is known for its beautiful beach, which features fine white sand and crystal-clear waters that are perfect for swimming and snorkeling. There are also several restaurants and cafes near the beach that offer a variety of local and international cuisine.
Sa Punta Prima is also home to a large water park, which is a popular attraction for families with children. The park features several water slides, swimming pools, and other water-based activities.
Sa Mesquida
Sa Mesquida is a small village located on the northeastern coast of Menorca. It has a beautiful beach next to a large hill where you can relax.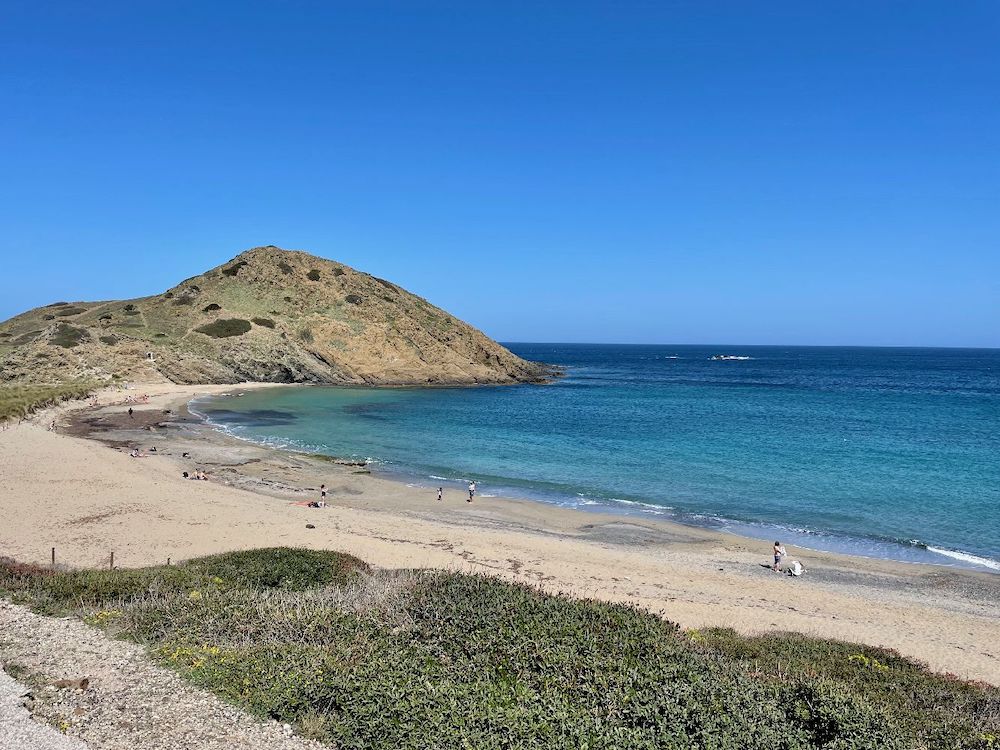 Eat Lots of Seafood
We had octopus and cava at a local wine bar with outdoor plaza seating.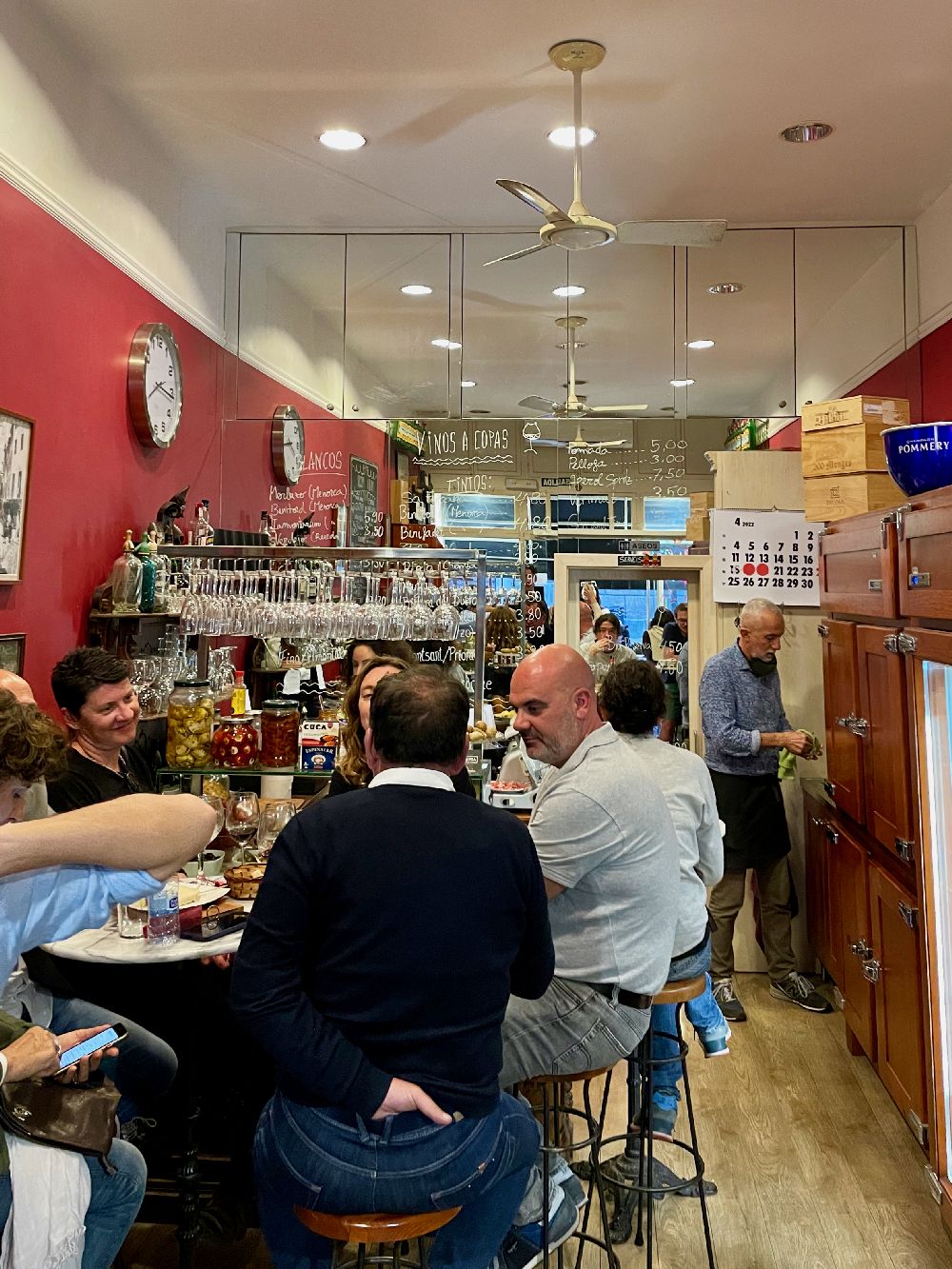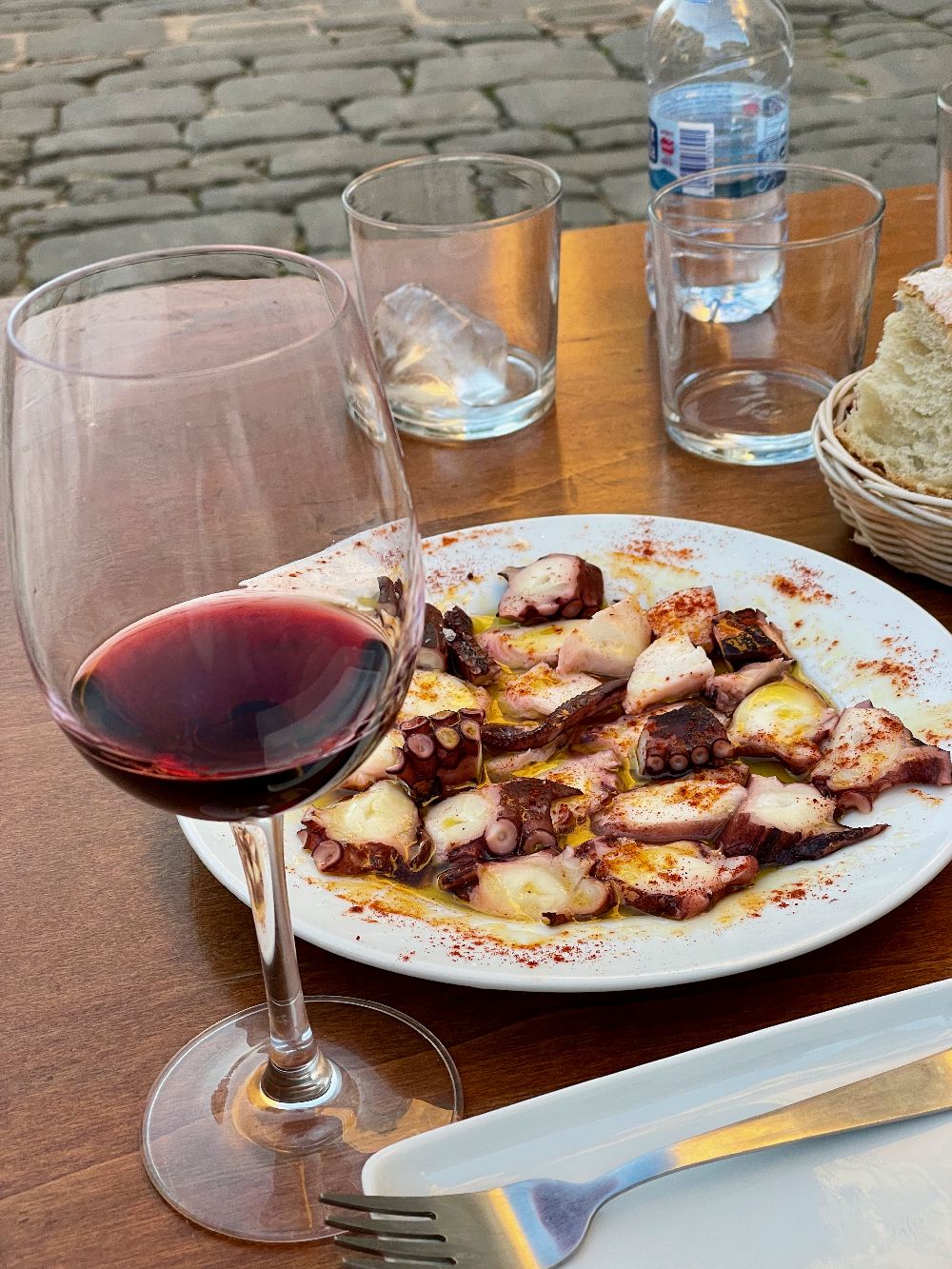 Later, we had a delicious Paella dinner. Paella is a staple of Spanish cuisine and a popular dish to eat in Menorca.