This summer, I took a day trip to the town of Valldemossa in Mallorca, Spain from where I was staying in Port de Soller. Valldemossa is further inland away from the sea. It's an old town with a rich artistic history and I was excited to explore its streets.
Mallorca's only patron saint, Catalina Thomas was born in the city of Valldemossa in 1531 and many buildings hang a small plaque outside to commemorate her life.
How to Get There
The best way to get to Valldemossa is to rent a car drive, but it's not for the faint of heart. The roads are small and winding and the wrong move could put you in a dangerous situation! You'll also need to stop and let the larger tour buses make their wide turns.
From Palma, the drive takes about 30 minutes. From Soller, the drive also takes around half an hour. From nearby Deia, the drive takes only 18 minutes.
Valldemossa is also served by public bus which is how we got there from Port de Soller this summer.
Things to Do in Valldemossa
If you travel to Valldemossa, here are the best things to do during your visit!
Some consider Valledemossa the most beautiful village in Spain and one of the most captivating in Europe. The mountainous village perched by the ocean has gained a notable reputation as a hotspot to visit.
With the blessings of Fredric Chopin and Georges Sands having lived there, this small city makes for a special visit. Here are the 10 best things to do in Valldemossa! 
1. Grab Breakfast from Pastisseria Ca'n Molinas
Pastisseria Ca'n Molinas is probably the most popular cafe in Valldemossa. With an excellent selection of pastries, there's nothing better to start your morning.
As you wait in line for some of the best coffee in town you'll notice that this cafe looks like it came out of a fairy tale! With plenty of fruit trees surrounding the outdoor patio, it creates a romantic atmosphere.
Don't forget to try the famous coco de patata, a sweet sponge cake made from potatoes and flour.
2. Visit the Frédéric Chopin and George Sand Museum
A must-see while in Valldemossa is the Frédéric Chopin and George Sand Museum which houses an eclectic collection of incredible artifacts and memorabilia.
The museum is quaint and cozy and features the piano Chopin wrote 24 of his preludes, including the Prelude in D-flat major nicknamed "Raindrops."
George Sand was known to be Frédéric Chopin's lover and one of the most important writers of the European Romantic Era. The rooms in the museum showcase their history in a beautiful display.
This museum is a beautiful place to let your imagination run wild and witness the history of some of the world's greatest artists.
3. Carthusian Valldemossa Monastery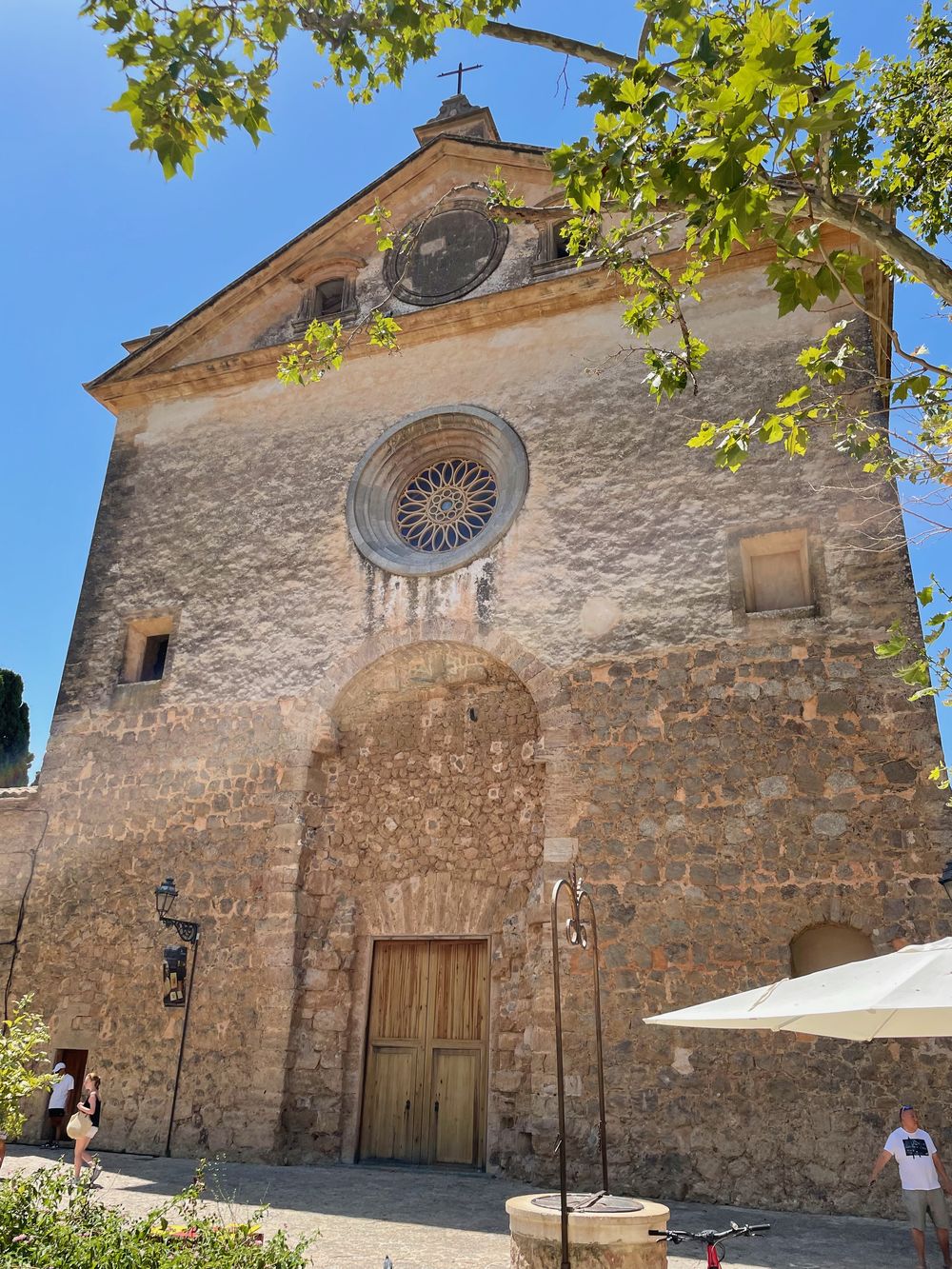 When it comes to the best things to do in Valldemossa, the famous Monastery is at the top of the list. Also called the La Cartuja de Valldemossa or the Charterhouse of Valldemossa, you can visit this well-preserved monastery that once housed King Sancho of Mallorca.
Established in the 14th century, you'll learn a lot of interesting background about the monastery's development over time. It was the birthplace of Saint Catherine of Palma, one of the patron saints of Mallorca. Chopin spent the winter of 1838-39 here.
For only 10€, you get to enjoy this wonderful establishment including a 15-minute mini-concert featuring music by Chopin.
4. Take a break at Jardins Rei Joan Carles
If you're looking for a quiet place to rest and take a moment to yourself, the Jardines de Jean Carlos is a peaceful garden to visit. Very close to the courtyard with its cafes and restaurants, it's very conveniently located.
The manicured landscape is beautiful and a great place to read – perhaps A Winter in Majorca by George Sand would pair well with the scenery.
5. Take in the views at Miranda des Lledoners Viewpoint
Number 5 on the list of best things to do in Valldemossa is visiting Miranda des Lledoners, which is a stunning observation deck. Not too far from the Monastery, this viewpoint is a must-see if you want to admire the small villages around Valldemossa from up above.
Regarded as one of the best places for photos and a great vantage point to overlook the whole city – you can see agriculture, rugged landscape, forests in the distance, and the peaks of the mountains that form the valley on the horizon.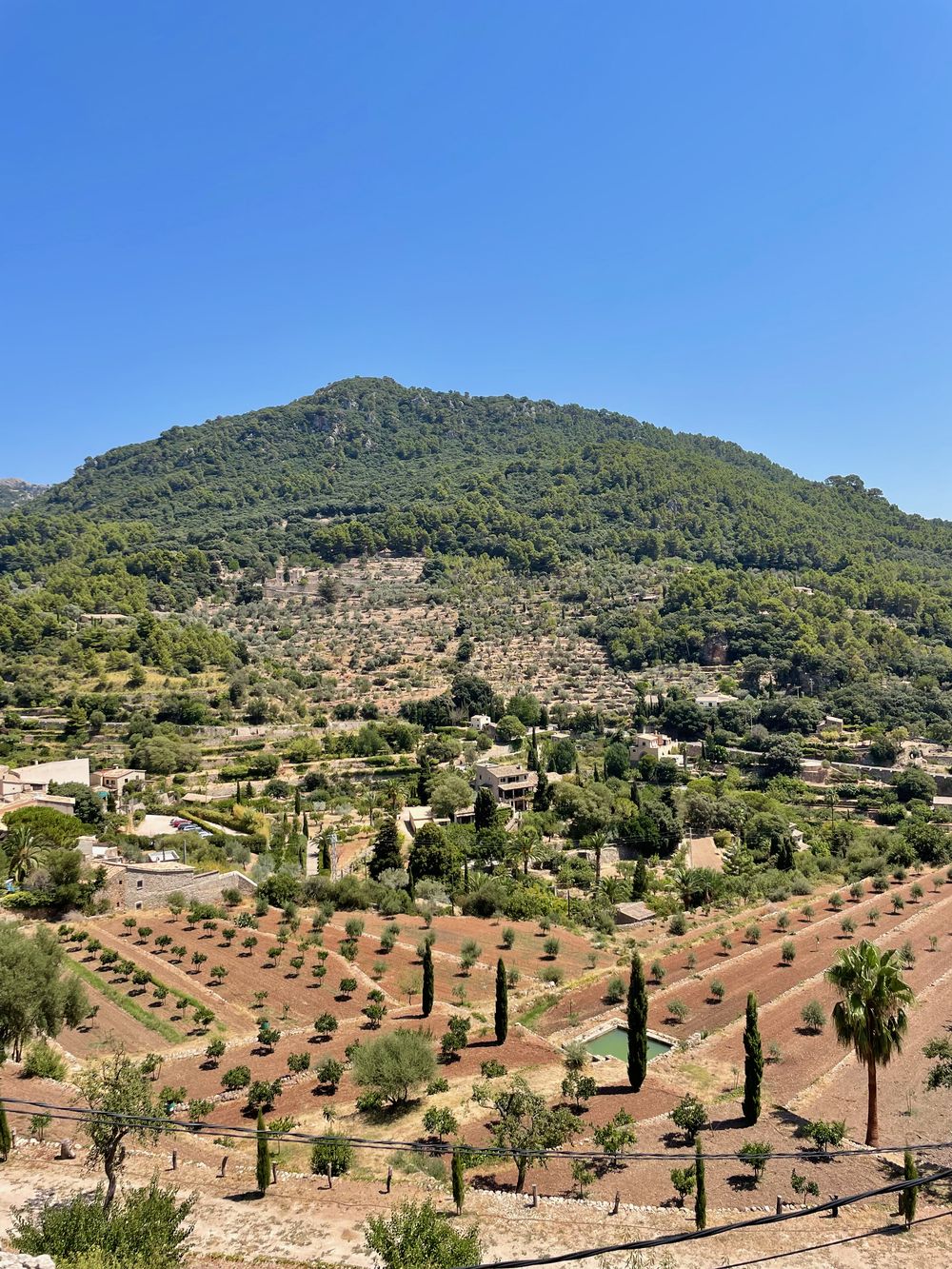 6. Casa natal de Santa Catalina Thomàs
Located on the beautiful street Rectoria, you can make your way to the chapel of the birthplace of Santa Catalina. It's a pretty little sanctuary where you can pay homage to the famous nun and patron saint of Valldemossa.
Santa Catalina Thomàs is considered the patron saint of Mallorca and her story is very well known on the island. She lost her parents at a young age and was orphaned and adopted by her uncles. Receiving visions and messages from God when she was depressed and alone, she was blessed as a mystic figure in this mysterious city.
7. Head down to the Port de Valldemossa
If you're up for an adventure and a little adrenaline rush, one of the best activities near the water is to go to Port de Valldemossa.
This is a beautiful beach port with swimming, snorkeling, and sailing activities. There's also an excellent Mediterranean restaurant nearby where you can grab a bite to eat.
You'll need a car to get there and the drive is known to be a bit risky, but it's worth it for the scenic adventure. Pro-tip: rent a small car with a narrow body because the roads can get thin!
8. Hike at Comuna de Valldemossa
With all the beautiful mountains surrounding Valldemossa, you should definitely go for a hike at Comuna de Valldemossa. Moderately difficult, the walk itself is about 9km. You'll see some snow pits and old bread ovens that are still in good condition, giving you a taste of the old country as you hike through.
The views are breathtaking and you get a birds-eye view of Valldemossa at peak elevations. This trail has several detours that lead to beautiful sights but just be careful when venturing off the trail so as not to get lost.
9. Dine at Es Taller Valldemossa
Spain is well-known for its delicious food and this tapas restaurant supports that notion well by serving a wide variety of dishes made with local ingredients. The ambiance showcases a modern type of decor and the dishes are creative and artistic.

Reservations are highly recommended because this place fills up fast and as a walk-in, you'll have to wait about 45 minutes. It's a short walk from the monastery, and a great addition to your adventures in Valldemossa.
10. Take a day trip to the Soller
Mallorca is a place of many wonders and you should make the most of it when you visit this beautiful island. Only 30-40 minutes away by car, you can make a day trip to the town of Soller. This small city is a bit more developed than Valldemossa and offers many things to do. You can visit the Can Prunera Museum, which houses a unique collection of contemporary art that's become an important part of Mallorca's art scene. What better way to take in the sights than riding a traditional trolly through the streets of Soller?
---
It seems that someone had painted every corner, every house, and every terrace as if they were the scenes of a fantasy story in Valldemossa. Without a doubt, Valldemossa has the reputation of being a mystical land.

Its landmarks, surrounding nature, and local people illustrate the greatness of this small city. This travel hot spot is a must-visit on your list of adventures.