Hola amigos! I'm so excited to share with you my recent adventures in the magnificent city of Madrid. As an avid traveler and blogger, I'm always looking for new and exciting destinations that offer a unique blend of culture, cuisine, and experiences. So when the opportunity arose for me to visit Spain's capital, I jumped at the chance.
Located right in the heart of the Iberian Peninsula, Madrid immediately captured my heart with its incredible energy, passionate people, and rich history that's interwoven throughout the city. From world-class museums like the Prado and Reina Sofia, to bustling markets and expansive parks, this is a destination that will delight all your senses. The food scene here is incredible too – I definitely overindulged in my fair share of tapas and paella!
In this travel guide, I'll take you through everything you need to know to plan the perfect Madrid getaway. I'll share the neighborhoods and sites you simply must visit, the best places to sample authentic Spanish cuisine, where to experience Flamenco and other performances, and plenty of tips and tricks to help you make the most of your time in this amazing city. Whether you're traveling solo, with your significant other, or embarking on a family vacation, Madrid has something wonderful to offer every type of traveler.
So sit back, relax, and soak up some Spanish culture and vibes with me! It's going to be a fabulous journey. ¡Vámonos!
Best Madrid Hotels
There are several top hotels in Madrid that I recommend staying at if you don't want to rent an apartment. Here are 3 of the top-rated hotels in Madrid:
Mandarin Oriental Ritz – This iconic 114 room hotel located on the Paseo del Prado is one of the most well-known luxury hotels in Madrid. It oozes old world charm with its Belle Époque style and impeccable service. Some highlights are the palatial rooms, swanky bars, and 2-Michelin star restaurant run by chef Quique Dacosta.
Only YOU Boutique Hotel Madrid – This hip boutique hotel located in the fashionable Chueca neighborhood mixes modern flair with Mediterranean style. They offer luxe amenities like a spa, rooftop pool, and posh restaurants. The rooms are sleek and beautifully designed.
Rosewood Villa Magna – Situated in the upscale Salamanca district, this 5-star hotel delivers sophistication and attentive service. Some standouts are the rooftop lounge with views of the city, ultra-luxurious suites, and Michelin-starred Myo restaurant led by celebrated chef Sergi Arola. It's an excellent choice for discerning luxury travelers.
No matter which high-end hotel you choose, you'll be assured an opulent stay in one of Europe's grandest cities. Madrid has no shortage of upscale accommodations that provide the perfect base to explore the city in style.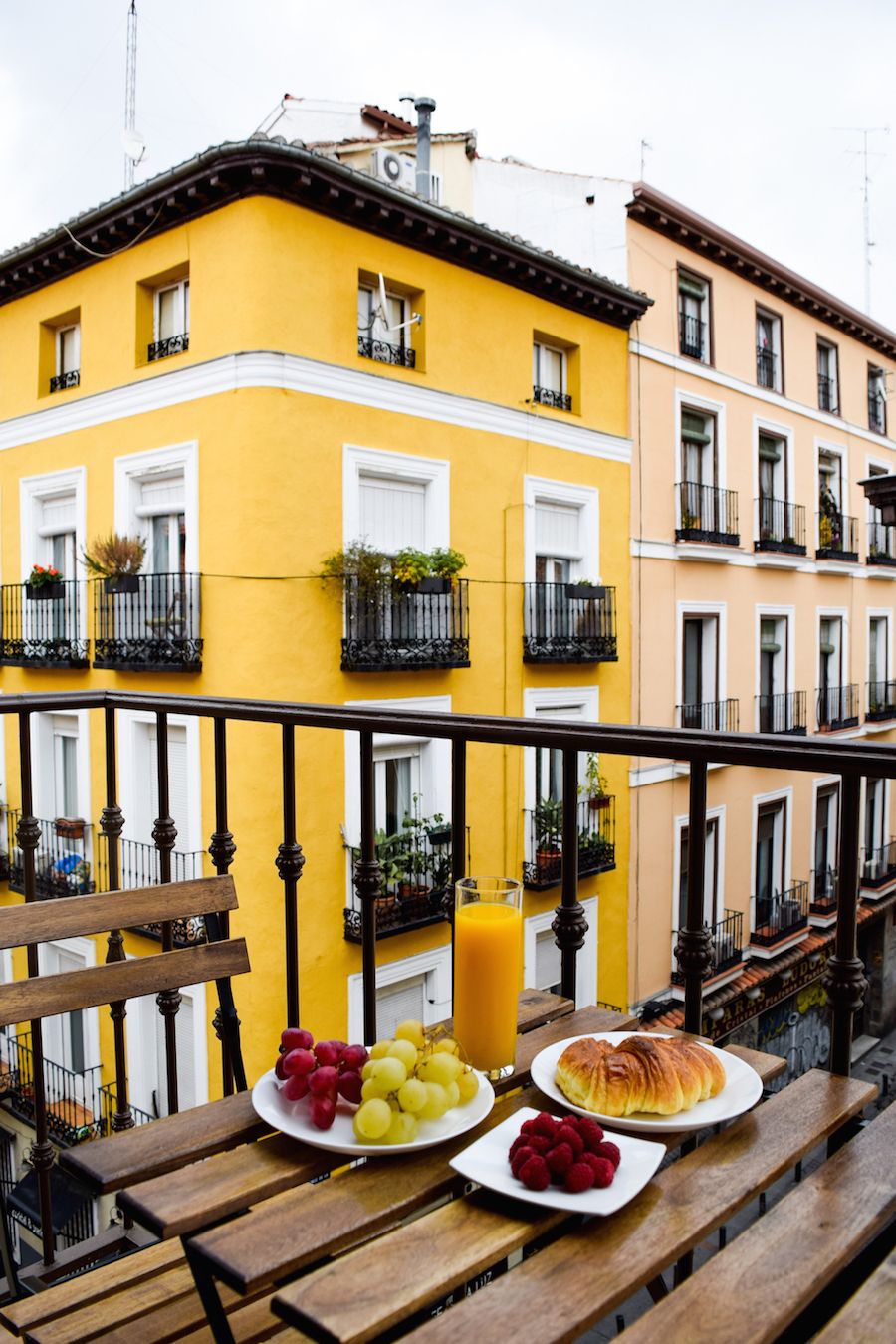 What to Eat in Madrid
Madrid is an amazing food city with several signature dishes and ingredients that it is renowned for. Here are some of the top foods that Madrid is famous for that you should try when visiting:
Tapas – Small plates like patatas bravas, croquetas, and tortilla española are essential tapas to sample when in Madrid. Going on a tapas crawl is a quintessential Madrid experience.
Cocido madrileño – This traditional chickpea stew is the classic comfort food of Madrid, enjoyed especially in the winter. It's filled with various meats, vegetables, and chickpeas.
Roasted suckling pig – Cochinillo asado is a specialty you'll see proudly displayed and carved tableside at many restaurants in Madrid. The crispy pig is juicy and flavorful.
Seafood – Being inland, Madrid boasts particularly fresh seafood. Dishes like gambas al ajillo (garlic shrimp) and boquerones (anchovies) are delicious.
Churros con chocolate – No trip to Madrid is complete without trying churros dipped in thick hot chocolate for breakfast or a snack. It's an iconic Madrid treat.
Strawberries from Aranjuez – The sweet, juicy strawberries from the town of Aranjuez nearby are famous. You'll find them in many dishes around Madrid.
Wines – The robust reds and whites of the Ribera del Duero and Rioja DOCs are Madrid staples. Vermouth and sherry also pair perfectly with local tapas.
So get ready to eat your fill of these amazing Madrid specialties!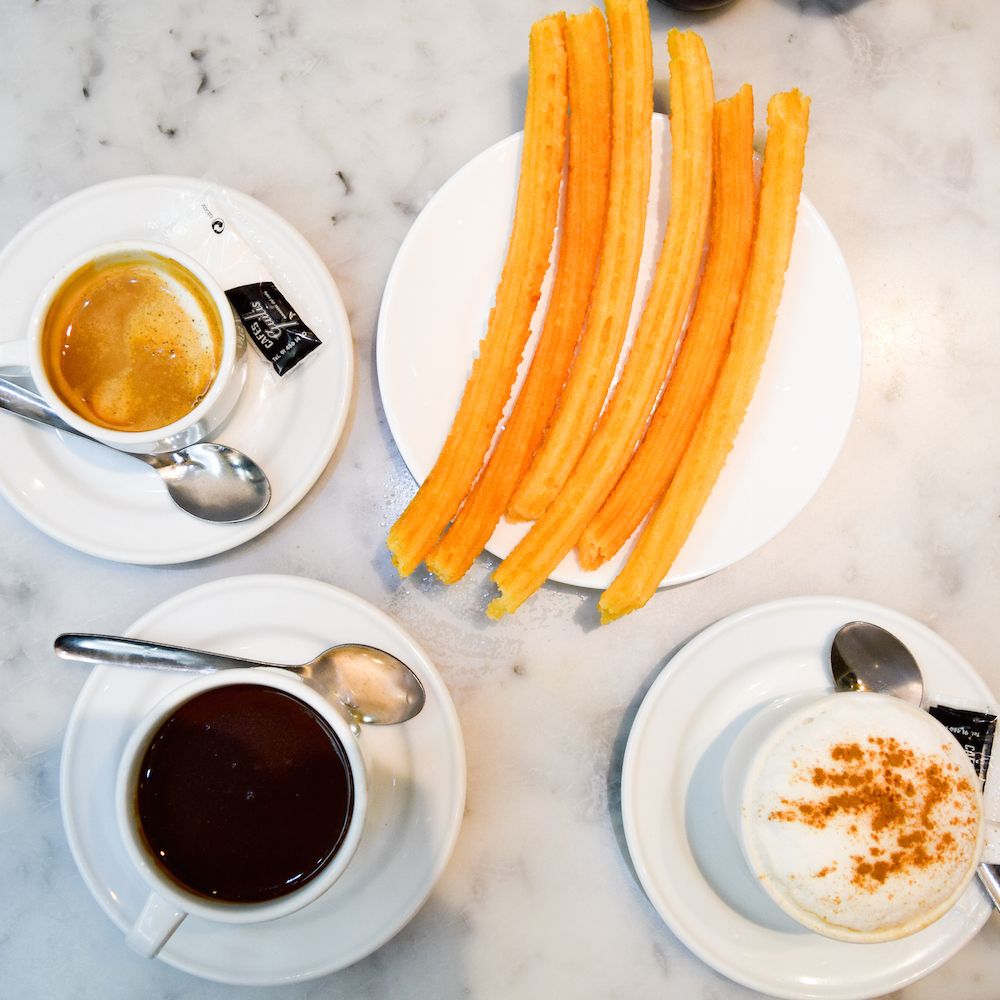 Famous Madrid Attractions
There are so many incredible attractions and activities to enjoy in Madrid! Here are some of the top things to do that should be on any Madrid itinerary:
Visit the Royal Palace – This grand palace is one of the city's most impressive sights with over 3,000 opulent rooms.
See masterpieces at the Prado Museum – One of the world's greatest art museums, housing works by Velázquez, Goya, and other Spanish masters.
Explore Retiro Park – Madrid's most famous park is a leafy oasis with striking landmarks like the Crystal Palace.
Wander around the buzzing Plaza Mayor – The 17th century main square is a hub of activity day and night.
Catch a flamenco performance – No trip to Spain is complete without seeing an authentic flamenco show.
Stroll down the Gran Vía – Madrid's most famous avenue is lined with shops, theaters, and ornate early 20th century architecture.
Hang out at El Rastro flea market – This lively Sunday market in Lavapiés is great for antique hunting and people watching.
Party until late on Cava Baja street – This strip in La Latina tapas hub is packed with revelers and bars.
See priceless art at Madrid's best museums – I highly recommend the Reina Sofía; Picasso's Guernica and works by Dalí and Miró are housed here.
With so much to see and do, Madrid will keep you enthralled on the most exciting Spanish getaway!